AFL 2022: All the latest pre-season news and training notes from the Adelaide Crows
Despite being forced to scrap its internal trial match after being hit hard by Covid and injuries, Adelaide's remaining youngsters have impressed in a match simulation session.
Reilly O'Brien has had competition in the ruck department from Kieran Strachan this pre-season.
But is key forward Riley Thilthorpe is pushing for more minutes in the middle.
Despite having to cancel their internal trial due to Covid-19 cases and injuries, through the help of their SANFL top-ups, the Crows were able to still get plenty of match simulation in at West Lakes on Friday.
While 17 were on the sidelines, there were still a number of take-outs from the Crows session as they prepare for a trip to Queensland for a practice match against Brisbane next week.
Stream every match of every round of the 2022 Toyota AFL Premiership Season Live & Ad-Break Free During Play on Kayo. New to Kayo? Try 14-days free now.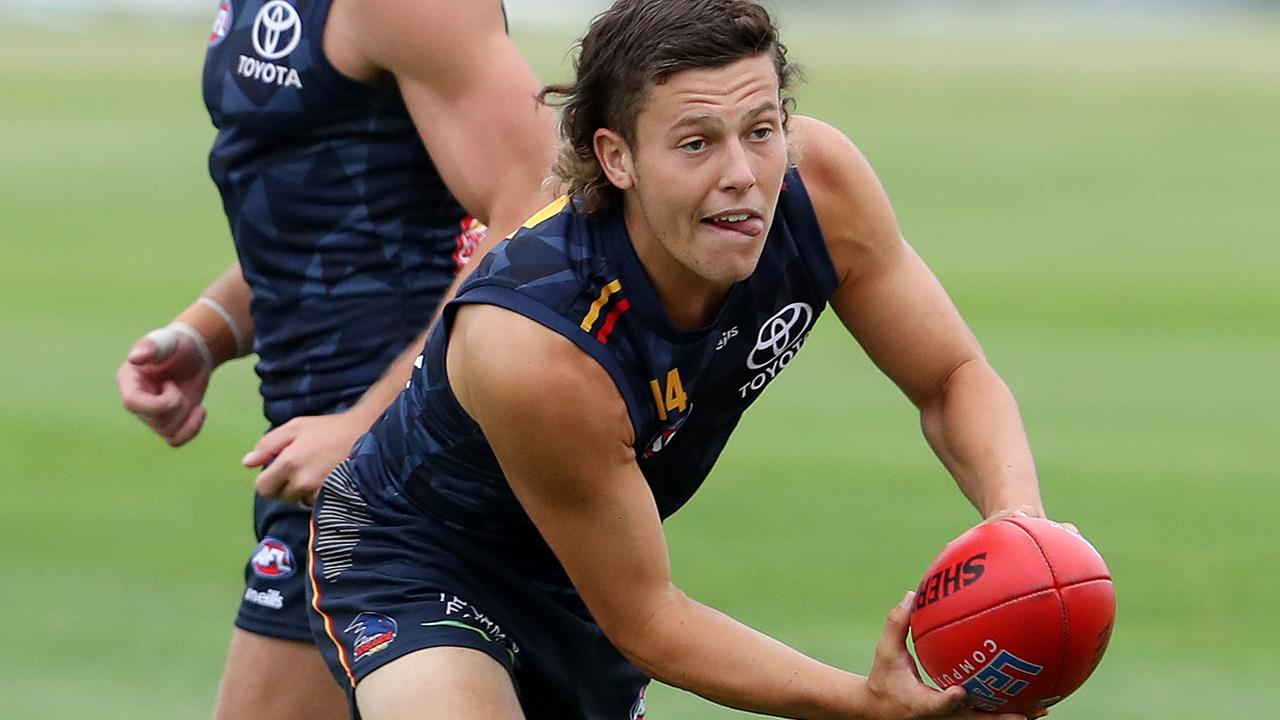 Jake Soligo looked good on a wing during the Crows hitout. Picture: Sarah Reed
Filling holes
Out of crisis comes opportunity.
And while the timing of the outbreak at the Crows may not actually be too bad, some young players got a chance to put their name forward for Round 1.
Tom Doedee (concussion) was added to the unavailable list, so one-gamer Josh Worrell started for the stronger blue side as a key defender along with Nick Murray.
Draftee Jake Soligo continues to firm as a Round 1 bolter, looking good on a wing, while Josh Rachele is a bag of tricks as a small forward.
Along with the SANFL top-ups, Strachan, Jackson Hately, Luke Pedlar, Zac Taylor, Ben Davis, Fischer McAsey and Patrick Parnell were on the yellow side.
While Hately looks to be behind players such as Rory Laird, Ben Keays and Matt Crouch for the Crows' first choice on-ball unit, he did have a solid game against those in blue, and kicked a couple of goals.
McAsey and Parnell were transferred to the blue side after a break, while Worrell, Mitch Hinge, O'Brien, Luke Brown, Chayce Jones and Andrew McPherson donned the yellow after the Crows changed things up.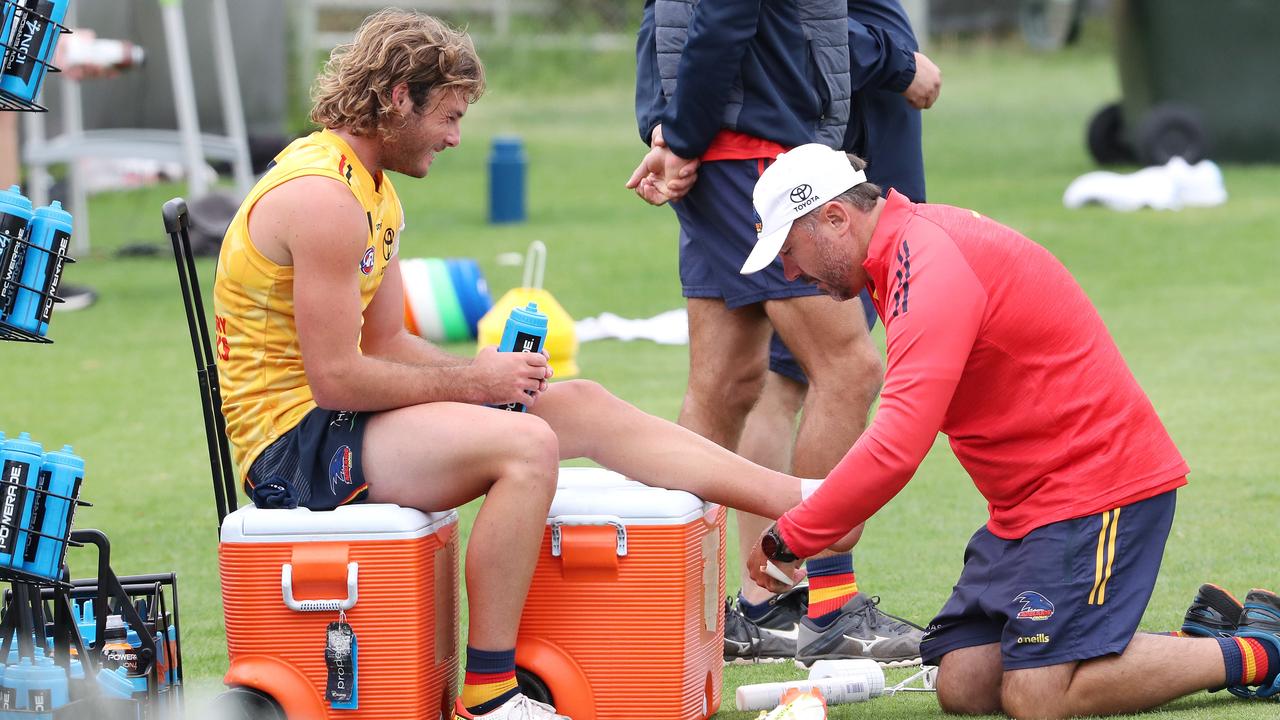 Luke Pedlar gets his ankle restrapped. Picture: Sarah Reed
Ruck and rolling
O'Brien was in fine form for whatever team he played for on Friday, kicking a couple of goals when he moved forward to go along with his tap worth.
"Reilly O'Brien was a standout," Laird said.
"He moved forward and kicked a few goals and some of his ruck taps were fantastic."
But the Crows did switch things up in the ruck department.
Thilthorpe, who also was deployed on a wing, went in the ruck for the blue side when O'Brien changed teams.
The 2020 No. 2 pick in the ruck has been something the Crows have been looking at this pre-season.
Laird said he was interested to see just how much time Thilthorpe may get in the ruck this year.
"He is an aerobic machine. We tried him as well on the wing a bit today and he moved into the ruck for a little bit against Reilly O'Brien," he said.
"He is really versatile and I think that is a credit to him and his body. I think it will be interesting as to what Matty Nicks does with him this season."
Taylor Walker was also thrown into the ruck for the blue side as the Crows looked at options as to how they back up O'Brien this year.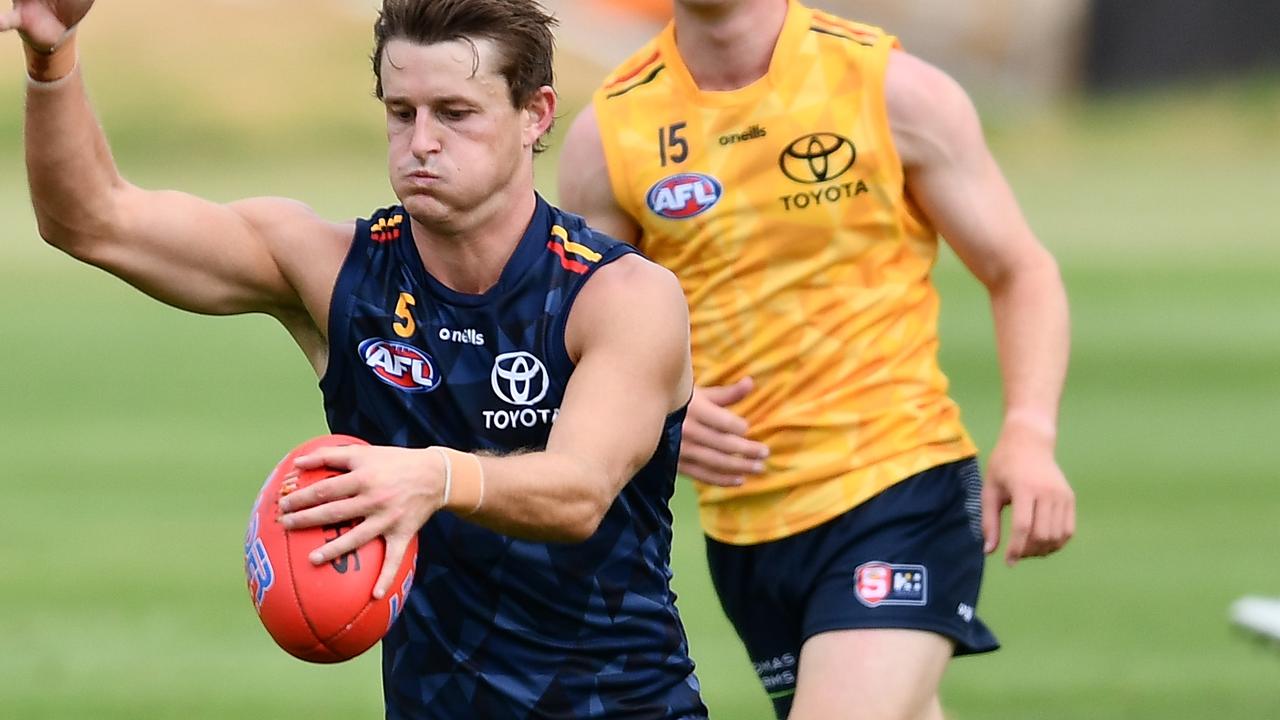 Matt Crouch appears back to his best. Picture: Getty Images
Matt's back
At just $482,000 Crouch looms as a serious KFC SuperCoach bargain this year.
Not only is the All-Australian back on the field and getting through sessions, he is covering the ground well and looks to have regained his strength after injuries cruelled his 2021.
He was hard at the contest, and found plenty of the ball, as he usually does.
Yes, the Crows did have a lot of players not out there, but Crouch looks to be well and truly on track for Round 1.
Injury scares alleviated
The Crows had just 26 AFL-listed players out on the track at West Lakes on Friday.
And at times it looked like this number was going to be reduced even further.
Luke Pedlar's ankle got trodden on at a contest and he was quickly off on the sidelines getting it treated.
He took his boot off but got it strapped and was able to play out the rest of the session.
Nick Murray looked to be in a fair bit of pain as he hobbled off following a marking contest but the Crows said he was OK.
And as the session ended Thilthorpe went down and grabbed his lower leg.
But Laird said it was just cramp and there was nothing to worry about.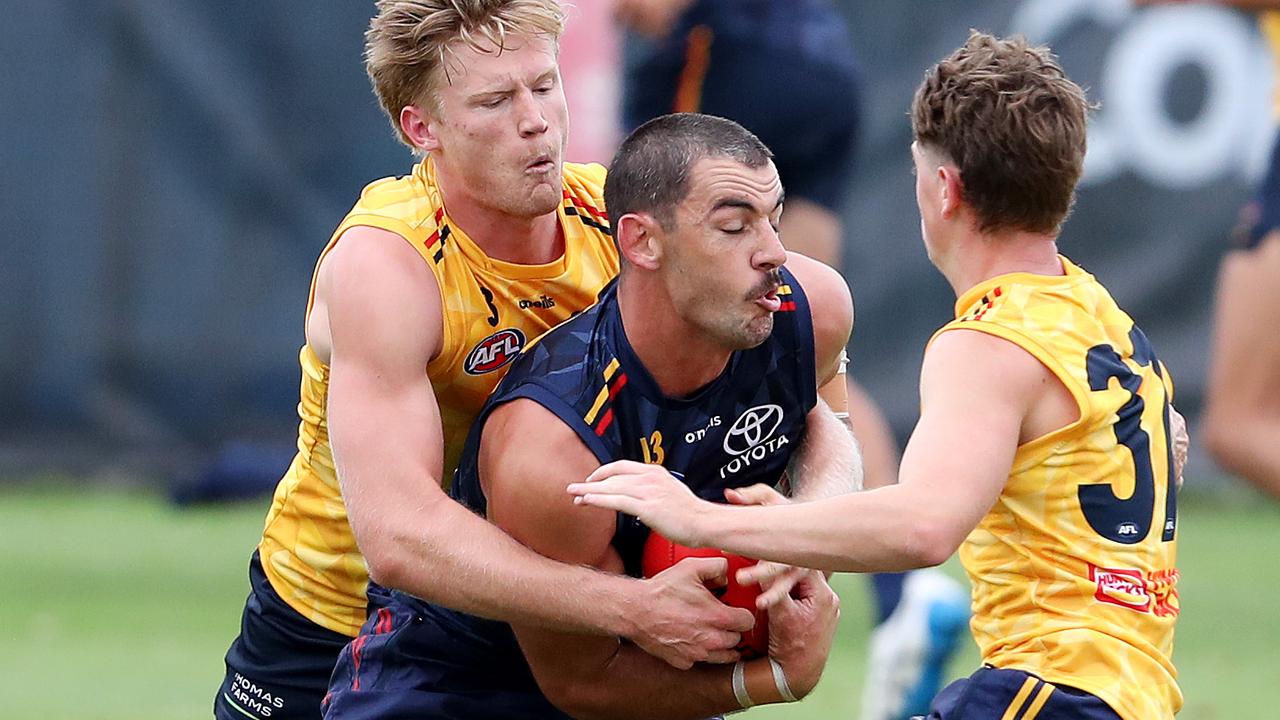 Taylor Walker tackled by Fischer McAsey. Picture: Sarah Reed
Laird backs all clubs to beat Covid setbacks
Adelaide star Rory Laird says the Crows won't be the only side to be hit by Covid this season, but is backing clubs and the AFL to overcome the challenge.
The Crows had 26 AFL-listed players on the track at West Lakes on Friday after the playing list was hit hard by Covid cases, close contact definitions and injuries.
This forced the Crows to cancel its internal trial match.
Adelaide enlisted its SANFL-listed players, as well as leadership development manager Dan Jackson, to ensure the Crows left standing could take part in four 25-minute quarters of match simulation.
Laird said the Crows had pretty much done what they were planning with the internal trial.
"It was a bit different, there were a few top up players from our SANFL team and we made it work as best we could," he said.
"It was a real solid session, we were able to get four 25 minute quarters out, it was pretty much exactly as we planned.
"It was pretty similar, it was basically exactly as we planned
It would have been nice to have the full contingency of players so we could have worked on some things but the top-up players they were fantastic and credit to Micky Godden and the SANFL team in getting those guys up to speed in terms of what our game plan is."
While the Crows' practice game against Brisbane in Queensland next week is not at risk the outbreak has brought back into focus just how the AFL will deal with increased Covid cases in 2022.
Laird said other clubs would be hit.
"You are seeing it becoming more of a norm where as for the first two years over here really nobody had it compared to overseas," he said.
"And all of a sudden you hear of your mates outside of footy getting it over the Christmas period… so I think it is becoming the norm in society and I think each AFL club will have their ups and downs with it."
Under one league model presented to clubs by the AFL, each club would pick 20 players linked to their state-league side who would be eligible to play AFL games in the event of a widespread club outbreak.
Laird said he thought state league players could step up, and said there were some in the Crows program that could do a job.
"I think so, I think that the AFL and the SANFL would have to work together or the AFL and the state counterparts they would have to work together because you would hate to see a team not field a full side.
"If it comes to that I think the AFL will work with the state leagues and will keep the season moving forward.
"There were a couple of boys (from the SANFL side) that were moving really well through the midfield who didn't look out of place."
Laird said he had Covid himself over New Year's, missing one day of training.
"We are trying to do everything to the tee but it is really contagious and easy to pick it up," he said.
He said it didn't affect him too much but he did lose fitness in 10-days of isolation and had to be eased back into training.
Originally published as AFL 2022: All the latest pre-season news and training notes from the Adelaide Crows