Deep dive: The kicking issues plaguing the Adelaide Crows
Jordan Dawson was recruited to help the Crows' kicking. And while he is their main distributor, one key stat surrounding his ball-use is a big surprise.
They say bad kicking is bad football.
In Adelaide's case, poor foot skills are preventing it from winning games.
This is no secret.
It is obvious when watching the Crows, who sit 15th on the ladder with a 4-9 record, and the club has spoken about it in the media for weeks.
Adelaide's effort, hunt around the ball and contested work are keeping it in matches.
Watch every blockbuster AFL match this weekend Live & Ad-Break Free In-Play on Kayo. New to Kayo? Try 14-Days Free Now >
Adelaide's poor kicking is hurting them this season. Picture: James Elsby/AFL Photos via Getty Images
But shoddy kicking is plaguing the Crows across the ground – from their back 50 to the goal face.
"I feel like a broken record sitting here again, it's execution," senior coach Matthew Nicks said after Sunday's 43-point away loss to Gold Coast.
"We had some horrific turnovers in our back half and we found ways not to score when it was a lay-up, so it's hard to watch."
Former captain Taylor Walker told Triple M on Tuesday: "Our execution is not at the level".
Champion Data statistics reveal that after 13 games the Crows rank:
■ Last in the AFL for kick rating (-2.8 per cent),
■ Last for field kick rating (-2.9 per cent)
■ Last for shot at goal kick rating (-2.9 per cent)
■ 15th for kicking efficiency (65.7 per cent)
■ 15th for shot accuracy (45 per cent)
■ 15th for defensive half turnovers (25.2)
■ 15th for points conceded from back-half turnovers (33 per game)
A player's kick rating is the difference between their expected hit rate and how many actually reach the target.
A negative one indicates they are not executing as well as the competition average, while a positive rating shows they are better than the league standard.
Champion Data takes into account the amount of pressure a player is under and the difficulty of the kick, comparing it to the competition average across the past decade, to determine each one's expected hit rate.
On Sunday, Adelaide turned the ball over 74 times – just twice more than the Suns – and coughed up 13.7 from intercept possessions.
At the other end, the Crows kicked a wayward 10.13.
Jordan Dawson (right) is Adelaide's best kick. Picture: Matt Roberts/AFL Photos/Getty Images
Jordan Dawson told News Corp there were a range of factors behind Adelaide's kicking woes.
He cited opposition pressure, a lack of game awareness due to inexperience, opting for difficult kicks when a simpler option was needed, going away from how the team wanted to play, a lack of upfield connection and losing the territory battle as some of the reasons.
"We're definitely trying to do too much with it, then it's a bit of a snowball effect," Dawson said.
"Sometimes it's about taking your medicine a little bit, not trying to pull off those real tough kicks because defenders are aware of where we're trying to go and they're reading the ball pretty easily."
Asked why the team's kicking and execution was so poor, ruckman Reilly O'Brien said on Wednesday: "We're trying to work that out ourself".
WHO ARE THE BIGGEST OFFENDERS? 
Eight Crows have a kick rating of -5 per cent or worse this season.
Bullocking midfielder Sam Berry, who has been in impressive form in recent weeks, has the lowest kick rating at -12.2 per cent.
The 20-year-old has an expected hit rate of 48.7 per cent but has connected only 36.5 per cent of the time.
Small forward Lachlan Murphy (-11.7 per cent), key defender Jordon Butts (-10.8), second-year wingman Brayden Cook (-8.1), on-baller Jackson Hately (-7.8), leadership group member Ben Keays (-6.8), half-back Chayce Jones (-6.5) and goalsneak James Rowe (-5.4) were the others.
Only Crows who had registered at least 50 kicks this year were ranked.
Conversely, just two Adelaide players – Dawson and utility Mitch Hinge, who was surprisingly dropped for the Suns game, clearly boasted a positive kick rating.
Ex-Sydney Swan Dawson's is +5.3 per cent – ranked 28th in the competition – and former Lion Hinge's is 3.2 per cent.
Walker is next best with +0.2 per cent.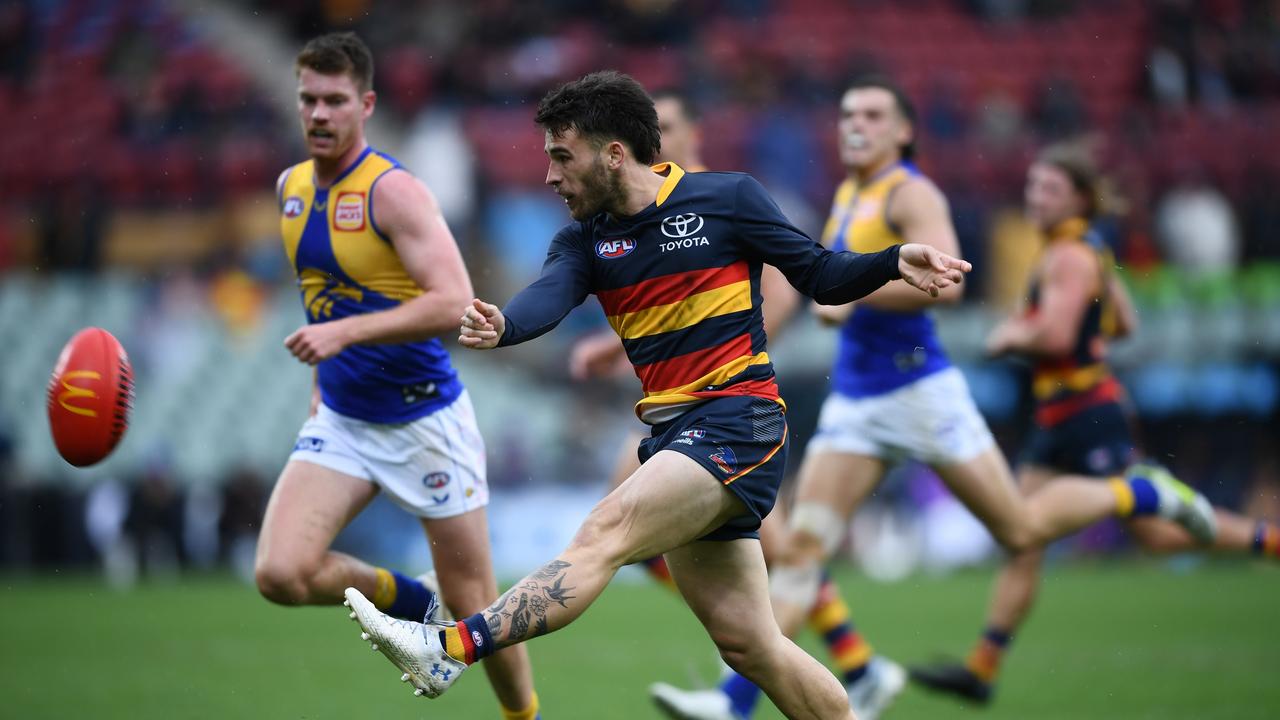 Lachlan Murphy's kick rating is among Adelaide's worst. Picture: Mark Brake/Getty Images
Dawson's ball use was a major reason Adelaide traded for him in October.
His skills have looked a class above many of his teammates since arriving and one of the Crows' four wins is directly as a result of him, thanks to his post-siren Showdown goal.
What is unexpected is Adelaide has conceded 63 points from Dawson's defensive-half turnovers this season – the most by any player in the competition.
The 25-year-old has coughed the ball up 43 times in the back half of the ground.
Jones (38 points from 20 turnovers), veteran Brodie Smith (37 from 24), tall defender Billy Frampton (31 from 20) and star Rory Laird (30 from 20) round out the Crows' top five.
Smith and Tom Doedee both had bad errors that led to costly goals on Sunday, while Dawson was more errant in possession than usual.
"They've owned that and know that they need to be better in that area," he said.
"We've been pretty hard on them, as well as myself as well.
"I had a few skill errors that I don't usually make.
"When there's no pressure and you've got a free kick, it's about making the right decision and executing.
"We've got to keep training it, not turn against each other obviously, working hard and staying positive because we know it can turn pretty quickly.
"The options a few of the times were the right options but we weren't executing it.
"It's why some of those were a bit disappointing because we made them at crucial times when there wasn't as much heat on the ball."
As for kicking efficiency, which measures the percentage of kicks that are effective, Harry Schoenberg (44 per cent), Murphy (49.4) and Jones (64.6) are rated poor for their position by Champion Data. while Keays (52.2), Josh Rachele (55.3) and Walker (58.3) are considered below average.
Frampton (90.2), Butts (89.1), Jake Soligo (75.5) and Darcy Fogarty (70.8) are listed as elite in the statistic.
Its most inaccurate goalkickers are Murphy (2.9), Hately (2.5), Keays (3.6) and Rowe (8.9).
BEST KICK, MOST TURNOVERS
Dawson is widely considered one of the better kicks in the competition and his rating supports his effectiveness by foot.
So why does he lead the competition for points from turnovers?
Likely answers include how often he has the ball, being tasked with trying to hit difficult targets more often than teammates, taking most of his kicks hemmed into the backline where there is more pressure and a lack of connection or options up the field.
Adelaide wants the ball in Dawson's hands and relies on him to start defensive chains or launch attacking forays.
He ranks third at the Crows for possessions this season with 320 but first for kicks with 244 – 39 more than his next teammate, Ben Keays.
When it traded for Dawson, Adelaide initially hinted it would play him on a wing or through the midfield.
"(We see him) using his weapons and his ball use inside-50," list manager Justin Reid said in October.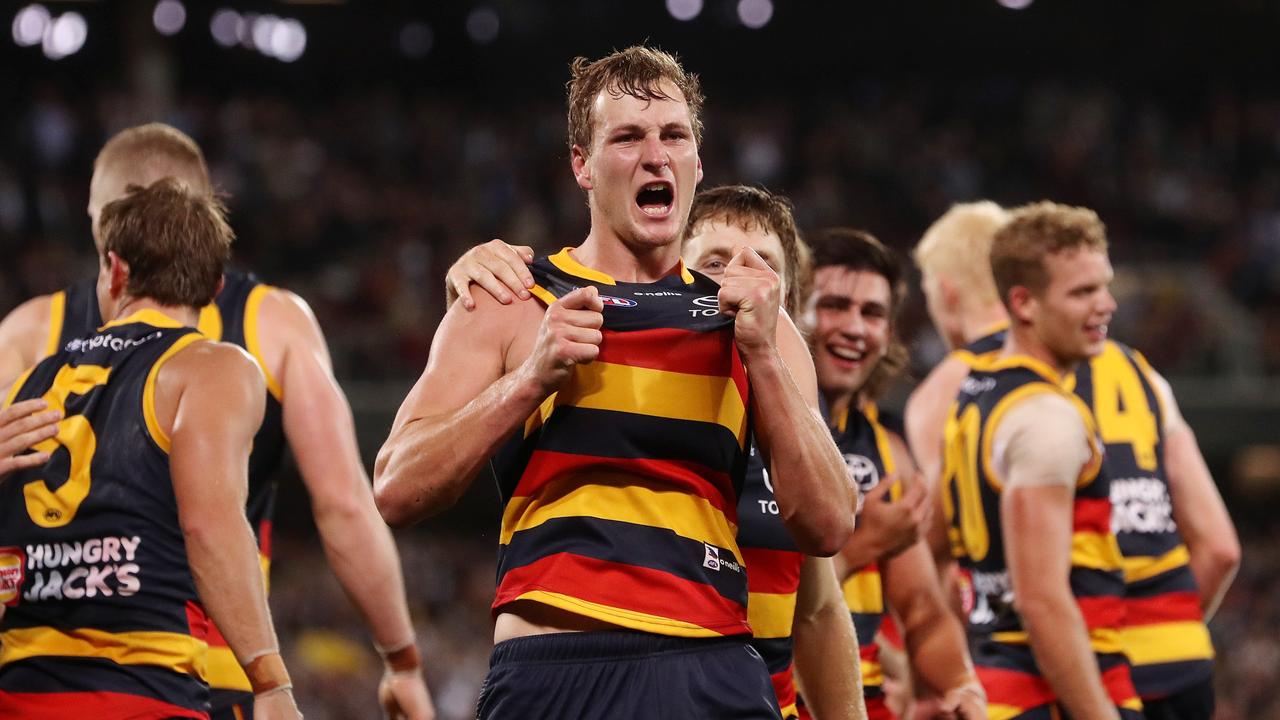 Jordan Dawson won this year's Showdown off his own boot. Picture: Sarah Reed/AFL Photos via Getty Images
But Dawson has been deployed mostly at half-back this year.
On Sunday, 75 per cent of his 32 disposals came in the defensive half.
It was 90 per cent against the Eagles, 62 versus Geelong then 77 the previous week.
In Adelaide's worst performance of the season, the 59-point home defeat to GWS, 95 per cent of Dawson's possessions came in the defensive half, as the hosts were pinned into their backline for much of the game.
When teams are unable to get the ball out of their defence, they invite pressure and it leads to mistakes and turnovers.
Even from those with neat skills like Dawson.
Particularly when he is the club's chief distributor.
HOW TERRITORY LOSS, CONNECTION CONTRIBUTES
Adelaide ranks 15th in the competition for inside 50 differential, averaging 6.5 fewer than their opposition each week.
The Crows are 14th for time in forward half differential at 4min 16 secs less than their opponents.
Being unable to lock the ball at their attacking end means it is often in their defence.
"If the ball's living in your back half, the pressure's obviously red hot and the ground's skinnier," Dawson said.
"It makes it harder to actually use the ball effectively and teams are able to strangle you down there.
"If we are turning the ball over, it's in the fatter parts of the ground, it's hard to defend from there.
"It all ties in one."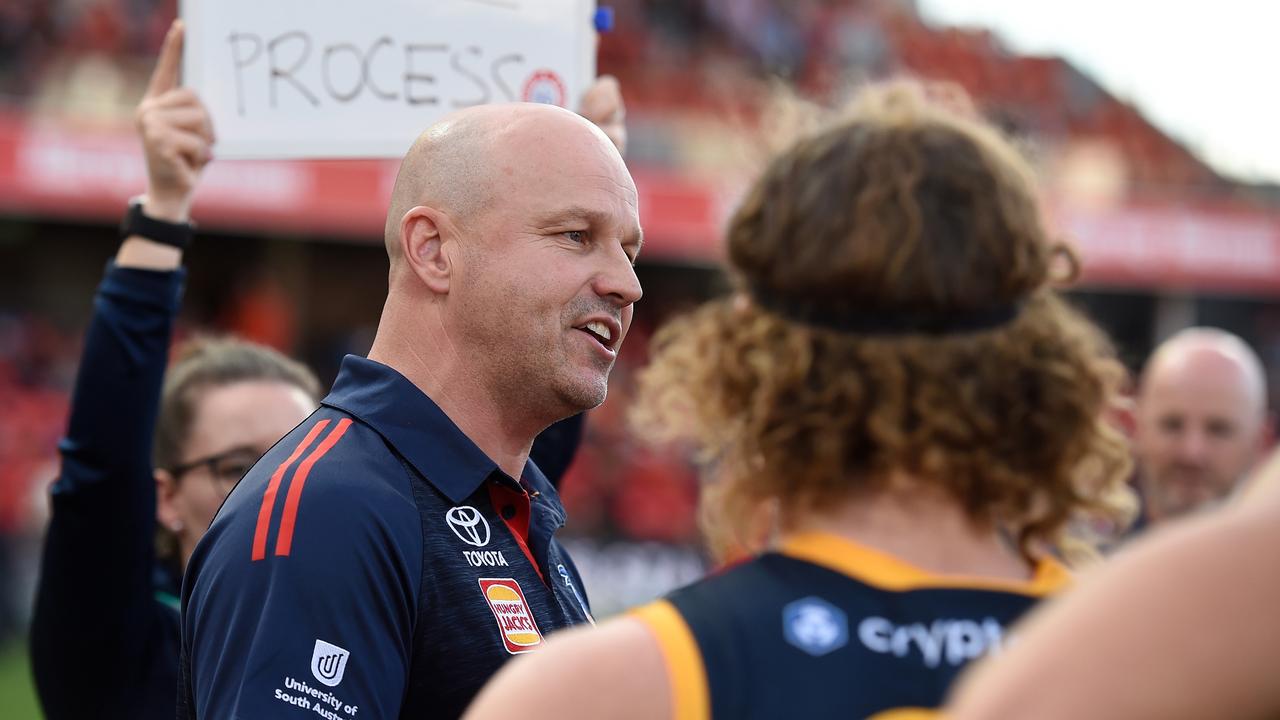 Matthew Nicks has been frustrated by his side's execution. Picture: Matt Roberts/AFL Photos/Getty Images
Missing targets when going inside 50 mean the footy can quickly fly down field.
"If we can connect better forward of centre, then we're able to lock the ball in our forward half, then that's where defensive turnovers (from the opposition) come from," Dawson said.
"In the game from the weekend, we had a lot of those attacking, mid turnovers just outside out 50m line, where it's like that basketball top of the key turnover, where it makes it pretty hard to defend on a fast break.
"We've got to keep training it and build more connection between the lines and know exactly where we want to go.
"It's about the decision-making and being more predictable as a group."
O'Brien said the team's "shape" around the ball and across the ground needed to improve to give players better options in trying to move the footy forward.
Dawson described the opposition kicking goals directly from Adelaide's turnovers as really deflating.
"It's not very nice," he said.
"Especially when we'd put ourselves in a position (on Sunday) when we thought we could win the game.
"We were 13 points down with under 10 minutes to go and end up losing by 40 off the back of skill errors at the end."
WHERE TO FROM HERE?
Nicks would probably love to clone Dawson so he could have one of him on each line.
Having only two players in the team well into positive kick ratings suggests not enough Crows use the ball well.
Fogarty is neat in possession, but how many other Crows can you label as such on form?
Paddy Parnell and Soligo have shown nice signs but they have played just two and seven games respectively.
First-year forward Rachele is classy and looms as someone whose disposal will improve quickly.
A recent criticism of Adelaide's recruiting the club has been that it has focused on two many goers, not enough polish.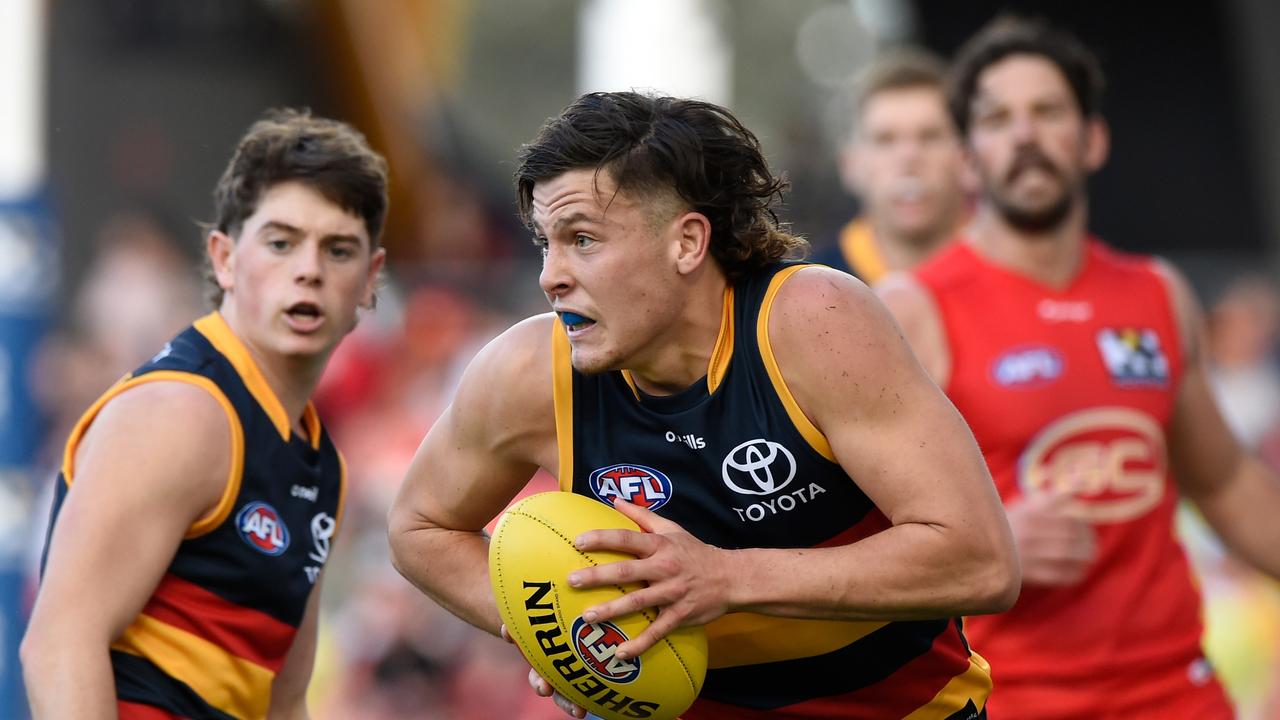 Paddy Parnell and Jake Soligo are already showing impressive signs with their ball use and decision-making. Picture: Matt Roberts/AFL Photos/Getty Images
Berry, Schoenberg, Luke Pedlar and Ned McHenry are all highly competitive ball winners whose execution is far from a strength, albeit early in their careers.
Crows football manager Adam Kelly disagreed with the notion the club had drafted similar players.
"Over the last few years there's been a real mix of players we've brought into the club," Kelly told SEN SA.
But Kelly said the club needed to add quality distributors to its list, which was why it targeted Dawson.
"That'll continue to be a focus for us as we continue to move forward with our rebuild, there's no doubt about that," he said.
Kelly said the club was open-minded ahead of the upcoming trade period about whether to bring in experienced players from rival teams.
Sam Berry's form has been very good but his kicking remains an area for improvement. Picture: Dean Martin
"This is a year where, having been to the draft heavily over the last five years, if there's an opportunity for us to trade out picks to bring in some mature talent to help with our young group and make us better, we're certainly going to pursue those opportunities," he said.
O'Brien said the team had a lot of skilful players, "they weren't necessarily using them as well as we would like at the moment".
He pointed to Parnell as someone who had impressed with his ball use.
Dawson said the club had enough players who were good kicks, "it's just about finding the right positions for a lot of guys and getting consistency within the group".
As for whether the Crows needed to recruit more players who kicked well, Dawson said he would leave that to the recruiters.
"I think we've got a good mix of kicks and players," he said.
"There's a lot to like from the younger guys and we are building."
'Beat up' star sends scare through Crows
Soreness will not sideline Adelaide star Rory Laird for Sunday's clash with North Melbourne but young gun Riley Thilthorpe remains in doubt with an ankle injury.
Laird took part in non-contact drills on the boundary and left the track early at Crows practice on Wednesday, while Thilthorpe spent the session training indoors.
Thilthorpe, who injured his ankle in Sunday's loss to Gold Coast and was on crutches post-game, was cleared of structural damage on Tuesday.
Midfielder Harry Schoenberg, who had a team-high 27 disposals in Adelaide's SANFL win on Saturday, did not train due to illness.
Rory Laird is just 'a little beat up' after Sunday's loss to Gold Coast. Picture: Getty Images
Ruckman Reilly O'Brien said Laird, one the club's best players again this season, was just a "little bit beat up".
"He'll be fine come the weekend," O'Brien said.
"He doesn't miss very often."
Match simulation at Adelaide's midweek sessions this year have given a reasonably accurate indication of team selections.
On Wednesday, midfielder Jackson Hately lined up with a B side and utility Mitch Hinge with the As, pointing at potential changes.
Hately has played eight consecutive games, initially on a wing or as a half-forward, before playing as an inside midfielder.
Hinge was dropped for the Suns clash.
O'Brien was omitted for a fortnight after round 8 and said it was a circuit-breaker because he had been overthinking his football.
"Being dropped was obviously really disappointing and not how I wanted the year to pan out," he said.
"I (had) lost my mojo a little bit and lost that flow on field.
"I was able to ... get back to playing in that better headspace and more natural footy.
"The last couple of weeks I've been building again so hopefully have some really strong footy to finish the year."
Adelaide goes into Sunday against the second-bottom Kangaroos in Hobart with just one win from its past seven matches.
The Crows are 15th on the ladder with nine rounds remaining.
O'Brien said it was important for the club, which finished last in 2020 and 15th in 2021, to start turning solid performances into wins.
"I hate losing and have had enough of it after the last couple of years," he said
"We're trying to win and it's pretty annoying when you're in games, playing good footy and winning the contest, and not being able to get the win.
"Hopefully we get a win this week and go from there."
Mid-season recruit Brett Turner joined match simulation for the first time since arriving at the club this month with a foot injury.
The 25-year-old remained up to a fortnight from being available.
Crows cop 'uncomfortable' review
Young gun Riley Thilthorpe is a chance to line up in Sunday's clash with North Melbourne in Hobart after being cleared of serious ankle damage.
Thilthorpe was injured during a marking contest in the third quarter of the Crows' loss to Gold Coast and substituted but could still face the Kangaroos if he passed a fitness test.
The 19-year-old, who played in round 1 then was out of the side for the next nine weeks, remained a little sore on Tuesday.
"We scanned him yesterday and fortunately there was no structural damage, but he had sustained a minor ankle injury, so we expect him to be modified this week and we'll see if he comes up for Sunday," Adelaide's high-performance boss Darren Burgess said.
The 15th-placed Crows will enter Sunday's match against the second-last Roos as favourites despite having lost six of their past seven games.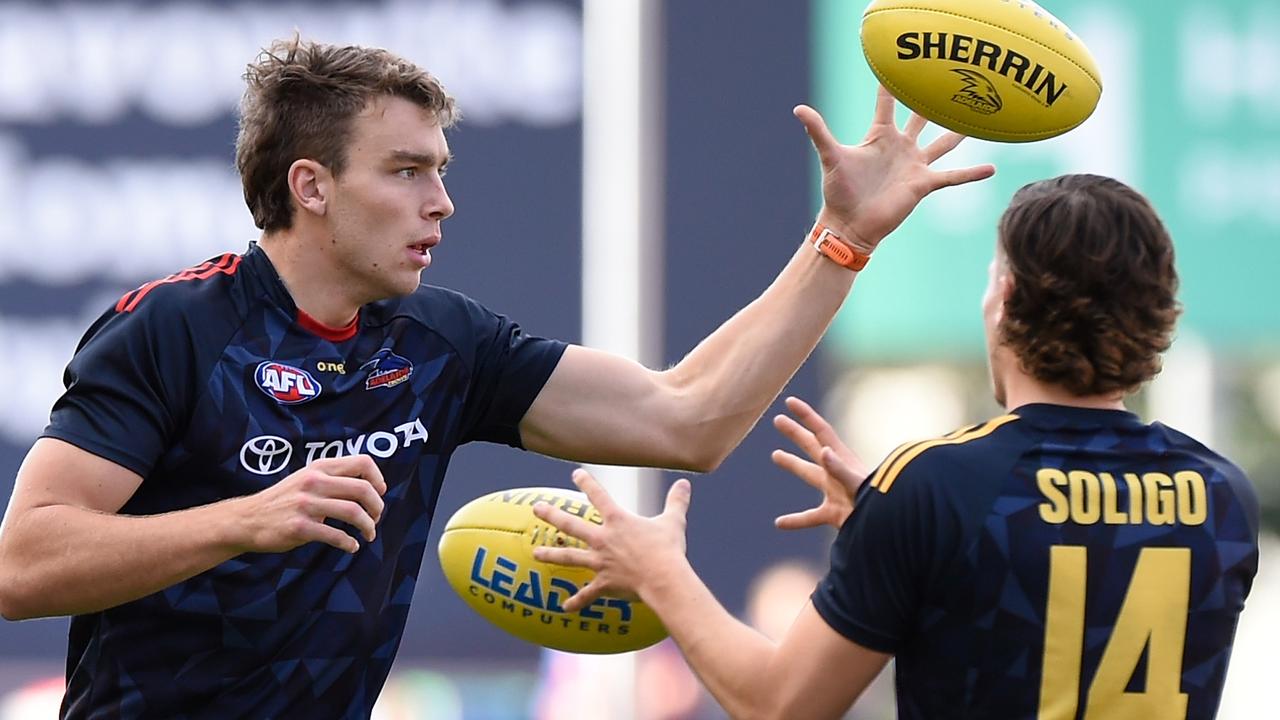 Riley Thilthorpe (left) warming up before Sunday's game. Picture: Matt Roberts/AFL Photos/Getty Images
Adelaide trailed by under three goals with six minutes remaining against the Suns before losing by 43 points.
Van Berlo said there were "uncomfortable moments" in Tuesday's review of the game "as there were a couple of weeks ago as well, but that's the nature of the environment".
He said the margin blew out because there were some efforts the team was not proud of but also due to it chasing the win.
"We're trying to instil winning behaviours in the boys and it is deflating to go down the way that we did and there are things we need to do better — we're not accepting the margin," he said.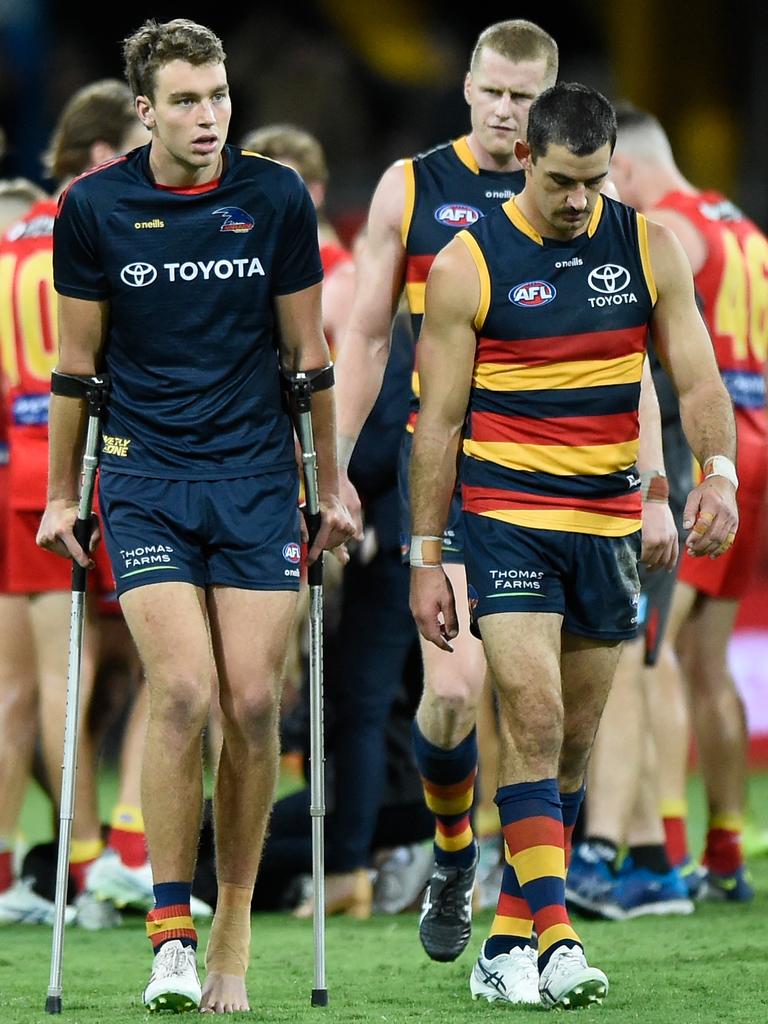 Big Crow Riley Thilthorpe on crutches post-match. Picture: Matt Roberts/AFL Photos/Getty Images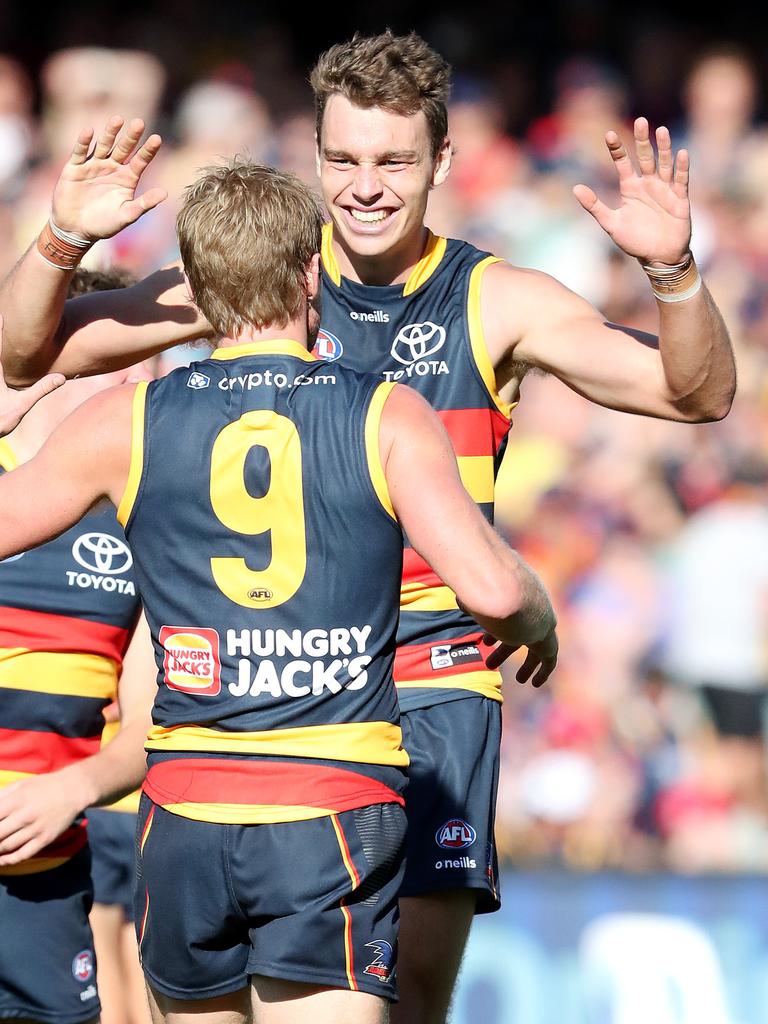 Thilthorpe celebrates a goal with Rory Sloane in round 1. Picture: AFL Photos via Getty Images
"But there were discussions had around 'let's try and win this game' and we have levers we can pull to open the game up.
"At that stage of the (Suns) game do we roll the dice and try to win the game and strategically open the game up, which we've done a number of times.
"Port Adelaide's a classic where we did and get on the right side of the ledger.
"On the weekend we open the game up and it goes the other way."
Van Berlo echoed everyone at West Lakes who had been asked the same question by saying the club had definitely improved from last year.
Adelaide is 4-9 after 13 rounds, compared to 5-8 at the same stage of 2022.
"It's easy to look at win-loss and at times even margin in games," he said.
"We've consistently been in the fight, right up until the last quarter, which has been really pleasing.
"It wasn't always the case last year."
Van Berlo said Adelaide's contested work, team defence and cohesion were key areas where it had improved, even though it was not always showing in wins.
Originally published as Deep dive: The kicking issues plaguing the Adelaide Crows