AFL 2022: Hawks sell pokies venue ahead of Sir Doug Nicholls Indigenous Round clash in Darwin
Hawthorn is getting out of pokies, selling its second venue for an estimated $40 million. And as they have big plans for how to spend the money.
Hawthorn is set to formally exit out of gaming after agreeing to sell its second pokies venue.
One week after parting ways with the WestWaters Hotel in Caroline Springs, the Hawks have struck a deal to sell off Waverley Gardens to the Melbourne Racing Club.
It comes as the Hawks say they have re-established contact with premiership star Cyril Rioli and remain hopeful the champion forward, along with his family, will attend Saturday night's clash against Gold Coast in Darwin.
It is believed that Rioli has spoken with Hawks officials in recent weeks and remains undecided about attending Saturday night's game.
Industry sources said the sale of the two pokies venues is set to net the Hawks about an estimated $40 million.
The cash will help fund its new home base in Dingley and create other revenue streams to help sustain the club without gaming machines.
Watch every blockbuster AFL match this weekend Live & Ad-Break Free In-Play on Kayo. New to Kayo? Try 14-Days Free Now >
Pokies helped net the club up to $3 million a year before the pandemic, but chief executive Justin Reeves said the club was excited about setting up other investments.
"We are proud of the operations we have run at the venues and the great people we have worked closely with in our venues, but it is time for us to go in another direction," Reeves said.
"We always said we would sell these venues at the top of the market and we believe now is the right time.
"So we will set aside a good portion of this money for the Future Fund, which will enable us to invest in other areas.
"There is more work to be done there, but they will be investments our members will be proud of that will help set the club up for a profitable and sustainable future."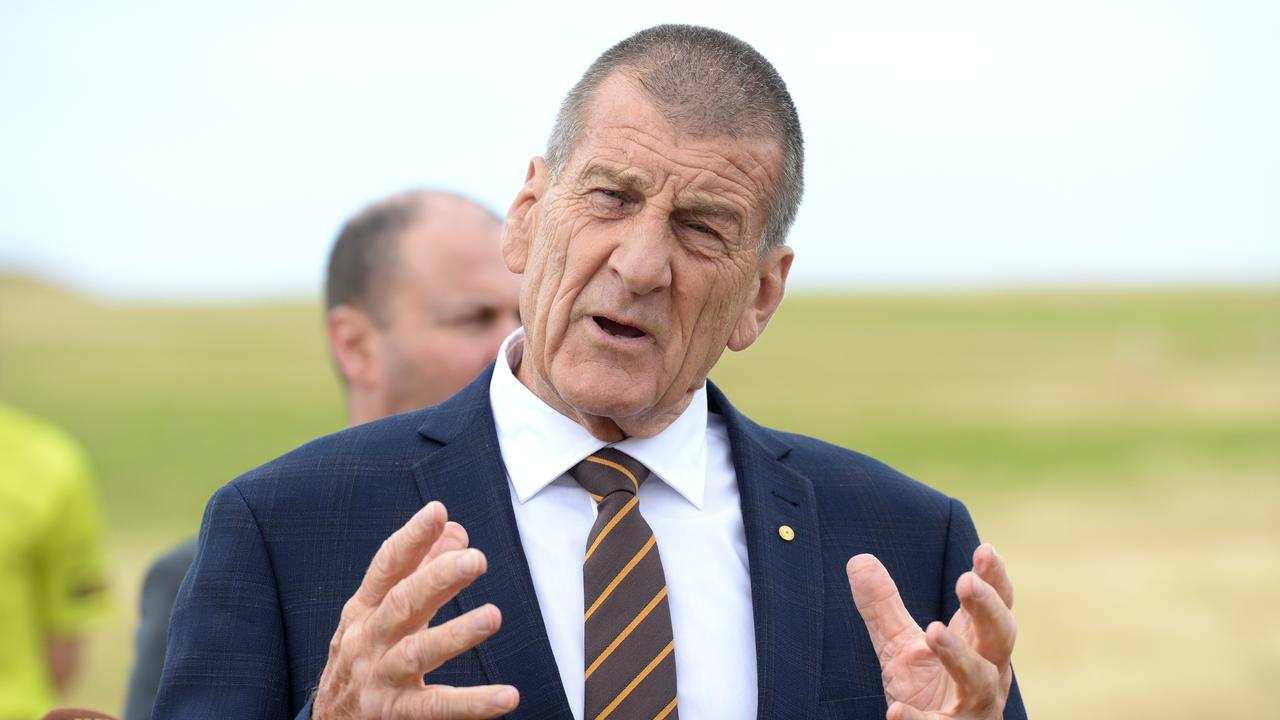 Hawthorn president Jeff Kennett at the site of the club's new training base in Dingley. Picture: NCA NewsWire / Andrew Henshaw
The Hawks need to raise tens of millions more dollars to fund their world-class training headquarters in Dingley, which is due to be complete in 2023.
The facility will house its men's and women's teams and include aquatic and community facilities as well as separate change rooms.
"We are in the middle of a fundraising campaign for the Kennedy Community Centre and this doesn't solve all our problems on that front and we have more work to do to meet our targets," he said.
Mitchell reaches out to Rioli ahead of Top End trip
– Lauren Wood
Hawthorn coach Sam Mitchell remains hopeful of a top end reunion with premiership teammate Cyril Rioli as the Hawks prepare to jet to Darwin.
Four-time premiership Hawk Rioli hit out at his former club last month with shocking claims of racism he says he experienced while at the club, and declared he would not return to Hawthorn while Jeff Kennett remained as president.
Rioli – who lives in Darwin and works closely with young indigenous offenders - has been invited to Saturday night's clash with Gold Coast at TIO Stadium but Mitchell said whether he would be attending remained up to the former forward.
But he said he intended to make every effort to engage with his former teammate while in the Northern Territory, where Mitchell and the team will remain for several days following the match.
"I've left him a message," Mitchell said on Wednesday.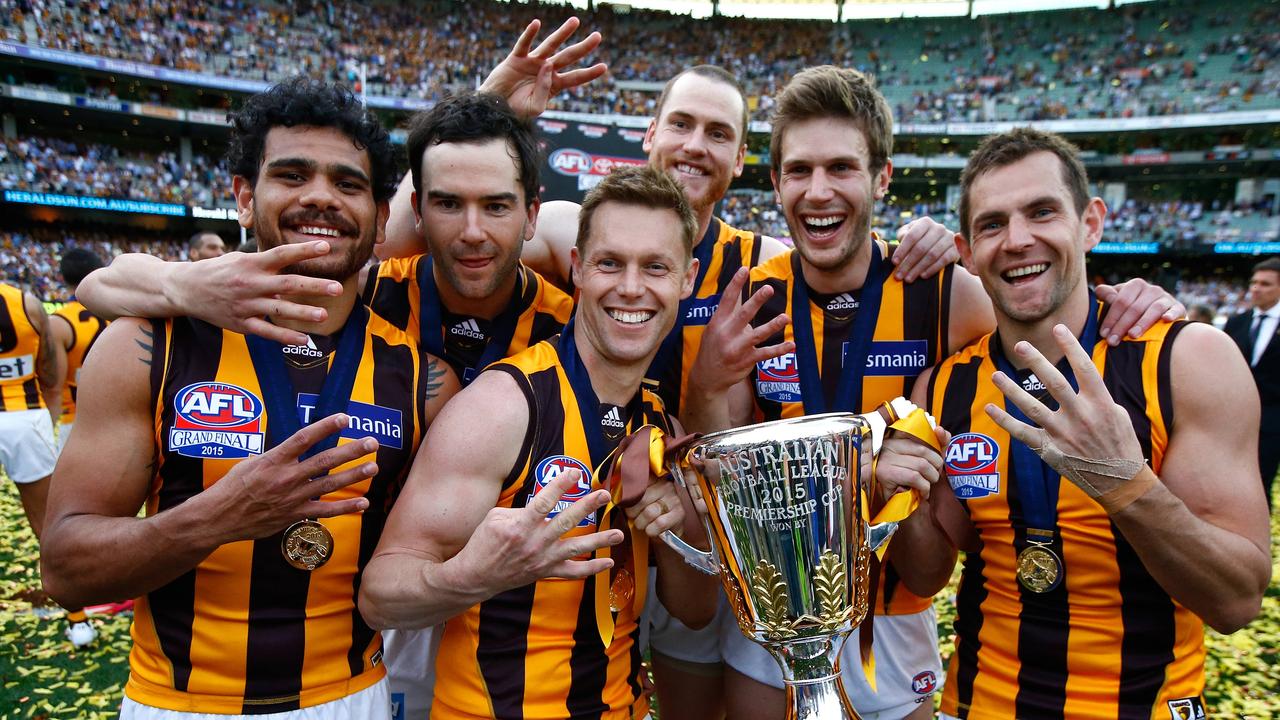 Rioli, left, and Mitchell, centre, won four flags together. Picture: Wayne Ludbey
"There's two aspects (to it) — me, the coach of Hawthorn, trying to reconnect with Cyril.
"But there's also probably the Sam Mitchell and Cyril Rioli the premiership teammates that just want to catch up as mates and say hello.
"I probably am more focused on that one, to be honest. What he is thinking and feeling with the club on a big picture, that's up to him."
Mitchell said the pair had shared "some great memories together" and that he would endeavour to engage privately with Rioli.
"It's probably not one for the public forum, it'd just be one where I'd try and see if I could get hold of him while we're there," he said.
Ruck Ned Reeves and Will Day will both face fitness tests this week, with Mitchell saying their recovery would also play a factor given the lengthy trip north.
Should Reeves be sidelined, the Hawks face a rucking quandary with Suns star Jarrod Witts looming.
And Mitchell said while he is "excited" by the challenge of nutting out a solution and the prospect of being "hard to scout", he knows he will have to call on some creative nous.
"My wife would definitely say no (I'm not creative)," he laughed.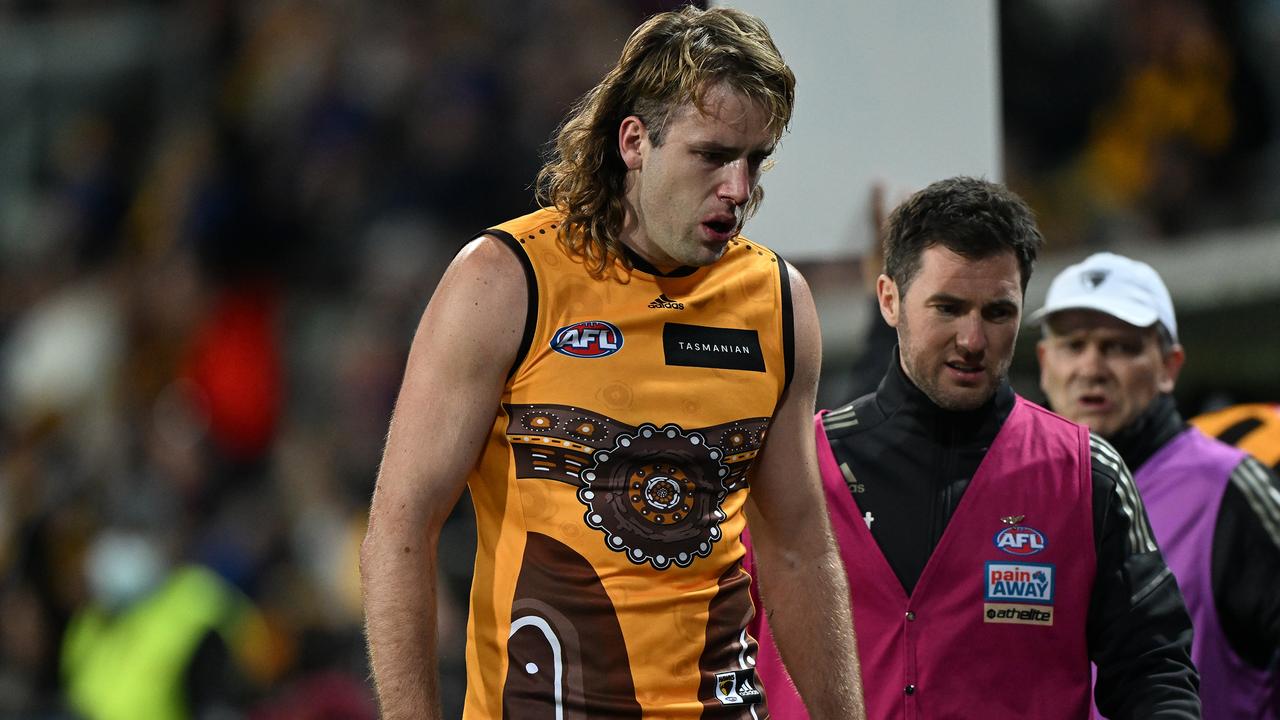 Max Lynch continues to battle concussion issues. Picture: Getty Images
"We could play a small - we've already tried Conor Nash in the ruck.
"Someone like Daniel Howe could play there. Frosty (defender Sam Frost) actually told me this morning he's actually played as a second ruck for a couple of games early in his career at Melbourne. That's one we hadn't thought of."
He said the team had also looked to the Western Bulldogs' setup in the wake of Tim English's absence, where they have dominated clearances despite losing hitouts.
"There's a philosophical discussion. You're not probably going to win – Witts is a really big, strong ruckman," Mitchell said.
"We're probably not going to win the hitout, so how can we still win that part of the game without winning the hitouts."
Tall Max Lynch was at the club on Wednesday but continues to battle concussion symptoms following his knock on Sunday against Brisbane, with his recent torrid run with a previous concussion, Covid protocols, an anaphylactic reaction to a bee sting and this latest concussion compounded by a bout of food poisoning.
"He's going to get back from this, and he's going to be a really important player for us later on in this season," Mitchell said.
"We're looking forward to getting him back for the long term, because he's had enough bad luck to last him for a couple more years."
Originally published as AFL 2022: Hawks sell pokies venue ahead of Sir Doug Nicholls Indigenous Round clash in Darwin