AFL 2022: All the latest Essendon news and the change Ben Rutten saw in Bombers win over Hawks
Essendon's season is still on the brink with two wins from eight games but coach Ben Rutten noticed a subtle change in his players last week that has him hopeful the Bombers are turning things around.
The subtle but significant change Essendon coach Ben Rutten saw in his players during last week's win over Hawthorn could ensure the Bombers roll in to more wins in 2022 and keep their slim finals hopes alive.
Changes are looming for the clash with Sydney at the SCG on Saturday after the club was hit with an illness tsunami last week and players including best and fairest Jordan Ridley among those set to return.
The Bombers, with a 2-6 record this season, are in exactly the same position as in 2021, after which Rutten's team won nine of its next 15 games to make the finals.
And Rutten said he saw something in the come-from-behind win over the Hawks, in which Essendon kicked eight last quarter goals to one, which gave him the confidence that beyond just winning momentum, his players may have turned an important corner.
"It's some of the things I have been talking about, our ability to stick at what we are doing longer, ability to execute," he said.
"Against the Bulldogs (the previous week) some mistakes we made, seemed to deflate the group.
"There were plenty of those opportunities against Hawthorn where momentum went against us, a decision went against is, we made errors, but I thought the ability of the guys to maintain their focus, get back to the job and thinking about what to do next instead of dwelling on the past or thinking too far ahead, that's the challenge we have been working on.
"That last 10 minutes showed a real disciplined approach to be able to stick to our game for longer, sometimes the rewards are going to come in the last five minutes, or two minutes.
"We have to be able to endure a game like that, unsure when it might click over for us."
All of Essendon's past five clashes with the Swans have been won or lost by 10 points or less, with the combined margin in those matches, of which the Bombers have won three, just 31 points.
Rutten dismissed a suggestion the Swans had lost their "SCG aura", knowing the Swans, coming off two losses in a row, would return to the hard, contested footy which has been their hallmark for so long.
A win is crucial for the Bombers to keep their slim hopes of a finals return alive, but also to reward long-serving captain Dyson Heppell in his 200th game.
Rutten said, despite knockers outside the club, Heppell "commands respect" at the Bombers are deserved his teammates to turn up for him in Sydney.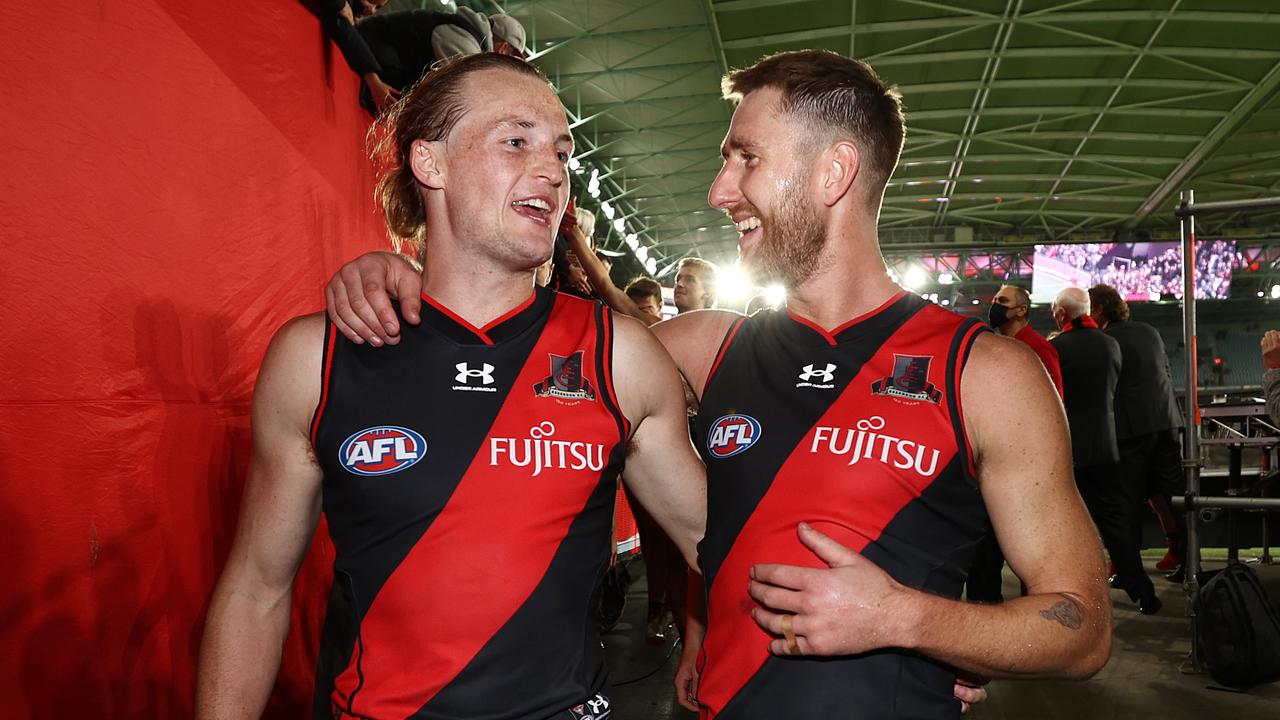 Essendon captain Dyson Heppell commands respect within the club. Photo by Michael Klein
"His attitude, the way he commands respect, and not through being a dominant figure but through his level of care, that's' one of the things that is really important to us," Rutten said.,
"The ability to acknowledge and celebrate the uniqueness in everyone no matter what their imperfections are.
"Dyson's ability to get around guys no matter if you are the boot studder or the best player in the team, that's what makes him such a loved player within our four walls."
Would you tell your wife to stop smiling?
Being recruited in a tent at a Burleigh Heads caravan park is one of the great AFL draft tales.
Dyson Heppell was starstruck when his hero James Hird walked into the family's lodgings the night before the 2010 National Draft.
It was the first time he'd spoken to Essendon and 24 hours later they selected the Morrish medallist in the first round at No.8.
Now Heppell sits alongside Hird on the club's honour board as a captain and will join him as a 200-game player on Saturday when he leads the Bombers onto the SCG on Saturday night to face Sydney.
Stream every match of every round of the 2022 Toyota AFL Premiership Season Live & Ad-Break Free In-Play on Kayo. New to Kayo? Try 14-Days Free Now >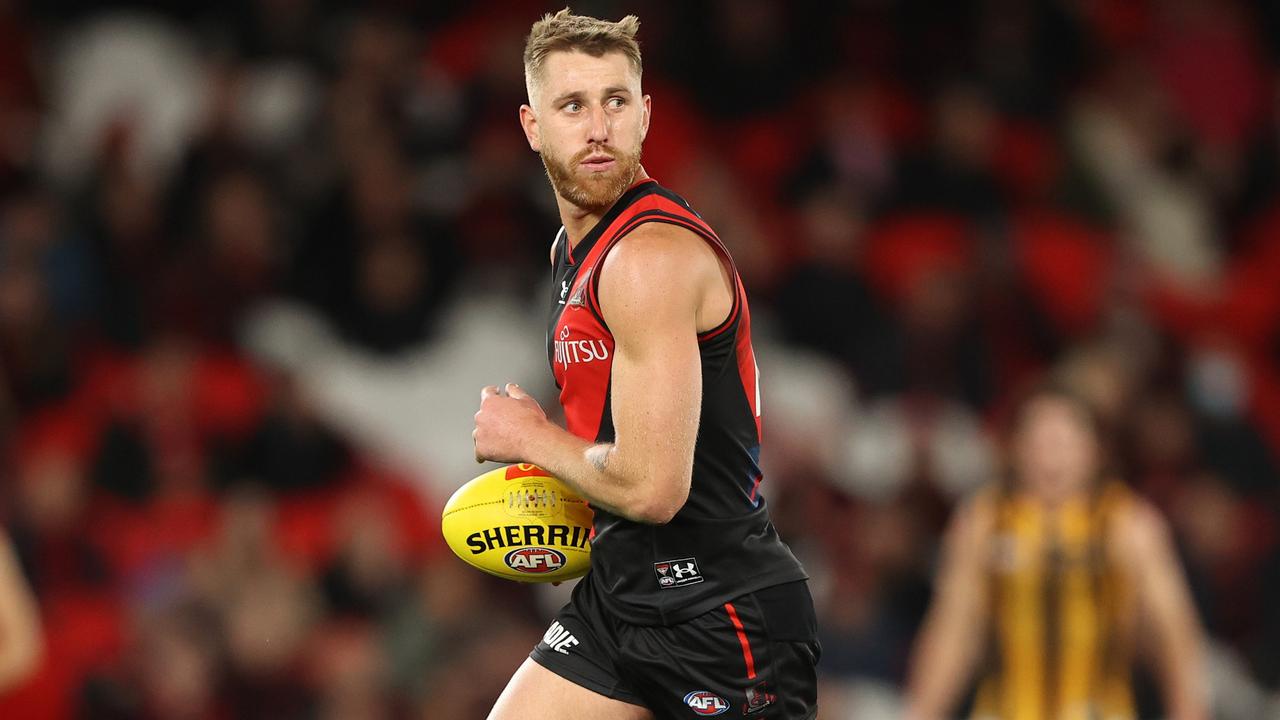 Dyson Heppell says he is humbled to be on the brink of a significant milestone with a club he barracked for as a child.
"I'm humbled by the whole journey and experiences I have been fortunate enough to have over the last 11 or 12 years," Heppell said.
"To be all at Essendon, the team I grew up barracking for is pretty cool."
He's been through a lot over the journey including Hird's dismissal during the infamous drugs scandal and is onto his sixth coach (if you include interims) in Ben Rutten.
Injuries have cruelled him in recent times while he's also lost three elimination finals but in his laconic country way the kid from Leongatha shrugs it off and moves onto the next challenge.
"Footy can be a tough caper at times, it certainly has its ups and downs and you build a hell of a lot of resilience which is something I have certainly taken from it," Heppell said.
"Part of me thinks I'd rather a journey of going through hard times and different circumstances and having to work through that.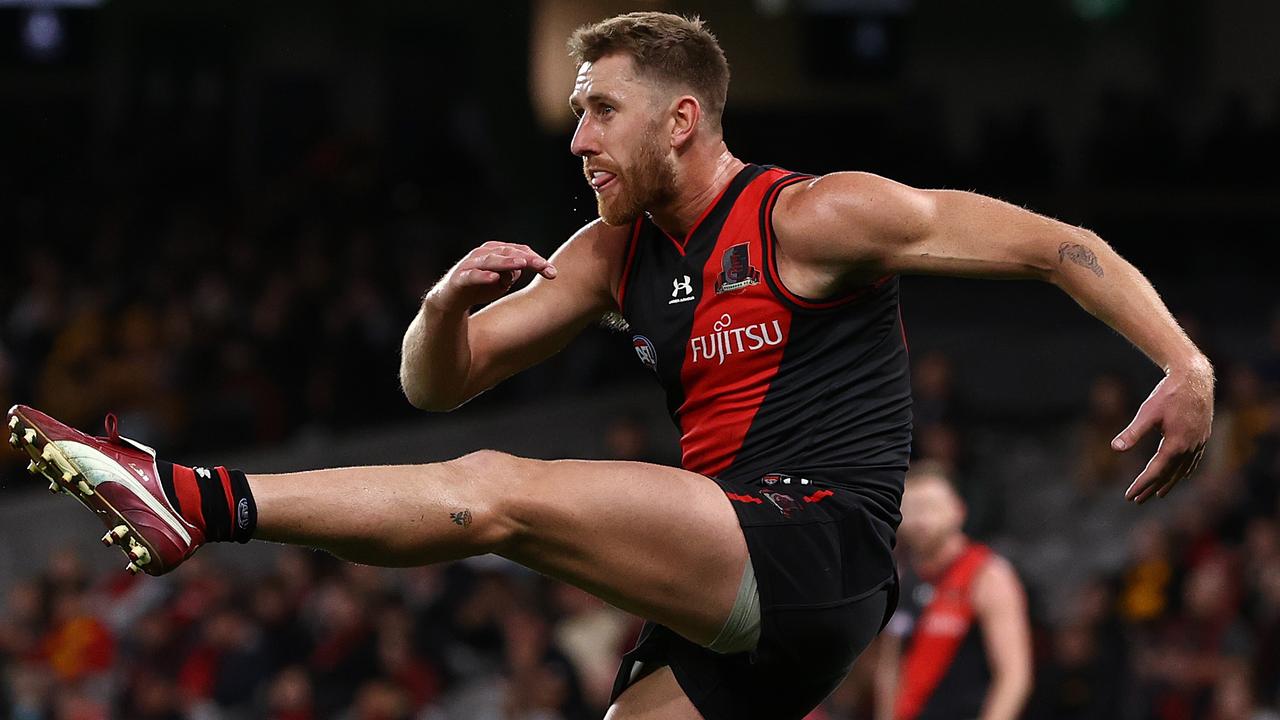 Dyson Heppell rediscovered some of his best form against the Hawks last weekend. Picture: Michael Klein
"I think some of my proudest moments are getting through adversity and coming out the other side stronger. I have loved every minute of it."
Heppell, 29, recently took a moment to reflect about his milestone which gave him even more appreciation for the career of Essendon's games record holder Dustin Fletcher.
"I was talking about that with a mate the other night, Fletch played 400 which is just outrageous," he said. "I don't know if got I've 300 in the tank but we'll keep chipping away."
Dealing with adversity has become second nature for Heppell, particularly this season with Saturday night's epic comeback victory over Hawthorn a much-needed release of the pressure valve.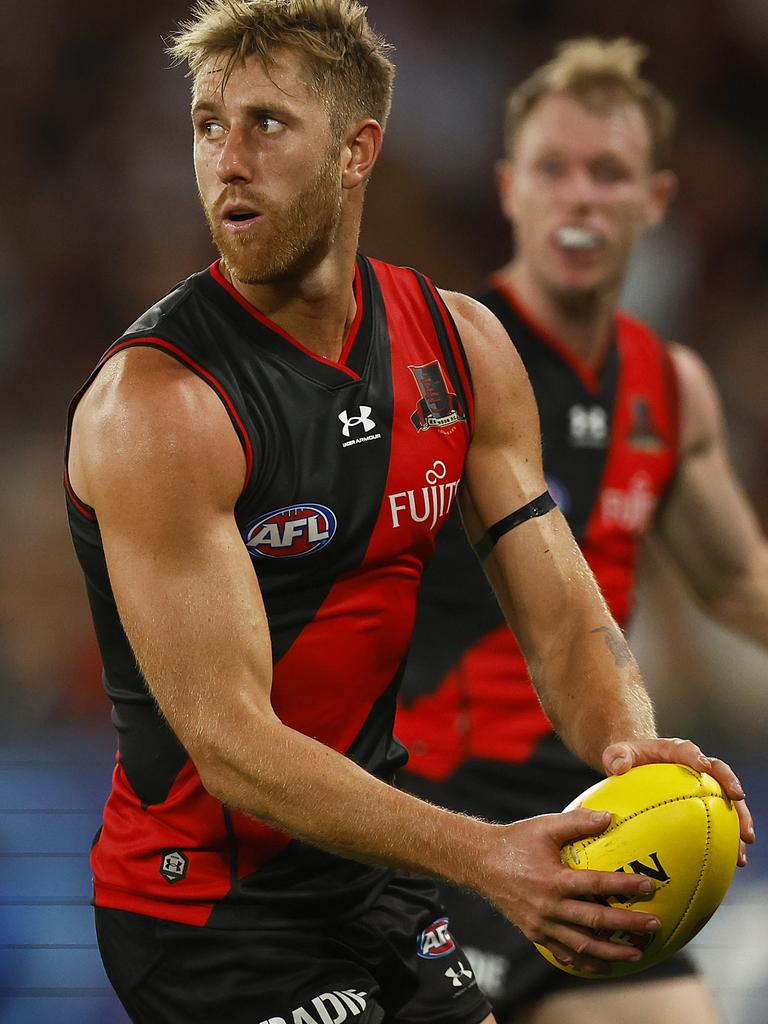 Dyson Heppell will lead the Bombers into battle against the Sydney Swans in his 200th game.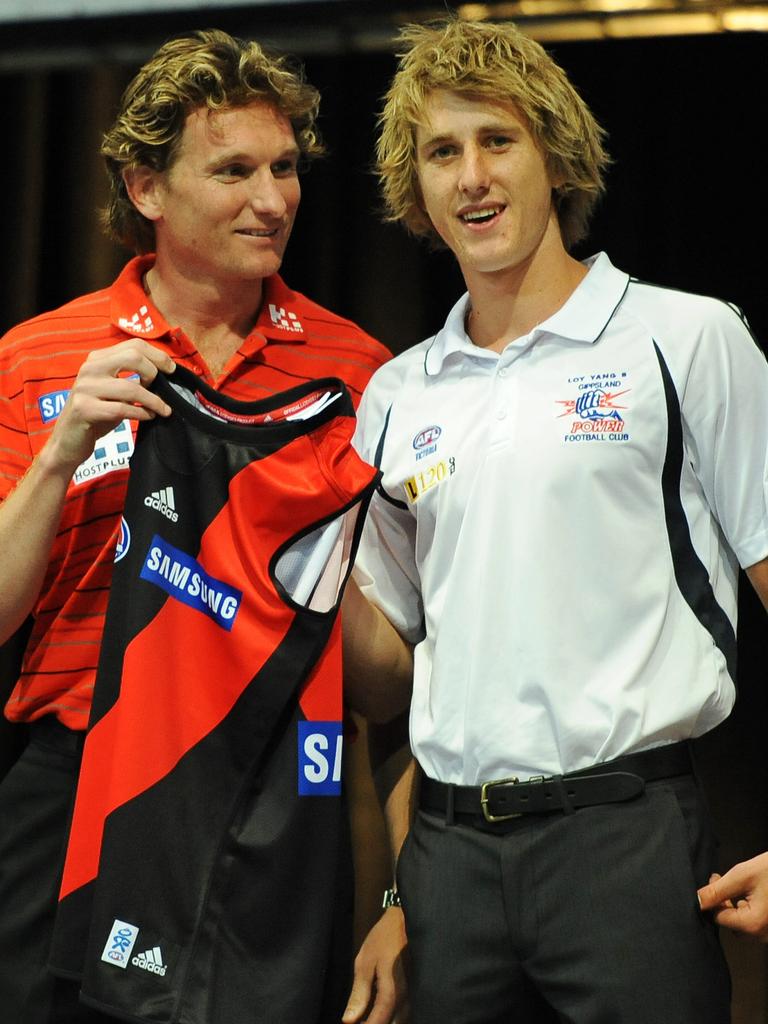 Then Essendon coach James Hird hands Dyson Heppell his jumped after being drafted to the club.
The critics have been lining up to whack the Bombers and the skipper told them to "jam it" after his team, which had been decimated by five late withdrawals, got over the Hawks.
He went again on Tuesday when quizzed about how some commentators had made a big deal out of the players being pictured laughing at training during the team's form slump.
"I heard it (the criticism) second-hand, I didn't see much of it, but people send a couple of things through," Heppell said.
"Genuine carry-on from a lot of people — are you going to tell your kids or wife to stop smiling because they have a bad day at work?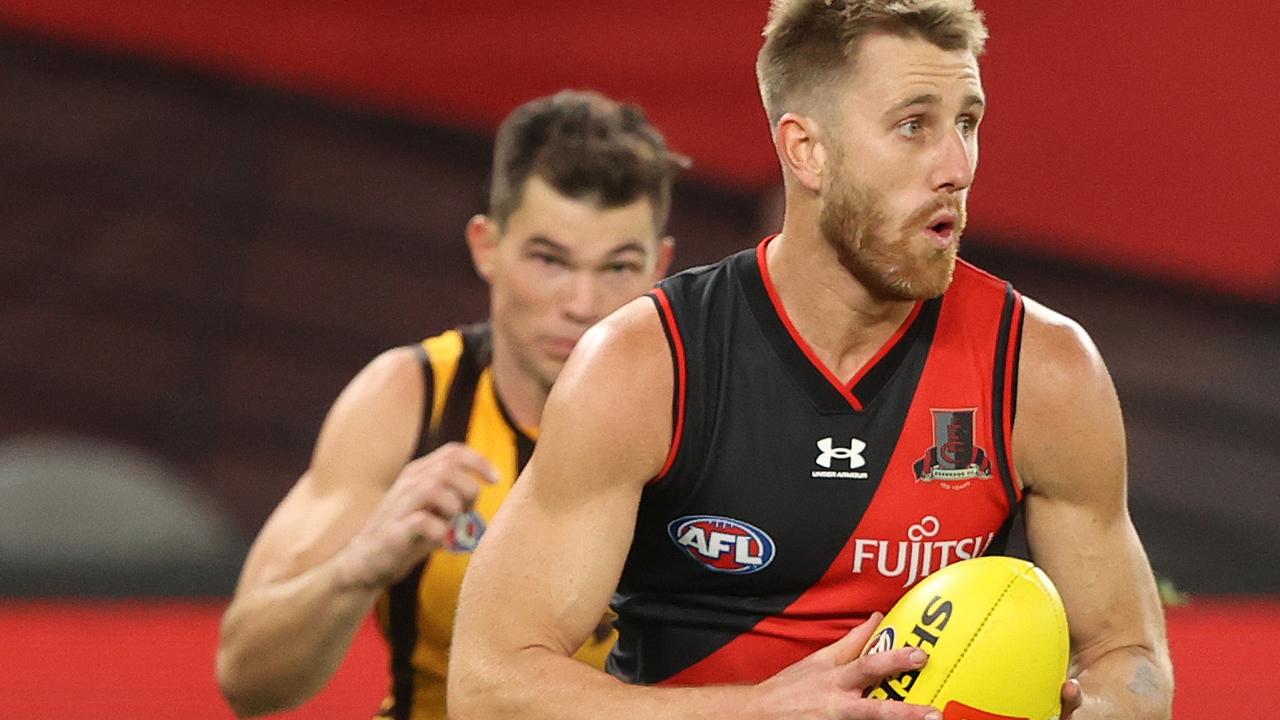 Dyson Heppell breaks away from Hawthorn's Jaeger O'Meara during his 199th game against Hawthorn at Marvel Stadium in round 8.
"I'm always an optimistic, positive type of bloke and I'm always going to come in as my authentic self and that's enjoying my time here and celebrating my teammates, whether that's in a win or a loss.
"You still get around teammates, you celebrate them and try to enjoy this environment and bounce back out of it."
Heppell says the late withdrawals — Jordan Ridley, Jake Kelly, Matt Guelfi, Alec Waterman and Sam Durham — appeared to have recovered from the illness which swept through the club.
"I think we're holding pretty tight at the moment, a few of those boys went down last week but we've got them back among the club now," Heppell said.
"They'll try to blow a bit of steam out in the first couple of sessions early in the week but that should be right to go (on Saturday night)."
Originally published as AFL 2022: All the latest Essendon news and the change Ben Rutten saw in Bombers win over Hawks