AFL 2022: All the latest from Adelaide's pre-season campaign
Will Hamill knows he is taking a risk every time he steps out on the footy field after multiple head knocks, but it won't stop the third-year Crow attacking the next contest.
The 21-year-old halfback has sustained four – all since joining the Crows ahead of the 2019 campaign and most recently from friendly fire in last season's Showdown in Round 21.
Hamill's first concussion came in the SANFL against Central District in 2019 when he copped a knee to the head.
In the first quarter of his second AFL match, versus Brisbane in 2020, his head was slammed into a Gabba cricket pitch.
MORE: CROWS COACH REVEALS SEEDSMAN SETBACKS
The league's 12-day concussion protocols did not exist then so although he avoided contact training the following week, he played the next game.
His family was most concerned by what Hamill described as his worst head knock so far, against Melbourne in 2020.
He was thumped into the Adelaide Oval turf in an Alex Neal-Bullen tackle, knocking the Crow out and leading to a four-game ban for the Demon.
Will Hamill is helped from the ground with concussion. Picture: Sarah Reed
Hamill sat out the same number of matches as a precaution after dealing with week-long lingering effects.
"They (parents) are concerned and I think my nana and grandpa are a bit more concerned than they were, but I reassure them that I'm fine, I feel pretty safe," Hamill tells News Corp.
"They're just worried because I think they have about 50 people message them after I get concussed, asking how I'm going.
"They see it live and they're obviously concerned about your health and they're trying to figure out if you're OK or not."
The concussion from colliding with Murray was Hamill's only one last year.
Hamill was cleared to play after completing the 12-day protocols but was an emergency for the final-round home win against North Melbourne.
Since speaking to The Advertiser, fellow Crow Paul Seedsman has been sidelined with concussion, owing to lingering effects from a head knock at training before Christmas.
Hamill has been doing exercises to help stabilise his neck and decrease the likelihood of a concussion the next time he cops a blow to his head.
He is also working on bracing when tackled so he does not get jolted into the ground.
"I'm comfortable out there playing," he says.
"The nature of the AFL is that if you're not going to put your head over the ball and get it or go for that hard ball, you're not going to play anyway.
"You take the risk every time you walk out on the field."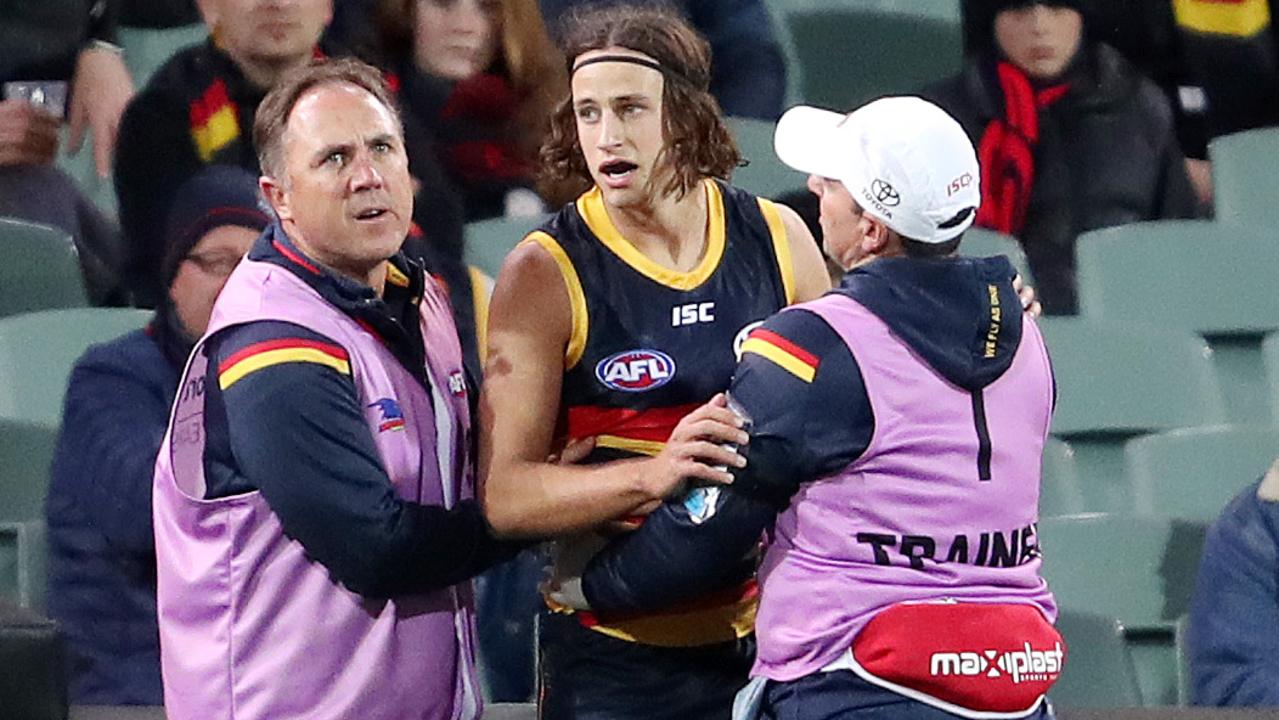 Will Hamill has been working on his neck to avoid further concussion issues. Picture: Sarah Reed
Hamill says it is a little scary to see players retire because of concussion, such as West Coast star Brad Sheppard in December, "but that can't get you down".
The third-year Crow feels fine and is not worried about going hard into the next contest.
"Even if you're not rocked around by it, they (the AFL and clubs) are not taking any chances," he says.
"It's only if you have ongoing symptoms that they (doctors) kind of get a bit worried."
Hailing from Dromona, south of Melbourne, Hamill joined the Crows via pick 30 in the 2018 national draft.
He did not feature at AFL level in 2019, played eight games in Adelaide's 2020 wooden-spoon campaign then added 17 last season.
The halfback began to establish himself as a regular in a backline that became even younger in 2021 due to Daniel Talia's season-long foot injury.
As Hamill emerged, so too did the likes of Chayce Jones and housemate Jordon Butts.
"It's exciting because we're hopefully going to go through our careers together," says Hamill, who also lives with Lachie Sholl.
The retirement of stalwart David Mackay benefits Hamill in one sense and is a significant loss in another.
"Me and Dave were pretty similar positions but then you also look at the wisdom that those blokes had," he says.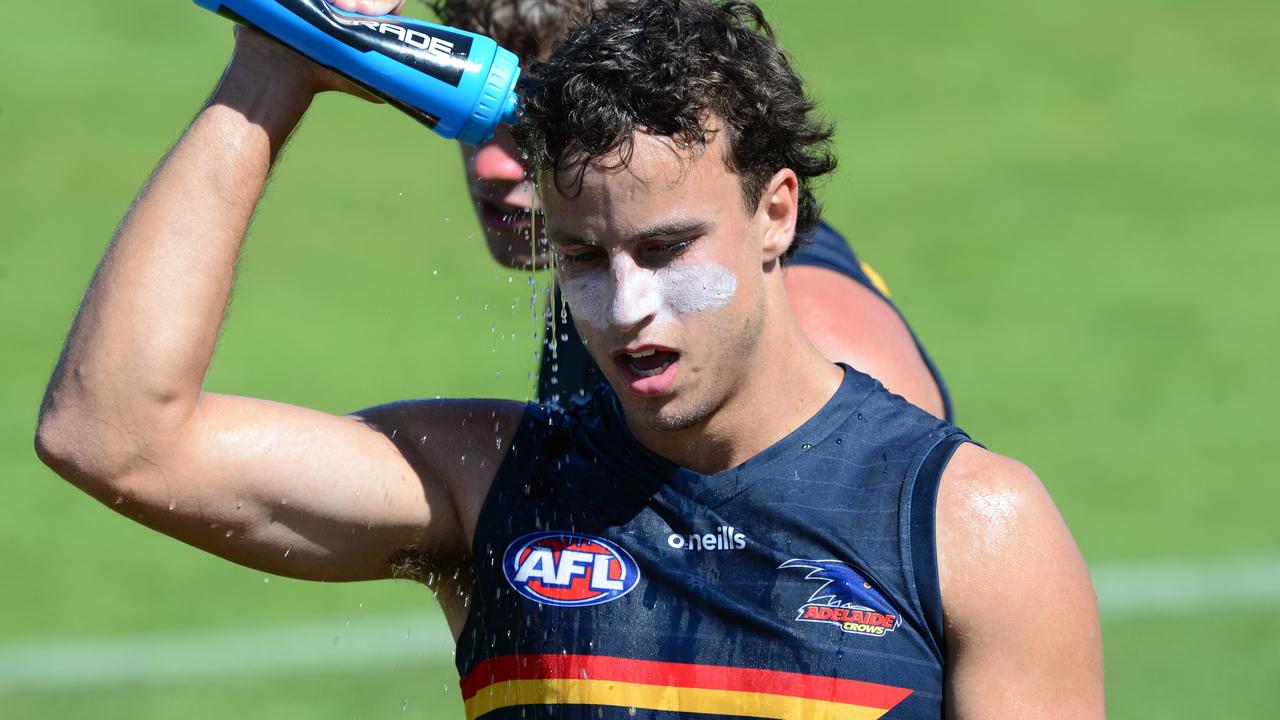 Will Hamill during pre-season training ahead of the 2022 campaign.
"I was very heavily mentored by him and I leant on him heavily when I was trying to learn the craft of the halfback line.
"So yeah, there's a spot up for grabs but you lose someone who had 250 games of AFL knowledge up his sleeve that could help the team."
Hamill's main personal goal this coming season is to take another step with his football.
"Last year I got dropped so … I'm going to try not to get dropped and want them to have pick me every single time," he says.
"You can't really be satisfied with where you're at.
"I'm just trying to attack every pre-season session."
Will Hamill will be out to cement a spot in Adelaide's best side.
Hamill still had a year to run on his contract when he re-signed in July until the end of 2024.
"It was exciting and pretty much a no-brainer," he says.
"I'm loving the club and all the boys.
"If you look at where we came from in 2020, when we were really struggling (finished bottom), we're building up now."
Originally published as AFL 2022: All the latest from Adelaide's pre-season campaign