AFL 2022: All the latest MRO news and updates for round 15
All Australian Geelong star Tom Stewart will spend a long stint on the sidelines for his late hit on Tiger Dion Prestia. How the AFL Tribunal made its decision.
Geelong's All-Australian defender Tom Stewart has copped a four-week ban for a bump which floored an "unexpecting and vulnerable" Dion Prestia.

The AFL Tribunal found Stewart's carelessness in the incident which left the Richmond midfielder badly concussed was high and that he'd breached his duty of care by a significant margin.
"The bump was late and occurred well after player Prestia could reasonably have expected to be bumped. He was wide open, exposed and vulnerable," Tribunal chairman Jeff Gleeson said.
Watch every blockbuster AFL match this weekend Live & Ad-Break Free In-Play on Kayo. New to Kayo? Try 14-Days Free Now >
"Player Stewart had sufficient time to see that player Prestia had not taken possession and was not actively involved in the contest. He ran past the ball and made a conscious, albeit split second, decision to bump player Prestia at speed.
"The degree of carelessness was high. He breached his duty of care by a significant margin.
"We accept that player Stewart is genuinely a fair player, that this was out of character and he is genuinely remorseful. We take this into account and give it weight."
Gleeson said head-high knocks was a major issue in the AFL and in this case Stewart could have avoided the collision with Prestia.
Tom Stewart connects with Dion Prestia.
Dion Prestia was forced from the field. Picture: Michael Klein
"AFL football is a high-speed sport in which head-high knocks are sometimes unavoidable, given what is known about the consequences of blows to the head, all reasonable steps must be taken to prevent avoidable blows to the head," he said.
The incident sparked a call for the send-off rule to be introduced into the AFL given Stewart went on to be the hero of Geelong's three-point victory with Tiger fans fuming given the result may well have been different if Prestia hadn't been taken out of the game.
Gleeson and panel members Jason Johnson and Paul Williams took just 30 minutes to find Stewart guilty.
The Cats reigning best and fairest winner will miss games against North Melbourne, Melbourne, Carlton and Port Adelaide.
"As I said from the start I accept the tribunal's decision," Stewart said.
"I'm disappointed in my actions and I have to own that as a man. My immediate response was Dion's wellness and that of his family that have had to experience this.
"As disappointed and disheartened as I am right now, it's still not about me, it's about Dion's wellbeing and how he is.
"I understand I did the wrong thing and ultimately what I chose to do resulted in somebody getting knocked out. That is not how I play the game, and never has been. My actions resulted in a consequence that I never wanted to happen so I had to own that."
Earlier the AFL pushed for a four-week suspension with the league's counsel starting the hearing by showing two previous cases involving high bumps including Stewart's teammate Patrick Dangerfield hit on Adelaide's Jake Kelly last year which saw him outed for three weeks.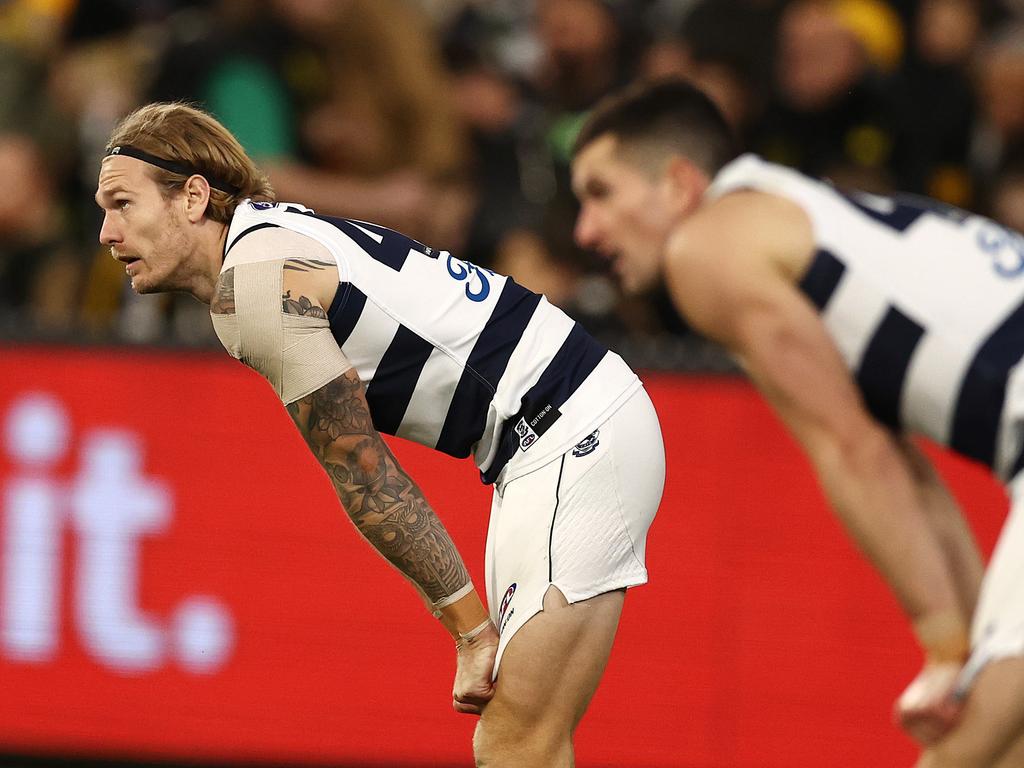 Tom Stewart's (L) bump sparked calls to introduce the send-off rule. Picture: Michael Klein
Nick Pane QC used the examples to push for a heavier penalty based on the circumstances which saw Prestia badly concussed in the opening quarter of Saturday's game.
"The bump was delivered at speed after player Stewart had gone past the ball with player Prestia unexpecting and vulnerable to being seriously injured upon such a bump being laid," Pane said.
"The injury suffered by player Prestia, concussion, is a serious injury in itself, it is the very reason why the charge of rough conduct high bumps was introduced to protect the head.
"That is a bump which was delivered with speed where the player was vulnerable and which involved significant head contact, is the very type of action which can cause serious injury."
Prestia, who reported having headaches afterwards, had a CT scan which cleared him of any facial fractures according to Richmond's medical report.
Geelong's defence counsel Ben Ihle pleaded for a three-week ban similar to the Dangerfield finding given the impact on Prestia was not nearly as severe as that case where Kelly was knocked out, lost a tooth and had to be carted off the ground.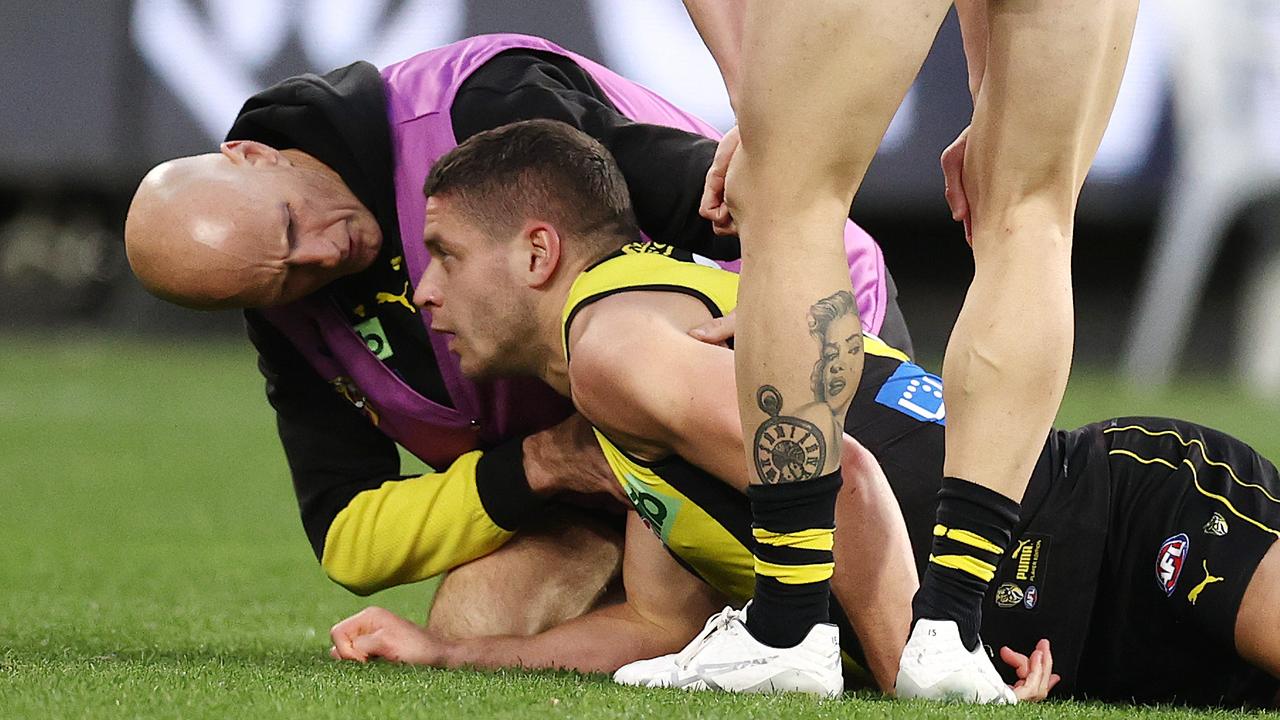 Dion Prestia after the the bump. Picture: Michael Klein
He pushed for the impact classification to be high, rather severe and argued Stewart had just 0.39sec to make a decision in the clash which wasn't a "pre-meditated collision".
"He made the wrong decision but it was a wrong decision made in less than half-a-second," Ihle said. "That's the amount of time he had to see what Prestia had done with the ball.
"He accepts that the level of care he demonstrated in this instance was not reasonable in the circumstances and not reasonable for an elite athlete.
"But on any interpretation that is an incredibly tight timeline."
Stewart was visibly shaken by the report during the game and on Monday said "it still sits in my gut and still makes me feel quite ill".
Cat sent straight to tribunal for 'really bad' Tiger KO
Geelong star defender Tom Stewart faces a minimum three-match suspension when he fronts the tribunal for his crunching bump on Richmond's Dion Prestia.
In a huge blow for the Cats, one of the competition's best backmen looks set to miss clashes against North Melbourne, Melbourne and Carlton as Chris Scott's men attempt to shore-up another top-two berth in the back half of the season.
Teammate Isaac Smith said on Sunday Stewart told him mid-game "I've done something really bad and I feel sick about it" after concussing the Tigers' star ballwinner in the first term.
But superstar midfielder Patrick Dangerfield is set to come in for the tussle against the Kangaroos at GMHBA Stadium after overcoming an ongoing calf issue.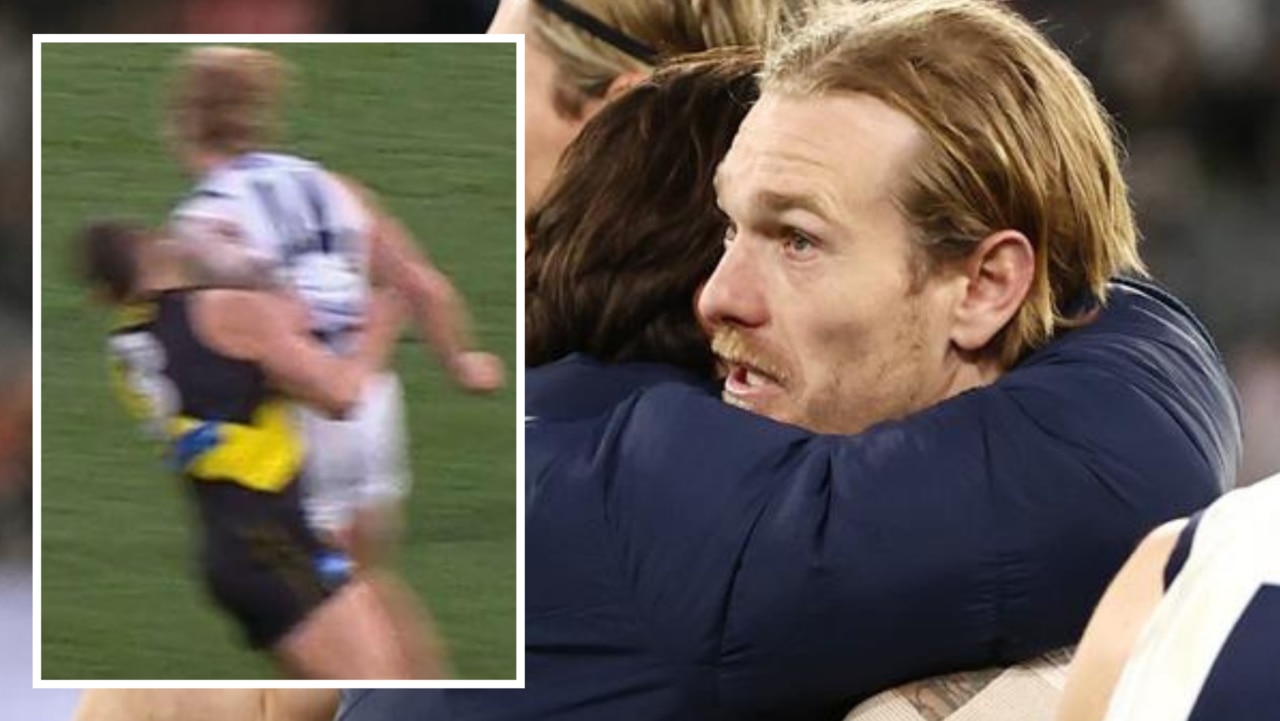 Tom Stewart has been sent straight to the tribunal for his hit on Dion Prestia.
Dangerfield has missed five weeks after aggravating a calf problem but has completed a training block in a bid to return to his explosive best for finals.
The league on Sunday referred Stewart, 28, straight to the tribunal after grading the bone-crunching bump on Prestia careless conduct, high contact and severe force.
The severe grading means it had to be sent to the tribunal under the match review guidelines due to the seriousness of the incident.
Prestia was laid out in the incident and was immediately substituted out of the game with concussion, meaning he will miss the Tigers' next clash against West Coast at the MCG.
At the tribunal, the AFL representative is likely to push for a four-match suspension for Stewart, but the Cats will hope to downgrade the ban by at least one match based on Stewart's excellent character and record over 119 matches.
If he is banned for three matches, Stewart would return against Port Adelaide in Round 19 at Adelaide Oval.
The Cats have a softer run home over the final month with three of their final games at home against Western Bulldogs (GMHBA), St Kilda (GMHBA), Gold Coast (Metricon Stadium) and West Coast (GMHBA).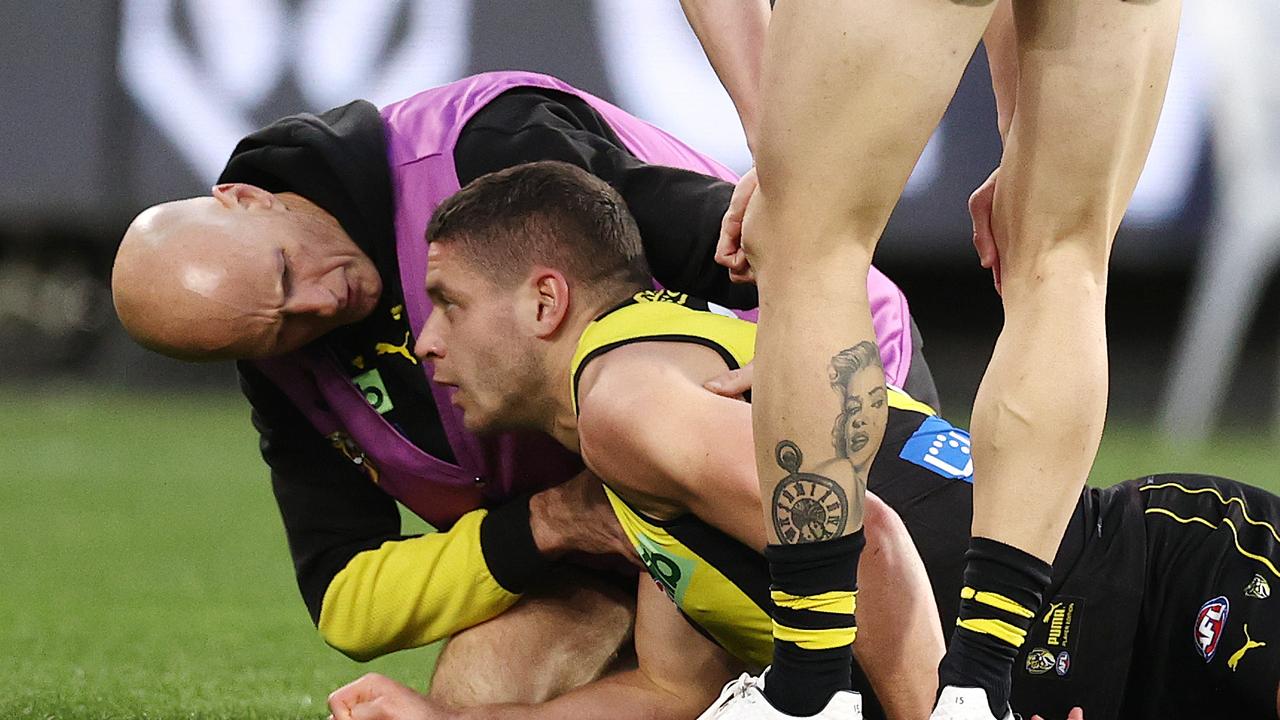 Dion Prestia after the bump. Picture: Michael Klein
Coach Chris Scott said Stewart was rocked by the incident at the quarter time huddle and felt "terrible" for smashing Prestia to the head.
Teammate Isaac Smith said on Sunday he tried to counsel Stewart who appeared visibly shattered.
"Stewy was a bit rattled and I just went over to him and … that is not deliberately in Stewy's nature," Smith said on Triple M.
"He is certainly not a dirty player and I went over and chatted to him and he said 'Mate, I've done something really bad and I feel sick about it'.
"I said there is nothing you can do about it right now, you job at the moment is to help us get the four points and (deal later on with) whatever comes of it.
"The beauty of Stewy is that straight after the game he was asking the boys if any of them had Dion's number and he wanted to get in contact.
"Stewy will get his punishment but I don't think there will be any grudges held."
Fyfe likely to be cleared of ump contact
—Jon Ralph
Fremantle captain Nathan Fyfe has dodged an umpire contact charge as St Kilda's star midfielder Zak Jones was on Sunday cleared to take on Carlton in round 16.
The league cleared Fyfe of unnecessary umpire contact after he put his hand on the chest of umpire Robert O'Gormon in the loss to the Blues.
The AFL ruled opponent Matthew Cottrell pushed Fyfe, who then put his hand on the official to keep his balance.
Under AFL rules the contact needs to be intentional, demonstrative, aggressive or dismissive but it did not meet that threshold.
St Kilda midfielder Jones was cleared despite a high bump on Sydney's Luke Parker that made contact to his head as he surged out of the centre clearance.
Jones was stationary and while he did rise off the ground he had no option to tackle Parker because he had handballed over his head.
The MRO ruled earlier this year that Western Bulldogs midfielder Tim English had no case to answer for similar contact with Sydney's Nick Blakey because he had no other option.
Jones was cleared under that direct precedent, which means he will be available to take on Carlton in another Friday night special.
St Kilda's Paddy Ryder was suspended for a bump that concussed Hawthorn's Will Day early this year but he was not stationary and made clear high contact with the young Hawk.
Given Jones did not initiate contact and was turning sideways to brace for contact he had no case to answer.
Geelong star Jeremy Cameron dodged a charge of unnecessary contact to the face of Richmond's Marlion Pickett after the vision did not prove he made contact to the eye.
But both players were fined for a wrestle during the same skirmish.
Nat Fyfe and Lewis Young wrestle at the three quarter time at Marvel Stadium. Picture: AFL Photos/Getty Images
Jones bump to be AFL test case
St Kilda's Zac Jones will be part of another test case on the bump after he struck Sydney's Luke Parker high in the demoralising Saints loss to Sydney.
Most instances where a player chooses to bump an opponent sees that player responsible for the contact.
But the AFL match review panel has been consistent in allowing players to brace for contact if they have no other alternative.
Western Bulldogs ruckman Tim English received no penalty when he braced against Sydney's Nick Blakey, with MRO boss Michael Christian saying his actions were "not unreasonable in the circumstances".
St Kilda's Paddy Ryder received a suspension for striking Will Day high but he continued his momentum and hit the Hawks utility to the head in an incident that saw him concussed.
So there is a likely prospect that Jones will be cleared to take on Carlton on Friday night despite hitting Parker high.
Parker had handballed over Jones' head so he was not able to tackle and instead turned side on and braced for contact.
Doggie headband pinch not cheap for Sicily
—Scott Gullan
Hawthorn defender James Sicily has been hit with a $1000 fine for ripping off Aaron Naughton's headband.
Sicily lost his cool in the third quarter of Friday night's loss to the Western Bulldogs and was charged by the match review panel with misconduct for deliberately tampering with the Western Bulldogs full-forward's head gear.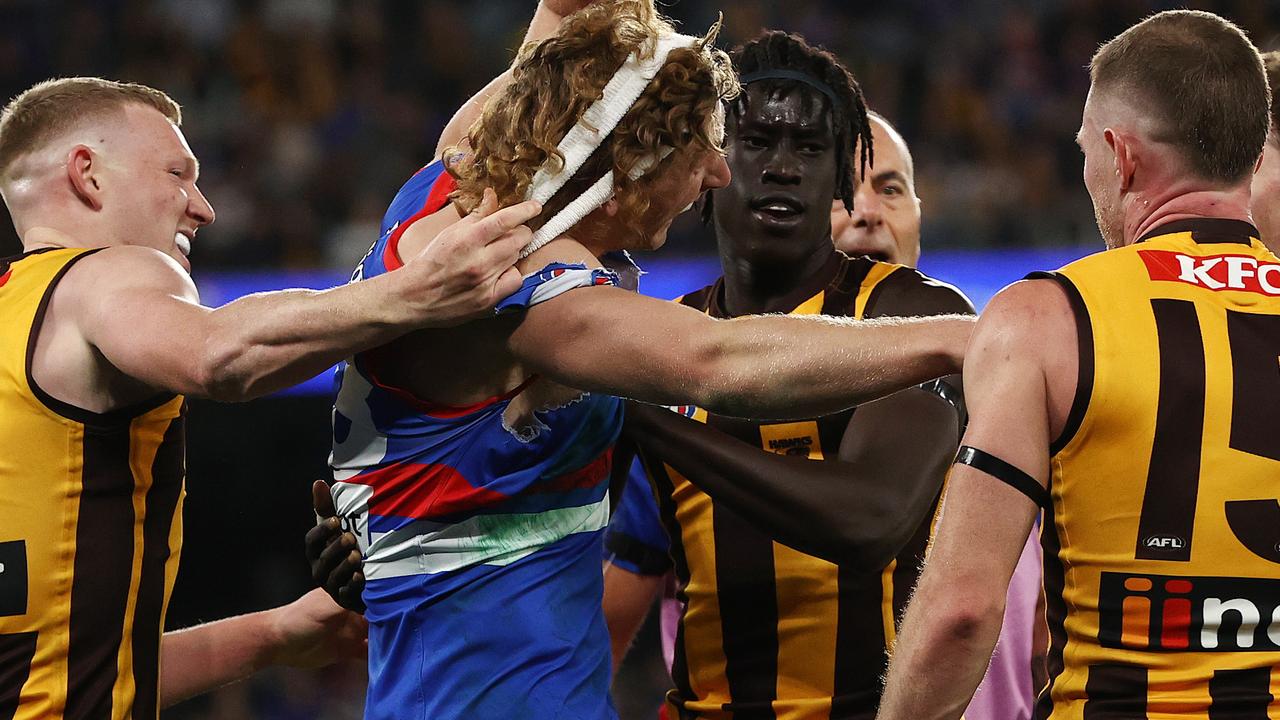 James Sicily pulls off Bulldog Aaron Naughton's headband during a third quarter melee. Picture: Michael Klein
It was a costly night for the Hawks vice-captain who also copped another $2000 fine for a body punch to young Bulldog Jamarra Ugle-Hagan in the final term.
Hawthorn coach Sam Mitchell backed Sicily's fiery on-field approach after the 42-point loss, saying he'd "rather that than nothing".
Sicily has been working hard to shed his reputation as a volatile and impulsive player.
"I think he's handling those situations really well over the journey. Maybe five years ago or four years ago, he didn't do so much," Mitchell said.
"He'd sort of gone away from that for a year or so, then he missed a year (through injury) and now he's back.
"He's been a really important player for us and continues to be, so I'm not concerned about it."
Hawthorn forward Jacob Koschitzke has also been fined $2000 for forceful front-on contact on Dogs defender Tim O'Brien in the opening quarter.
The incident was assessed as careless conduct, low impact and high contact.
Originally published as AFL 2022: All the latest MRO news and updates for round 15