AFL 2022: All the latest news on Tasmania's push for a licence
First came Gold Coast. Then GWS. Now AFL clubs have been warned it will take years of compromised drafts to make a Tasmanian team a reality.
The Suns are still yet to play finals given several false dawns after the league handed them nine of the first 19 picks in the 2011 national draft as well as access to uncontracted players and a group of elite 17-year-olds.
Watch every blockbuster AFL match this weekend Live & Ad-Break Free In-Play on Kayo. New to Kayo? Try 14-Days Free Now >
McKenna says there is no getting around the fact the Tasmanian team would need massive draft incentives.
"Ultimately we needed a bridge from the young to the old, that was our missing link. The concessions were great but you look at what Hawthorn did to build a premiership, they got a block of three drafts," he said.
"The first-up draft was good but while the majority of the boys ended up being OK they didn't hang around.
"But three or four years in I was fighting (recruiter) Scotty Clayton because we needed a couple of opening batsmen to take the new ball, we needed some experience and GWS had those picks and could trade for experience. We needed more picks to bring in a 22 or 23-year-old who was half-decent but when we lost 21-year-olds we kept bringing in 18-year-olds. We only had one draft but GWS were able to do it because of their draft concessions."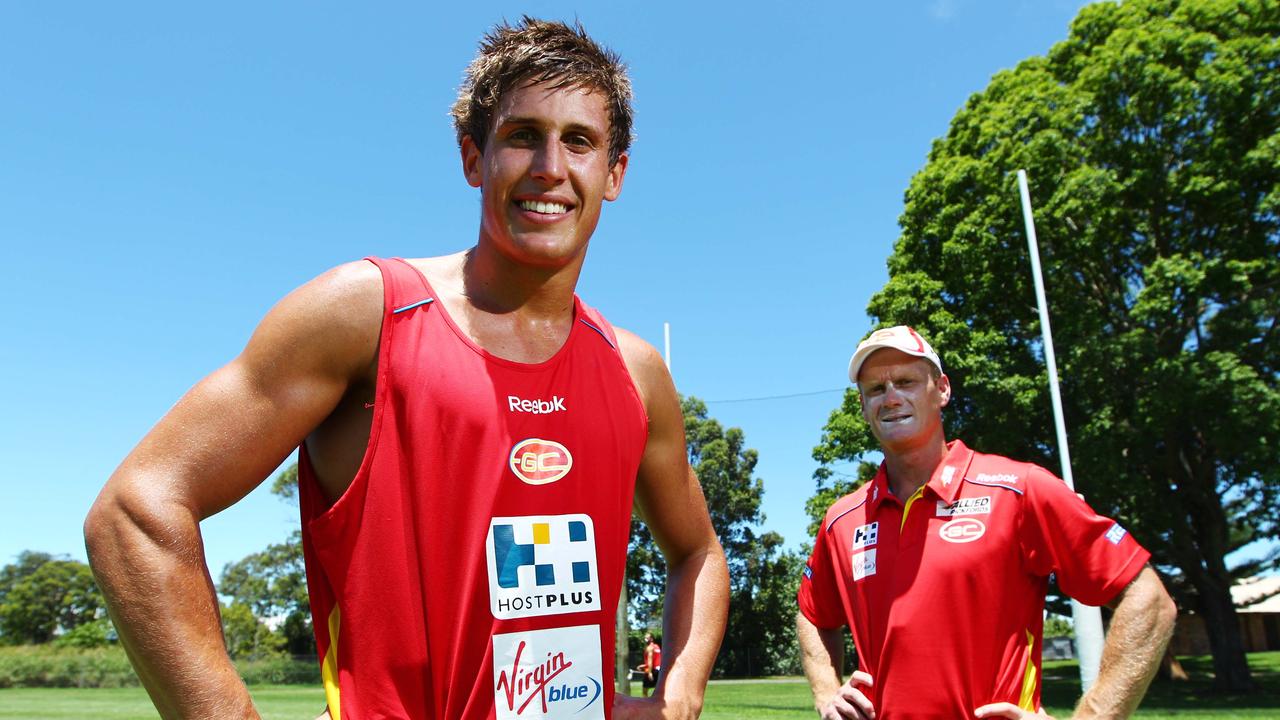 Then No.1 pick David Swallow with Guy McKenna.
GWS were given many of the same privileges as the Suns but better draft access as they took 11 of the first 14 picks in the 2011 national draft and picks 1, 2, 3, 12 and 14 in the 2012 national draft.
The Suns were never able to retain their elite talent and McKenna says the initial idea of recruiting 16 uncontracted players was a pipedream because established players in elite teams didn't want to come north.
The Suns spent up big to secure Ablett but McKenna admits many of the uncontracted players that came north were in the back end of their careers.
The AFL gave the Giants more picks because their retention challenges in western Sydney were seen to be more significant.
Sydney president Andrew Pridham said on the weekend clubs were keen to find out how the upcoming drafts would be compromised by a Tasmanian team as one of many concerns about a new franchise.
Kevin Sheedy in 2007 with the crop of young guns drafted by GWS.
McKenna believes a new Tasmanian team must be a standalone side given his experience with AFL start-up Gold Coast, which became a new team after the Roos rebuffed a relocation.
The Suns' membership experience was that footy fans who already had club loyalties began watching the Suns and eventually switched allegiances but would never have followed a relocated North Melbourne side.
He says the same is true of a Tasmanian side but says it is extremely hard to move players to an expansion side.
"In Tasmania they might get a De Goey or a Jake Stringer type, a bit of a loose cannon who might not be as loyal. We targeted guys like James Frawley and Matthew Pavlich but they all turned us down," he said.
"So Tasmania would have to target local types just like West Coast targeted Ross Glendinning and Phil Narkle. It has to be a standalone team. When we had something like 17,000 members the membership lady would say 70 per cent of them support Gold Coast as their second team, but no Carlton supporter is going to support a Tasmanian team from North Melbourne."
NEW PREMIER'S NON-NEGOTIABLE ON TASSIE LICENCE
Tasmanian premier Jeremy Rockliff says the state's funding is conditional on a stand-alone 19th licence and not a relocation as he prepares to meet AFL boss Gillon McLachlan in person in coming days.
Rockliff told the Herald Sun on Monday the state was prepared to walk away from its bid for a new team if the league attempted to foist a relocated side onto the state.
The state and its Tasmanian task force have positioned this bid as the last possible chance for an AFL licence as the AFL's presidents prepare for a potential August vote.
Watch every blockbuster AFL match this weekend Live & Ad-Break Free In-Play on Kayo. New to Kayo? Try 14-Days Free Now >
Rockliff confirmed the $150 million figure being offered to the AFL in the form of a $50 million start-up fund and $100 million over ten seasons.
But despite Sydney president Andrew Pridham's weekend statement that the AFL must be open-minded to a relocation, Rockliff was adamant there is only one model which works.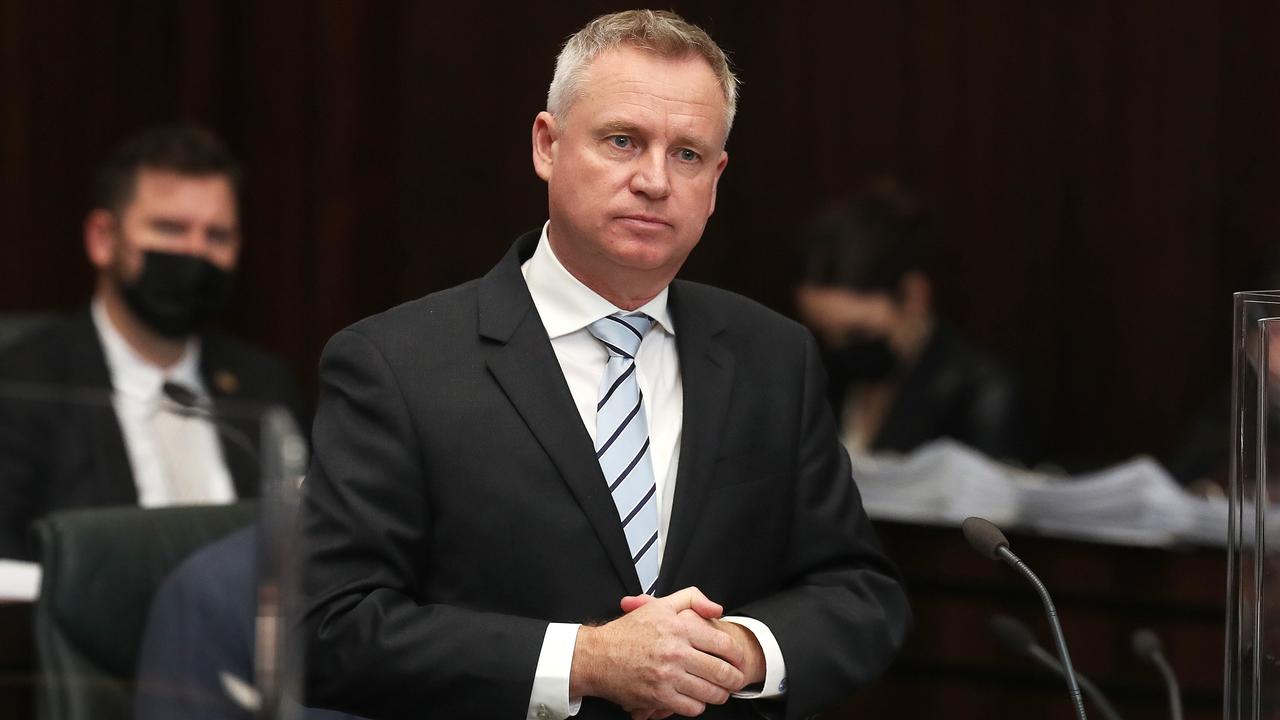 Tasmanian premier Jeremy Rockliff has added a big sticking point to the state's bid for an AFL team. Picture: Picture: Nikki Davis-Jones
"Our $150 million bid is for a stand-alone Tasmanian AFL team only," he told News Corp.
"We have been clear from the get-go that Tasmanians are not interested in a team that has half its heart in Melbourne. Granting Tasmania its own licence is the only way the AFL can be a truly national competition; Tasmanians will accept nothing less.
"I've been in regular conversation with AFL CEO Gillon McLachlan and we plan to meet in person in coming days.
"Plans are also underway to invite the club Presidents to Tasmania to see for themselves what our island State has to offer and the passion and force behind the campaign."
McLachlan has been in constant contact with new premier Rockliff but is yet to travel to Tasmania for an in-person meeting and has let his key lieutenants Travis Auld and Sam Graham carry much of the heavy lifting.
Tasmanian football sources say they were taken aback after the sudden resignation of former premier Peter Gutwein when the AFL's mood instantly changed.
McLachlan sent one of his AFL underlings to a scheduled meeting with the premier and immediately upped the yearly asking price for investment into the new team.
AFL presidents remain nervous about the league's investment into a new state in the same year when the league is threatening to take as much as $2 million per season from their annual distributions.
It means the AFL's ability to broker a significant TV rights deal is critical and closely linked to funding for a 19th team.
Pridham echoed the thoughts of many club presidents who have not yet been given the financials on the side when he said: "At this point, all options have to be on the table. You can't ask the clubs to have an open mind to Tasmania coming into the competition and a 19th licence if Tasmania can't have an open mind to a different model."
The Tasmanian task force and Tasmanian governments will invite the 18 presidents to the state to assess the football landscape in coming weeks.
The pitch will be to consider how critical a team is to the Tasmanian football ecosystem while also being briefed on the economics of the 19th team.
The Tasmanian government currently hands Hawthorn and North Melbourne around $8 million per season for games in Hobart and Launceston and will only broker new deals once a Tasmanian licence has been awarded.
There would be a significant lag time of up to five years between the granting of a licence and its first year so the Tasmanian government would likely fund those teams in the interim.
But the Roos' attendances in Hobart are dwindling with the club's round 15 clash against Adelaide at Blundstone Arena unlikely to arrest the slump.
North Melbourne takes on Hawthorn in round 18 in Hobart, with the game likely to draw an increased crowd given the Hawks' support in the state
Eight unanswered questions on Tassie AFL bid
Essendon president Paul Brasher has urged clubs to keep an open mind about a Tasmanian expansion as the state's charm offensive begins to ramp up ahead of a potential August vote.
The 19th franchise has taken a series of hits in recent weeks with club presidents yet to be sold on the virtues of the team given the financial impost.
The Herald Sun revealed last month that the AFL had increased its financial demands to the state government and that key AFL presidents still had cold feet about the expansion philosophy.
It comes amid reports the cost of the $750 million stadium was a "ballpark" figure likely to escalate, with no Federal government funding to be locked in by August.
But Brasher told the Herald Sun while it was up to the AFL to convince clubs, he said he would wait until the concerted AFL push that will come with a full cost breakdown and pros and cons on the team.
"I am open minded about it. I am not sure how you could have a definitive view on it at the moment, " he said.
"There are at least six or eight fundamental questions we haven't seen the answers to yet. We will get them in August. We have to look at the economics, what it means to the rest of the competition, the funding, the Tasmanian government follow-through on the things we have talked about, how it affects lists and how the Tasmanian list would be built up.
"We won't see much of anything until August so we are keeping an open mind."
Club presidents will be invited by the Tasmanian task force to fly to the state in coming months to assess the landscape themselves.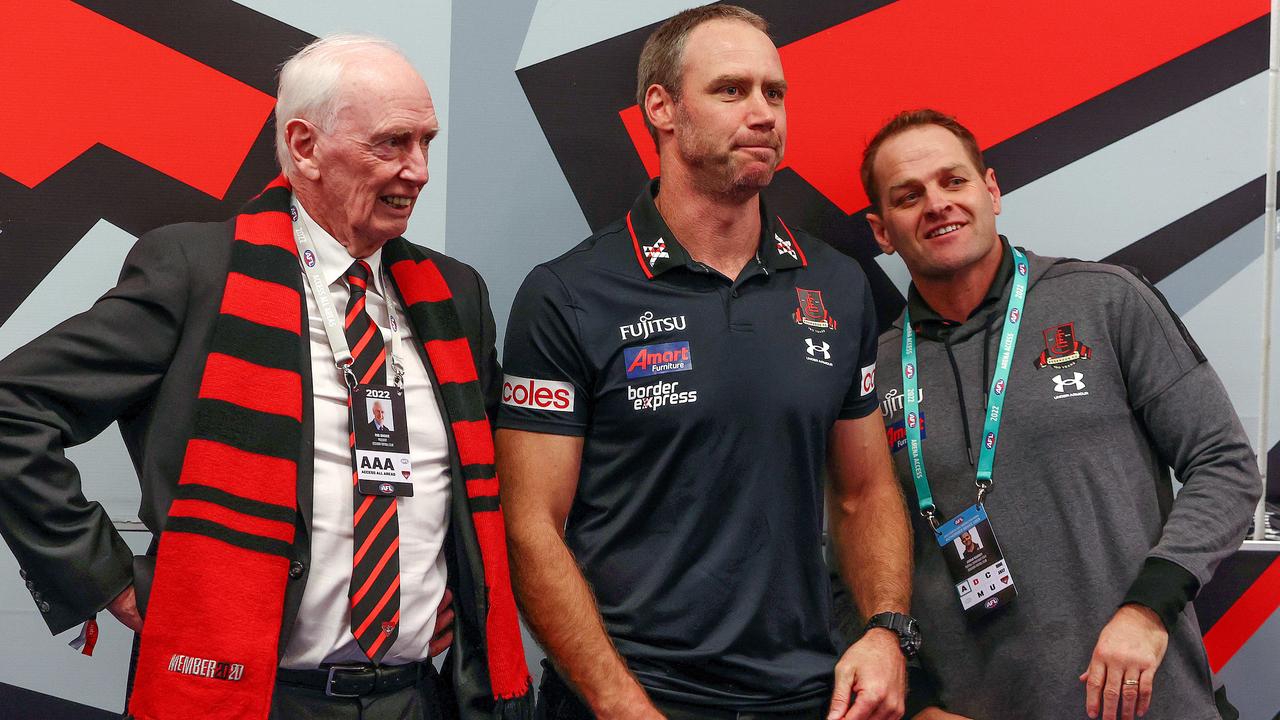 Essendon president Paul Brasher (left) hopes clubs keep an open mind about Tasmania's bid for an AFL licence.
But while there is significant doubt from presidents they also realise the league's strategy.
The clear push from the league is to attempt to secure as much financial funding from the Tasmanian state government as seeds of doubts are sewn about the team's financial viability.
Then when that money is secured the league will throw everything at herding the presidents into a strong consensus position that will likely see the decision approved if the money is guaranteed by the government.
Former Tasmanian premier Peter Gutwein said in March the new Hobart stadium would cost "in the order of $750 million".
An ABC report this week revealed that figure was provided by sports development agency Waypoint with "no design, no site information and no defined scope at this stage".
The Perth Stadium built for a 60,000 seat capacity cost $1.8 billion through contractor Brookfield Multiplex, well in excess of the original $1 billion estimate in 2011.
Presidents are worried about the capacity of the state to secure return on investment from what could be as few as eight AFL home games a year, given three of 11 Tasmanian games could be in Launceston.
But the Tasmanian task-force will urge those presidents not to be distracted and instead focus on the obligation to help save Tasmanian football in what it has pitched as the last chance to secure an additional AFL licence.
TASSIE RAMPS UP AFL BID WITH HUGE CASH INJECTION
— Glenn McFarlane
A powerful $150 million pitch from Tasmania's state government to the AFL could fast-track stand-alone men's and women's 19th franchises with new premier Jeremy Rockliff saying the club must be set up for "early success".
With the final decision on a future Tasmanian club to be made at a meeting of the AFL and its 18 clubs in August, Rockliff made a submission to the league earlier this month.
The state government says it is time for the AFL to give the green light to a stand-alone team, insisting it won't support a relocated side.
Watch every blockbuster AFL match this weekend Live & Ad-Break Free In-Play on Kayo. New to Kayo? Try 14-Days Free Now >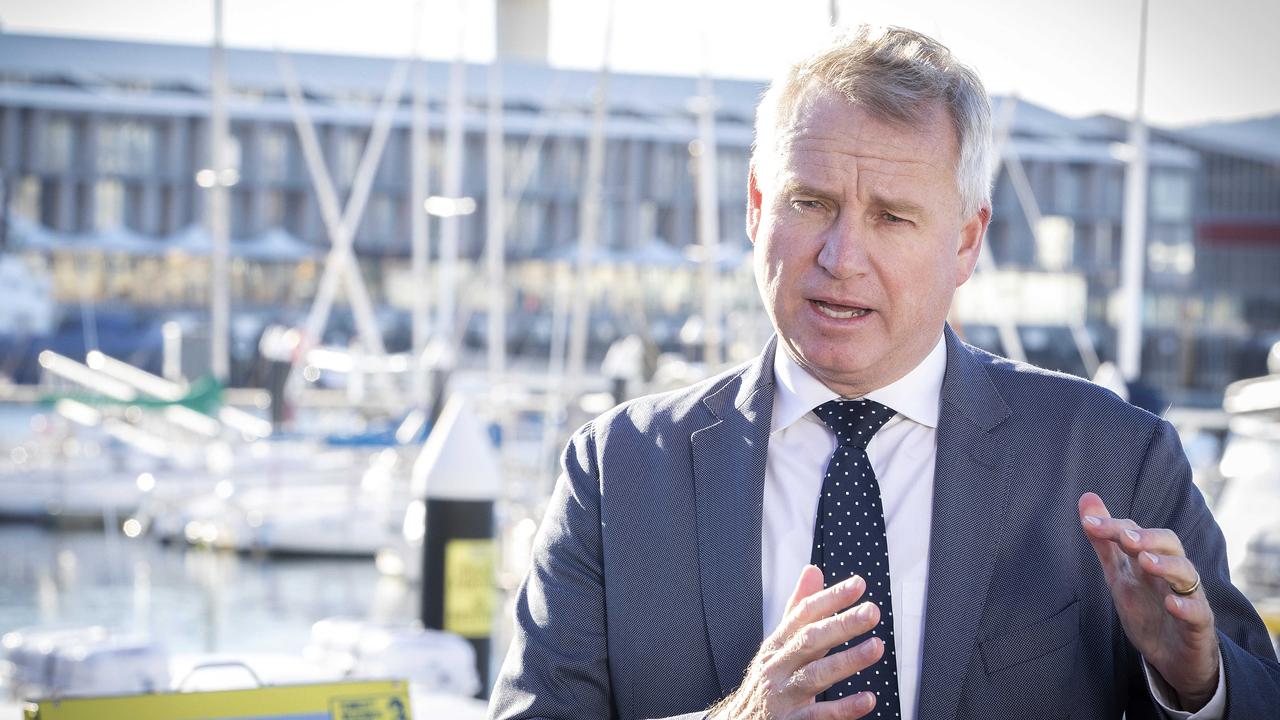 Premier Jeremy Rockliff is understood to have cross-party support for his push to make a sizeable commitment to getting the green light for a Tasmanian AFL team.
"It is now time for Tasmania to be represented in the AFL and AFLW, due not only to our strong historical links with the game, but also due to our ability to sustain a viable team that will strengthen the game and contribute towards the meaningful survival of the AFL code in this state," Premier Rockliff told News Corp.
"Our bold offer to the AFL is based on the 2019 Tasmanian AFL Taskforce Business Case provided to the AFL and after consideration of the AFL-sponsored Carter Report.
"I have tasked the AFL task force to work directly with the AFL on assumptions and contingencies, including a commitment by the AFL to support the teams being set up for early success."
The state government's pitch to the AFL is understood to centre on a $100 million commitment over the first 10 seasons, with a further $50 million coming in start-up expenses.
Part of those start-up costs would include a new cutting-edge facility in the heart of Hobart and a pathway/retention plan for high-end football talent.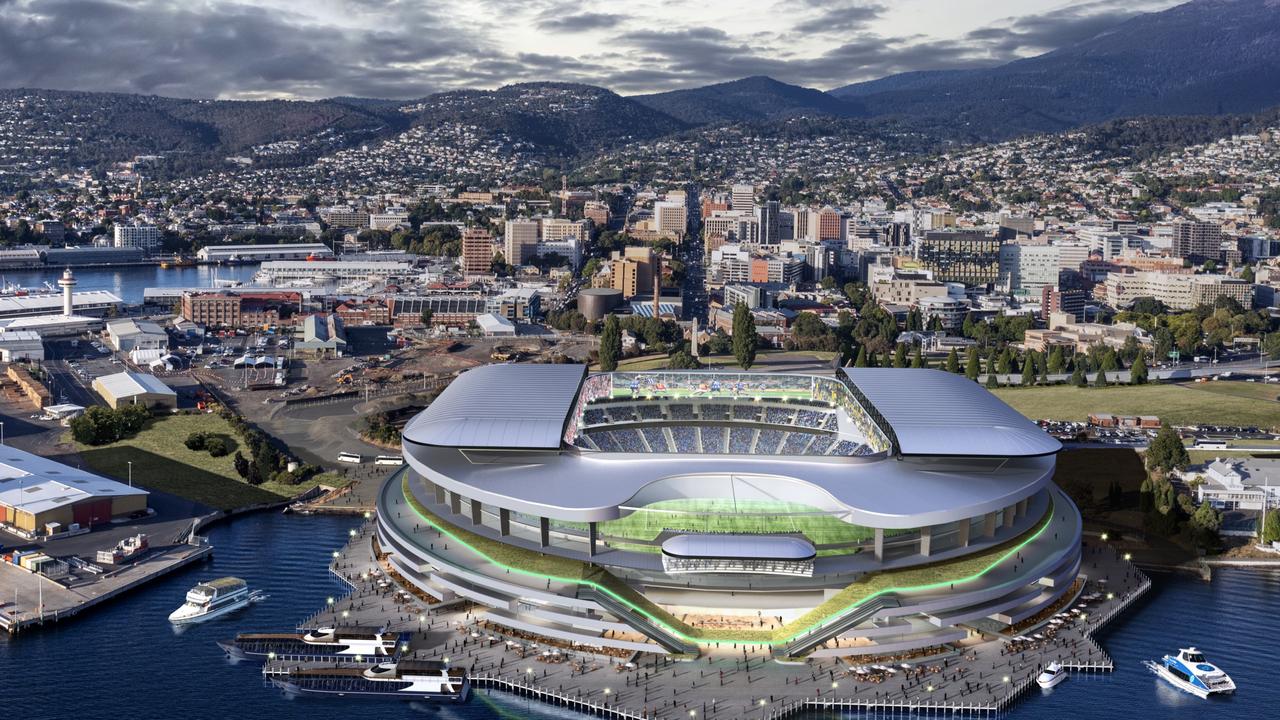 An artist's impression of a potential multipurpose stadium being considered for Hobart should Tasmania win an AFL licence.
One of the key planks would be a significant focus on grassroots football in Tasmania, which has struggled in recent years, with a belief that investment can restore it to its former glories.
Chairman of the Tasmanian AFL Taskforce Brett Godfrey said: "The document was a non-binding letter of support for a 19th licence that crucially sought more information from the AFL prior to considering a final offer."
"It fundamentally does not deviate beyond the recommendations of the 2019 Taskforce Business Case.
"There have been no negotiations undertaken to date and before any bid is tabled, more information from both sides is required."
A timeline for a Tasmanian AFL team remains unclear, but if the licence is granted it could potentially be up and running between 2026 and 2028, with the latter being the most favoured view.
Premier Rockliff is understood to have cross-party support for his financial plan to help set up a Tasmanian AFL club.
The AFL's Colin Carter Report into the merits of a stand-alone Tasmanian team – which was tabled last year – estimated the state government would need to commit to somewhere between $7 million to $11 million per year to meet the club's financial bottom line.
Originally published as AFL 2022: All the latest news on Tasmania's push for a licence