AFL 2022: All the latest Port Adelaide news and updates ahead of round 11
Charlie Dixon is definitely returning for Port Adelaide this weekend and now we know the forward who has been axed.
Mitch Georgiades is the forward to make way for Charlie Dixon as Port Adelaide gets its spearhead for his first game of the season.
The young gun has been omitted for the Power's Sunday afternoon clash against Essendon at Adelaide Oval with Dixon finally able to play at AFL level this season following two ankle surgeries stemming from a pre-season injury.
Georgiades and Lachie Jones make way for Dixon and Riley Bonner, who is available for the Power after rolling his ankle against the Western Bulldogs two weeks ago.
Interestingly the Power named key forward Jeremy Finalyson in the ruck in its initial team on Thursday evening.
Watch every blockbuster AFL match this weekend Live & Ad-Break Free In-Play on Kayo. New to Kayo? Try 14-Days Free Now >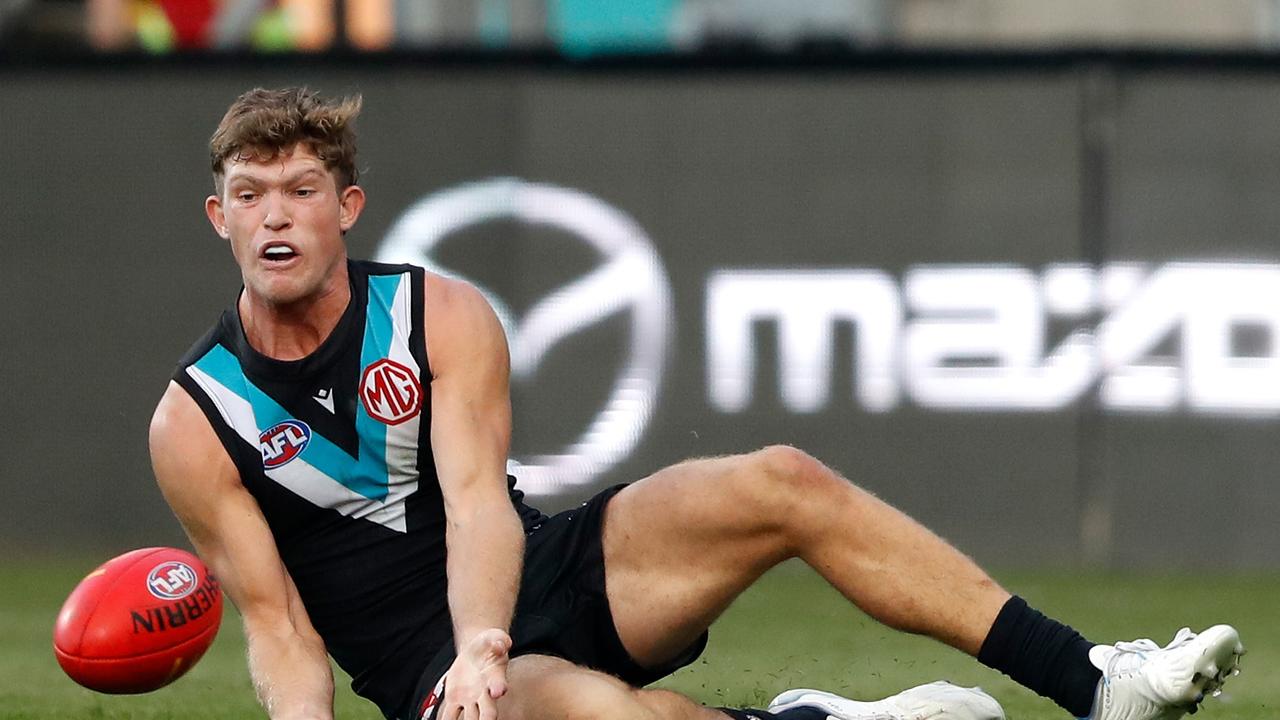 Mitch Georgiades has made way for Charlie Dixon. Picture: Dylan Burns/AFL Photos via Getty Images
Georgiades and Sam Hayes, the Power's No.1 ruckman with Scott Lycett still injured, were named on the extended interchange. But while Hayes was with the Power's AFL side at training at Alberton on Friday, Georgiades later emerged with the players down to play in the SANFL on Saturday - such as Orazio Fantasia and Xavier Duursma.
Jones and small forward Jed McEntee have both been named as emergencies and did train with the AFL group, as did Sam Mayes despite being named in the Magpies side.
It is supposed to rain heavily on Sunday, but Dixon said Hayes would play.
"He trained today (Friday)," Dixon said on FIVEaa.
"What we go with a second-string ruckman against a pretty inform ruckman (Sam Draper)."
Georgiades has kicked 10 goals in 10 games for the Power this season, with three in his last four.
But that was a bag of three against North Melbourne with Georgaides surprisingly inaccurate this season.
He kicked 0.4 against the Western Bulldogs in Round 8.
Dixon said he felt for Georgiades.
"It is tough," he said.
"I think the way the coaches were looking at it they wanted more from Mitch in the contest and that was something that he has taken on board.
"He will have to show up in the Mags (the Magpies) tomorrow which will be good.
"But yeah it is stiff, it is not like he has been playing bad footy. He's been getting a heap of shots it is just unlucky but it also creates that competitive edge in the team and that no-one is safe.
"You need to keep on performing at a high level each week to keep your spot, which is a good thing, but there are times where people miss out.
PORT ADELAIDE v ESSENDON
Sunday May 29, 4:40pm at Adelaide Oval
POWER
B: T.Jonas, A.Aliir, D.Houston
HB: R.Burton, T.Clurey, D.Byrne-Jones
C: K.Amon, W.Drew, T.Dumont
HF: Z.Butters, T.Marshall, C.Rozee
F: R.Gray, C.Dixon, S.Powell-Pepper
FOLL: J.Finlayson, O.Wines, T.Boak
INT: S.Motlop, S.Hayes, R.Bonner, K.Farrell
EMG: L.Jones, J.McEntee, M.Frederick, M.Georgiades
IN: C.Dixon, R.Bonner
OUT: M.Georgiades (Omitted), L.Jones (Omitted), M.Frederick (Omitted)
BOMBERS
B: J.Laverde, B.Zerk-Thatcher, J.Kelly
HB: D.Heppell, J.Ridley, Z.Reid
C: A.McGrath, D.Parish, S.Durham
HF: B.Hobbs, N.Martin, D.Smith
F: A.Waterman, P.Wright, A.Perkins
FOLL: S.Draper, Z.Merrett, D.Shiel
INT: N.Hind, D.Shiel, T.Wanganeen, S.Draper
EMG: B.Ham, B.Zerk-Thatcher, T.Cutler, A.Francis
IN: J.Ridley, H.Jones, J.Caldwell, A.Phillips
OUT: M.Redman (suspended), M.Guelfi (injured), N.Bryan (omitted), T.Cutler (omitted), A.Francis (omitted)
The Port veteran making teammates walk taller
Sam Powell-Pepper says he and his Port Adelaide teammates will walk taller with Charlie Dixon back in the side but conceded it would be a tough job to decide who makes way for the power forward.
The Power's star goal kicker is yet to play this season after two ankle surgeries but is set to return for Port's Sunday afternoon clash against Essendon.
The Power have been criticised as being too Dixon-centric with their forward structure but in his absence Todd Marshall has had a career-best year while Jeremy Finlayson and Mitch Georgiades have also performed strongly at times.
Powell-Pepper said he did not envy Ken Hinkley in deciding which of the three tall forwards play.
"I feel like Todd Marshall has stood up this year and I've loved seeing him grow and becoming the player he is now," Powell-Pepper said.
Sam Powell-Pepper has loved seeing Todd Marshall grow as a footballer this year Picture: Getty Images
"Jez and Mitch have also been playing some good footy as well, so it will be tough."
Powell-Pepper said he was thrilled at the looming return of Dixon.
"He is such a big part of our team, we love having him out there," Powell-Pepper said.
"He's worked so hard to get back in the team.
"You definitely walk with a bit more confidence when you have Charlie in your side."
Dixon's injury woes compounded a 0-5 start by the Power to the season.
They did win four in a row but went down to Geelong last time out to be two games out of the finals.
The inside midfielder said the Power were still confident.
"Yeah definitely, it is not ideal starting the season 0-5 but I feel like we have fought back
we feel like we have set ourselves up nicely to get back into it," he said.
"We had to really stay connected in that first part of the year, teams can unravel in that situation but Kenny was really positive and we were really connected as a group.
"We felt like we still had plenty in the tank and I think it has showed over the past five weeks.
"Ken was a big part of it, his positivity and belief."
Powell-Pepper was speaking at the 15th edition of the Santos Aboriginal Power Cup Carnival.
The program focuses on school completion and transition outcomes for Aboriginal and Torres Strait Islander students, as well as health and wellbeing and connection to culture.
"The kids really get a lot out of it," Powell-Pepper said.
"They learn a lot about their culture as well."
Key big man firing on all cylinders for Port return
Port Adelaide assistant coach Chad Cornes says he is "pretty confident" Charlie Dixon will be able to play AFL football this weekend but says Orazio Fantasia will now need at least one SANFL game.
The two star forwards haven't played any matches for the Power this year after ankle and knee surgeries.
Dixon looks set for a return for the Power against Essendon on Sunday after he stepped up his comeback for the Magpies in the SANFL.
Against West Adelaide in Loxton Dixon kicked 3.3 and had 16 disposals.
Cornes said Dixon was primed to return for the Power.
Charlie Dixon trains at Alberton Oval as his long-awaited comeback nears. Picture: Dean Martin
"I was watching Charlie closely, he was moving a lot better than he had in the previous Magpies game," he said.
"I'm pretty confident he will play."
Fantasia was an unused medical sub two weeks ago against North Melbourne and was set to again fill that role in the Power's loss to Geelong.
But after he didn't pull up the way coaches wanted him to last week he was named for the SANFL side instead.
Orazio Fantasia is expected to return at SANFL level this weekend. Picture: Dean Martin
A tight quad then meant he didn't play at state league level.
Cornes said Fantasia would more than likely play at SANFL level this weekend especially given his injury history.
"He pulled up a little bit sore from training. Nothing related to his previous injury," Cornes said.
"So I would anticipate that he would have to go back and play some time in the Magpies now, I'm not sure if we would be able to pick him this week confidently.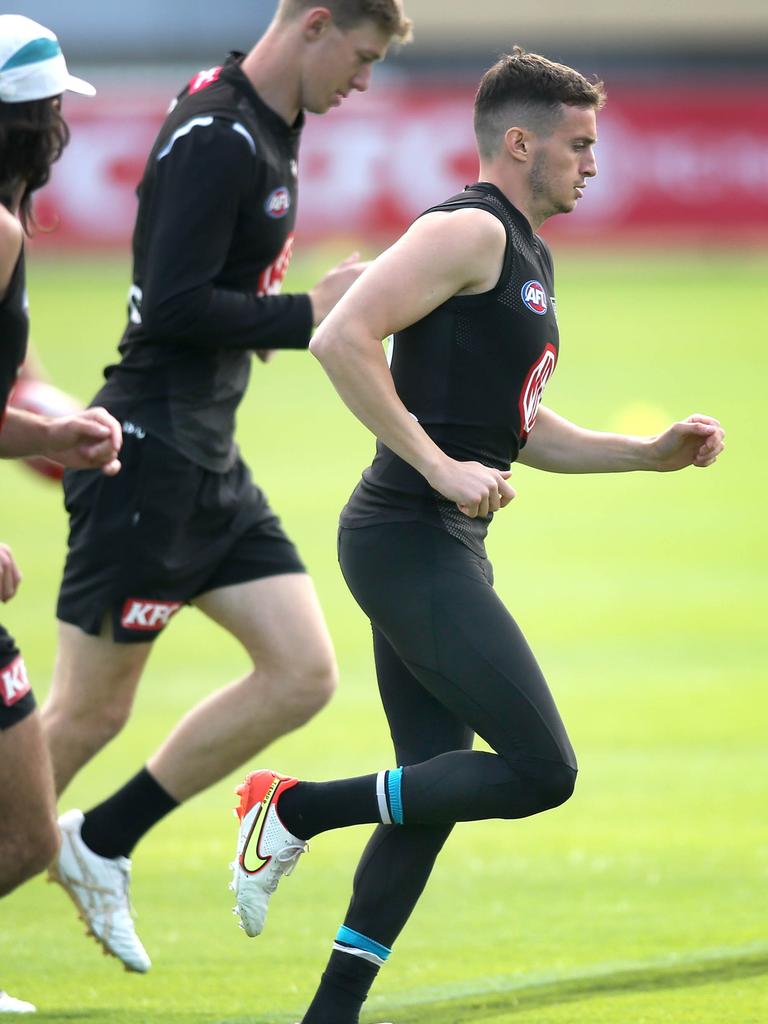 Orazio Fantasia works on his cardio. Picture: Dean Martin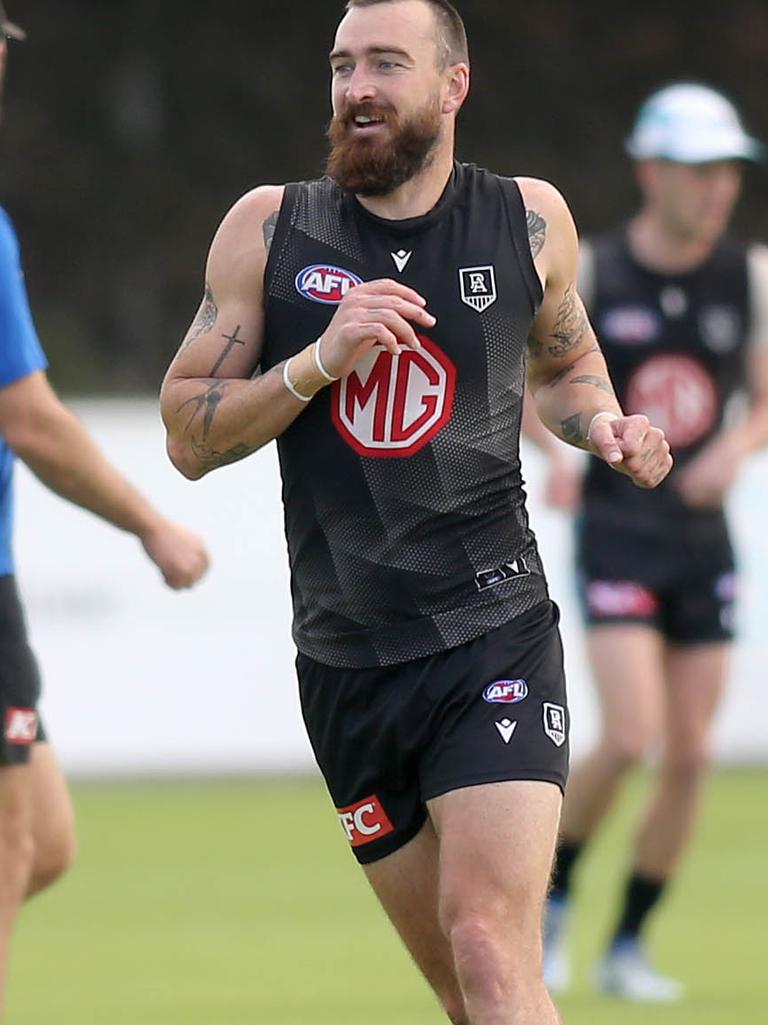 Charlie Dixon was happy the long wait was almost over.
"I think it is (minor), he's running out there and moving well.
"So as far as I know it is nothing serious but he just didn't pull up the way he needed it to play and AFL game.
"He's had a big history hasn't he, he is so important for us and we love the way he plays but he has just been unable to find any consistency with his body.
"I think the cautious approach is the way to go."
The return of Dixon, and wet conditions forecasted for Sunday, means the Power are unlikely to go with a four-tall forward line of their spearhead alongside Todd Marshall, Mitch Georgiades and Jeremy Finlayson.
"So I'm not sure you can play the four talls if there's going to be 15mm of rain, it is also meant to be pretty windy on Sunday," Cornes said.
"So that will make selection tough but it isn't until later on in the week."
Cornes said the contest effort of Marshall, Georgiades and Finlayson was not good enough against the Cats and contributed to the Power going down by 35-points.
"Some of the contests wasn't up to AFL level," he said.
"They are aware of it they have put their hands up and admitted that."
Originally published as AFL 2022: All the latest Port Adelaide news and updates ahead of round 11