AFL 2022: All the Port Adelaide news ahead of Round 21 clash with Richmond
Port Adelaide's hierarchy has said Ken Hinkley will coach the Power next season. So what was Friday's press conference all about?
Port Adelaide this week threatened to walk away from the SANFL.
On Friday, coach Ken Hinkley walked away from his pre-match press conference – immediately after answering a question about his future.
The 10th-year mentor was asked if he still expected to be at the club next season amid further interstate speculation about his position.
Losing to Collingwood at the MCG on Saturday effectively ended the Power's finals hopes with three rounds left.
It marked a significant slide for a club coming off consecutive preliminary finals and with a strategic plan that included winning three premierships before 2025.
But nothing had changed for Hinkley, who answered "yep" before immediately saying "thank you, have a good day" and leaving.
Watch every blockbuster AFL match this weekend Live & Ad-Break Free In-Play on Kayo. New to Kayo? Start your free trial now >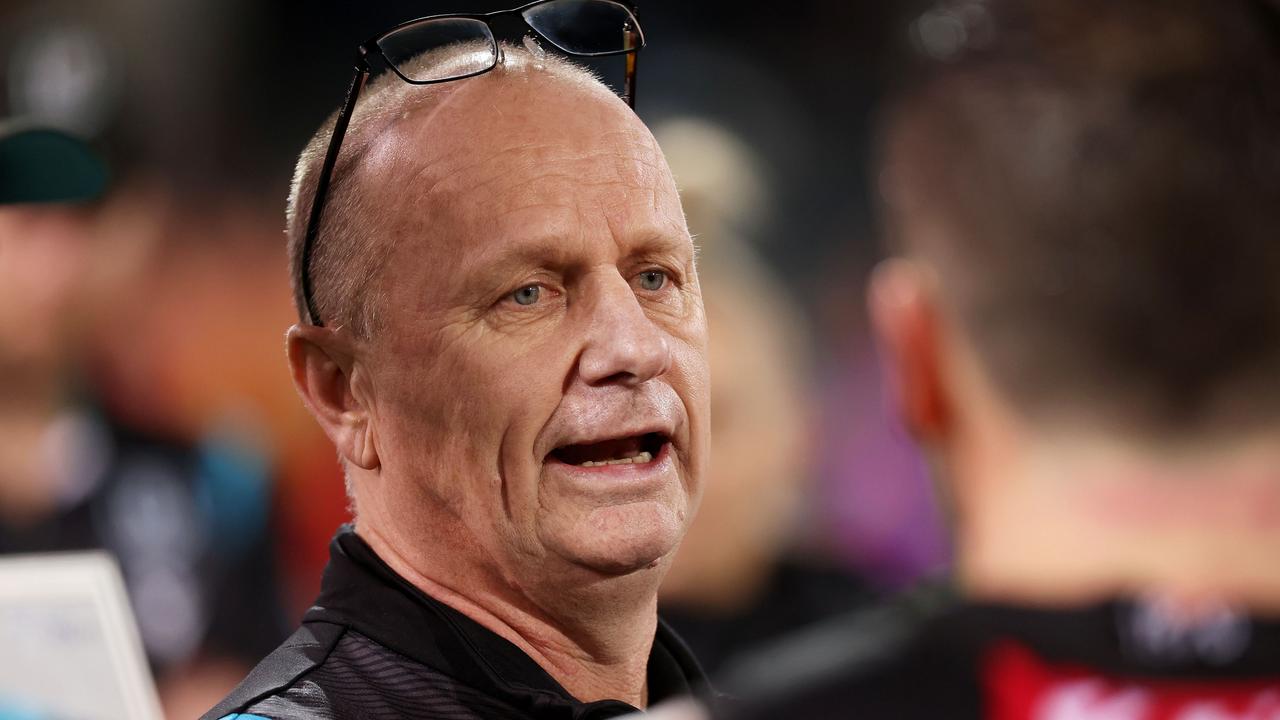 Ken Hinkley walked out of his weekly press conference on Friday. Picture: James Elsby/AFL Photos
The former Geelong star is contracted for 2023 and there has been little to suggest he will not be at Port Adelaide next season.
Hinkley has been forthright in previous weeks that the club is on the same page and he does not need to seek assurances on his future.
Port Adelaide's hierarchy, chief executive Matthew Richardson and chairman David Koch, has also said previously Hinkley will remain in the role next year.
In his regular Channel 7 in Adelaide segment last week, Koch said this year's run of close losses – the club was 2-7 in games decided by 12 points or fewer – told him its football program was not broken but needed to improve.
"You don't play a quarter like the third (against Geelong, when it kicked eight goals to one) if every single player is not buying into the program and the coaching," Koch said.
Hinkley received one question about his position on Friday.
There had been many this season, notably during the 0-5 start.
Speculation will likely continue until GWS and North Melbourne have filled their coaching vacancies.
Hinkley is no doubt over it.
But if he wants to quell it, walking away as soon as he gets a question about it on Friday does not help.
His reaction becomes the story and makes him look like he is under pressure, even if he is not.
On the subject of the SANFL, Hinkley said a national reserves competition was a potential solution for AFL clubs but that Port Adelaide's rich history in the state league complicated its position.
The Power's threat stemmed from what it considered strict rules that hindered the development of players.
Port Adelaide sits second-bottom in the SANFL with a 4-11 record in an injury-riddled season. The club, which has won a record 36 SANFL premierships, has fielded all its AFL players in the Magpies since 2014. Asked if it would be better for AFL clubs to all be on an even keel as part of a national reserves competition, Hinkley said: "Simplistically, yes".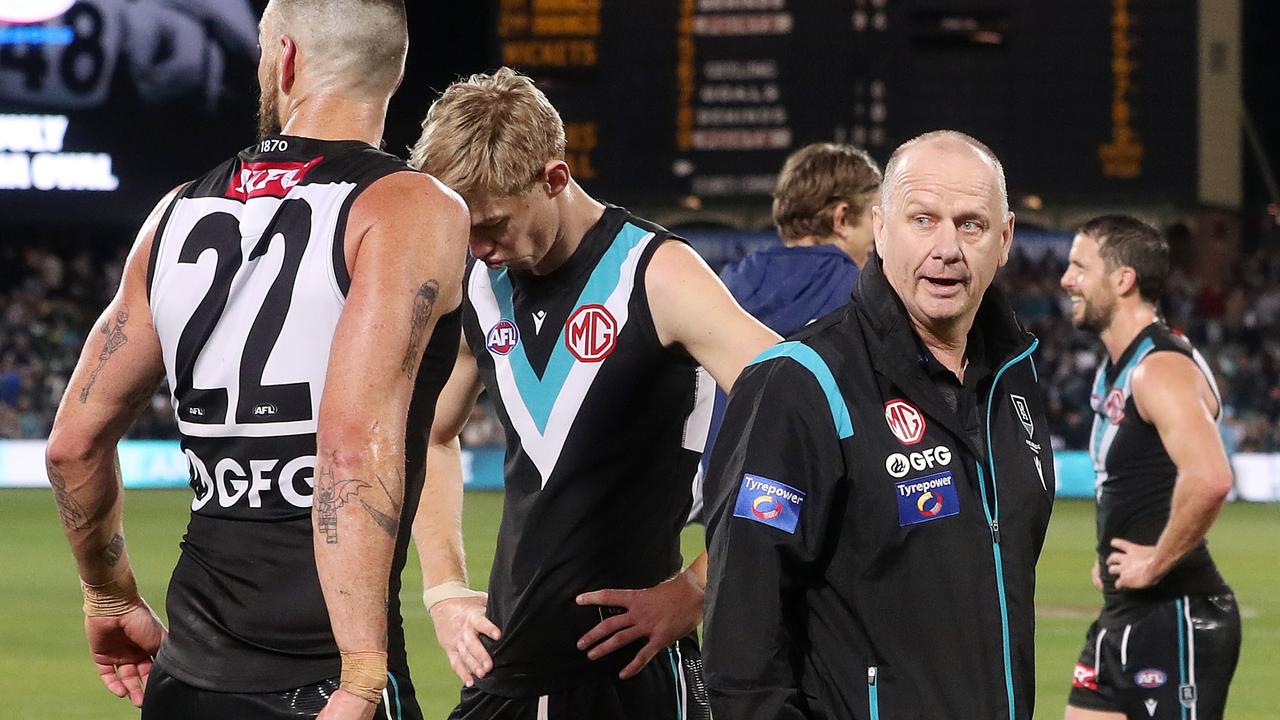 Hinkley after the Round 19 loss to the Cats. Picture: Sarah Reed/AFL Photos
"I think that works, but we're a slightly different case in point with where we are and where we've come from," he said.
"We've got this incredible history with our footy club in the SANFL so we're very respectful with that.
"We work with the rules we have to work with now."
As for Port Adelaide's home clash with Richmond on Saturday night, Hinkley said forward Mitch Georgiades' form had been hindered by a loss of confidence that had affected his goalkicking accuracy.
"It's all around his mindset, not much more than that, because he's got a really sound technique and routine," he said.
"The problem he's got at the moment is he emerges at the top of his run-up going 'I hope this goes through', not believing it'll go through."
ANOTHER POWER DRAIN SET TO MAKE SEASON EVEN WORSE
Port Adelaide will be without two forwards for Saturday night's home match against Richmond, losing Todd Marshall to Covid and dropping Mitch Georgiades.
The duo were among three Power changes, along with the injured Lachie Jones, who was set to miss the remainder of the season with a hamstring injury.
Mid-year recruit Brynn Teakle returns from a broken collarbone to play his second game, halfback Dan Houston has cleared concussion protocols and Willem Drew comes into the 22 after being the medical substitute during last week's loss to Collingwood at the MCG.
Georgiades has been in indifferent form this year, booting 19.23 from 17 AFL matches.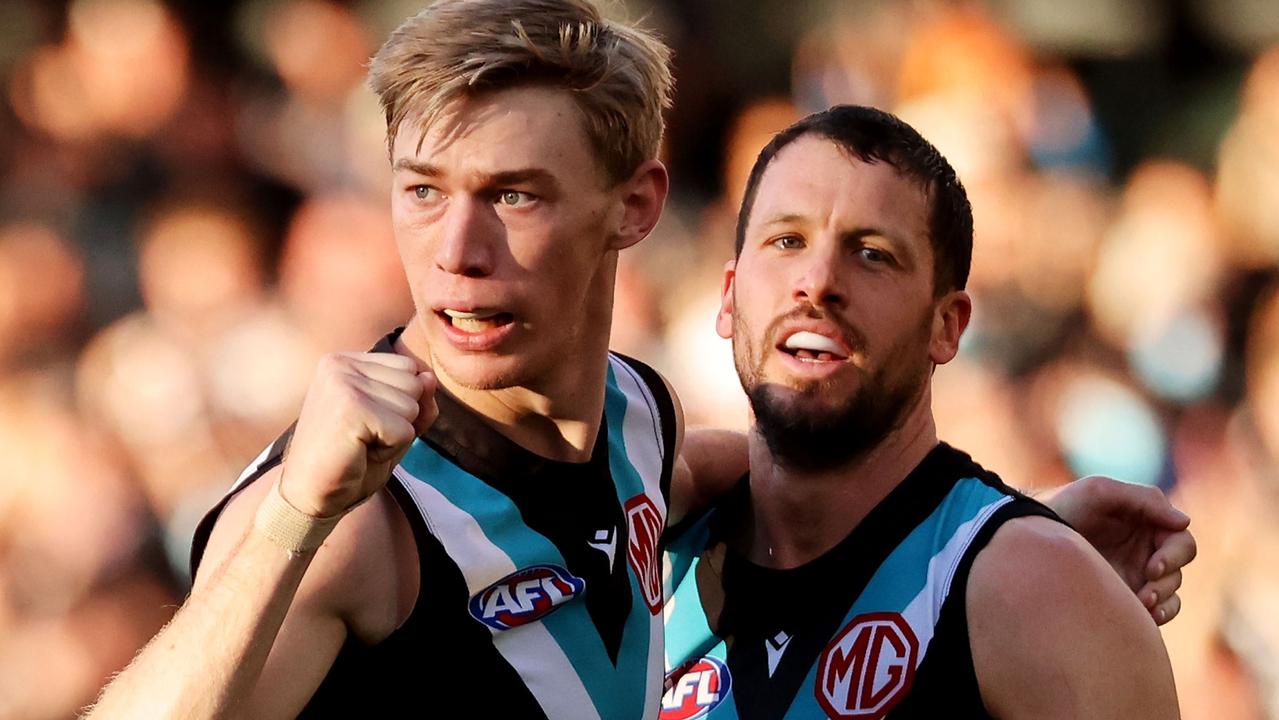 Power will be without Todd Marshall against Richmond because of Covid.
Half-back Riley Bonner has been named among the emergencies after being sidelined last week due to Covid.
Georgiades, defender Tom Clurey and midfielder Jackson Mead are the other potential medi-subs.
Port Adelaide enters the clash in 12th spot on the ladder with an 8-11 record and its finals hopes dashed.
Richmond remains in the thick of the top-eight race in ninth position.
The Crows have avoided the temptation to bring their past two top draft picks Riley Thilthorpe and Josh Rachele straight back into the AFL side for Sunday's match against West Coast in Perth, naming them in the reserves.
Adelaide has brought halfback Ben Davis, key defender Billy Frampton, midfielder Jackson Hately and wingman Lachlan Sholl into a 26-man squad.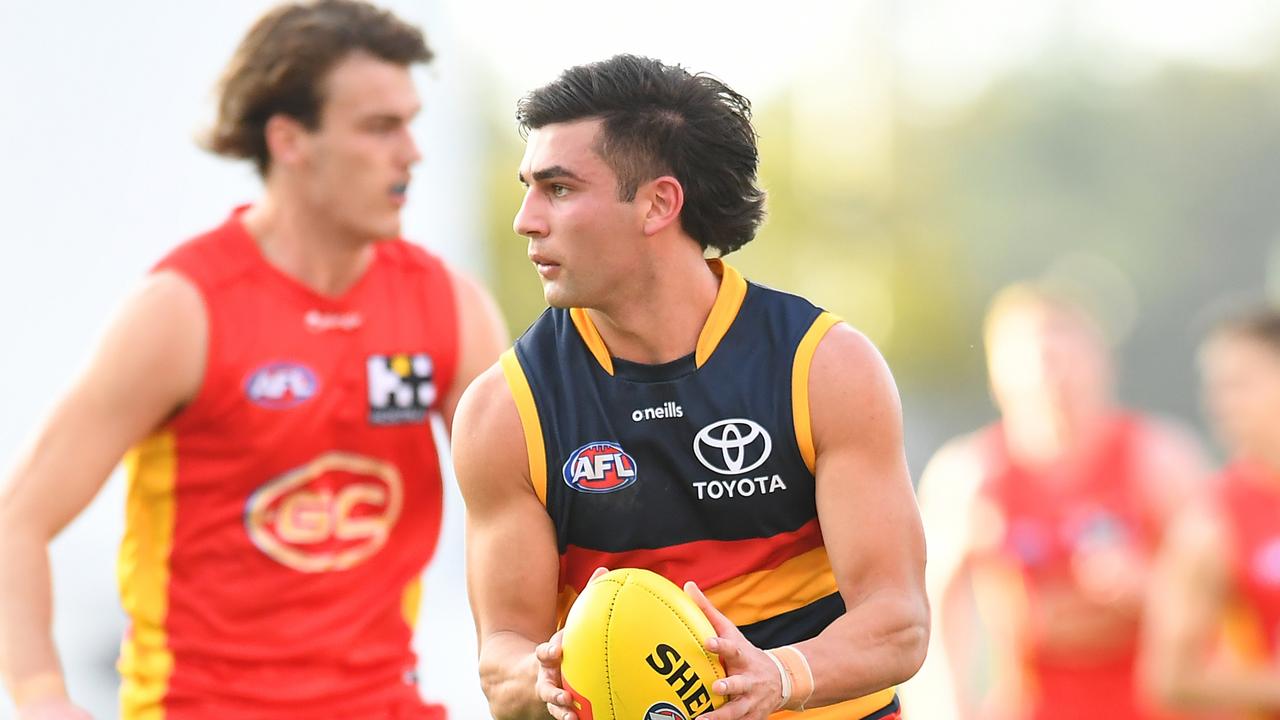 The Crows have decided not to rush Josh Rachele straight back into the AFL side.
Rachele, who has been sidelined with a hip issue, is yet to play a SANFL game.
His most recent AFL match was against Melbourne in round 16.
Thilthorpe trained indoors on Wednesday due to back spasms and had been cleared to return from a rolled ankle.
He missed just one week.
Key defender Tom Doedee will again be sidelined due to soreness.
Adelaide will trim its squad to 22 on Friday evening.
The Crows are coming off one of their best wins of the season, against Carlton, and sit 15th with a 6-13 record.
Second-bottom West Coast looms as a tricky opponent given club great Josh Kennedy is playing his farewell game.
The match is star midfielder Rory Laird's 200th for Adelaide.
Koch, Power issue another threat to leave SANFL
Port Adelaide has again threatened to walk away from the SANFL, questioning the development of its players in Australia's best state league competition.
Sitting ninth in the SANFL with a 4-11 win-loss record following an injury-riddled season, Port chairman David Koch said the club was looking at other options for its reserves side, including the possibility of a national reserves competition.
"We play under much stricter rules, as everyone would know, in the SANFL, than any other SANFL club, that's both the Crows and ourselves,'' Koch told Triple M.
"We've got to assess whether those rules allow us to develop our players the way that we want them to.
Port Adelaide has threatened to walk away from the SANFL. Picture: Brenton Edwards
"And there is, I think, question marks over that. So we're always assessing it.
"The primary thing is the development of our players, and if we're hindered by these rules from doing it, then we have to look at the alternatives and what's best for us.
"We've indicated that in the past, there is always talk of a national reserves competition.''
While Adelaide is flying high in third position in the SANFL this season, posting a 10-5 record, Port has endured a nightmare year.
A lengthy injury list and Covid issues to its AFL squad, along with fixturing, have seen it field an average of only 11 AFL-listed players a game in the SANFL.
In round 13 against North Adelaide it fielded just six AFL-listed players and was belted by a record 126 points, kicking only one goal.
In its last game against Central District two weeks ago it fielded 16 AFL-listed players and won by 23 points.
Port chief executive Matthew Richardson expressed his concern about the development of the club's younger players., along with the Magpies' results, in a note to members.
"Our performance in the SANFL has been a challenge all year,'' Richardson wrote.
"We've had a season where injury, Covid and fixturing has played a part in why we have only fielded an average of 11 AFL-listed players.
"As a comparison, we averaged 17.5 AFL-listed players per game in the 2019 season and 19.5 in 2017 when we qualified for SANFL grand finals.
"The rules under which the AFL clubs compete in the SANFL mean our competitiveness is significantly impacted by the availability of AFL-listed players.
The Power's injuries has hurt its SANFL side. Picture: Michael Willson/AFL Photos via Getty Images
"This is not a new issue, but has become more acute due to AFL list sizes (reduced from 45 to 42) and the age profile of our list in recent years.
"That said, if we have a healthy list, we should be highly competitive at SANFL level.
"We've made it clear that Port Adelaide values its participation in the SANFL. We are a foundation club with a history of success pre-dating the SANFL, back to 1870.
"We need to ensure we are participating in a competition that best develops our players for our AFL team, and gives us a chance to win and respect our legacy.
"Whatever structure we exist under, it must not compromise our ability to win premierships and develop players.
"We understand that this is a complex, multi-faceted issue. There is a high-performance football component, but also a broader club issue as to what Port Adelaide represents at SANFL level.
"Whether the current SANFL model genuinely allows for this is an important strategic topic we are exploring at board level."
The SANFL has strict rules about what players Port and the Crows can include on their supplementary lists.
Their SANFL teams are currently captained by former AFL players Cam Sutcliffe (Port) and Matthew Wright (Adelaide).
SANFL chief executive Darren Chandler said Port had not spoken to the league about the possibility of leaving the competition and had committed to playing in it until 2028.
He questioned the club's comments about not being able to develop players properly in the SANFL and said the rules that Port and the Crows played under in the local league needed to be different to the eight standalone clubs because they are fielding AFL players.
Pies played us: Koch's fury over prison bars 'pettiness'
— Chris Cavanagh
A furious Port Adelaide president David Koch has accused Collingwood of "pettiness" and misleading the Power after the club's bid to wear its traditional prison bar jumper against Adelaide was denied at the eleventh hour.
Koch said he was "fuming" after a request to wear the jumper in the Round 23 Showdown against the Crows – which was lodged in March – was ultimately slapped down by the Magpies last week.
The Power believe they were "played" by the Magpies, with Koch laughing off suggestions that he was told by Collingwood chief executive Mark Anderson in March that the plan would be approved.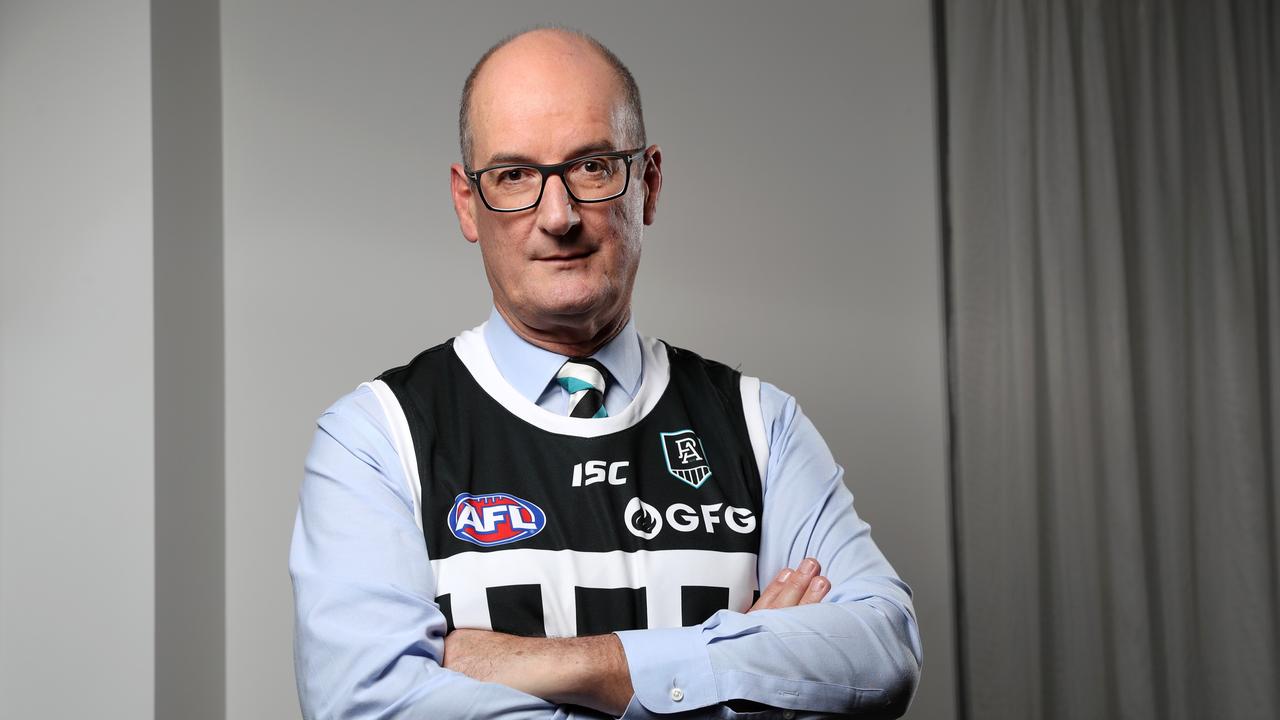 David Koch isn't happy. Picture: Jonathan Ng
"That is the greatest load of rot I've ever heard. He absolutely did not (say that)," Koch said on Monday.
"In fact two weeks ago the Collingwood president Jeff Browne rang me out of the blue and said, 'Kochie mate, we're taking your request really seriously, we understand how important it is to your members'.
"(He said) 'I've been canvassing opinions in Melbourne and also South Australia and I'm putting it to my board (last week) and I don't want to get your hopes up but I'm quietly confident we could have good news for you. That was just two weeks ago.
"I can't help but feel we've been played in this for being nice."
Koch said he could not help but feel that former Collingwood president Eddie McGuire was still playing a role behind the scenes in blocking Port Adelaide from wearing its traditional jumper.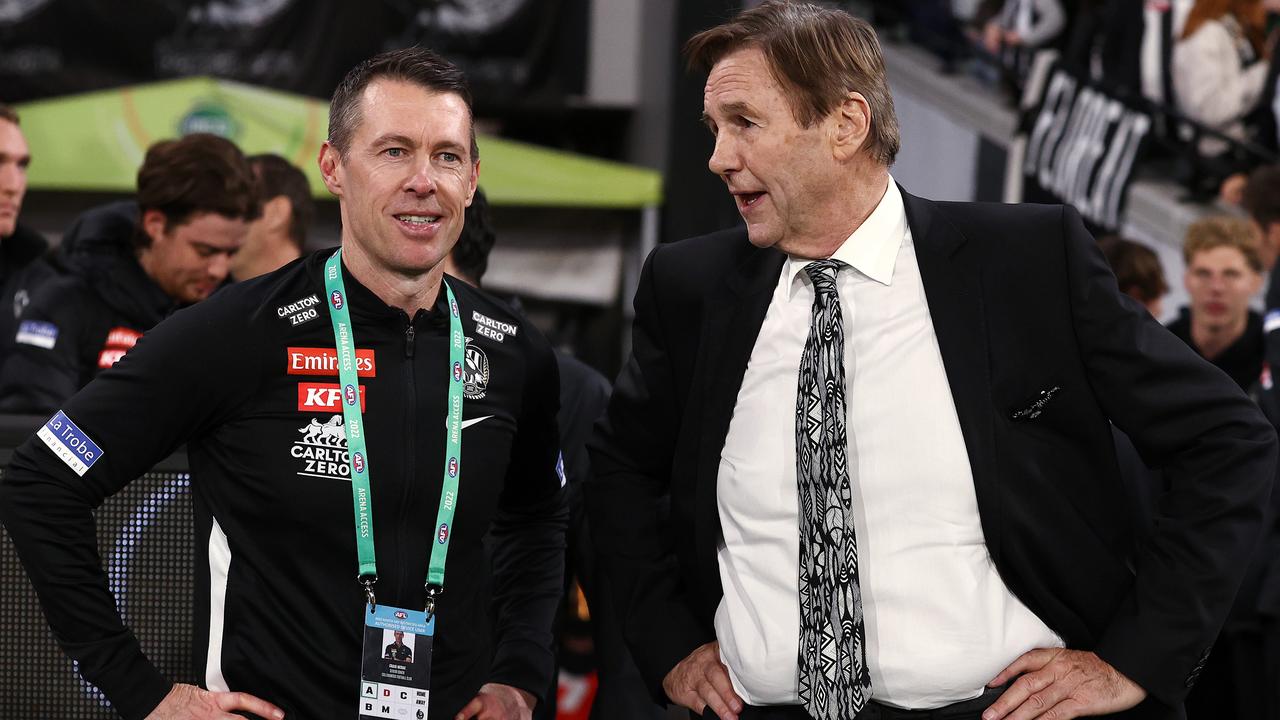 Collingwood president Jeff Browne, right, with coach Craig McRae. Picture: Michael Klein
"Eddie's the one who said, 'We own black and white'," he said on FIVEaa radio in Adelaide.
"I don't know if it's a case of the big Victorian clubs once again going, 'Hey, you just keep in your place'.
"On the weekend in the VFL, Collingwood played the Southport Sharks – who are black and white. So why can't we play in our traditional prison bar Guernsey in showdowns in Adelaide?
"I think a bit disrespectful to our history and disrespectful to our members as well.
"You look at virtually every AFL club being able to play in a heritage Guernsey this year – a retro Guernsey – celebrating it. But we're not allowed to do the same."
Port Adelaide was granted permission to wear its prison bars jumper for two games in 2020 as part of its 150th anniversary celebrations after striking a one-off deal with Collingwood.
Originally published as AFL 2022: All the Port Adelaide news ahead of Round 21 clash with Richmond