AFL 2022: West Coast has confirmed seven players were involved in the outing to a popular Perth nightclub
West Coast has named the seven players out nightclubbing after a big loss to Richmond and announced how it will sanction them for giving a 'slap to the face' to the club.
West Coast has fined each of the seven players who breached club protocols to party at a Perth nightclub $5000 – half of which has been suspended – for what the club slammed as an "irresponsible and disrespectful" act.
The Eagles named all seven of the players who attended the Leederville nightspot following the club's heavy loss to Richmond in round 7.
Jackson Nelson, Josh Rothan, Jake Waterman, Campbell Chesser, Rhett Bazzo, Hugh Dixon and Patrick Naish were all at the nightclub after the Eagles' 109-point belting.
West Coast chief executive Trevor Nisbett addressed the playing group and informed them of their penalties on Monday.
Watch every blockbuster AFL match this weekend Live & Ad-Break Free In-Play on Kayo. New to Kayo? Try 14-Days Free Now >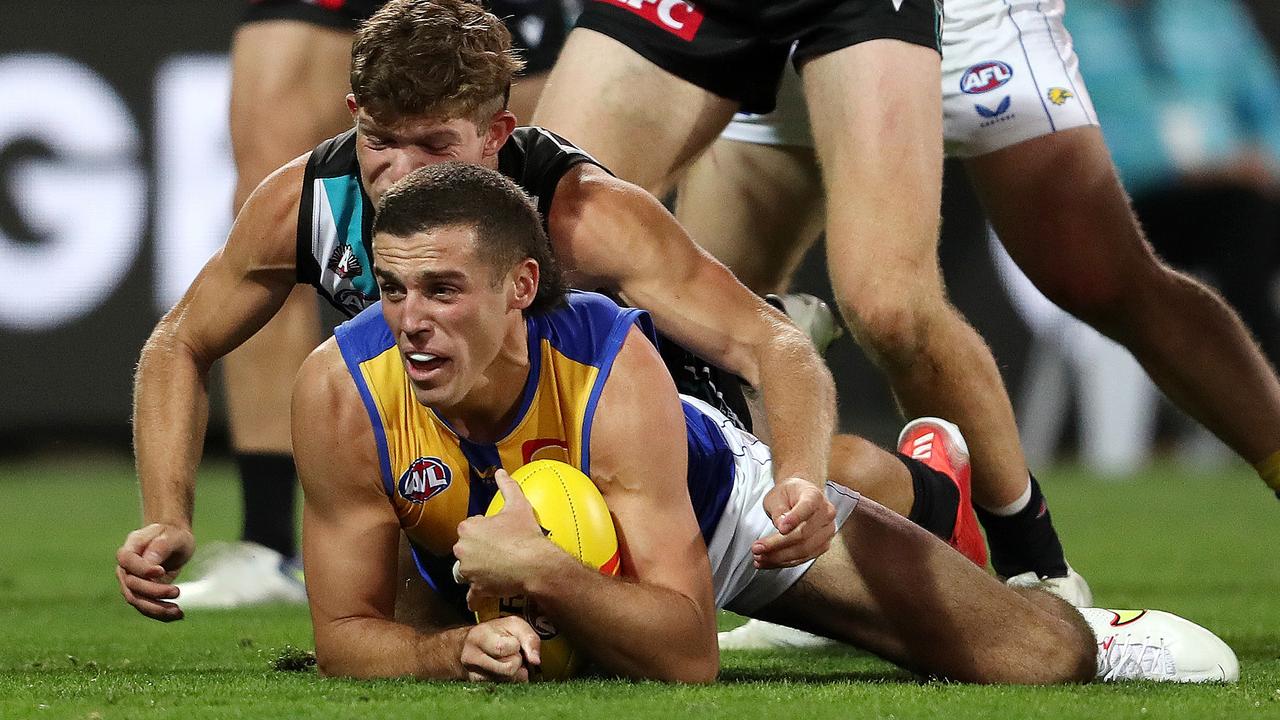 Jake Waterman was involved in the now infamous nightclub outing. Picture: Sarah Reed/AFL Photos
Rotham, Waterman and Naish played in the loss to Brisbane on Saturday night, but some of the players could not be considered because they had to enter the AFL's health and safety protocols.
The Eagles were forced to call on Covid contingency list players to make the trip to Brisbane after only 21 AFL-listed players were fit and available.
Earlier, Nisbett said players could normally expect to face a ban for such transgressions but the club was not in a position to do so at the moment due to its personnel issues.
Nisbett said the players would have to earn back the trust of their teammates.
"Given the club's protocols and current circumstances it was irresponsible and disrespectful for those players to attend a nightclub," Nisbett said.
"After completing our investigation, we have decided to fine each of the players who broke specific club and player guidelines.
"We will continue to educate our players and those who transgressed will now need to regain the trust and respect of their teammates as well as everyone else at the club."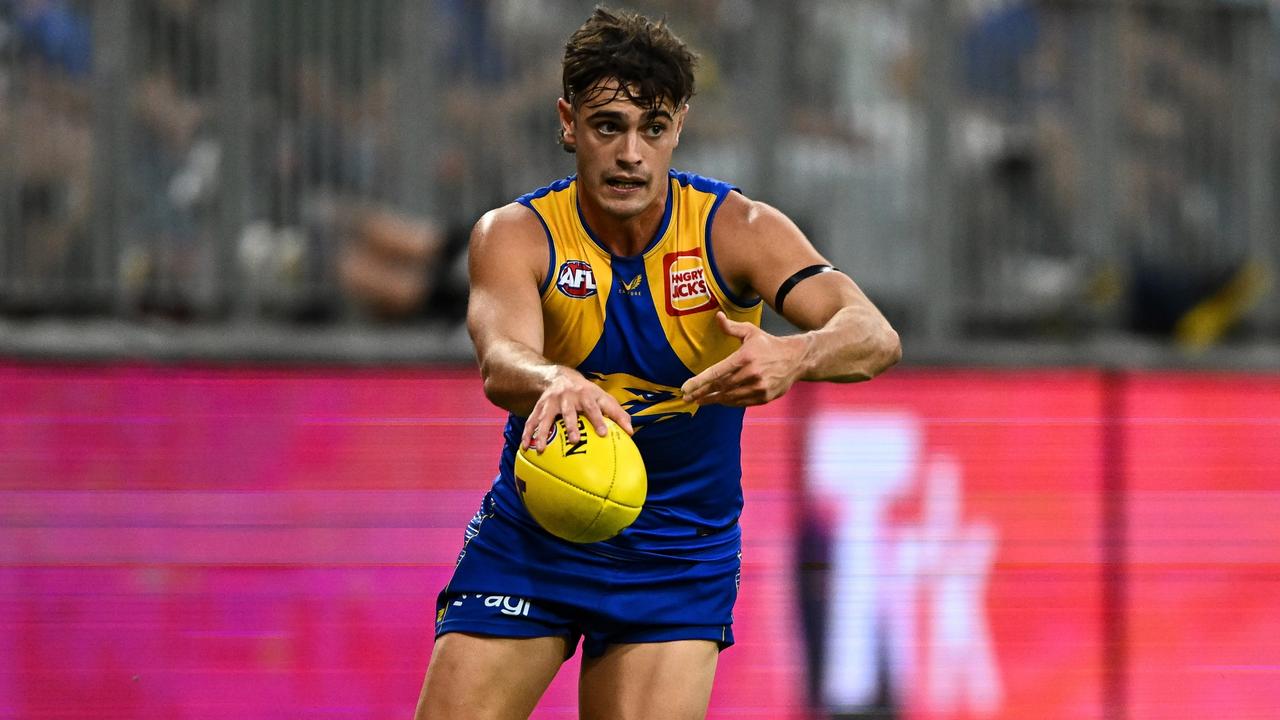 Patrick Naish has copped a suspended fine. Picture: Daniel Carson/AFL Photos via Getty Images
Earlier, Nisbett slammed the players' behaviour as a "slap in the face" for the club.
"It was a real slap in the face for our process and our guidelines but having said that the guys haven't broken the law or anything but, from a club and team perspective, I know the other players are really disappointed," Nisbett said on SEN WA Breakfast.
"They will have to cop the consequences … we will deal with that today and it will be finished and we can move on towards the game against Melbourne.
"There is seven players in total (who attended the nightclub)," Nisbett said
"The guys are pretty much ashamed of themselves and embarrassed, that goes without saying.
"That doesn't detract from the fact they did the wrong thing. We will deal with the seven guys and we will deal with it in a professional manner.
"We will name all players so that it is transparent and everyone is aware of the guys that have transgressed and they can then move forward."
Nisbett said the players could normally expect to face a suspension for such transgressions but the club was not in a position to do so at the moment with its personnel issues.
He expected the players would face fines for their ill-fated night out.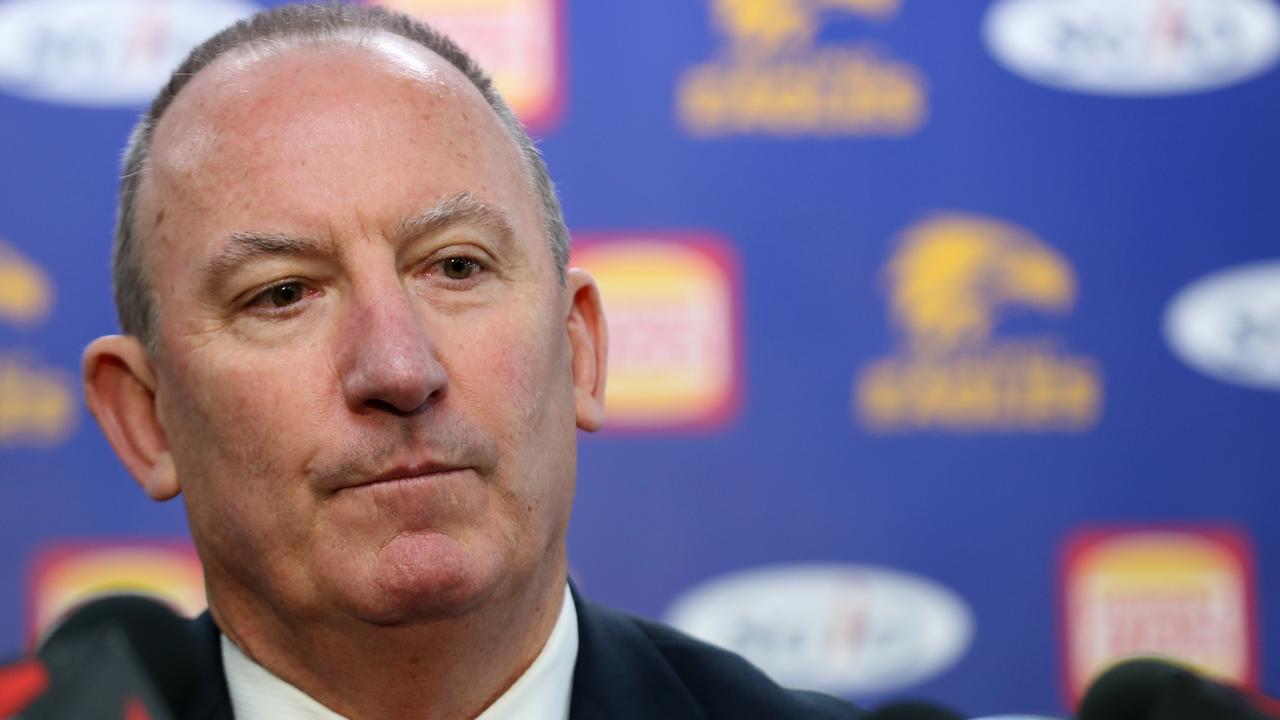 West Coast Eagles CEO Trevor Nisbett. Picture: AAP Image/Richard Wainwright
"In normal circumstances some of the guys might face a suspension of a week or so or be unavailable for selection, but as it stands, we aren't in that position where we can afford to do that. That's a problem in its own right," Nisbett said.
"My expectation is there will be a fine involved and those players will have to cop that sweet."
Nisbett said the players would have to regain the trust of their teammates.
"It's not a case of breaking the rule, but it is a case of breaking trust and they will have to earn that trust back," he said.
Eagles duo's careers on line over nightclub session
- Mark Duffield and Samantha Rogers
West Coast chief executive Trevor Nisbett has revealed Josh Rotham and Jackson Nelson defied a club directive by attending the Hip-E Club, admitting their actions had jeopardised their positions at the club.
Speaking on ABC Radio, Nisbett also declared coach Adam Simpson "absolutely" the man to lead what he described as the "transformation" of the Eagles list and promised there would be no knee-jerk reactions from the club.
Nisbett said he was "disgusted" to hear that Rotham and Nelson were at the Hip-E club after all players were warned of the Eagles current plight and the risk of catching Covid in the community.
"It is something that you just don't think is going to happen with all of the education and all of the stuff we have been doing over the last two-and-a-half years," he said.
"We are still going through the investigation to find out why the players did this, and the second part was if there were other players involved. If there was, then there are consequences."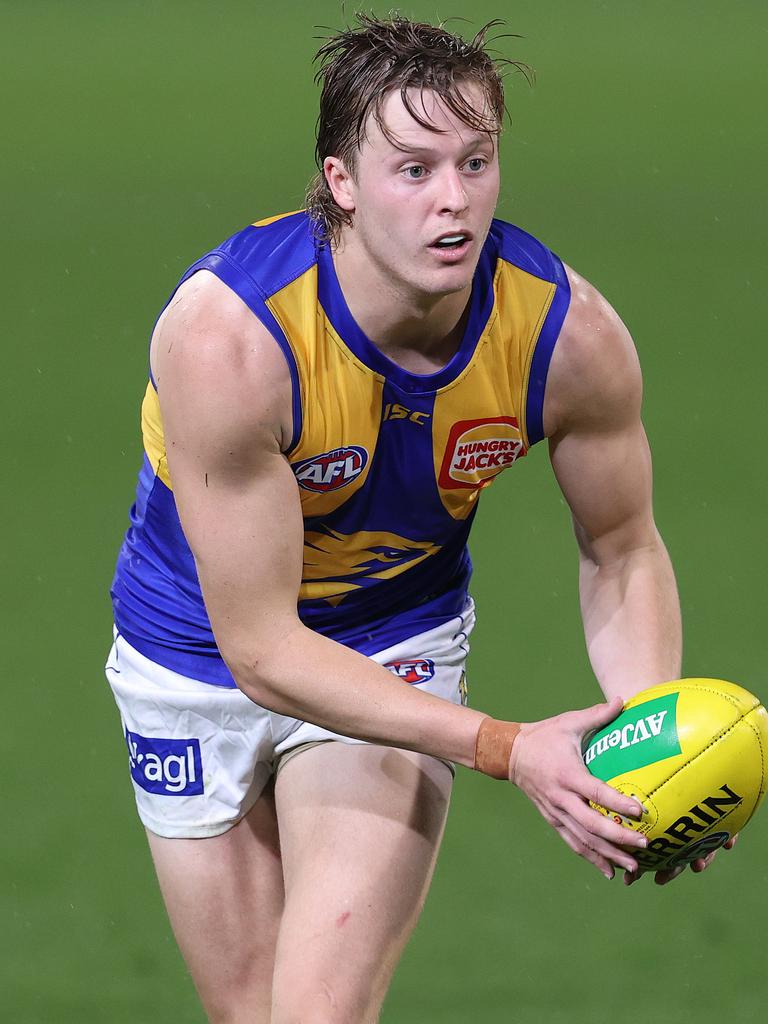 Jackson Nelson.
Josh Rotham.
Nelson contracted Covid and was unavailable for selection in the team that was to play Brisbane on Saturday night. Nisbett said under normal circumstances Rotham would also have been dropped.
"We are so disappointed with what has happened in our current situation but we would have been disappointed if we had a full list of players," he said.
"It's just not good enough for elite athletes to do this under these circumstances. There is no excuse given they were given specific instructions and guidelines."
Asked if Rotham and Nelson's spots at the club were now in jeopardy, Nisbett said: "I think so. I think we will have to look at that very closely.
"The guys that have gone out against the guidelines we have in place have obviously compromised their position."
Nisbett backed Simpson to bed down a change in personnel and game style.
"This is a change in direction and we started it last year. A change in direction a change in game style. It will take time. We will be going through a development phase and Adam is the man to do it," he said.
"He is up for the job and well aware of the current situation and what we need to do. He will work with the new coaches we have brought in and they are working as hard as they can.
"We will keep working at it and Adam will certainly lead the way.
"Often clubs can have a knee-jerk reaction to going through a poor period. We are going through a poor period. We won't have a knee-jerk reaction."
EAGLES TO INVESTIGATE NIGHTCLUB PICTURES
West Coast coach Adam Simpson says he is "furious and disappointed" after Eagles players were pictured partying at a popular Perth nightclub before the club's latest COVID-19 outbreak.
The club revealed in a statement it is investigating the matter after defenders Jackson Nelson and Josh Rotham were photographed at Leederville's Hip-E Club on Saturday night.
"I am furious and disappointed with the actions of these players," Simpson, who is currently in health and safety protocols, said.
Nelson, 26, had played in the loss to Richmond on Friday while Rotham had featured in a 55-point defeat to Peel Thunder in the WAFL the same day the photographs were taken.
Watch every blockbuster AFL match this weekend Live & Ad-Break Free In-Play on Kayo. New to Kayo? Try 14-Days Free Now >
"The club has gone to great lengths in educating the players around the need to adhere to club guidelines and it is beyond disappointing that they have put themselves in this situation," the club statement read.
"It is particularly disheartening given the strain on player availability at this stage of the season.
"At the earliest opportunity the club will meet with the players concerned."
The statement came just 24 hours after stand-in coach Matthew Knights claimed the club had done everything possible to avoid further outbreaks.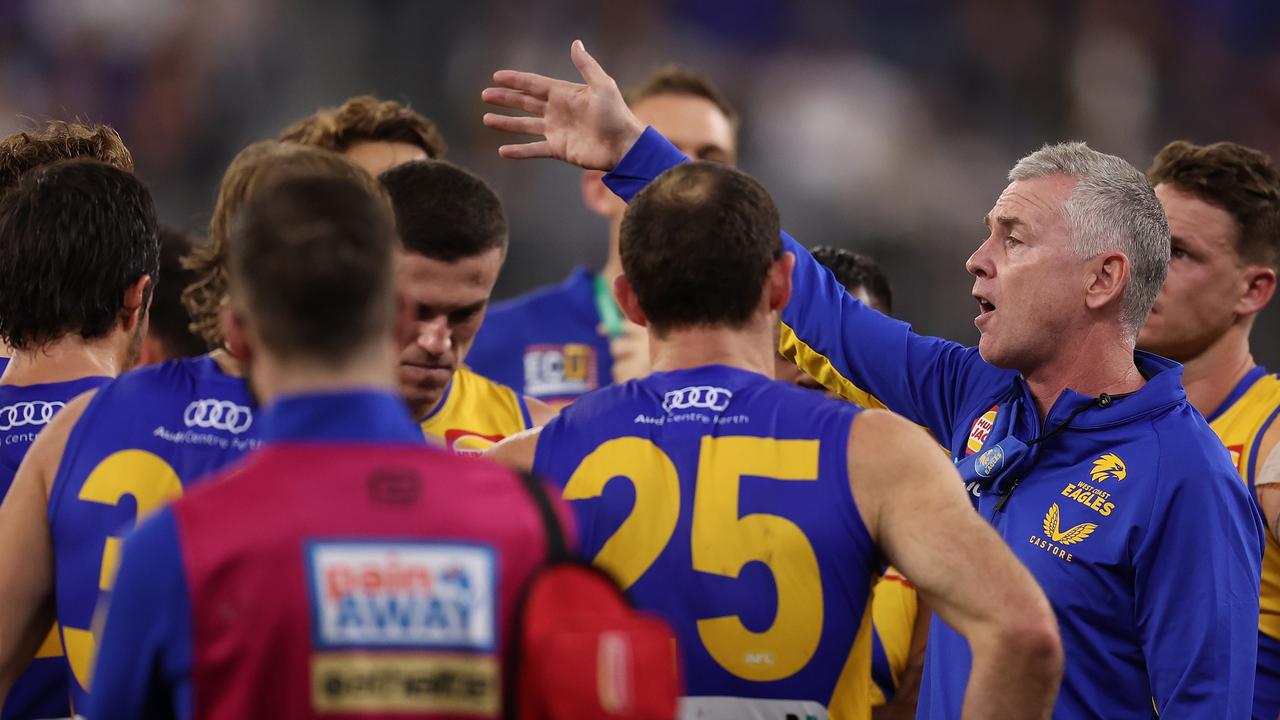 Adam Simpson is furious at the actions of some West Coast players.
Also pictured at the venue were Tigers players Nathan Broad, Dion Prestia, Liam Baker, Ivan Soldo and co-captain Dylan Grimes, who were partying after celebrating Broad's engagement to fellow West Australian and Love Island star Tayla Damir.
Prestia, who was subbed out against the Eagles at three quarter time with Achilles and soleus muscle tightness, has been ruled out of Richmond's clash with Collingwood due to illness.
Nelson, alongside in-form defender Alex Witherden, was one of the first West Coast players to enter Covid protocols this week, with Simpson joining them on Thursday.
The outbreak has forced eight Eagles, players and staff including Simpson, into health and safety protocols ahead of their clash with Brisbane.
Rotham, 24, missed the North Melbourne game in round two with Covid protocols and is set to be named in the 22 to face the Lions when the teams are revealed on Friday afternoon.
It is understood the West Coast players did not break any rules by attending the nightclub, with an eight-day break scheduled ahead of the clash with Brisbane.
However the night out came less than 48 hours after the Eagles' 109-point loss to Richmond - as the club slumped to 6-1.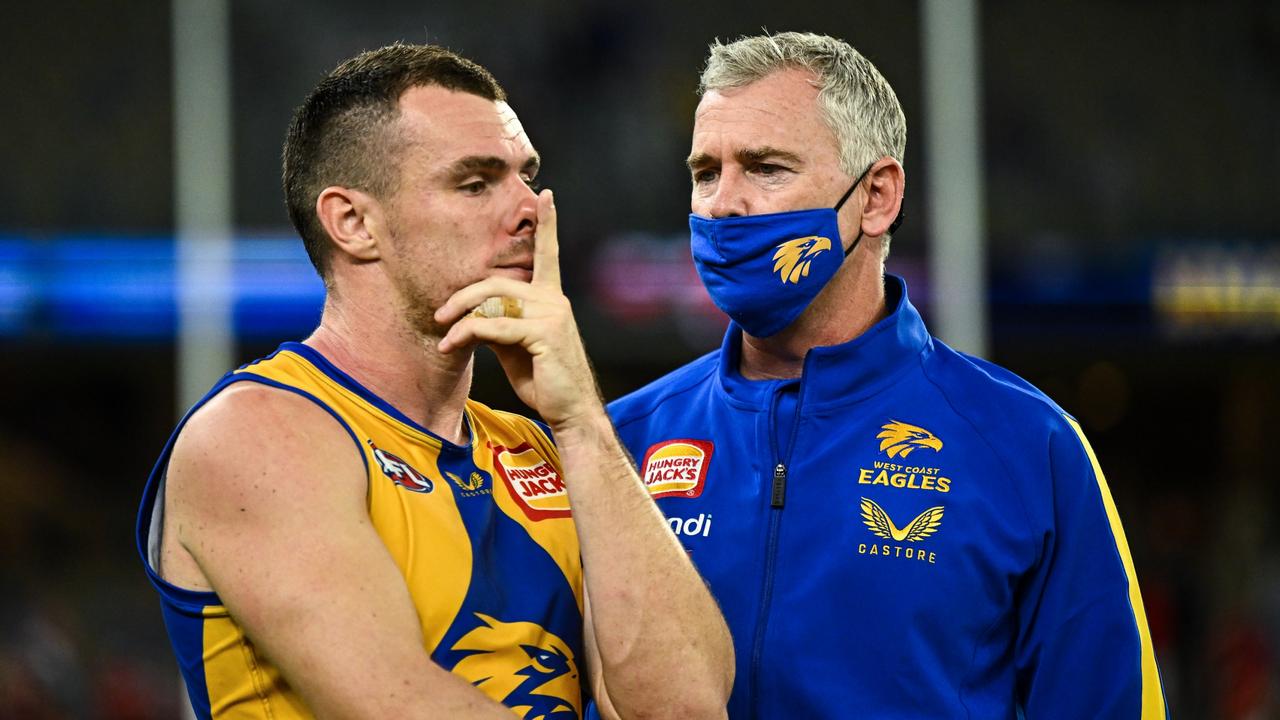 West Coast is struggling to field a team for this week's clash with Brisbane.
West Coast on Thursday flew to Queensland to face the Lions at the Gabba, along with four WAFL players after being forced to dip into their Covid contingency list for the second time this season, with cases compounded by injuries.
The Eagles took 26 players - including Declan Mountford, Jack Florenca, Logan Young and Angus Schumacher - to Brisbane.
It comes as Richmond spearhead Jack Riewoldt believes the AFL should postpone this week's game against Brisbane Lions in light of the Eagles' extraordinary Covid crisis.
Riewoldt, whose Tigers smashed the Eagles by 109 points last week, told AFL 360 the Eagles were beyond the precipice of what was fair for a side to endure this season.
"I reckon they're beyond it (the precipice) at the moment. That injury list there and Covid protocol list. It's unfair," he said.
"I think they should (postpone the game). It's not to their detriment - the reason they're in this situation is because their government held different border restrictions to the rest of Australia.
"That's not West Coast or Fremantle's fault but now they're certainly paying a heavy price for it, or certainly West Coast are paying a heavier price than Fremantle so far.
"They've got four blokes that they are going to call from WAFL - not only is it affecting the AFL but then the teams that they're picking from the Western Australian Football League is affected too."
Originally published as AFL 2022: West Coast has confirmed seven players were involved in the outing to a popular Perth nightclub