AFL 2022: Carlton boss Brian Cook reveals why he thinks Blues will peak in Michael Voss's 75th game
New Carlton boss Brian Cook will implement a six-point value system at the Blues, with one key pillar a big change to how the Blues have been perceived.
Carlton chief executive Brian Cook has revealed the Blues plan to reach their on-field peak "in game 75" of his and Michael Voss' three-year deals at the end of the 2024 season.
Having overseen the club's best start to a season in 26 years, Cook is confident the Blues have an on-and-off field team and program in place to satisfy the long-suffering Carlton faithful.
While he isn't promising flags in the club's soon-to-be-ratified mission and purpose statements, he says every decision that has been made has been aimed at chasing sustained success.
"If you are talking about myself or Vossy, we are eight games into a 75-game contract, that's the way I am looking at it," Cook said this week.
"We've been here for six months and we have a long way to go. I hope we are at our absolute best during that period in our 75th game. That's the peak."
Watch every blockbuster AFL match this weekend Live & Ad-Break Free In-Play on Kayo. New to Kayo? Try 14-Days Free Now >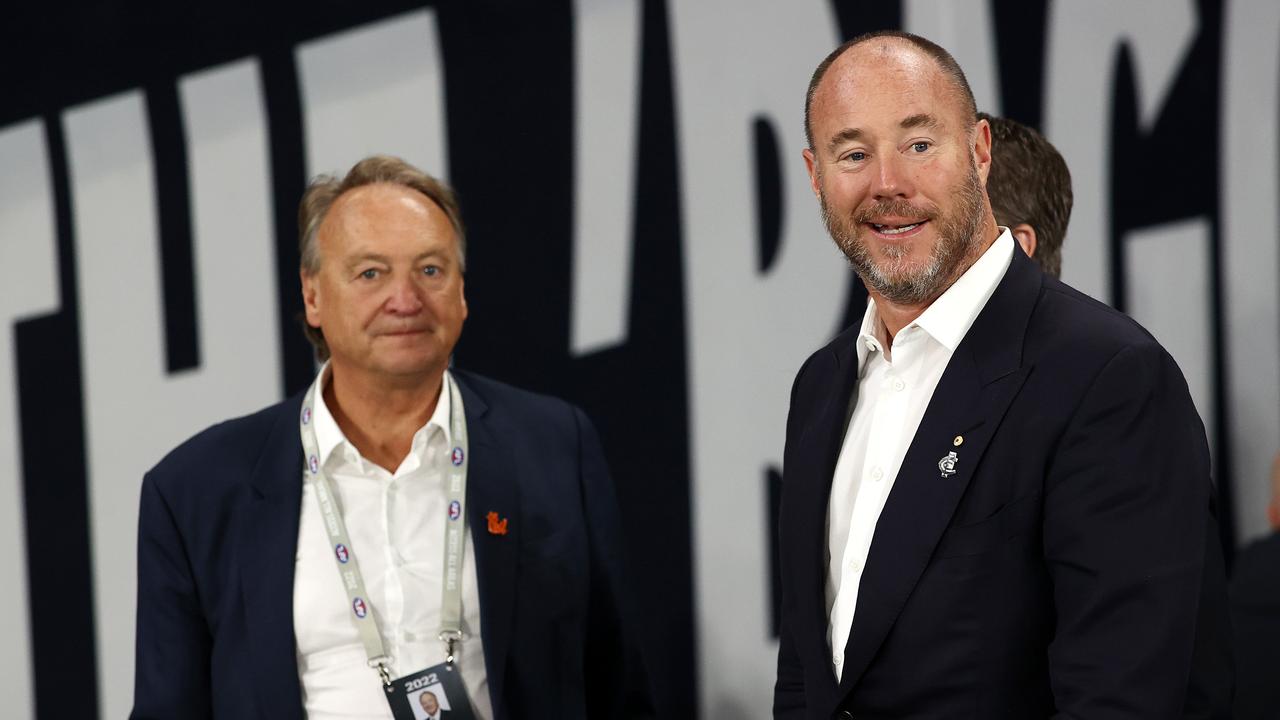 Carlton president Luke Sayers and chief executive Brian Cook (left) believe they have the correct blueprint to satisfy the long-suffering Carlton faithful. Picture: Michael Klein
Then he added: "You will notice with those 75 games, it is 25 per year – on average."
While the man who turned Geelong into a football and financial powerhouse across the past two decades is loath to use the 'f' word this season, his arithmetic shows the club believes it can play an average of three finals per year until the end of 2024.
"It is going to need three years of list management … it is going to need three years of working in the new facilities … it will take a while," he said of the time frame that takes in both his and Voss' contracts.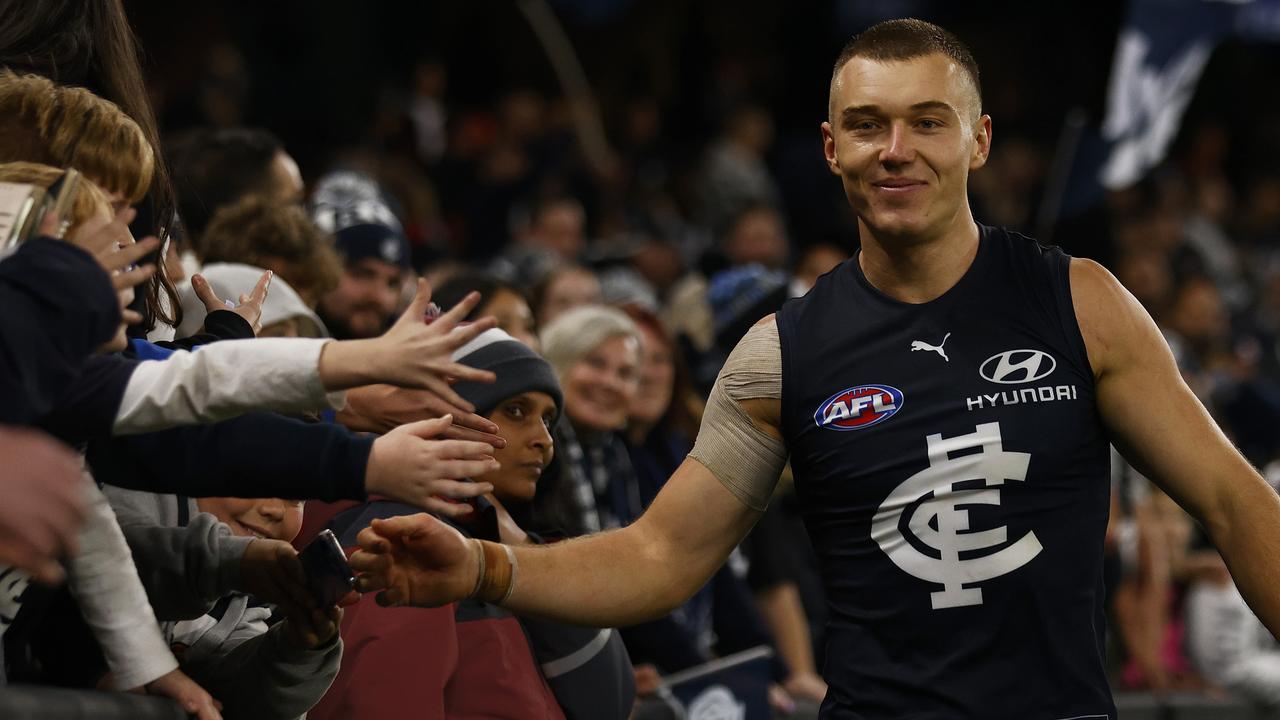 Patrick Cripps and his teammates have won six games to blast out of the blocks this season.
In a wide-ranging interview with the Sunday Herald Sun, Cook also said:
RESPECT, excellence, unity and humility would form part of the club's six-point values system that would extend to players, coaches, staff and supporters to be announced within two months;
IKON Park's $55 million redevelopment will further integrate the men's and women's programs – AFL, AFLW, VFL and VFLW – and provide the best indoor facilities in the AFL;
THE Blues are on track to reach their target of 85,000 members this year;
LAST year's controversial football department review had provided a template for the future, with almost 40 recommendations either implemented or in the process of being implemented;
HE sees "a bit of a young Joel Selwood" in Sam Walsh while he remains confident forwards Charlie Curnow and Harry McKay will recommit long term as Walsh, Patrick Cripps and Jacob Weitering have already done;
THE club can still play a role in the free agency/trade window later this year.
Cook has kept a relatively low public profile in his first six months in the role, eager to speak with a range of people inside and outside about the club's future.
"My objective has been to develop a really good business plan for the footy club and it has taken about six months to get to this stage," he said.
"We are developing some really good values at the club. I want everyone to take ownership (of those values).
"I've got a belief that you develop a set of values for your club and it is for the whole club. It is all the men and women (players), it's the staff, it's the fans, it's about everyone heading in the same direction."
Chief executive Brian Cook says he sees a little bit of young Joel Selwood in Carlton's Sam Walsh.
Cook said humility would be one of the six key values, something that hasn't always been a part of the club's DNA, particularly in the golden years of the 1970s and '80s.
"One of the values will be around humility and another one will be around respect," Cook said. "We will also have excellence (as a value) and a few others.
"Humility is important because there has to be an air of confidence, but it has to be mixed with humility.
"We want to win games, but we want to do it with respect and humility."
He also pleased the Blues have had the fewest 50m penalties paid against them on the field so far this season, saying that goes back to respect.
As part of the club's mission statement, Cook said it was important to engage the members in the process.
"We've got just under 1000 responses (about the mission statement) and it ranged from winning premierships, to being inclusive, respecting communities, to being connected," he said.
"Like all footy clubs, we also want to develop all areas around diversity and inclusion,
"We want to do well, but we also want to do good. I think we need to expand our community departments and activities, but it all takes time and resources."
Michael Voss chats with his players after Carlton beat Richmond in the opening round.
Cook knew the Blues' playing list had "a terrific spine" and good overall potential when he signed on, but has been pleased with the recruitment of Adam Cerra and George Hewett.
He was impressed by how "resource-rich" Carlton was, but said that also came with an obligation.
"You want the players to have the best facilities, the best leaders and the best medical team. but while you want to pour all your support around them, they have to be accountable too," he said.
"We will do our darnedest to give you the best environment whether you are in the AFL or AFLW programs, or whether you are a staff person, but you also need to play your part."

Cook took his first approach from Carlton president Luke Sayers before the finals last year, but told him he was fully committed to Geelong until the end of the Cats' 2021 season.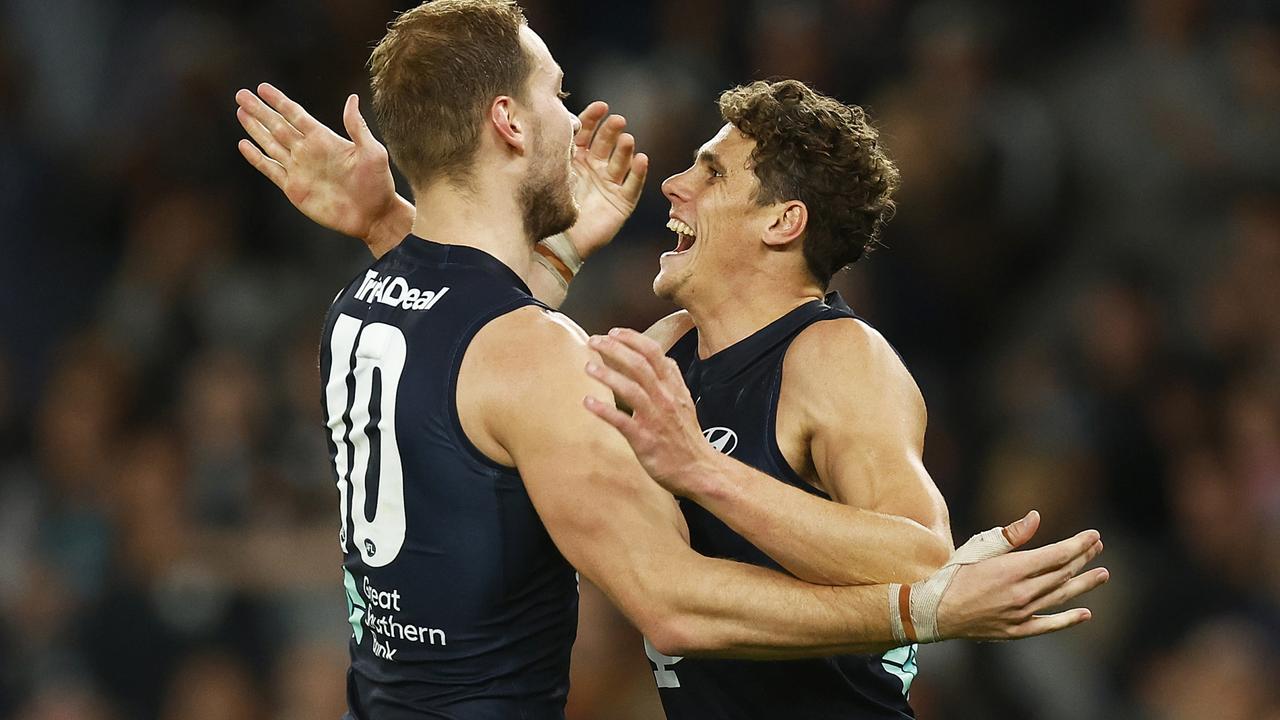 Charlie Curnow and Harry McKay have been in superb form for the Blues before the latter's knee injury.
The morning after the Cats crashed out of the preliminary final, he took calls from Sayers and Carlton luminaries Ian Collins and David Parkin.
"I was in Perth and I think I got the first call at nine in the morning," he said. "Then I got calls from two or three of his colleagues who knew me pretty well — the Ian Collins-types and the David Parkin-types. It was (well) orchestrated."
"Luke has been very supportive. He has a great combination of great leadership and courage and passion."
The appointment of Michael Voss as coach was one of the first things Cook was involved in.
"He was just an obvious leader," Cook said of Voss. "He oozes leadership. He is a good relationship builder; he is a pretty good communicator and he knows his strengths and weaknesses.
"He has appointed people around him who have great strengths and provide chemistry."
The Ikon Park redevelopment excites Cook, and he praised former president Mark LoGiudice and former CEO Cain Liddle for the work in securing the bulk of the funding.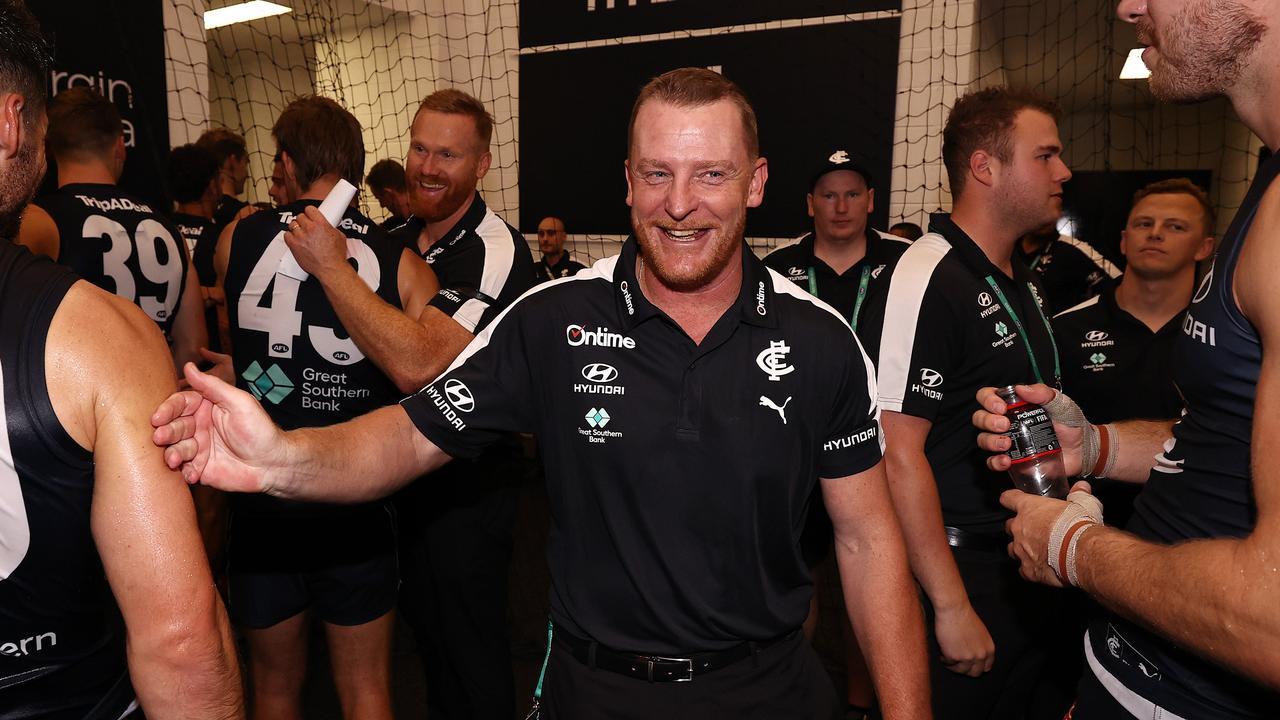 Brian Cook says Michael Voss oozes leadership and is a pretty good communicator.
Cook said the club still needed to find an extra $2 million, but was in the process of getting it.
"It's a central headquarters and training facility for the men's and women's programs. It has a new gym; it has a new restaurant and cafe, it will have a new function space for 250 people and an indoor facility for indoor training … that will be the best indoor facility of all the AFL clubs.
"There will also be four or five larger rooms not only for our use but also for use for Carton in Business. Carlton in Business is like a Carlton Football Club chamber of commerce … so they can come in regularly and have meetings and network."
IKON Park also hosts the Carlton College of Sport, in partnership with La Trobe University.
Cook has been buoyed by the support the club has always had from its loyal fans.
"We are the most attended and most watched (club) and the most eyeballed on most of the media channels," Cook said. "I just love the passion, the excitement and decibel levels.
"Just to see the smiles on the people's faces when we win is great."
At 6-2 to start the season, it's fair to say there have been plenty of Navy Blue smiles so far this year.
Originally published as AFL 2022: Carlton boss Brian Cook reveals why he thinks Blues will peak in Michael Voss's 75th game