AFL 2022: The AFL reserves the right to make more rule changes in the near future, says footy boss Brad Scott
In a wide-ranging interview, Brad Scott says the AFL is currently focussed on consolidating recent rule changes in the game but would't rule out adding new rules if 'absolutely necessary'.
Addressing the early season trends in the game that has delivered a rise in scoring, tighter margins and attack winning out over defensive game plans, Scott said the AFL remained intent on consolidating its most recent rule changes rather than introducing any new ones.
Sharing his thoughts on the "healthy position" of the game after the opening eight rounds of the season, Scott also weighed into discussion over the merits of a mid-season trade period and the "fairness" of the application of the medical sub.
Stream every match of every round of the 2022 Toyota AFL Premiership Season Live & Ad-Break Free In-Play on Kayo. New to Kayo? Try 14-Days Free Now >
Scott backed the players' adjustment to one of this year's most controversial changes — the umpire dissent rule — which caused an uproar at the start of the season.
While acknowledging the initial interpretation of the rule faced a "rough" start, Scott said the players were now on board with the change.
"There is no doubt that they have adjusted," Scott said.
"To me, it is almost becoming a non-issue for us. When we review every round, there are certainly zero examples of some of the really poor umpire dissent examples that we are seeing from previous years.
"So acknowledging that we had a bumpy start and we had some rough patches with the interpretation of it, overall the message has been really well accepted by the players and clubs and I think it has got to the point now where we see hardly any examples from week to week now."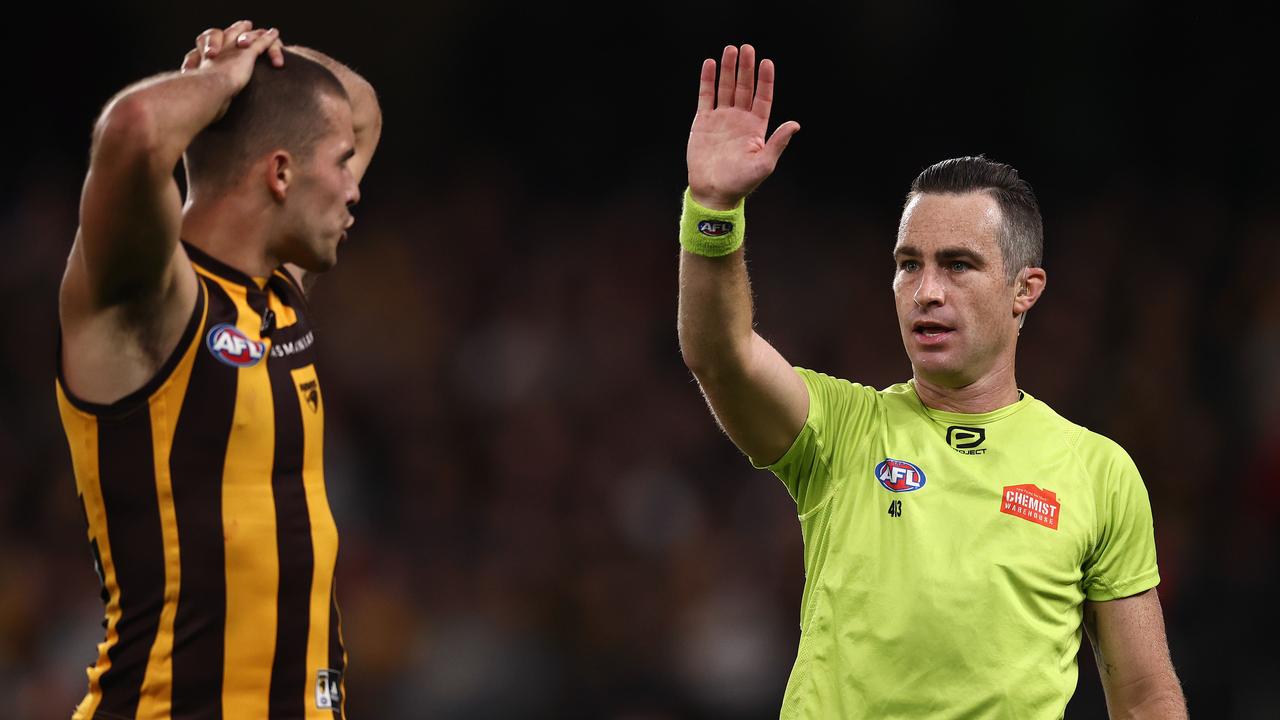 Finn Maginness shows his furstration to umpire Jacob Mollison.
The challenges the AFL faced in attracting new umpires to the game was laid bare when a damning leaked report into female umpiring, detailing abuse and harassment, was exposed by the Herald Sun last week.
Scott said the umpire dissent rule was never going to be a silver bullet for umpiring issues, but it was the one aspect they could control at the top level of the game.
"We never at any stage thought that AFL players showing dissent to umpires was going to be a panacea to fixing any challenges we had at a community level at umpiring," Scott said.
"This is one step and one thing that we can absolutely control which is our elite players setting the example for the rest of community footy, but that's not to say that fixes challenges with umpiring pathways and getting more female umpires into the game, that's a really broad piece of work.
"The umpire standard at the elite level is to simply set the example but it's a very, very small fraction of the work we are doing around umpiring in general."
Sam Taylor keeps his emotions in check after giving away a free kick.
HEALTHY PLACE
An AFL analysis of game trends during the first third of the season has found scoring up to an average of 83.4 (points for) from 79.7 last year, closer margins, tackles, stoppages and pressure down and more open and attacking football.
Scott said the balance of the game had swung back more in favour of offence rather than defensive game plans.
"I think the game is in a really healthy position," Scott said.
"We have worked pretty hard as an industry to maintain things like competitive balance, which is a key pillar of our competition where fans can rightfully think that their team has got a chance of winning on any given day.
"The number one thing that I am pleased about is that margins are as tight as they have been in the last decade and that's despite the fact that North Melbourne and West Coast have had their pretty well documented challenges.
"Despite a couple of blow-outs involving those teams, margins are really tight. It's quite pleasing when you combine it with the fact that – while we don't focus an enormous amount on absolute scoring – when margins are tight and scoring is up, I think that is a good combination.
"Certainly the industry has looked to try and skew the balance back a bit more in favour of offence rather than defence and pleasingly a lot of coaches have made the decision that they can no longer defend for really long periods of games and if they don't look to attack and score, it's going to be really hard to win games of footy.
"Whereas I think if you look back a decade ago, once a team got out in front by three, four, five goals, it was too easy for them to shut the game down and I don't think anyone enjoys watching that sort of footy. So the fact that we have got tight margins, teams need to score to win and, if you are behind, there are opportunities to get back into the game now that previously weren't there."
Scott highlighted the early-season dominance of the league's key forwards as one of the game's highlights this year.
In the opening eight rounds, key forwards have kicked five-goal hauls 29 times this season. Last year, there were 50 five-goal hauls from the big forwards for the entire season.
"We are not suggesting that anyone should take any credit for this, but I just think it's a great thing that the big power forwards are having a real impact on the game," Scott said.
"We have had 29 occasions this year where a key forward has kicked five goals or more – Tom Lynch, (Tom) Hawkins, (Jeremy) Cameron, Max King.
"I remember way, way back, decades back, the era of (Jason) Dunstall, (Gary) Ablett, (Tony) Lockett etc people were saying, 'Will we ever see those types of players again?' Well, we are, they are just 10cm taller."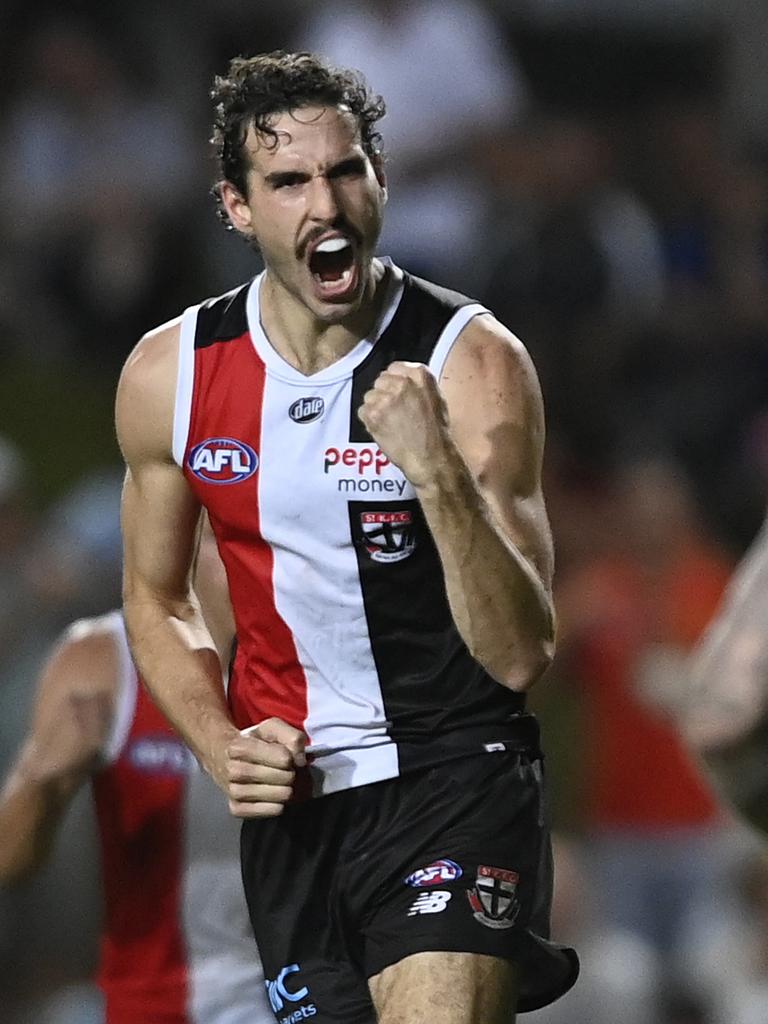 Max King is one of the big forwards who has made a strong start to the year.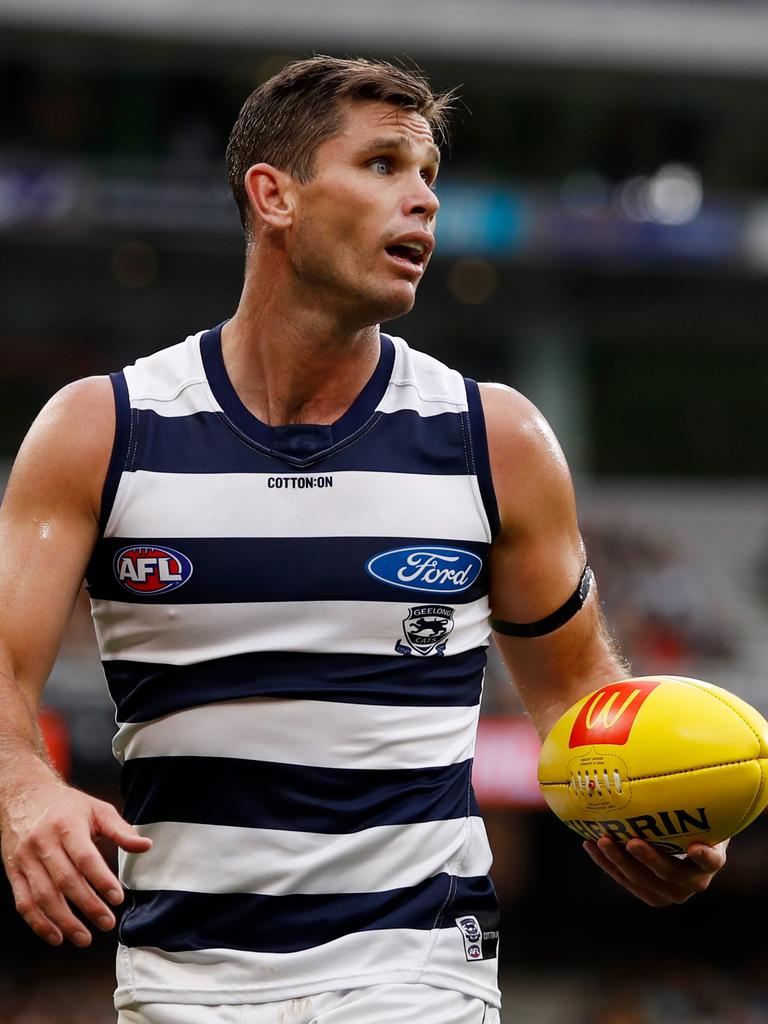 Tom Hawkins is also enjoying a brilliant season.
RULE CHANGES
Scott said the AFL was focused on consolidating its most recent rule changes rather than introducing any new ones in the foreseeable future, but reserved the right to do so if the league considered it necessary.
"Andrew Dillon (AFL executive general manager of football) was really clear at the start of the year that we wanted a year of consolidation with the rules. We are also really conscious that we are at Round 8 and we are talking about trends but it is a small sample size.
"We want to consolidate but we will always reserve the right to make changes if we feel it is absolutely necessary but our position at the moment is we are keen to consolidate the changes that have already been made."
Scott considered the 'stand rule' to have been a success, making it harder for teams to get on top defensively and congest the ground.
"They (players) have adjusted very quickly and again it has made it very difficult for teams to get the ascendancy defensively," Scott said.
"Whether you like the rule or not, it is certainly having an impact on teams' ability to compress the game and make it a real scrap and we are seeing that a lot with transition numbers and secondary stoppages, those sorts of things where we are seeing the ball flow a bit more.
"Whether that is directly because of the stand rule, I don't think anyone can prove that unequivocally, but the reality is that it is making it more difficult for teams to really congest the ground and gives offence a bit more of a chance."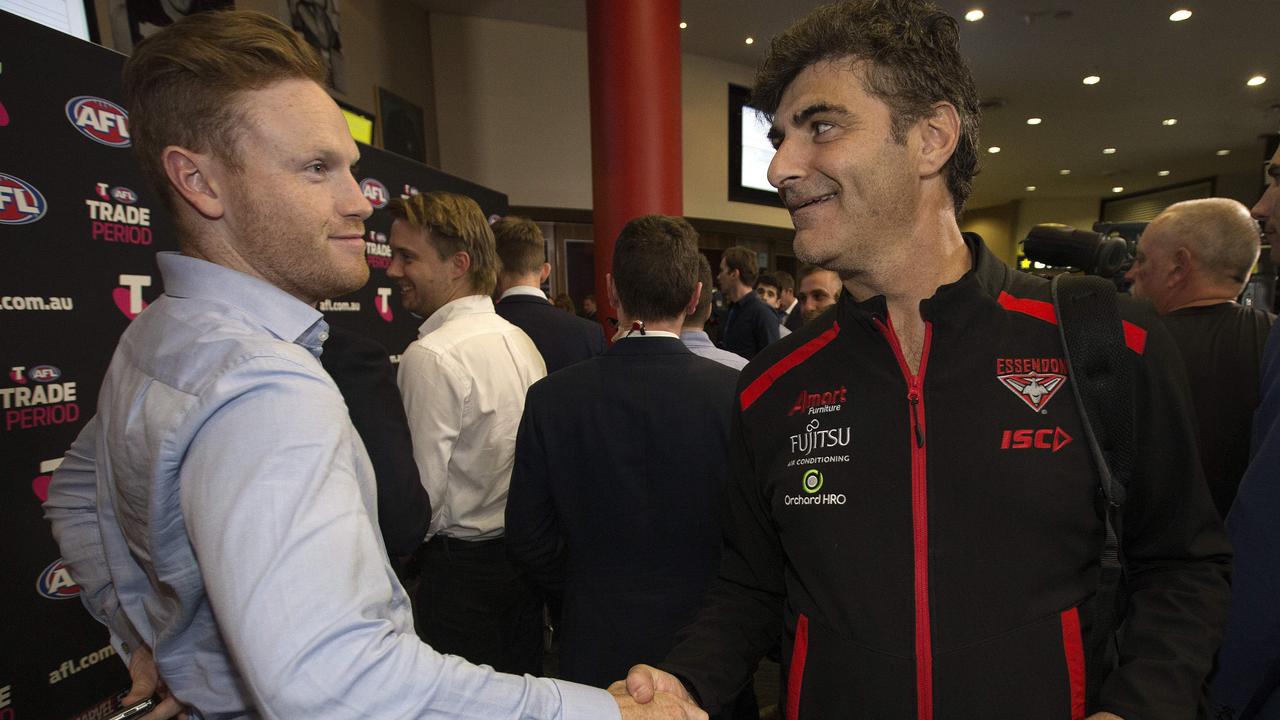 Essendon list manager Adrian Dodoro during the trade period.
MID-SEASON TRADE
While Scott acknowledged the success of the mid-season rookie draft in providing another avenue for players into the AFL, he was unsure if the game was ready for a mid-season trade period.
But he said the AFL continued to canvas the feedback of clubs on the issue, which he admitted would create plenty of supporter interest.
"I think the mid-season rookie draft has been a resounding success," Scott said.
"Anything that gives clubs flexibility with player movement and being able to manage their list is something that we should encourage.
"I also think it is really important for young boys and girls who miss out on the national draft that they should get potentially another opportunity within the 12 months rather than wait a year to try and prove themselves and we have seen so many success stories around that, whether it's Jai Newcombe or a whole lot of players that have come in through the mid-season draft and done really well.
"As for a mid-season trade period, it's an interesting debate within the industry, personally I'm not sure if our industry and the fans are ready for one of their players to be playing with their club one week and another club the next week
"But we are talking about it all the time and talking with clubs and getting their feedback on it because there is no doubt it would generate some fan interest."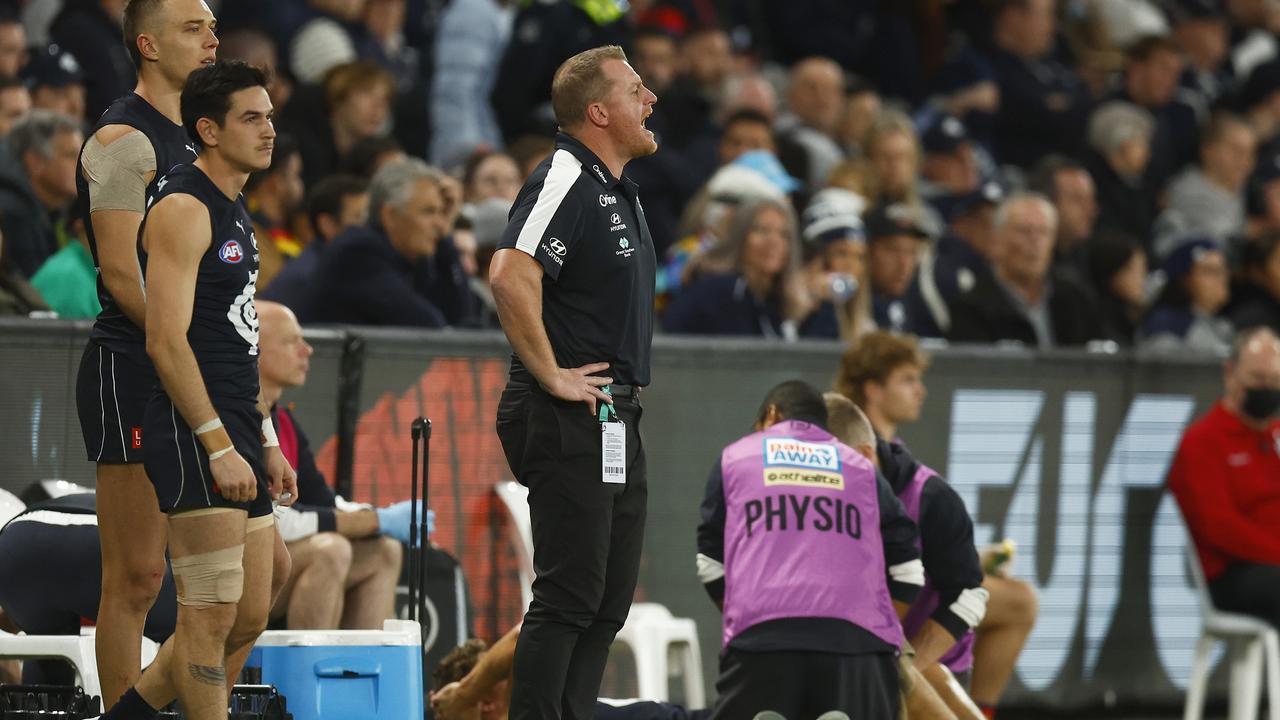 Michael Voss coaches Carlton from the bench as physios work on a player.
MEDICAL SUB
Scott said the AFL was comfortable with the way club medical officers were activating the medical sub, but he could understand commentary about the "fairness" of its application.
"There is a strong layer of medical governance over the medical sub so we are comfortable with the way that club medical officers are adjudicating or activating the medical sub," Scott said.
"While some players have returned to play the following week, there is strong medical governance over the top of that and the AFL's chief medical officer liaises with club doctors and ensures everything is above board there so we are really comfortable with that aspect."
"In terms of the fairness aspect, we think that I can completely understand the commentary around that and a lot of it makes sense. But we would not look to change something like that mid-season where we would, for example, if one team activated their sub allow the other team to activate theirs.
"We think that would compromise the integrity of the competition if we did that.
"It's on the agenda to be assessed (at the end of the year) and we are constantly working through that, but …. we would not be looking to make them in-season.
"The only potential for us to think about any changes would be if it had a medical overlay."
The spotlight shone on PCL injuries among ruckmen recently when Collingwood's Brodie Grundy and Carlton's Marc Pittonet were injured in ruck contests.
Scott said it was an issue the AFL had kept a close eye on but the league did not believe it had become a trend that warranted any rule change to the centre bounce or ruck contests.
"It is certainly not a trend but we do look at it really closely for obvious reasons, the health and safety of our players is paramount. We did look at it last year and we looked at it again this year, it was just an unfortunate coincidence that a couple of them happened at the same time.
"We're not at the point where we feel we need to make any adjustment to the rules around the rucks, but we absolutely keep a really close eye on it."
Revealed: Winners and losers on AFL free kick ladder
An analysis of the most and least disciplined clubs and players in the competition has revealed Richmond has received fewer free kicks than any team in the league.
Exclusive Champion Data analysis shows the Tigers sit at the bottom of the free-kick differential ladder with 150 frees for and 201 against this season.
Stream every match of every round of the 2022 Toyota AFL Premiership Season Live & Ad-Break Free In-Play on Kayo. New to Kayo? Try 14-Days Free Now >
But the Western Bulldogs have emerged as the top team for free kicks, having 204 paid this season – 54 more than the Tigers over eight rounds and 13 more than the next closest clubs, Collingwood, the Adelaide Crows and Carlton.
St Kilda sits mid-table on Champion Data's free-kick ladder, but Saints' ruckman Rowan Marshall is the league-leading player for frees.
Marshall sits at the top of the frees for ladder, winning 20 frees this season from his seven matches, averaging 2.8 a game.
Gold Coast midfielder Matt Rowell (eight games), Carlton midfielder Patrick Cripps (seven) and Suns defender Sam Collins (eight) are next on the free kick ladder with 19.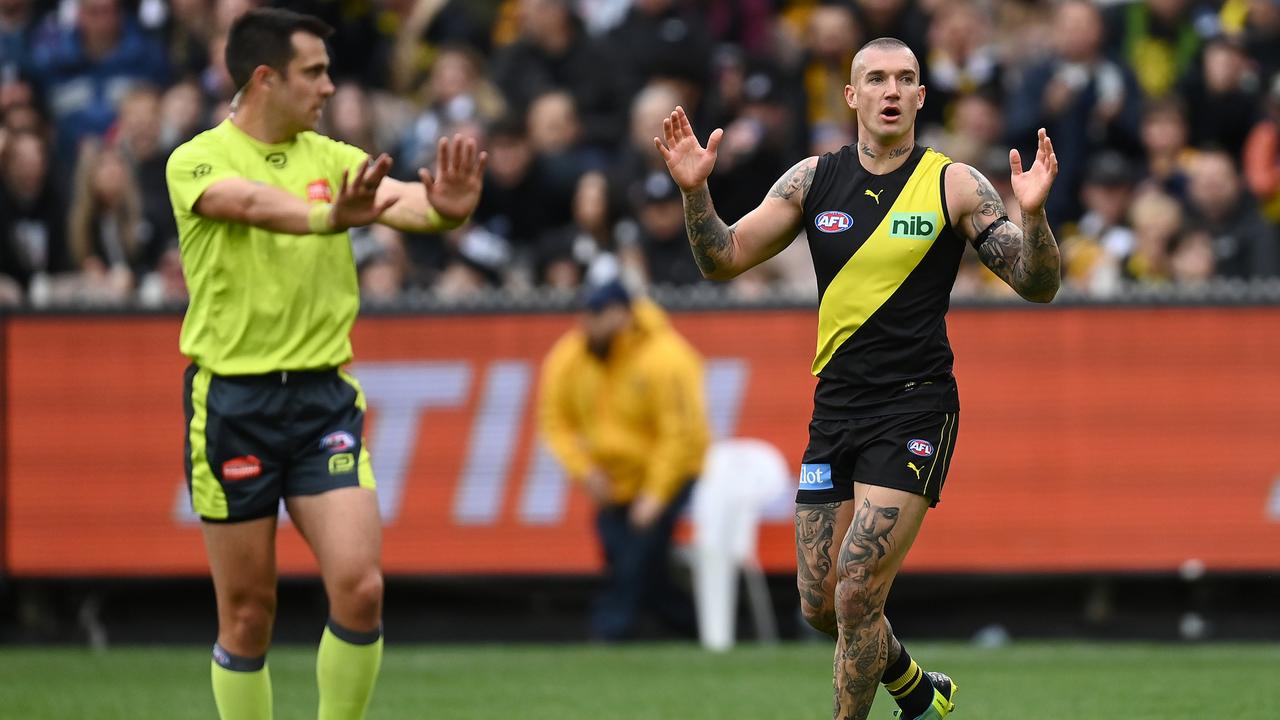 Richmond star Dustin Martin doesn't see eye-to-eye with the umpire in his comeback game, Picture: Quinn Rooney/Getty Images
Blues spearhead Harry McKay, who is set to miss the next six weeks with a knee injury, North Melbourne's top draft pick Jason Horne-Francis, Bulldogs midfielder Jack Macrae, Collingwood skipper Scott Pendlebury and Hawks midfielder Tom Mitchell are among the next group sitting high on the frees for ladder with 18 this year.
But a trio of ruckmen have had the whistle called against them more than any other players so far this season.
Essendon's Sam Draper, Melbourne captain and All-Australian ruckman Max Gawn and Richmond co-captain Toby Nankervis sit at the top of the frees against ladder with 20 from their eight matches.
Gold Coast ruckman Jarrod Witts (17) and Geelong's Rhys Stanley (16) also feature in the top-10 for frees against, as does Sydney superstar Lance Franklin (17).
Max Gawn gives away a lot of free kicks in the ruck. Picture: Quinn Rooney/Getty Images
Breaking down the frees paid for and against to teams this season, Champion Data's analysis found Carlton has had the most free kicks paid for holding the man (58); St Kilda has had the most holding the ball frees paid (49), Adelaide has won the most free kicks for high tackles (55) and the Bulldogs have had more frees for a push (36).
For frees against, Port Adelaide and Fremantle (47) have struggled the most with holding the man calls; Richmond (50) has copped the most high tackle calls, the Cats have had the most calls against them for a push (32), and the Swans have had more holding the ball calls against them than any other team.
Originally published as AFL 2022: The AFL reserves the right to make more rule changes in the near future, says footy boss Brad Scott