State of play for Port Adelaide coach Ken Hinkley as speculation grows
The speculation and questions over Ken Hinkley's future will continue, particularly if the Power start to struggle. Here is where the situation stands.
David Koch says there is "no discussion really" about Ken Hinkley's future, while Hinkley himself describes it as "just ridiculous".
But the speculations, and questions, are set to continue to the Power – and will only heat up if they can't crash the top eight.
After a 0-5 start to the season, the Power have gone 7-2 to be 7-7 – with two big wins over Sydney and the Gold Coast in their last two matches.
But Fremantle in Perth will be a step up for the Power, and looms as a vital clash in whether they can make the top eight.
Will it prove to be a vital one regarding Hinkley's status for 2023.
Watch every blockbuster AFL match this weekend Live & Ad-Break Free In-Play on Kayo. New to Kayo? Try 14-Days Free Now >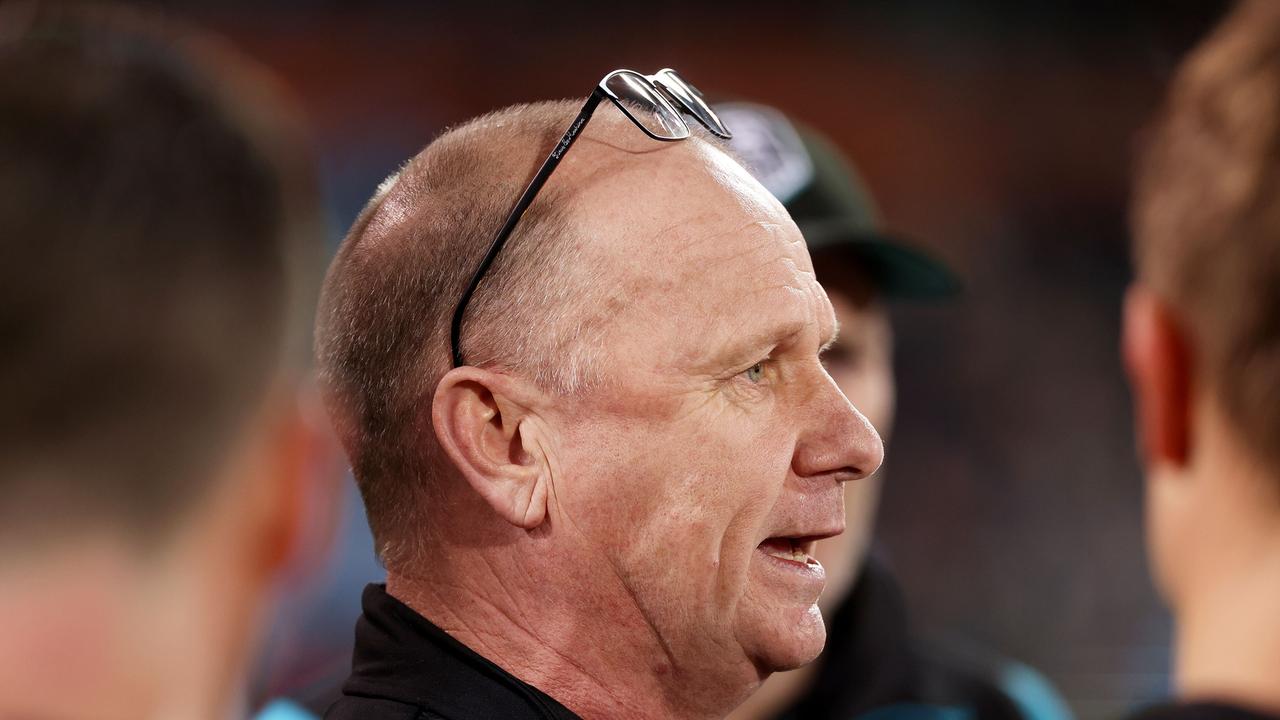 Speculation around Ken Hinkley continues to grow. Picture: James Elsby/AFL Photos via Getty Images
CURRENT STATE OF PLAY
Hinkley is still contracted until the end of 2023 after signing a two-year extension at the start of 2021.
He has guided Port Adelaide to two preliminary finals in the past two years, to go with an appearance at that stage in the 2014 season.
But now in his 10th season, externally the view prior to the 2022 was that the Power needed to take a step forward and make a grand final to quell the increasingly restless fans.
A 0-5 start, when the Power were missing stars such as Aliir Aliir, Charlie Dixon and Orazio Fantasia, further heaped the pressure on.
Only Sydney have made finals from such a start, and while they are still two wins out of the eight – and are also behind in percentage – the Power still have a finals heartbeat.
Can the way they rallied this year after the 0-5 start win round the critics?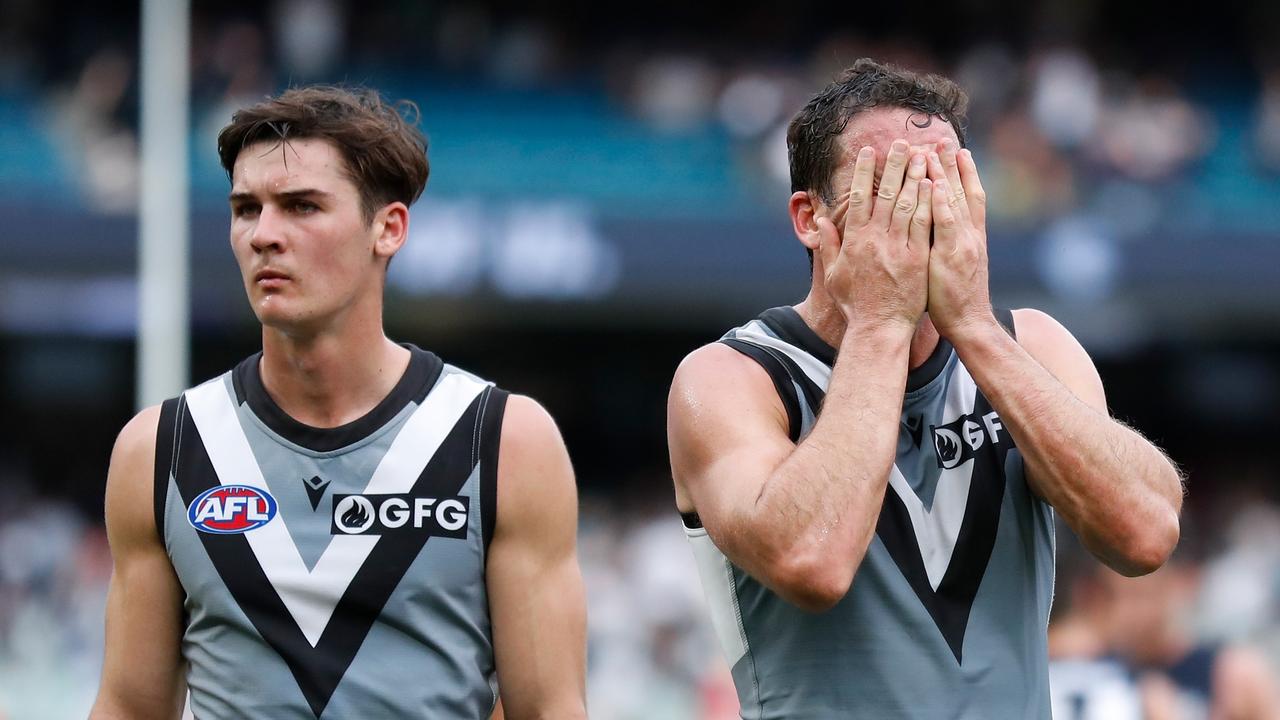 The Power started the season poorly. Picture: Michael Willson/AFL Photos via Getty Images
WHAT IMPACT DOES THIS WEEKEND HAVE
The last two games for the Power have been dubbed "elimination finals".
Port general manager football Chris Davies said the Power didn't have too much space to slip up in the run home.
"I would have thought our last nine have been elimination finals after starting 0-5," he said.
"We have put ourselves behind the Eight ball but I'm rapted that our coaches and players were able to lower their eyes because there was obvious potential for the season to go horribly wrong from that point.
"We've managed to get ourselves back into a point but we still know there is work to be done."
The Power could still make finals even if they lose to Fremantle this weekend, it just means they won't be able to afford many if any more losses to end this season.
Beating Fremantle in Perth would be a statement-sending win and a lose wouldn't be absolutely disastrous.
GOAL FOR THIS SEASON, WHAT WILL SUFFICE NOW
It is fair to say that going 0-5 to start the season wasn't the plan for the Power, who as part of their 'Chasing Greatness' plan aimed on winning three premierships in the five-year period from 2021.
So unless they could win it from outside the top four or five, even sneaking into the finals won't satisfy the pre-season goals the Power had.
Given they went 0-5, could a plucky ninth or 10th with a winning record be seen as a pass mark for the Power? Probably not.
The attention will turn to what this means for Hinkley.
Hinkley with forward Todd Marshall. Picture: Sarah Reed/AFL Photos via Getty Images
WHAT IS LIKELY TO HAPPEN
Given the Power's run home after the Dockers clash, GWS at home, Melbourne in the NT, Geelong at home, Collingwood at the MCG, Richmond at home, Essendon at Marvel Stadium and then the Crows at Adelaide Oval, the predictors have the Power missing finals.
This would increase speculation around Hinkley's future, even though he has a year to go on his contract.
Hinkley said on SEN earlier this week said he wanted to stay around and described the constant speculation as "just ridiculous".
"The club and I have been incredibly loyal and we would like to keep it that way," he said.
Prior to the loss to Richmond in Round 13, Power chief executive Matthew Richardson said Hinkey "will be our coach in 2023".
Last weekend chairman David Koch continued this theme.
"He is contracted for next year so there is no discussion really," he said on Triple M.
"Football clubs start to worry about coaching and coaching groups when there is fighting among players and coaches and there is a lack of support for each other.
"There is not one iota of that at Port Adelaide Football Club and there has not been for the whole year.
"The whole group has ignored the white noise … our job is to ignore the opinion and believe in what we are doing."
Based on this you'd probably bet that there is no change at Alberton.
But at the same time key figures at the club has also used the phrase "performance industry" when asked about Hinkley's future of late.
IF KEN GOES, WHAT'S NEXT?
If the Power make a move, or Hinkley makes a call himself, then the first thought Port Adelaide fans will have will be that of Alastair Clarkson.
The shadow of the four-time premiership winner is looming large over every coach slightly under pressure this year.
Port could have the list to lure Clarkson in, so they would have to ask.
If they can't win that race, who else is out there.
Nathan Buckley will be a romantic choice for many but he's happy in Melbourne.
If they want a coach who has played for the club in the past, Richmond's Adam Kingsley is highly rated.
Internally Brett Montgomery is the one viewed as a potential senior coach one day.
But the big question will be, can the Power get a better option than Hinkley for 2023.
Can Port Adelaide do better than Hinkley? Picture: Mark Brake/Getty Images
WHAT THEY'VE SAID
"Ken is our coach and he will be our coach in 2023," Port chief executive Matthew Richardson.
"He is contracted for next year so there is no discussion really," Port chairman David Koch.
"The club and I have been incredibly loyal and we would like to keep it that way," Ken Hinkley.
Famous Port family's emotions flow over at big call
Peter Burgoyne called it "some of the best news I've heard in my life", while Shaun choked up in front of the Port Adelaide players while delivering the announcement.
The announcement of Jase Burgoyne joining his dad and uncle in playing for Port Adelaide at AFL level hit the heartstrings for many on Friday.
The father-son selection from last year's draft will make his AFL debut for the Power in their massive clash against Fremantle on Sunday in Perth.
Uncle Shaun, who played 157 games with the Power before moving to Hawthorn, told the Port players prior to training on Friday.
Port Adelaide father-son recruit Jase Burgoyne with his mum Anne-Marie Cooper when he joined the club. Picture: Brenton Edwards
"You have done extremely well neph, from watching you grow up and along with Trent (Jase's brother) go and chase your dreams and play AFL footy at the club your dad played for it's a dream," he said.
"You've made the family extremely proud, I'm getting a bit emotional here. it is kind of watching your own son play but I'm just extremely proud.
"You hold yourself really well, you are a skinny kid but you hold yourself really well and you know your way to find in and out of footy.
"You continue a legacy but you are starting your own pathway as well."
Jase later rang Peter, who was about to get to work.
"That's some of the best news I've heard in my life," he said.
"You've worked really hard so you should be proud of your self.
"You've had a consistent year and it has put you in good stead. So just be ready for it."
Fantasia's latest setback as son of great to be unveiled
Port Adelaide is "confident" Orazio Fantasia can overcome his injury problems of late after another setback prevented him from his first game of the season.
Fantasia was in line to feature for the Power in their huge clash against Fremantle in Perth on Sunday after an impressive showing in the SANFL last week.
But towards the end of the Power's training session on Wednesday Fantasia pulled up sore in his hip adductor.
Power general manager football Chris Davies, who spoke at Port's media conference on Friday with Ken Hinkley having a "family issue" that won't impact him coaching the team on Sunday, said it was a blow for Fantasia and for the club.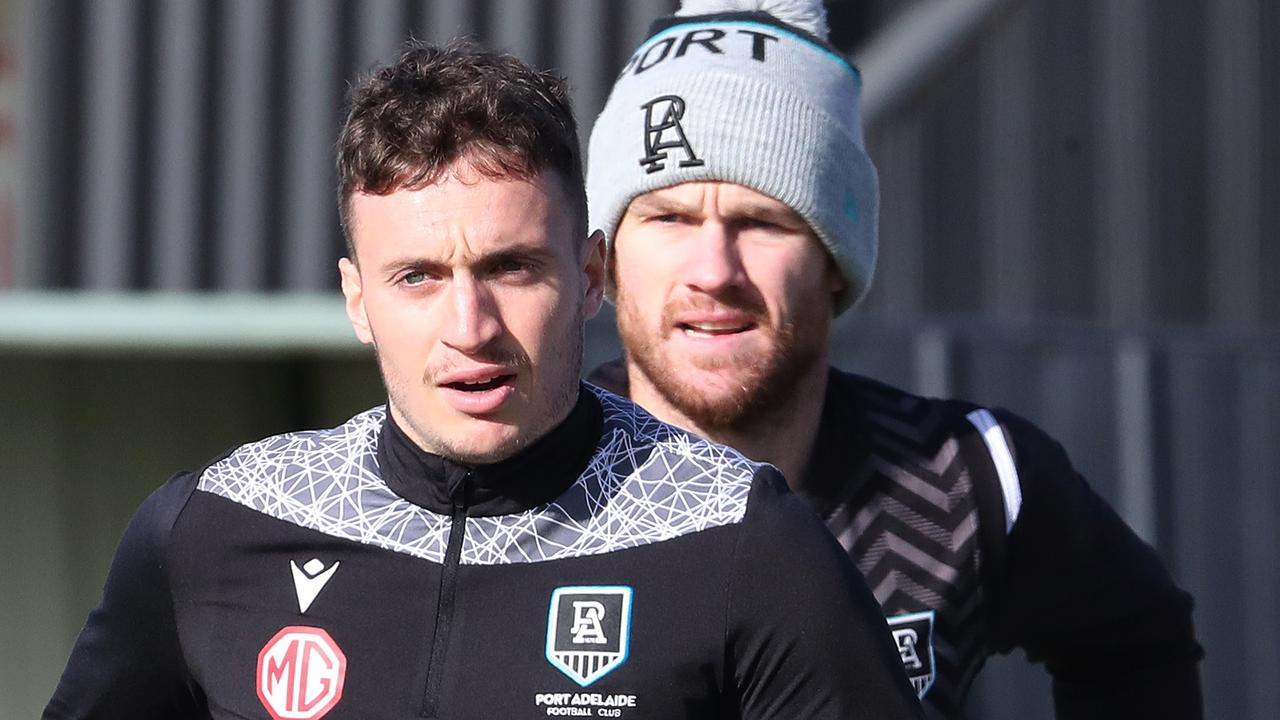 Orazio Fantasia won't make his return after another injury setback.
"We have assessed him for the last 36 hours and it was a minor strain that will keep him out of this week and we will reassess him next week," he said.
"He is doing as much as he possibly can, his body is letting him down at the moment clearly.
"We will give him the best opportunity to come back."
Fantasia has not taken to the ground at AFL level this season after off-season knee surgery, and then a quad injury.
The knee surgery was Fantasia's third in a year, but Davies said it was now soft-tissue injuries for the small forward.
"The positive thing right now is that his knee isn't the issue, he had a significant period of time where his knee was the main concern," he said.
"He's now having some soft tissue issues which are now coming as a result of the lack of conditioning.
"We will have to keep working on what it looks like, it wasn't done in a game.
"He ticked off all the performance and speed numbers needed for him to be available for the game but he unfortunately wasn't able to get up."
Fantasia came to the Power after having injury issues at Essendon.
Davies said the Power were confident he could get on top of them.
"We knew that Raz had a history of injuries before he came to us but the reality is that we wanted him to come, we need to get him fit and we need to keep working towards that," he said.
"We are confident but he hasn't been able to so the proof will be in the pudding."
Robbie Gray will return for the Power while Jase Burgoyne, the son of 2004 premiership winner Peter, will make his debut.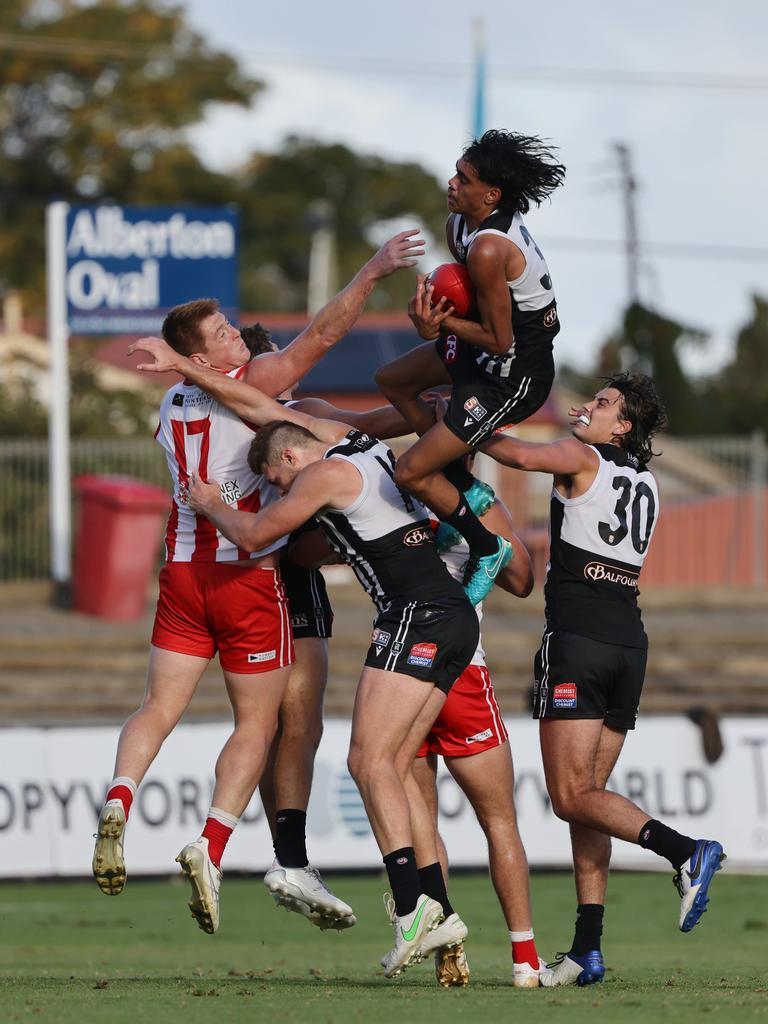 Jase Burgoyne flies high for a hanger in the SANFL. Picture: SANFL Image/David Mariuz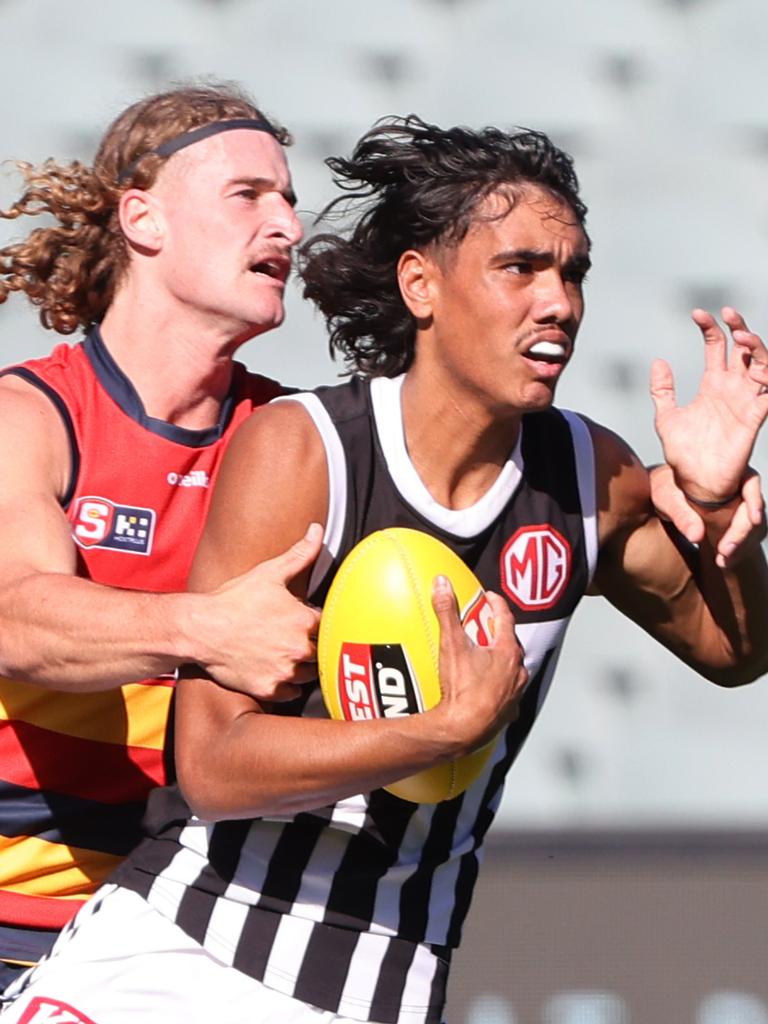 Burgoyne is the son of club great, Peter. Picture: SANFL Image/David Mariuz
"It is a really good story for the club," Davies said.
We think he has been fantastic, Jase has been one that has always been able to rise to the level he has played at.
"He has been doing some great work for us and we are really confident that he can be in our AFL team, he still has some work to do on his body but we are excited."
'How does it hurt': Pies legend's prison-bar push for Power
Collingwood great Tony Shaw has no problem with Port Adelaide wearing its prison-bar guernsey in Showdowns and says his former club should not stand in the way.
Port Adelaide is hoping to don its traditional, black-and-white jumper against the Crows in round 23 after having its rolling request to the AFL knocked back twice in 2021 then once again earlier this year.
The league has cited existing agreements and Collingwood's disapproval as reasons behind its decisions.
Shaw, a Collingwood Hall of Famer, premiership captain and ex-coach, told News Corp the issue had nothing to do with his old side.
"We shouldn't get caught up in that, we don't need to get caught up in that stuff," said Shaw, who played 313 games for the Victorian Magpies.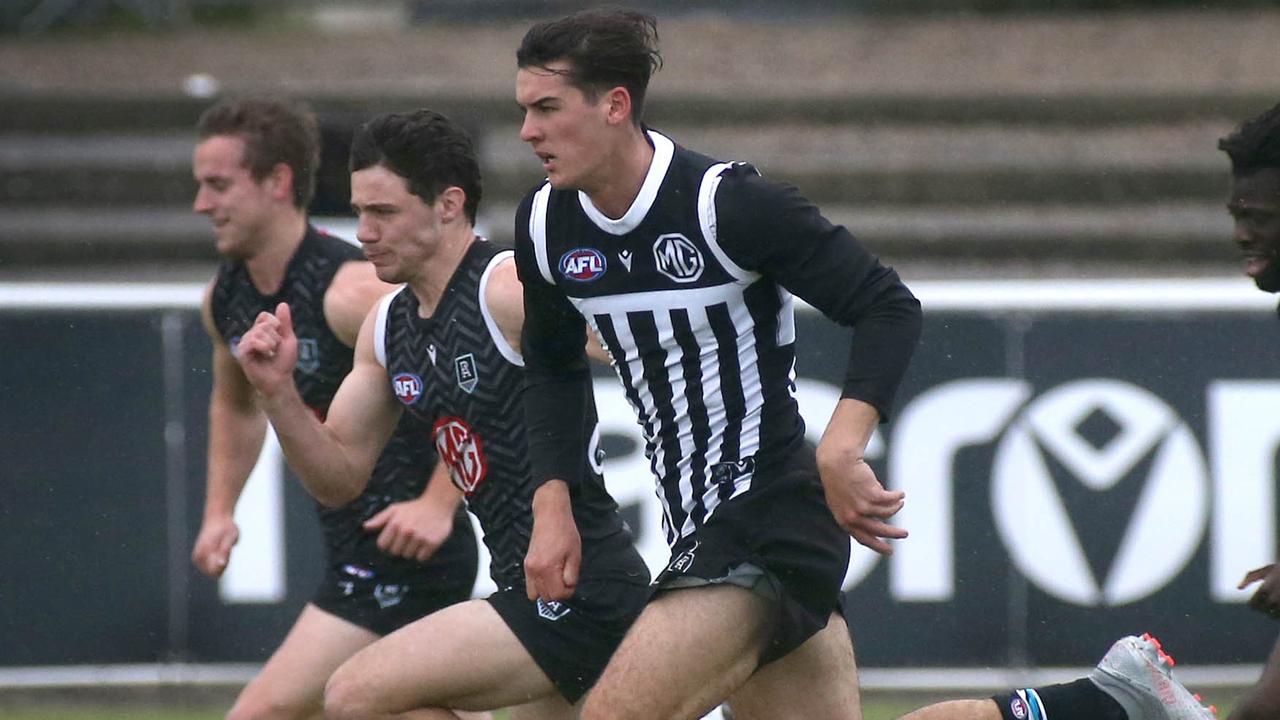 Port Adelaide players training in the prison-bar strip. Picture: Dean Martin
"How does it hurt Collingwood? How does it hurt our fans?
"We're not involved in the game anyway.
"I love Collingwood, but how trivial is it … that (disapproving of Port Adelaide's push) is the way. If it's part of their (Port Adelaide's) licence, then there's probably a legal thing they have to cater to, but if it's not … I've got no hassle at all.
"If they don't wear it against Collingwood, it's no issue for me."
Port Adelaide has worn the jumper five times in the AFL and since 1902 in the SANFL.
While past and present Port Adelaide officials deny signing contracts restricting when the club can don the guernsey, ex-Collingwood president Eddie McGuire has been adamant its use is barred by AFL deals.
Port Adelaide has not played in the prison bars at the elite level since 2020s only Showdown, part of the club's 150th anniversary.
In April last year, the league threatened the loss of premiership points if the Power wore the strip against the Crows, only for the team to change into it post-game to sing the song.
Port Adelaide's ongoing submission to the AFL centres on honouring its past and a belief that Showdowns represent the heritage of SA football.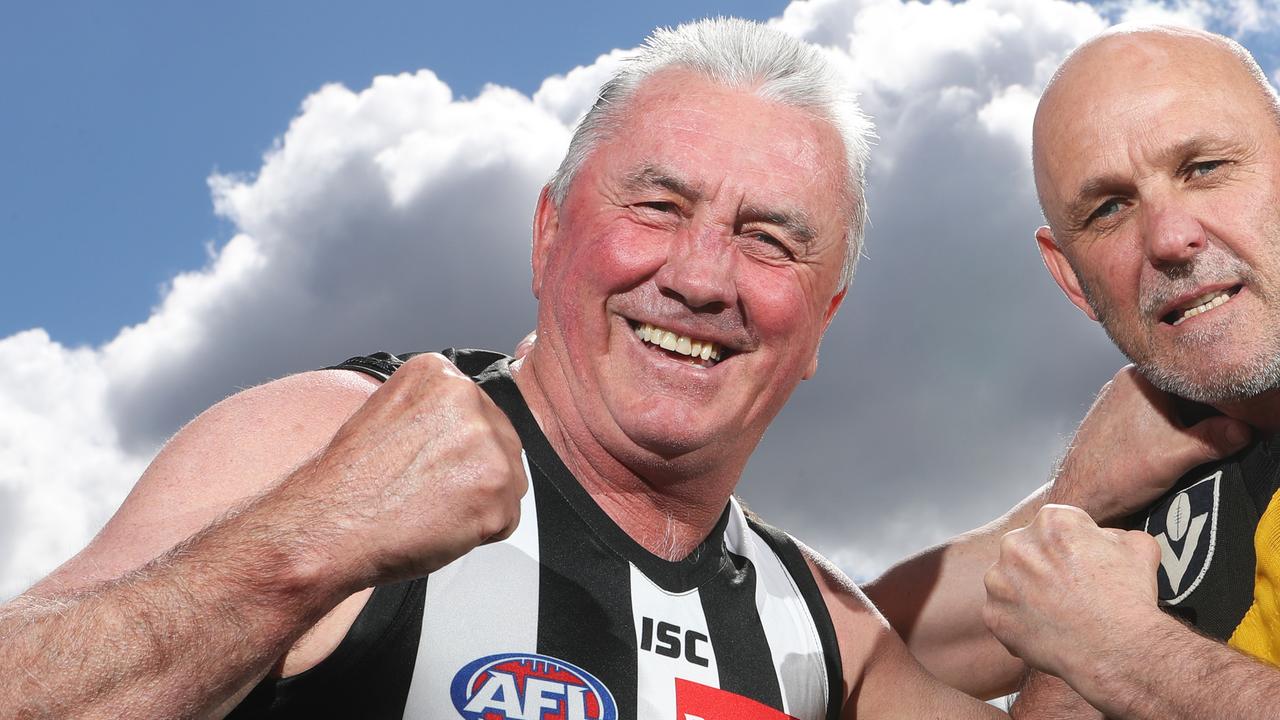 Collingwood great Tony Shaw believes Port Adelaide should be free to wear their prison-bars jumper in the Showdowns. Picture: David Crosling
"How many times a year they wear it is not an issue for me because, historically, it was their jumper," Shaw said. "They did come in (to the AFL) with a different jumper but I've got no worry with them wearing it in Showdowns.
"We've got black and white and I love the black and white.
"(Collingwood) people say 'it should only be us' but this is a national comp now so I've got no worries about them wearing it.
"When they play Collingwood, they wear their teal and that should be done."
McGuire has been arguably the most vocal critic of Port Adelaide's push.
His successor, Mark Korda, said in April last year: "There is a place for only one black-and-white striped jumper in the AFL, the iconic Collingwood jumper".
The stance of first-year Magpies president Jeff Browne, on the matter is unclear.
Collingwood was contacted for comment.
Port Adelaide and the AFL had nothing further to add on the issue.
Heritage loophole? Port arguing prison-bar case again
-Jon Ralph
Port Adelaide has lodged an official request with the AFL to wear the club's historic prison bar jumper against Adelaide in the home round 23 clash.
News Corp can reveal Port Adelaide's pitch to the AFL as the club attempts to celebrate its heritage in a Showdown clash at Adelaide Oval.
The club is in negotiations with the AFL and believes that given many other clubs this year have worn heritage jumpers there is no reason why it cannot celebrate its own history dating back over 150 years.
Port Adelaide chief executive Matthew Richardson confirmed the submission, but said the club would conduct its negotiations behind closed doors.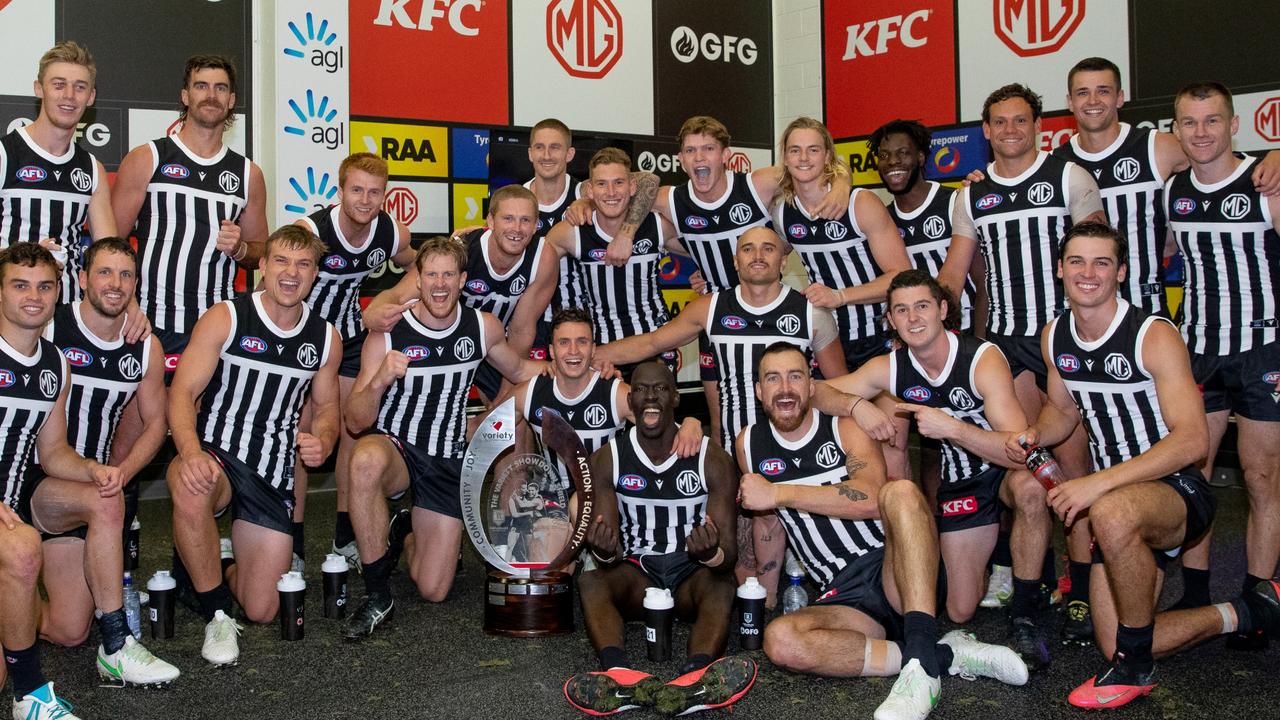 Port Adelaide celebrate their Showdown victory in the changerooms in their prison bar guernseys last year. Picture: Mark Piovesan Photography
The league has not allowed Port Adelaide to wear the traditional black and white striped jumper since 2019 in a one-off appearance to commemorate the club's 150th anniversary.
But Sydney and Brisbane have both worn heritage-style jumpers in recent weeks celebrating their heritage.
Hawthorn has also worn a Legends guernsey honouring John Kennedy Sr in recent seasons.
Former Collingwood president Eddie McGuire was a vocal critic of the club's desire to celebrate a heritage that includes 36 SANFL premierships.
It is known now how strongly new Collingwood president Jeff Browne feels about the proposal but the Power's proposal is that it wear its prison bar jumper once a year in the home showdown.
The AFL threatened to dock the Power premiership points if it wore its jumper in 2021 at a Showdown so the players changed into the traditional jumper and wore it for their victory song.
The AFL in 2021 cited agreements between the Power, Collingwood and the AFL that black and white prison bar jumper infringes Collingwood's trademark kit.
Koch said the league had in 2007 brokered an agreement that allowed the Power to wear their heritage jumper in one game a season during heritage rounds.
But the league ended heritage rounds in 2007 so they have only worn the jumper once since then.
In knocking back the Power last year the league cited a 2019 agreement that the 2020 jumper was for a single match only.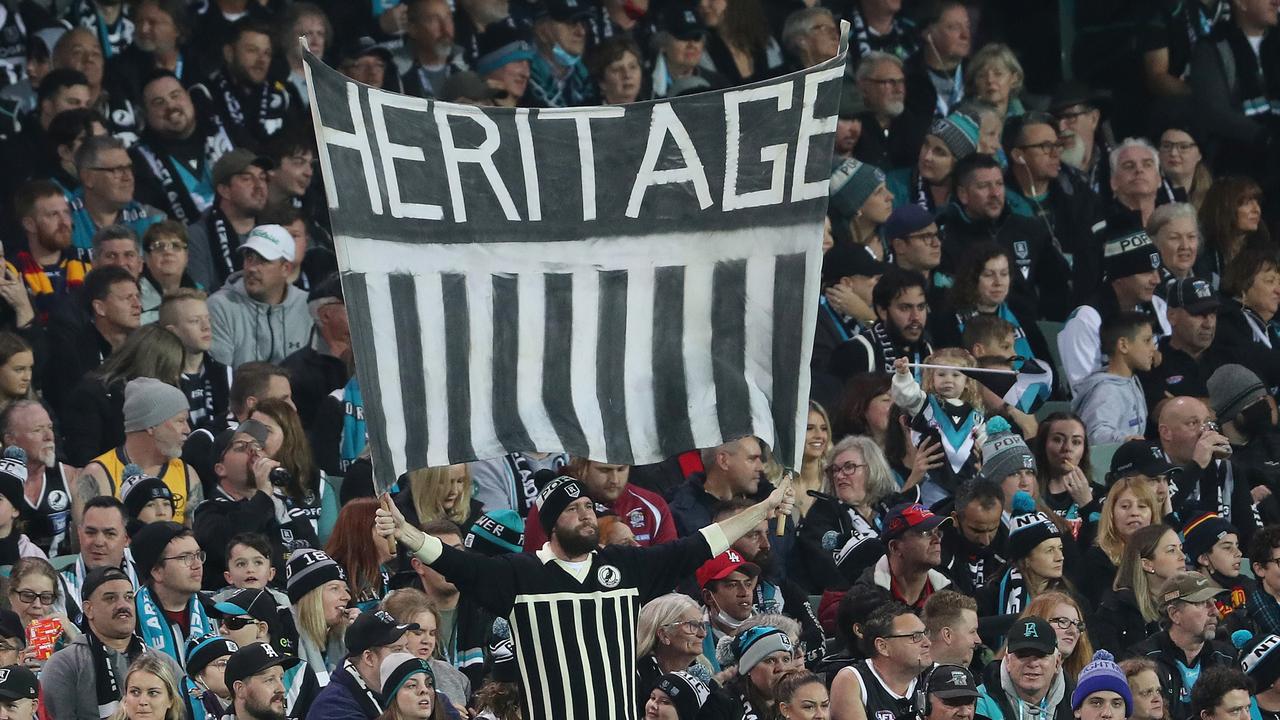 A Port fan holds up a prison bar sign during a Showdown clash last year.
The AFL's statement read: "That agreement, signed by all parties, stipulated the guernsey was specifically approved for Port Adelaide's use only for that single match in 2020. And Collingwood's approval did not bind it with respect to any other future proposals … in respect of the guernsey. Collingwood … has made it clear that, at this time, it does not agree to further use of the guernsey by PAFC."
After singing the song last year in prison bar stripes Ken Hinkley said the players knew the significance of the jumper.
"It's a show of respect for our heritage, for our past and for our great people who played in it in our past and for our people who turn up and represent this footy club. We started and we began as Port Adelaide and we still are," Hinkley said.
"Part of that journey is this amazing jumper which the boys love and the club loves and every one of the people who support this footy club love it. We had to wait until after the game but we'll recognise it as often as we have to."
Power drops hint that gun may leave
By Simeon Thomas-Wilson
Port Adelaide footy boss Chris Davies says it is "less likely" that Karl Amon will remain at the Power when his contract finishes at the end of this year.
Amon, 26, is a free agent at the end of this season and is being heavily courted by Victorian clubs – including Carlton and St Kilda.
The wingman had his best ever season in 2021, being named in the initial All-Australian squad.
Amon has yet to make a call on his future, but Davies said on Monday that the longer he remained unsigned the more it pointed towards a particular outcome.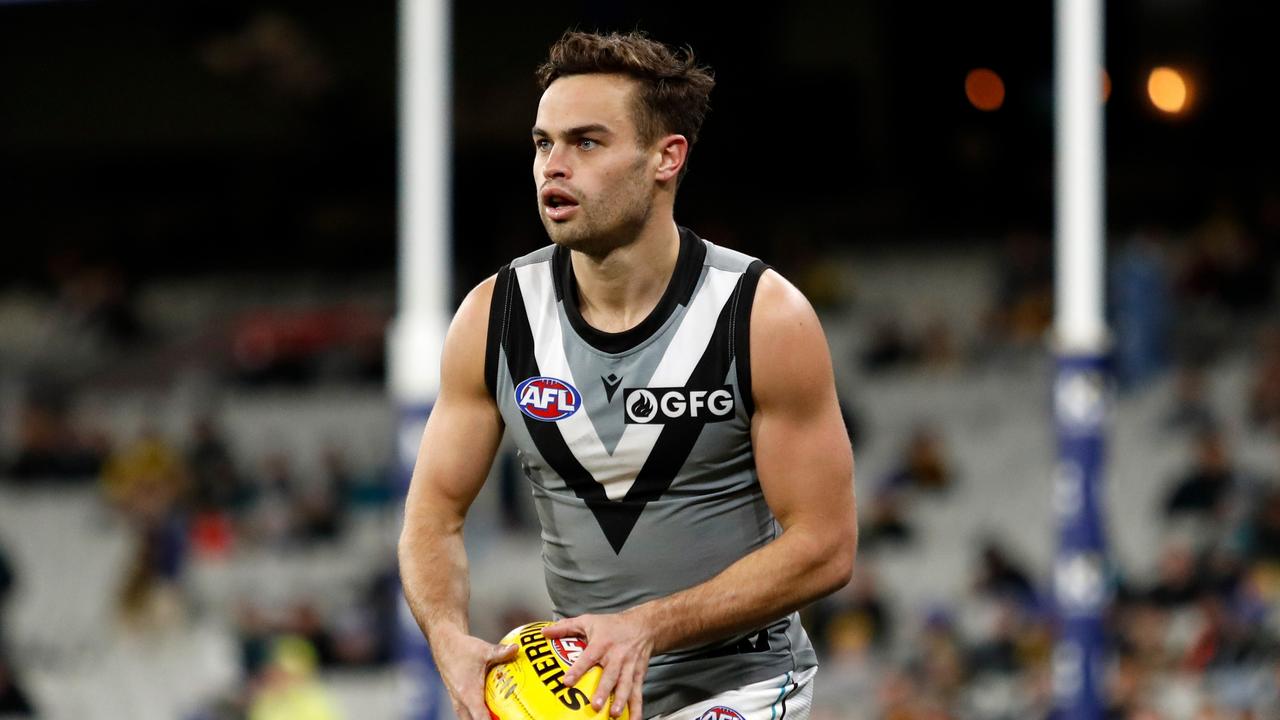 Karl Amon has been courted by several Victorian clubs. Picture: Dylan Burns/AFL Photos via Getty Images
"I think the longer it goes on probably the less likely they are to sign," he said on SEN SA.
"But having said that Karl is clearly invested in the 2022 season and where we end up, it is a player's right now to explore free agency.
"The club has done a good thing by Karl over time but at the same time he has been a really good servant for us.
"I'm sure that as the season goes on it will get some more media commentary, I would like to think that both Karl and the club will be mature to work through that on a week by week basis.
"But the longer it goes on probably the less likely it is."
After a 0-5 start the Power are now 7-7 and are a still a chance of playing finals, although they can't afford too many slip-ups in the run home.
They were able to get past Gold Coast on Sunday with a thrilling two-point win.
This was despite giving the Suns and co-captain Jarrod Witts the ruck ascendancy with forward Jeremy Finlayson leading the ruck for the Power with Sam Hayes in the SANFL.
While Port coach Ken Hinkley said No. 1 ruckman Scott Lycett could be in the mix to take on Fremantle this week, after he dislocated his shoulder in Round 4 against Melbourne, Davies said Lycett was still probably three to four weeks away.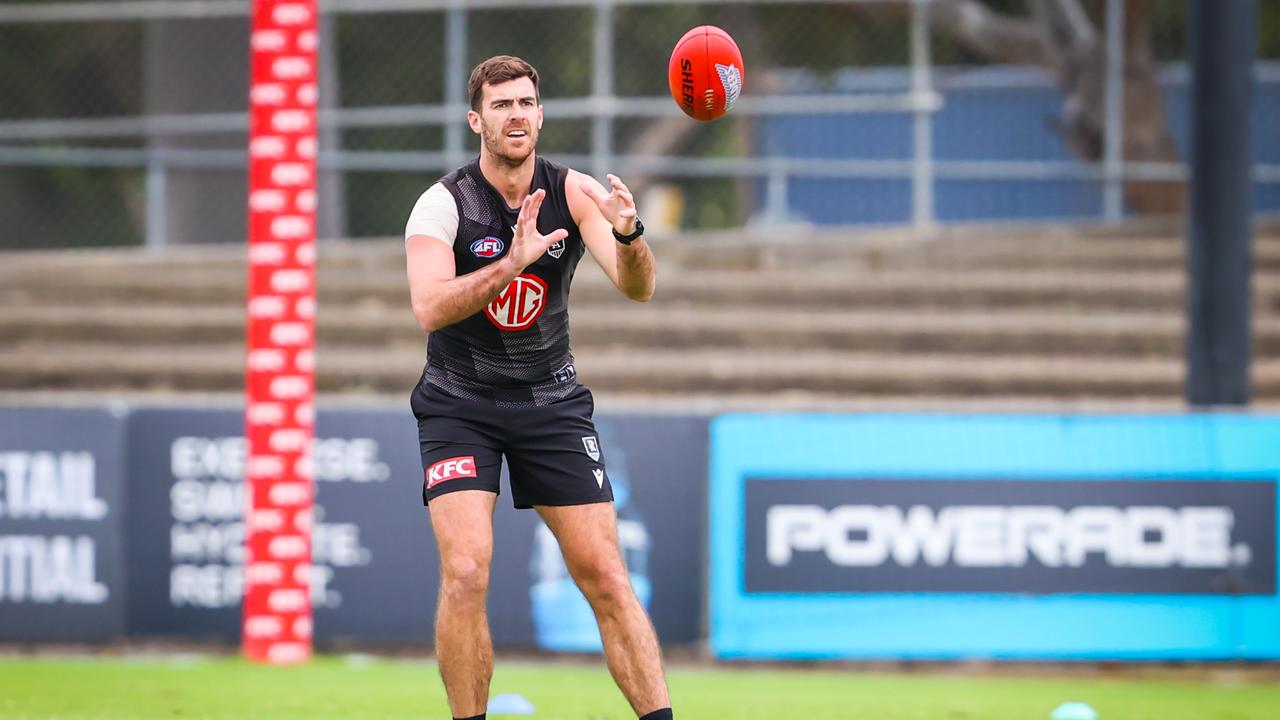 Scott Lycett is actually still a few weeks away from a return. in Alberton. Picture: Tom Huntley
Mid-season draft recruit Brynn Teakle is also on the sidelines for a while after he was subbed out of his debut game against Sydney.
Davies said despite Hayes being dropped, the ruck was not an area the Power desperately needed to look at in the off-season – especially with draftee Dante Visentini impressing in the SANFL.
"Right now with our eyes firmly on 2022 we are keen to get Lycett back and back in the team as soon as possible," he said.
"To be fair to Sam Hayes I don't think there are many rucks who come into the team for the first time and stay in it.
"Haysey got seven games and knows now what he needs to be better at, which is his work around the ground.
"We are not certainly in the basket of suggesting that Sam can't play AFL in the future."
Originally published as State of play for Port Adelaide coach Ken Hinkley as speculation grows