AFL 2022: Non-Victorian clubs oppose AFL's top-up plan
The AFL has presented its top-up plans to clubs, and there's a a key reason why particular sides are voicing opposition.
The league has been canvassing individual clubs after presenting the plan last week as the centrepiece of its plan to avoid postponed games through omicron this year.
Under one league model, each club would pick 20 players linked to their state-league side who would be eligible to play AFL games in the event of a widespread club outbreak.
Clubs such as Richmond, Geelong, Essendon and Hawthorn have their own VFL side or an affiliated team, so could easily secure 20 players who were on that VFL list, or were top-ups who regularly played with that side.
Stream every match of every round of the 2022 Toyota AFL Premiership Season Live & Ad-Break Free During Play on Kayo. New to Kayo? Try 14-days free now.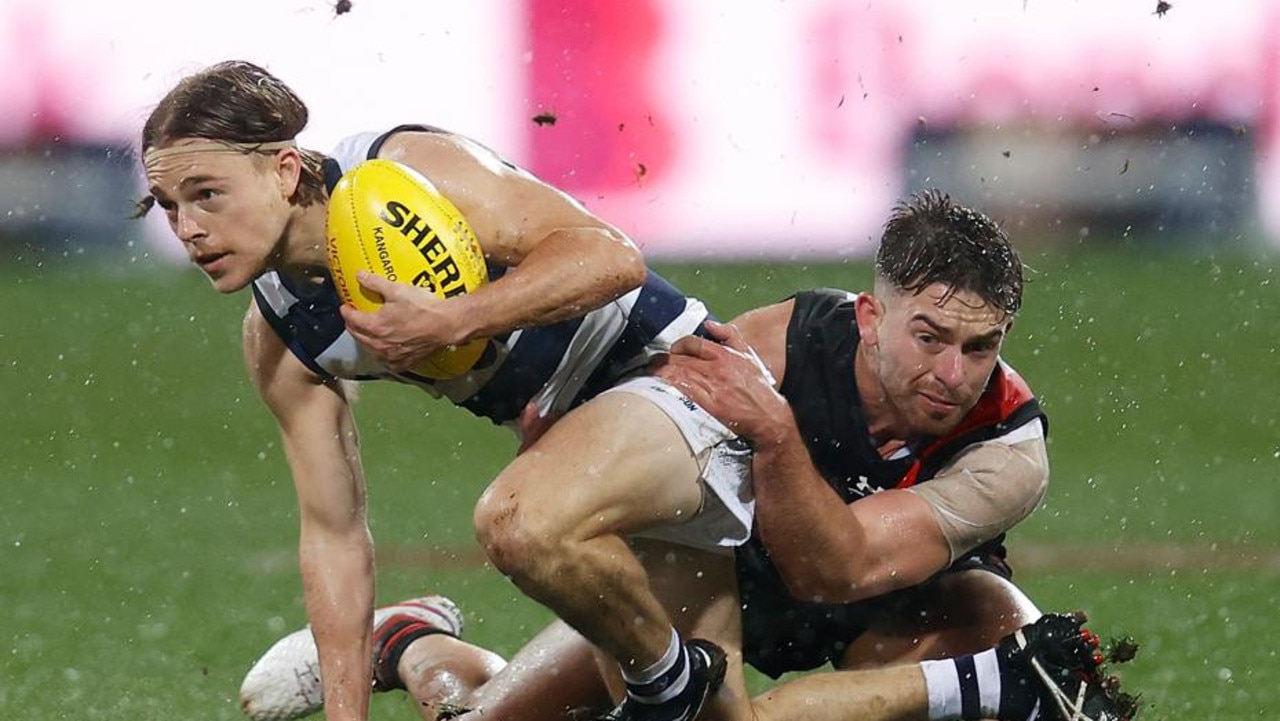 Geelong and Essendon are among the sides with affiliated VFL teams. Picture: Getty Images
But many non-interstate teams believe their potential top-ups are of a much weaker standard than those who populate the VFL in search of a chance to play AFL.
Adelaide and Port Adelaide have equalisation rules that ensure the talent is spread across the SANFL so the two AFL clubs do not dominate the state-league competition.
It means their potential pool of top-ups are considered thin compared to AFL clubs which could call upon a much deeper and more talented group.
The feedback has been passed on to the league, with one proposed remedy allowing WA and South Australian clubs access to all state-league players in their states as top-ups.
It would allow elite players in those leagues the chance to aspire to an AFL game and provide a more equal playing field should Covid ravage a team across a round.
Both WA-based teams are yet to have Covid sweep through their side, Port Adelaide has had about half its team catch omicron, while Adelaide is currently dealing with its own outbreak.
Non-Victorian clubs are also awaiting a ruling on the size of touring parties each weekend.
Adelaide and Port Adelaide have weaker state league teams due to equalisation measures. Picture: SANFL Image/David Mariuz
Clubs might be told they have to travel on chartered planes with a large number of emergencies to cater for last-minute Covid withdrawals.
But those emergencies would then miss playing that weekend in a state-league match, which would effect continuity given most non-Victorian teams have to travel every second week.
The league estimates around half of all players have contracted Covid so far this summer, with the virus providing at least some immunity for a period afterwards.
More than 300 players have had Covid boosters but it is expected Covid will at times force the league to at least consider postponing games as it has in the AFLW competition this year.
Larger list sizes and up to 20 top-ups per team would put the men's competition in a better place to safeguard against postponed games.
Ultimate guide: Ralphy answers tough questions facing AFL
The AFL is closing in on its third season during the pandemic, and with it comes an air of uncertainty.
How many fans will be at the MCG for the season opener?
Meanwhile, how will the top-up rules work, and is there any scenario that will see games postponed.
And has the Covid-19 pandemic created a generation of couch potatoes?
Jon Ralph answers all the burning question facing the AFL.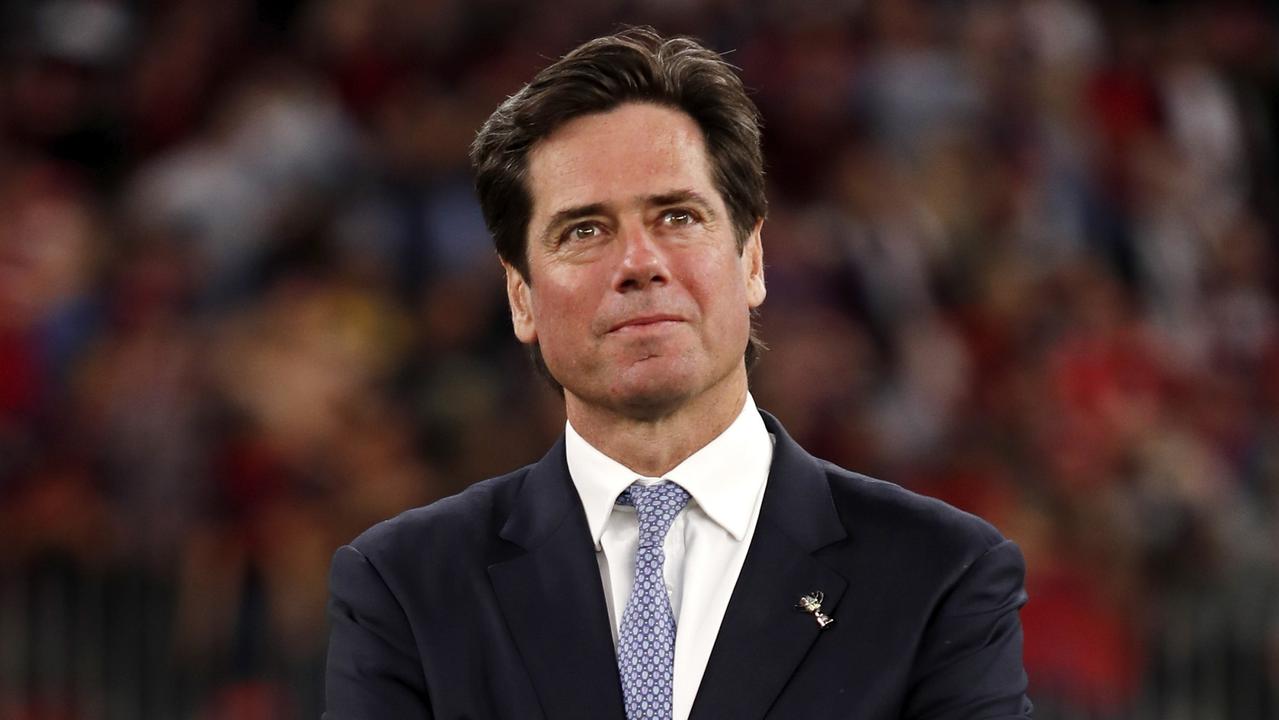 How will this season look for the AFL? Picture: Getty Images
Q: OK, so mask mandates are being dropped, the latest Covid surge has peaked. Back to normal for the AFL, right?
A: Not so fast, although there is plenty of good news for the league as it seeks a return to normality after two utterly chaotic seasons which were somehow still brilliant in their own way. There are question marks over the hard WA border, uncertainty over how the new top-up rules will work and even crowd queries. But for AFL players who spent months in hubs last year — and for an AFL which spent nearly $30 million on Covid-related expenses last year — the sun is peeking through the clouds.
Q: Four weeks out from the season opener between Melbourne and the Western Bulldogs, are the fans actually allowed to flock to the MCG?
A: Damn straight, even if the AFL and state government's health department have to actually tick off on a Covid plan for a venue with more than 30,000 fans.
The Australian Open eventually had 80 per cent capacity for its weekend finals and it was limited only because fans were at the venue for more than four hours, longer than the time needed to classify a patron as a close contact.
So the MCC will throw open the gates, having watched cautiously as schools returned for a new flood of omicron to assess rising numbers.
It hasn't happened _ hospital rates are falling, cases aren't spiking_ so it's game on for all those Melbourne nuffies so desperate to actually watch their team compete live.
Q: But haven't we just created a generation of couch potatoes with this pandemic?

A: I didn't love paying $13.20 for a Peroni at the tennis, but watching Ash Barty win her semi final live was a reminder of how special actually witnessing greatness in the flesh can be.
Gillon McLachlan is hopeful we will get close to a sell-out for that Wednesday clash.
It's a school night, but so is the usual Carlton-Richmond season opener, which drew 90,151 fans as recently as March 2018.
Fans will flood to big events — Dreamtime at the 'G, Anzac Day — but it's an open question whether they will pony up for middling games in the dead of winter, having ponied up for $3000 flatscreen TVs and a bar fridge stocked with designer beer.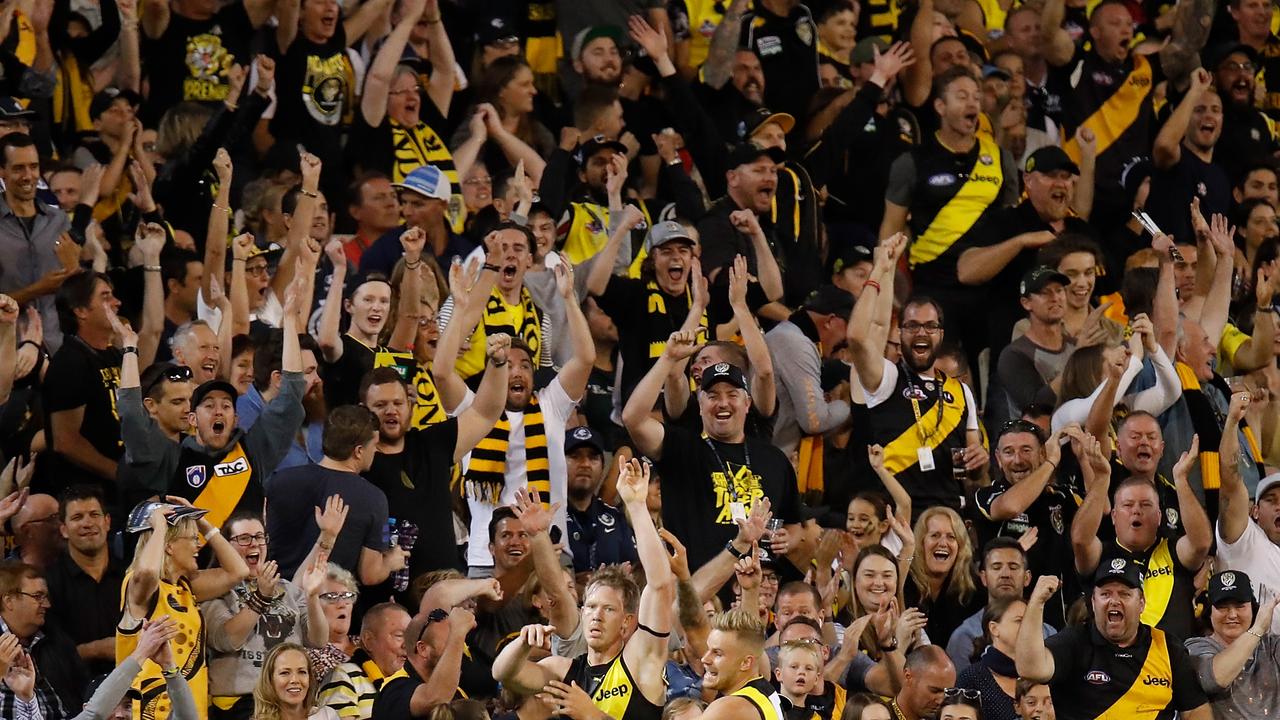 Tiger fans celebrate a goal against Carlton at the 2018 season-opener. Picture: Getty Images
Q: So should players be warning their partners about Hublife 3.0?

A:The only positive from the spread of omicron across Australia is that every state is effectively in the same boat. No point putting out the NO VISITORS sign if the virus has already jumped the walls.
In theory it means there should be no need for a team to abandon their state for months on end like Sydney and GWS last year. The league will still have to pay vast fortunes for charter flights to keep players isolated away from the riff raff on commercial jets ($1 million a week in total costs for the AFLW season), but shouldn't have to book out every hotel in Queensland this time around.
Q: What about old mate McGowan over in Perth?
A: He loves a dramatic announcement, doesn't he? The AFL has already brokered a deal that allows clubs to fly in and out of Perth under strict quarantine conditions, which worked well for Carlton and Collingwood's AFLW teams, even if the actual venues they played at were sub-par. The decision to allow those teams in went down like a lead hang glider with people who are unable to see their families, but the league isn't apologising for high-level negotiations to bring more elite sport to WA.
So Gold Coast would be able to fly into Perth to play West Coast in Round 1, but after playing Adelaide in South Australia that weekend, Fremantle would need to quarantine in their homes ahead of Round 2.
That protocol would only be needed until the borders drop — at latest in April — so those teams wouldn't be facing weeks of continuous quarantine.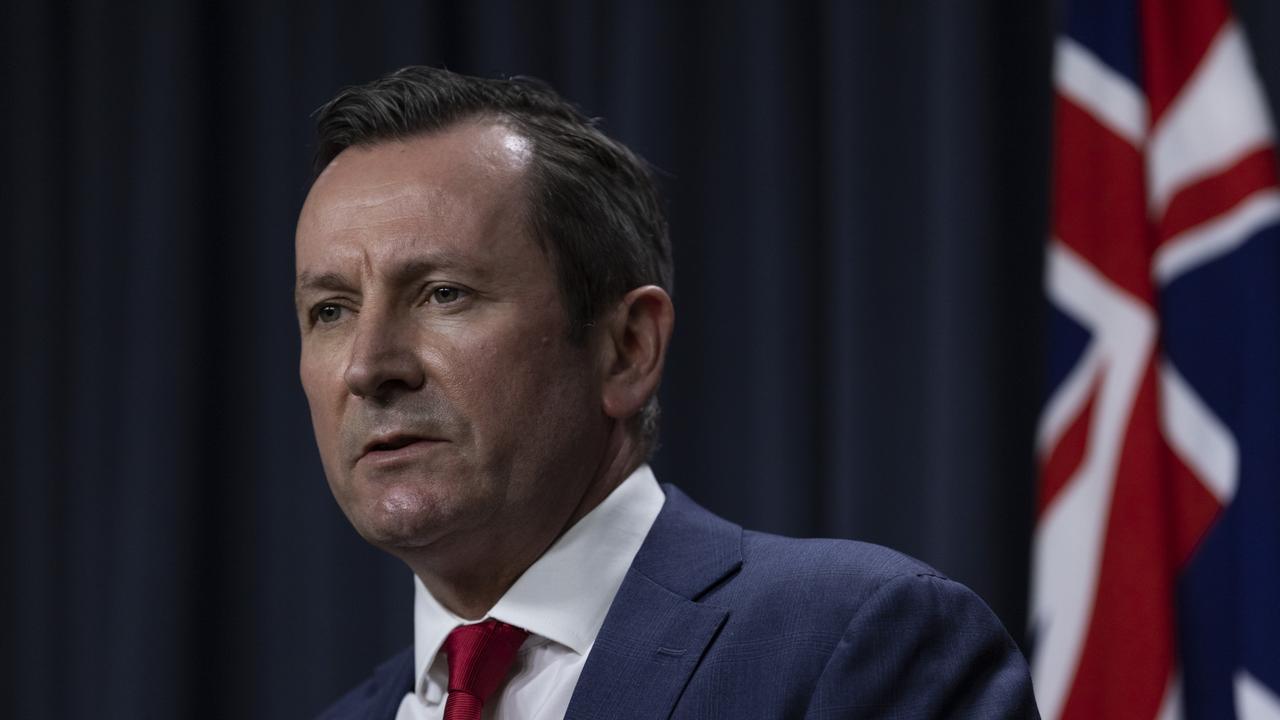 Mark McGowan is expected to open the borders soon. Picture: Getty Images
Q: Any update on that border announcement?
A: McGowan says it's coming in the next 10 days. Fox Footy reported on Thursday it could be the weekend of March 12-14, in which case the fly-in fly-out protocols would be null and void. If Joe Public found out about the border provisions before codes like the AFL it would be a first given the rails-run the AFL and cricket have been given. So it seems a good bet WA will fall into line with the rest of Australia if not before Round 1 then only a week or two afterwards.

Q: What about the actual games? Doesn't matter if clubs can fly interstate if their players have all got Covid?
A: This is the real challenge for the AFL, navigating its way through the season with some level of fairness when the proverbial is absolutely certain to hit the fan at times.
The over-riding message is this. The show will go on. Games will not be cancelled. Or postponed. The AFL will forge ahead regardless to play 198 home-and-away games without delay.
As one club boss said yesterday: "The clear message to the CEO's last week was we are not f***ing around. If you are drawn to play, you will play". But you only have to look at the postponements of the AFLW season to realise it's actually about minimising delays in a world where at one stage, the EPL pushed back five of ten games in one round
Q: So how do you prevent postponements when we all know omicron goes through a group of 20-year-old kids like a hot knife through butter?
A: The AFL's version of The Replacements, where it throws a rag-tag bunch of state-league players into action in its own attempt to avoid another condensed version of the Footy Frenzy.
That period of footy was wildly popular, so why the league would force teams to play half-strength is another argument.
But the league has briefed clubs on enlisting a group of up to 20 top-up players per team, most likely from state-league players already linked to the club. They will invariably come from the VFL or state-league team a club is linked with.
For example Melbourne's senior players who miss selection play with the Casey Demons, who have their own group of VFL players which clearly would be at the front of the queue to be top-ups for Simon Goodwin's side.
The AFL's view will be that if the Demons lost six first-choice players and through separate injury only had 20 fit senior-listed players, they could call on three of those top-ups.
Q: What if those six players were Clayton Oliver, Christian Petracca, Jack Viney, Angus Brayshaw, Tom Sparrow and Max Gawn?
A: The AFL says it doesn't matter. A team could have its whole forward line wiped out. If it has enough fit bodies, it plays out.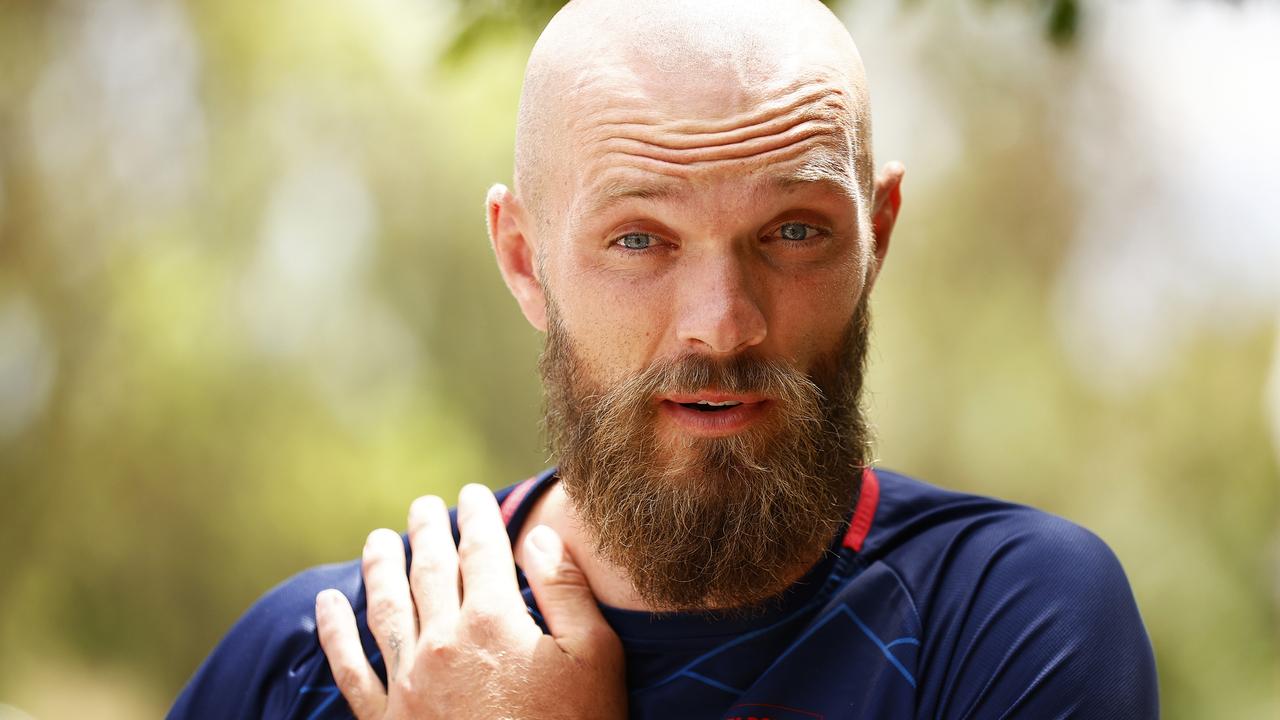 The message from the AFL is the show must go on — even if clubs have their big names sidelined with Covid-19. Picture: Getty Images
Q: Is that even fair?
A: No. Gillon McLachlan has reportedly been telling people the story of the Denver Broncos, which had four quarterbacks all wiped out with Covid and injury. As he says, they still took the field with a replacement in that position under wide receiver Kendall Hinton, who had played some quarterback in college.
What the story ignores is that Saints thumped the Broncos 31-3. How many one-sided games like that before AFL supporters cried poor?
Q: Yeah, but haven't all clubs had the same exposure to Covid?
A: Not by a long shot. Gold Coast has had two thirds of its group endure Covid. An hour up the highway a handful of Lions have had Covid early in summer. But only a few have been sidelined in the last month, which means they are fully aware they have a large group of players susceptible to being wiped out early in the season.
Same goes for the WA clubs. Covid has gone through Adelaide this week, which is actually a good thing given the timing a month out.
For the Lions finding top-ups which might actually play is a realistic proposition.
Former Lion, Blue and Cat Lachie Henderson is playing QAFL for Labrador and could be considered, as could multiple ex-Lions.
Adelaide and Port Adelaide have rules which prevent them from luring the cream of the crop to their SANFL teams so if they had to find a pool of replacements linked to their own state-league teams they would be in dire straits.
Lachie Henderson could come into the mix as a replacement player. Picture: Michael Klein
Q: So the show will go on. What happens if we get another more serious strain of Covid?
A: Wash your mouth out with soap. To be honest, all bets might be off because no one can rule out more crowd caps and social distancing measures if another strain races across the world. This virus evolves so quickly that you only have to rewind 23 months to go from the league playing Round 1 to suspending the league three days later.
Right now though, the Grand Final is definitely at the MCG (make it a day game, Gill), Melbourne are definitely the favourites to go back-to-back and (touch wood) there is at least optimism that a sense of normality could return to the league.

Originally published as AFL 2022: Non-Victorian clubs oppose AFL's top-up plan