AFL 2022: Kangaroos coach David Noble reveals how he got the job and talks about Phil Walsh's death
David Noble had given up on becoming an AFL coach when he received a phone call to let him know a coaching king maker wanted to talk. He reveals the surprising story.
David Noble was fast asleep in his Adelaide home when the call came in that Phil Walsh had been killed.
The then Crows head of football initially thought Adelaide chief executive Andrew Fagan had dialled his number by mistake.
It was too early in the morning for a chat.
"It was 4.01am or 4.02am. I ignored it. I'm thinking, 'surely not'. He must've miss-dialled me," Noble said.
"(He) rang again, I got out of bed, went into the lounge room and he said, 'I've got some pretty sad news', and just … my wife came out, Sarah came out and I was standing there and she said, 'your mouth was open, you were holding the phone and there was nothing coming out'.
"Yeah, he'd said that Phil had passed away and it'd been a tragic circumstance with his son — well that's what they felt at the time — and 'you need to get in here pretty quick'."
Watch every blockbuster AFL match this weekend Live & Ad-Break Free In-Play on Kayo. New to Kayo? Try 14-Days Free Now >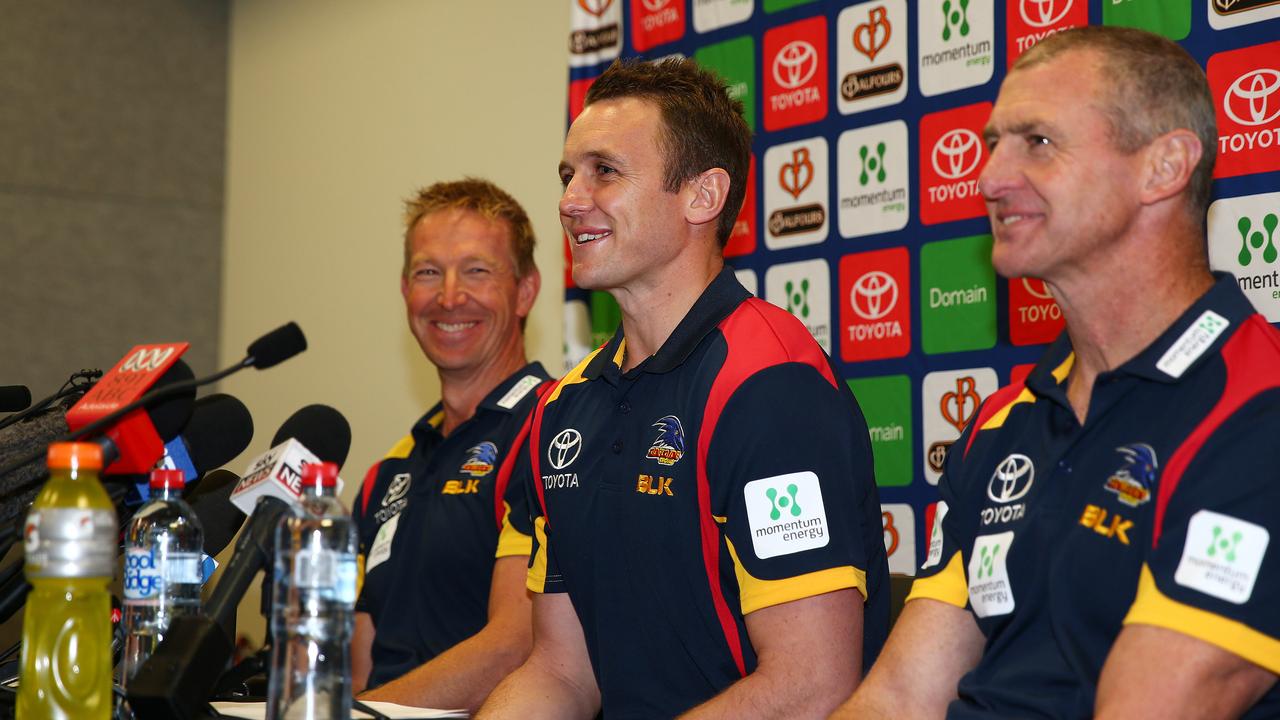 Noble with Phil Walsh after Brent Reilly retired. Picture: Sarah Reed
The North Melbourne coach has opened up about his career and the tragedy of Walsh – killed by mentally ill son Cy on July 3 2015 – as part of the 'The Believers: Tasmania's AFL Journey' podcast.
Having never faced a challenge like this, unsurprisingly Noble didn't know what to do in the immediate aftermath.
"I'd got in the shower (and) I thought, 'Well, I'll – I didn't know what to think. I didn't know what to do," he said.
"I didn't know whether to put some clothes on and go and I thought I'm probably going to be there for a long time so I'll jump in the shower, put my normal workday wear on and I'm driving in the car and I'm just thinking this can't possibly have happened. You're just lost for words. I don't think anything could've prepared you for it."
Crows players have consistently spoken of the influence that Walsh had on them.
Noble said the players were affected for years to come by the significant moments in time.
"You know the first game that we played without him, the first pre-season the following year when he's not there," Noble said.
"At what point do you take down some of the signs that Walshy bought (sic) in? There's all those things that as you start to re-tool even after the end of the first year that you continue to experience and it just brings back constant memories over that period of time."
YOU MIGHT BE GETTING A PHONE CALL
Noble had given up on becoming a senior coach at the end of 2020.
After moving to Brisbane in 2016 to become the Lions' general manager of football Noble was looking to become a club chief executive.
"I'd spoken to Andrew (Wellington, the chairman of the Lions) about that and Swanny (Greg Swan, the CEO) that, you know, that was the aspiration and put that to bed," he said.
"I had a couple of little nibbles from a couple of clubs (asking) whether or not I was interested but I'd said, 'Look I think I'm more heading that path' (becoming a CEO).
There was an outpouring of emotion following Walsh's death. Picture: AFL Media
"I hadn't completed an MBA. Got most of it done and Lynchy (Alastair Lynch) rang me, Al rang me and said, 'You might be getting a phone call' and I said, 'Oh, righto'.
"He said, 'Roosy wants to speak to you'. And I said, 'OK, what about?' He said, 'Oh, he wants to speak to you about the North role. Would you be interested, he said, 'cause he doesn't want to ring you if you're not gonna be interested?'
"So I said, 'Give me 24 hours to think about it'."
Noble went home to chat to Sarah and decided it couldn't hurt to have a conversation.
He was surprised at how keen Roos was on him for the role.
"He was pretty insistent that I be in the mix and gave me a couple of days just to get my head around as much as you could in that period of time to see if I would actually be a candidate and apply for the role," he said.
"(It) shocked me."
HOW PLOUGH'S FAILED MOVE TO SYDNEY ALMOST BANKRUPTED NOBLE
Roos was instrumental in Noble realising his senior coaching aspirations in 2020.
But 18 years earlier Roos becoming the senior coach at Sydney nearly sent Noble bankrupt.
Terry Wallace was heavily linked to Sydney, with the general consensus that he would get the job.
In fact Wallace left the Bulldogs with one game of the season remaining, under the assumption he was joining the Swans. Noble thought he was part of the Wallace package.
But Roos' successful stint as the caretaker coach changed the narrative.
"I was going to Sydney again," Noble said.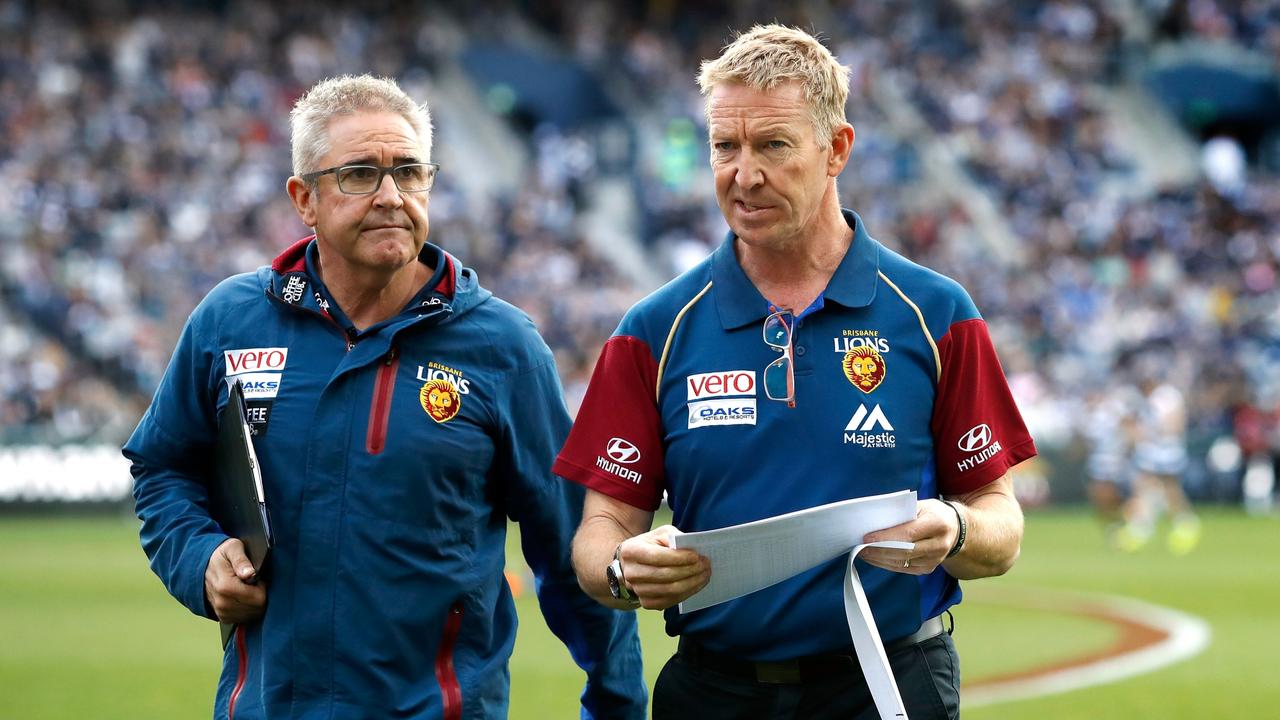 Noble as footy boss at the Lions with senior coach Chris Fagan. Picture: Adam Trafford/AFL Media/Getty Images
"I was sort of part of that crew that inadvertently got sort of caught in the crossfires, which is totally understandable.
"Terry was taking me with him. It didn't end up eventuating for whatever reason. Roosy got the gig.
"And the club was on the drip pretty strongly back then with head office. (They) had some of their funding cut.
"Although I think it got caught in the crosshairs at the same time. And yeah, I wasn't — I didn't have a new contract. Just bought a house three months previously. Our world came to a screeching end."
With his new house mortgaged to the hilt, not going up to Sydney with Wallace and then losing his job at the Bulldogs, Noble was put in an uncomfortable position financially.
"Three kids. New mortgage," he said.
"Like back then you could go up to your eyeballs, which we were, as a young family and established ourselves, so we had to pack up and took a gig in Adelaide."
THE STUFF UP THAT ENDED HIS PLAYING CAREER
A two-time premiership player with North Hobart in the Tasmanian Football League, Noble only managed two AFL games with Fitzroy.
Quite simply he and fellow Tasmanian Robert Shaw, the coach of the Lions, just didn't get along.
"Umm … challenging, I'd say if I'm being honest," he said of the relationship between the two.
"I felt that I was — well we all think we probably should've got more games from that side of things.
"But, yeah, I went to Shawy with a few things that I thought I could adjust in my game at the end of a period of time and I felt with the responses that my time there was a bit limited."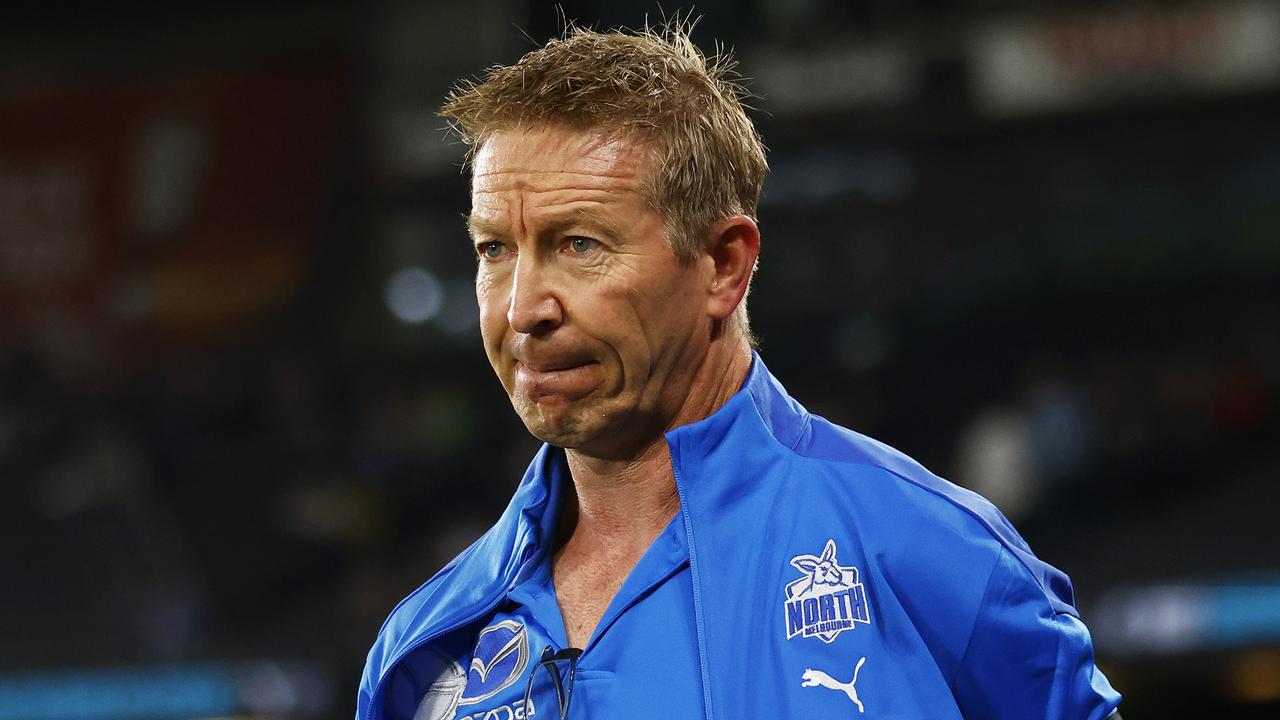 Noble said he had given up on his senior coaching dream before North came calling. Picture: Daniel Pockett/Getty Images
Noble was so disheartened with his situation at the Lions that he "actually rang the club and asked them to delist me".
"I was going to move on," he said.
List expert Gary Buckenara had joined Sydney and rang Noble to say that he could find a spot for him on the Swans list.
But come draft day, Noble's name wasn't called out.
The reason why is quite incredible.
"I didn't know the rules back then and didn't nominate for the draft and missed," he said.
"Look, I was probably one of those ones that was gonna get picked up probably late.
"I didn't have a manager at the time, the draft had only come in a couple of years ago, you had to fill in a form and Arthur Wilson, who passed away recently, had rang and made sure that I had the nomination in and all that sort of stuff, so he'd organised that.
"But, yeah, no, I had spoke to Bucky and he wanted me to go to Sydney. I had spoken to ANP at the time and said, 'you know, could I get a transfer' and stuffed it up."
Buckenara himself was also shocked.
"I was pretty flat," Noble said.
"Well I'm sitting there going, 'oh, Sydney haven't picked me'. I'm going what's going on here? "Anyway, so then Buck rang and said, 'You didn't nominate'. I went, 'I didn't know I had to'.
"It's too late then. I couldn't do anything.
"So then I went to Prahran (and) played with BT (Brian Taylor) for 12 months so and then went into coaching. I could've been up at Sydney playing with Roosy."
## 'The Believers: Tasmania's AFL Journey' podcast — released by the Tasmanian AFL Taskforce — is available from Saturday, May 14 on all platforms. A video of the interview can be found at BelieveTasmanian.com.au.
Originally published as AFL 2022: Kangaroos coach David Noble reveals how he got the job and talks about Phil Walsh's death