AFL 2022: Latest news, analysis and reaction from Richmond v Collingwood
The heat continues to come on Collingwood vice-captain Darcy Moore after a sub-standard first half against Tiger Tom Lynch drew the ire of North Melbourne great Wayne Carey.
Collingwood defender Darcy Moore has come under fire for his "flat" game on rampaging Richmond forward Tom Lynch as the Magpies' defence faces another test against high-flying Bulldog Aaron Naughton this week.
North Melbourne great Wayne Carey shone the spotlight on Moore's body language and effort on Saturday against a dominant Lynch, who the former Kangaroos forward said would not get an easier game than he did against the big-money Magpie this year.
Lynch kicked six goals playing on the 2020 All-Australian – tearing open the game with five majors in the first half – as the Tigers celebrated Dustin Martin's return with a 27-point win.
Carey said Moore, who re-signed with the Magpies on a monster six-year deal until the end of 2028 last month, handed Lynch his big haul by playing too loose.
Stream every match of every round of the 2022 Toyota AFL Premiership Season Live & Ad-Break Free In-Play on Kayo. New to Kayo? Try 14-Days Free Now >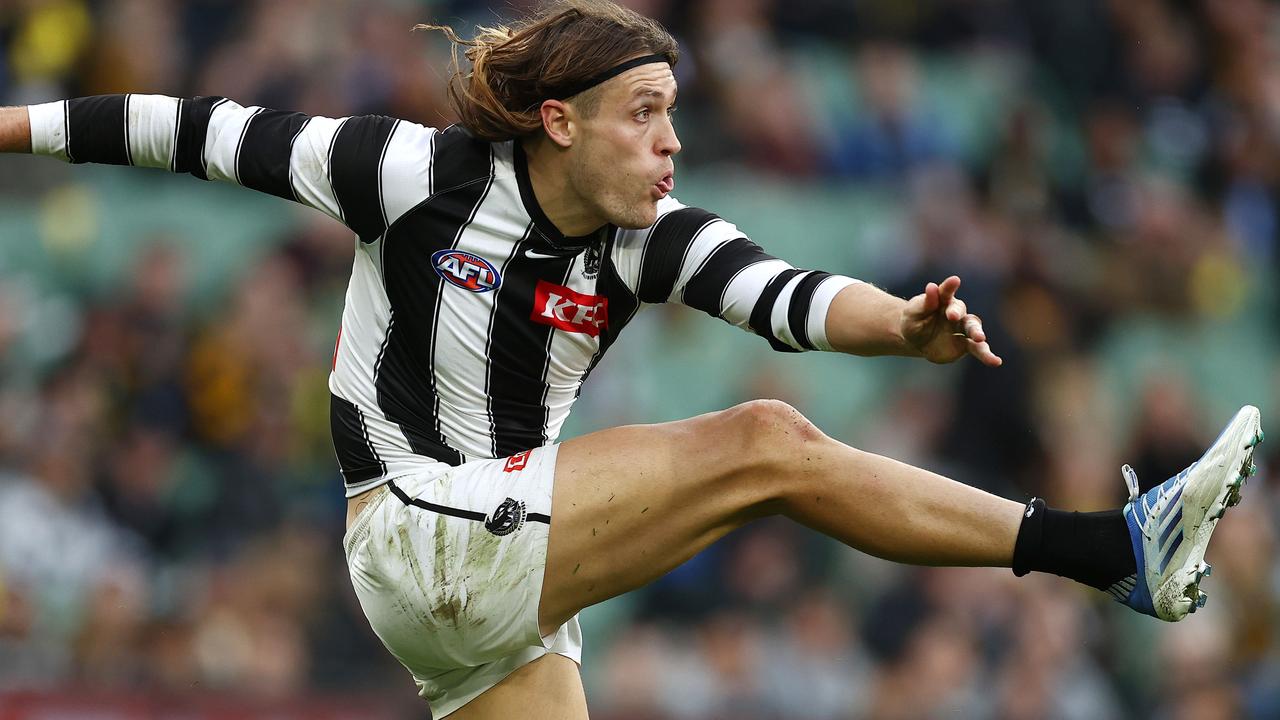 Darcy Moore produced a disappointing first half against Collingwood. Picture: Michael Klein
The champion forward added Moore "looked off", questioning if he had also fallen victim to the illness that had swept through the club the previous week.
"He (Lynch) didn't hand Darcy Moore anything, Darcy Moore handed him a great game because Darcy Moore just gave him far too much room," Carey said on Triple M.
"And a quality player like that, Tom Lynch when he is clunking the footy ... he made some mistakes early in that game, Tom Lynch, he could have had an unbelievable half, fumbled, missed that easy goal from near the top of the square.
"Look, Darcy Moore looked off to me. I know they talked about the flu and I thought 'Oh boy, he might (have it)'.
"I was watching his (Moore's) body language ... yes, Lynch played a great first half. But he won't get it as easy as that for the rest of the year and you are playing on an All-Australian defender.
"The reason I gave him an excuse (was) because his body language looked really poor in the first half. He did look really flat.
"But he came out after half-time, he tightened up a little bit and his second half was a lot better."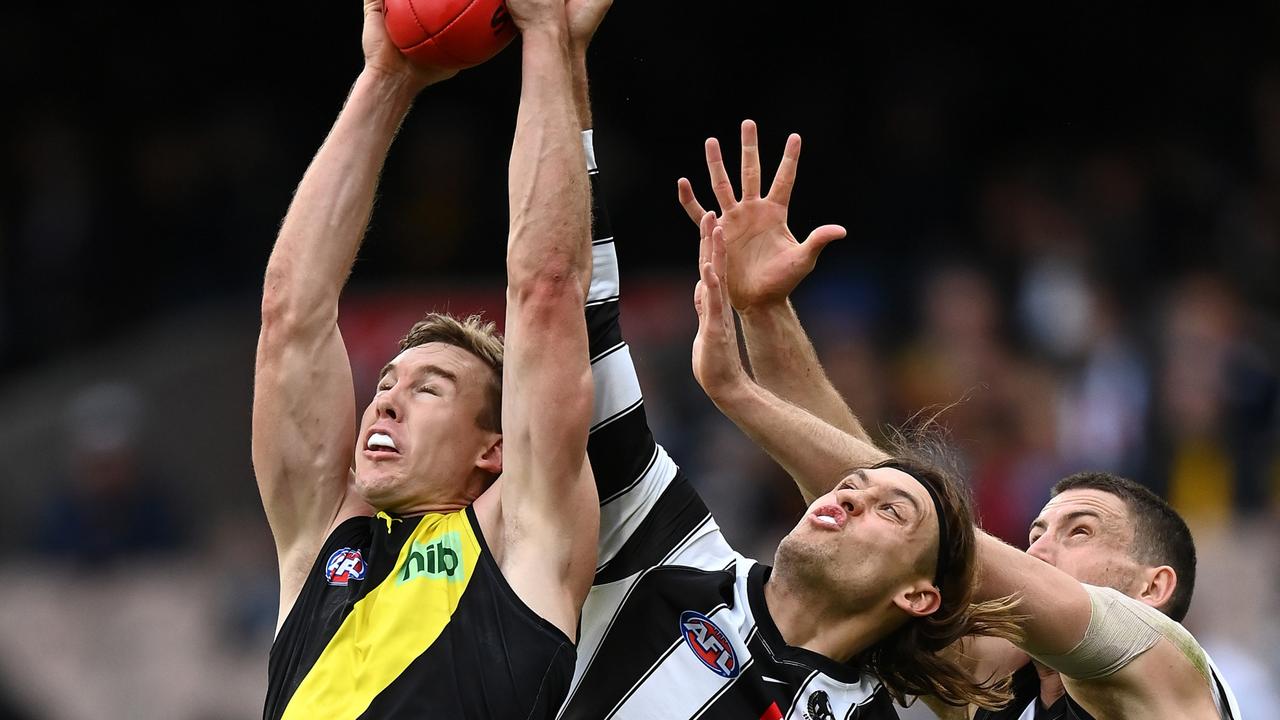 Moore gave Tom Lynch too much freedom in the first half. Picture: Quinn Rooney/Getty Images
Lynch's six-goal bag was his second-highest for the season and followed his seven-goal haul against West Coast last week.
The performance took him to the top of the Coleman Medal leaderboard ahead of Geelong duo Jeremy Cameron and Tom Hawkins.
Collingwood coach Craig McRae conceded after the game Moore and the Magpies' defence had given Lynch too much freedom and said the vice-captain would reflect on his effort.
"He's a very good player and if you give him any leg rope, he'll run and jump and mark the ball, so we're probably lucky he didn't kick a few more," McRae said.
"The way they were moving the ball and the way we moved the ball out of defensive 50 didn't help (Moore) but I would have thought Darcy will reflect on his game and look at things he can do better."
The 4-4 Magpies slipped out of the top-eight after their loss to the Tigers and face Western Bulldogs — and their dangerous forward Naughton — at Marvel Stadium on Friday night.
The young Tiger Dimma just loves
The wait was over with a weights session.
Guns flexed, Richmond's biggest gun – Dustin Martin – had returned, sidling into Punt Rd for a gym session two weeks ago.
Martin's teammates were pumped. Just like opponents who cop a 'Don't Argue' from Dusty, they didn't see it coming.
"We didn't really know when he was coming back, we're just glad he is and more importantly he's in a good spot," teammate Jack Graham told the Herald Sun.
"I walked into the club and saw him doing weights, which was a bit strange because he doesn't do weights."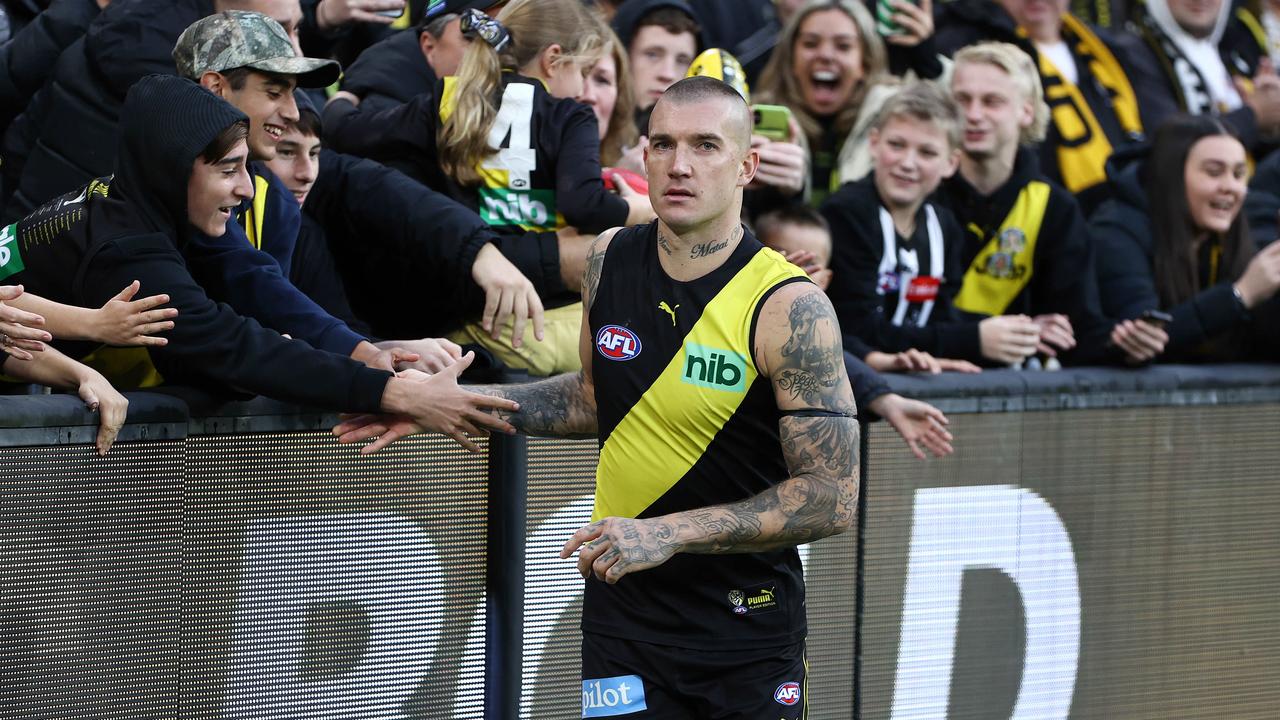 Dustin Martin congratulated by fans after Richmond's win.
What were Graham's first words to the returning champ who took time off to grieve the death of Shane Martin, his best friend and father?
"Just, 'Hey, bro. How you going?'" Graham said.
"You don't really bring it up too much, obviously he's going through a tough time.
"We just wanted to support him and to know that he's got 44 mates that all care for him and are here for him."
Coach Damien Hardwick joked his first words to Martin were: "Where's my coffee?"
"He was in early (doing a rehab session), so he should've bought me one," Hardwick said.
But perhaps caffeine wasn't necessary.
Everyone you talk to at the Tigers, including Hardwick and Graham points to the buzz Martin brings.
Martin woke up on Saturday having played just one game in the past 295 days.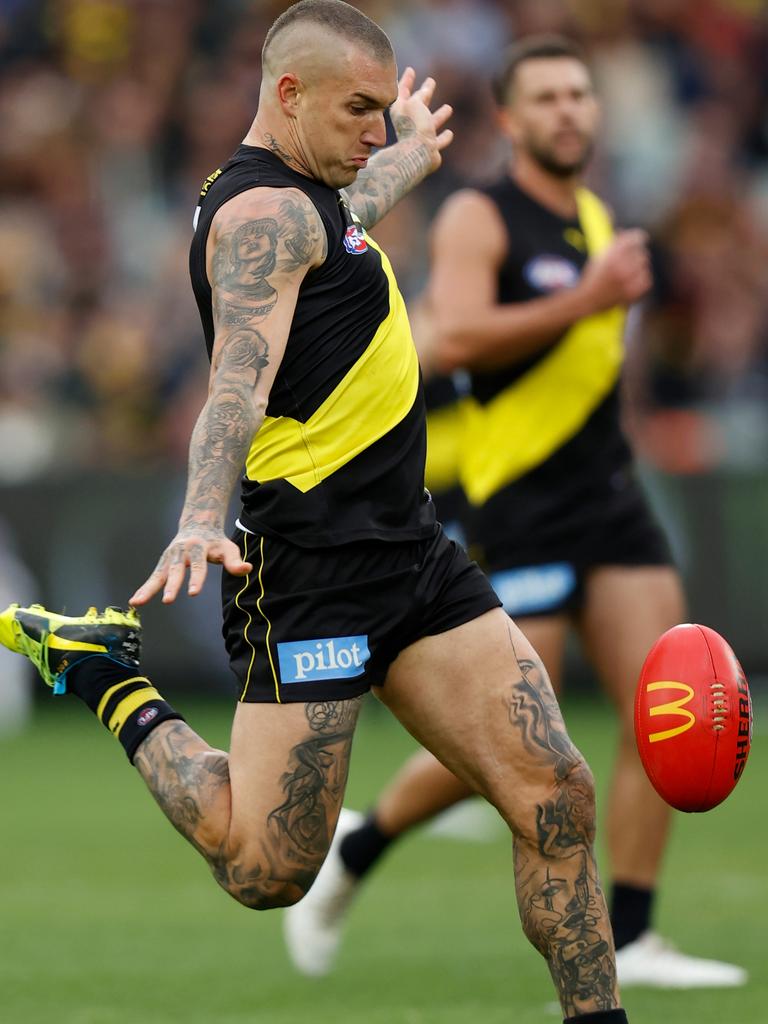 Martin launches the Tigers forward.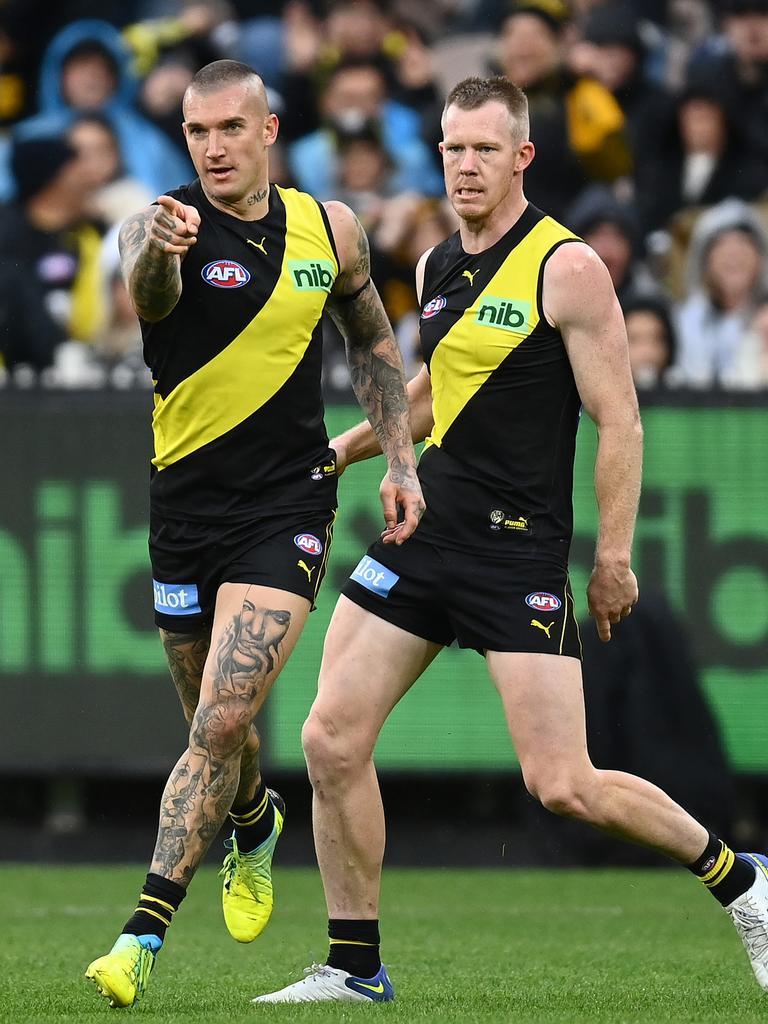 Dustin Martin enjoys a goal on his return.
The football world had wondered whether Dusty's days of dominating and delighting were over.
Martin's path to the wilderness started with a lacerated kidney and peaked with the loss of his dad.
But by 3.15pm he had the MCG charged once again, this time with emotion.
Jack Riewoldt's perfectly-weighted kick was marked by Martin as the MCG crowd of 64,481 rose as one.
And when Martin punched through his first goal Richmond huddled around him as one.
"It was a pretty touching moment when he kicked that goal and the whole side got to him," Hardwick said.
"I'd say there was a few misty eyes in the coaches' box and down below as well.
"It was a nice moment to get some reward for his hard work that he's put in on himself."
The Tigers told Martin (23 disposals) to rotate each quarter and spend longer than usual on the bench.
Outside of that, he had a license to play where he pleased.
It was usually as a deep forward although 14 minutes into the second quarter he marched into a centre bounce.
Dusty started rusty, with his first rotation coming after 13 minutes where the footy refused to find him.
Then, after a five-minute break, the clues piled up that there were going to be many more moments to cherish in Martin's career.
His eyes were sharp – a 90-degree kick on the outside of his right boot to Shane Edwards required eagle vision
His concentration was high – flailing arms while standing the mark as Isaac Quaynor launched an inside 50m was a sign of engagement.
His game sense was on – he urged Noah Balta to bang it long with 27 seconds left in the half, helping Riewoldt kick a goal after the siren.
His reflexes were fast – smothering Darcy Moore in the first quarter with extended fingers pointed to that.
His legs were powerful – he motored hard to get behind the Magpies' press, setting up what should've been a simple Shai Bolton goal.
And, as Pat Lipinski will attest, his 'Don't Argue' was back.
Those are some of the ingredients that have made Martin great, and after the break that great moment materialized with that memorable goal.
When Martin struck again, putting the Tigers 47 points clear in the final term, a 'Dusty' chant echoed around the 'G.
The stage has been greater before and the decibels have been higher, but just two weeks Martin remained in the wilderness.
So for the Tiger Army this must've been music to their ears.
Martin linked arms with Riewoldt for the song and by 4.45pm he sidled upstairs in the MCG car park by himself.
The Tiger king was back.
And, according to Hardwick: "He'll get better next week".
LYNCH STEALS SHOW IN DUSTY'S LONG-AWAITED COMEBACK
— Marc McGowan
Richmond has bared its teeth in Dustin Martin's celebrated return to breeze past Collingwood by 27 points on the back of Tom Lynch's five first-half goals.
The Tigers moved a match-high 47 points clear in the final quarter, only for the Magpies to add scoreboard respectability with four late goals.
Martin showed glimpses of his brilliant best in his first match since round 1, after taking personal leave to mourn his late father, but it was Lynch who tore the contest apart.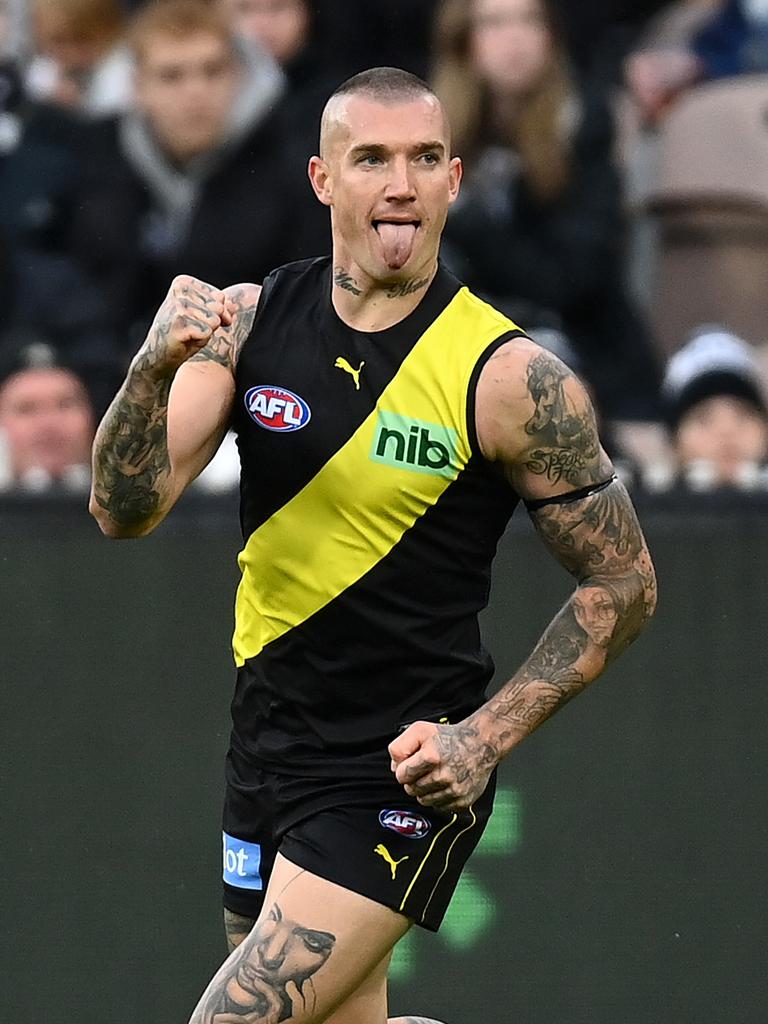 Dustin Martin made a welcome return to help inspire Richmond to victory.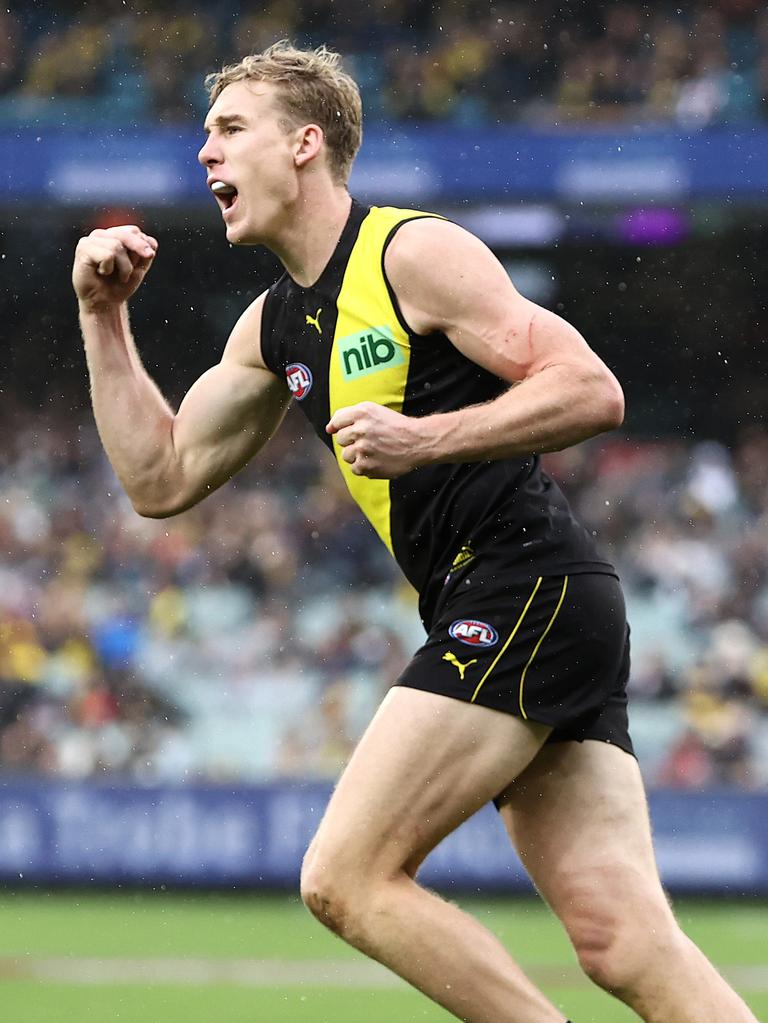 Tom Lynch lit up the MCG. Picture: Michael Klein.
With All-Australian defender Darcy Moore for company, Lynch went to work early with 10 disposals by quarter-time, then added four majors in a towering second-term performance.
Lynch seemed to pluck the Sherrin any time it was in his vicinity and finished with six goals, after Moore conceded only 10 in seven rounds before Saturday.
He could easily have had seven at the main break, but sent a straightforward set shot out on the full and missed horribly with a close-range snap early in the contest.
The Magpies grimly hung on for most of the match, other than the odd spurt of control but any hope of an unlikely comeback was frittered away with several near misses in the third quarter.
Richmond dominated Collingwood in the contest and held sway in the clearances, particularly in the first half, while often suffocating the Pies with the pressure that was a trademark in its premiership years.
Jayden Short's shift into the midfield was a success again in Dion Prestia's absence, while former captain Trent Cotchin turned back the clock with a 29-disposal performance.
Jack Riewoldt had extra reason to celebrate, kicking his 728th career goal to move past all-time greats Peter Hudson and Wayne Carey and into 18th place overall.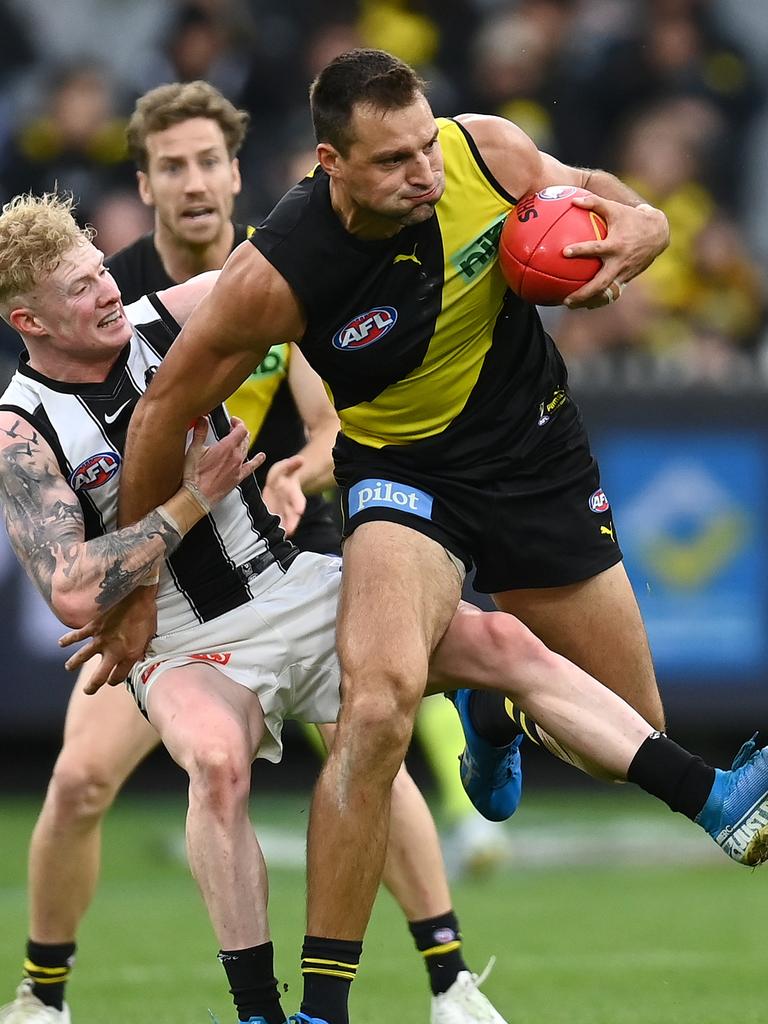 Toby Nankervis is brought down by John Noble.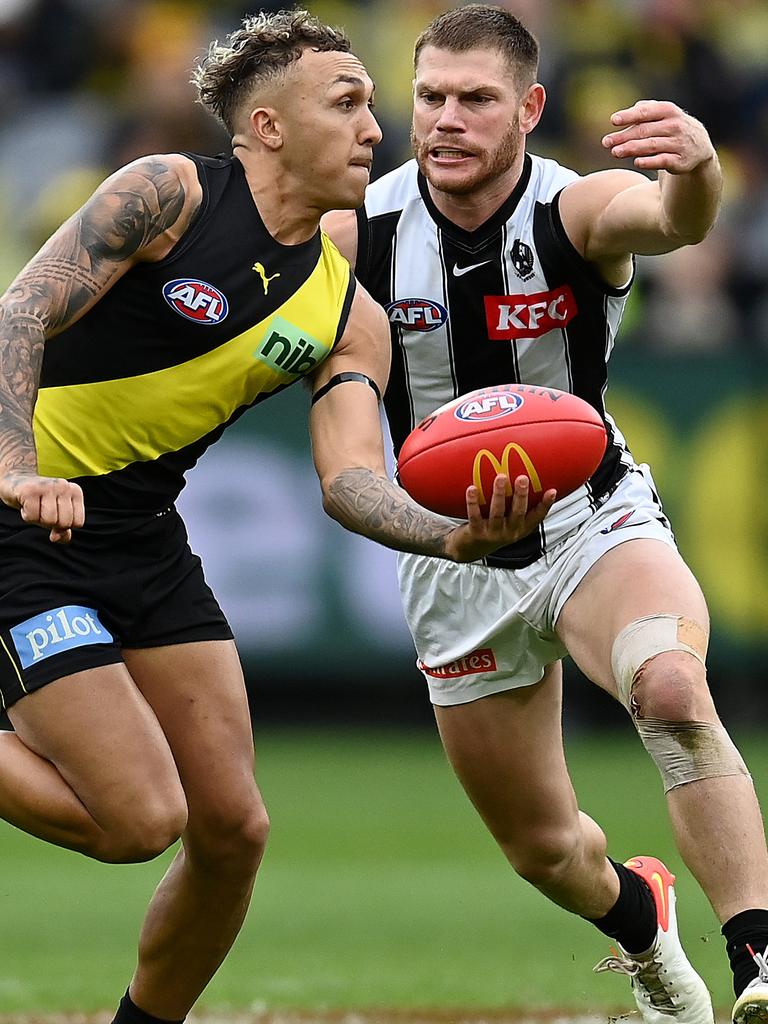 Shai Bolton handballs before a closing Taylor Adams reaches him.
Doesn't give a Jack
Collingwood's human headline Jack Ginnivan spent another week in the limelight after news leaked of the Pies' leaders giving him a dressing down over a pub session on Anzac Day.
That followed his five-goal heroics in the win over Essendon, and there was also the scrutiny that came in the aftermath of his GoPro celebrations after beating St Kilda in round 1.
Ginnivan trash-talked Shane Edwards after creating a Collingwood goal from a turnover late in the first term and was Richmond's public enemy No. 1 for the afternoon.
The Tigers took every opportunity to be physical with him but Rhyan Mansell took that a step further when he clipped a grounded Ginnivan from behind with an elbow to the head late in the third quarter.
How match review officer Michael Christian views Mansell's cheap shot will be interesting, but the Pies weren't pleased and a brief melee ensued.
Boundless potential
There's been no shortage of hype around Collingwood's father-son sensation Nick Daicos but Richmond's son of a gun isn't bad either.
Maurice Rioli returned to the Tigers' senior side last week and impressed with a three-goal effort in the demolition of West Coast in Perth.
Daicos' and Rioli's days collided in the second quarter when the Tiger chased down the teenage Pie and Tom Lynch was soon lining up for another goal.
It wasn't the last time Lynch benefited, with Rioli soon after directing a kick under extreme pressure from the boundary to the goal line for the key forward to gobble up.
Scoreboard
TIGERS 3.3, 9.7, 13.10, 17.11 (113)
MAGPIES 2.3, 5.7, 8.11, 12.14 (86)
McGOWAN'S BEST Tigers: Lynch, Cotchin, Short, Balta, Martin, Broad, Graham. Magpies: Crisp, De Goey, Pendlebury, Quaynor, N.Daicos, Adams.
GOALS Tigers: Lynch 6, Riewoldt 2, Martin 2, Castagna, Soldo, Cotchin, Bolton, Lambert, Pickett. Magpies: Ginnivan 3, Mihocek 2, Hoskin-Elliott 2, Henry 2, McCreery, Crisp, Adams.
UMPIRES Whetton, Meredith, Gianfagna.
INJURIES Tigers: None. Magpies: None.
VENUE MCG
CROWD 64,481
PLAYER OF THE YEAR
McGOWAN'S VOTES
3 T.Lynch (Rich)
2 T.Cotchin (Rich)
1 J.Short (Rich)
MCRAE CONCEDES: WE COULDN'T MATCH SEASONED TIGERS
- Marc McGowan
Collingwood coach Craig McRae has likened the difference between his developing side and Richmond to the contrasting stages of a relationship.
The Magpies are in the throes of establishing a new identity under their first-year mentor, whereas the Tigers are trying to squeeze more out of their premiership heroes while introducing some fresh faces.
What shaped as an even contest instead delivered a reminder of the improvement Collingwood still needs to make to match it with the AFL's best sides.
"I just think they're a bit more seasoned, Richmond," McRae said.
"I said to the players, we're eight rounds in, so we're eight dates into a relationship, if you like, and they're more like married with three kids. It really feels like that.
"Our group's learning how to play together and learning through our system and (how to) play their roles and then you've got youth versus experience in some parts of the ground. That's reality.
"I think we had six under 21 today but we look better in terms of the way we want to play and in patches of the game, but we've just got to get better for longer."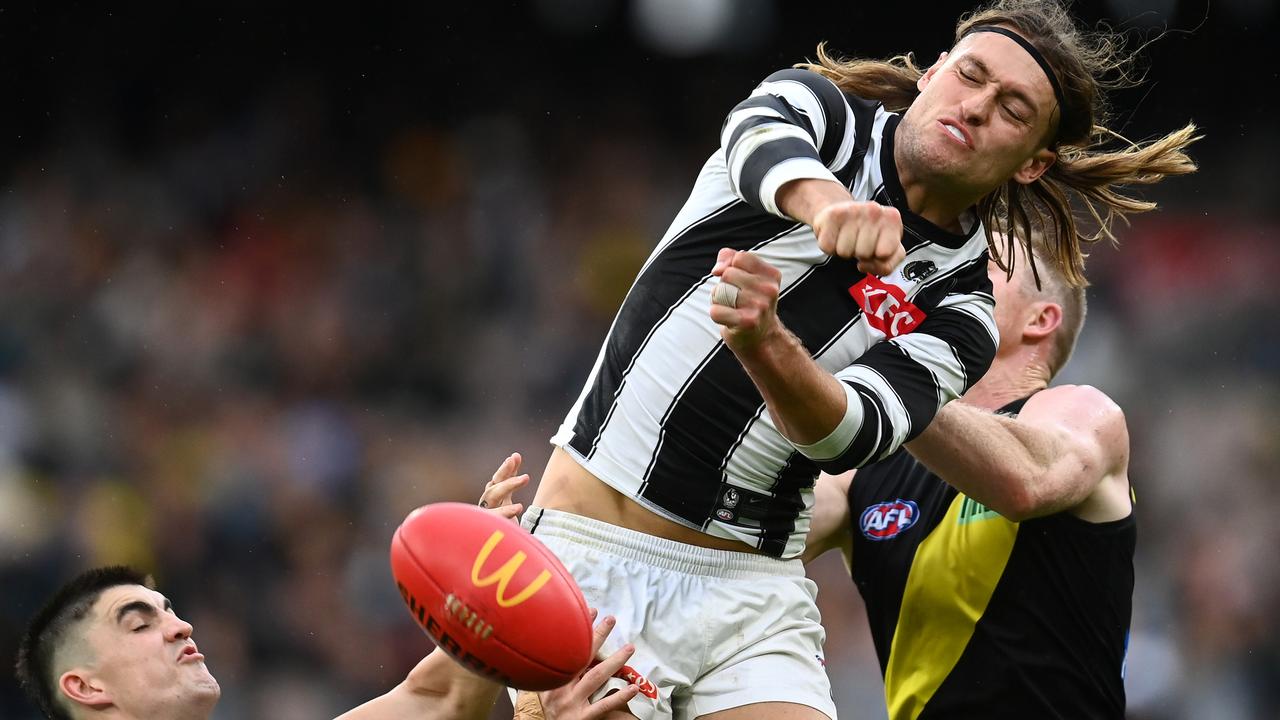 Darcy Moore was beaten comprehensively by Tom Lynch.
McRae said his players weren't "brave enough", especially in the first half, when Richmond put a four-goal gap on the Pies courtesy of its contested-ball dominance and Tom Lynch's heroics in attack.
Darcy Moore had no answer for Lynch, who finished with six goals – which could easily have been eight – 25 disposals, 11 marks and 14 score involvements.
There were no other legitimate options for McRae to turn to, with none of Jordan Roughead (finger), Jack Madgen (substitute) or even swingman Nathan Kreuger (shoulder) playing.
"He's a very good player and if you give him any leg rope, he'll run and jump and mark the ball, so we're probably lucky he didn't kick a few more," he said.
"The way they were moving the ball and the way we moved the ball out of defensive 50 didn't help (Moore) but I would have thought Darcy will reflect on his game and look at things he can do better."
Enigmatic forward Jack Ginnivan had another interesting day, kicking three goals but lowering his colours to Daniel Rioli, while also copping an elbow to the head late in the third quarter from Tiger Rhyan Mansell.
McRae didn't see the incident but said it was all part of the 19-year-old's education.
"I think anybody who's been in the competition for a long time realises if you're playing good footy; someone wants to take that away from you," he said.
"They'll find a way to find a weakness. It's just a part of his growth, isn't it? First- and second-year players get a bit more attention when they start to play well."
The young Tiger Dimma just loves
- Marc McGowan
Richmond coach Damien Hardwick has hailed Tom Lynch's latest match-winning performance that helped the Tigers climb back inside the top eight at Collingwood's expense.
Lynch arrived at Punt Road ahead of the 2019 season as one of the AFL's pre-eminent key forwards and kicked 63 goals as Richmond won the second of its three premierships in four seasons.
But the 29-year-old managed only a combined 67 across the next two years as he battled injury, inconsistent form and even some ill-discipline on-field.
Lynch's six-goal haul in the Tigers' 27-point victory at the MCG on Saturday gives him 27 from eight games this year, which makes him the early Coleman Medal frontrunner.
"He was terrific. I think he's had a great season thus far," Hardwick
"He's been really strong in the contest – he's getting a really good jump at the ball – and he's put in a lot of work over summer and I think he's had his best pre-season from that point of view.
"We are pleased with how he's going and he's getting some really good looks. He's really dangerous when he gets a (jump at the ball) and he's got a lot stronger in and around those contests as well."
Maurice Rioli Jnr was important for the Tigers. Picture: Michael Klein
Richmond has deviated from its early season plan of partnering Lynch and Jack Riewoldt with swingman Noah Balta, who has returned to defence with great success.
Balta's intercepting talents thwarted a series of Magpie forays, while pressure forward Maurice Rioli's inclusion in the past fortnight has provided offensive and defensive benefits.
"Maurice, in the first half alone, (he had) two of those chase-down tackles – it might've even been three – that we haven't seen since Daniel, his cousin, was there," Hardwick said.
"He's really growing. He's a guy that we drafted, what is it, two, nearly three years ago? He's just improved every single year and that's what you love as a coach and an organisation."
Hardwick tipped premiership stars Dion Prestia and Nick Vlastuin, who missed the match with non-Covid-related illness, were "automatic" inclusions next week.
But it's unclear when ex-Kangaroo Robbie Tarrant will play again, with the triple premiership coach revealing he was dealing with an ongoing hip problem.
"He's the first to put up his hand and say that he can play better but a testament to the guy is he's got a bit of a sore hip and he has had for some time," Hardwick said.
"It is impacting him ... he's going to be important for us but we didn't need him this week. That's not to say we're not going to need him next week."
INSIDE STORY OF DUSTIN MARTIN'S AFL RETURN
- Rebecca Williams
When Dustin Martin's lacerated kidney prematurely ended his season in round 18 last year, Richmond fans could not have foreseen another massive shock just around the corner involving the Tigers superstar.
Martin made his return from the serious kidney injury – which he suffered when he copped a huge bump from Brisbane Lion Mitch Robinson – in Richmond's round 1 loss to Carlton this year before the second "Dusty" blow came.
First he missed a training session. Then another.
Then the confirmation came from Richmond coach Damien Hardwick that Martin had taken leave from the club to deal with personal issues.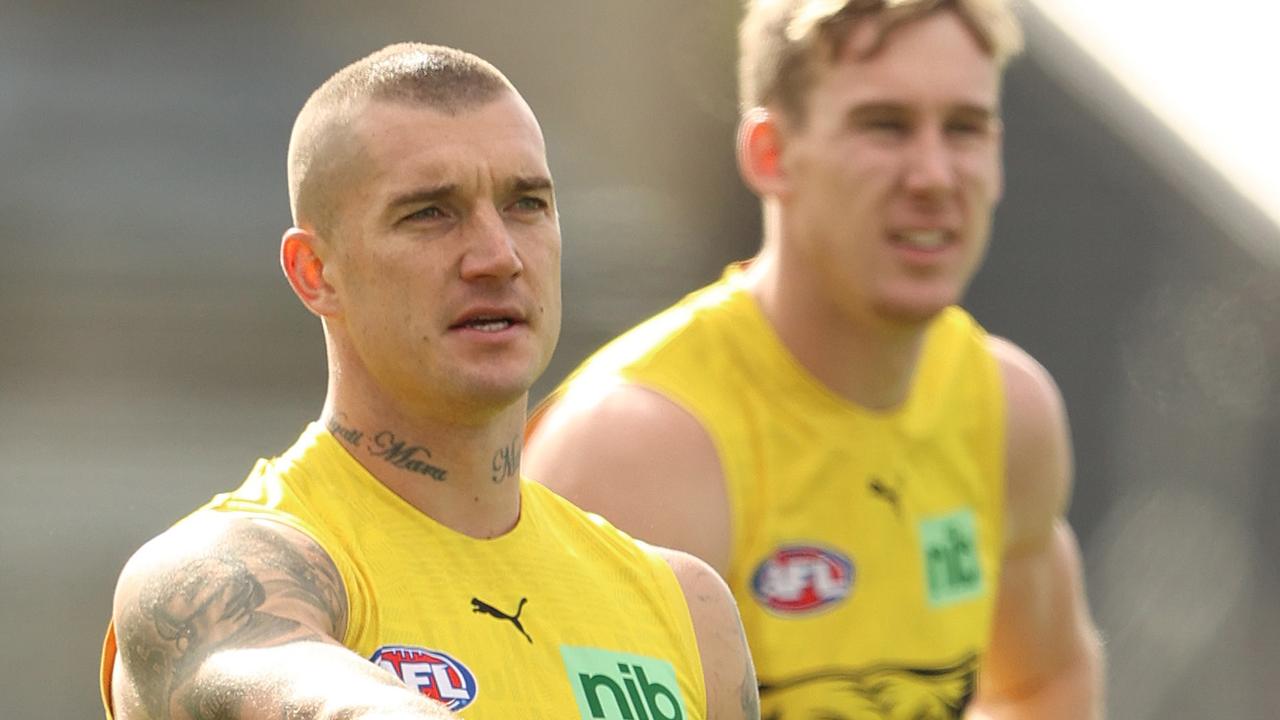 Dustin Martin is making his return this weekend. Picturel: Robert Cianflone/Getty Images
It emerged Martin was still battling the grief of the loss of his father, Shane. His father died last December in New Zealand.
The Tigers initially described Martin's absence as a "personal matter" and Hardwick said the club would give the Brownlow medallist the time and space he needed.
"When we've got more information to share, we'll share it," Hardwick said at the time.
"He's just taking some personal time at the moment. He's dealing with a couple of personal issues and whether he's available to play this week, we're unsure at this stage.
"We won't close the door, but we just want to make sure that Dustin's OK.
"Our number one priority is we are a football club and it's important to win games, but the health and wellbeing of our players is our number one priority.
"At this stage we'll give him his time. He's so important to the fabric of this footy club and we just want to make sure he's OK. Hopefully he's getting what he needs."
Martin missed the Tigers' round 2 clash against Greater Western Sydney, but it didn't take long for the jungle drums to start beating after that.
When Hardwick admitted in an interview on Fox Footy the following week that he still did not know if Martin would return to Richmond, speculation started to swirl about the triple Norm Smith medallist's future.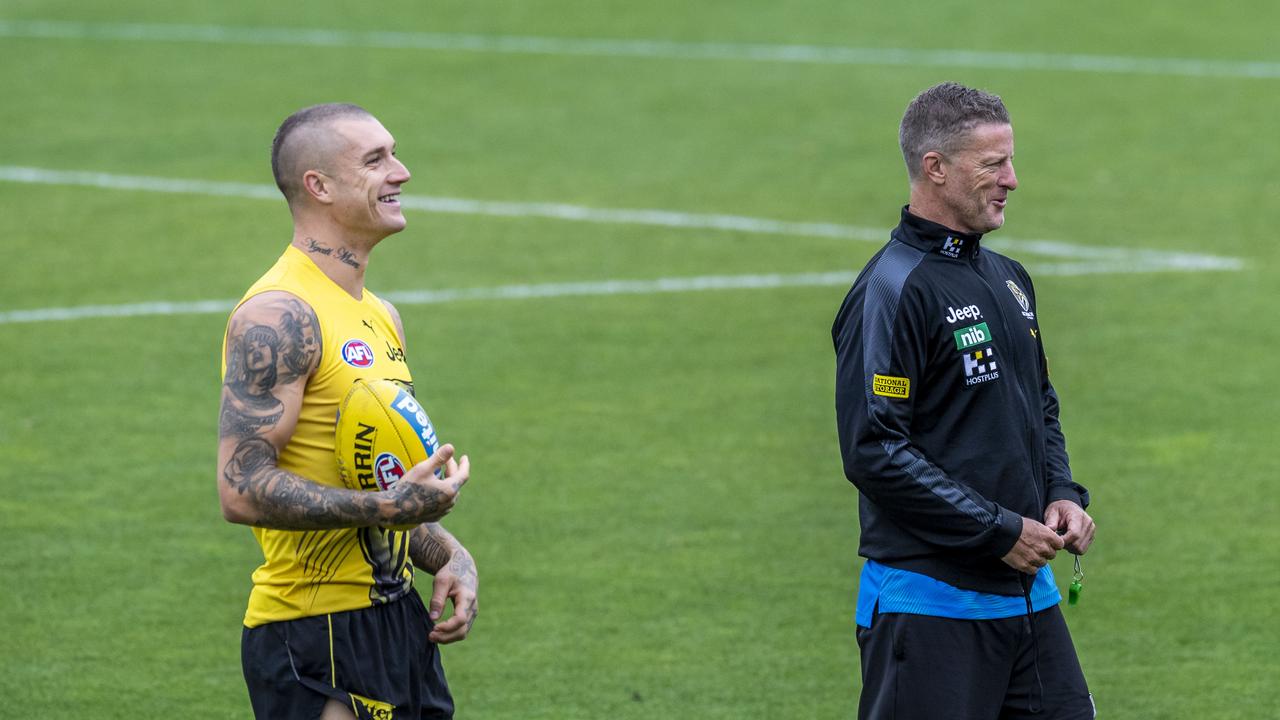 Damien Hardwick said he didn't know if Martin would return to Richmond. Picture: Jake Nowakowski
Could 30-year-old Martin walk away from the game?
Opening up on Martin's absence, Hardwick said there was no timeline on Martin's return as he needed "time to heal".
"He'll take the time he needs to figure out what he needs. There's no set date," Hardwick said.
"I think Dustin's taking his time to figure out what he needs to move forward. He's had a really tough six months, none tougher than what he's had to deal with.
"First with injury (lacerated kidney) then with the loss of his father. He just needs some time to heal. Grief is a thing that is really like an injury. You have got to get some treatment to make yourself heal and he's just taking the time to do that.
"His father was incredibly close to him, obviously from a parent point of view, but also his best mate. So it's going to take some time and we're prepared to give him that.
"He's such an important fabric of our footy club. We'll miss him there's no doubt. But not on the footy field, but just in the club. He is just an exuberant person, enthusiastic. We'll just miss him."
While Richmond missed Martin and the football world grappled with fears over the future of one of the game's biggest stars, Martin escaped the spotlight of AFL-mad Melbourne to spend time in Sydney.
Martin spent a month secretly training alongside NRL legend and boxer Paul Gallen in the Harbour City.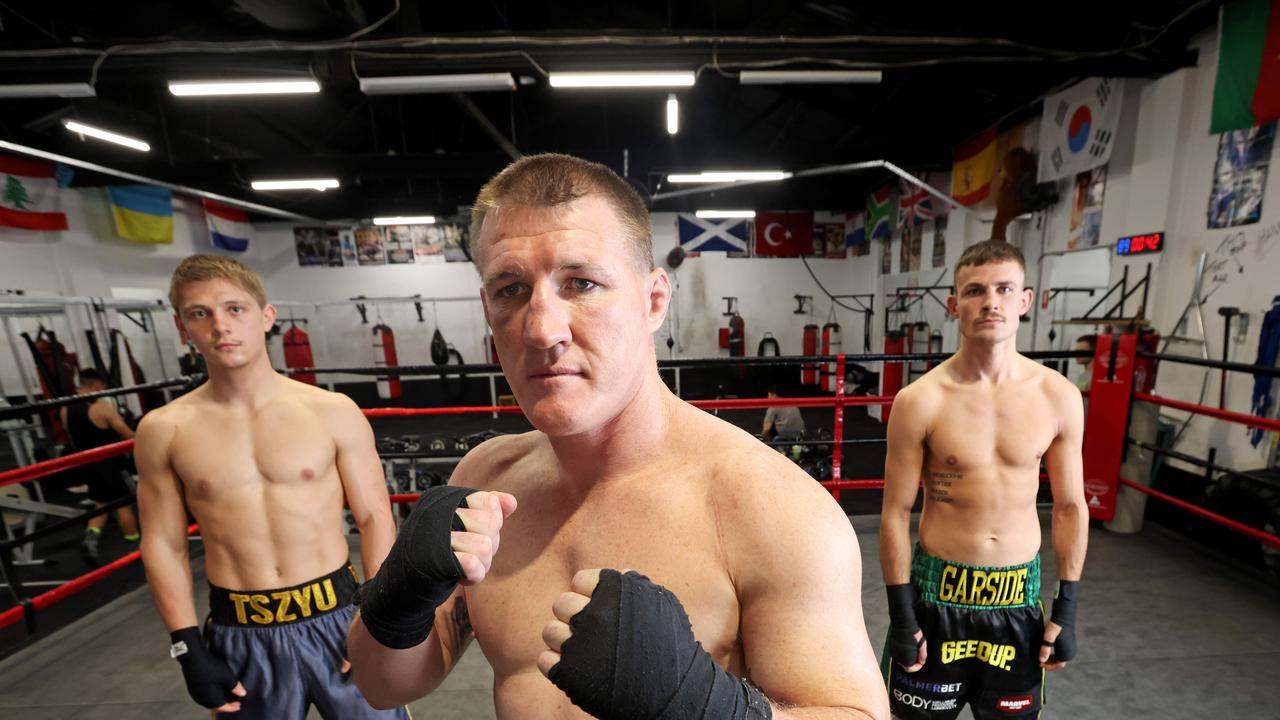 DAILY TELEGRAPH, April 14, 2022: Paul Gallen (centre) alongside Nikita Tszyu (left) and Harry Garside (right) pictured at the Bondi Boxing club in Waterloo. The three boxers will feature in the first ever triple-header boxing show for Main Event on May 11. Picture: Damian Shaw
The triple premiership star spent time training alongside Gallen at his Cronulla gym and on the Wanda sand hills in Sydney's south.
Back at the club late last month, Martin's teammates' main concern remained for his wellbeing.
Richmond spearhead Jack Riewoldt said the possibility of Martin not returning to play AFL "hadn't crossed his mind".
"It hasn't crossed my mind that he won't come back because I haven't thought about it," Riewoldt said.
"All I think about is texting him saying, 'Mate, hope you're going all right. Just know that the boys are back here thinking of you'."
Concerns over Martin's playing future were finally allayed when he made a surprise return to Punt Road two weeks ago.
Surprising players and staff, Martin turned up for an early-morning appearance at the club, doing a gym session and running laps.
Martin lifted hopes of an imminent AFL return when he ramped up his training program at Tigerland with a running session two days later. The comeback was on.
The first pictures of Martin back at Punt Road training emerged the following day, but his much-anticipated return was put on ice for another week after the Tigers ruled him out of the team's round 7 trip to Perth due to his limited preparation.
Hardwick revealed on Thursday Martin had put his hand up to play against the Eagles in his first week back at the club as he confirmed the star's return.
"We obviously had a chat, he is one of those guys that is very matter of fact about what he needs and what he desires," Hardwick said.
"So from that front it was a pretty short conversation and he (was ready) to play.
"He put his hand up last week to play. It's just great to have him back."
While Hardwick said Martin was now in a "great space", he admitted he would still be challenges ahead for him after his return.
"It's like anyone that's had a loss of their best mate and their father, there will be ups and downs," Hardwick said.
"We support him, we understand that and we will continue to provide support where we need and he will continue to work on what he needs to get the very best out of himself.
"But it's challenging for people that have gone through such events and we will just wrap our arms around him as best we can and give him the space and time he needs."
Originally published as AFL 2022: Latest news, analysis and reaction from Richmond v Collingwood