AFL 2022: Latest news and fallout from Fremantle v Collingwood
Sam Switkowski's guilty plea and a glowing character reference hasn't saved the Fremantle forward from suspension after his dangerous chicken wing tackle.
Fremantle forward Sam Switkowski has copped a two-match suspension for his chicken-wing tackle on Collingwood's Jack Ginnivan.
Switkowski pleaded guilty to the serious misconduct charge after being referred directly to the tribunal but the Dockers had hoped he could escape with a substantial fine.
The jury, chaired by Jeff Gleeson QC, decided on a ban, having deemed the tackle dangerous and been surprised that Ginnivan did not sustain an injury from it.
Switkowski will miss Fremantle's matches against the top two sides on the ladder — Melbourne at the MCG on Saturday and Brisbane at home next week.
Watch every blockbuster AFL match this weekend Live & Ad-Break Free In-Play on Kayo. New to Kayo? Try 14-Days Free Now >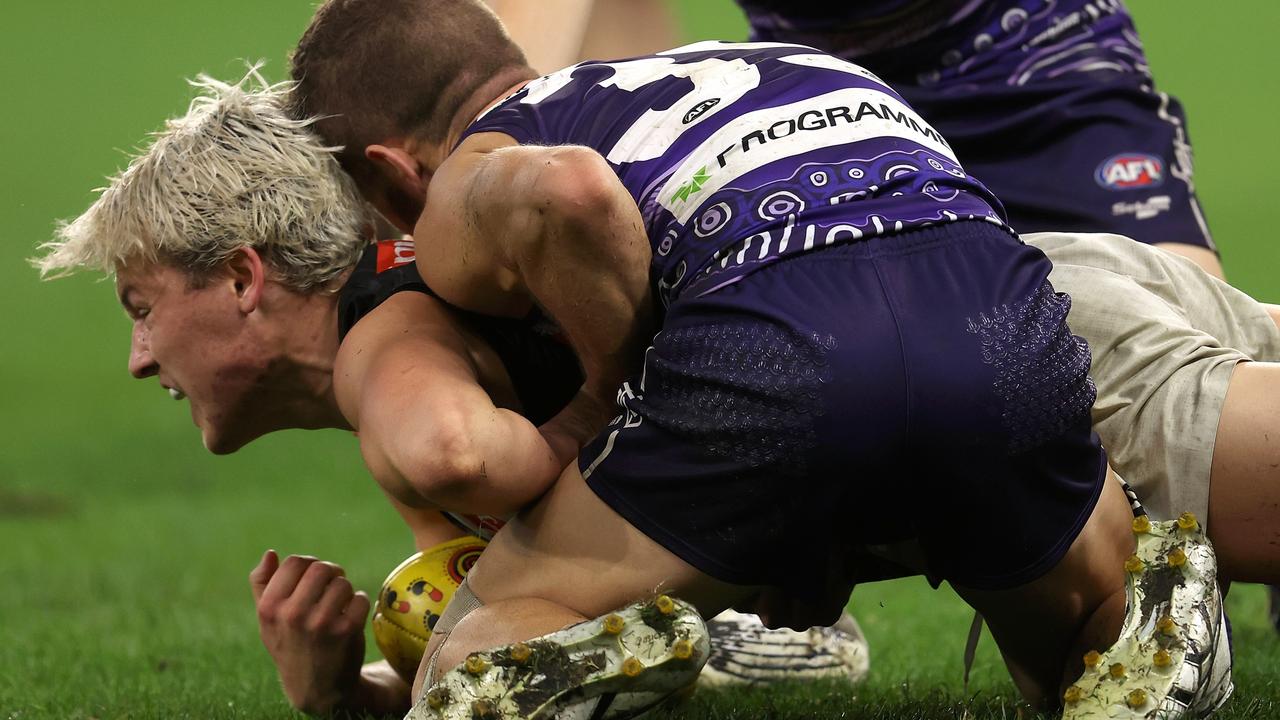 Sam Switkowski grabs hold of Jack Ginnivan's wrist during Sunday night's game. Picture: Paul Kane/Getty Images
Footage of similar tackles from three of the game's greats was referenced during the hearing, including Carlton captain Chris Judd's chicken wing on North Melbourne's Leigh Adams in 2012 that led to a four-game suspension.
Although the Dockers accepted there was a danger and risk of injury to Ginnivan in the late stages of the tackle, their counsel, Seamus Rafferty, said it was nowhere near as bad as Judd's, which he considered the worst-case of the category.
Fremantle argued Switkowski's tackle had been proper and legal, trying to prevent the Collingwood goalsneak from disposing of the ball, only for it to become serious misconduct for about two seconds.
"There was no malice or intent to hurt," Rafferty said.
Rafferty compared the tackle to Jack Riewoldt's on Bayley Fritsch in a Richmond-Melbourne game in 2019.
Riewoldt received a $1500 fine at the time.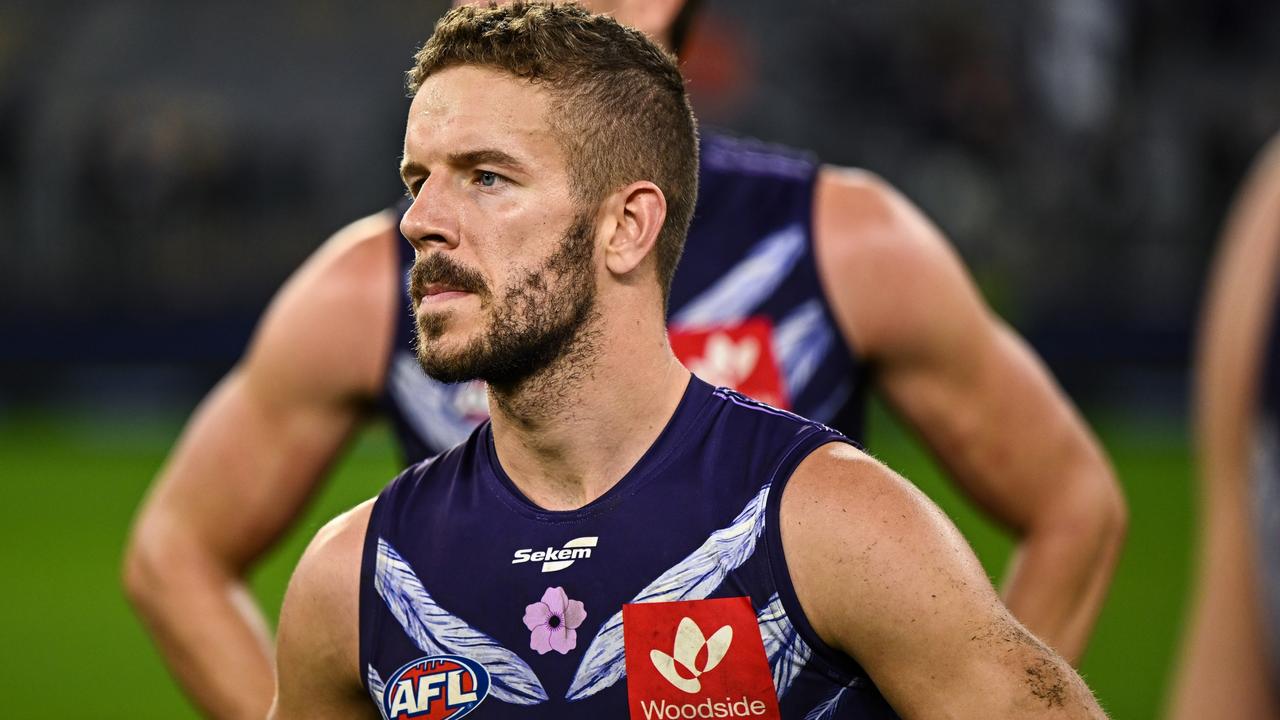 Switkowski's case was referred directly to the tribunal due to its serious nature. Picture: Daniel Carson/AFL Photos via Getty Images
The other tackle referenced on the night was one by Geelong skipper Joel Selwood in 2015, which resulted in a one-week ban after pleading guilty.
Fremantle had hoped Switkowski's good character and his remorse would reduce his sanction.
Rafferty said the 25-year-old had never been reported during his entire football career, which began at the age of nine.
The AFL's counsel, Andrew Woods, had pushed for a two-game ban as the starting point on the basis that the Docker's "manipulation of Ginnivan's arm wasn't fleeting, it was forceful".
Woods said Switkowski's character could only take him so far, given it was serious misconduct.
He dismissed the comparison to Riewoldt's tackle, saying he was not on top of the player like Switkowski was and the Tiger did not bend Fritsch's arm.
After deliberating for about 15 minutes, the jury determined a two-week penalty was appropriate, given the nature of the incident, including the potential to cause significant injury.
Gleeson said the penalty would have been more substantial if not for Switkowski's guilty plea and a glowing character reference from Fremantle football boss Peter Bell.
Docker in hot water for 'chicken wing' motion
An action dubbed a "chicken wing" has been sent straight to the tribunal.
Docker Sam Switkowski was on Monday referred directly to face the tribunal panel on Tuesday night for what the match review officer determined to be serious misconduct against electric Magpie Jack Ginnivan.
Ginnivan was tackled in the final quarter of Collingwood's win over Fremantle on Sunday, and while he was pinned to the ground Switkowski appeared to grab the Pie's left wrist and pull it backwards up his back.
"And a chicken wing. That's a dead-set free kick right there," former Melbourne skipper Garry Lyon said in commentary at the time.
He said on Monday night that he believed the Docker "knew what he was doing".
"If he gets a week or two weeks, then he's only got himself to blame," Lyon said on Monday night.
Former Collingwood coach Nathan Buckley said on Sunday that what Switkowski appeared to do "wasn't great".
"We're seeing a lot of little things I reckon we'll hear a little bit more about during the week," he said.
Due to the serious nature of the charge, Switkowski is unable to make an early plea for a reduced sanction, with any potential suspension at the tribunal's discretion.
Magpie hero was almost overlooked at selection
Collingwood coach Craig McRae says Oliver Henry's starring performance was a "great lesson for resilience" after revealing he nearly didn't play in Sunday night's shock win over Fremantle.
Henry kicked four goals after coming on as the sub when Mason Cox suffered a dislocated finger.
But McRae revealed the Pies strongly debated whether Henry would even play.
"I'm going to speak openly … His position in the team was up for grabs," McRae said.
"We talked about that probably for about half-an-hour at match committee.
"We've just got a number of players that we want to give opportunities to."
Henry missed a number of shots against the Bulldogs last week, but McRae praised his commitment to improve.
"Today he just looked like a player that just had more composure," he said.
"But credit to the kid, he went back and worked on his craft all week. I was looking out my window and everyone else had gone home and he's still doing goalkicking."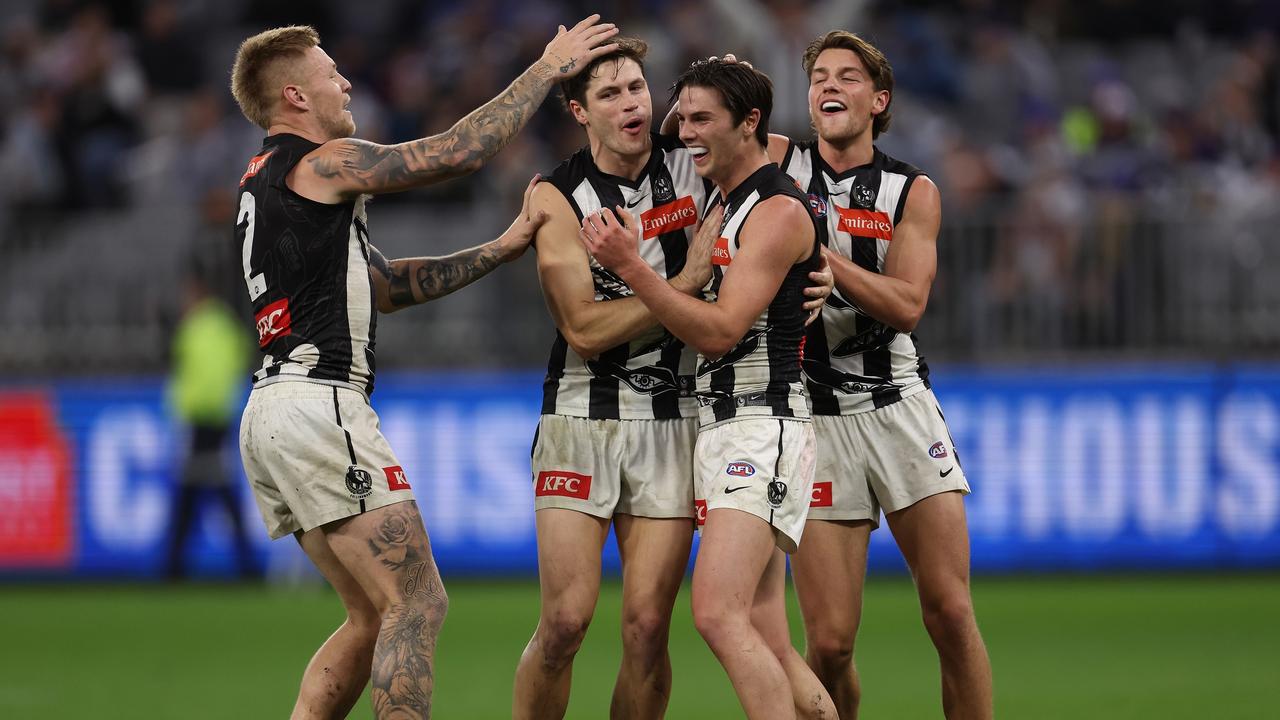 Oliver Henry celebrates one of his four goals on Sunday night. Picture: Getty Images
PIES PULL OFF HUGE UPSET, PRAY FOR RAIN AGAINST BLUES
Collingwood may have unveiled Fremantle's kryptonite on Sunday afternoon.
The Magpies handled the wet and slippery conditions early at Perth Stadium much better than the Dockers, producing an upset 36-point win.
The Pies kicked five consecutive goals from the end of the first term to the start of the third when the conditions were at their worst, to open a 23-point lead.
And you might find Collingwood coach Craig McRae out front of the MCG praying for rain ahead of next Sunday's monster clash against Carlton.
When the conditions were at their worst on Sunday, the Magpies kicked five consecutive goals from the end of the first term to the start of the third to set up their fifth win of the season.
"Our style stacks up in the wet," McRae said.
"We want to be a territory team, which is what you do in the wet weather. We were smiling when it started raining.
"We like to play in the wet. We had an opportunity to display that. It's about taking territory and fighting to get from contest to contest and make that part of the game.
"We started to go away from boundary and be a bit more attacking, which suits our style anyway."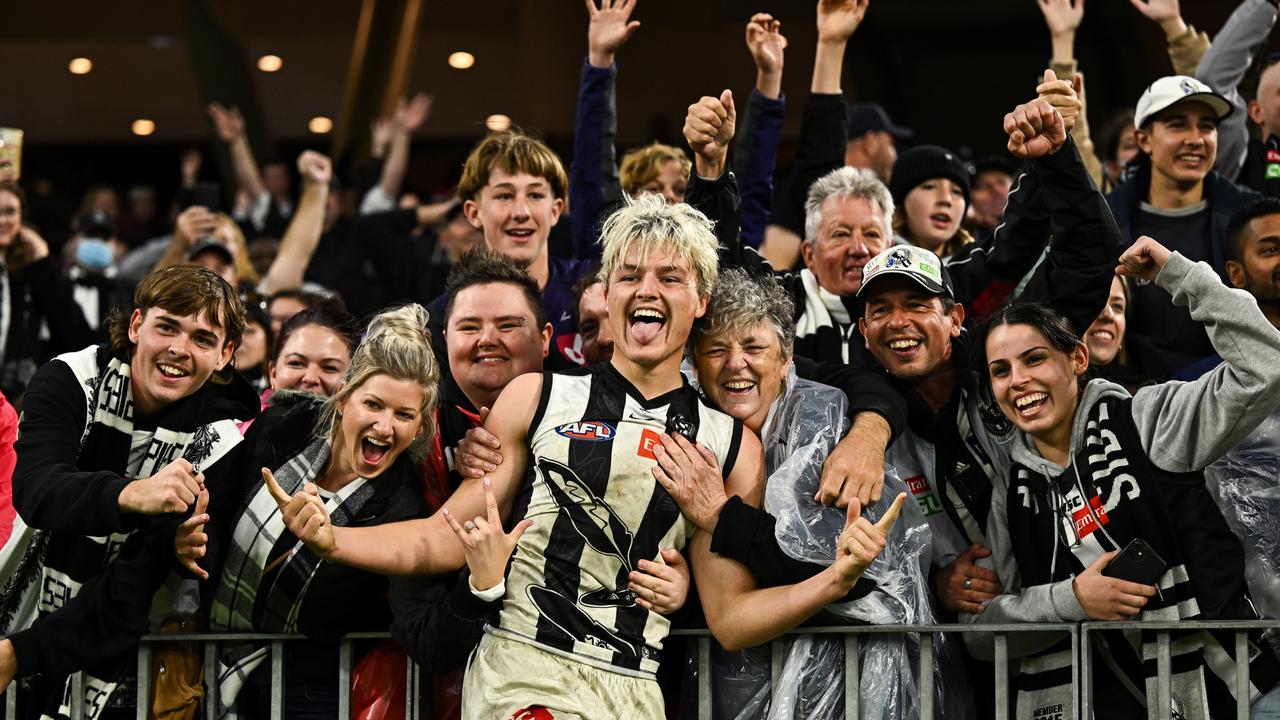 Jack Ginnivan celebrates Collingwood's upset win with Pies fans. Picture: Daniel Carson/AFL Photos via Getty Images
Sunday's win was the Magpies' best so far under McRae, pipping their Round 1 victory over St Kilda. They were coming off consecutive losses to Richmond and the Western Bulldogs and taking on a side eyeing off second spot on the ladder.
But McRae was desperate for the poor showing against the Bulldogs in Round 9 to not become the norm for his side – and he pointed that out to his players after the 48-point loss.
On that terrible Friday night, they had 22 fewer inside-50 entries than the Dogs, 16 fewer clearances and 40 fewer contested possessions.
Against Fremantle, they still lost the contested possessions count, by 23, but laid a massive 88 tackles. Not one Magpie failed to lay one. They also won the clearances by one and inside-50 entries by 14.
McRae said he wanted that to be what fans expected from Collingwood, win or lose.
"We were disappointed with our efforts last week and we came here with a purpose," he said.
"We wanted to find our DNA, if you like and we set about early in the week to work out what that looked like.
"Last week we were disappointing and today we're proud. But it's about repeating those behaviours.
"I felt we looked a more organised, measured, disciplined team tonight and last week we looked the opposite.
"It's pleasing to get Jamie (Elliott), Pendles (Scott Pendlebury) and these guys back; they are good drivers of these things.
"Coaching from the boundary, you see every little thing, how connected they were with organisation.
"Last week was not a pattern of behaviour for us."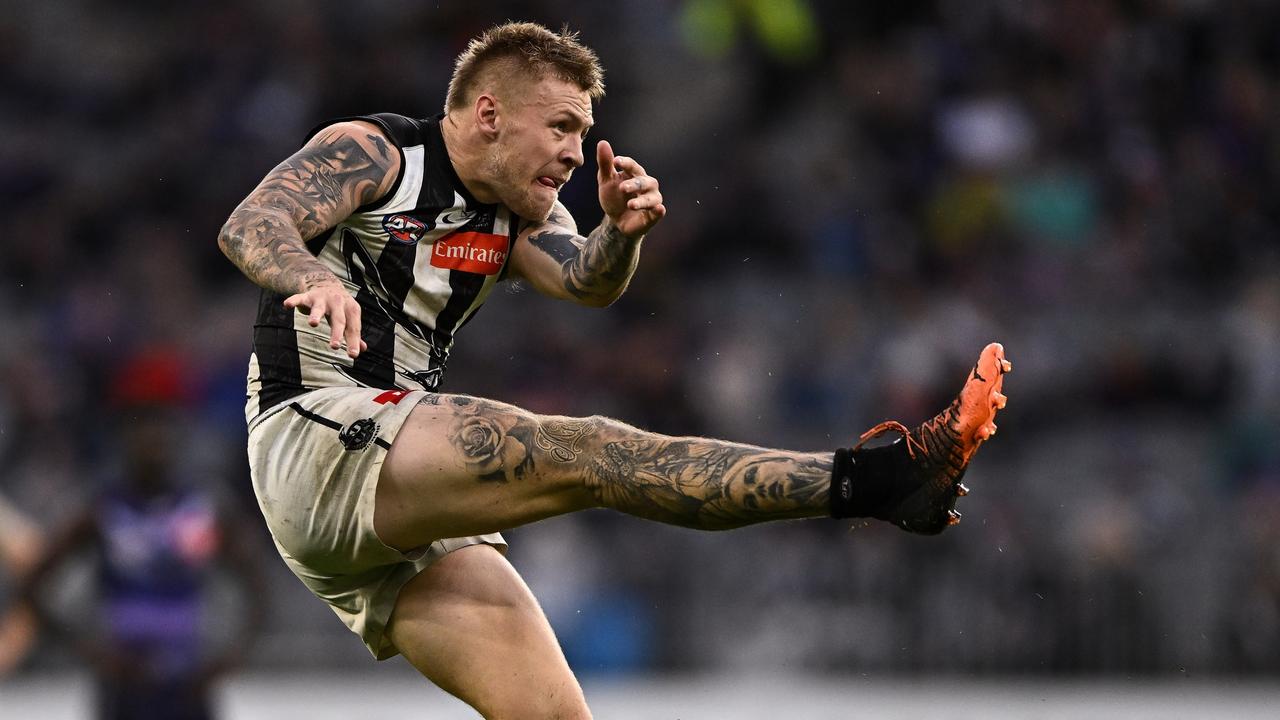 Jordan De Goey shoots on goal. Picture: Daniel Carson/AFL Photos via Getty Images
Will Brodie and David Mundy did their best to get the home side back into the contest, but the Magpie defence made sure their side didn't hand over momentum.
But four goals from Magpies medical-sub Oliver Henry made sure of the result.
For the second consecutive week, Fremantle has looked shy of a team that has spent the majority of the start of this season among the top three teams on the ladder.
Last week, the Dockers managed only four goals against the Gold Coast in less than perfect conditions.
They looked no slicker in attack on Sunday, losing 12.8 (80) to 6.8 (44).
Not much rain fell during the game, but it bucketed down before the opening bounce, leaving a heap of water on the surface.
The win ends Collingwood's two-game losing streak and keeps it in touch with the top eight.
The Pies do have a tough run going into their bye though, with games against Carlton, Hawthorn and Melbourne.
A win could have seen the Dockers pushed back into second spot with a big enough win, thanks to the Hawks effort against the Brisbane Lions. And that would have set up an AFL marketing dream at the MCG next week between the top-two sides, as they face the unbeaten Melbourne.
Instead, Fremantle drops behind Carlton on the ladder and into fourth spot due to the loss.
It should still be a cracking game against the Demons next week, as long as it doesn't rain.
HOWE DID HE DO THAT... AGAIN
Death, taxes and Jeremy Howe taking hangers.
The high-flying Pie has soared into the skies once again to take a Mark of the Year contender, using Fremantle key forward Matt Taberner as a stepladder.
HAVING FORWARDS HELPS
Both Fremantle and Collingwood bolstered their forward lines going into this game.
The Magpies weren't great in attack last week either, managing only seven goals from 46 inside 50 entries. It wasn't quite their worst return in attack this season, but it wasn't far off.
Welcoming back Jamie Elliott and Jack Ginnivan (two goals) up forward could only make them more potent.
It was Will Hoskin-Elliott though that made light of the conditions early, with silky skills and two goals of his own.
The Pies also recalled Scott Pendlebury and Mason Cox.
It was another tough day for Cox.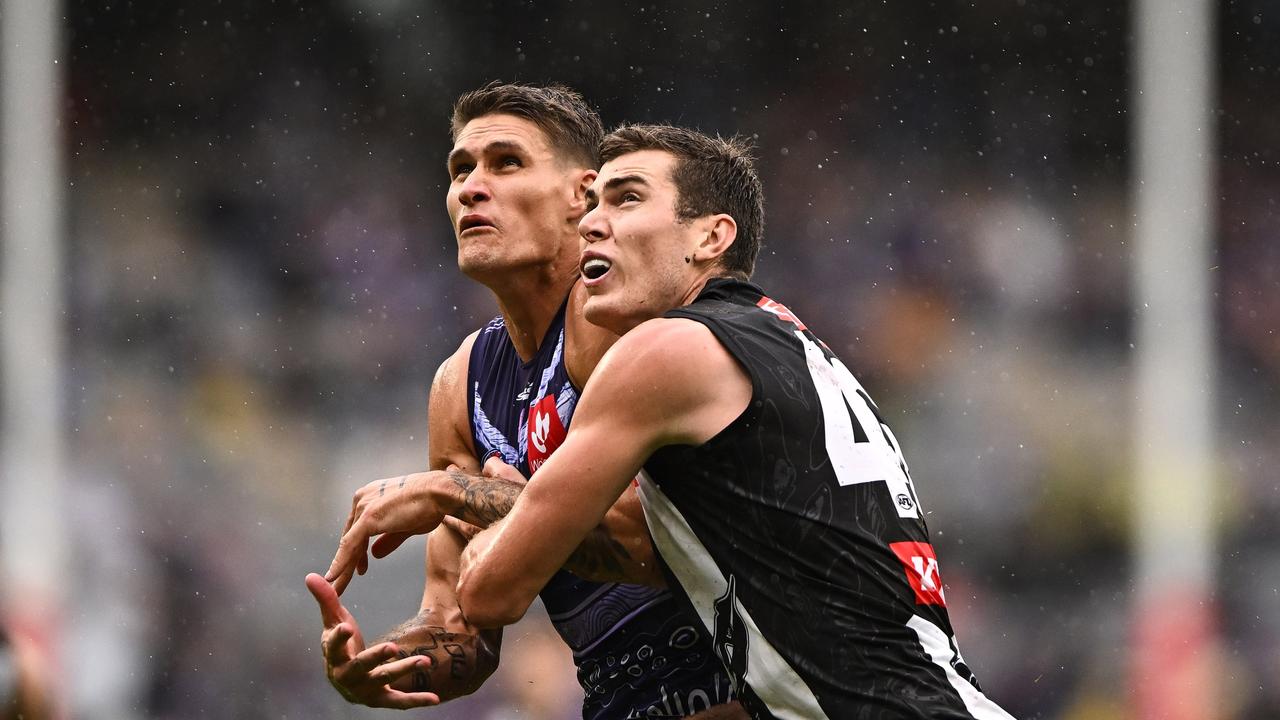 Mason Cox was subbed out with a finger injury. Picture: Daniel Carson/AFL Photos via Getty Images
He was forced to remove his now famous goggles early in the game, assumedly because of the conditions.
He then injured his finger late in the quarter and had to be subbed from the game.
That gave Henry an early chance to impact, and impact he did.
The youngster's ability to finish when in front of goals has been an issue this season and probably a big reason why he was looking at missing this game.
It may have helped his cause that the Magpies VFL side had a bye.
Henry ensured his spot in the side for a while to come now, kicking four goals and taking some strong mark.
SKIPPER BRINGS THE PRESSURE
Pendlebury missed the Magpies loss to the Western Bulldogs last week, where contested possession was a massive issue.
The Magpies still lost in that area against Fremantle, but their tackling was incredible.
The Magpie champion laid nine tackles and his team followed that lead, with a massive total of 88, easily their best return in this area for the season.
Taylor Adams was also strong in the midfield, with eight tackles with Jack Crisp outstanding with 27 possessions, 16 of them contested.
SCOREBOARD
DOCKERS 2.2 2.4 3.6 6.8 (44)
MAGPIES 2.2 5.3 7.4 12.8 (80)
ELBOROUGH'S BEST
Dockers: Brodie, Mundy, Young, Serong, Clark, Darcy.
Magpies: Crisp, Lipinski, Adams, Howe, Pendlebury, Henry.
GOALS
Dockers: Brayshaw, Brodie, Lobb, Switkowski, Walters, Mundy.
Magpies: Henry 4; Hoskin-Elliott 2, Mihocek 2, Ginnivan 2; Cameron, Crisp.
INJURIES Dockers: Nil. Demons: Magpies Cox (finger) subbed out for Henry.
UMPIRES: Johanson, Howorth, Findlay.
VENUE 35,534 at Optus Stadium
PLAYER OF THE YEAR
BRAD ELBOROUGH'S VOTES
3 Jack Crisp (MAGPIES)
2 Patrick Lipinksi (MAGPIES)
1 Will Brodie (DOCKERS)
Originally published as AFL 2022: Latest news and fallout from Fremantle v Collingwood