AFL 2022: Mark Robinson goes one-on-one with North Melbourne president Sonja Hood on David Noble and what's next
North Melbourne president Sonja Hood raised eyebrows when she described the club's list as "great". Here's why she's not backtracking and her vision for the future.
Herald Sun chief football writer Mark Robinson chats with North Melbourne president Sonja Hood after the club's tumultuous season ended with the sacking of David Noble this week.
She details how Noble's tenure came to an end, the ruthless side of running a football business and what she made of criticism from AFL legend Leigh Matthews.
Watch every blockbuster AFL match this weekend Live & Ad-Break Free In-Play on Kayo. New to Kayo? Start your free trial now >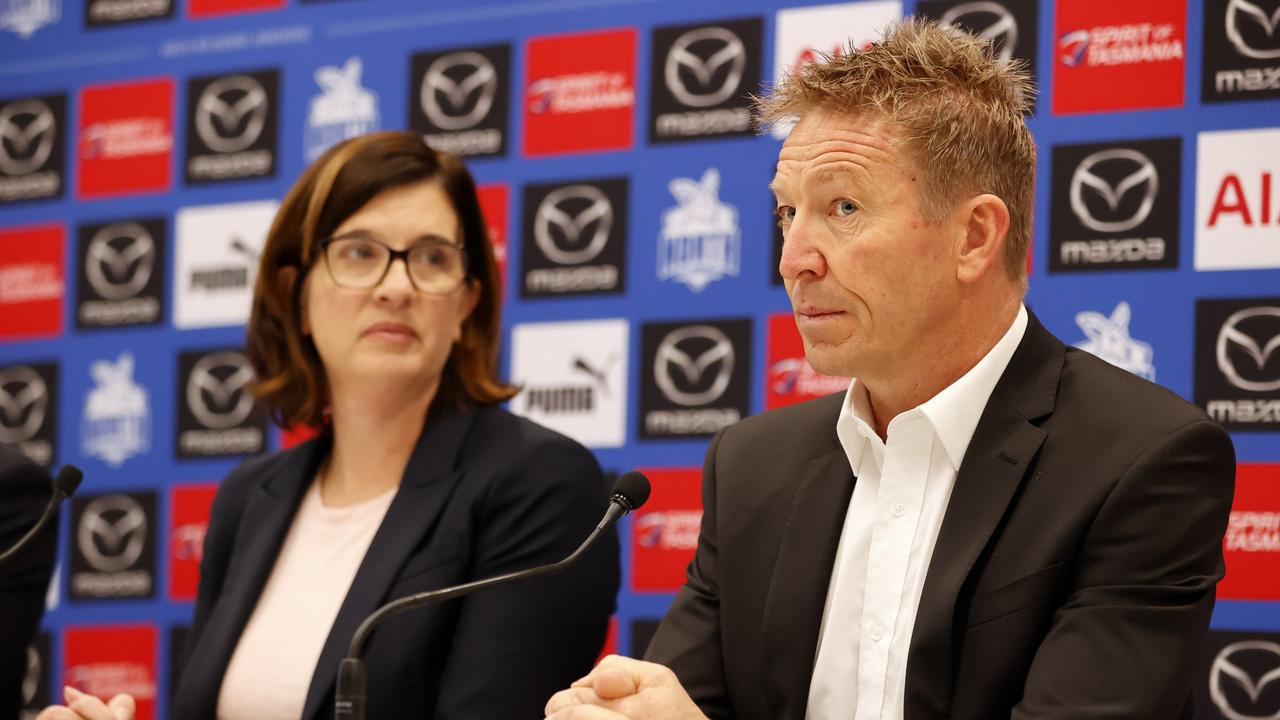 Sonja Hood sits alongside David Noble at his last North Melbourne press conference. Picture: Alex Coppel.
Mark Robinson: Have you sacked anyone before?
Sonja Hood: I have and I don't like it. I've never liked it. I tend to find in any of those moments it's the end of a process. There are very few exceptions where you turn up one day to an unbelievable moment where you walk someone off the premises.
MR: So, they're not emotional decisions.
SH: If you're in a position of power over somebody's job, you don't make an emotional decision.
MR: Were you satisfied with how it was executed?
SH: Are we talking about Monday?
MR: Yes, David Noble.
SH: I didn't sack David. Would I if I needed to? Yep. It was a mutual decision. We've been talking every month and this didn't come as a surprise. But if you ask who initiated the conversation, I did.
Sonja Hood sat down with Mark Robinson to talk North Melbourne. Picture: Michael Klein.
MR: How brutal for you and the board were Monday and Tuesday?
SH: Would I have liked a different outcome? Yes, I would. But there wasn't a different outcome to have. The thing I've found the most challenging coming into this world is just how much noise there is around every decision and non-decision, there's noise every time. Part of my role is to tune out the noise which is not helpful.
MR: Do you need help deciphering what's noise and what's real?
SH: I draw on the people around me a lot. I'm a consensus leader. It doesn't mean I need everyone to agree with me, but it does mean I will take into account their views. But in the end, deciding what needs to be in and what's not, that's my job. With this one, there's been noise for months, and you've got a different perspective on the inside. But it's still just a perspective. I'm not in the football department and again the club president shouldn't be in the football department.
MR: What did you learn about David Noble that caused you to speak to him on Monday?
SH: That there was nothing coming that was going to change my mind about the direction we were going to go.
ROBBO: WILL MORE HEADS ROLL AT THE ROOS?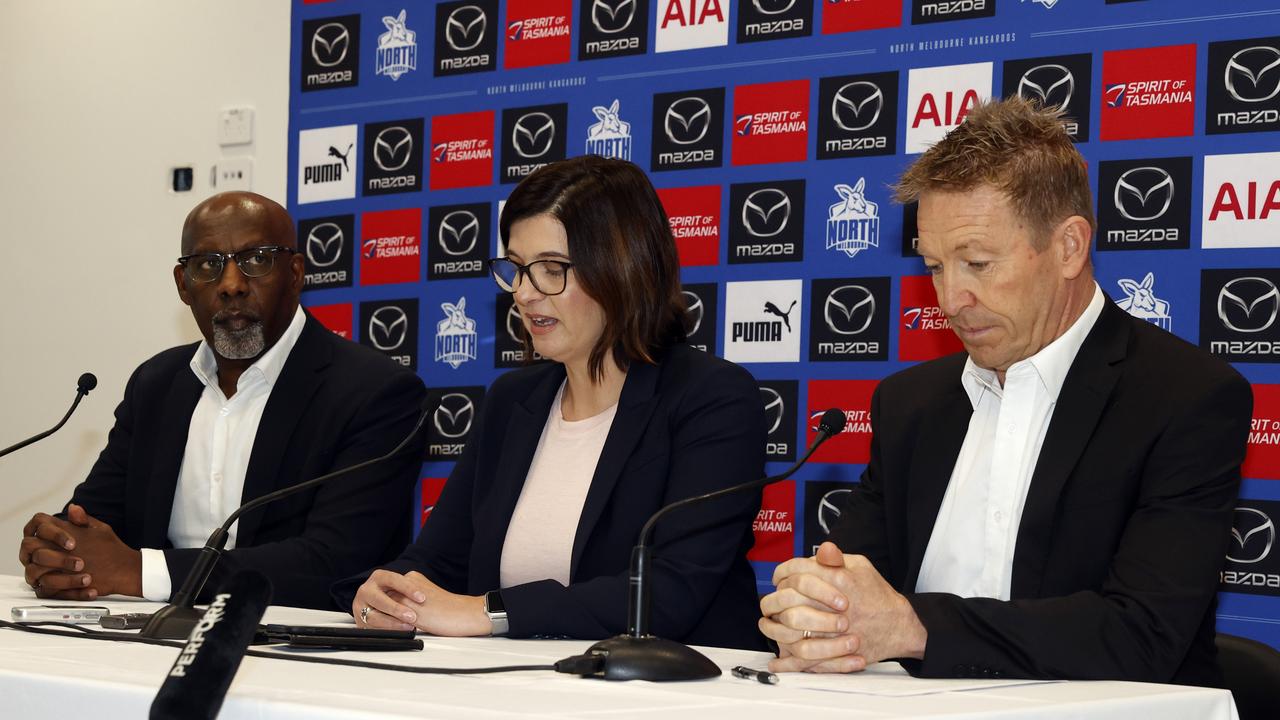 Hood has backed CEO Ben Amarfio to continue in his role.
MR: Geoff Walsh is doing the review. Did he give you information about the footy environment which forced the board to act?
SH: Partly. I was waiting for Geoff to speak to all the players and most of the staff he was to speak to, and nothing he gave me from the feedback told me things were going to change. So I went and had the conversation with David. David's a good person, and this would be much easier if we wasn't. But things weren't getting better for him or us, and you reach a point where you do more damage by sticking with it than by changing it, and he and I came to that agreement together.
MR: Was the feedback that the relationship with some players was beyond repair, that if David remained coach that some would leave?
SH: I have heard that feedback separately and, again, that was probably part of the noise that was around and, again, it's difficult for me to know how much of that was hyperbole and how much was real. But I didn't get that from Geoff, he didn't say that players would leave.
MR: You took some criticism from Leigh Matthews. It was about how you described the list as great. He said, how could she say that?
SH: Well, how could she not say that? How could I sit in a room with my footballers and my staff in the room and speaking to my members … I'm not telling them it's a perfect list, I'm not saying it's a list which hasn't got flaws in it. It's got some good kids on it, some good older players, and it's got a jolly big gap in the middle and part of our job is to fix that.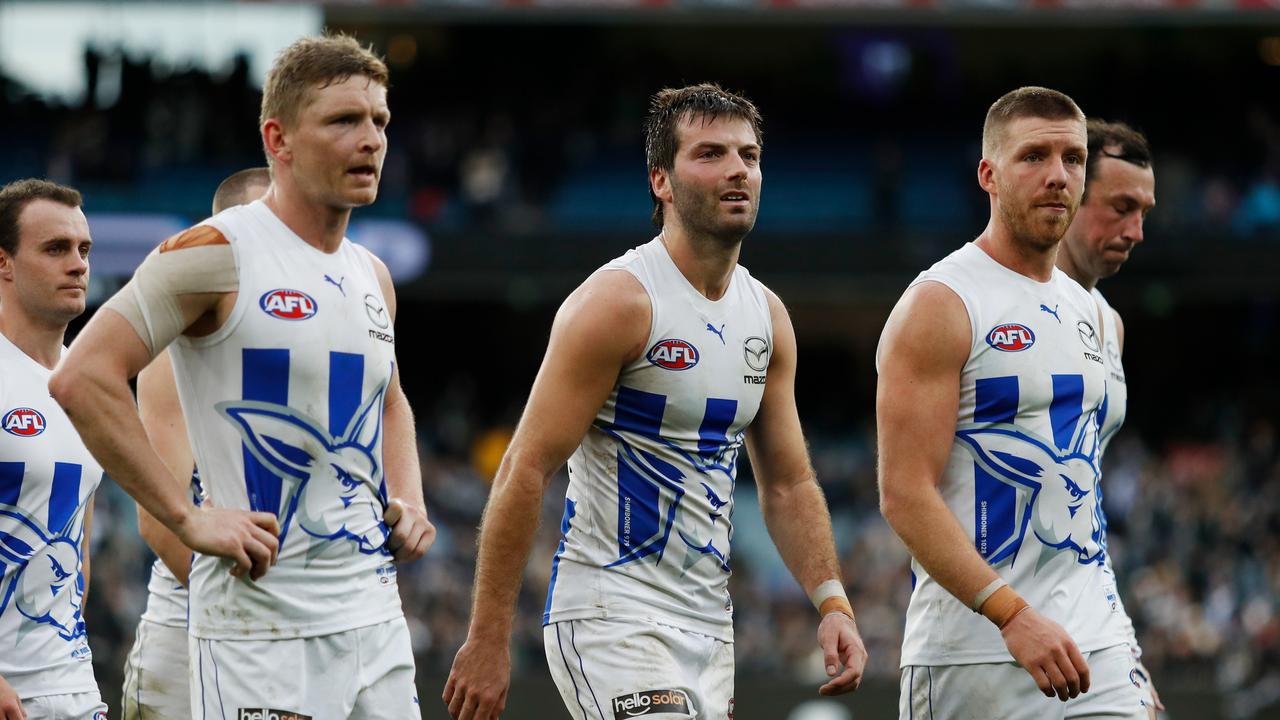 North Melbourne appears set for another wooden spoon.
MR: Did Matthews' criticism rock your confidence?
SH: No. That was my first ever press conference and if I'm being criticised for being positive about the guys sitting in the room who, and everybody tells me that 90 per cent of football is played above the shoulders, me telling them they're rubbish is not going to help anyone is it. I genuinely believe there is talent on the list.
MR: From the outside, there's some alarm bells about the culture and environment at the club. How much of a concern is that for you?
SH: Concerned enough to bring Geoff in to look at it in the footy department and staff and tell me what to do about it.
MR: To what extent is the AFL involved in these football decisions?
SH: So far not and I genuinely mean that. It was our call to bring in Geoff Walsh, actually that was my call. I knew that we needed something reasonably fast. I knew that he knew the club inside out and he knows its key people and its politics and the stuff that matters.
MR: The first time many people heard from you was when you spoke to the Herald Sun's Jackie Epstein and you called Adrian Kinderis …
SH: Gutless.
MR: Would you use that word again?
SH: No, that was a mistake. I shouldn't have said "gutless". I was upset with Adrian and I got sucked into some name calling and I wish I hadn't. That's on me. This is the first role in my life I've had this profile and I'm getting very used to the fact that I can't say what I think anymore. I've spent most of my life in roles where I've been responsible for a lot of stuff, but I tend to slip below the radar. And I've always preferred that. This role won't let me do that. This year has been a baptism by fire that I probably wasn't expecting. Did I think we'd be as bad as we are on field? No. Do I therefore understand the scrutiny that comes with that? Yes, I do. Am I prepared for it? I don't know if you ever can be, can you? You couldn't do this if you didn't love it. And you couldn't do it if you didn't intrinsically believe in it.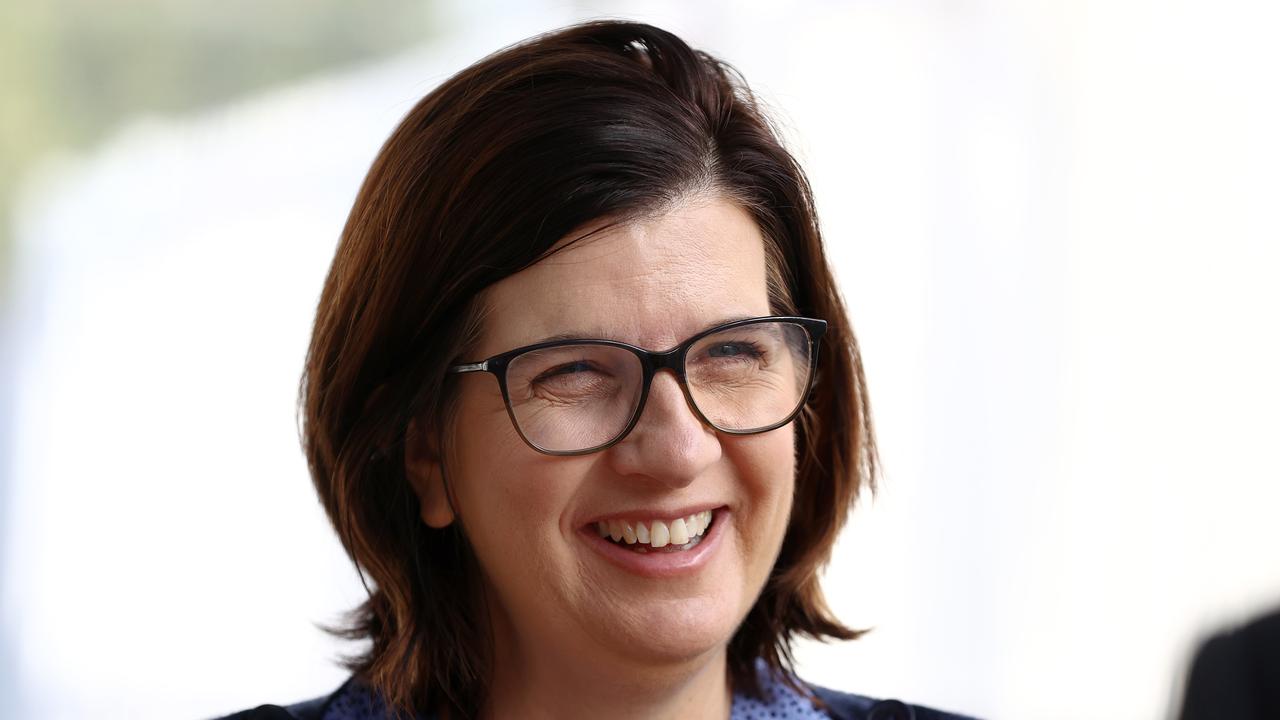 Sonja Hood says her faith was not rocked by criticism from Leigh Matthews.
MR: Where did you grow up?
SH: My dad lived in Edithvale and my mum lived in Ripponlea.
MR: Where did they meet? At the footy?
SH: No, mum and dad met teaching together. They taught at Bonbeach High. I think they may have taught a young Leigh Matthews actually.
MR: How funny.
SH: My dad did.
MR: Did you ring dad and say: "Did you hear what Leigh Matthews said about me?"
SH: No.
MR: Did your dad ring you?
SH: Dad's been proud as punch about this whole thing. There's been very few things which have really got him, but I think when I got a phone call from Wayne Carey, that was probably, no that's not true. Actually I had one from Denis Pagan, that was the high point for my dad.
MR: Why did you have lunch with Denis Pagan?
SH: I wanted to meet all of the greats of the club and the important people of the club. I needed them to tell me what we needed to do to make our club better. And Denis and Wayne know, Mark Dawson knows and Greg Miller knows …
MR: How many people did you speak to?
SH: About 40; I reckon I've had a lot of coffee recently.
MR: So, what, you just meet them at cafes, and soak in information? Did you actually learn when speaking to all these people that you have the same emotional attachment, the same passion?
SH: Yep, I did actually. You know, people are frustrated with the way things have gone, as they should be, but there is this overwhelming sense of you just want it to be better.
MR: I was told you watched the last two flags in a pub in London. Is this true?
SH: I watched the '99 one in a pub in London. In '96 I was watching in a hotel room on a motorway in England that had Sky Television. It was on the A2 in the middle of the night. In '99 I watched it in a pub while pregnant, an Irish pub in Kilburn.
MR: How old were you when you started travelling?
SH: I went to the US for six months when I was 20. I was just going to go on an exchange for my degree. It was 1990. I went to Penn State University and I ended up doing a Masters degree there
MR: In what?
SH: Policy analysis, health policy. Then I worked in America for a year; met the guy who I married and had my kids with. We are no longer together, but he was British and I was Australian. We literally flipped a coin to see what country we were going to live. We agreed were going to do five years in his country and five years in mine. UK won so we
moved. Both my kids were born there and I spent eight years there. So by the time I came home I left Australia a uni student, single, and I came back to Australia, married with
two children. I was just completely different. Just extraordinary times. My daughter is doing it now; she's in Europe now.
MR: You've got two kids; a boy and a girl?
SH: Yep. Luke lives in Canberra, and he's living the best life; he's working, plays footy on the weekends, lives in a shared house and seems perfectly happy. And Katharine, she's in Spain at the moment living her best life.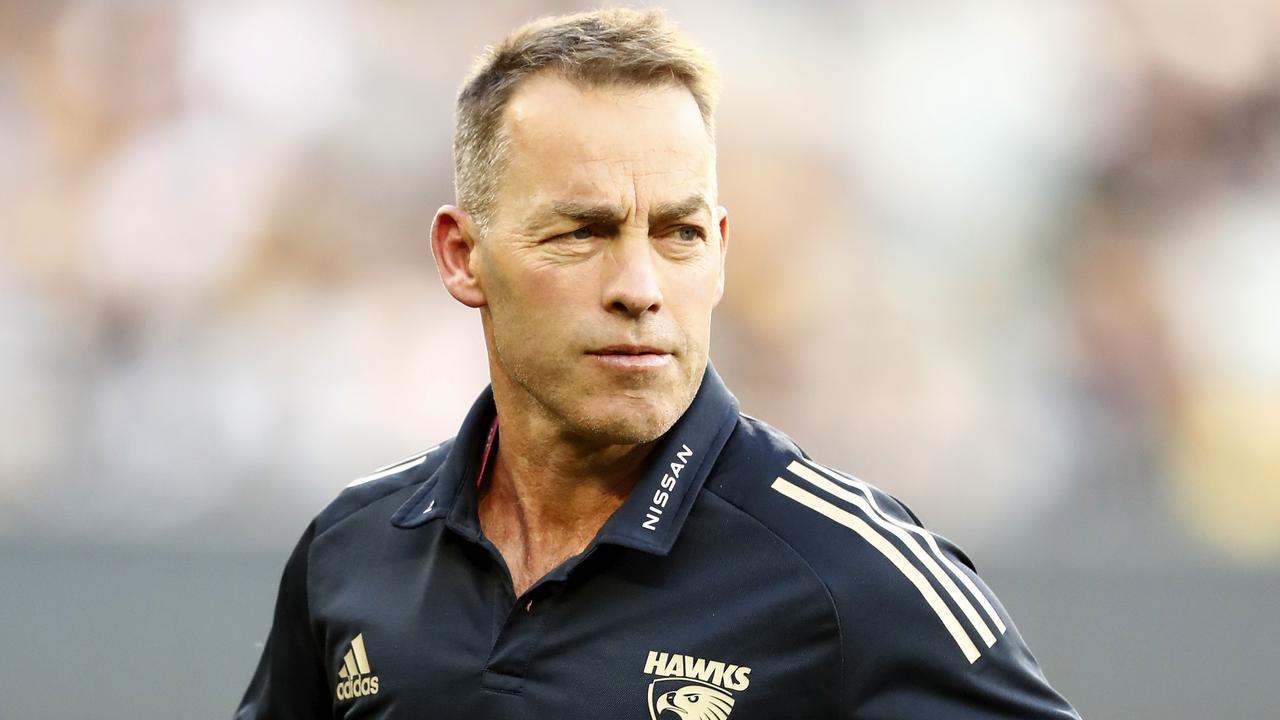 Hood wants Alastair Clarkson to consider the senior coaching role at North. Picture: Dylan Burns/AFL Photos
MR: Back to footy, how much is the AFL going to play a role in beefing up your football department?
SH: Don't know. I'll tell you what, I'll take all the advice I can get, all the good advice I can get and the AFL's got better advice than anyone.
MR: Alastair Clarkson's shadow is all over this football competition? Have you spoken to him?
SH: No.
MR: Would you like to speak to him or would you leave that to someone else?
SH: In terms of the process, I'd like to speak to him. I'd like to have a conversation with him aside from everything else and even if he didn't end up being the coach, I'd love to have a conversation with him.
MR: Would you like him to strongly consider the position?
SH: My personal opinion … Yeah, I would. Firstly, I'm aware there's no silver bullet solution to North's footy problems. Again, we've got work to do getting our structure right and our organisation right. And we've got good parts to our list (laughing). If Leigh Matthews is reading this, yes, I'm aware there are some holes on our list. What do you think he'd give me for my performance on Tuesday? Five out of 20?
MR: Other than that comment about the list, most people would give you eight or nine out of 10.
SH: That's pretty good.
MR: I'm told you're a real motherly-type figure at the club and have strong conviction. Fair comment?
SH: That's a fair way of describing it. Rightly or wrongly, I see the good in everyone, but that doesn't mean I don't see the bad. Am I strong? Yes. Am I mean? No. I really abhor meanness.
MR: Are you still a fan or is it now business for you?
SH: There are fan behaviours harder to indulge in. I'm in a WhatsApp group with particularly passionate supporters and I have to turn it off during games. I love footy but from a self protection point of view, sometimes you have to close out the noise. This week has been one of those periods.
MR: There's a group of old boys, I'll call them Dads' Army, former directors who are preparing to run against the board.
SH: They are really passionate people, they have contributed a hell of a lot to our club over time, and there's a lot of people in that bucket. Yeah, it's a really tough one. I'm working as hard as I can to make sure the club doesn't end up with the instability of a board challenge, partly because I think the board arguments are with the previous board, partly because the board is not our problem.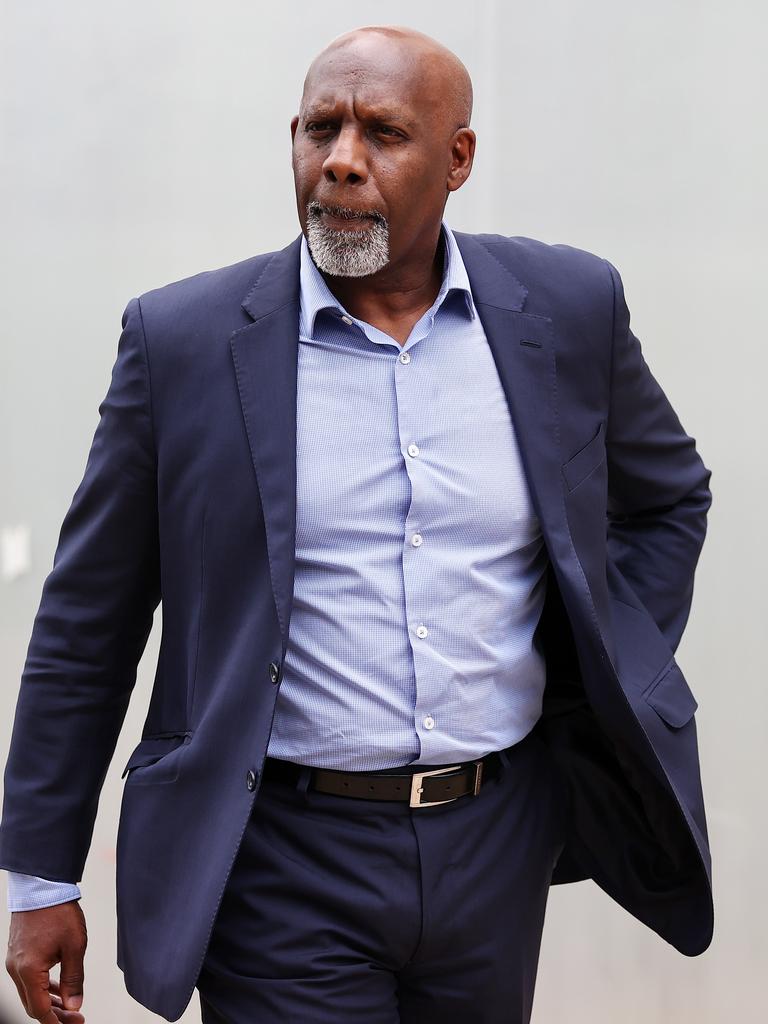 North Melbourne CEO Ben Amarfio. Picture: Michael Klein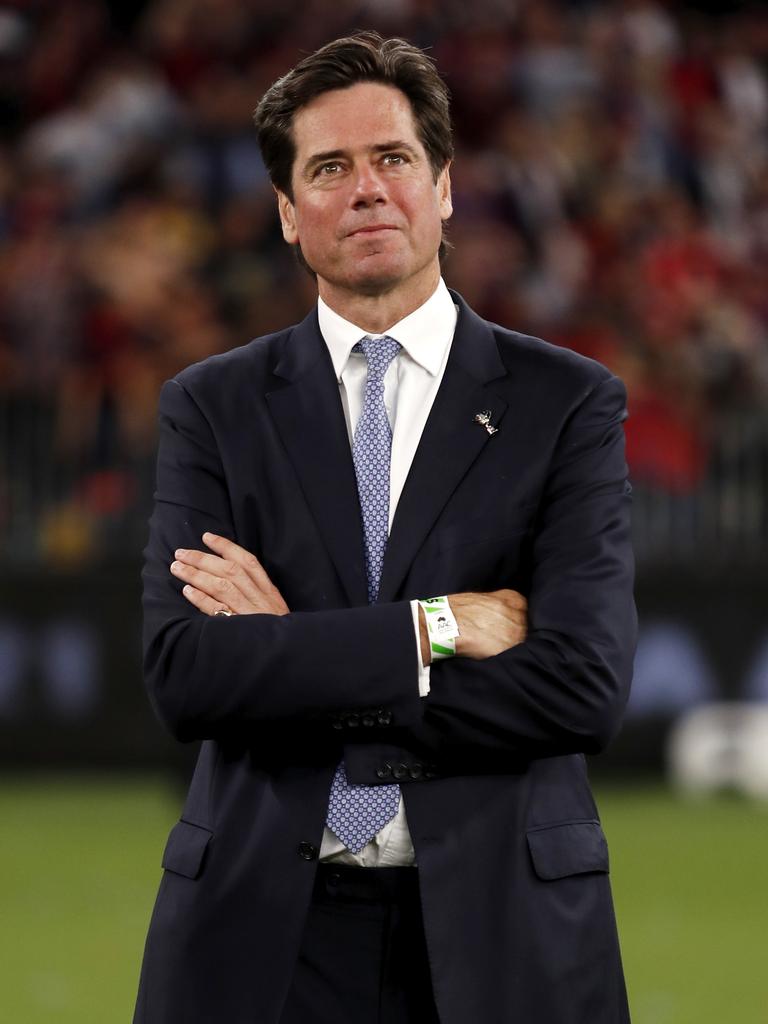 AFL chief Gillon McLachlan. Picture: Dylan Burns/AFL Photos
MR: You guaranteed Ben Amarfio a role next year.
SH: He's our CEO.
MR: You would've read about his departure from Cricket Australia before joining the Roos?
SH: I wasn't part of his selection process but I understand people who selected him did their fact-checking on that. I've spoken to every one of his execs, every one of them backs him in and actually with a degree of passion. I've spoken to the AFL and the conversation I've had with Gillon McLachlan – I said the other day I've had two conversations with him, I've actually had four.
MR: You bloody liar.
SH: (laughing) Can you make that the headline?
MR: I'm a liar, says Hood.
SH: And the AFL back him in, our partners and sponsors back him in. Has he got shortcomings? Absolutely he does, and I could sit here and talk about his shortcomings, but I will work with him behind the scenes on fixing the stuff that needs to be fixed. And I will tell the world externally that he brings us as a hell of a lot of positives.
MR: Do you support a Tasmanian team?
SH: My heart says absolutely there should be a Tasmanian team. I'm not going to tell you which way my club will vote, because I don't think I can do that, but my heart says it should happen.
MR: How much has the footy club influenced your life?
SH: We went to the game every weekend as kids. My dad had us on weekends and he used to take us to the footy. I've got two sisters. I'm the eldest of three girls and we went to every ground. Mum and dad divorced in '75 and I reckon we started going in '76. I had an aunt, who's dead now, but she would get to every game at gates open and she would lay rugs on the seats at the fence, and she would bring sandwiches. And we'd turn up close to the start of the games and we'd all sit on the fence. At some grounds, the only question was when the fight was going to start about the Krakouer brothers, because if the crowd got into them, racially abused them, my dad wouldn't have a fist fight but he'd verbally fight them. In our family, that was the decency code. My cousin tells a great story about being at one of those team-building events, and you had to go around the table and talk about the moment that changed your life. Everyone was saying when their child was born, or meeting their partner, and she said, it was when Glenn Freeborn kicked that goal just before halftime in the '96 Grand Final and thought, we're in this. I just love that story.
Originally published as AFL 2022: Mark Robinson goes one-on-one with North Melbourne president Sonja Hood on David Noble and what's next