AFL 2022: North coach David Noble apologised 'off his own bat' for post match spray
David Noble has spoken of his regret over giving North Melbourne players a dressing down and what he would do differently next time.
Noble said he felt there was still a place for being "direct and firm" with the playing group, but acknowledged he had got the time and delivery wrong as he addressed the fall-out from the harsh post-match critique.
Stream every match of every round of the 2022 Toyota AFL Premiership Season Live & Ad-Break Free In-Play on Kayo. New to Kayo? Try 14-Days Free Now >
News Corp revealed this week Noble had reflected on his conduct in the days following the 108-point loss and told the players he had gone too far in condemning their efforts.
Noble confirmed on Wednesday he had apologised "off his own bat", saying his emotions had got the better of him after the match.
"We can't ask the players to have a learning environment if we are not going to be up for that ourselves," Noble said at Arden Street on Wednesday.
"The intention was correct, I believe that there still is a place for being direct and firm with your playing group and just the time and delivery was probably not the right time.
"We all get emotional at that point in time and I thought we had a really good day in the box, we were all methodical in how we coached and it just got the better of me at the end of the day and I've got to be better than that.
"That's the vulnerability that we want to create. Vulnerability is good in leadership and we are asking our players to be vulnerable as well and for us to display that I think is a great indication that we are comfortable enough to do that collectively.
"(I apologised) off my own bat. I can reflect and understand, I think I am self-aware enough to read those situations."
The post-match spray reportedly left several young players shocked at the raw feedback.
But Noble said he was unaware of younger players being upset by his address, but said he had been open to any players to air those feelings.
"Again that is part of the reflection piece is that we have got a mixture of (a) young group," Noble said.
"Talk to Jack (Ziebell) and the older guys understand, but then I think for me as a reflection piece the learning that we have got to get those guys to understand the importance and the consequence of that type of game has got to be better.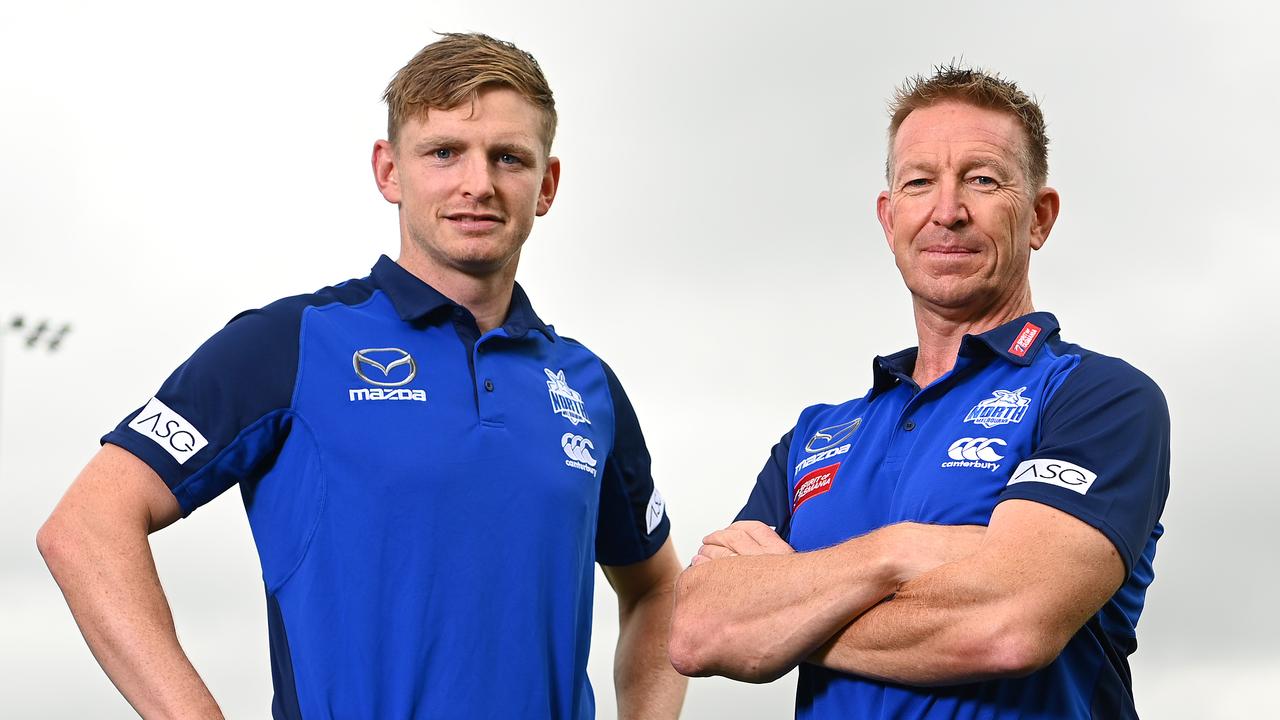 North veteran Jack Ziebell with coach David Noble. Picture: Getty Images
"I did not hear of anyone (being upset) but this week I have certainly been very open to if someone has then that's fine.
"But I think the group has moved forward pretty quick."
Noble said he normally waited until he addressed the players until after his post-match media conference but delivered his feedback "too quick" after that game.
"I generally don't talk immediately, I normally do the press conference first and then we look at the positives and growth of our game, so the players can leave the ground with a clear understanding of where we are positioned," Noble said.
"I probably broke my own rule in that sense in talking too quick and then I probably then took that to the press conference as well and didn't think I had a great day with that either."
Noble refuted suggestions the Kangaroos had altered their game plan
"We have narrowed our focus on some key elements of our game plan, so(our) contested ball, our defence," Noble said.
"But I want to be really clear, we haven't changed our game plan and I haven't had players come in and say 'We have got to change our game plan' that is incorrect."
Noble said he was not concerned about number one overall draft pick Jason Horne-Francis putting his contract talks on hold until the end of the season.
"Not as far as I am concerned," Noble said.
"From previous experience, I've had a number of players that have had the same discussion with managers and they just want to sit and that's fine, I've got no problem with that."
Payout pain leaves Noble vulnerable
North Melbourne coach David Noble accepted a rolling employment contract to coach the Roos after the club's payouts to former coaches Brad Scott and Rhyce Shaw.
The club's decision to hand Noble an employment agreement rather than the customary three-year initial deal was made in part to safeguard the club from a potential payout.
But as the football world on Wednesday digested the reaction to Noble's apology to his players after a round 3 loss, his ongoing future also became a point of discussion.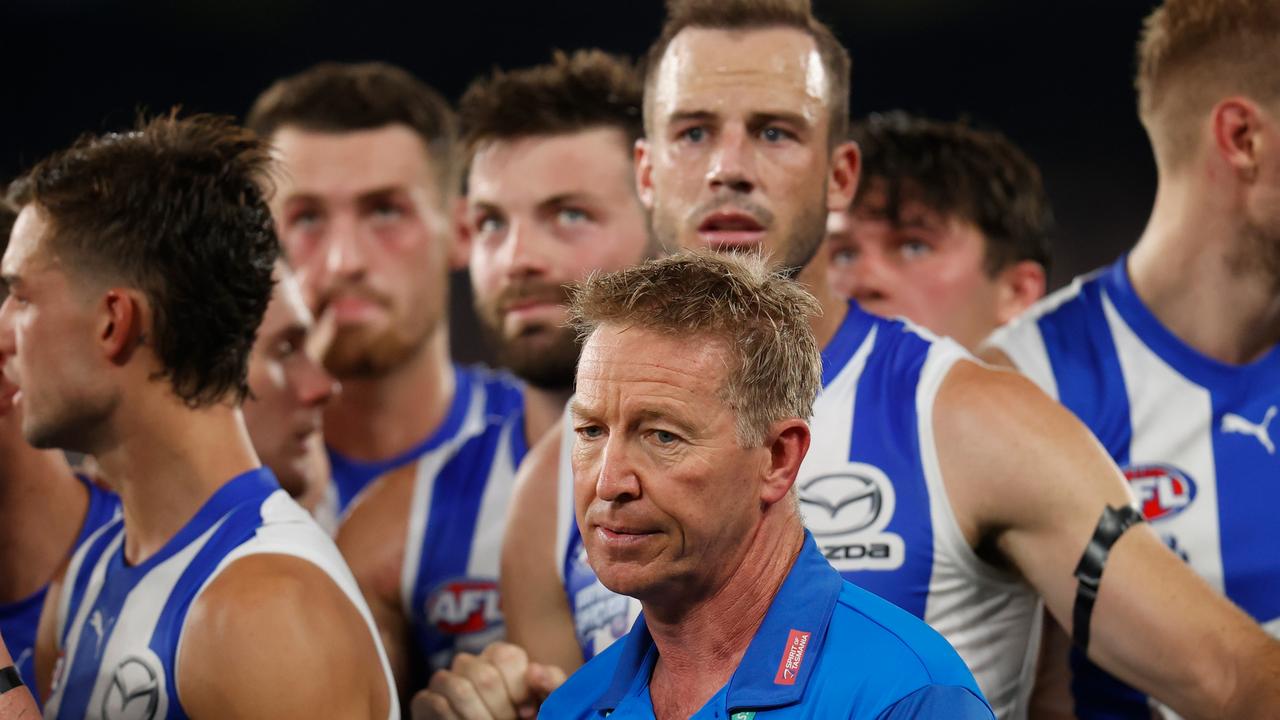 David Noble's future has become a talking point after North Melbourne's woeful start.
The Roos hierarchy has backed Noble for the considerable task of a top-to-bottom rebuild that will take many years and considerable on-field pain.
A longer-term contract would have given him some security in believing the club would back him to the hilt despite the early struggles so many rebuilding teams face.
The Roos paid out the remaining season of Brad Scott's contract over several years and came to an agreement with Shaw after he suffered personal issues that meant he could not coach past 2020.
But while it emerged that Noble had been urged to continue focusing on building quality relationships across all levels of the club, he has less security than almost every other rookie coach.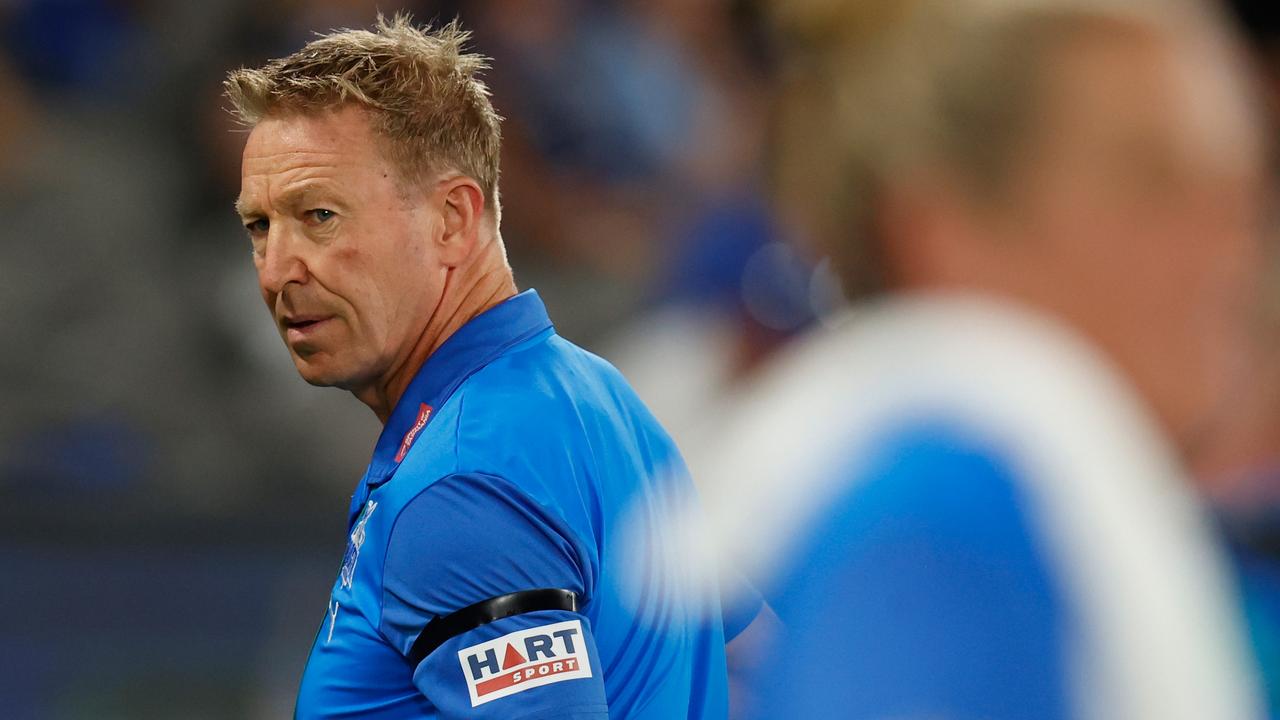 David Noble's long-term future is not locked in due to the nature of his contract.
North Melbourne would be desperate not to remove another coach after only two seasons, which means Noble will be under pressure to develop the club's kids and play with a more identifiable style.
The club was realistic about their on-field prospects this year, but was determined to establish a teaching culture and building strong connections between coach and player.
North Melbourne captain Jack Ziebell launched a fierce defence of his coach on Tuesday even as he admitted some players had believed the messaging was "confronting".
But it is known Noble has several times received feedback that he could deliver his messaging in a more positive manner dating as far back as last year.
North Melbourne was fully aware it would take some time for on field gains to be shown.
But Noble has had significant change around him even in his 18 months at the club, with new football boss Brady Rawlings shifting into a football talent role and the Demons poaching Melbourne football manager Daniel McPherson to replace him.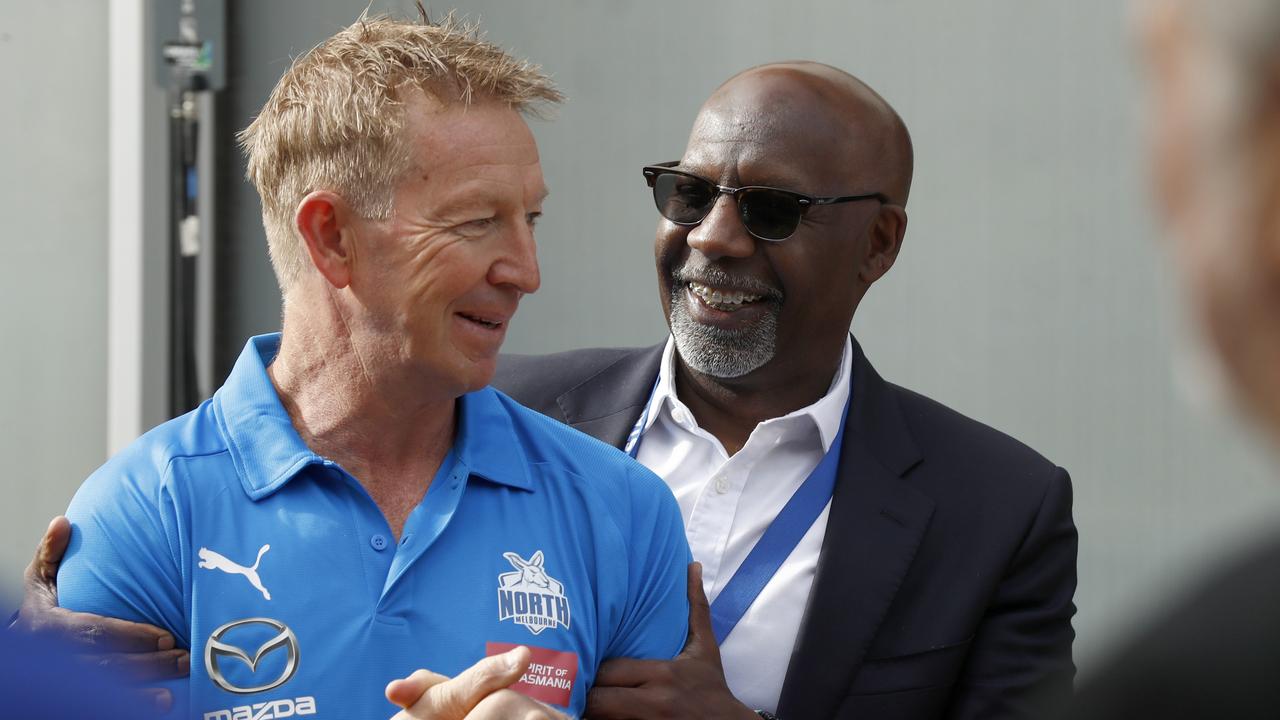 David Noble and Ben Amarfio share a laugh.
President Ben Buckley was replaced two months ago by Dr Sonja Hood, while leadership consultant Paul Roos has pulled back to a part-time role working over Zoom this year.
The entire medical and high performance team was also replaced this season in a move that shocked some observers.
It has meant Noble has taken on a heavy load that sees him keen to have control over many areas of the football program where other coaches across the league are left to the sole job of coaching.
North Melbourne chief executive Ben Amarfio said on 3AW on Tuesday night the club was aware it might take three or four years of pain before it rose up the ladder.
"(David) felt as though he probably went a tad hard and felt like he needed to apologise to the players so he did. In the aftermath of the match he was really feeling it and in his own words he probably thinks he went a tad hard and he apologised," he said.
"We are not overly surprised about the position we are in. We are one year and eight games into a rebuild. Other successful rebuilds, the Lions, Melbourne, Carlton and others, it's typical for clubs to spend three or four years at the bottom of the ladder so we went in knowing we would suffer from pain for three or four years. But what we are trying to fix are these one quarter blowouts where we are having goals kicked against us, it's the area of focus for us at the moment."
Amarfio said he would be involved in a discussion about a priority pick submission but said it was a decision for several months down the track as the club hoped to improve its percentage and win some more games.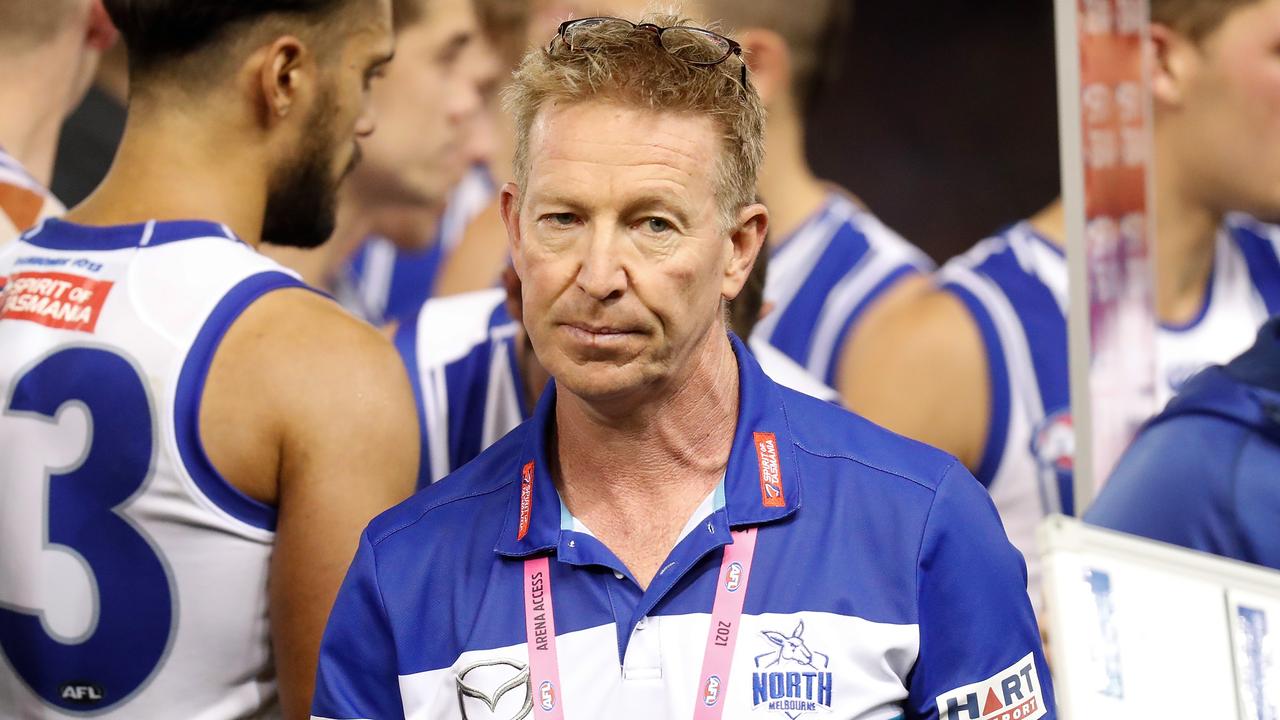 North Melbourne says it's realistic about the rate of its rebuild.
Carlton's Brendon Bolton initially accepted a rolling contract in his initial term at the Blues but as the club traded away Bryce Gibbs and focused on a long-term build he was handed a pay rise and fixed-tenure contract.
Eventually as the Blues' rebuild dragged on interminably and Bolton was unable to make on-field gains he was replaced by caretaker David Teague, who then won the full-time job.
ROOS' PRIZED PICK PUTS CONTRACT TALKS ON HOLD
Number one overall pick Jason Horne-Francis has put contract talks on hold until season's end despite his encouraging progress in his debut season.
Horne-Francis is in no hurry to sign a new deal after crossing from Adelaide last year but has another year in his two-season deal and is thriving at the club.
Many of the players taken in the previous draft are yet to re-sign so the lack of a signature so far is no cause for concern.
Stream every match of every round of the 2022 Toyota AFL Premiership Season Live & Ad-Break Free In-Play on Kayo. New to Kayo? Try 14-Days Free Now >
If he was in a similar position next year the Roos would be worried about rival suitors.
But while Horne-Francis is a born competitor who is filthy with the club's lack of wins so far he is enjoying his time at the club.
The Roos had believed they were making strong progress on a new deal earlier in the season but for now he will not consider his deal until the season is done.
Horne-Francis has enjoyed an excellent season full of brilliant moments but the one-win Roos have been battered from pillar to post on field.
Horne-Francis has kicked 1.3 in his eight games and amassed 149 possessions, with 85 of them contested.
Those close to him are content with his progress and adamant his future lies at the club.
But as the Roos process the public fallout of David Noble's apology to players for his round 3 behaviour they will have to wait on his deal.
North Melbourne ruckman Todd Goldstein is likely to move on from the Roos as an unrestricted free agent with Carlton one of his suitors.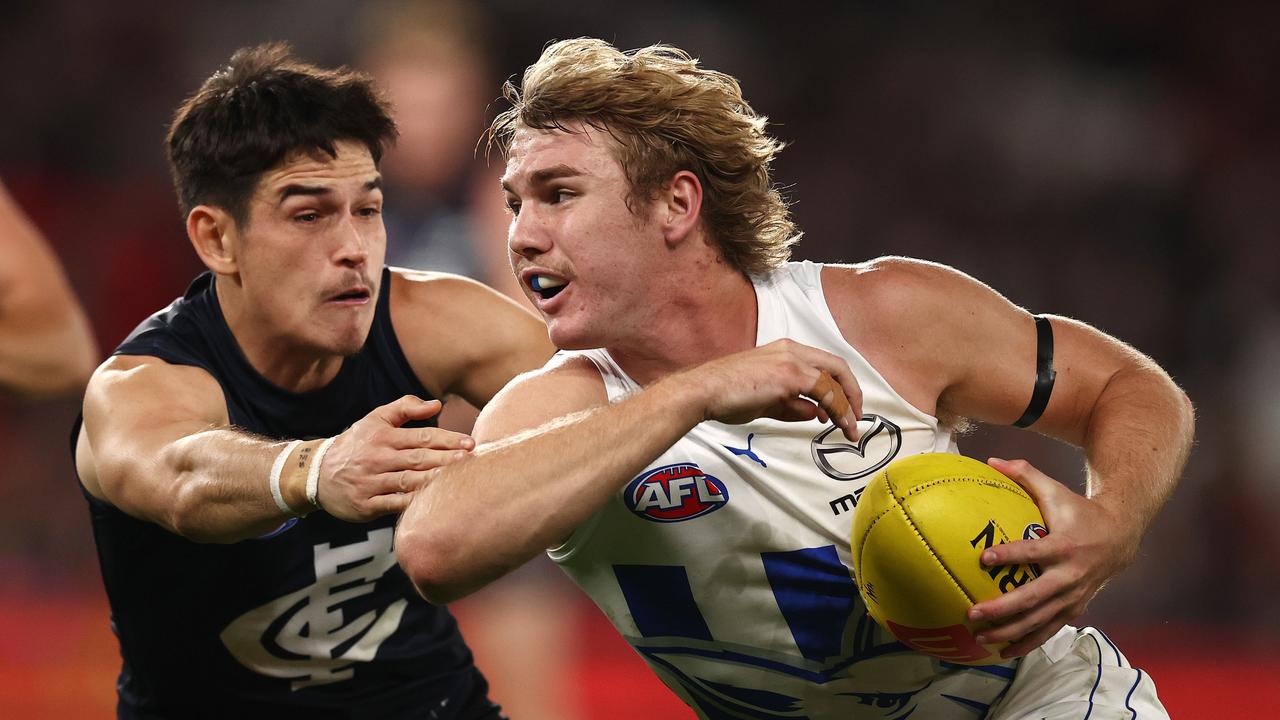 Jason Horne-Francis has put contract talks in hold.
ROOS SKIPPER BACKS COACH'S BLAST
Chris Cavanagh
North Melbourne captain Jack Ziebell has leapt to the defence of his under-siege coach, declaring a spray that was handed out by David Noble after a hefty Round 3 loss was "well warranted".
Ziebell said he was "bemused" that the spray following the Kangaroos' 108-point loss to Brisbane had become a major talking point in public after the Herald Sun and Fox Footy's On the Couch exclusively revealed that Noble apologised to players in the days after handing it out.
Several younger players were visibly shocked by the raw feedback from the coach.
Ziebell, 31, said while he might be a little bit "old school", he had not seen a problem with the spray and did not think that Noble had to apologise for it.
Jack Ziebell says David Noble didn't need to apologise.
"In fairness we'd just lost by over 100 points so the coach gave us a pretty direct message after the game," Ziebell said.
"I think in the coming days he (Noble) might have reflected upon that and thought that maybe it was a little bit too much. But my recollection, to be honest, was he didn't need to do that. His message was fair, it was direct. The performance wasn't up to standard. This season, in 2022, we've got higher expectations of ourselves and the way we want to play and the way we want to carry ourselves and we didn't live up to that on the night.
"I personally don't think he needed to apologise. I think he did what was fair and reasonable after the game on a disappointing night. His actions are something he decided to do and follow up with the group post-that."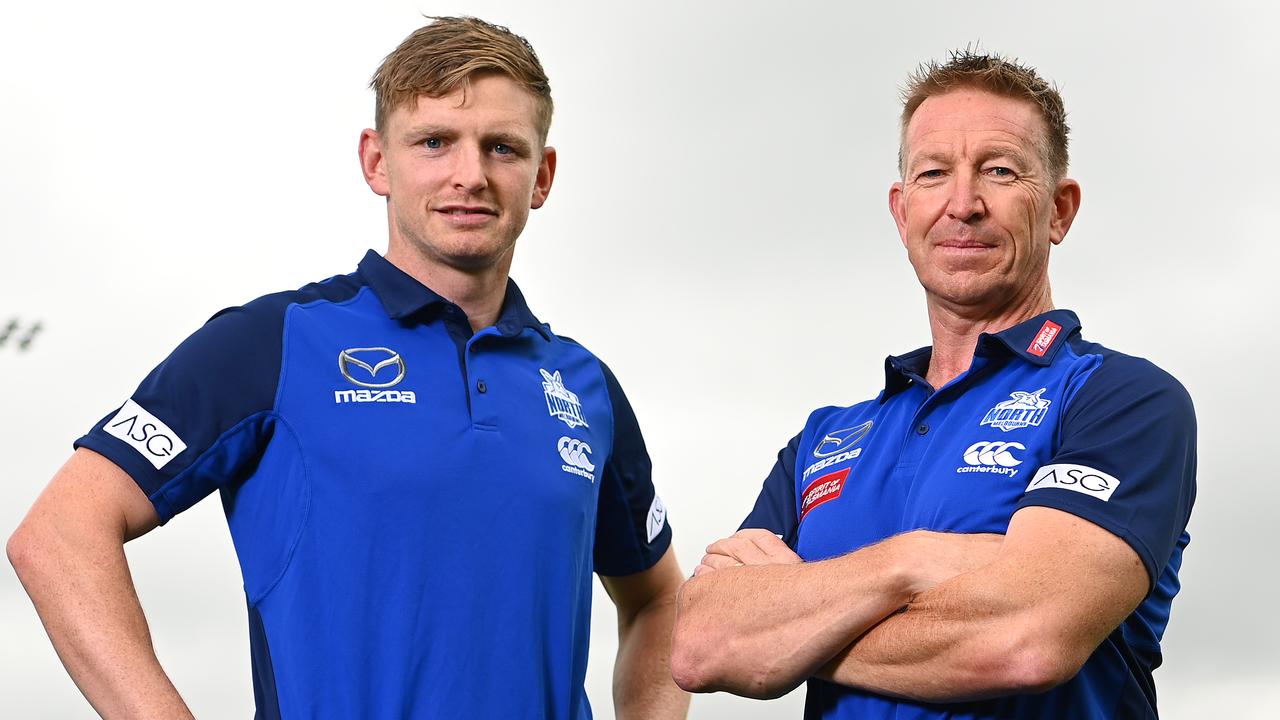 Ziebell says he's confident that North Melbourne's rebuild is on track.
Ziebell dismissed suggestions that the players were concerned about the feedback that Noble generally provides but conceded that the Round 3 spray may have been confronting for some.
"There might have been (some players who found it confronting), potentially," Ziebell said on SEN radio.
"Probably because they haven't been exposed to that as much as we used to be back in the day. But in saying that, I'm sure that if you get beaten by 100 points at any other footy club around Australia, it's probably going to be a pretty similar response from your coach and if it's not that means your coach doesn't care too much, to be honest. For me, Nobes' passion, his drive, his ambition, the way he goes about his business, it just shows you how invested he is in our team and the success of our team."
The Kangaroos sit 17th on the ladder with a 1-7 record this season in Noble's second year in charge.
However, Ziebell said he was confident the club was on the right path and that the game plan "stacks up".
"We're in a bit of a down patch at the moment," Ziebell said.
"But the direction Nobes has, the way he's built that direction, he's got the full support of the players, the club, the coaches – everyone involved here at North Melbourne inside the four walls.
"He's been fantastic for us and we are 100 per cent on the right path – I couldn't agree with that anymore."
ROBBO: IS OLD SCHOOL NOBLE IN WRONG CLASSROOM?
Mark Robinson, Chief Football Writer
So, North Melbourne players didn't like it when David Noble unloaded on them.
Gut feel says harden buttercup, seeing as Noble's team lost by 100-plus points to Brisbane in round 3.
A loss Noble labelled embarrassing.
Clearly there was much more venom in his words behind closed doors.
Maybe it was a smart move to apologise so early in his coaching career.
Maybe he did it to calm troubled waters.
Maybe he did it and then stored in the back of the mind which players didn't like the strong feedback.
Stream every match of every round of the 2022 Toyota AFL Premiership Season Live & Ad-Break Free In-Play on Kayo. New to Kayo? Try 14-Days Free Now >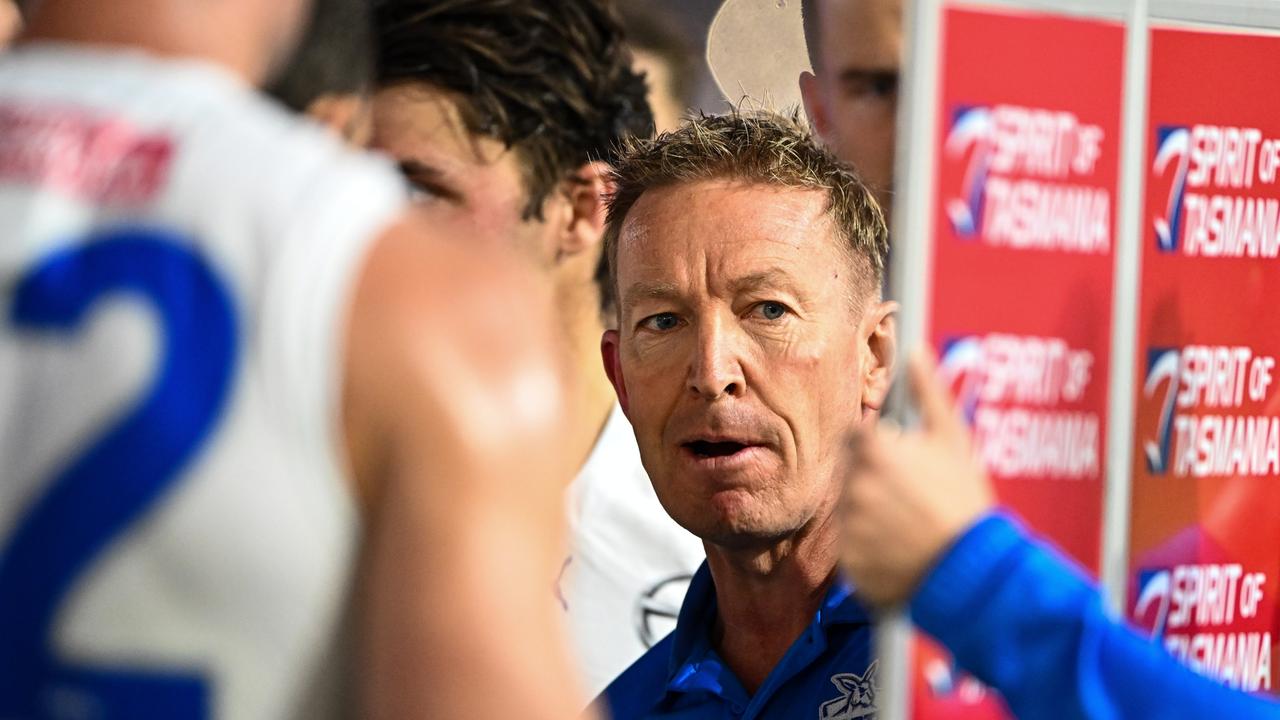 David Noble has apparently dumbed down his game style after it was questioned by the players.
Noble is old-school. He talks old-school. He talks about the contest and intent and application from players and as the club sets about building a list, his mantra has been to instil a competitive edge.
He has said to people that he will drive standards, and that if players can't keep up, then he will leave them behind.
It used to be called tough love. Now, it might be considered workplace bullying. The world has changed.
Most Kangaroos fans would probably support Noble.
The best teams are tough and uncompromising.
Jack Ziebell leads the Kangaroos from the field after being thrashed by Fremantle at Perth Stadium in round 8. North Melbourne sits 1-7 for the season.
At Melbourne, coach Simon Goodwin talks about the contest every week. Without fail.
His team started building towards it under Paul Roos five years ago and, in 2021, it came to fruition.
Put it this way, would North Melbourne players and seemingly some concerned football staff, force Roosy to apologise because of competitive feedback?
It helps when you've won a flag.
Noble, a long-time football coach and administrator, was appointed at the same time North Melbourne embarked on a deep clean-out.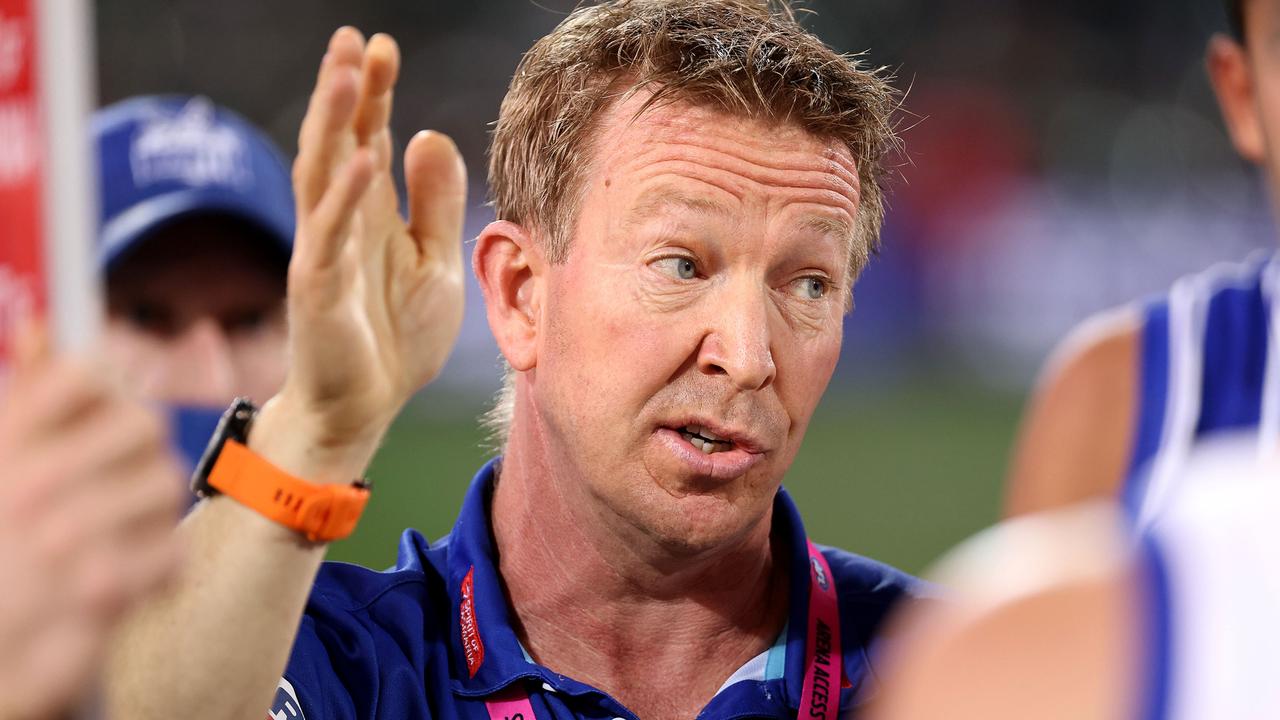 Most Kangaroos fans would probably support Noble's hard line approach.
It was a major re-set after the departures of former coaches Brad Scott and Rhyce Shaw.
Noble straight away tried set standards, which he hopes will hold the players and club in better stead five years from now.
You know, kill a couple to teach a generation.
The nasty words, his tone and body language might not prove to be the biggest issues, although new-age thinking would have you believe kisses and hugs get a better result than finger-pointing and hard conversations.
No, the fear now is the players — and the results cannot be discounted here — have usurped the power of the coach.
Not because of the stinging sprays, but because they questioned his game plan.
Now, Noble has apparently dumbed down his game style.
So, the players don't like hard conversations nor do they like complicated instructions.
Either North Melbourne chose the wrong coach or the players are not capable.
At round 8 into his second season, Noble has a mess in front of him.
Originally published as AFL 2022: North coach David Noble apologised 'off his own bat' for post match spray