AFL 2022: Mark Robinson takes a close look at Lance Franklin's potential Brisbane move
Lance Franklin's 2013 move to Sydney was so much a secret, not even best mate Jordan Lewis knew. Is he about to do something similar? Mark Robinson takes a closer look.
Speculation has always accompanied the amazing career of Lance Franklin.
So, is it any surprise a potential bombshell move to Brisbane — which was revealed on Thursday night — was such a surprise that neither Brisbane or Sydney knew anything about it?
It might prove to be true because we know Franklin can keep a secret.
During 2013, he kept mum for all of the season about his move from Hawthorn to Sydney and then dropped the bomb on the Monday after the Grand Final.
It was so much a secret, not even best mates and Hawks teammates — and wedding party mates — Jordan Lewis and Jarryd Roughead knew of the sensational defection north.
There's an art form to what Franklin does.
Yes, he has an unbelievable ability to play Australian rules but next is his uncanny ability to swat away questions about his future.
He ums and ahs and mumbles about his manager taking care of business, as he did to Matthew Pavlich in July during a post-match interview, and then he ends the interview with the flash of the pearly whites and jogs off, leaving no one the wiser.
It's Secret Buddy Business.
Watch every blockbuster AFL match this weekend Live & Ad-Break Free In-Play on Kayo. New to Kayo? Start your free trial now >
Lance Franklin, right, at Sydney training on Friday. Picture: Phil Hillyard
The report on Thursday by Channel 9's Michael Atkinson in Brisbane certainly shifted the dial in footy circles.
Atkins said Franklin had told the Swans he wanted out and that Brisbane had been in talks with Franklin.
The Swans and Lions denied both those stories.
Lions chief executive Greg Swann was out for dinner on Thursday night and had his phone on silent.
When he checked it, there was a decent level of activity, and people weren't asking how the duck was.
He said it was the first time he had heard about the story and that he had not spoken to Franklin or Franklin's manager.
The Lions believe the story, although aired in Brisbane, emanated from Sydney.
Lions coach Chris Fagan, who was at Hawthorn with Franklin, said he last contacted Franklin when Franklin kicked his 1000th goal, but didn't totally discount Franklin playing for the Lions next year.
"I would have thought if they (the Franklins) are moving to Queensland, that that's perhaps an indication that Bud's going to retire from AFL football," Fagan said.
"If it came to pass down the track that they do move here, and. someone reaches out from his camp and suggests that he still wants to play, then we would be remiss as a footy club not to go and have a conversation with him.''
He added: "I don't know what will play out in the future but the way I see it right now is if he is moving to Queensland to live, I would suggest that he's going to retire."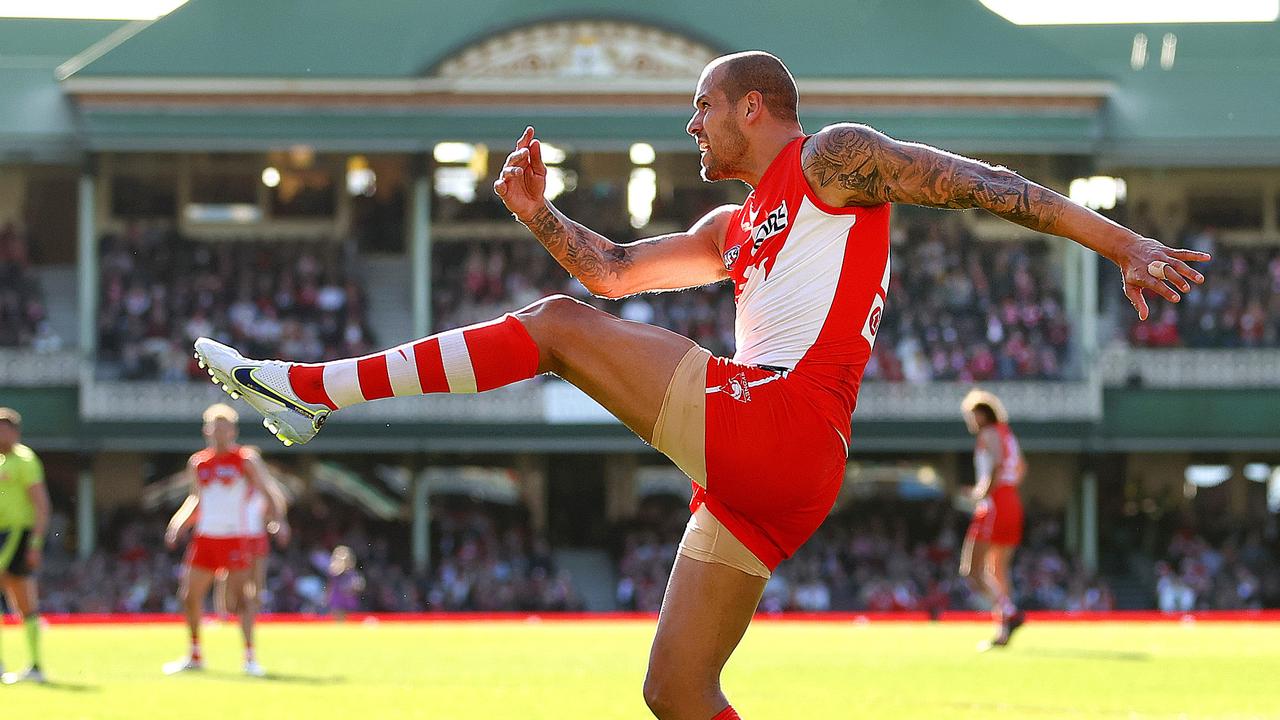 Franklin in action against the Giants in Round 20. Picture: Phil Hillyard
The fact Franklin is prepared to move to a third club is not a surprise.
In contract talks with the Swans, News Corp revealed last month that Franklin would seek a move or even retire if the Swans did not improve its current contract offer.
The issue is about money — as it always is.
Simply, Buddy wants a couple hundred thousand dollars more than what the Swans are willing to play.
News Corp has since been told by someone familiar with the talks that the Swans had moved north on their original offer, but that the two parties were still apart.
If there's a surprise, it's that Brisbane has been revealed as potentially Franklin's next destination.
The Lions already have two rangy key forwards in Joe Daniher and Eric Hipwood, and perhaps the Lions might ponder Franklin replacing Daniel McStay, who is reportedly on his way to Collingwood on a five-year, $3m deal.
A Franklin-Daniher-Hipwood combination would present as a swashbuckling forward group, but their ability to defend would be under question.
Certainly, the other three forwards would be working their butts off to keep the ball inside 50m.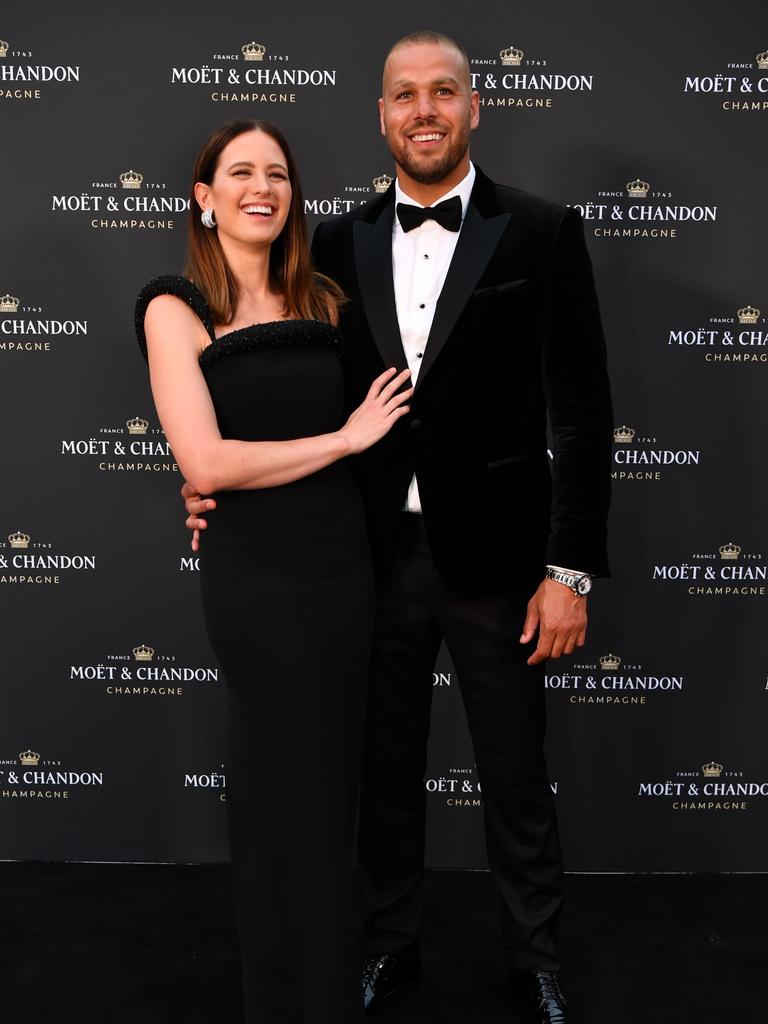 Franklin and wife Jesinta Franklin their Sydney home. Picture: Wendell Teodoro/Getty Images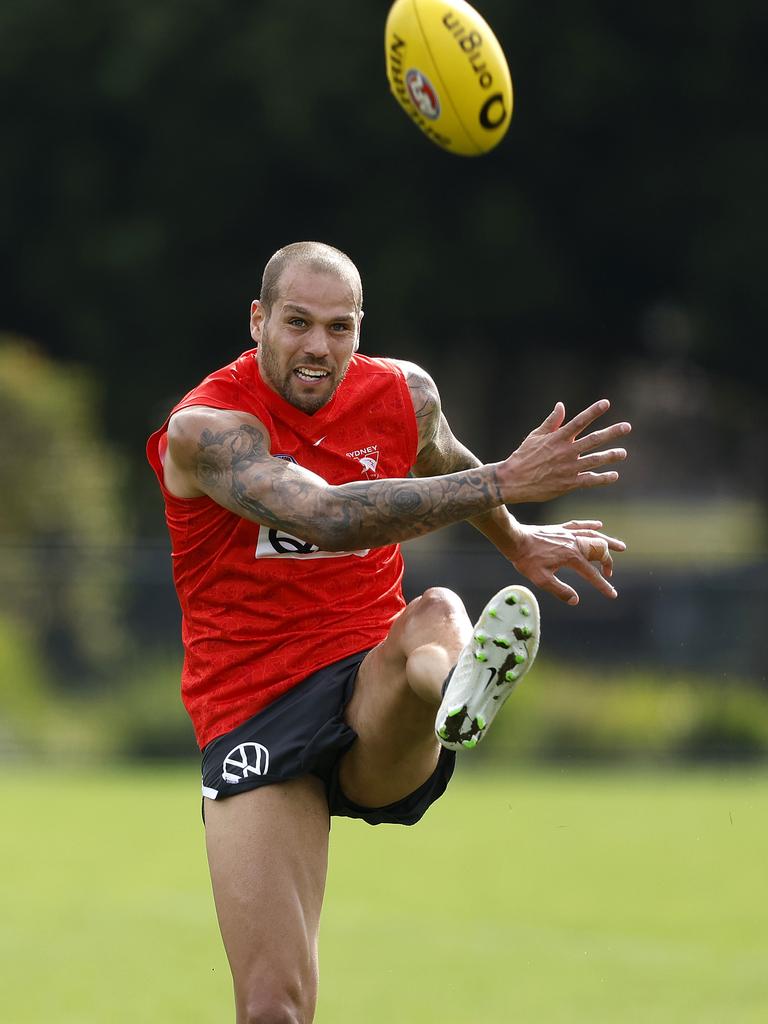 So, where will Buddy end up? Picture: Phil Hillyard
So, where does it sit?
There's been plenty of people joining the dots in recent weeks, not least being the continual speculation about Franklin and his wife Jesinta selling their million-dollar digs in Sydney.
And that Jesinta's parents live on the Gold Coast and she'd like to be near them.
All the while Franklin hasn't signed a new contract with Sydney and it's round 21 this weekend. That's bizarre in itself.
What we can say confidently is that Franklin has not made up his mind about whether to sign with the Swans on a lesser contract, move to a third club or retire.
The Swans play North Melbourne on Sunday and it will give Fox Footy a second crack at trying to get some clarity from Franklin in the post-match.
He'll probably mumble something about it all being speculation and that he's just trying to play footy and then he will jog off with a smile on his face.
And with his secrets well secured.
Originally published as AFL 2022: Mark Robinson takes a close look at Lance Franklin's potential Brisbane move