AFL 2022: All the news scores and reaction out of the Melbourne v Collingwood Queen's Birthday blockbuster
Collingwood is in the eight on a winning streak after the Darcy Cameron and Mason Cox combo dismantled Melbourne. And they have superstar Brodie Grundy to come back.
Melbourne's week from hell just got even worse.
The reigning premier arrived for its annual Queen's Birthday clash with Collingwood having suffered back-to-back defeats and with one controversy after another engulfing the club.
But of greatest concern for Demons coach Simon Goodwin is his out-of-sorts side, which lost a third-straight match after winning the previous 17 – a streak that seems a mile in the rear-view mirror.
The Magpies deservedly snatched the lead for good when Brody Mihocek fired through his third goal for the afternoon from near-enough-to 50m out and they pulled away to win by 26 points.
Watch every blockbuster AFL match this weekend Live & Ad-Break Free In-Play on Kayo. New to Kayo? Try 14-Days Free Now >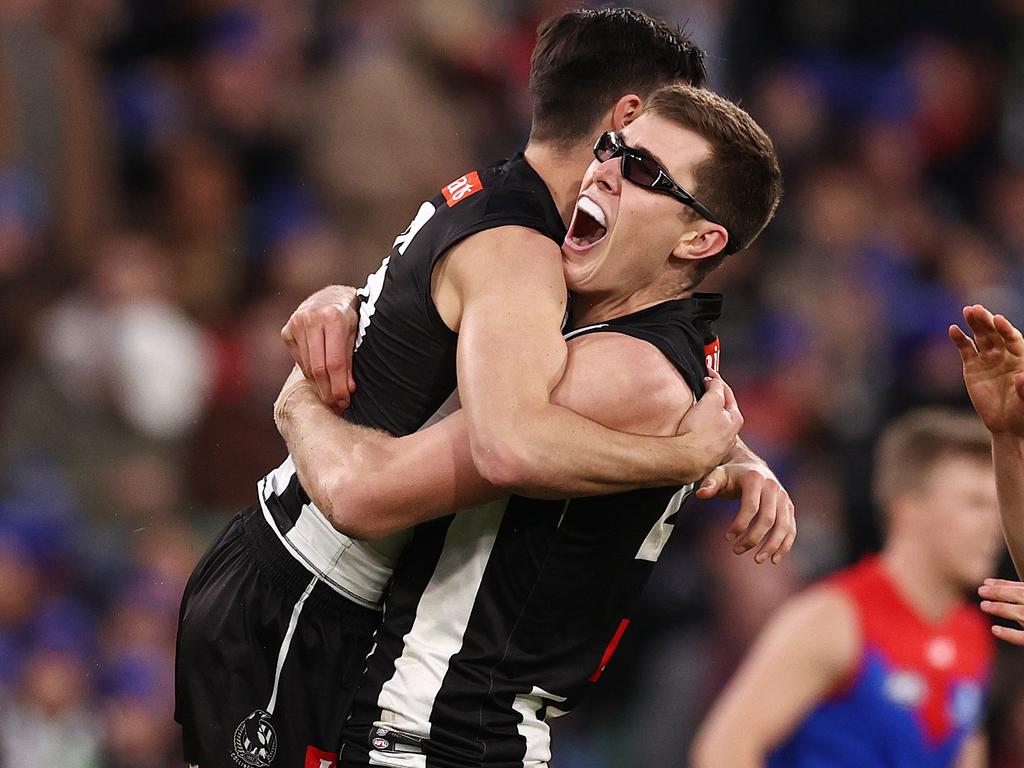 Mason Cox roars during his Queen's Birthday stunner. Picture: Michael Klein
They enter the mid-season bye in eighth spot with eight wins from 13 rounds, a record not even the most ardent Magpies fan would have dared to dream of mere months ago.
McRae believes the "freshness" that has gone through the club since he replaced Nathan Buckley is a major factor in how quickly it has climbed the ladder after finishing second from bottom last season.
"We don't really talk about winning too often," McRae said.
"I talk about winning habits, but we don't talk about winning too often. We just talk about our processes that (make us) who we are.
"We're seeing that our best can be really competitive, but we're growing as well, week-to-week, so that'll be the message.
"I can just see our players believing – they're growing and believing in what we're doing. Belief can be really powerful, which can be a motivator."
The Pies frittered away a series of chances early in the match and probably should have led earlier, with only some inspired Melbourne play out of the centre in the second term delaying that.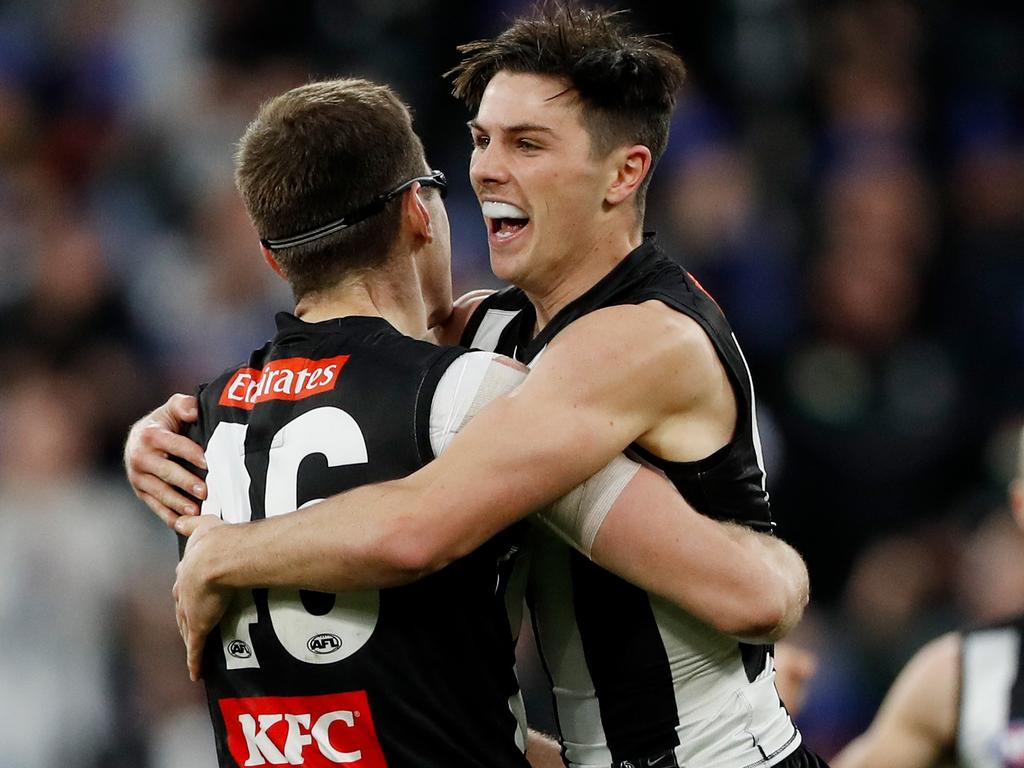 Mason Cox and Ollie Henry celebrate for the Pies. Picture: AFL Photos/Getty Images
Collingwood has now taken down Fremantle, Carlton, Hawthorn and the Demons in a season-defining four-match span to muscle its way back inside the top eight.
Steven May's boozy street bout with Jake Melksham cost him a one-match ban – and a second-straight match out after missing last week with concussion – and Melbourne predictably missed him greatly.
The Pies hauled in 12 marks inside 50, with Mihocek taking half of them, to go with his match-high four goals in a brilliant performance.
May's absence was felt even more when debutant Daniel Turner (concussion) exited the contest in the third term, while Harry Petty left the ground in the same quarter after landing heavily.
Mason Cox ended the day with a career-high 21 disposals, eight marks and six score involvements in one of his best games for a long time.
McRae's infectious positivity has breathed life into Cox's previously flagging AFL career.
Cox's revival alongside Darcy Cameron, with Brodie Grundy still at least a month from returning from a serious knee setback, may even create some selection headaches in the future.
"I must admit I'm really proud of (Cox). I told him how proud I am of him," McRae said.
"It's no secret we go a long way back and … he's got a lot of doubters, Mason, doesn't he? He shows he can play at the level when he's confident and at his best."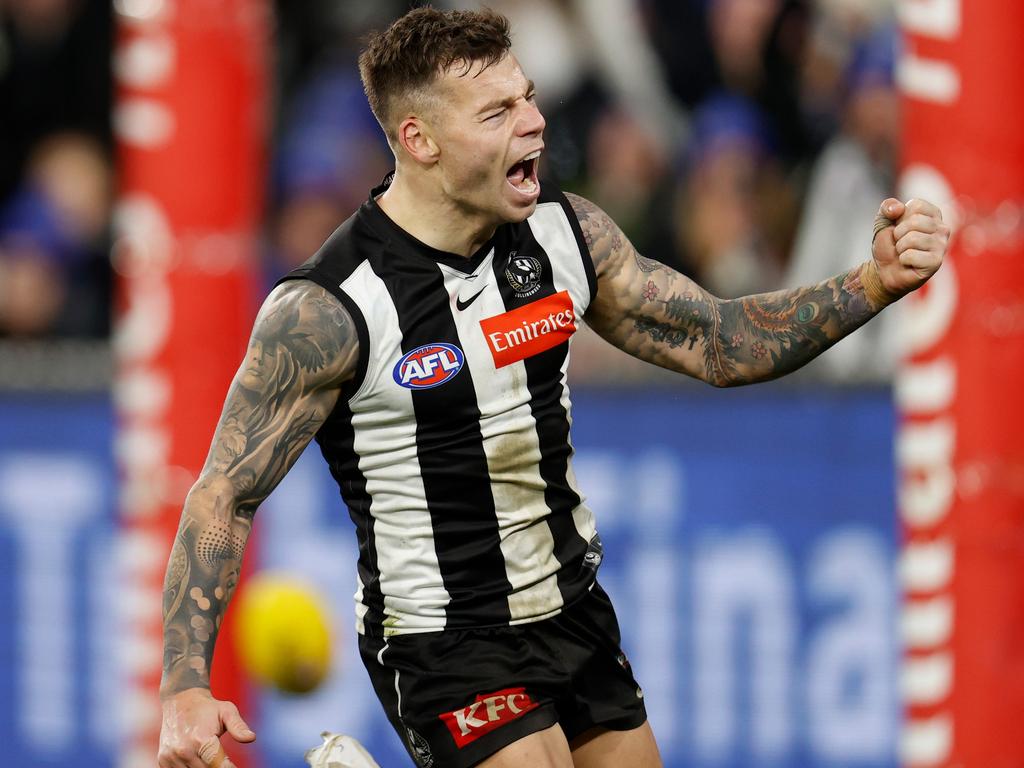 Jamie Elliott gets up and about with the crowd after booting a goal. Picture: AFL Photos/Getty Images
A sore Max Gawn soldiered on despite being visibly hampered for much of the day in another blow to the Demons' hopes.
But nothing should be taken away from Collingwood, which had a strong contribution from Jack Crisp, while Jordan De Goey and Brayden Maynard were also influential.
Demon Clayton Oliver amassed 43 disposals in his latest midfield masterclass, and Angus Brayshaw stood tall in defence to gobble up 13 intercept possessions to thwart the Pies repeatedly.
Collingwood's cocktail of experience and youth is paying dividends, with McRae proudly declaring Steele Sidebottom set a gym "PB" during the week, while draft hotshot Nick Daicos was spectacular.
Mihocek didn't train all week as he battled bone bruising in one of his knees.
Demons' line in the sand moment
Melbourne's call to suspend premiership defender Steven May was a line in the sand decision that will endure far longer than his time on the sidelines, Demons vice-captain Jack Viney has declared.
The reigning premiers were overrun by Collingwood in an exhilarating Queen's Birthday blockbuster at the MCG and is in urgent need of a "reset" over the bye weekend to get its season back on track after a hattrick of defeats.
May and teammate Jake Melksham were embroiled in a late-night physical altercation last Monday that resulted in the defender being punched by Melksham, who endured two subsequent surgeries last week to treat an infection in his hand.
May, who missed Monday's game as he served a one-match club-imposed suspension for drinking while under concussion protocols, will be available for selection after the bye weekend after what Viney said was one of the toughest incidents he had been forced to deal with as a leader of the club.
But the Demons had to "stand for something" in dishing out the penalty to their teammate.
"It is challenging. Obviously you don't want to lose one of your best players," Viney told the Herald Sun.
"He's critical to the team. But I feel like we had to stand for something, and it was a decision that was not necessarily black and white, but it was a decision that's going to hold us in really good stead going into the future.
"It was unfortunate, but I feel like we dealt with it in the right way, and we're looking forward to getting him back after the bye."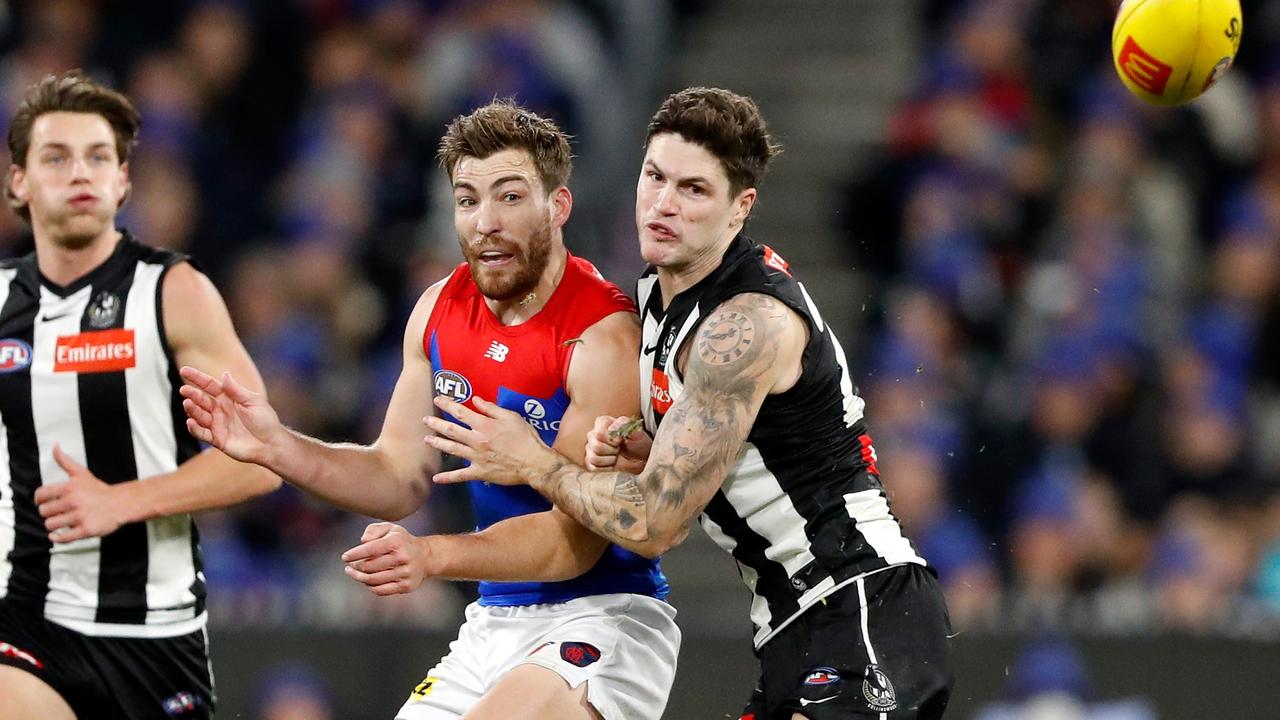 Jack Viney under pressure from Jack Crisp. Picture: Dylan Burns/AFL Photos via Getty Images
Club president Kate Roffey said on Monday that she had not discussed an alcohol ban with May.
The altercation, which was sparked over a steak dinner at one of Melbourne's hottest eateries – Entrecote in Prahran – was the result of an apparent comment from May regarding players who didn't play in the team's drought-breaking 2021 premiership.
It has also prompted discussions surrounding the Demons' culture and the prospect of a "divide" between players with a premiership medal and those without, with former skipper Nathan Jones admitting on the weekend that he would have been offended by such a sledge.
That has been dismissed by club figures who maintain the club does not have a culture problem, while football boss Alan Richardson maintained on Monday that the approach from the club had been to "challenge the behaviour and support the person".
Both May and Melksham addressed the playing group as a whole last week with discussion among the team following afterwards.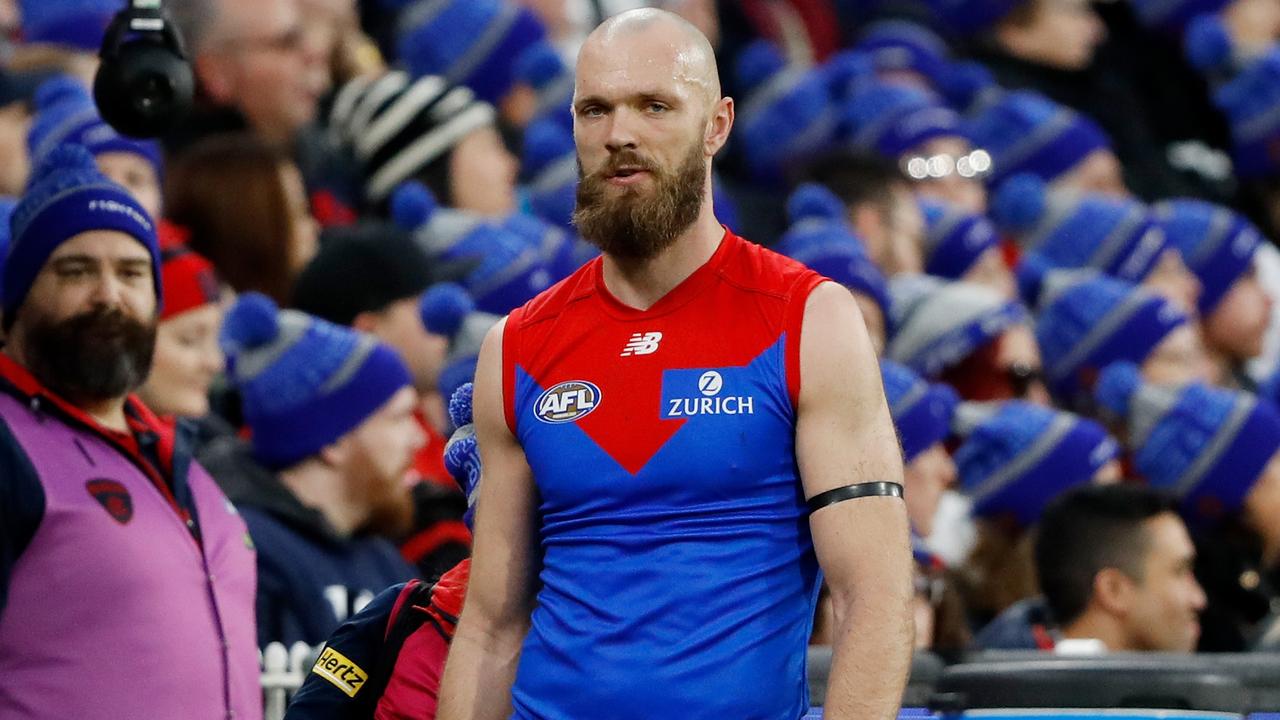 Max Gawn was incensed when he left the ground in the second quarter. Picture: AFL Photos/Getty Images
Viney said both players "are really good" in the wake of the drama.
"It's been a long week, which in some regards it's been a good and a bad thing," he said.
"We would have loved to have just played on Thursday … but having the long week, we were able to address some things earlier on in the week and then focus back on football."
Monday's loss marked the first time since 2019 that the Demons have recorded three consecutive losses.
Viney said a "reset" for their game could not come at a better time.
"In the last few weeks, we have dropped off and we've got a terrific opportunity in the bye to reset ourselves, get away and relax with family and friends," he said.
"There's going to be challenges thrown at us throughout the whole season – we know that. We've been thrown a big one at the moment, which we're putting our heads together – players, coaches, staff.
"We really want to get through the bye and then knuckle down and get back on track and playing our best footy."
Gawn's spray for young Pie as Dees count injury cost
The Melbourne skipper was "barely able to get into a jog" after halftime as he tried to rally the Demons.
He left the field in the second quarter and delivered a spray to the Pies' bench, reportedly directed at polarising young Jack Ginnivan, who he'd clashed with earlier.
He was treated for a rolled ankle just before halftime and was out there for the first bounce of the second half. But he returned to the rooms with club medical staff after just 13 minutes of the third quarter.
At the start of the last, Demons' debutant Daniel Turner was subbed out after failing a concussion test, forcing Gawn to plough on. Former Geelong star Jimmy Bartel said the Melbourne star looked "sore everywhere". Turner clashed heads with Pie Jamie Elliott. Harry Petty was also in the wars after he landed on his back and head after taking a strong grab. He had a concussion test, but made it back on to the field early in the final term.
Mason mania
Anything can happen when Mason Cox is involved.
The American Pie came alive like only he can in the third term, after dropping a pair of gettable marks in the first quarter and missing two set shots in the second.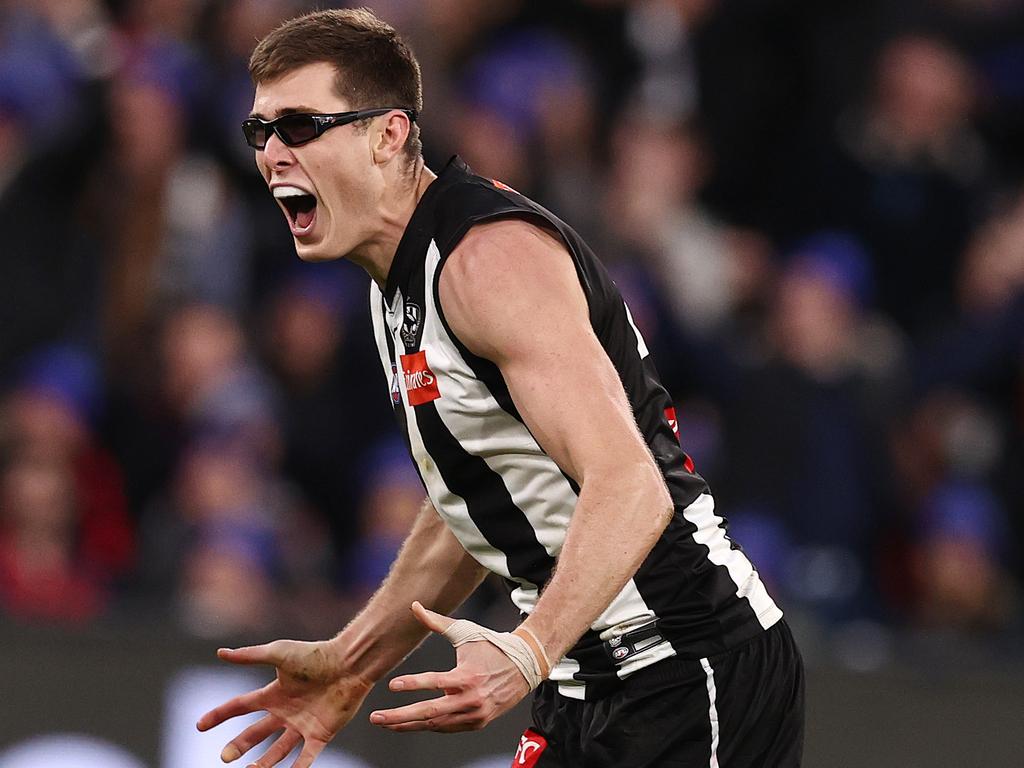 Mason Cox had a blinder for the Pies! Picture: Michael Klein
Cox kickstarted his purple patch with an unlikely goal on the run from barely inside 50 – you read that correctly – before snaffling two defensive-50 intercept marks soon after.
To cap it off, he launched a handball in front of Jamie Elliott, who kicked another Collingwood goal.
Cox ended the day with a career-high 21 disposals, eight marks and six score involvements in one of his best games for a long time.
McRae's infectious positivity has breathed life into Cox's previously flagging AFL career.
Cox's revival alongside Darcy Cameron, with Brodie Grundy still at least a month from returning from a serious knee setback, may even create some selection headaches in the future.
"I must admit I'm really proud of (Cox). I told him how proud I am of him," McRae said.
"It's no secret we go a long way back and … he's got a lot of doubters, Mason, doesn't he? He shows he can play at the level when he's confident and at his best."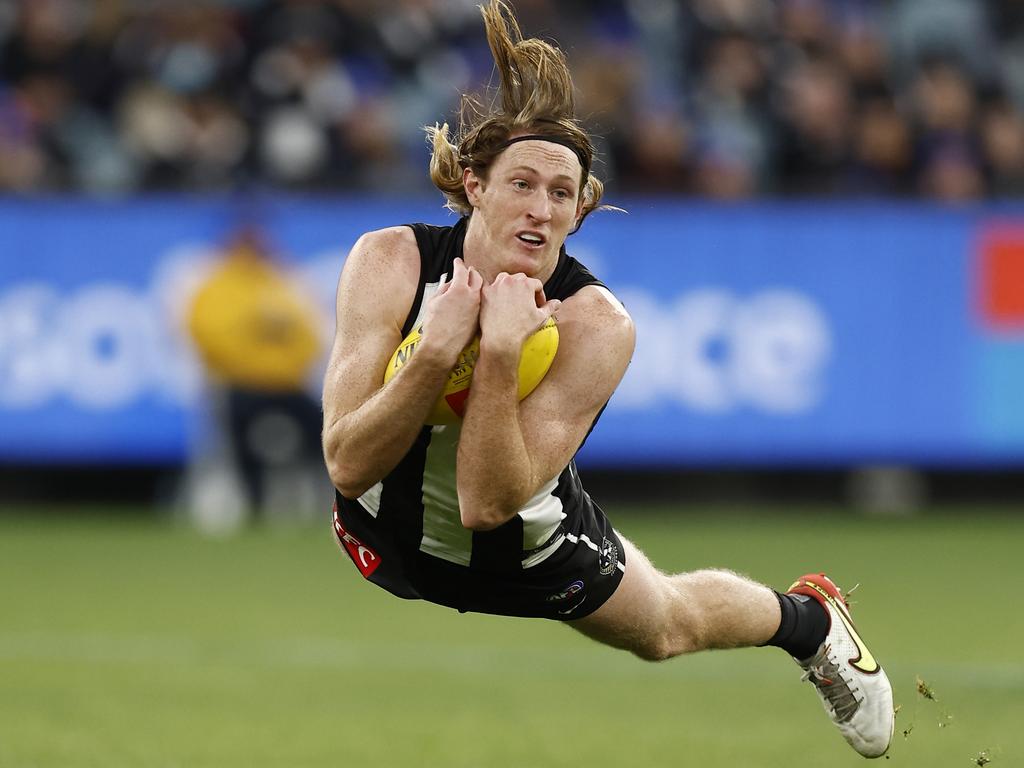 That's not Superman, it's Pie Nathan Murphy. Picture: Getty Images
SCOREBOARD
COLLINGWOOD 0.5, 3.8, 6.10, 12.10 (82)
def
MELBOURNE 3.1, 5.4, 7.6, 8.8 (56)
GOALS
Magpies: Mihocek 4, Elliott 3, Ginnivan, McCreery, Cox, Henry, Crisp
Demons: Brown 2, Fritsch, Jordon, Oliver, Viney, Pickett, Jackson
MARC MCGOWAN'S BEST
Magpies: Mihocek, N.Daicos, Crisp, De Goey, Maynard, Cox, Moore
Demons: Oliver, Brayshaw, Petracca, Viney, Salem, Jordon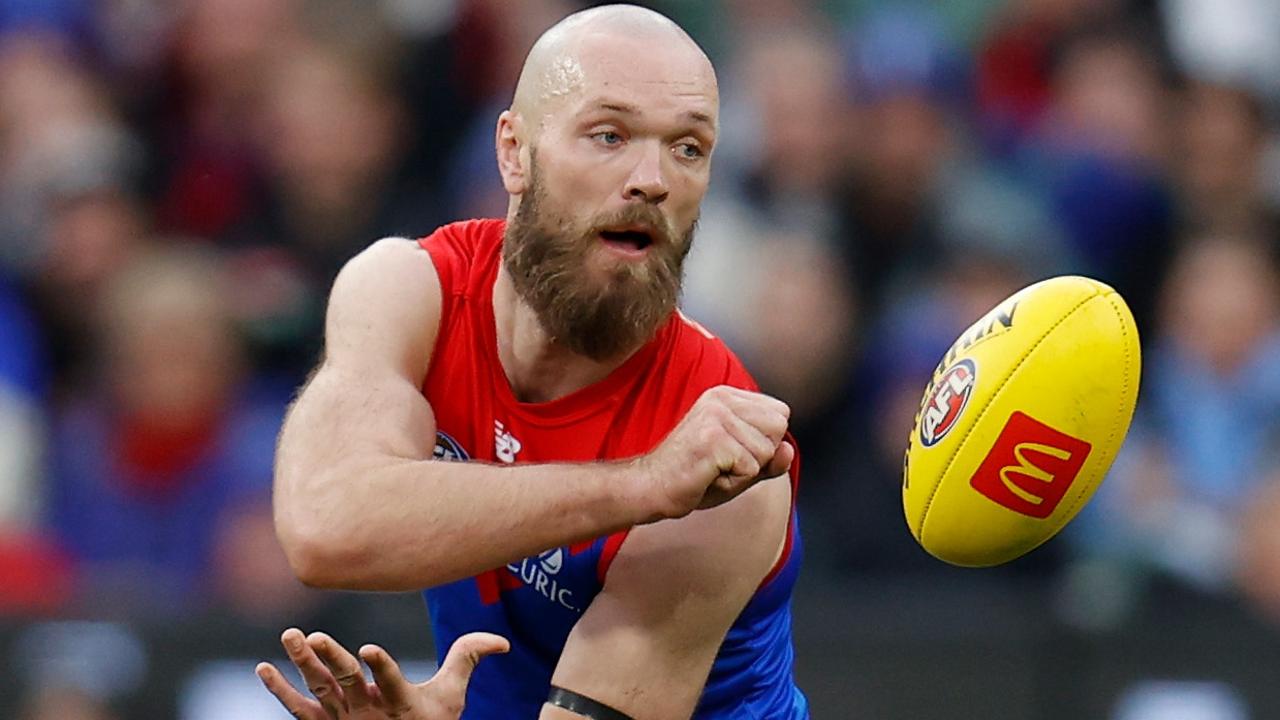 Max Gawn was forced off the ground in the second quarter. Picture: AFL Photos/Getty Images
MARC MCGOWAN'S VOTES
3 — B.Mihocek (Coll)
2 — C.Oliver (Melb)
1 — N.Daicos (Coll)
INJURIES
Magpies: None
Demons: Turner (concussion), Gawn (ankle)
Umpires: Gavine, Whetton, Meredith.
Venue: MCG
Crowd: 76,059
Poor end to 'big week' for Dees: Goodwin
—Marc McGowan
Reigning premier Melbourne plans to "embrace" the challenges surrounding its mid-season rut and a series of off-field distractions that emerged at the least opportune time.
The Demons will lick their wounds over the coming days as they prepare for another extended break before a top-of-the-table clash with Brisbane on Thursday week.
Monday's latest fadeout loss to Collingwood means Melbourne will be trying to end a three-match losing skid against the high-flying Lions at the MCG.
Under-fire defender Steven May will return with plenty to prove from his high-profile club-imposed ban, after also missing most of the previous two games with concussion.
But coach Simon Goodwin was adamant May's alcohol-fuelled incident barely a week ago did not negatively impact his playing group, beyond a key player not being there.
"We look at all those situations as opportunities," Goodwin said.
"It was a big week for our footy club and we would have loved to walk away from here with a victory and changed the week that was, but the case is we didn't.
"We played with heart, we played with spirit and we had a group of players who wanted to do well for their footy club, but our method wasn't quite to the level.
"That's AFL footy."
Demons' debutant Daniel Turner's day ended prematurely after a head knock. Picture: AFL Photos/Getty Images
The Demons lost debutant defender Daniel Turner (concussion) in the third quarter – and won't be available for the Brisbane game – while Harry Petty spent 20 minutes off before passing his own concussion test.
Captain Max Gawn (back/ankle) will also relish the extra time off after battling through Monday's contest.
That decimation of Melbourne's tall timber shone an even brighter light on May's absence, especially with Jake Lever again quiet.
"I think any player that misses the way that Steven's missed would feel a level of responsibility," Goodwin said.
"But that's what our culture is about. We'll address the issues when they come forward and we'll learn from them.
"We'll use them as opportunities, and Steven will learn a lot out of what's gone on in the last week, as will our playing group and our club.
"We will find ways to get better and this is what this week's been about. I don't think Steven playing today would have changed the result."
Why Dees didn't ask for May booze ban
—Lauren Wood
Melbourne president Kate Roffey has backed the club's call not to suspend Jake Melksham in the wake of last Sunday's restaurant punch on teammate Steven May as the club braces for the outcome of an AFL investigation into the incident.
But she said she had not discussed the prospect of an alcohol ban for May as he was sidelined from Monday's Queen's Birthday clash at the MCG.
May was suspended by the club's leadership group for drinking while under concussion protocols, while Melksham will complete community service as penalty for lashing out at his teammate.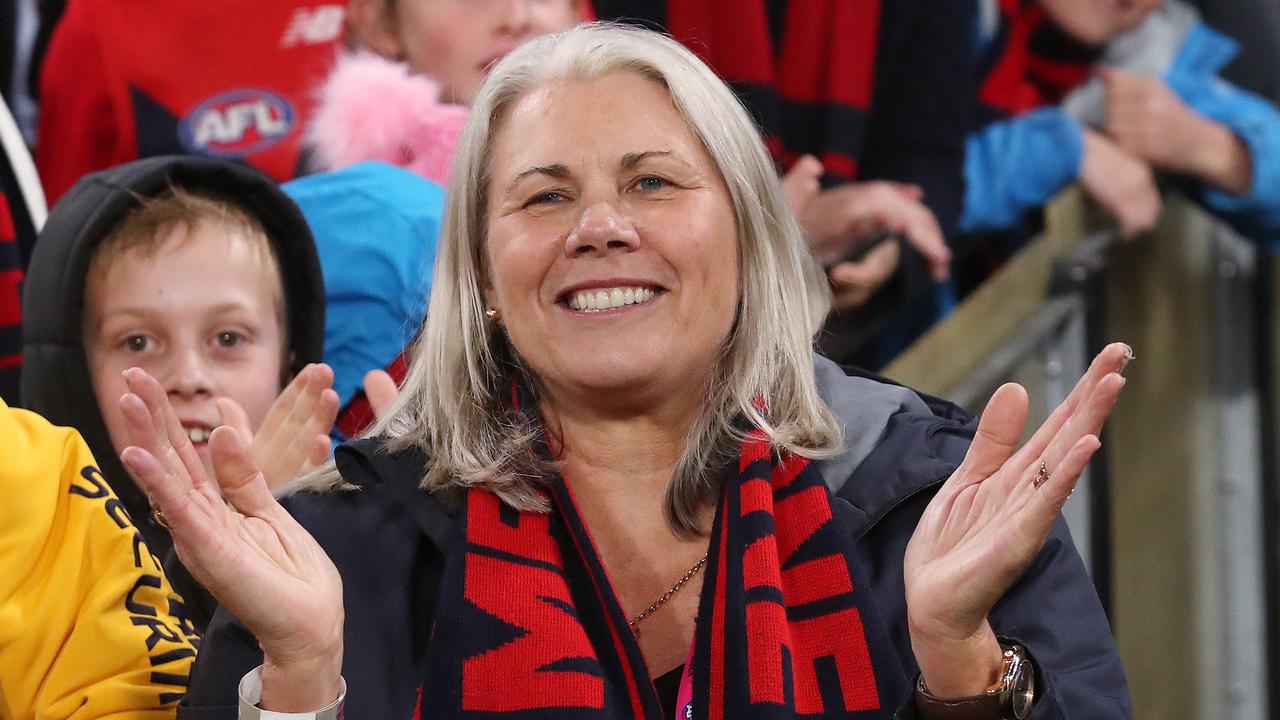 Melbourne president Kate Roffey. Picture: Michael Klein
The AFL integrity unit is combing through the events of last Sunday night at Prahran hotspot eatery Entrecote, and Roffey said she "absolutely supported" the call on penalties handed to the players in question.
She said any outcome of the AFL investigation would be looked at by the Demons if required.
"I'm not going to prejudge whether I would appeal the decision or not. It is a club decision, and I would ask our leadership group, because it is very much their decision," Roffey said on 3AW.
"They are responsible on the field for looking after the culture of the players, and I trust them to do that.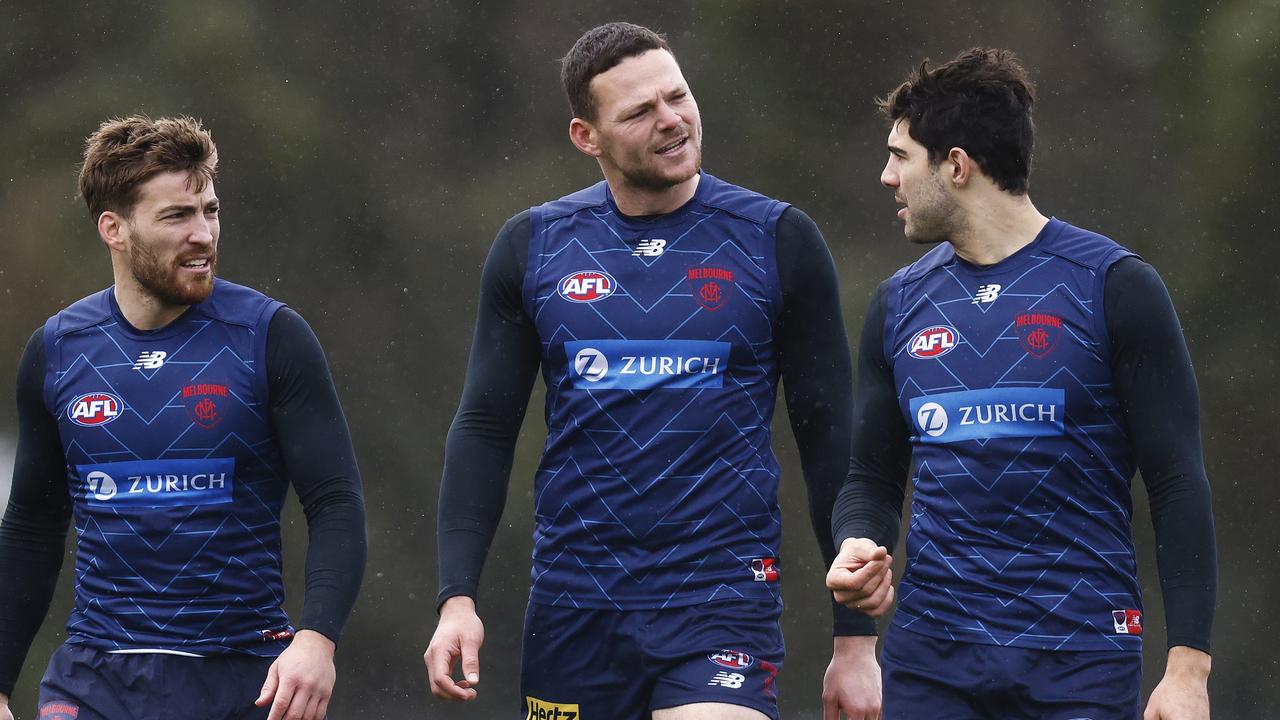 Steven May (centre) at Melbourne training with Jack Viney (left) and Christian Petracca. Picture: Daniel Pockett/Getty Images
"If the AFL come in and put some other penalty in place, then we'll have a look at that if and when it arises. We don't believe that there's anything (new) that we've given the AFL – there's nothing new that's going to come to light, we don't believe, but we will welcome their investigation and just wait and see what that turns up.
"We fully support that the leadership group have made those decisions by themselves."
She said May had been "embarrassed" and been dealt the most harsh penalty by not playing on Monday, but said putting a stop to drinking had not been raised.
"Maysy's a person and they're young people who don't have 30 or 40 years of experience like I do, sitting around boardrooms or in CEO roles and being inundated with all sorts of things flying at you," Roffey said.
"Our job now is to support them every single way that we can to be the best people they can be. I'm not going to sit here and comment on anything that goes on in their personal lives – that's for them to disclose to me or anyone else if they want to and it's not for further discussion than that."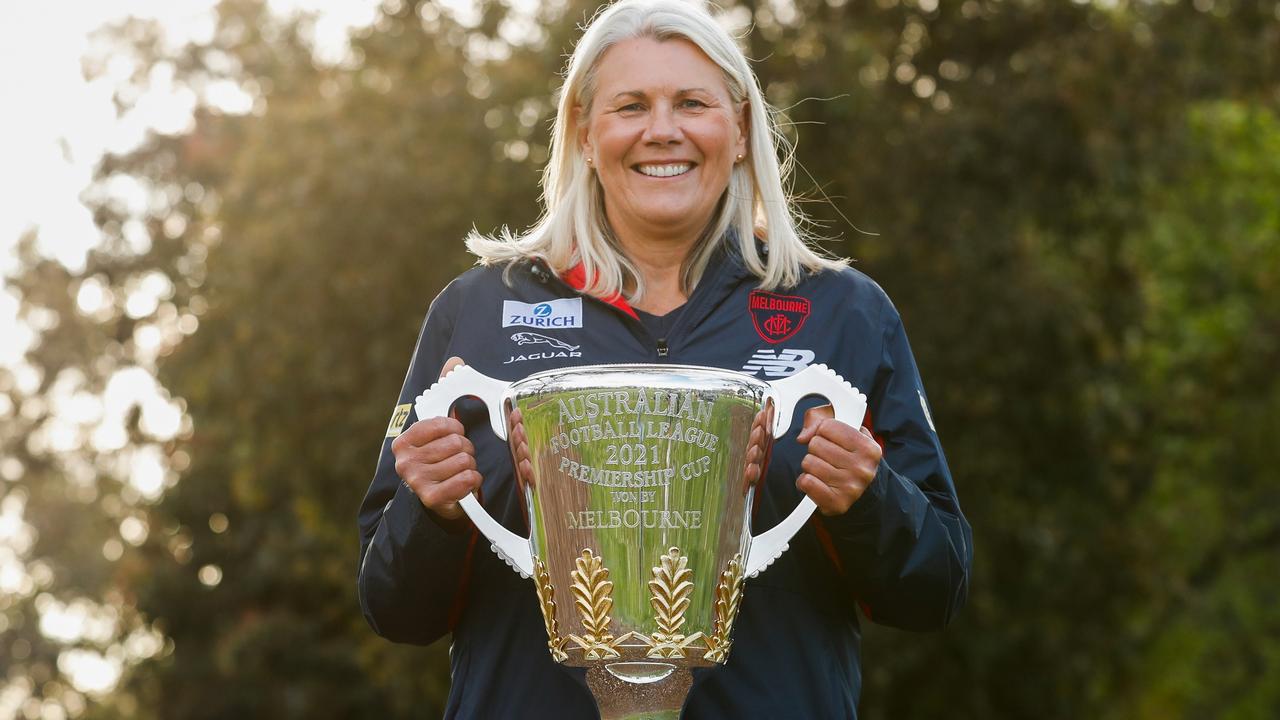 Melbourne president Kate Roffey with the 2021 premiership cup. Picture: Michael Willson/AFL Photos via Getty Images
The president again threw her support behind coach Simon Goodwin and said she was adamant "there isn't a behavioural issue with Simon", and backed chief executive Gary Pert.
The Herald Sun reported last week that Pert had been the focus of concerns from league headquarters.
"I fully, fully support Simon Goodwin and I fully, fully support my CEO Gary Pert," Roffey said.
"It is for me and my board to determine how Gary performs as CEO – not anybody else."
Roffey maintained she was not "embarrassed" by her text messages to former president Glen Bartlett being exposed last week, in which she affirmed that a key Demons staffer should be given "the boot".
She said she had addressed the matter directly with people and culture manager Jim Plunkett this week.
"We've discussed these things internally, and that's all we're going to say about it," she said.
"They're internal things and we're not going to comment on things that keep appearing from two years ago."
Roffey said she had adopted a mantra to "dance like no one's watching, and text like the whole world is."
Originally published as AFL 2022: All the news scores and reaction out of the Melbourne v Collingwood Queen's Birthday blockbuster