AFL 2022 Richmond v Melbourne: All the news, scores and reaction from the round 6 clash
The heat is on Richmond and veteran Shane Edwards after another poor outing against Melbourne. Will the Tigers make a ruthless call or back their stalwart?
Richmond coach Damian Hardwick said it was important that the Tigers "pick up the pieces and move on" following their most recent loss which left their season teetering precariously at 2-4.
Richmond veteran Shane Edwards had another quiet night against the Demons, registering just seven disposals to take his average to 14 a game for the season, but Hardwick said Edwards' struggles were reflective of how the team was travelling.
"The inconsistency of performance is probably related a little bit to the team hurting Shane," he said.
The triple premiership coach said the Demons taught his "gun-shy" side a lesson around the contest.
"Sometimes we've got an uncanny ability to lose a contest when we have superior numbers," Hardwick said.
The Tigers lost the free kick count again 26-18, and Hardwick said his players needed to improve their tackling technique.
"We gave away too many [sic] head-high stuff, I think inside 50 it was one free kick to us and seven (in our) D50 which takes away the pressure straight away," he said.
"Our technique in those contests is poor, we've certainty got to improve on it and we've got to get better at it because I think you'll probably find the vast majority were probably there, we've just got to make sure we eradicate as many as we can."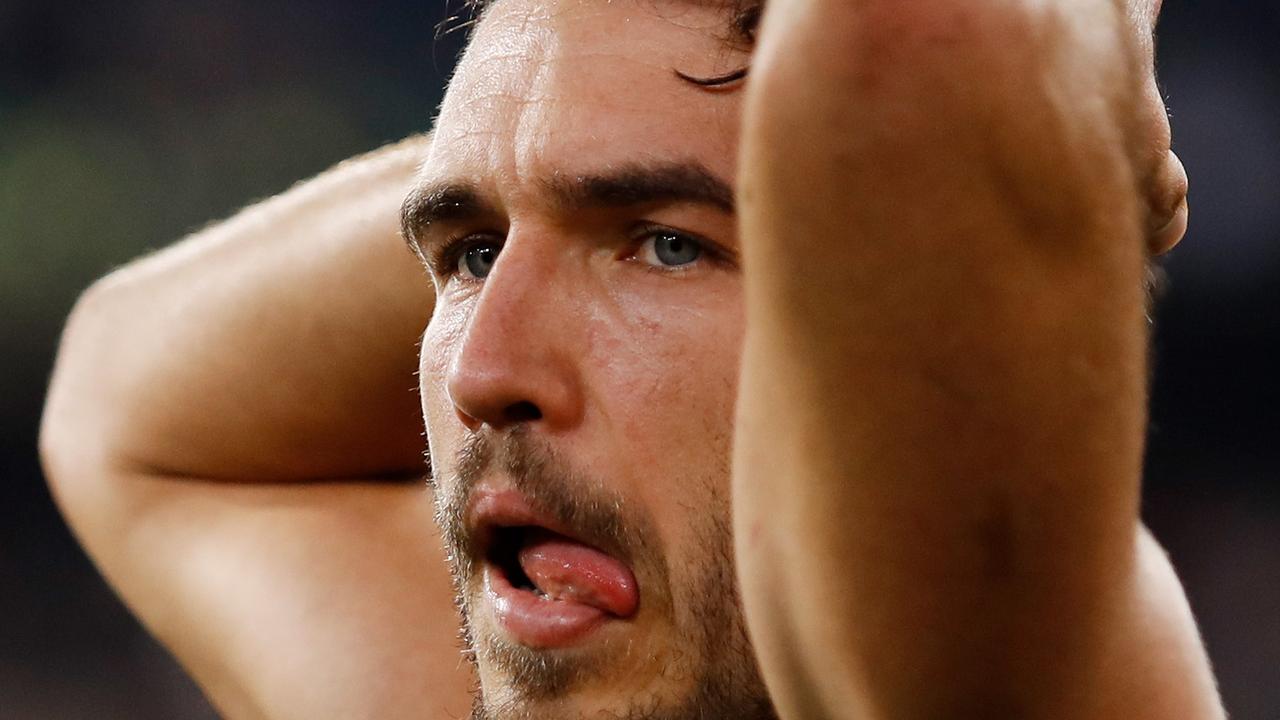 Damien Hardwick says Shane Edwards shouldn't wear the blame for Richmond's issues.
SELECTION DILEMMA: HOW CAN DEES MANAGE FORWARDS?
He played only five games last year and missed Melbourne's drought-breaking premiership triumph, but is Sam Weideman the Demons' best key forward right now?
He is mounting his case after an eye-catching performance in Melbourne's win over Richmond in front of 70,000 at the MCG in the Anzac Eve blockbuster.
On a night when the Demons couldn't kick straight to save themselves – booting a woeful 9.22 – Weideman led the way and stood out with an unblemished 3.0 to help set up the club's 13th consecutive win.
Weideman was the forgotten man for Melbourne in 2021, but his stocks have risen dramatically and he's quickly firming as this year's Demons' feel-good story.
Stream every match of every round of the 2022 Toyota AFL Premiership Season Live & Ad-Break Free In-Play on Kayo. New to Kayo? Try 14-Days Free Now >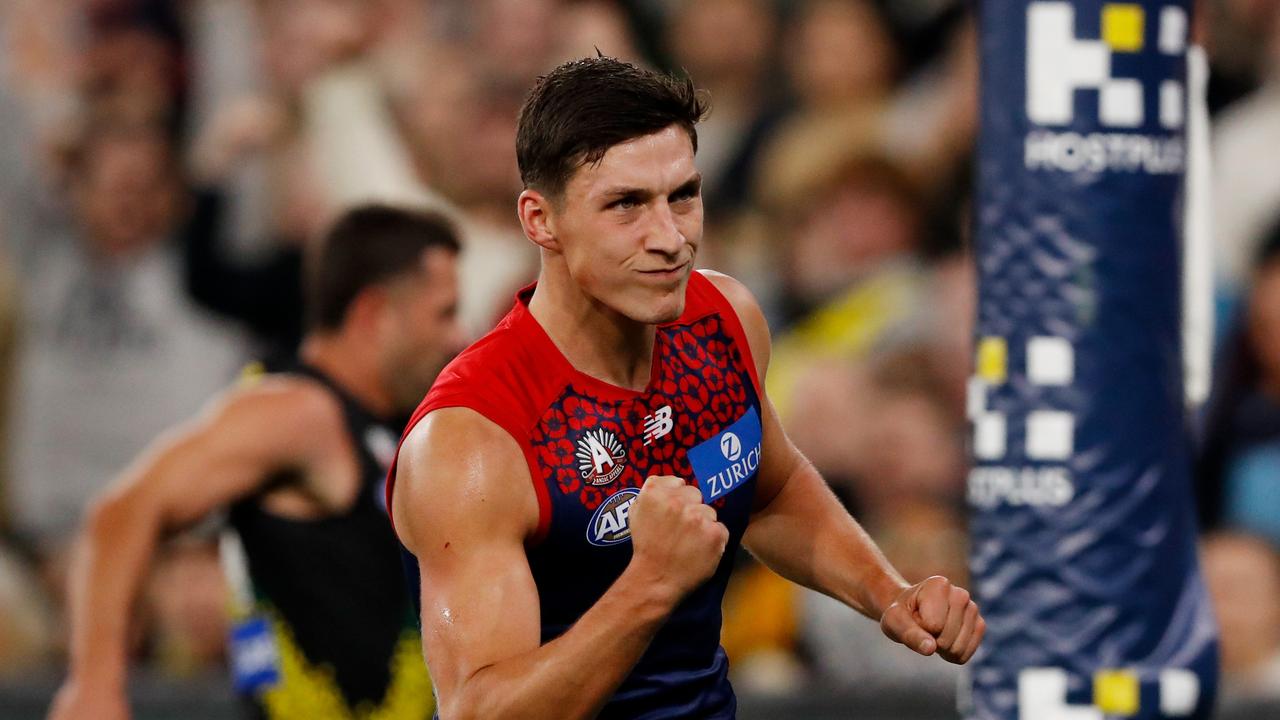 Sam Weideman put in a crucial three-goal performance to seal the win. Picture: Getty
It leaves coach Simon Goodwin with an almighty selection headache as he ponders which two out of Ben Brown, Tom McDonald and Weideman merry-go-round is his best key forward set-up for the remainder of the season.
He said last week he wouldn't play all three in the same side, so he has a big decision on his hands.
Brown and McDonald are premiership players, yet it is Weideman who right now looks like the No. 1 top dog at this early point of the season.
If he continues to maintain the rage, it'll leave Brown and McDonald fighting it out for the other key position forward spot in this unbeaten and all-conquering Melbourne juggernaut.
How quickly the wheel can turn.
Goodwin was full of praise for Weideman after his side's come-from-behind win over the AFL's former benchmark in Richmond on Sunday night.
"He had to work on some things on his game last year, and obviously when you miss out on an opportunity and you've got some things to work on it's up to the individual and to the coaches around him," Goodwin said.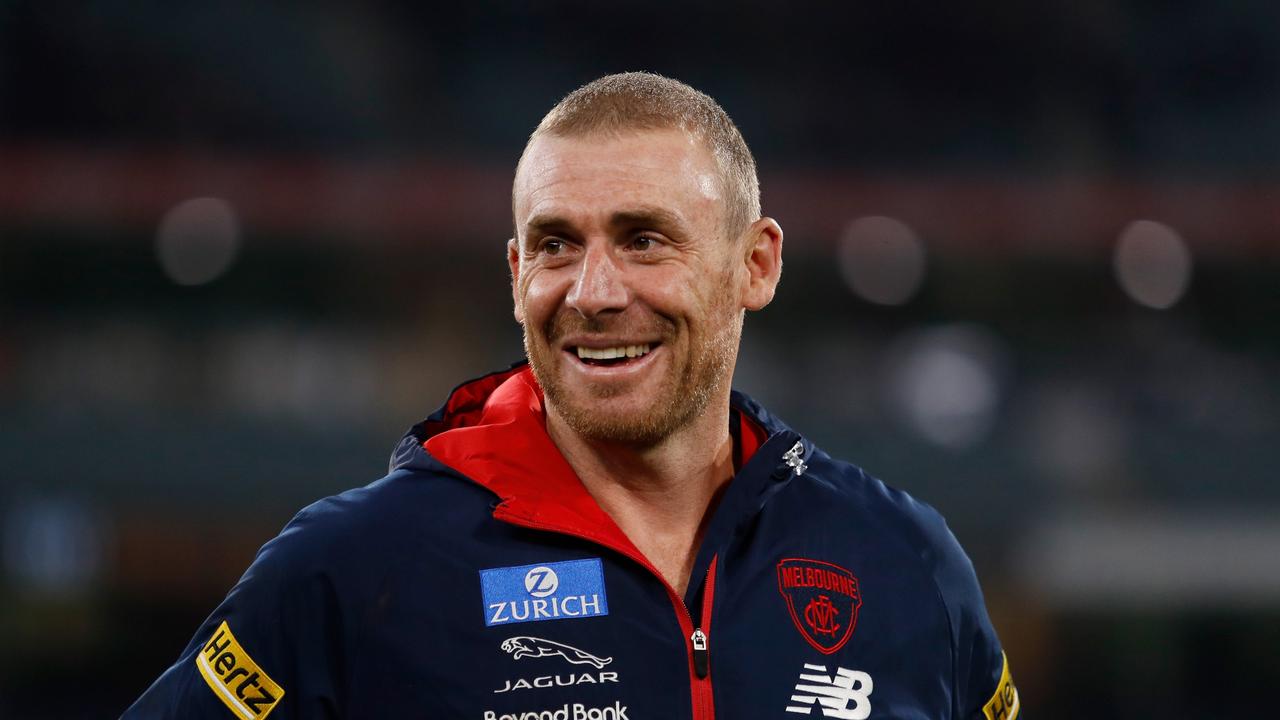 Simon Goodwin has an almighty selection headache looming. Picture: Getty
"And (forwards coach) Greg Stafford has done a great job with him to go away and work on his game.
"Between the two of them, they've worked on a plan, they've been very consistent with it and he's grabbed his opportunity.
"I think he's just reminded everyone of the talent that he's got and his ability to keep impacting games."
Goodwin said he liked that Weideman stepped up at times when the side needed a confidence boost against the Tigers.
"I thought Sam contributed well," he said.
"He kicked his three and I thought he impacted the game when he needed to impact it and I thought the forwards functioned well.
"I thought the boys were able to keep the ball down there for long periods of time and eventually hit the scoreboard.
"Sam's done a great job, he's worked really hard to get his game into great shape and he got his reward.
"He got selected, got his opportunity and he hasn't let it go."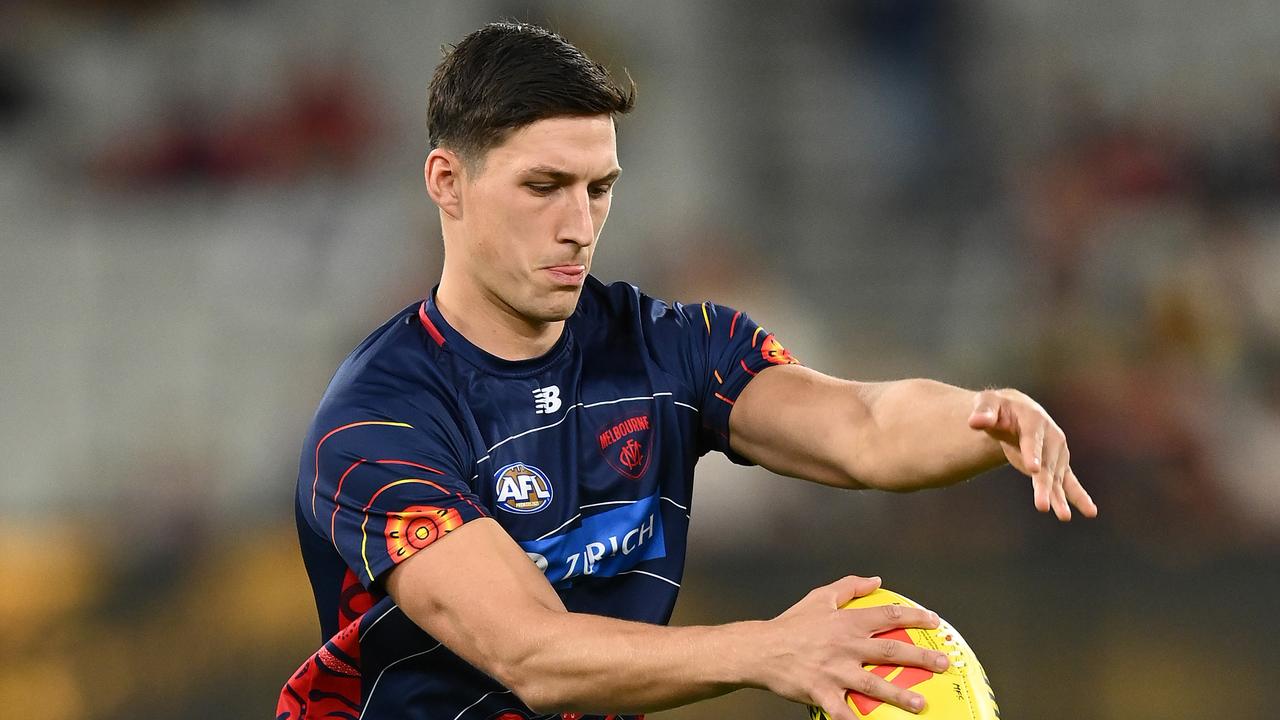 Weideman warms up ahead of the Tigers clash. Picture: Getty
Weideman kickstarted the Demons after halftime, when his side trailed the Tigers and at that stage had booted a woeful 4.16 at that stage.
"When you're 4.16 there's a bit of pressure on the next guy having the shot, and Sam was the guy that stepped up and took it and nailed it," Goodwin said.
"Credit to the work he's done on his game in a whole range of different areas."
Brown hardly set the world on fire against the Tigers with one goal, and he'll have McDonald breathing down his neck in search of a recall.
McDonald was dropped to the VFL this week, but he didn't sulk about it.
Instead, he booted three goals for the Casey Demons to put him well in the frame for a recall.
All of a sudden it is Brown who'll be feeling a tad nervous this week.
Goodwin praised McDonald's attitude to the demotion to the seconds.
"He has some really simple focuses and he's certainly not out of form, he just wasn't quite at his best," he said.
"And I thought today that he started to move a lot closer towards playing his best footy.
"I was actually really proud of the way he went about it.
"He wasn't in denial, he just went about his business, had some simple focuses and played really well."
Over to you, Goody.
INVINCIBLE OLIVER DOWNS TIGERS — AND IT COULD HAVE BEEN WORSE
Melbourne have overcome a nightmarish goalkicking performance to further enhance their standing as the competition pacesetter on Sunday night with a 22-point win over Richmond in their annual Anzac Day eve clash at the MCG in front of 70,334 fans.
After reaching halftime with a lamentable score of 3.12 (30), Melbourne looked like they were going to be made to pay for their shocking inaccuracy as the Tigers kicked four goals in a row to lead by nine points early in the third period.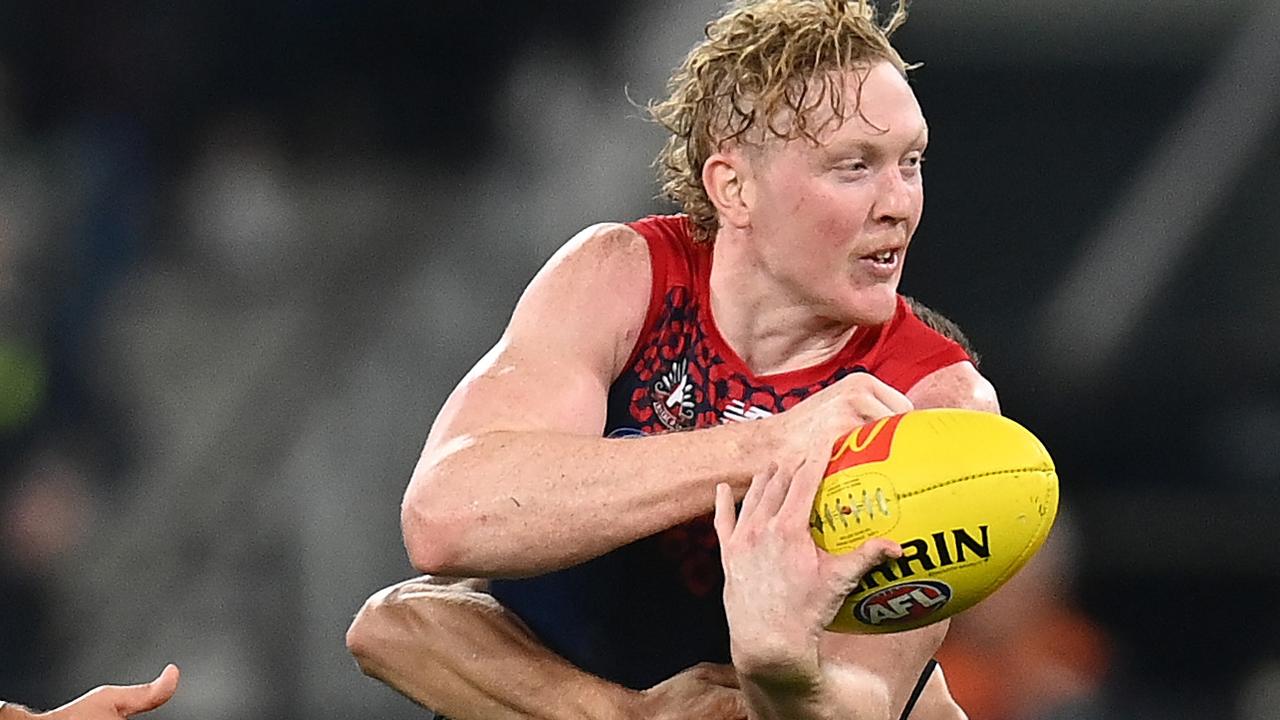 Clayton Oliver finished with 41 disposals (22 contested), 13 clearances and nine inside 50s in a night out for the Demons. Picture: Quinn Rooney/Getty Images
But Melbourne showed why they are the best team in the league. Lesser teams would've capitulated after missing so many shots on goal and wasting large periods of momentum.
Instead, despite slumping to 4.16, Melbourne found yet another gear and hit back even harder, swamping the Tigers with even more pressure and straightening up in front of the sticks to boot five goals in a row and reassert themselves on the contest.
It was a withering burst that Richmond would not recover from as they eventually collapsed under the sheer weight of numbers.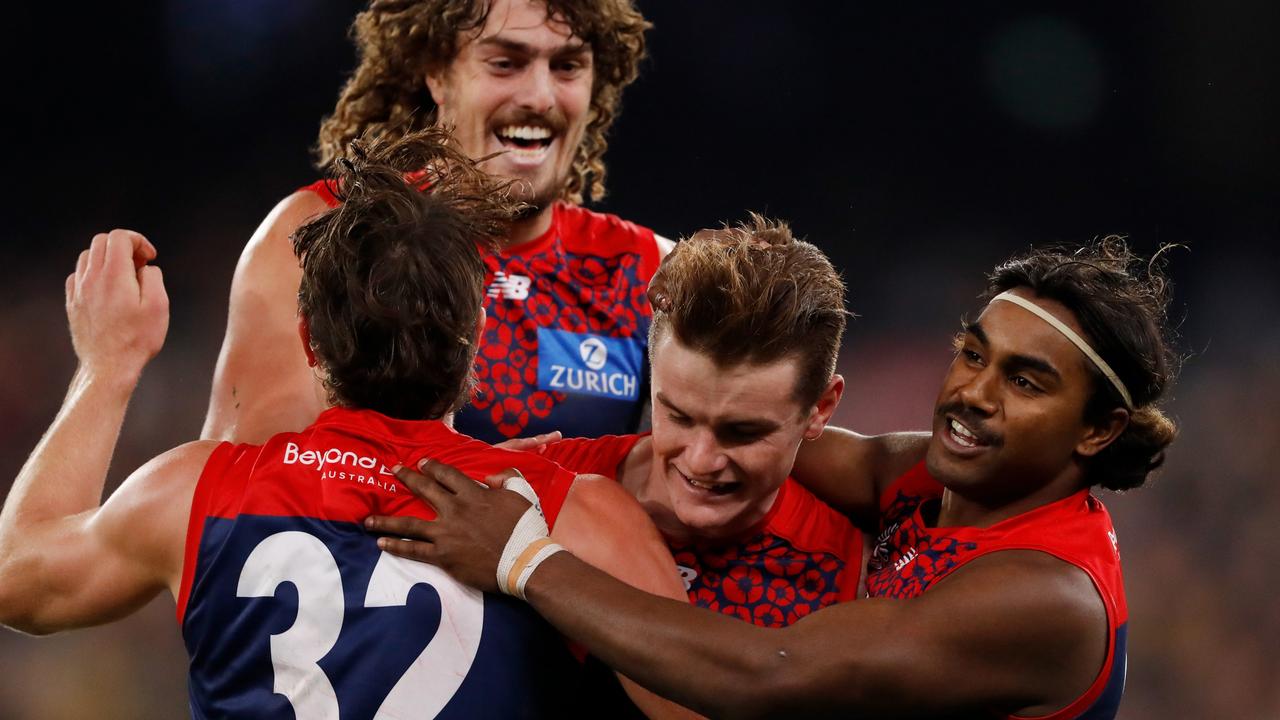 Bayley Fritsch (centre) celebrates a goal as the Demons keep their unbeaten run intact. Picture: Dylan Burns/AFL Photos via Getty Images
The 9.22 (76) to 8.6 (54) result saw the Demons extend their winning streak to 13 matches and their active run of victories is the second longest in their history, bettered only by the famed team from their last golden generation who strung together 19 wins in a row between 1955 and 1956.
Incidentally, the Demons have started back-to-back seasons 6-0 for first time since 1955-56 — a good omen considering Melbourne won flags in both of those years as part of a three-peat which was completed in 1957.
And based on their latest performance, the modern-day Dees are going to be hard to stop from securing their own back-to-back flags.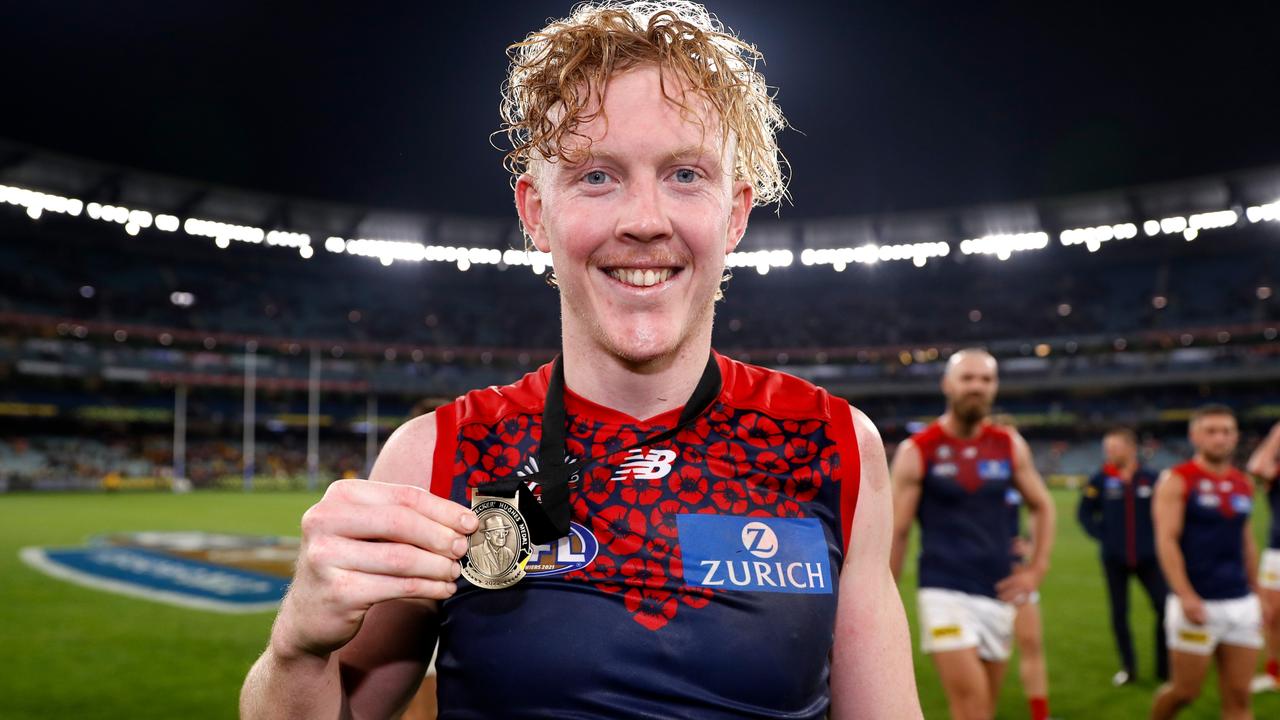 Oliver after winning the Frank Checker Hughes Medal. Picture: Dylan Burns/AFL Photos via Getty Images
Melbourne thumped Richmond in disposals 411-346, contested possessions 150-130, inside 50s 64-42 and scoring shots 31-14, and if it wasn't for their wonky radar, they would've won by a lot more.
Clayton Oliver was immense in the middle of the ground for the Demons with 41 disposals (22 contested), 13 clearances and nine inside 50s, Ed Langdon (30 touches) continued his brilliant year on the wing, Jayden Hunt did a brilliant blanketing job on the dangerous Shai Bolton, while Steven May, Harrison Petty and Joel Smith combined superbly down back in the absence of Jake Lever.
Richmond's pressure was huge early on. They took it right up to Melbourne, registering six of the first eight inside 50s, and led by 10 points midway through the first quarter.
After absorbing the early heat from the Tigers, the Demons then settled into the game, finishing the term with more forward entries, and after kicking six behinds in a row, managed to grab the quarter-time lead in the nick of time thanks to a pair of late goals from Ben Brown and Sam Weideman.
The ball continued to live in the Dees' forward half for much of the second term, but the yips also continued to plague Melbourne who missed another host of sitters, as they found themselves on a diabolical 2.11 at one stage.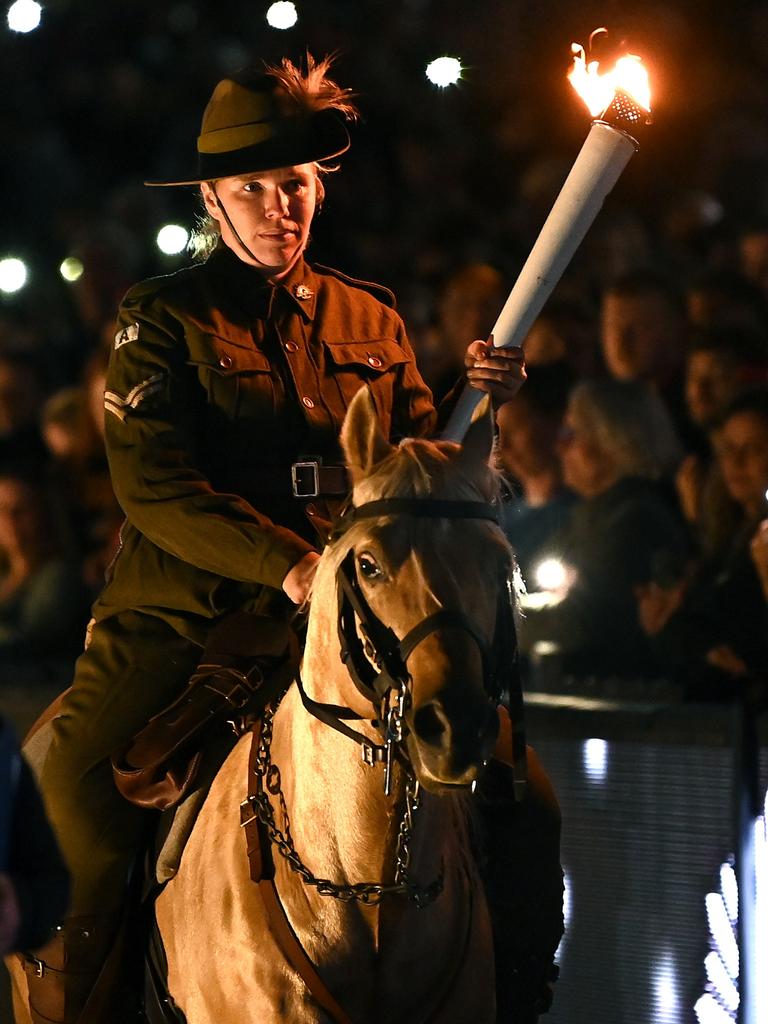 A torch is carried on horseback during Anzac observance ceremony. Picture: Quinn Rooney/Getty Images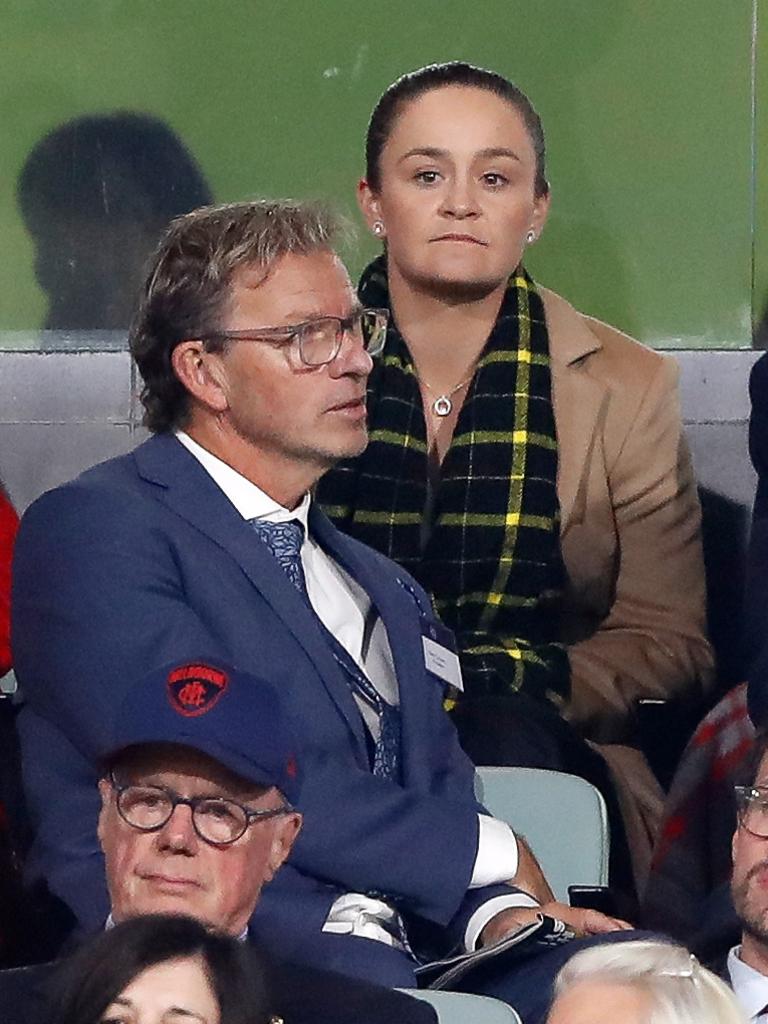 Ash Barty was in attendance to watch her Tigers. Picture: Dylan Burns/AFL Photos via Getty Images
Charlie Spargo finally split the big sticks for them at the 15-minute mark, but despite trailing the inside 50s by 15 (31-16) late in the second term, Richmond made the Demons pay a huge price, kicking the next three goals to lead by three points at halftime, teaching the reigning premiers a harsh lesson in efficiency in the process.
Tom Lynch made it four Tiger goals in a row shortly after the major break, but Melbourne responded again in ferocious style, flicking the switch to turn a nine-point deficit into a 25-point lead late in the third term, as their pressure overwhelmed Richmond and ensured their inside-50 advantage swelled to 25 (53-28) at the final change.
WEIDEMAN THE DEES' NO. 1 KEY FORWARD
Sam Weideman stood out like a beacon for the Demons, kicking 3.0, as the rest of his team kicked a shocking 6.22. As far as the Melbourne key forward merry-go-round goes, Weideman looks the most secure of the three at the moment which is a dramatic turn of events given he was left out of the team for most of 2021. Ben Brown didn't exactly set the world on fire with just one goal against the Tigers, and he could be under pressure to maintain his spot with Tom McDonald waiting in the wings after being dropped this week.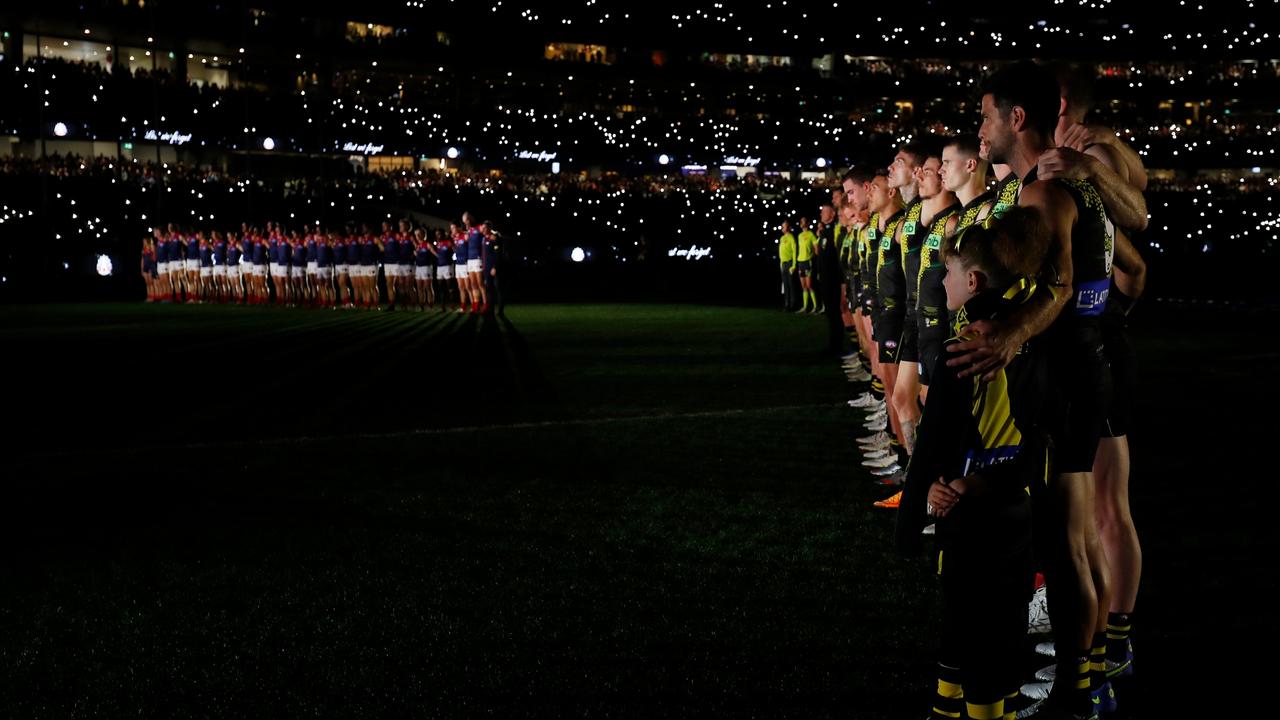 Players line up during the Anzac observance ceremony under darkness. Picture: Dylan Burns/AFL Photos via Getty Images
TALK ABOUT A HE-MAN!
Late in the first quarter, May produced his best Leigh Matthews impersonation when he desperately chopped off Richmond ruckman Toby Nankervis' attempt on goal and, in doing so, cannoned heavily into the goalpost. While the post didn't snap like the behind post did on that famous day at Windy Hill in 1982, it was left wobbling vigorously for a minute or so thereafter, such was the force of the collision. It served as a virtual 11-point turnaround for the Demons, because a couple of minutes later, Brown marked and goaled to cut the deficit to two points.
TOM TRICKS SMITH
Lynch kicked his second goal 30 seconds into the third quarter after appearing to dupe Melbourne's Smith into giving him the ball. Smith seemed like he blindly handballed to the man behind him, assuming it was a teammate. But to the defender's horror, it was Lynch, and like the cat that got the cream, the Richmond forward gleefully split the big sticks from 35m out to extend the Tigers' lead to nine points.
BOLTON BURSTS DEES' DEFENSIVE BUBBLE
Melbourne's streak of three consecutive goalless first quarters conceded came to an abrupt end within two minutes of the first bounce as Richmond livewire Shai Bolton marked strongly in front of Jayden Hunt and converted the set shot from 40m out directly in front. But Melbourne again showed why they are the No. 1 ranked defensive team in the competition. They conceded an average of 60 points a game heading into Sunday night's game, and they restricted Richmond to just 54 points.
SCOREBOARD
TIGERS 2.2 5.3 7.4 8.6 (54)
DEMONS 2.6 3.12 8.19 9.22 (76)
LERNER'S BEST
Tigers: Vlastuin, Nankervis, Gibcus, Short, Graham, D.Rioli, Tarrant.
Demons: Oliver, Hunt, Langdon, May, Gawn, Petty, Sparrow.
GOALS
Tigers: Lynch 2, Riewoldt 2, Bolton, Graham, Baker, D.Rioli.
Demons: Weideman 3, Fritsch 2, B.Brown, Spargo, Langdon, Petracca.
INJURIES
Tigers: Dow (thigh).
Demons: Nil.
UMPIRES
Fisher, Stephens, Findlay
VENUE MCG
PLAYER OF THE YEAR
LERNER'S VOTES
3 C.Oliver (Melb)
2 J.Hunt (Melb)
1 E.Langdon (Melb)
Goodwin: Trailing at halftime not a problem
By Nick Smart
Melbourne coach Simon Goodwin admitted he was not worried at halftime despite trailing Richmond before his side steamrolled the Tigers in the second half to record the club's 13th consecutive win.
The Demons overcame a so-so start and inaccuracy in front of goal to notch up a hard-fought win in the Anzac Eve blockbuster at the MCG in front of 70,000 people.
"We just connected a little bit better forward of centre (after halftime) but there was a lot to like about the first half," Goodwin said.
"We were pretty relaxed in terms of where the game sat.
"Clearly the scoreboard wasn't in our favour but our ability to get the game looking the way we wanted it was in check.
"It was just a matter of connecting a little bit more forward of centre."
Goodwin marvelled at the work of midfielder Clayton Oliver, who dominated with 41 disposals (22 contested), 13 clearances and nine inside 50s.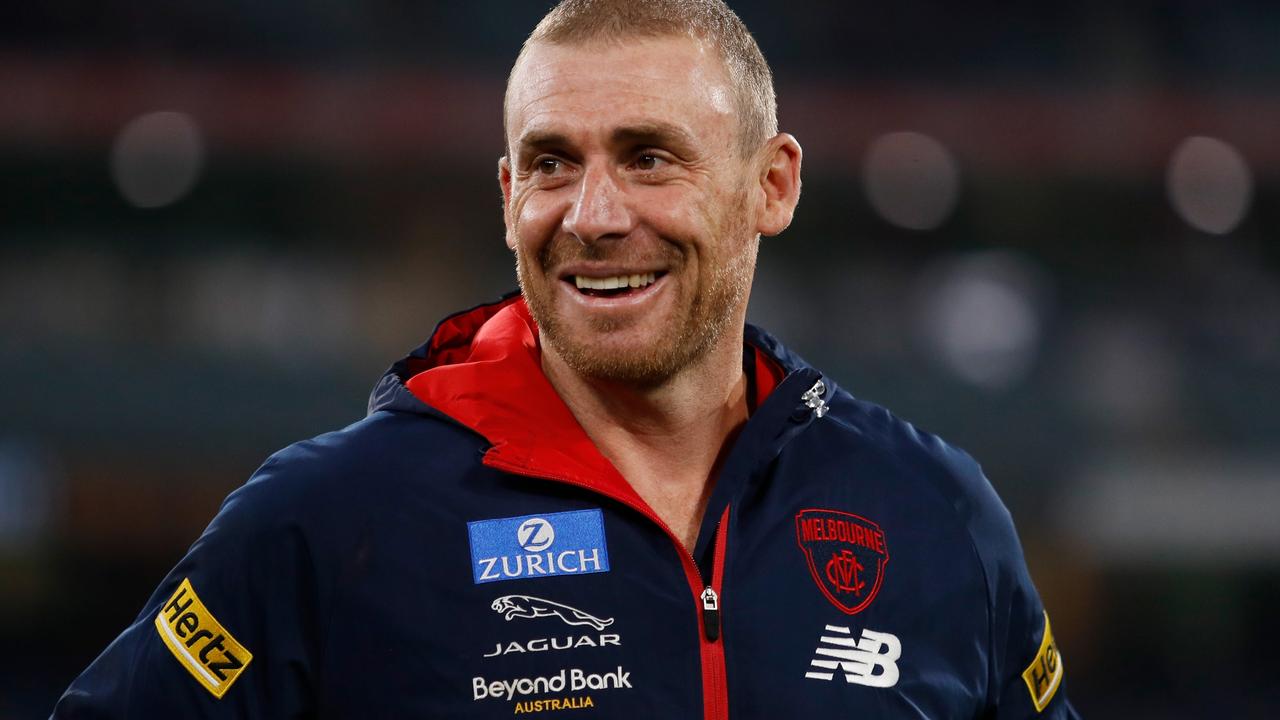 Simon Goodwin wasn't concerned that the Demons trailed at halftime. Picture: Dylan Burns/AFL Photos via Getty Images
Oliver had just one disposals at the mid-way point of the first term before going into overdrive.
"Six years he's done the same thing and he's continues to do it time after time and get better at it," Goodwin said.
"He's an amazing player and he's started to get the just desserts the last few years about his impact.
"But ever since he stepped in as an 18-year-old he's been an unbelievable player for our footy club."
The Demons kicked an inaccurate 9.22 for the day, and Goodwin said there were many reasons why that occurred.
"I thought Richmond's pressure was very good," he said.
"We had a lot of wide shots at times as well, so there were a wide range of things that caused that inaccuracy.
"There were some goals we left out there as well, so we'll go back, have a look at that and keep training and get better at it."
The Demons got through the match without any injury concerns.
Originally published as AFL 2022 Richmond v Melbourne: All the news, scores and reaction from the round 6 clash