AFL 2022: Simon Goodwin plays down hit tune furore before grand final grudge match
Four Melbourne champions will be part of a special moment before Wednesday's Grand Final rematch when they unveil the club's premiership flag. Find out who.
Simon Goodwin says Victoria's sixth lockdown last year should help safeguard his team against suffering a hangover in their much-anticipated premiership defence.
His comments come as Melbourne's simmering rivalry with grand final opponent Western Bulldogs promises to be far more than just a song and dance on Wednesday night.
Rowdy Demons superstars had their premiership party prematurely ended when they returned home to limited freedoms last October … after multiple boozy renditions of Gala's Freed From Desire left Dogs players feeling disrespected in defeat.
That tune had become the soundtrack to their success with leaked iPhone vision of the Bulldogs rocking out to the 1996 smash hit in the change rooms after their preliminary final victory leaving coach Luke Beveridge frustrated, and his players believing they were then being mocked by Melbourne two weeks later.
Stream every match of every round of the 2022 Toyota AFL Premiership Season Live & Ad-Break Free In-Play on Kayo. New to Kayo? Try 14-Days Free Now >
But Goodwin declared the song choice was not intended as a jab, although both coaches have admitted a spicy rivalry was brewing between players at the AFL's white and blue-collar clubs.
"I sing it (Freed From Desire) in the car all the time — it's on the radio," Goodwin said.
"It was certainly no disrespect to the Western Bulldogs one bit. It was part of a 50-song playlist."
Simon Goodwin has attempted to take the heat out of the of the jukebox drama.
Australia's Twenty20 team pressed play on the 1996 classic after its World Cup triumph last year while Liverpool also enjoyed a rendition after its recent silverware.
But captain Max Gawn's text message to a horse owner's group comparing a gassed run to the Bulldogs on grand final day added to the perception the Demons' carry on was somewhere between cheeky and cocky.
The grand final postscript adds to the feeling that Wednesday night's rematch, set to be played in front of more than 70,000 fans at the MCG after Demons legend Ron Barassi helps unfurl their first premiership flag in 57 years, will be a grudge game.
The Dogs and Dees will have met five times in just 373 days dating back to last year's pre-season clash and 10 hours of smashing into each other, combined with the jukebox drama, has left many players openly disliking each other.
Dees chief executive Gary Pert phoned the AFL at 8.30am the morning after the grand final to request a round 1 rematch at the MCG so long-suffering Melbourne fans locked out of the breakthrough flag could saviour a special evening.
Special moment for 20 Demons
They will watch 20 premiership players run out, with defenders Michael Hibberd (calf), Trent Rivers (knee) and Harrison Petty (calf) due to return soon from injuries.
Grand final substitute James Jordon was promoted into the starting 22 while hardluck stories Jayden Hunt and Joel Smith also made the cut, with one of the four emergencies to be named substitute on the night.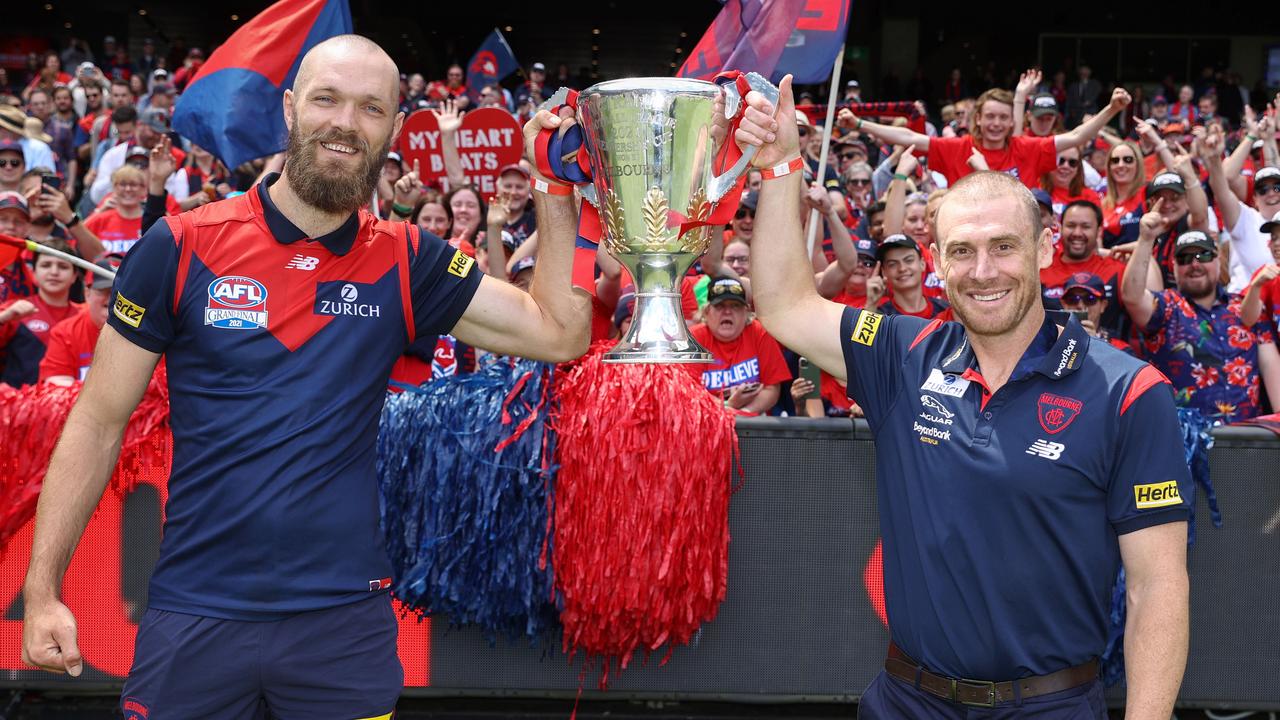 Melbourne skipper Max Gawn and coach Goodwin will be on deck for unfurling of the premiership flag for the first time in 57 years.
Don't worry about short lay-off. Dees ready to roll
The Demons put the finishing touches on their premiership game plan in Port Melbourne on Tuesday, with Goodwin declaring every physical "marker" had been met in the shortened pre-season.
"We've ticked off all that. We've had a really good run with injury through the summer and now our players have come back in amazing condition to give themselves the best chance to train to a really high standard," Goodwin said.
"We've got a lot of work into them. They're fit, they're ready and now it's about putting themselves on the line.
"I think coming back into lockdown helped a little bit. They were a little bit bored, I think Trac (Christian Petracca) was training two weeks after the season finished."
Livewires Kysaiah Pickett and Alex Neal-Bullen will play in bursts through the centre square while ex-AFL players David Zaharakis and Reece Conca have been locked in as Covid top-up players for Melbourne under a doomsday scenario.
Garry Lyon, Nathan Jones and Hassa Mann will help Barassi unfurl the flag pre-game while the biggest display of fireworks the MCG has seen will ignite at halftime.
Goodwin reveals where his truth lies in bullying saga
Premiership winning coach Simon Goodwin is "proud" of who he has become despite questions marks about his behaviour which almost led to him being stood down by Melbourne.
Speaking for the first time after the Herald Sun exposed the Melbourne board's concerns about his conduct, Goodwin said the truth lies in the support he has received from the club.
The allegations centred around issues from 2018 to early 2021, including drinking, gambling and workplace bullying.
"It was frustrating and disappointing because you know who you are and the people around know who you are and you know the journey you have been on in life," Goodwin said.
Stream every match of every round of the 2022 Toyota AFL Premiership Season Live & Ad-Break Free In-Play on Kayo. New to Kayo? Try 14-Days Free Now >
"I think you can see from the support that the club has given (president) Kate Roffey, the players and family and friends that the truth lies in there.
"I am really proud of who I have become and the journey I have been on and it is frustrating and disappointing that it has then played out in a public space but I think that is sometimes the industry we are in.
"You work your way through that pretty quickly and my energy is purely focused on this team, this club, these players, I love them and it's not going to be focused into those sort of areas that don't really mean much to me anymore."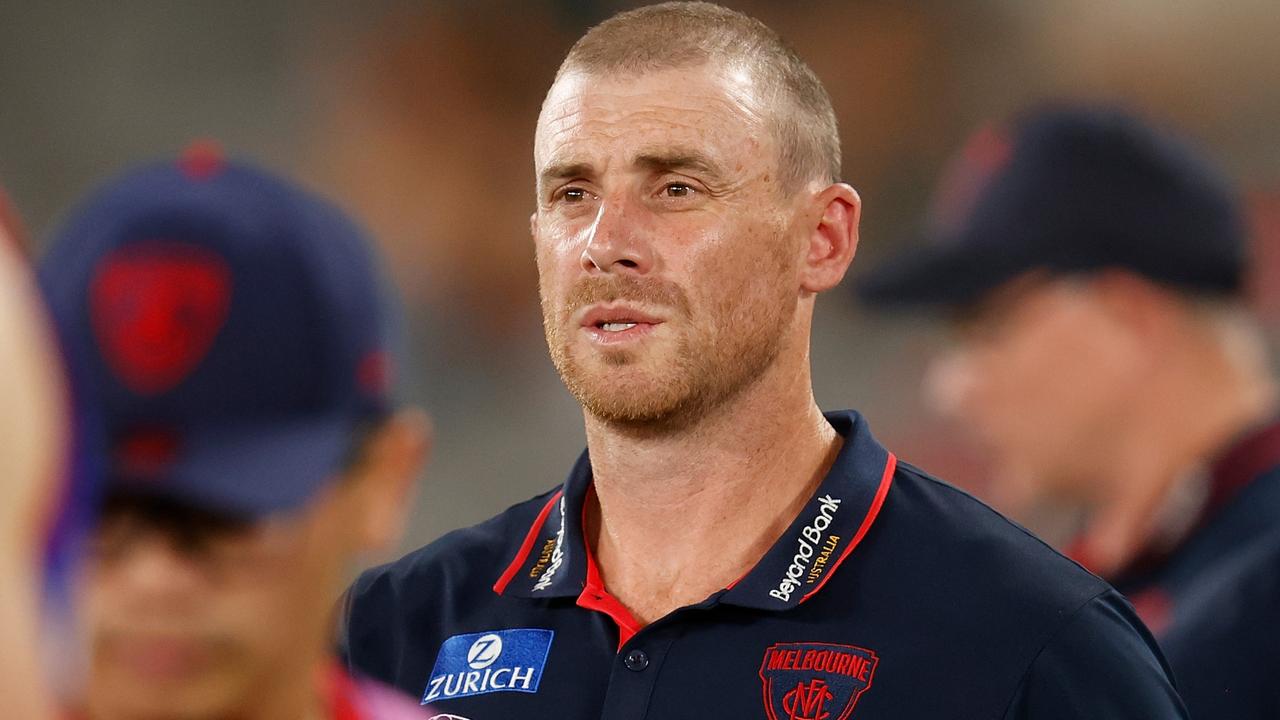 Melbourne coach Simon Goodwin has spoken for the first time on the allegations that plagued his off-season. Picture: AFL Photos/Getty Images
The Demons coach said it was "humbling" the support he received from the club's leaders, in particular captain Max Gawn.
"It was incredibly humbling to have Max Gawn and a range of leaders tap in and support you the way they have," Goodwin told Fox Footy's AFL 360.
"Kate Roffey and the board, and as I said I think the truth lies in there, they know me, they know what I'm about and they know the connection that I have with them."
Goodwin was accused of bullying by former club doctor Zeeshan Arain in legal documents as part of an unlawful dismissal dispute.
"The allegations are the allegations, the disappointing thing about the whole thing playing out publicly is that it hasn't been told from my perspective and it is never going to be told from my perspective," he said.
"In the end the people around me, the staff that I work with know who I am, what I am about and how I go about conducting my business and I make no apologies, we produce a high-performance industry and a high-performance environment.
"It is one of care, one of safety and one that we really value."
Goodwin, who took over from Paul Roos in 2017, said he was feeling the pressure in February last year before leading the Demons to a historic premiership.
It was revealed several ­directors at the Demons were so alarmed by the allegations about the coach's behaviour, they discussed standing Goodwin down ahead of the 2021 season.
"There was no doubt the pressure was building, like any coach who hasn't played finals for a couple of years that pressure starts to build," Goodwin said.
"The politics are the politics, they play out the way they want to play out. My focus was purely on getting the team prepared and getting the team ready and focusing my energies on things that really mattered."
He said he felt sorry for the person who'd leaked details of the accusations against him.
"I feel a little bit sorry for people who go down that path," he said. "It is a piece of information, a very specific piece of information but not the full context."
The Demons will unveil the premiership flag before Wednesday night's grand final rematch against the Western Bulldogs with the AFL estimating a crowd of 80,000 at the MCG.
Goodwin said he was confident his team wouldn't suffer a premiership hangover.
"The first thing we needed to do after we won the grand final was to come back physically ready for the demands of the game," he said.
"That is number one for us as a footy club and that's been the biggest focus for us. If we are physically ready for what is coming, we will mentally able to handle that expectation."
Originally published as AFL 2022: Simon Goodwin plays down hit tune furore before grand final grudge match