AFL 2022: Paddy Ryder, Bradley Hill disagreement, Saints deny dropping
St Kilda has refuted claims that two stars were dropped for the weekend's game against Sydney following an altercation at a venue after the Saints' previous week's loss.
Ryder, Hill and another unnamed teammate, who has been reported as Ben Long by Nine newspapers, were at the venue in the Melbourne bayside suburb on June 18, one day after the Saints' dreadful Round 14 clash against Essendon.
Both players weren't selected for last week's game.
Speaking on Tuesday, Ratten said there was "a big gap between what was reported and what happened."
"The boys went to a hotel, had a few beers, a few words were said and they left. That's what happened," Ratten said,
Watch every blockbuster AFL match this weekend Live & Ad-Break Free In-Play on Kayo. New to Kayo? Try 14-Days Free Now >
Paddy Ryder and Bradley Hill are believed to have been involved in 'verbal exchange and disagreement' at a beachside venue recently.
When asked if there were any reports of violence to his knowledge, Ratten said:
"No.
"It does make me think there's not much out there to take a story of somebody said something, people left and the next minute we've got these players and putting them in hot water over violence and that.
"It's so far from the truth and I feel for Paddy and I feel for Hilly to have to actually put up with it.
"I think we've really haven't got the full knowledge and we're jumping at shadows and hearsay without actually getting the evidence.
"I think we need to put this out because it's not good for people.
"Bradley had personal issues he has to deal with and we have to respect that, and Paddy Ryder was managed because he's 34 and he might have to be managed again before the end of the year to get through.
"He's had a hamstring and an achilles and it was in our plan, so it is actually disappointing this has been inflamed.
"All you can say is we support the players, we know what happened and move on."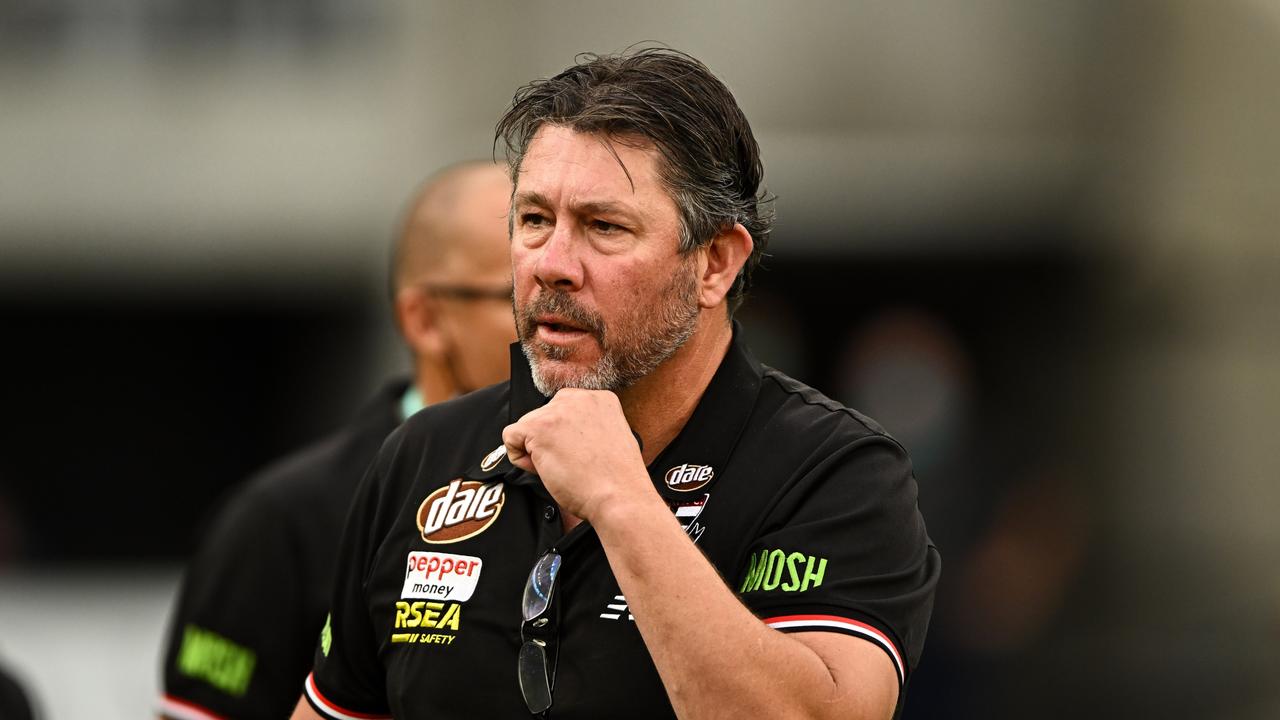 Brett Ratten has staunchly defended the conduct of his star players. Picture: AFL Photos
Ratten said he had "no" issue with the players being out during an eight-day break.
"If they were getting home at five in the morning there'd be an issue, but they weren't out that late," he said.
"It's an eight-day break and they're allowed to.
"The players work so hard and the opportunity to enjoy themselves at times is critical and we need to balance a life.
"Like anything there needs to be a balance on how much they have to drink and things like that, but with an eight-day turnaround when can you get a better situation to go out?"
The Saints coach insisted the altercation had nothing to do with Hill's non-selection.
"It's all personal reasons and I'm not going to share them with anybody," Ratten said.
"That's for Brad and he's working through that and we respect him and his situation and what he's doing.
"We'll support him 100 per cent…we've had a chat and he's got a lot of support around him
"He's going OK."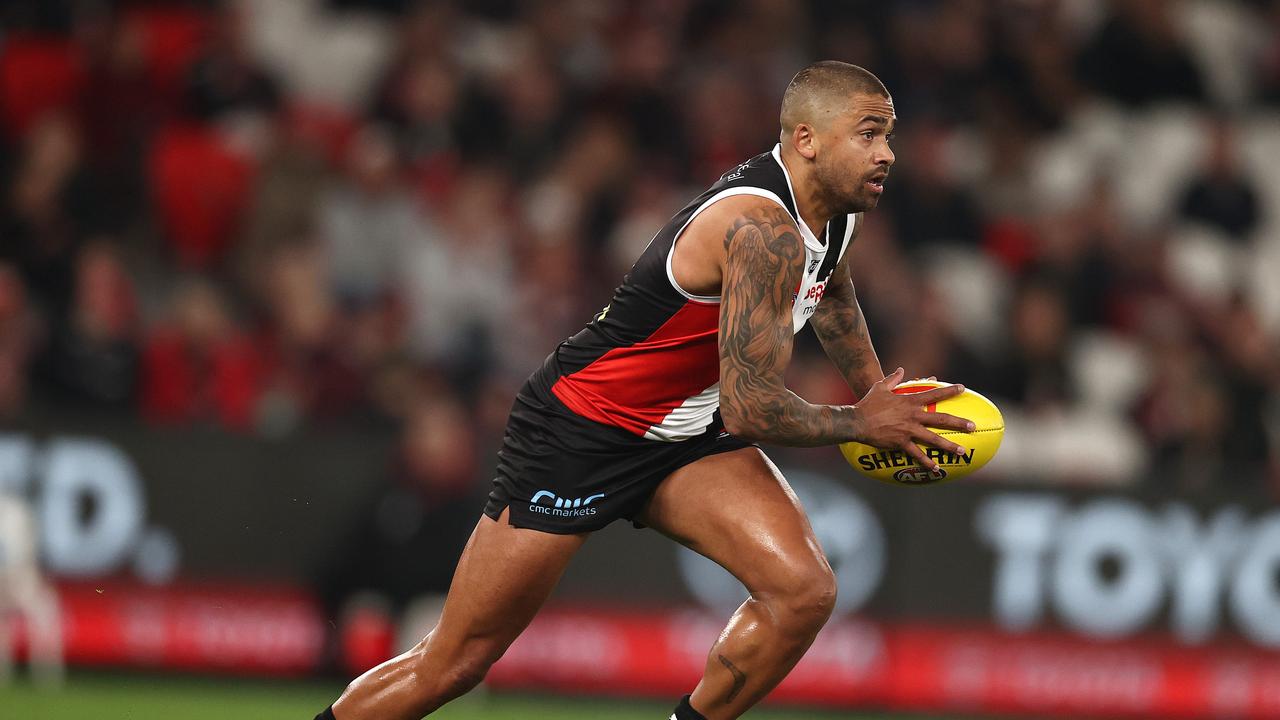 Ratten said Bradley Hill missed the Swans clash due to personal reasons. Picture: Michael Klein
The Saints have dropped their past three games, with Ratten identifying ball movement as the main issue in his side's horror loss to the Swans.
He was happy with his side's contested work as he prepared for a Friday night's showdown with Carlton at Marvel Stadium.
"We had 31 clanger kicks (and) you cannot be kicking the ball like that," he said.
"We need to get going…we get Friday night, centre stage against a team that's in ripping form.
"It'll be a good challenge."
It's been reported Ratten is close to inking a contract extension despite his side's shaky past month.
He said there was no update when quizzed on Tuesday.
"We're just going to stick to the process and what we're doing behind the scenes, so we'll keep having those chats and keep working forward," Ratten said.
'Frankly atrocious': King's body language slammed
Former St Kilda coach Grant Thomas has savaged the "frankly atrocious" body language and demeanours of bookends Max King and Dougal Howard.
Thomas, 64, said he had been alarmed for some time and could bite his tongue no longer in the fallout to the club's hiding at the SCG on Saturday night.
"Once again Max King, he sooks and mopes around," Thomas said.
"He does it even when the team is winning, which means he's got high pride for his own performance.
"But if he's not playing well and the team is he doesn't seem to get captured up in that vibe with the rest of the team.
"On the weekend when he was really poor (with) his body language, I felt he just sooked around, the coach publicly comes out and says, 'Poor Kingy'.
"Which sort of condones a behaviour and encourages it.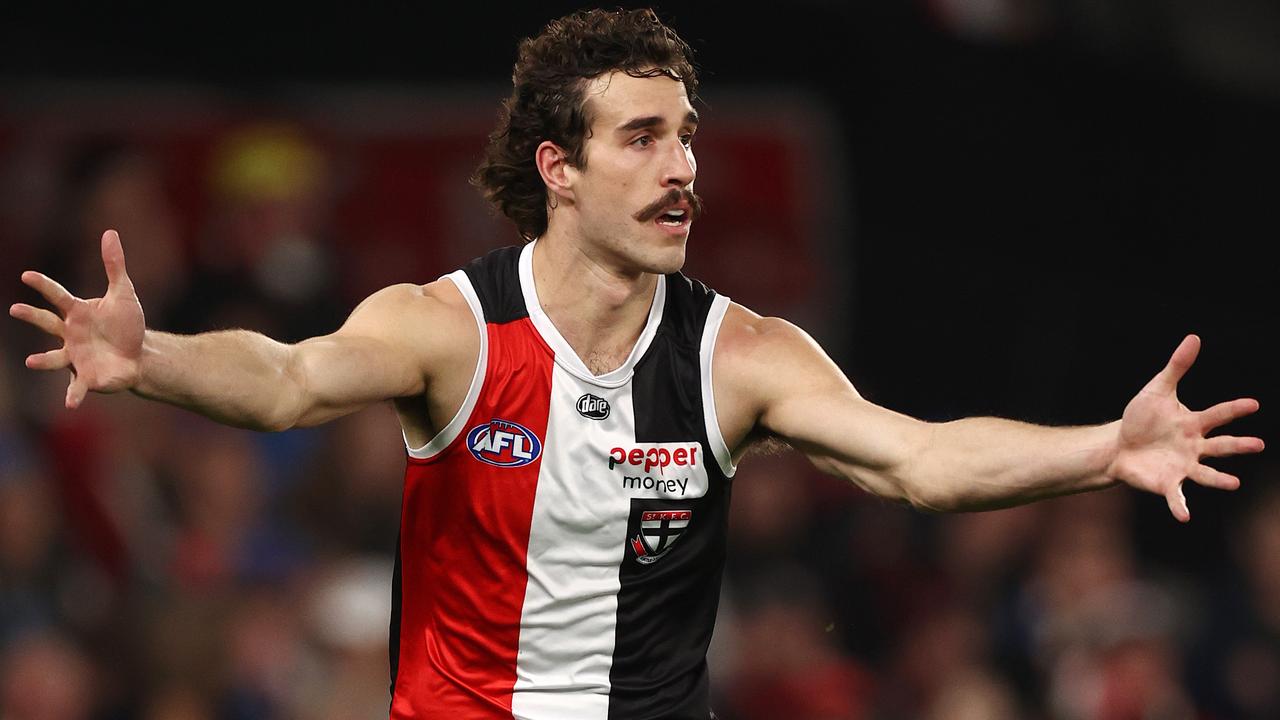 Max King has come under fire for his body language. Picture: Michael Klein
"He's not alone. Every time Dougal Howard is beaten he immediately looks for a Saints player to blame.
"He just needs to take responsibility. I'm getting a bit sick and tired of watching him blaming others, and he needs to improve his body language and demeanour.
"He's considered a leader in the club and I just don't think it helps when senior players are providing that disposition about themselves.
"The body manifests what the mind harbors and when you need everyone on board and when younger players in the team see players sort of spitting the dummy and sooking and got their hangdog head it doesn't augur well."
King averaged 4.1 marks inside 50m before the bye but that has dropped to 2.3 per game since.
Coach Brett Ratten defended King on Saturday night. He said not even the game's greatest goalkickers could've caused headaches given the club's diabolical ball movement.
But Thomas said King needed to learn now not to drop his bundle.
"Max King needs to be told strongly that there's another way. In the finals he's not going to kick four or six goals from lace-up passes," Thomas said on 3AW.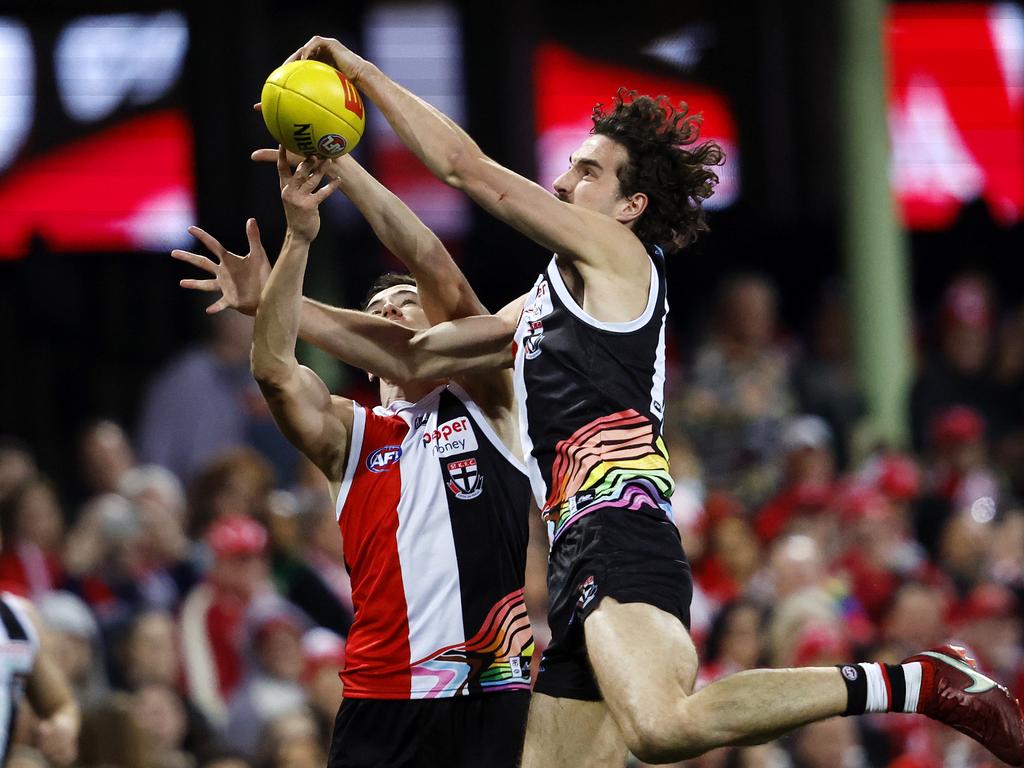 Grant Thomas savaged Max King. Picture: Phil Hillyard
"He's going to have to work extremely hard and not everything is going to go his way. So he might as well learn the hard yards this way now.
"I just don't like Max's body language. He's an incredible talent, he's a great mark – but I think that he needs to understand some of the other fundamentals around being a part of a team."
SAINTS BOSS WEIGHS IN ON RATTEN'S FUTURE, DE GOEY
St Kilda's faith in Brett Ratten has not wavered and the club still expects to re-sign its senior coach despite dropping out of the top eight after three consecutive defeats.
But the Saints did assess the AFL coaching landscape – which includes free agent Alastair Clarkson – before deciding they already had the right man in charge.
"We've been consistent in saying for where we're at now with our program and our list, we think 'Ratts' is our man," incoming chief executive Simon Lethlean said on Monday.
"I doubt anyone would have challenged us on that fortnight ago. Clearly, that's a debate that can now happen on the back of our form.
Saints head coach Brett Ratten speaks to players at three-quarter time. Picture: Matt King/AFL Photos/via Getty Images
"But we aren't as reactive internally perhaps as the external football world is.
"We'll keep progressing down the path as we've said we will with Brett and his management.
"We're still going down that path and we're doing that with the right amount of diligence that we should."
Club champion Nick Riewoldt recently urged the Saints to have a crack at Clarkson.
Lethlean responded: "I hope Nick will understand that when you go through a process of looking to re-sign or consider your current coach, a part of that process is to do your due diligence across the market that's available for coaching.
"We've certainly done that. But we've put our focus now into making Brett better and making our program better and focusing on how we go forward with him."
Interestingly, Lethlean was clear on what the Saints' list required.
"We have a list that needs to improve and needs to find game-impacting players to be able to compete at the really pointy end to beat the best teams and to also change momentum in games," he said on SEN.
"We can't go to the well every time with (Jack) Steele. We can't expect Max King at his young age to wrestle every game back for you when the ball movement is not what it should be.
"That's all part of list management across the next few months."
That appeared to be a perfect description for Collingwood free agent Jordan De Goey.
Only two players in the AFL have averaged at least 20 disposals, 400m gained and a goal a game this year – De Goey and Marcus Bontempelli.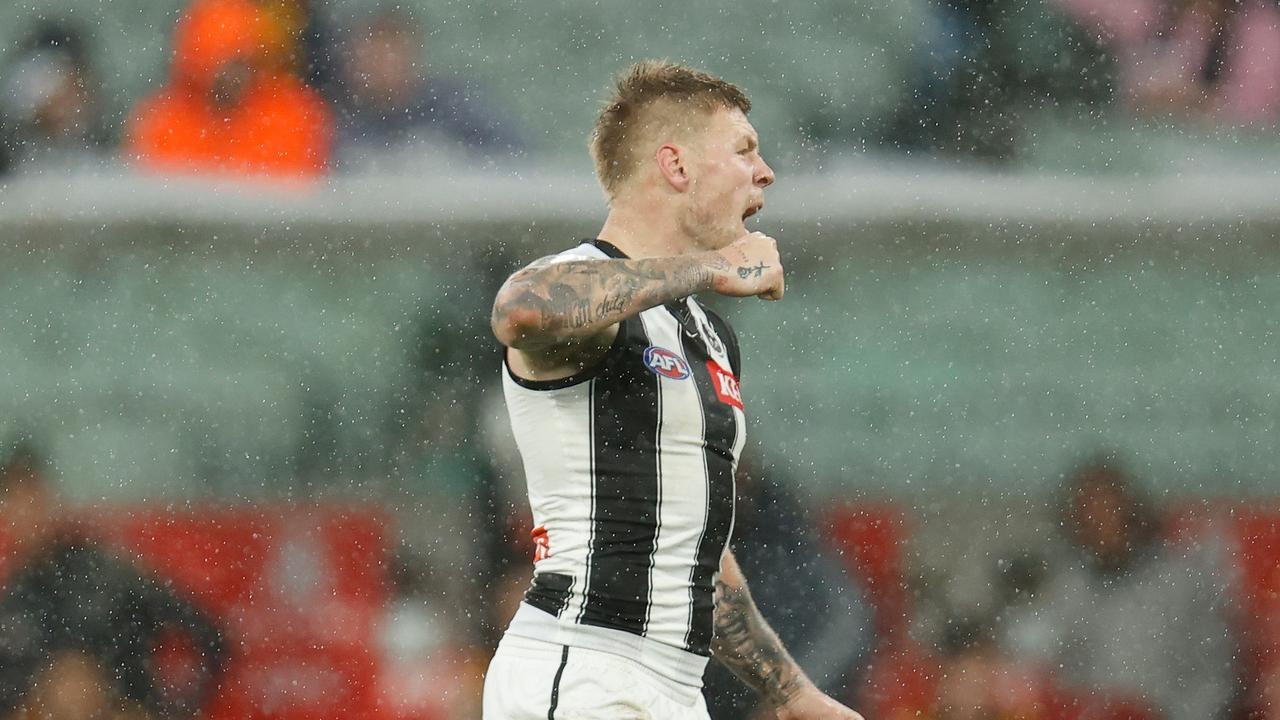 Is Jordan De Goey the game-breaking player the Saints need? Picture: Michael Willson/AFL Photos via Getty Images
De Goey, 26, is also ranked No. 2 for clearances for all midfielder-forwards, according to Champion Data, behind only Tom Liberatore.
Asked specifically about De Goey, Lethlean reiterated that he would be assessed along with all possible targets.
"It was incorrectly reported last week we'd offered a five-year contract, which is completely wrong," Lethlean said.
"This time of year the process for all clubs is to assess all free agents and out-of-contract players and we're certainly doing that.
"We're no more progressed in that assessment with him than we are with anyone else.
"I do know he's a very good player – he does impact games."
The Saints' return of 4.8 (33) in Saturday night's 51-point loss at the SCG was their lowest score in more than six years.
They took just five marks inside 50m, generating one behind, as King was let down by poor ball movement.
Lethlean praised the improved effort against Sydney after last week's shock loss to Essendon.
But he admitted the club's gameplan was starting to get figured out.
"I think some clubs are playing us a lot better as well and probably unpicked our system a bit better than perhaps the way we bounced out of the blocks in the first six or seven weeks," Lethlean said.
"We were quite stagnant when we won the ball (against Sydney), we didn't have much flow.
"So we need to get our midfield a bit more energised and take the game on a bit more.
"Our pressure is critical. I think we're well-acknowledged as a team that plays its best footy when that pressure is high.
"Clubs keeping the ball off us has made it a bit more difficult."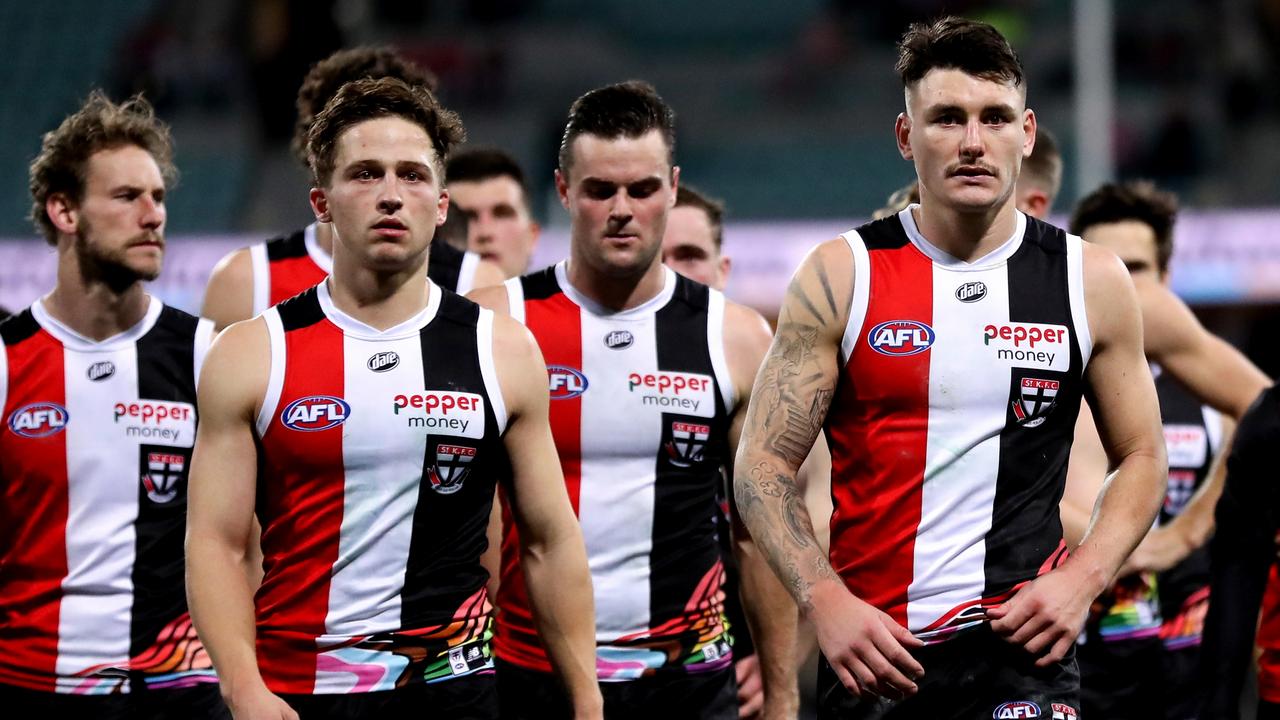 Dejected Saints players leave the field after being well beaten on the road in Sydney. Picture: Brendon Thorne/AFL Photos/via Getty Images
St Kilda's fitness levels have been strong under impressive new performance and conditioning boss Nick Walsh.
Their first seven wins this year all came after falling at least 11 points behind.
Lethlean said that indicated the Saints were never truly a top-four team.
"The first 10 rounds we won five games coming from behind at half time, which does suggest that we weren't a dominant top-four team across those 10 weeks," Lethlean said.
"We were getting results through effort and hard work and maximising our moments in games.
"We weren't controlling games the whole way through.
"It probably shows you we are in that six to 10 bracket that we are right now.
"We certainly set our sights on playing finals this year, right from the outset. And we're still giving ourselves a good chance to do that."
'We love Ratts': Why Saints coach is not to blame for slump
— Chris Cavanagh
St Kilda captain Jack Steele says out-of-contract coach Brett Ratten is not to blame for a mid-season form slump that has left the club in danger of missing finals.
Former St Kilda champion Brendon Goddard labelled the club's 51-point loss to Sydney on Saturday night "horrific", with the Saints going 63 minutes between goals and managing just four majors for the match.
The third-straight defeat followed losses to Essendon (35 points) and Brisbane (21 points) and leaves St Kilda outside the top-eight with eight games to play.
The Saints — who started the season with an 8-3 record — face a tough run home which includes five more clashes against current top-eight sides in Carlton, Fremantle, Geelong, Brisbane and Sydney.
Steele said that the side would work hard on the track this week to rectify its issues and the playing group needed to take responsibility for the current woes.
"I'd love to have him (Ratten) on as a coach. We love Ratts and what he's doing," Steele said on Sunday.
"Ratts is definitely up for the job and we've got to support him as best we can as players and start performing because we love him and what he's doing for us but we're not really doing him justice at the moment."
Discussions on a new deal for the coach commenced earlier this year, with Ratten saying in May that he was "very relaxed" about his contract situation.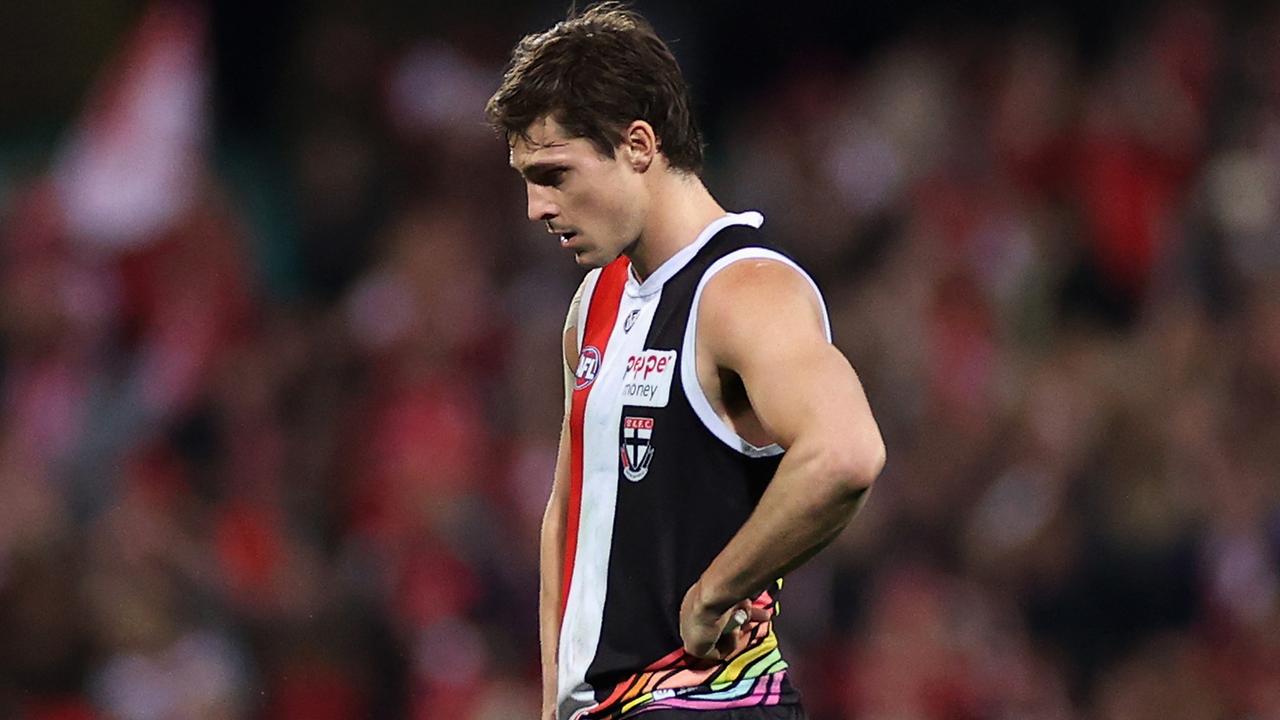 A dejected Jack Steele after losing to the Sydney Swans. Picture: Cameron Spencer/Getty Images
Ball use going forward was the problem for St Kilda against Sydney, with the visitors managing only five marks inside-50 from 44 entries at the SCG on Saturday night.
Asked about key forward Max King's quiet performance — which saw him kick just one behind from eight disposals — Ratten said Tony Lockett or Jason Dunstall would have struggled in the same position.
"Good luck to Max," Ratten said.
"He had no chance. I felt for him tonight. He had to wear the brunt of our ball movement and the way that we moved the ball. It would have been pretty frustrating and he's only a fourth-year player. We kicked the ball so badly to him."
The Saints will regain ruckman Paddy Ryder (managed) and speedster Brad Hill (personal leave) for Friday night's crunch clash with the Blues.
"The bit that there could be a bit of upside as we get back Ryder and Hill next week, and that'll bring a lot of energy and experience back into the group," Ratten said.
'Had no chance': Ratten hits out at Saints
St Kilda coach Brett Ratten has hit out at his side's ball use going forward, suggesting that Tony Lockett would have struggled to get a kick in the forward line against Sydney on Saturday night.
The Saints slumped to a third-straight loss as they put only four goals on the board in a 51-point defeat to the Swans at the SCG.
Having sat fourth on the ladder with an 8-3 record after Round 11, St Kilda now finds itself outside of the top-eight entering a tough final eight rounds.
The Saints managed only five marks inside-50 from 44 entries on Saturday night, with the Swans controlling the contest across the ground after quarter-time.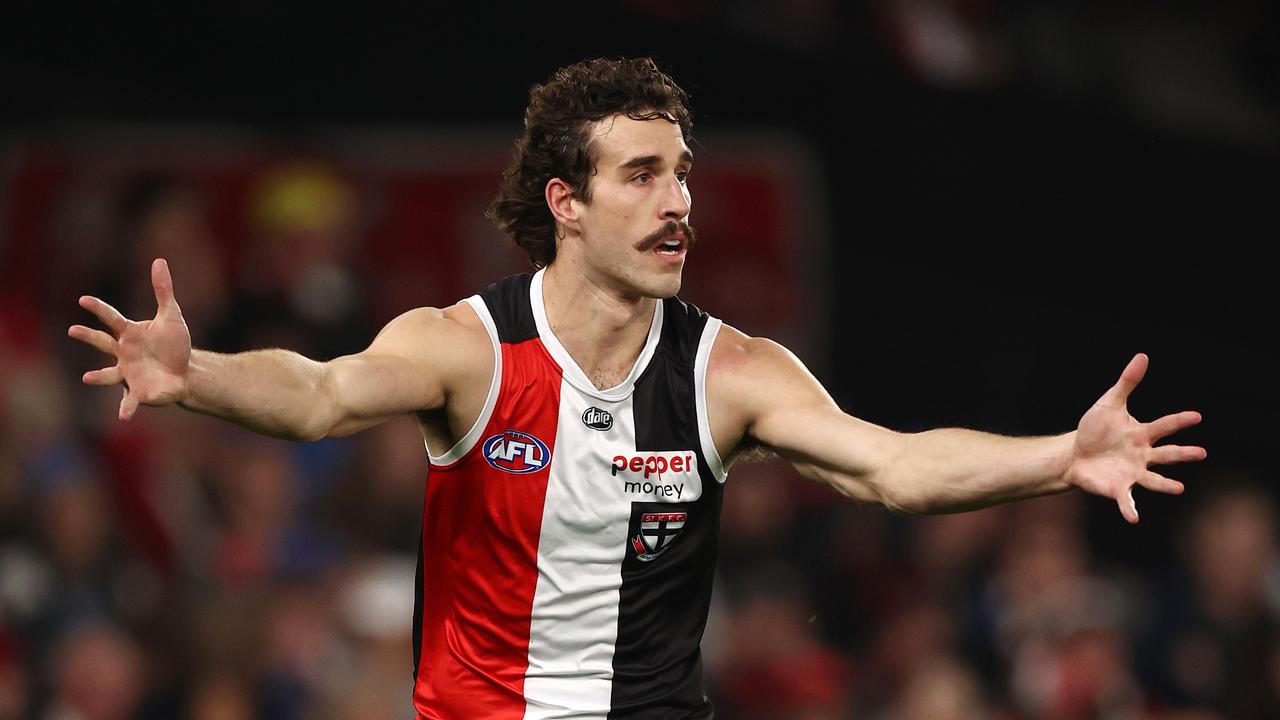 The forward delivery from the Saints drew the ire of coach Brett Ratten. Picture: Michael Klein
Sydney defenders Nick Blakey (11 intercept possessions), Tom McCartin and Jake Lloyd (each 10 intercept possessions) mopped up down back with relative ease.
"I thought we weren't unbelievable defensively but I thought it was a bit better, but our ball use really hurt us," Ratten said.
"Our ability to find a target inside 50 or use the ball to advantage was probably the lowest it's been for a while. We created 20 front-half turnovers or attacking mid turnovers and scored one goal Sydney had 24 but scored 5.2. That's a big difference in the game.
"You combine that with our cough ups and over handling the ball at times under pressure and then the free kicks that we gave away. We can't get the ball back off them. We're just giving it back."
Asked about key forward Max King's quiet performance – which saw him kick just one behind from eight disposals – Ratten said Lockett or Jason Dunstall would have struggled in the same position.
"Good luck to Max," Ratten said.
"He had no chance. I felt for him tonight. He had to wear the brunt of our ball movement and the way that we moved the ball. It would have been pretty frustrating and he's only a fourth-year player. We kicked the ball so badly to him."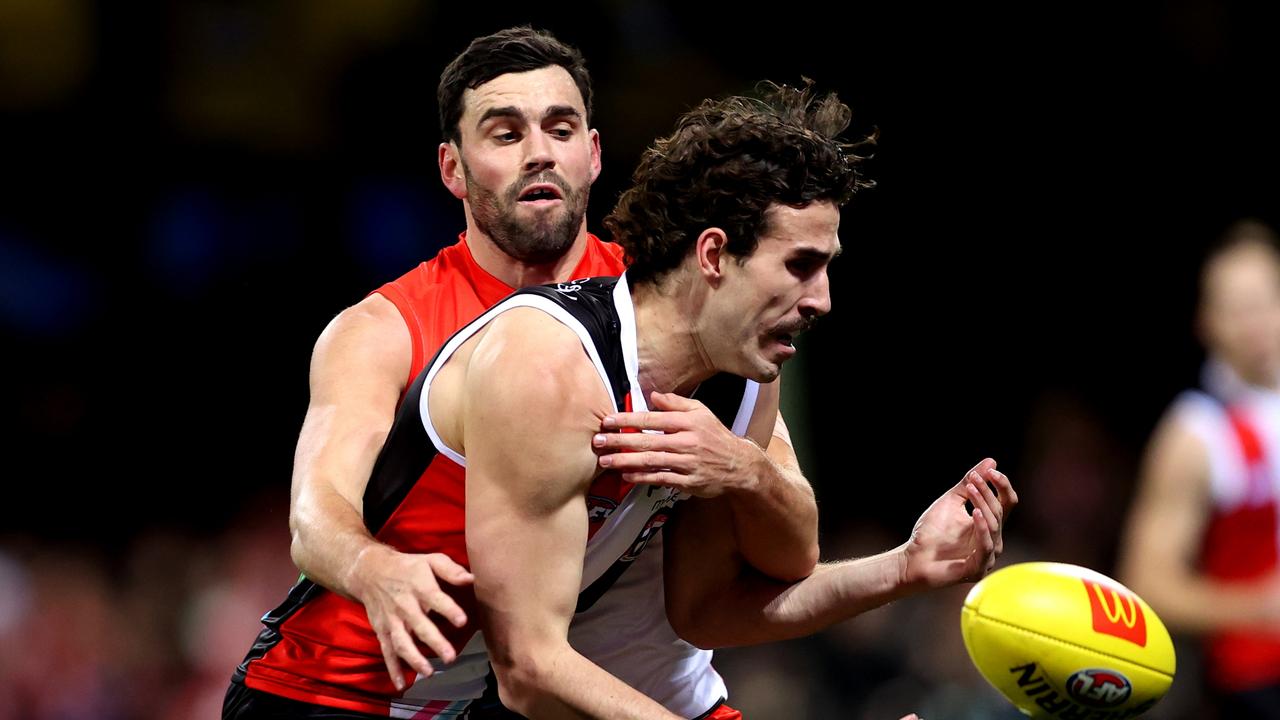 King had just the eight disposals, but he wasn't helped by his teammates. Picture: Brendon Thorne/AFL Photos/via Getty Images
The mid-season form slump adds intrigue to Ratten's future at the club, with the 50-year-old remaining out of contract beyond this year.
Discussions on a new deal had commenced earlier this year, with Ratten saying in May that he was "very relaxed" about the situation.
However, St Kilda now faces matches against Carlton, Fremantle and the Western Bulldogs over the next three weeks as it fights to keep itself in the race for September.
The Saints will regain ruckman Paddy Ryder (managed) and speedster Brad Hill (personal leave) for Friday night's crunch clash with the Blues.
"The bit that there could be a bit of upside as we get back Ryder and Hill next week, and that'll bring a lot of energy and experience back into the group," Ratten said.
"Looking back at what we did in the front half, since the bye we haven't captured that. That's the challenge for us. Our ball movement at times through the first half of the year hasn't been A1, but it's been solid, where our defence has been really good and our contest work. So there's aspects to our game that we've just got to go back and look at how we did it, why we did it, and the roles that people played in doing it."
Rudderless: Saints all at sea as promising season implodes
— Tamaryn McGregor
It was labelled the Pride Game but there was nothing for St Kilda to be proud about at the SCG on Saturday night.
Sydney marched Brett Ratten's men all the way back to Victoria with a 51-point thumping.
The highly anticipated showdown between the eighth and ninth-placed sides was a fizzer of a contest as the home side dominated throughout.
It was a messy start to the opening term, with both teams scrambling for possession, demonstrating just how desperately the two sides wanted the top-eight spot up for grabs.
The Swans crept away with the early lead in the first quarter, thanks to some class from club legend Lance 'Buddy' Franklin as they secured seven more inside 50s than the Saints.
Sydney had the army of red and white in the Ladies Pavilion on their feet on multiple occasions, as the Swans muscled their way to the front.
Despite the much-anticipated return of St Kilda skipper Jack Steele following a shoulder injury, the Saints were unable to rebound and capitalise on opportunities created by ruckman Rowan Marshall.
St Kilda also struggled to convert on multiple occasions, with two early missed opportunities from well inside their forward fifty.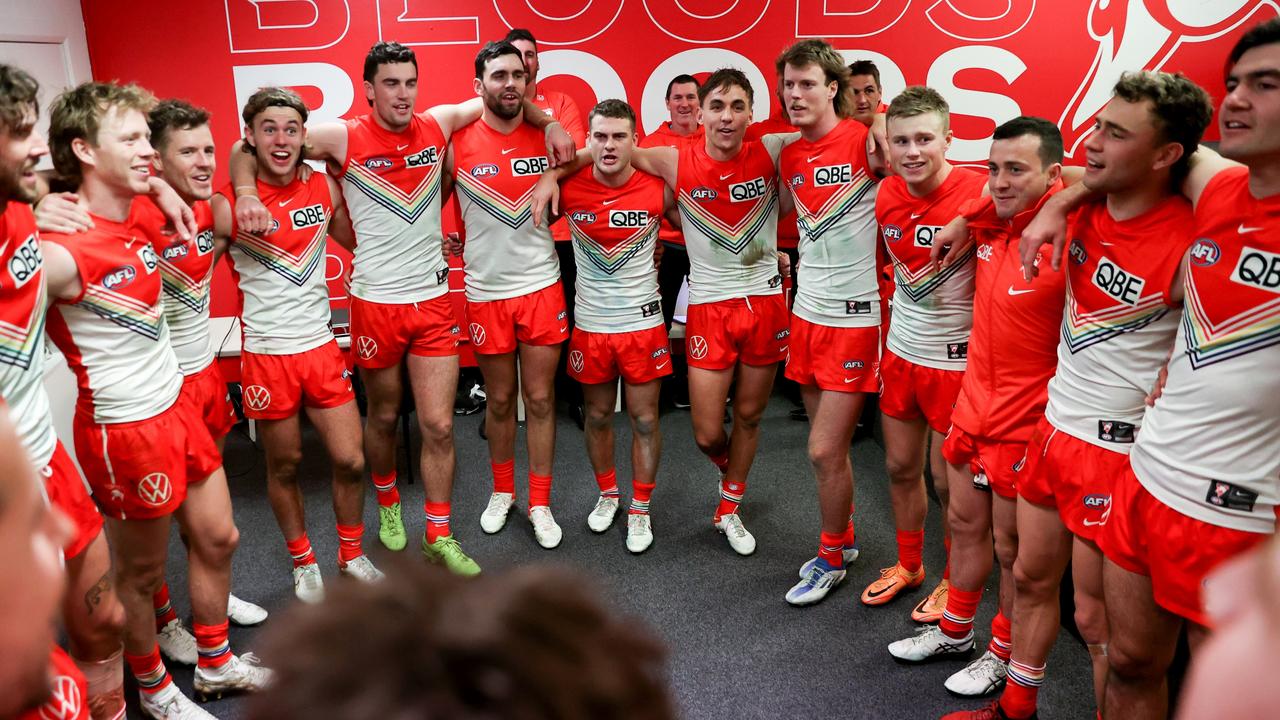 Swans players sing the team song as the consolidate their place in the top eight. Picture: Brendon Thorne/AFL Photos/via Getty Images
Steele however will hold his head high, with 27 disposals under his belt for the night.
Attempting to reignite the visitors' spark was Seb Ross, who appeared dangerous throughout the night, amassing 31 disposals.
It was the Swans' creative attack and midfield flow that allowed the Sydney crew to put their foot down and widen the gap on the scoreboard in the third and fourth terms.
John Longmire and his side will feel confident following Saturday night's win, as they attempt to carry their momentum into next week's match against 16th-placed Essendon at the MCG.
FLORENT LOCKED IN
Swans fans should be optimistic for the future of their club's backline, after defender Oliver Florent extended his contract with the Swans until the end of 2024 on Saturday.
Florent dominated the Swans' defensive 50, playing a major role in Sydney's shutdown of the Saints' key forwards.
With a total of 27 disposals, a massive goal and 12 marks, Florent linked well and looked confident alongside Tom and Paddy McCartin and Jake Lloyd, who led the Swans' charge with a whopping 39 disposals.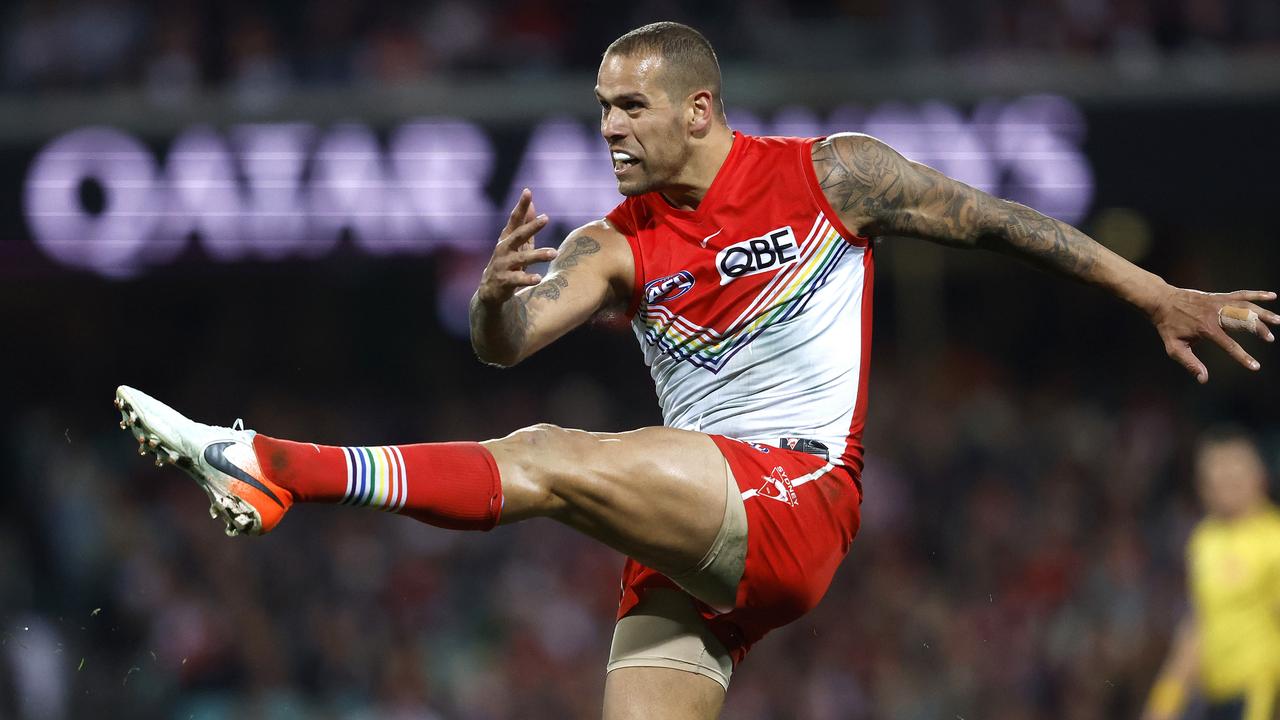 Lance Franklin has a shot at goal during the Pride Game at the SCG. Picture: Phil Hillyard
UNBELIEVABLE BUDDY
A highlight of the match's first term was a pack mark taken by Franklin in the 18th minute.
The Sydney star, who appeared to be tied up by two Saints backs, took a courageous grab and gave the Swans the early lead, setting the tone for the reminder of the game.
The Swans' go-to-guy echoed this energy again in the 24th minute of the first quarter, slotting a goal right in front.
SWANS FIRING AT ALL ENDS
Sydney's defensive kings Paddy and Tom McCartin provided little to no room for the opposition forwards to lead or grab a mark.
The brothers were unstoppable as they worked in partnership with Swans workhorse Nick Blakey.
While at the other end of the field Isaac Heeney and Franklin combined for four goals.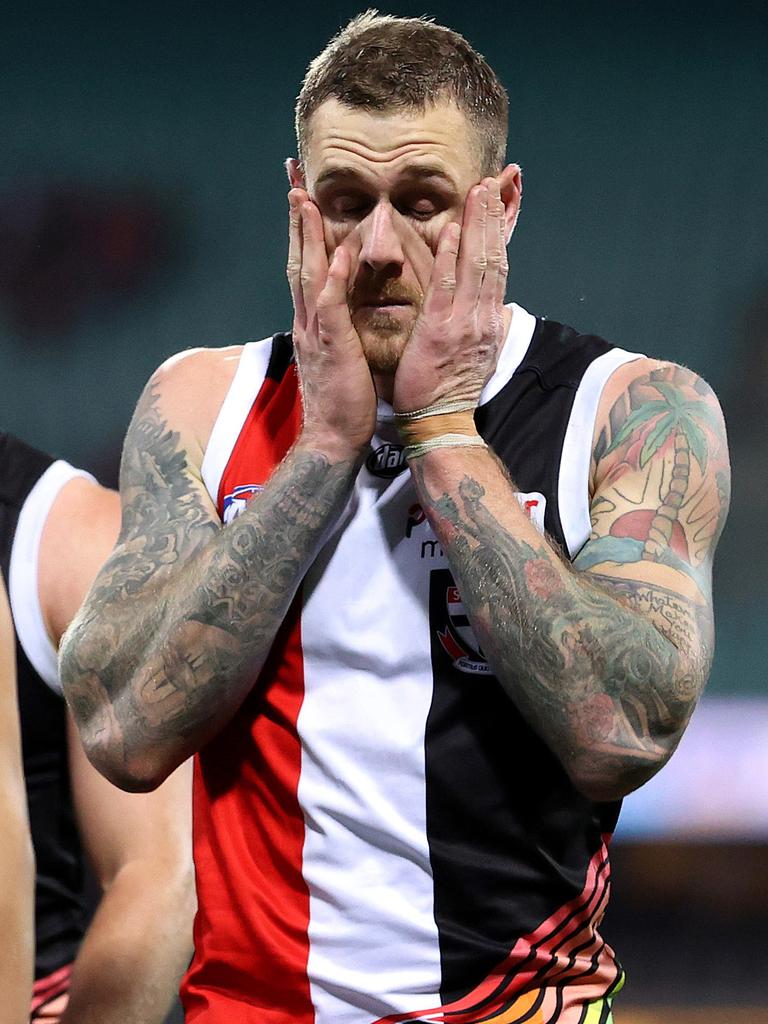 Dejected St Kilda's Tim Membrey leaves the field after another brutal loss. Picture: Phil Hillyard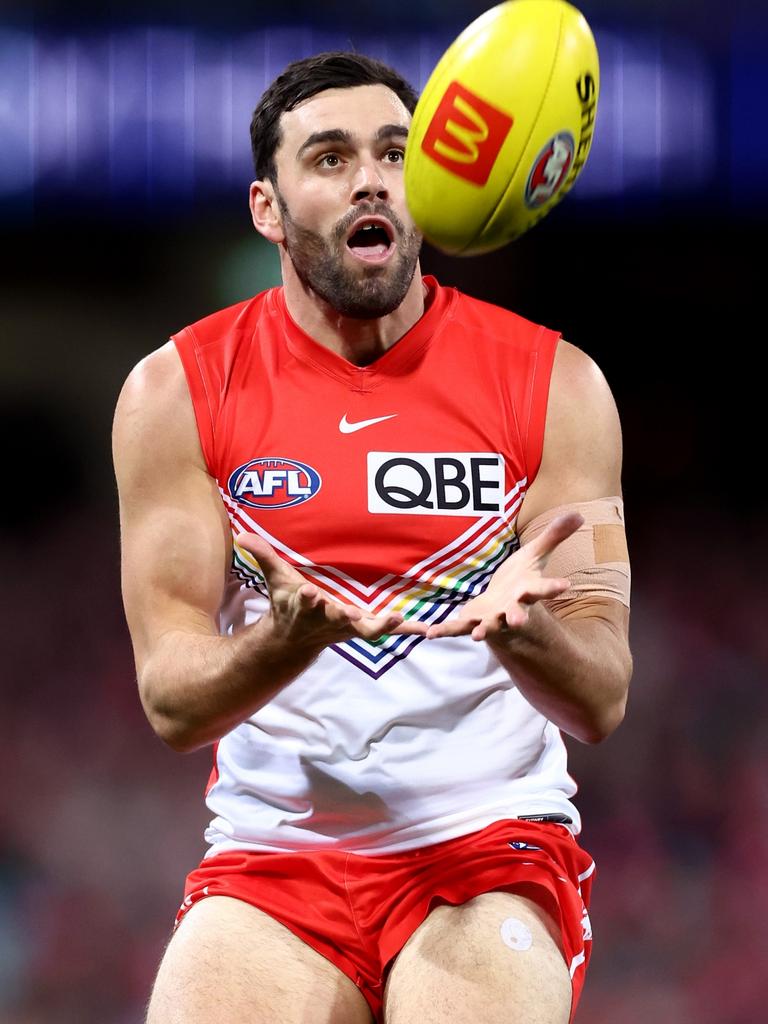 Paddy McCartin was solid in defence for the Swans. Picture: Matt King/AFL Photos/via Getty Images
HICKEY A HIGHLIGHT
A name commentators could not keep away from the microphone was that of Swans powerhouse ruckman and former Saint Tom Hickey.
Hickey made his return to John Longmire's line-up after playing just two of Sydney's last nine games due to a foot-related injury which followed a nasty knee blow.
From the first bounce, Hickey controlled the direction of play and won most clearances.
The Sydney ruckman scored one goal and had a total 22 disposals.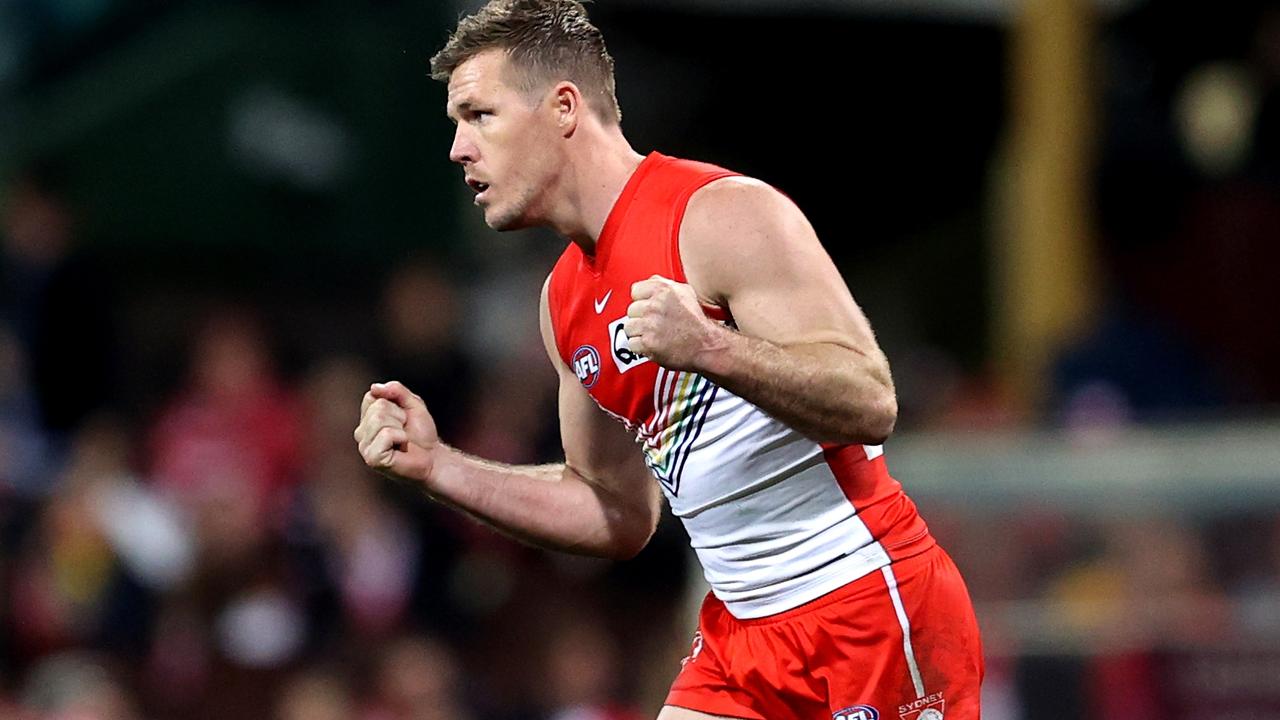 Luke Parker celebrates kicking a goal. Picture: Brendon Thorne/AFL Photos/via Getty Images
SCOREBOARD
SWANS: 3.1 4.6 9.10 12.11 (83)
SAINTS: 1.2 2.2 2.6 4.8 (32)
McGREGOR'S BEST
Swans: Heeney, Franklin, Papley, Hickey, Florent, Lloyd
Saints: Ross, Steele, Butler, Crouch
GOALS
Swans: Heeney 3; Clarke 2, Papley 2; Franklin, Florent, Hayward, Parker, Hickey
Saints: Butler, Membrey, Billings, Windhager
INJURIES
Swans: nil
Saints: nil
UMPIRES
Leigh Fisher (3), Matt Stevic (9), Alex Whetton (19)
VENUE
31,513 at SCG
PLAYER OF THE YEAR
TAMARYN MCGREGOR'S VOTES
3 I. Heeney
2 T. Papley
1 S. Ross
Originally published as AFL 2022: Paddy Ryder, Bradley Hill disagreement, Saints deny dropping