Brad Crouch opens up on his brother's tough year at Adelaide, joining the Saints and his fresh start
Brad Crouch knows what it is like to need a fresh start. So what does he think his brother's next move should be? He opens up on his own exit and life at the Saints.
Brad Crouch says his brother Matt deserves to be playing AFL football, revealing it has been "tough watching" his sibling on the outer at Adelaide.
Despite having a year to run on his deal, Matt Crouch's future at the Crows has been under a cloud after reports the out-of-favour midfielder's days at the club were numbered.
The 2017 Crows' best-and-fairest has played just 11 senior games this year and just one since he was dropped for Round 15.
But Adelaide coach Matthew Nicks has disputed questions over the 27-year-old's future, saying he is a "required player at this footy club".
The speculation about Matt's future came after a horror 2021 campaign when he was unable to play a senior game due to hip surgery and then a groin injury.
Crouch said it had been a tough two years for his brother, but was adamant Matt should be playing AFL football.
"It is tough watching him go through what he has at the moment," Crouch said.
Watch every blockbuster AFL match this weekend Live & Ad-Break Free In-Play on Kayo. New to Kayo? Start your free trial now >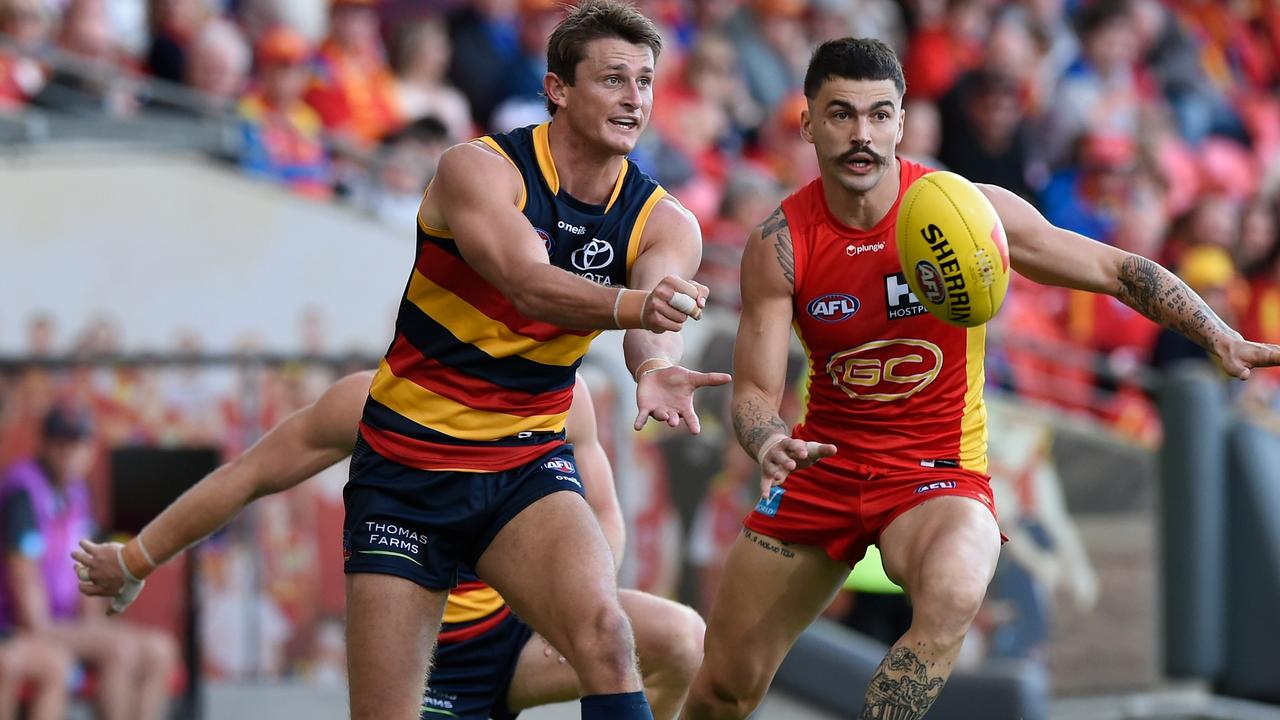 Matt Crouch has spent parts of the season in the SANFL. Picture: Getty Images
"It has been a really tough year for him after missing with his groin injuries, it has been a really tough 24 months for him.
"I still think he should be playing AFL footy because he is a really good AFL player and has proven that time and time again.
"It has definitely been a frustrating year for him, I just want the best for him.
"I'm not sure how that looks for him at the end of the season but I just think he deserves to be playing AFL footy."
The Crouch brothers were teammates at the Crows for seven seasons before Brad moved to the Saints as a restricted free agent at the end of 2020.
Crouch said he was unsure what the future held for his brother when asked if the 2017 All Australian should look to continue his career elsewhere.
"It's a really tough one. At the moment, he is not in their side and I'm not sure what conversations are going on behind closed doors in regards to him," Crouch said.
"They are obviously in a different position, they are in a rebuild as well, so it is a tough one but at the moment I think he should definitely be playing AFL footy."
Crouch said the brothers were each other's biggest supporters.
"(We speak) just about every day," Crouch said.
"It's obviously a lot different now because we can't see each other as much but we speak just about every day on the phone."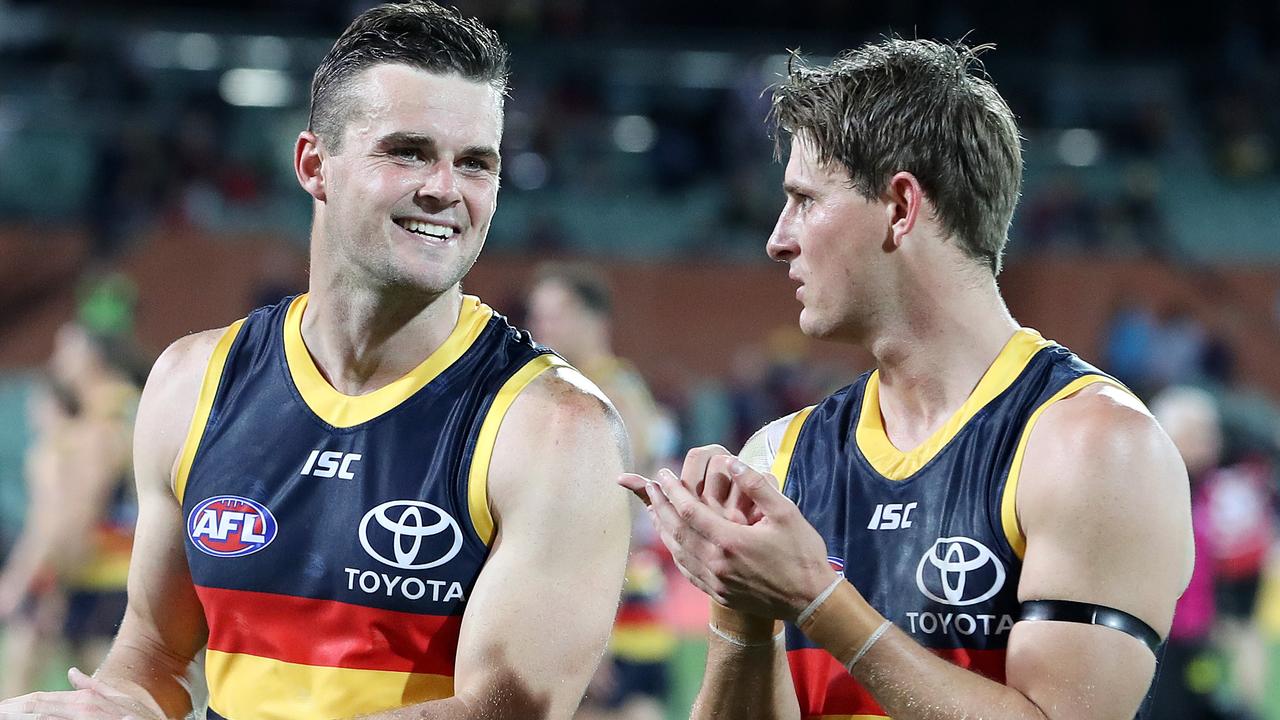 Brad and Matt Crouch in their final game together for the Crows. Picture: Sarah Reed
HOW CROUCH HANDLED TOUGH START TO LIFE AS A SAINT
St Kilda midfielder Brad Crouch has revealed how he overcame a "negative mindset" over his football in his final years at Adelaide to recapture his love for the game – and ignite his best form – in his new home at the Saints.
Opening up on how he had grown since the off-season scandal at the end of his final year with the Crows before his move to St Kilda, Crouch told how addressing his new teammates upon his arrival at Moorabbin had allowed him to set the foundations for a fresh start.
Now in his second season at the Saints, Crouch, 28, has relished the change and is making a serious impact in the midfield to be touted among the top contenders for the team's best-and-fairest this season.
But Crouch said it was a different story in his final years at Adelaide with the former Crows' club champion admitting he was "not enjoying a lot of my footy".
At the end of the 2020 season, Crouch and then teammate Tyson Stengle were suspended by the AFL for "conduct unbecoming" after being caught with an illicit substance.
Crouch was suspended for two matches, which he was forced to serve at the start of the 2021 season at his new club where he arrived as a free agent.
Reflecting on what he had learned from that experience, Crouch conceded events at the Crows – in the space of four seasons there was the death of coach Phil Walsh in 2015, a heavy Grand Final defeat in 2017 and a season lost to injury in 2018 – had taken a "toll" on him.
"It was definitely a hard situation to be in," Crouch said.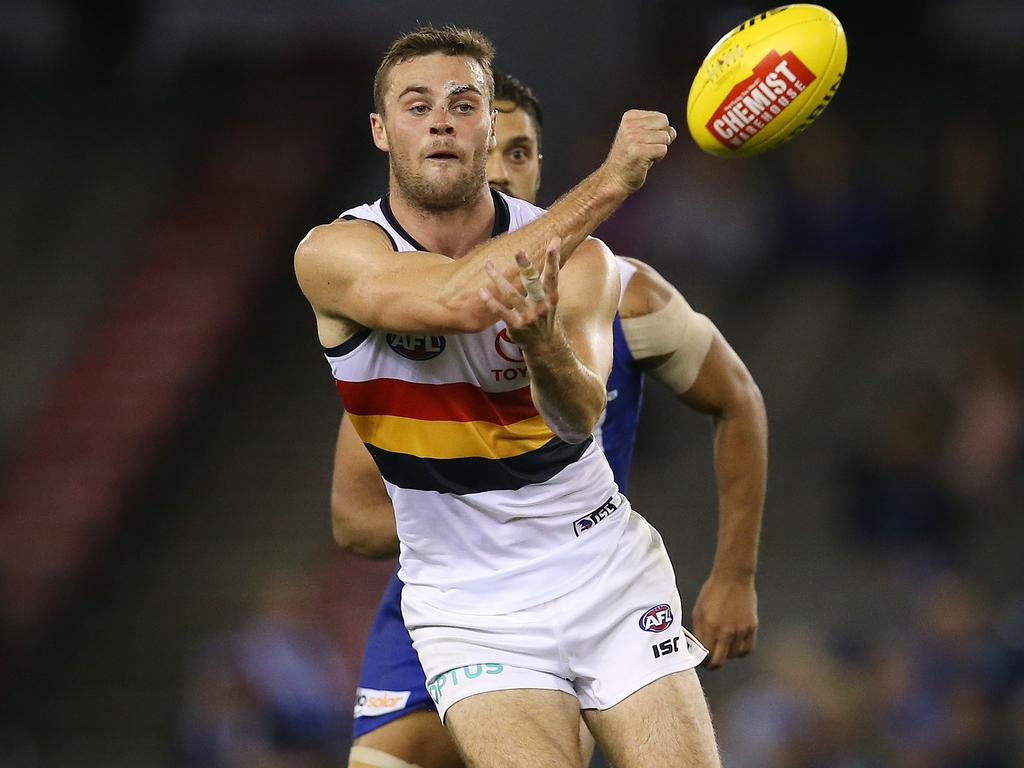 Brad Crouch had a tough finish to his time at the Crows. Picture: Michael Klein
"It probably led from the last couple of years where I was really not enjoying a lot of my footy at all the past few years before that in Adelaide.
"It was probably a sense of what I really wanted to do and what I wanted to be. I definitely felt that from then I have changed a lot of the way I felt about my footy and tried to change my mindset, I was definitely in a really negative mindset about football.
"I don't know whether it was through the past three or four years, the things that happened at the footy club or the things that happened to our playing group probably took its toll a little bit, we went through a lot of disappointment and heartbreak through that stage and it definitely took its toll on me, there is no doubt about that.
"So I have definitely found that I have come out a lot better from it."
After his arrival at the Saints, Crouch addressed his off-season incident and ban with the playing group as they returned to training in January.
Crouch said the pre-season meeting had allowed him to make a clean start at the club.
"(Coach Brett Ratten) was really good and it probably gave me a sense of ease and broke a little bit of the awkward silence with players I was just meeting and staff I was just meeting as well," Crouch said.
"That really helped. Like everything we try to do at the footy club is to promote talking about stuff instead of just letting stuff go and then things fester, I think that's a sign of a good footy club.
"A lot of the players and the footy club from that moment have been really supportive and I couldn't talk any higher of the St Kilda footy club, they have been amazing since I got to the footy club and offered such great support with everything.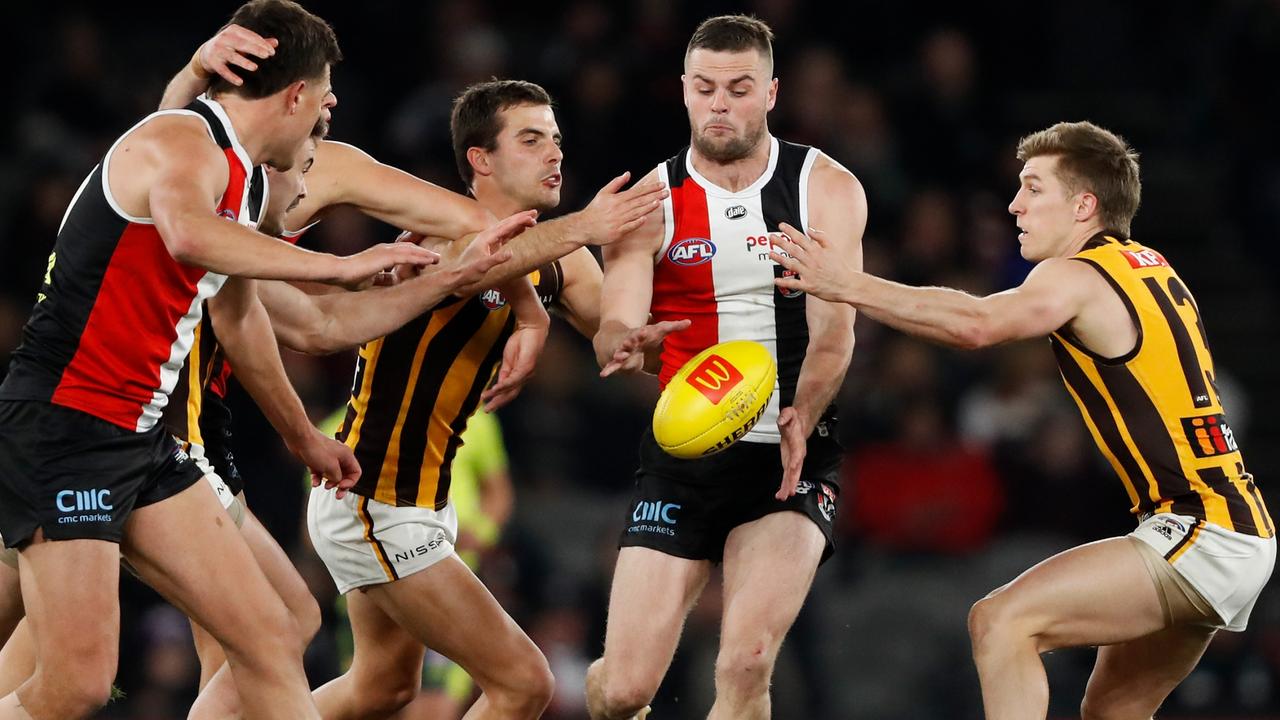 Brad Crouch has been in great form this year. Picture: Getty Images
"They have got a great leadership program and a lot of the people running the club and in the office upstairs have just been amazing to me.
"I think we have got everything it takes to be a really strong powerful side for a long time."
Crouch made a strong impact in his first season at Moorabbin, finishing equal-fifth in the Trevor Barker Award after playing 20 games in his first year back in Victoria.
He has lifted his game again in 2022, ranked among the elite midfielders in the competition for tackles and above average for disposals – averaging 27.3 a match – kicks and for total clearances.
"I am definitely finding it a lot easier after one season," Crouch said.
"I feel like I built into last season pretty well and got to know a lot of the boys and the way we play and stuff like that so that definitely helped last year.
"I think I have probably had a little bit of a better year this season from last year as well.
"Last year I played a few different roles at different times and this year I have really played virtually on-ball the whole time and inside the whole time.
"We spoke a little bit about that before the season with the coaches, (they said) 'We want you to get back to playing in your No. 1 role and do what you are really good at'.
"That's probably been the key thing for me has been to focus on what I am good at and play to my strengths."
Crouch has also relished helping mentor some of the club's emerging talent.
"All those young guys have played a lot of footy this year for their first year in the side," Crouch said.
" (Nasiah) Wanganeen-Milera has been really good, he's not in the side at the moment, but he is a really good start on a wing.
"There is obviously (Marcus) Windhager, who has been doing some tagging roles through the midfield and he has obviously played as a forward as well.
"And then Mitch Owens I think is going to be a really good player for us for a long time.
Nasiah Wanganeen-Milera (right) is a rising star at the Saints. Picture: Getty Images
"Those three boys, particularly, to play as much footy as they have in their first year has been a credit to them and it has been really enjoyable to be able to play with those young guys and try and help them out as much as we can.
"I feel like I have got a fair bit of experience that I can add to the group."
Off-field, Crouch is enjoying life as well.
He is preparing to marry his fiancee in the Adelaide Hills in December and has enjoyed being back in Victoria closer to his parents in Ballarat.
Away from football, he has found balance coaching the Year 10s at Haileybury College and works with his best mate, former Bomber Nick O'Brien, a day a week in industrial real estate.
But his immediate focus is helping propel St Kilda into the finals.
Sitting just inside the top-eight, the Saints have to keep winning to keep their hopes of playing finals alive.
But they face a tough run home with matches against ladder leader Geelong at GMHBA Stadium and top-eight sides Brisbane and Sydney at Marvel Stadium.
Crouch, however, had faith that the Saints would secure a finals berth.
"I am really confident that we can," Crouch said.
"We've obviously got a really tough draw to end the season, we have got three really good sides to play, but we have got two of them at home and we have got Geelong this week in Geelong, which is obviously a really tough game.
"I think the season has shown that anyone can beat anyone at any stage. We have been working on the process of trying to get back to playing our best footy at the right time of the year and I think there are some signs …. that we can do it.
"But if we find the four-quarter effort that we have been searching for in the next few weeks and start playing the footy we know we can play, I think we can match it with just about everyone."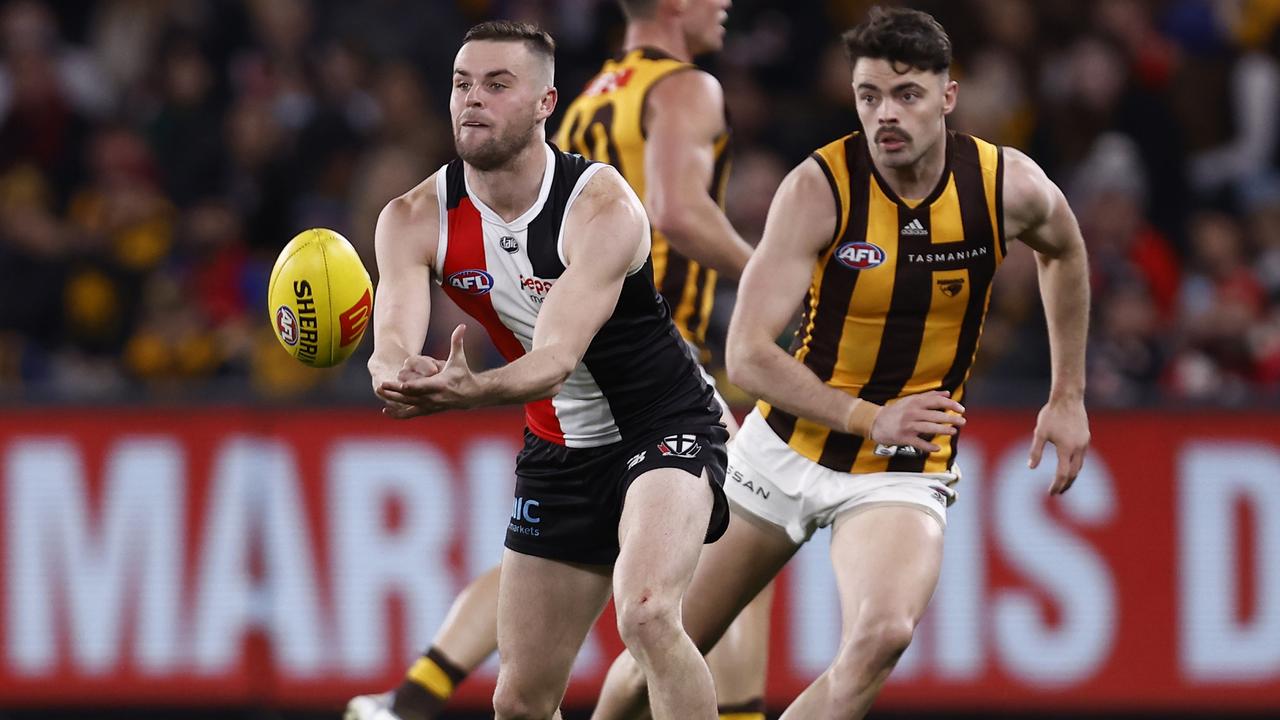 Brad Crouch is enjoying his football again. Picture: Getty Images
WHY THERE WAS 'NOTHING WORSE THAN COMING TO FOOTSCRAY'
Nick Smart
It was to be the final AFL game played at the Whitten Oval, and Brownlow Medallist Tony Liberatore said you could have put your house on the Western Bulldogs that day.
It was Round 21, 1997, and the Western Bulldogs' clash with West Coast would be the last match played for premiership points at a venue that had hosted 642 Footscray matches in the club's history.
"I remember it was a sunny morning and it then clouded over, and the crowd was incredible with probably about 30,000 there," Liberatore said.
"We were all pretty worked up, and no other side was going to beat us that day.
"It was quite an emotional day and for the supporters especially … it was a great memory."
The Bulldogs will wear a retro-style "Robodog" jumper design against Fremantle at Marvel Stadium this Saturday to mark 25 years since the last AFL game at the oval.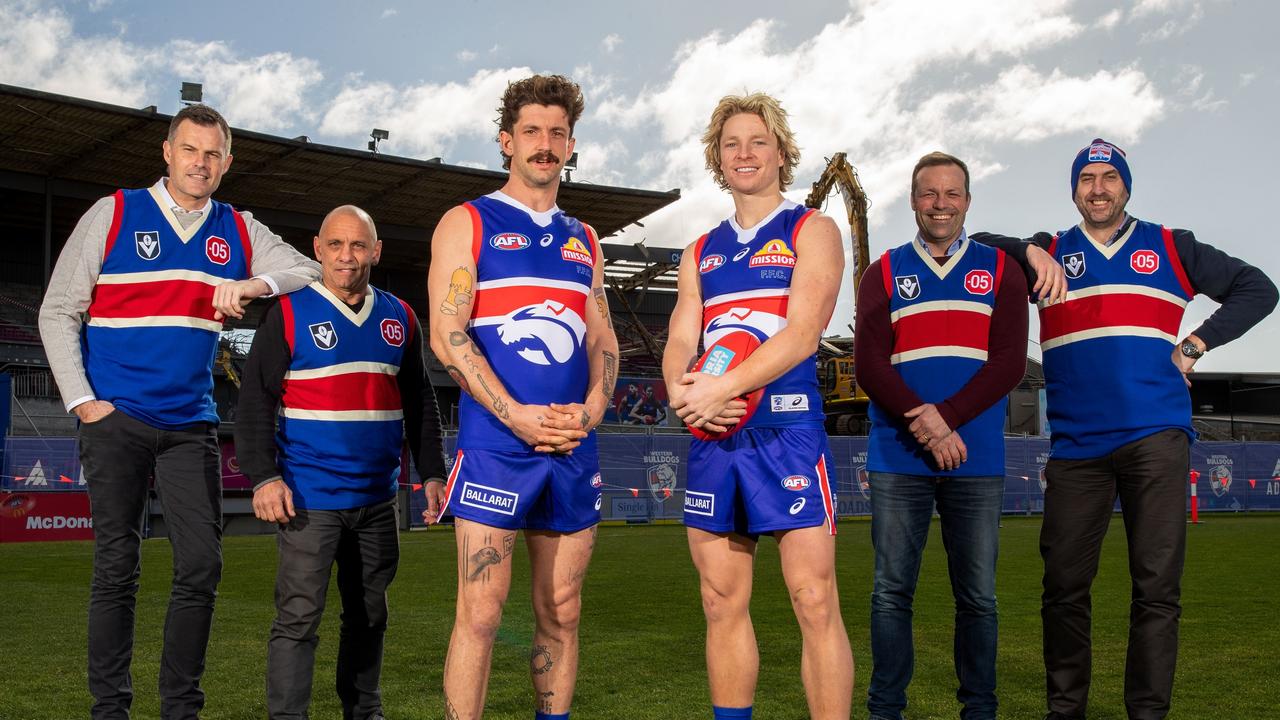 Former Western Bulldogs players Luke Darcy, Tony Liberatore, Brad Johnson and Matthew Croft pose for a photo with current players Tom Liberatore and Cody Weightman. Picture: Darrian Traynor/Getty Images
It was a historic occasion, but not all were misty eyed that day.
Sitting in a cramped Channel 7 commentary box in the EJ Whitten Stand – which is currently being torn down – was former Hawthorn star Don Scott.
In his typically blunt manner, Scott said good riddance to a place he despised.
"This brings back memories, shocking memories of playing out here," Scott said at the time.
"It's a typical Footscray day; the wind will be blowing down the ground, you've got the short wings, the dressing rooms are small, they're dirty, the showers are cold.
"There's nothing worse than coming to Footscray."
It was music to the ears of Bulldogs supporters and to Liberatore, who applied the screws to a young Ben Cousins that day.
"I just played him pretty tight and worked him over a bit," he said.
"As I said, no other side would have beaten us that day."
Western Bulldogs v West Coast – the last AFL game played at Whitten Oval on August 23, 1997.
What made Whitten Oval so miserable for opposition sides, according to Liberatore, were the elements.
"The wind was the big thing," he said.
The ground was also generally muddy when I first played there, and in that last game Mick Malthouse was the coach of West Coast and he was the coach of the Bulldogs in 1989 before leaving.
"He was another person we wanted to sort of stick it up so to speak, as EJ (Whitten) would say."
As Liberatore walked across the ground on Monday with son Tom and former teammates Luke Darcy, Brad Johnson and Matthew Croft, the famed EJ Whitten stand was demolished as part of the redevelopment.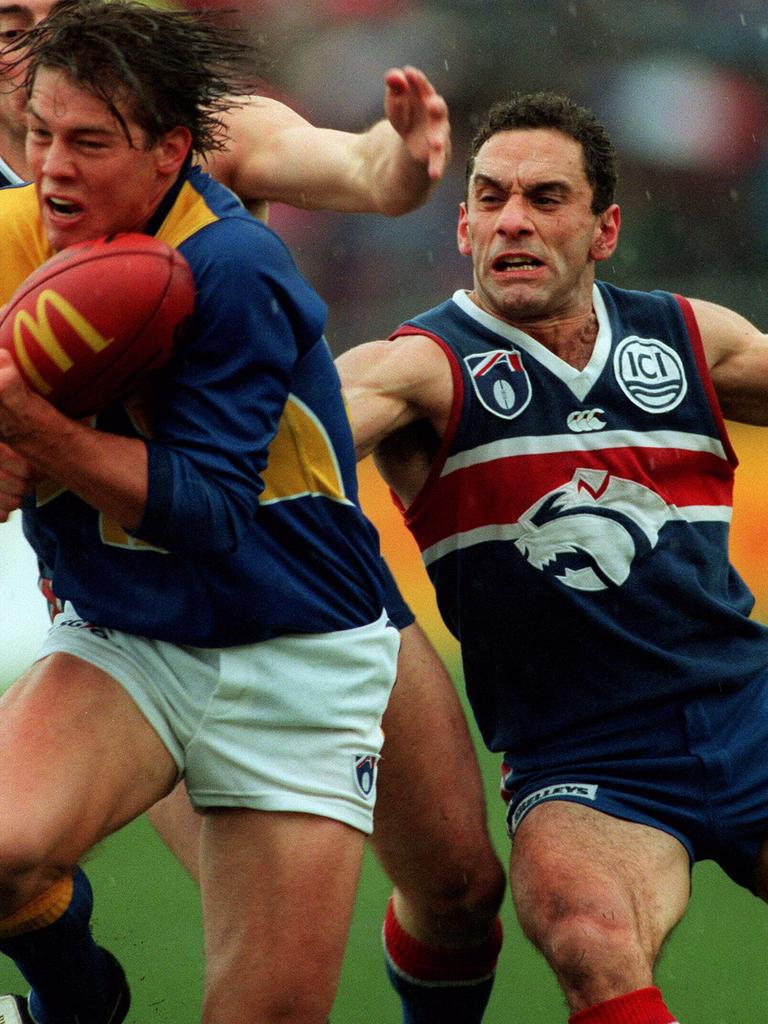 Tony Liberatore attempts to tackle Eagle Ben Cousins in Round 21, 1997.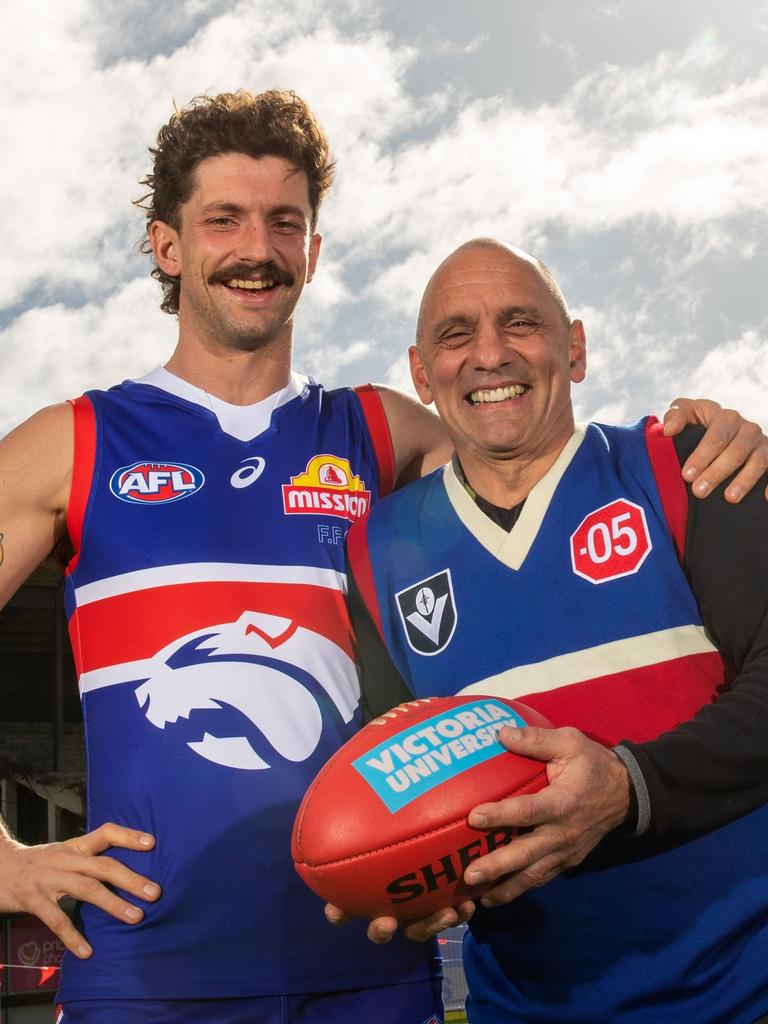 Tony, right, with son Tom on Monday. Picture: Darrian Traynor/Getty Images
He said it was hard to believe this was the same club that once used to have to rattle tins to survive in the late 1980s and 1990s.
"It's amazing because we weren't a rich club, we were quite a poor club," Liberatore said.
"Even that 1997 season we didn't train at the ground because it was getting redone or something, so we were training at RAAF bases in Laverton, we had no sponsors, we had to sort of wait for match payments and hold off for six months to get paid because the club couldn't make ends meet.
"To see how it's developed and grown, and even getting bigger, is fantastic."
Originally published as Brad Crouch opens up on his brother's tough year at Adelaide, joining the Saints and his fresh start