AFL 30 days to go: Jon Ralph's 30 reasons for supporters to get up and about for the coming season
With 30 days until the AFL season kicks off with a predicted spiteful Grand Final replay, footy expert JON RALPH looks at big reasons why this season will be engrossing and controversial.
It's 30 days until Round 1 where the Demons will begin their premiership defence, while the Bulldogs will seek Grand Final revenge and the other 16 clubs prepare to make a big impact in the 2022 season.
Herald Sun footy expert Jon Ralph lists 30 reasons to be excited about the return of the men's season.
1. The full house sign going up at the MCG
Gillon McLachlan wants Demons and Dogs fans to pack the MCG in 30 days time even if the MCC's conservative estimate is somewhere around 80,000 fans.
Melbourne fans have a premiership to celebrate, a flag to unfurl, a coach to barrack for after so many fans chose the us-versus-them philosophy and accepted the most charitable version of his behavioural issues even when they were elevated to board and AFL level.
So barrack with your feet and fill the bloody joint.
Any chance of a "Glenn Bartlett, you were wrong" if the Demons go back-to-back and Simon Goodwin actually gets a victory speech this time?
Melbourne fans will have plenty to cheer about when the Demons kick off their premiership defence. Picture: Michael Klein/NCA
2. The Dusty and Shai show
Seven of Dustin Martin's 19 goals from 16 total games came in two matches last year as the club's ravaged midfield required him to spend more time in the centre square.
For all of Shai Bolton's heroics and high-flying exploits, he kicked just 23 goals — only good enough for 58th in the league.
Can Richmond's midfield — Trent Cotchin, Kane Lambert, Jack Graham, Dion Prestia, Thomson Dow, Jack Ross — sustain the rage long enough to allow Martin and Bolton the time to form a lethal Punt Road double act inside 50 in the same manner as Round 12, when they both kicked three goals in a 39-point demolition?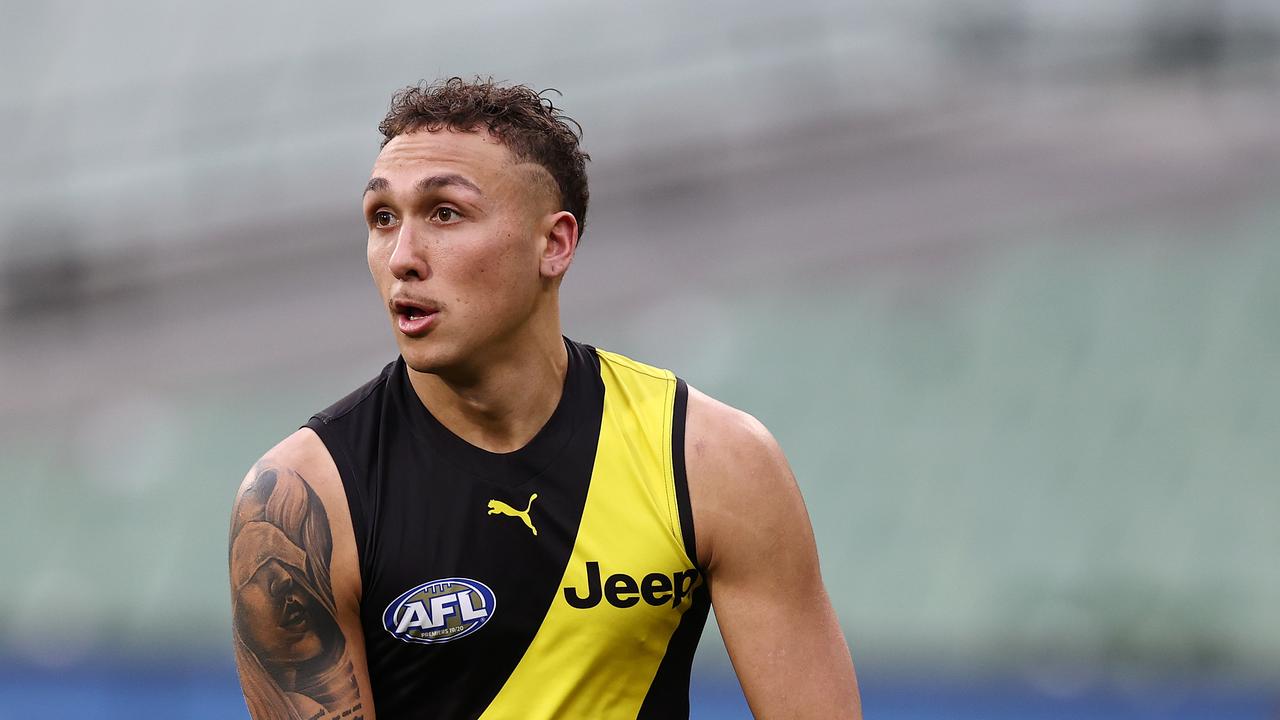 Richmond fans will be hoping they will witness more of Shai Bolton's silky skills in front of goal this season. Picture: Michael Klein/NCA
3. Jordan De Goey as an actual matchwinner
Hey Jordy, get rid of the d---head mates, get off the booze (but don't call it a booze ban in case you fall off the wagon once this year) and publicly pledge your loyalty to Collingwood to avoid another contract saga.
De Goey should set his sights on a Christian Petracca-style year.
Last year De Goey amassed 420 touches and 23 goals from 20 games. Petracca had 730 touches and 29 goals. And won the Normie.
But here is the stat that matters — 103 tackles to 39.
If De Goey can commit to the kind of defensive intent Petracca found (and fitness required to execute it running both ways) he will win his teammates over in a heartbeat.
Jordan De Goey needs to emulate the defensive deeds of Christian Petracca. Picture: Robert Cianflone/Getty Images
4. The Willie and Liam show
If Willie Rioli wasn't on a fast track to footy's most dynamic small forward when he played his last game — the 2019 elimination final — he was at least in the conversation.
In two years together in 2018-2019 Rioli and Liam Ryan kicked 96 goals at the feet of Josh Kennedy and Jack Darling.
Now with vaccine holdout Darling at least pondering setting fire to half a million bucks — what a ridiculous waste of money and talent — Adam Simpson needs this dynamic duo more than ever.
Simpson needs to put speed into the game not only because the former chip-chip kick-mark game plan (which did win a flag) is outdated, but also because it will allow Rioli and Ryan to run riot.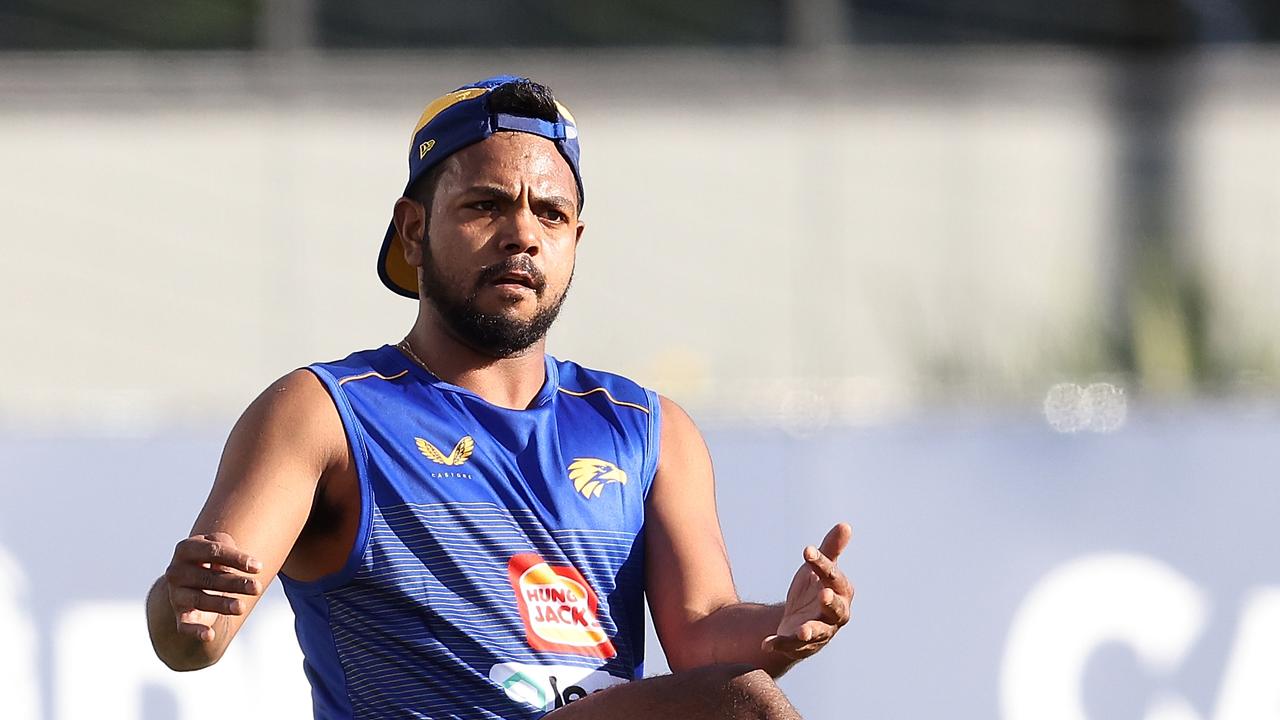 West Coast needs Willie Rioli in full goal sneak mode in 2022. Picture: Paul Kane/Getty Images
5. Stuart Dew the supercoach
Stuart Dew has just lost his best player in Ben King, is in the last year of his contract and has the spectre of Alastair Clarkson hanging over his future.
So far, so wretched.
What better way prove the doubters than showing why he was appointed in the first place with canny solutions to fill the vacuum.
At times Jack Lukosius or Izak Rankine or even Jarrod Witts will have to come out of the goalsquare, with crisis creating the opportunity for Dew to prove his coaching bone fides.
What has he got for us that we haven't even thought of to solve his goalscoring issues?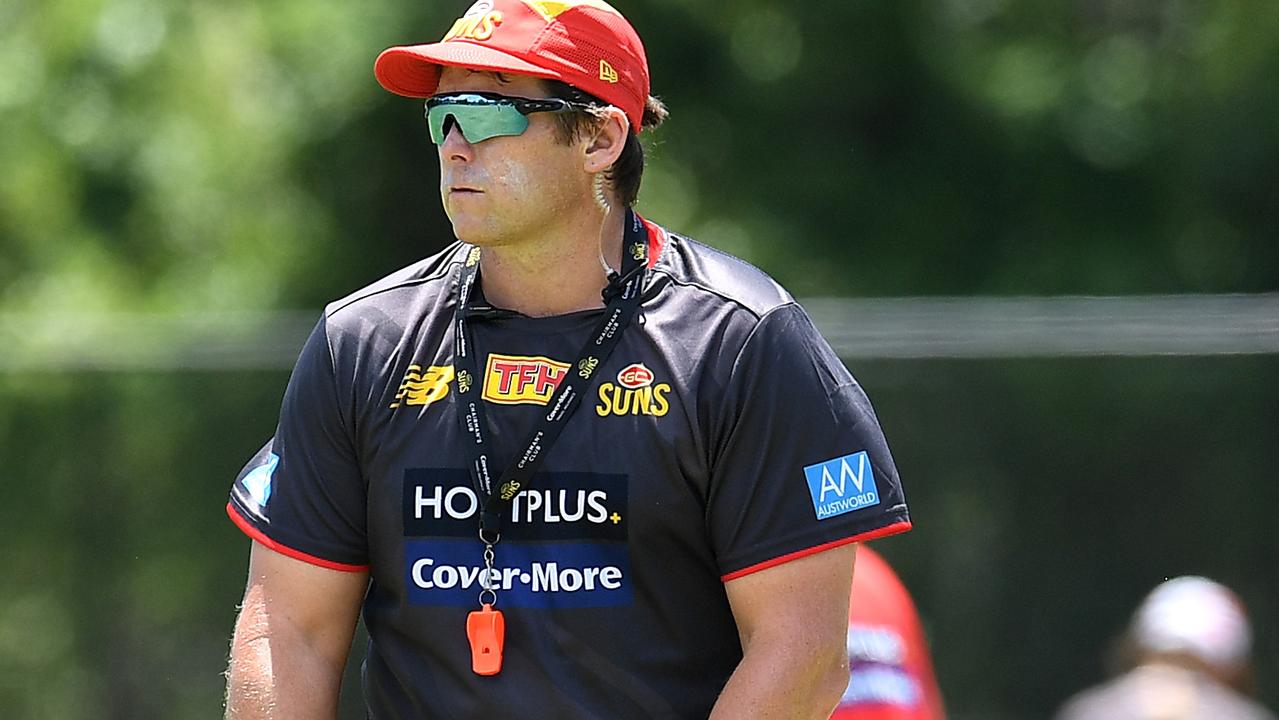 Stuart Dew will need to pull something out of the hat at the Gold Coast. Picture: Albert Perez/Getty Images
6. Nathan Buckley beyond the headlines
Buckley's hope can offer more than headlines in his new media role betrays the fact he will be the ultimate headline generator in his new roles with SEN and Fox Footy.
But beyond that, can Nathan Buckley actually take us inside the coaches box and deconstruct what is still a mighty complicated game in a manner we haven't seen before?
Can't wait to see it unfold, even if it is only for 12 months before he jumps back into coaching.
Question for you? If your club sacked your coach would you prefer Clarkson or Buckley?
It's clearly Clarkson given four flags, but it's a closer discussion than it deserves to be given the aura that surrounds Buckley and the peerless manner in which he holds himself.
7. Round 1 rivalries
Michael Hibberd said the Demons only played "Freed from Desire" after the premiership because it was a "banger" and they didn't mean any harm to the Dogs, who had made it a tradition.
Taylor Duryea made clear last week he didn't believe him.
It's clearly on from the opening night of the season.
We don't condone violence. But niggle and tension and harsh words between Grand Final opponents? Bring it on.
Isaac Heeney described the finals loss to GWS as one of the toughest of his career, keen to avenge it in Round 1. Yep, bring that on too.
8. The Rising Star race
Nick Daicos played five NAB league games last year for an average of 159 ranking points, 35.8 touches, 5.8 clearances, two goals.
Jason Horne-Francis played 20 senior SANFL games for 88 ranking points, 16.5 disposals, 3.1 clearances and only 0.8 goals per game.
Daicos and Horne-Francis are each $4.50 with Sportsbet and Horne-Francis is $3.50 to Daicos' $5 with TAB for the Rising Star.
Here is why my money is on Horne-Francis.
Daicos will play midfield and half back and Horne-Francis will play midfield and half forward.
Both will have moments of brilliance and jaw-dropping highlights reels but if Horne-Francis can kick 18-20 goals to go with 350 touches will the goals get him home?
Buckle up and enjoy the ride.
9. Holding the ball interpretation
It's as if the league's chiefs had a pre-season powwow after introducing a 23rd man only days before last season to consider the absolute best way to generate talkback discussion and fan debate this time around.
And come up with: Let's bring in a new holding-the-ball rule.
Can't wait for how it unfolds.
For too long players capable of getting rid of the ball have instead retained it because there is no teammate in the vicinity.
So go hard early, because while there are cases when a player legitimately doesn't have prior opportunity so many could move the ball on and choose not to.
10. Thursday night footy
We get five rounds of it in the nine publicly available rounds released. Hey AFL, do what you need to with the AFLPA to orchestrate the deal that allows it every single week.
11. Tasmania being awarded the AFL's 19th licence
The league can be dragged kicking and screaming all the way to a Tasmanian team, which for all of its challenges has none that cannot be overcome.
Or it can do what it has always done with difficult challenges — like an AFLW competition, like expansion into non-football states, like making the game safer from head knocks — and puts the full force of its powers into taking the lead on a bold new experiment that makes football a truly national competition.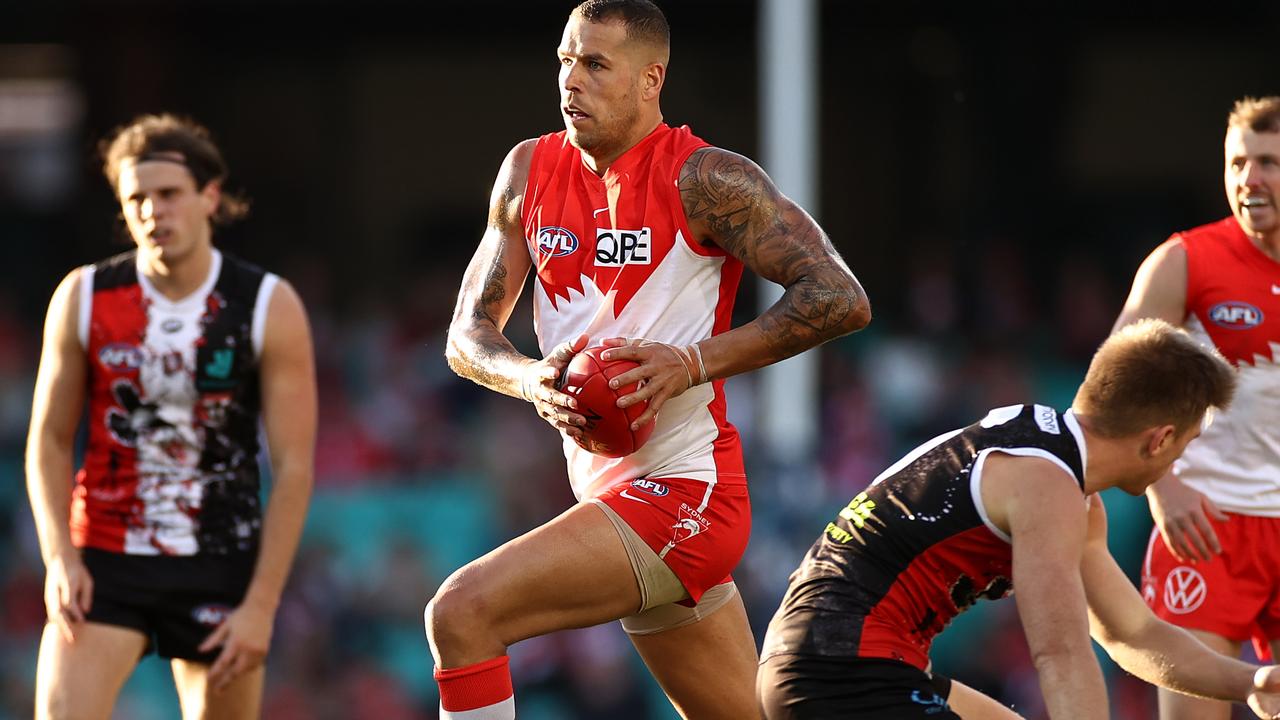 Lance Franklin deserves something special with his 1000th goal. Picture: Cameron Spencer/Getty Images
12. Buddy's 100th goal celebration
Tony Lockett's record-breaking goal — fittingly also his 1300th — was a wobbly floating drop punt.
(Sidenote: Look up the goal on YouTube, the full-sized Sherrin looks like a kid's footy, his hands are so massive).
Any goal will do for Lance Franklin's 1000th, but imagine if it was a three-bouncer down the wing, or a raking drop punt from outside 50 or something out of the Lance Franklin trick bag.
To consider his brilliance, realise that none of the active players behind Franklin have a chance to hit 1000 goals — Jack Riewoldt (715), Josh Kennedy (686), Tom Hawkins (665), Eddie Betts (640) and Taylor Walker (489).
He is nearly 30 per cent more prolific than even his nearest rival. Astonishing.
13. Sam Mitchell's first crack at the title
Never met a player in football more assured.
Scratch that, with the exception of Nathan Buckley and Lance Franklin, never met a person in football more assured.
Mitchell knows the score — every success and failure he has this year is measured by the context of Hawthorn forcing the greatest coach in modern history out of the club.
But what if Mitchell turns the seven win, two-draw Hawks into a finals team with bold coaching and rock-solid player-coach relationships.
Will it take any of the paint off Clarkson, clearly not in terms of his long-term legacy, but for clubs kicking his tyres for 2023?
Whatever the case, the Hawks are must-watch in 2022.
Michael Voss will have a new-look defensive system in place following the departure of Liam Jones. Picture: Dylan Burns/AFL Photos
14. Michael Voss second time around
Prediction. Carlton will be a vastly better defensive unit than 2021 even with the loss of All Australian contender Liam Jones.
Jones was in All Australian consideration deep into 2021, at times holding up the dam wall with Jacob Weitering despite the torrent of inside-50s conceded.
But the Blues still gave away the second-most points (1972 to North Melbourne's 2075).
Elite defensive systems are built on that — system — as well as talent and even if it is Oscar McDonald or Caleb Marchbank replacing him, the Blues with a recognisable system should be two goals better in defence.
15. The comeback kids
Michael Hurley, Sam Docherty and Ben Cunnington.
Docherty might have been an on-field whipping boy last year as a non-tackler who battled for impact, but he is Carlton's emotional heartbeat.
Hurley has always been an Essendon fan favourite from the day he kicked four goals against Hawthorn in Round 22, 2009 through the ASADA sagas and now his serious hip issues.
Docherty and Cunnington's cancer battles are well known.
Their potential returns to football this year will stir the emotions given all they have endured.
16. Charlie Curnow dining out on a hapless opponent
Curnow kicked 2.5 in his four return games in 2021 but the two goals were sumptuous.
An effortless 55m bomb off one step in his return game then a curling glorious snap against Gold Coast where he stopped on a dime to let the traffic ease past him before executing with precision.
It is impossible to predict what 2022 will bring but in a season that has already lost Ben King to an ACL tear. Let's hope the football gods hand Curnow an injury-free season.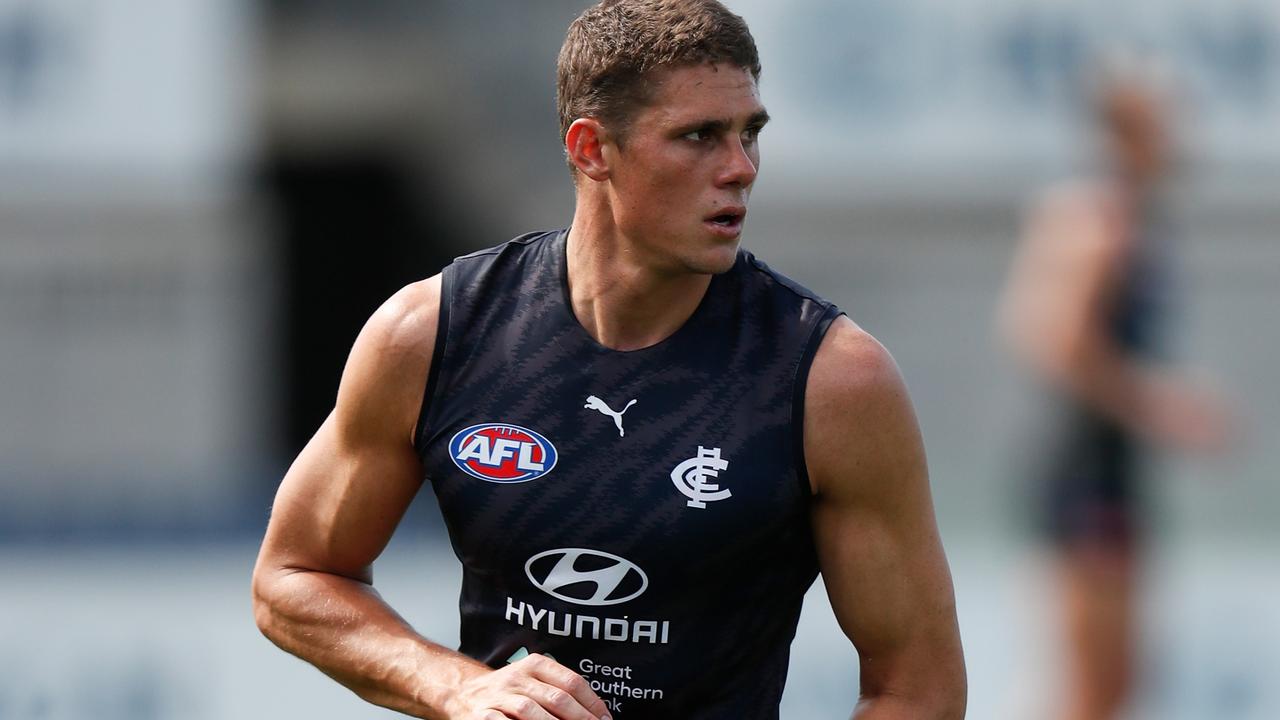 Charlie Curnow has the potential to blow the game apart if he can finally avoid injury. Picture: Michael Willson/AFL Photos
17. St Kilda's emerging tall forward
Max King deserves all the kudos in the world for overcoming the yips and a back injury to bounce back, kicking 5.17 in a stretch from Rounds 5-11 then finishing with year with 25.9.
Yet we can't wait to see if Cooper Sharman is a flash in the pan or something more substantial.
In Round 23 the mid-season selection's four goals and four crash-packing contested marks gave Saints fans a tease of what might be around the corner.
What has the 21-year-old 193cm forward straight out of the SANFL got for us next?
18. Missy Higgins
The Saints cut up rough at the headlines after Jack Higgins squandered 23 possessions to kick 1.6 against the Giants in Round 12, then kicked 0.2 the next week.
He too responded — 10.1 in his last six games.
But at some stage this year he will kick the matchwinner and the headlines will flow.
Dead Eye Higgins? Jack the Giant Slayer?
He is such an engaging character few would begrudge him an early-season magical moment.
Expect Jamarra Ugle-Hagan to land some big blows for the Bulldogs. Picture: Michael Klein/NCA
19. Jamarra Ugle-Hagan's breakout season
Jamarra Ugle-Hagan's struggles in year one were totally understandable given he was a lightly raced colt with a fraction too much attitude and a huge challenge to break into an elite team with multiple key forwards.
Those struggles also might be the making of him, forcing him to rediscover his workrate and find elite training habits.
The Dogs believe the penny has dropped and after seven goals in his last four games before he made way for the finals.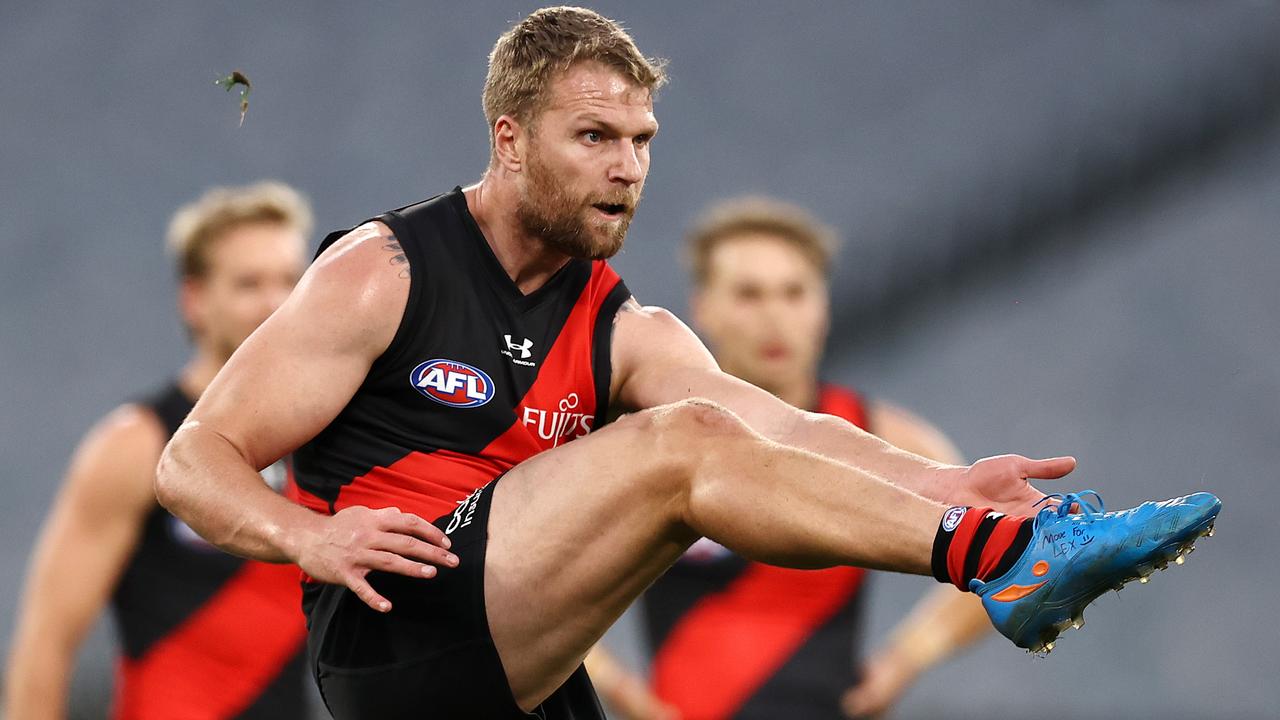 Jake Stringer can expect some serious heat from opposition this season. Picture: NCA
20. Rivals planning for Jake Stringer
Was Jake Stringer taking the mickey when he suggested he hadn't run over 2km in seven years before he got fair dinkum about his fitness?
Olympic athletes who have devoted their life to their craft — often for a pittance — would laugh at that level of unprofessionalism.
Stringer's football was intoxicating in 2021 (41 goals, 61 centre clearances, eight hauls of three or more) so what have rivals got for him?
Surely none of this nonsense about backing in our own system and not tagging the rival's best player.
Do they attempt to expose his defensive frailties, or rough him up or hard-tag him?
In the words of John Kennedy, at least do something.
21. Jezza
Captain obvious prediction.
If Jeremy Cameron gets sore in a warm-up pre-match this year the Cats won't be risking him this time around.
Cameron has now endured two below-par seasons after his Coleman Medal 2019, hub-sick and off his tucker in 2020 and then constantly hamstrung last season.
Geelong will want an explosive start to quieten the noise after last year's finals fade out and their age profile — they will still have 12 30-or-overs by Round 1 — and Cameron's raking left boot should be the centrepiece of them jumping from the blocks.
22. Triple Brownlow medallist Nathan Fyfe
Nathan Fyfe has only played 20 or more games three times since 2015.
In two of those three seasons he has won the Brownlow Medal.
Triple Brownlow medallist Nathan Fyfe has a nice ring to it — thanks, Bobby Skilton.
Given there were fears for his career when he suffered a severe bacterial infection in his shoulder in late October but he isn't far off a return to full training.
It would be some kind of comeback.
Can Nathan Fyfe add a third Brownlow to his extensive achievements? Picture: Paul Kane/Getty Images
23. Second chances
Tyson Stengle at Geelong (if he has truly turned his life around as those close to him profess), Charlie Constable at Gold Coast, Luke Dunstan at Melbourne.
Although how he gets a regular game in that midfield behind Christian Petracca, Clayton Oliver, Jack Viney, Angus Brayshaw, James Jordon and co. beats me.
24. The return of cult heroes and personal favourites
David King declared Zac Bailey as "his man" early in 2021 then watched him emerge as a star in front of our eyes.
Bailey's goal to square the Dogs final at 78 apiece was full of power and poise, darting between two Dogs to score before the scrounged Laitham Vandermeer point that got the Dogs home.
Some of my favourites for no particular reason (and you don't need a reason) — Sean Darcy, Noah Balta, Brayden Maynard, Sam Draper, Chad Warner, Errol Gulden, Tarryn Thomas.
25. Jeff Kennett going out in a blaze of glory
If we know anything about the former premier he will go down all guns blazing as he takes on rivals old and new in his last year as the Hawthorn president.
He has agreed to a succession plan of sorts, and while the Hawks bungled Al Clarkson's costly exit Kennett has been excellent for the Hawks and even better for the media keen for a quote and a stoush.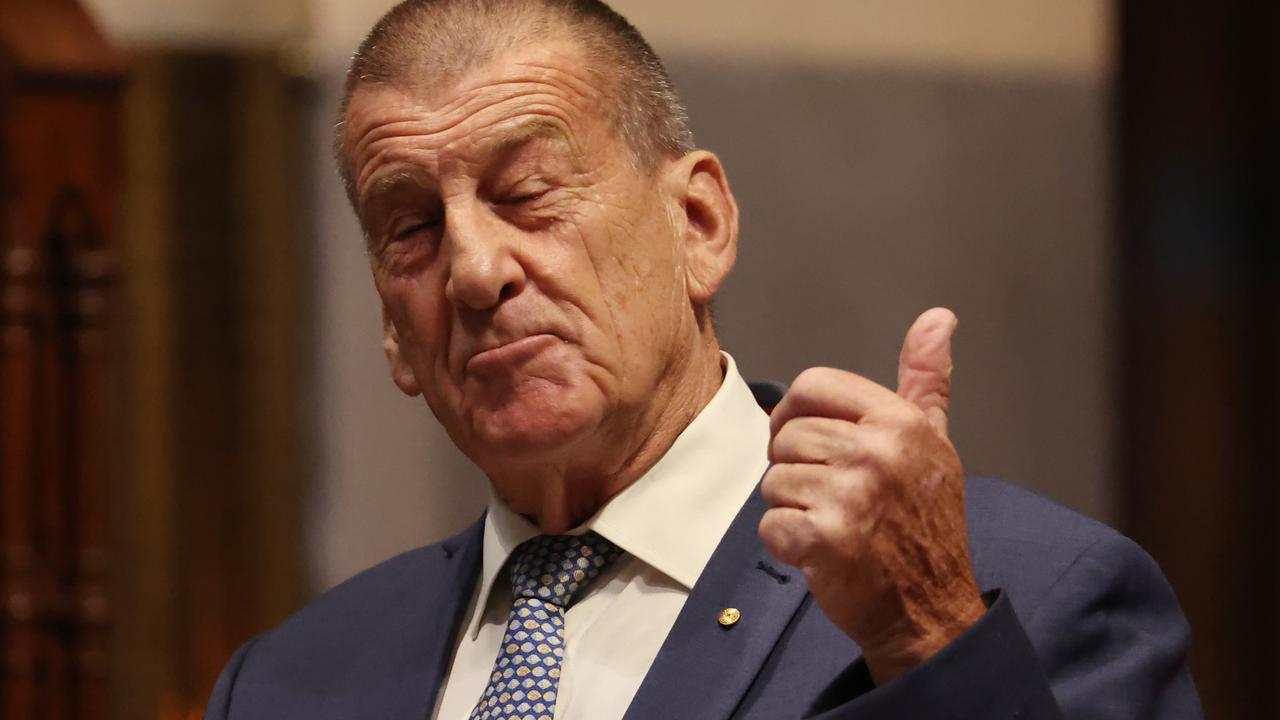 Don't expect Jeff Kennett to go out in anything less than a blaze of glory. Picture: David Caird/NCA
26. Cheap as chips recruits
Tim O'Brien is no superstar, but you can't help wondering what Luke Beveridge will make of him as a key cog in his back six 10 years into his AFL career.
Adam Cerra will get all the limelight at Carlton — and fair enough — but Blues fans might quickly fall in love with George Hewett if he can bring his defensive intent in the midfield on a weekly basis.
Ditto Jake Kelly as the defender Dons fans didn't know they needed but will quickly warm to given he puts small and medium smalls to sleep.
27. What has Jeff Browne got for us?
The new Collingwood president thought he would need the world's biggest crowbar to lever the incumbent board out of the way.
In the end he only needed a toothpick given their catalogue of misfires and own goals.
He wants a new Collingwood with 100,000 members, wants to throw his weight around when the occasion befits at AFL level.
Can a man who knows where every skeleton is buried at AFL House restore this club to its former role as an AFL powerhouse, because even its most ardent admirers would say it has lost that tag in recent years.
28. Big bags
Only six players kicked over 50 goals last year and no one kicked more than 62 goals.
Tom Hawkins (62 goals) led Bayley Fritsch (59), Harry McKay (58), Charlie Cameron (55), Lance Franklin (51) and Jack Riewoldt (51).
Scoring will again be low — it's what the coaches want — and while people mock the stand rule, it was at least a genuine attempt to bring flow to the game.
New footy boss Brad Scott says he isn't for radical rule changes, but despite many exceptional contests, the game is sick given a constant decline in scoring and as soon as the league admits the problem it can work on a cure.
People have never been more time poor, the attention span of kids has never been more fleeting, the competition for rival interests (E-sports, video games, soccer, et al) has never been more frenzied.
Let's get serious about solutions.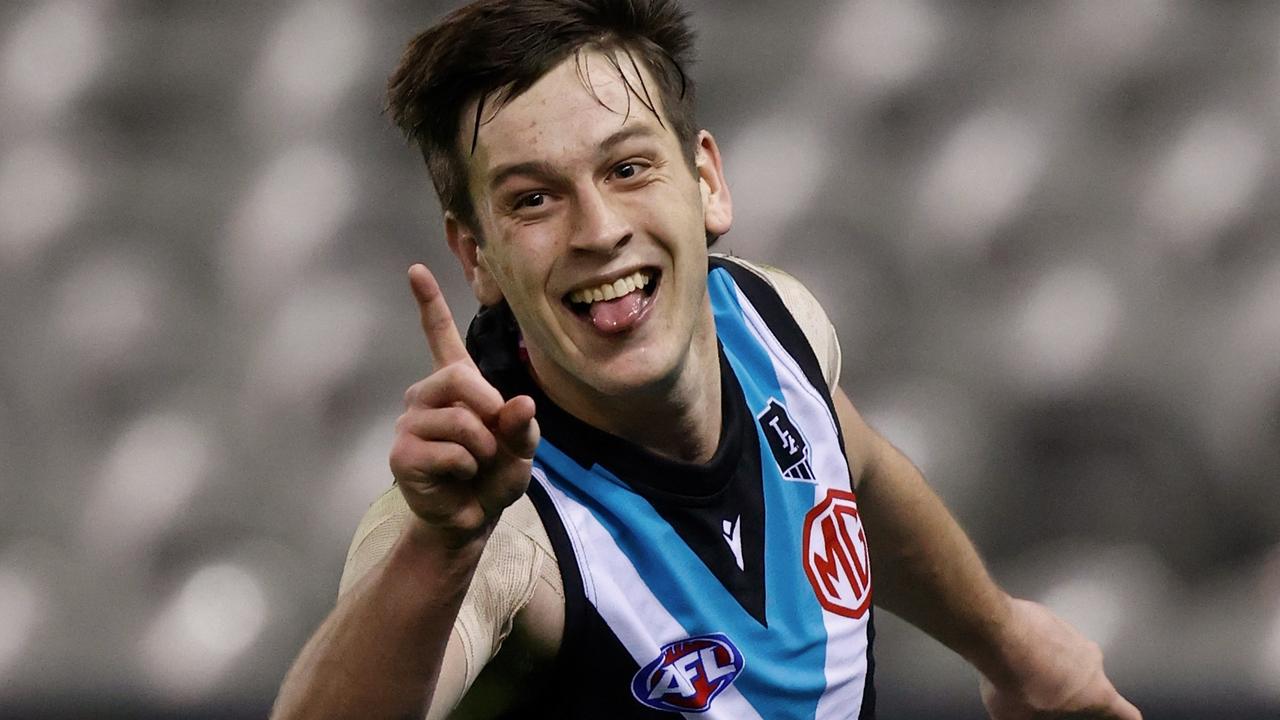 Port Adelaide fans will be banking on seeing more of Zak Butters in the middle. Picture: Michael Willson/Getty IMages
29. Zak Butters in the midfield
The kid is a freak. Hope he gets to let that freak flag fly in the centre square.
30. St Kilda making a charge
The Saints probably won't win the flag.
But after a century where Sydney, Richmond, Geelong, Melbourne and the Western Bulldogs have all snapped premiership droughts, the club with the current longest barren period making a similar run would get the pulses racing.
Who knows what is in store, but if you are a Saints fan having the club that brought you Lenny Hayes led by a player with all his exceptional and beloved qualities in Jack Steele is a good place to start.