AFL boss Gillon McLachlan slammed over absence in wake of damning report into female umpiring
A former umpiring manager who was interviewed during the AFL's damning investigation into the umpiring fraternity has slammed the league's boss for his lack of response.
Pierce Field, the former AFL NSW/ACT umpiring manager who was interviewed for the document, stepped forward on Thursday to shed more light on the troubled umpiring community and to point the finger at the game's top brass.
Watch every blockbuster AFL match this weekend Live & Ad-Break Free In-Play on Kayo. New to Kayo? Try 14-Days Free Now >
"How long did it take to apologise to Adam Goodes? Are these women supposed to wait four years for an apology from the guy that is responsible for the game?" Field told the Herald Sun.
"It's disgraceful, he has to take responsibility."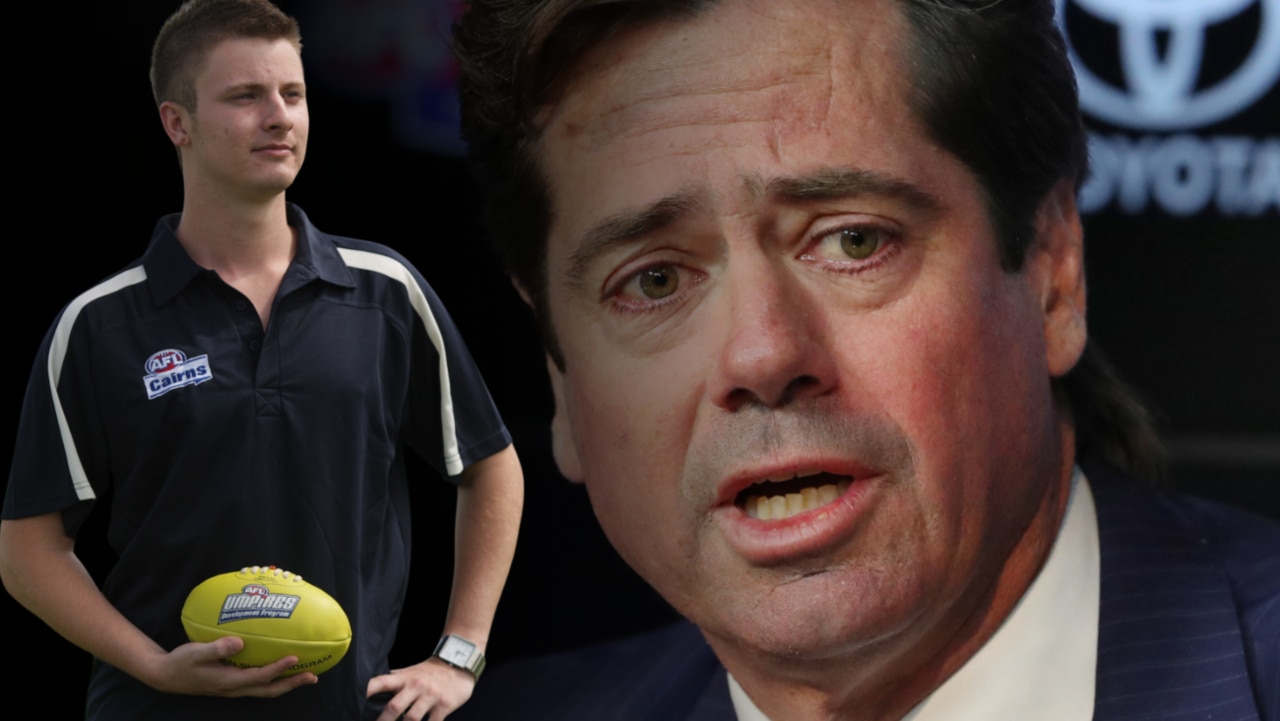 Umpiring expert Pierce Field has slammed AFL boss Gillon McLachlan in the wake of the shock report into female umpires.
Acting chief executive Kylie Rogers apologised on behalf of the AFL on Tuesday – 45 hours after the story broke publicly and eight months after she said she'd read the report.
McLachlan was in the US for meetings on the next TV deal, but Pierce said that did not excuse his silence.
"How many Zoom press conferences did you hold during Covid in your hotel room from a Gold Coast resort – why can't you do that from Los Angeles?" Field said.
"You're the leader of the biggest sporting organisation in the country, you've just had a damning report come out, the workplace relations minister has called on you on national television to clean it up, and what do you do?
"You should've picked up the phone, called a media conference, held it from the United States and apologised to every single victim in that report."
But the AFL backed the decision for Rogers to front a press conference in regards to the female umpire report on Tuesday.
"In Gillon McLachlan's absence, Kylie Rogers was appointed Acting AFL chief executive, and in doing so undertook all the requirements of the CEO position, including acting as spokesperson on behalf of the AFL," AFL GM corporate affairs, government and communications Brian Walsh said.
AFL Umpires' Association boss Rob Kerr claimed on radio the league did not even issue him a copy of the report – instead he received a "leaked" copy just two weeks ago and was still turning pages the day the Herald Sun broke the story.
But Field disputed this.
"The AFLUA were served the report twice," Field said.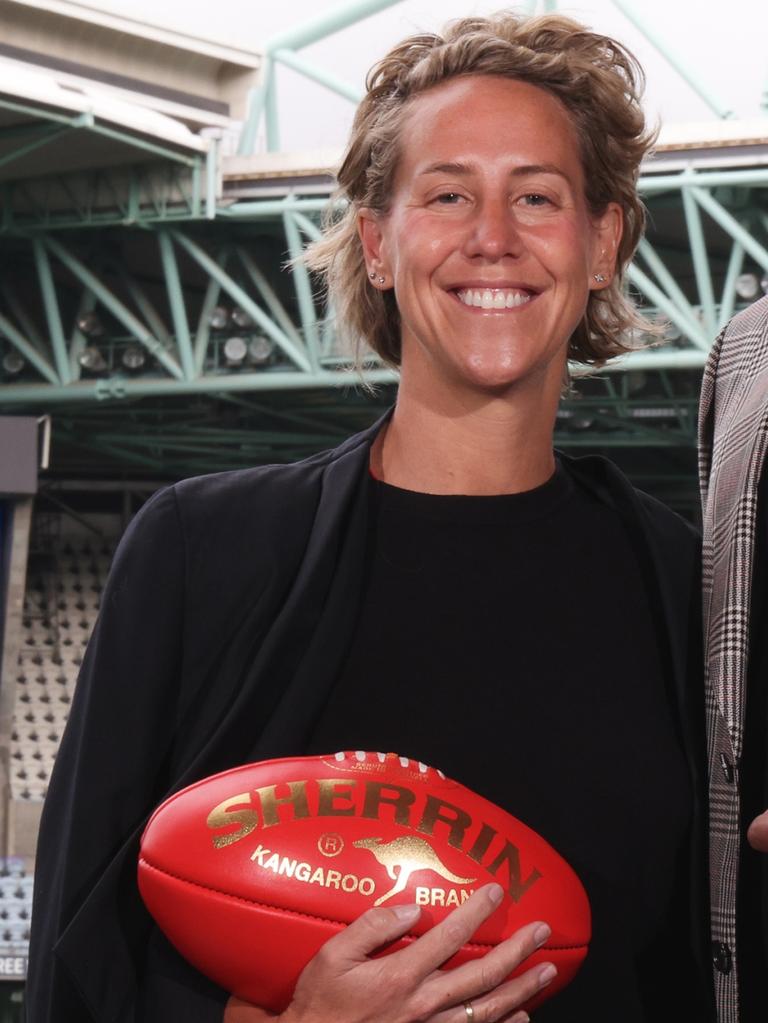 Kylie Rogers is the current interim CEO of the AFL. Picture: Jonathan Di Maggio
Kerr said it was "really important that you're listening to the people who are living the experiences day to day".
But the AFL's report, filled with chilling anecdotes on the toxic male-dominated culture within umpiring ranks, had lay idle in AFL House for eight months until it was exclusively obtained by the Herald Sun.
Daisy Pearce said the AFL had failed the 27 umpires (26 female, one non-binary) who courageously shared their traumatic experiences of sexual harassment and abuse for the report only for the findings to remain private.
"That would be pretty disappointing, and I don't think you'd feel any more like you belonged," Pearce said on SEN.
Respected Western Region Football League umpire Rosemarie Michetti was thankful the Herald Sun's story finally gave her a reason to reflect on her 20 years with a powerful post that's gone viral on Facebook.
She was also one of many female umpires who felt let down by the AFL not sharing the study.
"It sickens me, and I'm not surprised, solely because it would be something you'd want to mask," Michetti told the Herald Sun.
"If I'd been knowing about this for two decades then the AFL would surely have known about this for a lot longer than eight months."
Field, as a participant in the study, said he received a copy last year but had "no faith" it would ever see the light of day after reading the distressing content.
"How much government funding are these organisations getting and why are we getting results like this?
"Surely taxpayer money has to be questioned here, because we cannot fund programs that are resulting in a culture like this for an organisation that receives billions in broadcast rights.
"What we're talking about is systemic issues in community football – the place we send our children to learn their life lessons.
"Would you put your child in that environment after reading that report?"
Field spent 10 years employed under the AFL banner but departed in October, 2020.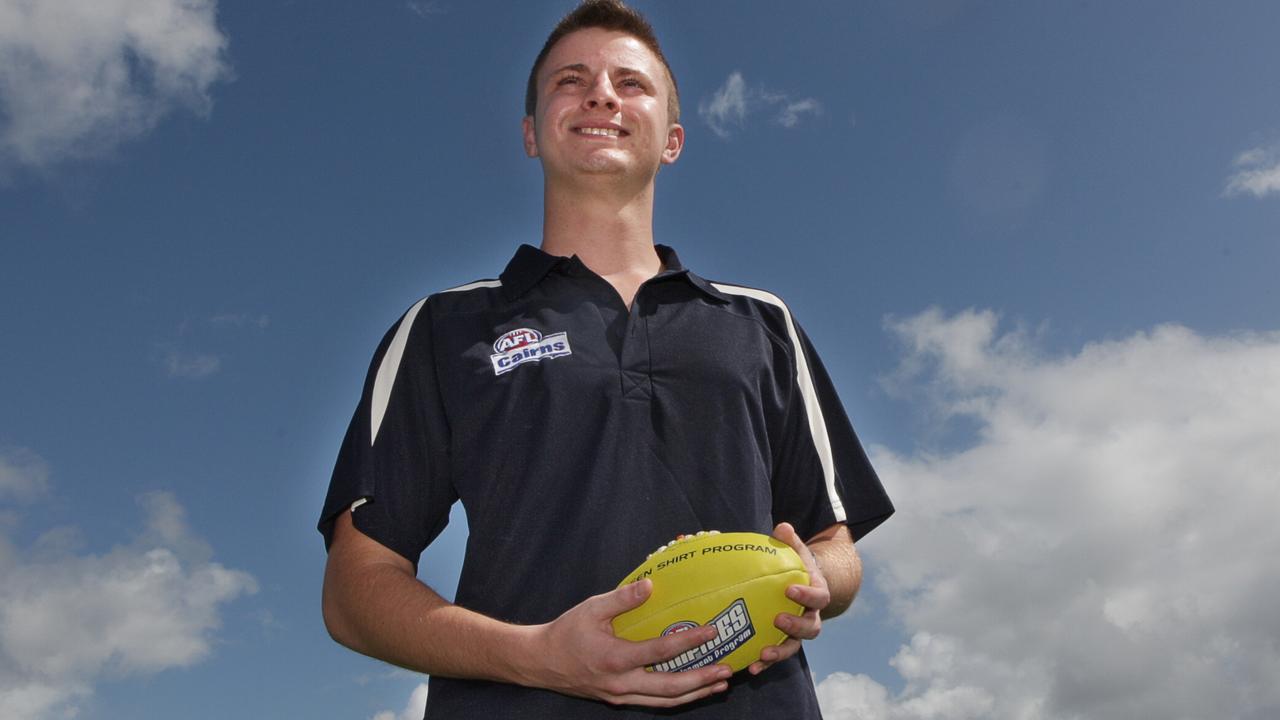 Pierce Field during his time with AFL Cairns.
Rogers' apology on Tuesday frustrated suburban goal umpire Christine Gent, who retired from the WRFL after starting 31 years ago, citing multiple sexual harassment incidents.
"When I heard the stand-in CEO (Rogers) say, 'Speak to your association, speak to your league' – I've done both of those," Gent told the Herald Sun.
"I've requested an independent investigation and I didn't receive one.
"The anxiety, the tears, the sleepless nights, losing friends I'd had for over 20 years all because they didn't handle a situation properly.
"So it made me really, really angry for her to get up and say that."
Asked if she would contact the AFL directly, as Rogers suggested umpires now could, Gent said: "If she wants to contact me I'd be more than happy to speak to her, but I don't have a lot of faith in any of the systems to handle these complaints correctly".
Gent has moved to the Essendon District Football League, which she said was a far safer environment.
Originally published as AFL boss Gillon McLachlan slammed over absence in wake of damning report into female umpiring