AFL boss Gillon McLachlan tells Tasmania to build a new stadium if it wants an Aussie Rules team
There were positive signs for the most recent meeting between the AFL and Tasmania, but it's clear a state of the art stadium has to be a part of any bid process.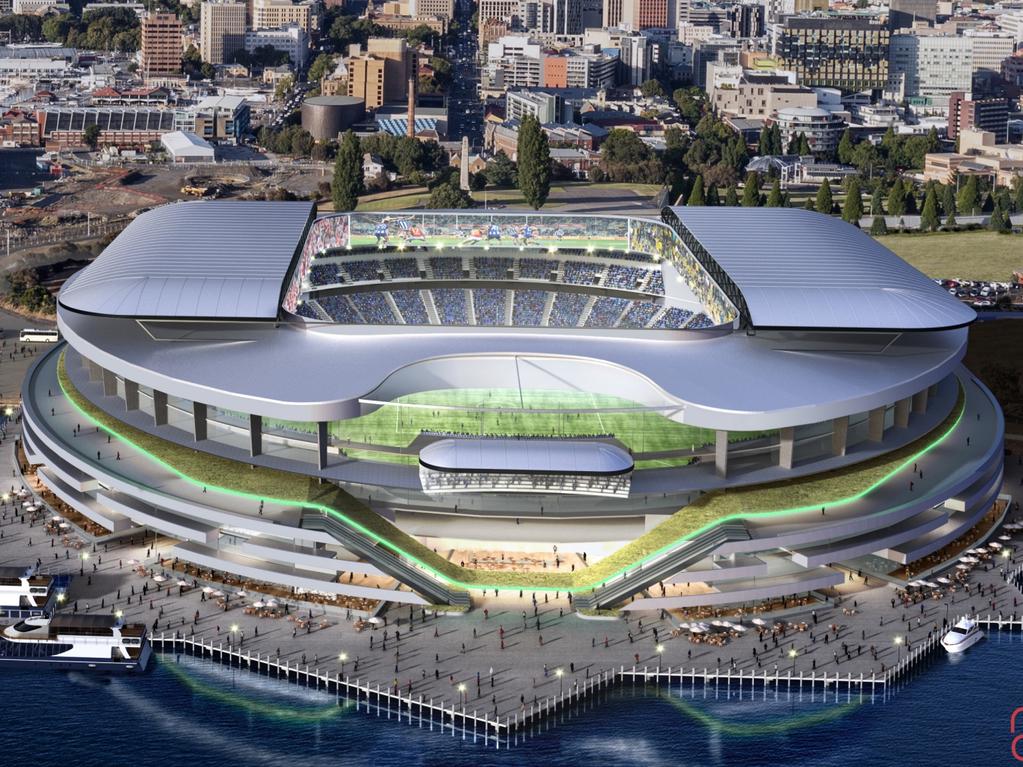 An Artist's impression of a new AFL/multipurpose stadium in Hobart.
AFL boss Gillon McLachlan has encouraged Tasmania to build a state-of-the-art stadium that "knocks everyone's socks off".
A Tasmania team must have a brand new base and that was the underlying message from McLachlan after his fly-in fly-out meeting with Premier Jeremy Rockliff about a Tasmanian AFL licence in Hobart on Thursday.
McLachlan said he and the Premier were "on the same page", but Tasmania may have to dig deeper into its pocket to fund a team after the AFL CEO described the government's offer of $150m over 10 years as "a strong start".
And McLachlan may have inadvertently given away the time frame for Tasmania entering the AFL as a stand-alone 19th licence as 2025 or 2026.
The 19th licence is contingent on a bespoke stadium and that was a main talking point in their hour-long meeting in the Premier's conference room in the Executive Building in Hobart.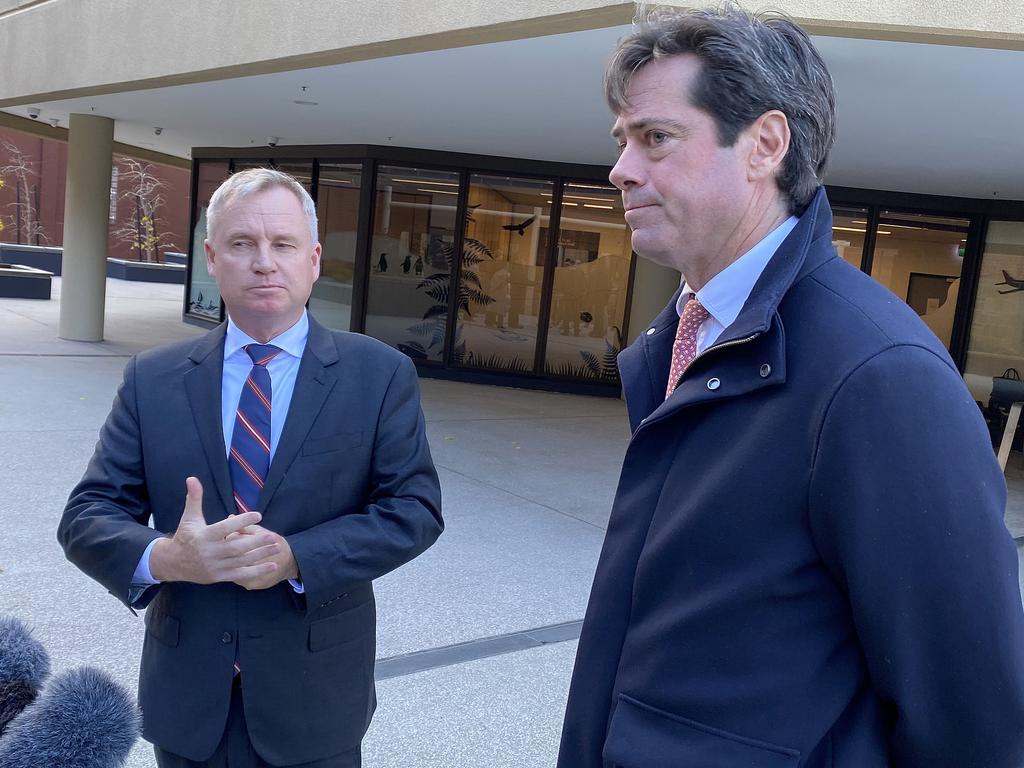 Tasmanian Premier Jeremy Rockliff with AFL CEO Gillon McLachlan in Hobart. Picture: Brett Stubbs
"If you look around this country and look at the AFL and the cities where AFL and other sports are being played, you need a stadium that can compete in 2022 — or 2025 or 2026, whenever it is — a stadium will be built.
"Whether it is contingent, or however you want to frame it, this team needs and will have a new stadium if you want a licence.
"Tasmanians would expect that. You need to have a stadium that delivers for this state, like Adelaide does for South Australians and the city of Adelaide, where it gives economic stimulus.
"It's not just for football, it's cricket and soccer and events like Dark Mofo that would go there and provide a sense of pride and what that does and the energy it gives, like Adelaide Oval has given Adelaide and Optus Stadium has given in Perth.
"If there is going to be a 19th licence there is a lot to go through and there will be a new stadium and the Premier understands that and I think every Tasmanian would agree."
McLachlan said tailor-made stadiums leave a valuable legacy.
The AFL believes current venues in Tasmania would not be sufficient for a team. Picture: Dylan Burns/AFL Photos via Getty Images
"We've been down this path before, whether it's on the Gold Coast with Metricon or Western Sydney with GWS, and with Adelaide Oval and in Western Australia, they are heavy lifting in terms of getting funding, in finding the right site, and in terms of getting them built," he said.
"But they change cities and they change states, so let's get onboard and build something that knocks everyone's socks off."
McLachlan said they worked through "11 substantive points".
"We got alignment on what needs to be done over the next six to eight weeks to put together something to go to the commission and ultimately the club presidents," McLachlan said. "If the deal is right for football they will support it and if it's not, they won't.
"We have spoken a lot and we've come together today to work out where we need to spend some more time. The work that is being done on a 19th licence."
McLachlan would not say if the government's $150m was enough. "It's a strong start and a strong statement by this government that they want a 19th licence and I've thanked the Premier for being serious about it," he said.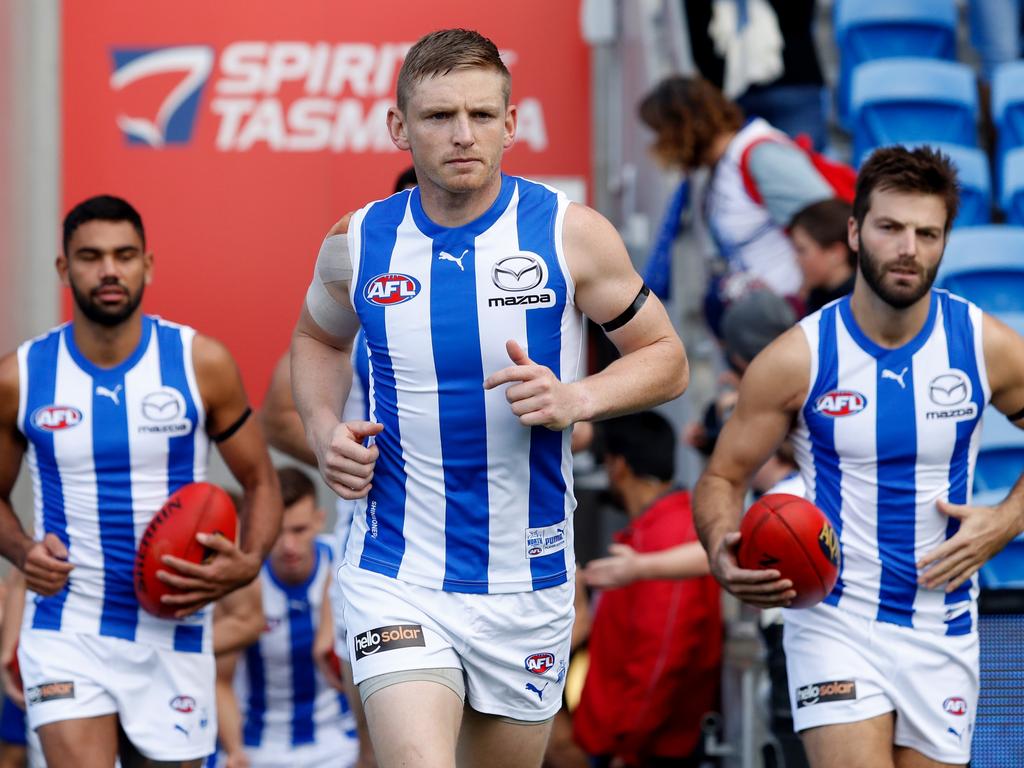 While some have called for a team to be relocated to Tasmania, that talk was shut down early. Picture: Dylan Burns/AFL Photos via Getty Images
Rockliff left the meeting with a smile and said the government's $50m for a high-performance centre and $10m per year for 10 years for the team was a firm commitment.
"It says to the AFL we are bloody serious about this," he said.
"We had some terrific discussions, productive discussions and we are on the one page in terms of progressing a Tasmanian licence.
"We believe as a state government we have got a very good and strong offer on the table. There are matters that we will work through and discussions will continue."
The AFL Commission will seek "unanimous support" for a Tasmanian team from the club presidents, but it is understood only a firm majority is needed for the bid to be successful.
A decision on Tasmania will be made in the second half of August.
– The Mercury