AFL Collingwood v Adelaide: Pies continue perfect start, Darcy Moore contract latest
Darcy Moore is focussed on helping Collingwood make a winning start to the season but work is continuing in the background on where he will play next season.
One of this year's hottest free agency targets says Collingwood fans should "watch this space" as he closes in on signing a new long-term deal.
Magpies defender Darcy Moore said he was happy with where negotiations between his management and the club were at and is hopeful of a resolution in the not-too-distant future.
"It's progressing well, so watch this space," Moore said.
"It's obviously been a period of change at the club over the past six months, so it's just been a process of wanting to get settled into the new program and get a few games under my belt and get the vibes nice and high.
"There's been a good amount of dialogue over the last six months.
"What I've heard from my manager is the talks are going well and I'm able to just focus on my footy and getting this team up and going at the moment, which is all I want to do."
Stream every match of every round of the 2022 Toyota AFL Premiership Season Live & Ad-Break Free In-Play on Kayo. New to Kayo? Try 14-Days Free Now >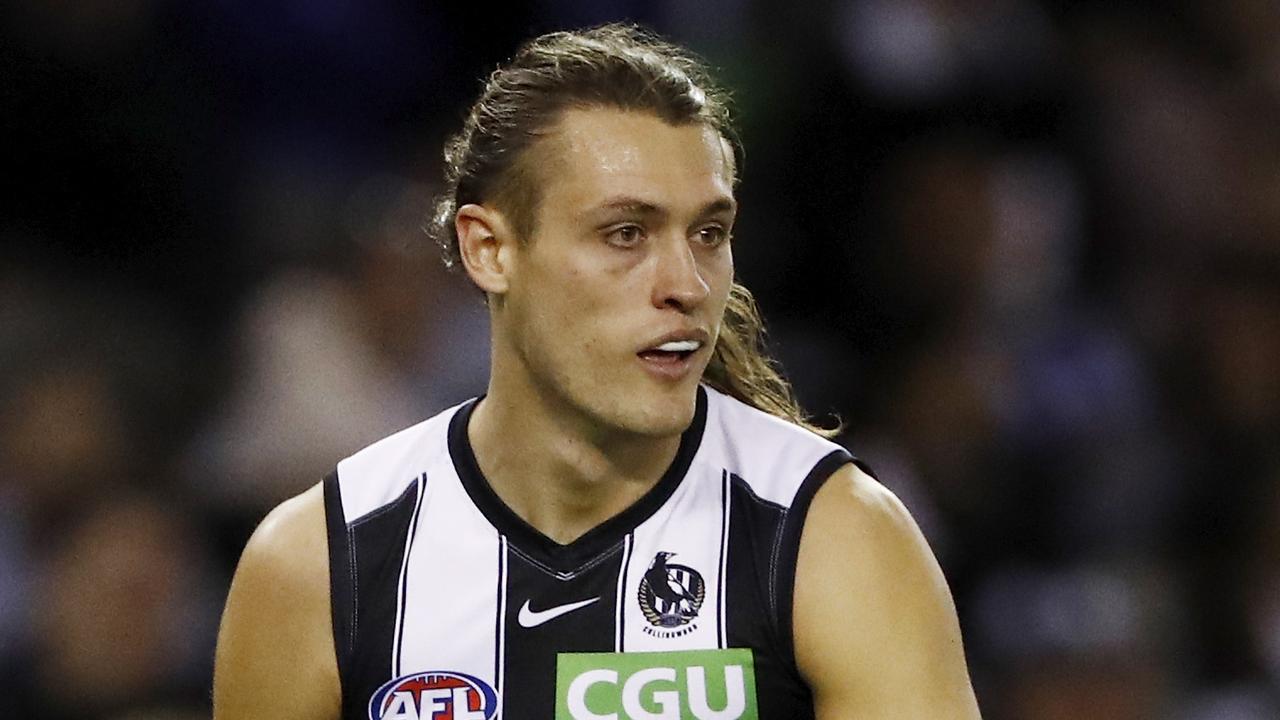 Darcy Moore become a free agent at the end of the season. Picture: Dylan Burns/AFL Photos via Getty Images
An All-Australian in 2020, Moore has solidified his spot as one of the competition's best key defenders in recent years and has made a strong start this season.
A member of Collingwood's four-man leadership group, the 26-year-old signed a two-year contract extension at the end of 2020 but finishes that deal this year and becomes a restricted free agent.
"Free agency's a big part of the system these days and you do a lot of work to get to this point and be a free agent, so naturally I think that lends itself to some more longer-term deals," Moore said on ABC radio.
"So I'm pretty confident that it's going to work out for me that way."
Pies' perfect start rolls on
– Marc McGowan, Tim Michell
Collingwood is perfect through two rounds for the first time in nine years as the Craig McRae era gets off to a seamless start.
The Magpies brushed off a first-half evacuation scare — which ended up being a false alarm — to down visiting Adelaide by 42 points thanks to a seven-goal third term that blew the game open.
Four of them came in a six-minute purple patch, capped by first-round draftee Ollie Henry snapping a miraculous goal from deep in the pocket.
Stream every match of every round of the 2022 Toyota AFL Premiership Season Live & Ad-Break Free In-Play on Kayo. New to Kayo? Try 14-Days Free Now >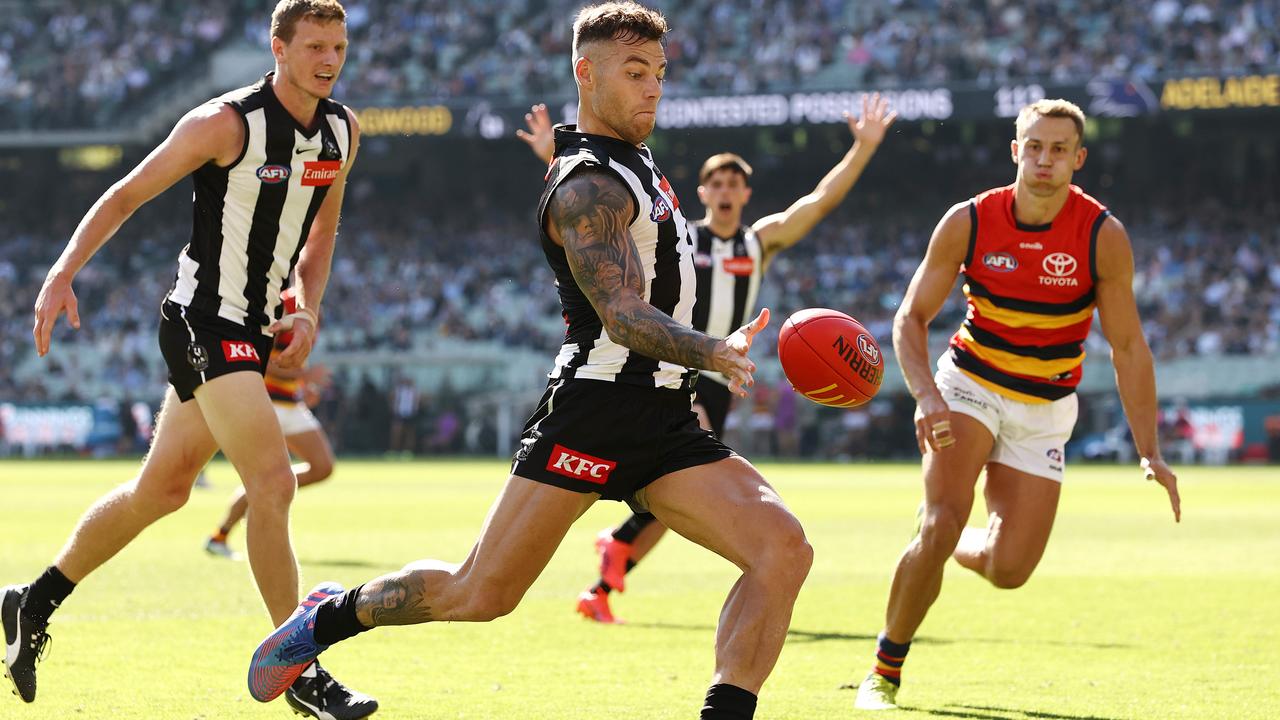 Magpies veteran Jamie Elliott snaps at goal during the fourth quarter. Picture: Michael Klein
Jordan De Goey came to life in the quarter, doubling his first-half output with 10 disposals while ripping away four centre clearances in a continuation of his rich vein of form.
Just as exciting for Collingwood were the contributions of the kids, from Jack Ginnivan to fellow forwards Beau McCreery and Henry and, of course, budding superstar Nick Daicos.
A week after being accused of over-celebrating the victory over St Kilda, seventh-gamer Ginnivan gathered a career-high 13 disposals by halftime and finished with 21 in a busy performance.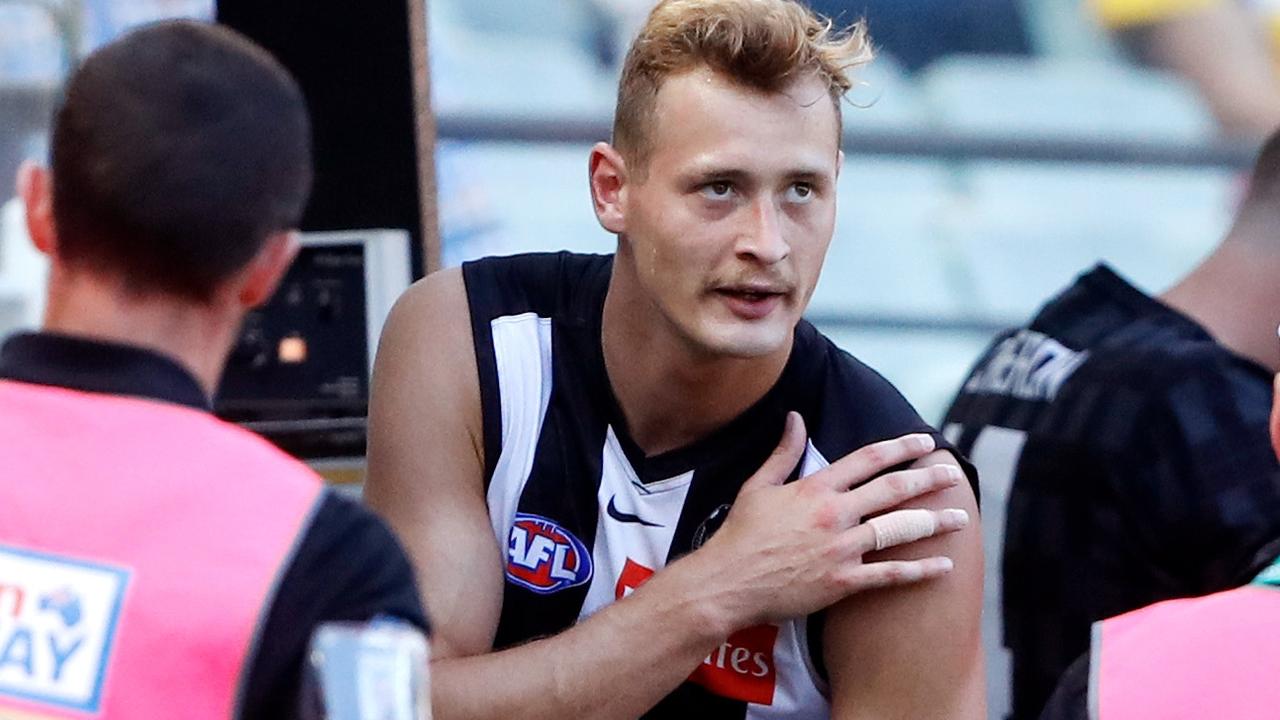 Nathan Kreuger leaves the field with an injured shoulder. Picture: AFL Photos via Getty Images
The recruiting department will also be chuffed after midfielder Patrick Lipinski was good again and ex-Cat Nathan Kreuger kicked two goals before being subbed out with a shoulder injury.
Adelaide's want to control possession meant it racked up uncontested marks but Matthew Nicks' men still committed too many poor turnovers that gifted the Magpies nine goals.
The decision to drop second-year forward Riley Thilthorpe will also be questioned after the Crows' tall forwards Darcy Fogarty, Elliot Himmelberg and Lachie Gollant barely raised a whimper.
Craig McRae addresses his players during as the Magpies made it back to back wins to start the season.
Evacuation, anyone?
There was high drama early in the second quarter, when fans, media and the like were told to evacuate the MCG.
Mass confusion ensued but only minutes later — and before anyone had actually left the ground — a follow-up announcement confirmed it was a false alarm.
A small kitchen fire in a food outlet on level four was to blame for automatically triggering the emergency evacuation system.
Players huddled briefly in the middle of the ground while it all played out but the game quickly resumed.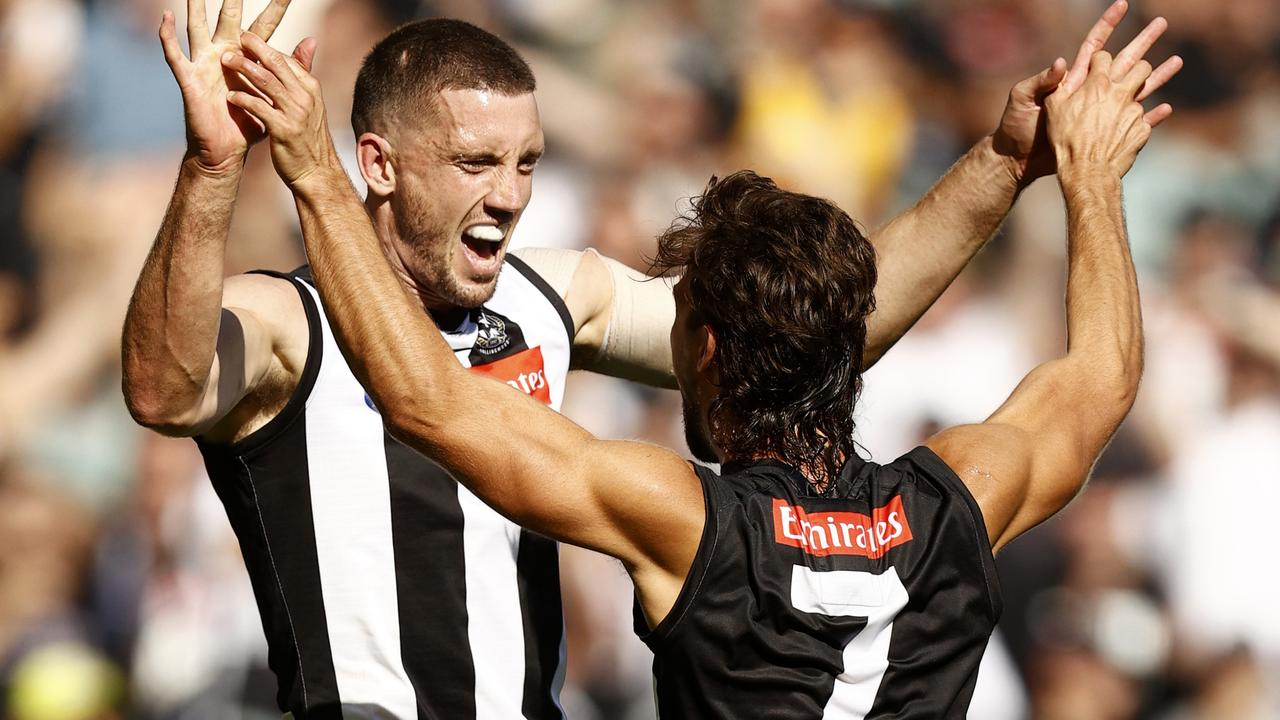 Darcy Cameron celebrates a goal during the Magpies' round 2 success. Picture: Getty Images
Battle of the teenagers
Much of the lead-in hype for this match was centred on first-round draft picks Nick Daicos and Josh Rachele, who produced sparkling debuts in round 1.
Rachele kicked a magnificent long-range goal in the opening term to give him a major in each of his first five terms in the AFL, a feat no other player has managed in the past two decades.
Neither player matched his round 1 fireworks but there were still eye-catching moments and plenty to like.
'Freddie' is a fan favourite
The Carringbush wasted no time embracing former Cat Nathan Kreuger, who played his first game for Collingwood and third overall on Saturday.
Kreuger slid into a mark about 20m out courtesy of a brilliant Jack Crisp pass and slotted the Pies' fifth goal before quarter-time.
Chants of 'Kreuuugs' instantly echoed across the MCG – and not for the last time.
Kreuger displayed a good set of hands and kicked two goals, showing enough to suggest he might be part of the solution in attack.
SCOREBOARD
MAGPIES 5.3, 7.5, 14.7, 15.10 (100)
CROWS 1.5, 3.6, 7.6, 8.9 (57)
McGOWAN'S BEST
Magpies: Crisp, De Goey, Ginnivan, J. Daicos, Moore, Lipinski.
Crows: Keays, Smith, Dawson, Crouch, Sloane, O'Brien.
GOALS
Magpies: McCreery 2, Kreuger 2, Henry 2, Hoskin-Elliot, Grundy, Sidebottom, Elliott, Mihocek, Ginnivan, Lipinski, De Goey, Cameron.
Crows: Rachele, Hinge, Dawson, Smith, Pedlar, Gollant, Sholl, Rowe.
INJURIES
Magpies: Kreuger (left shoulder), Adams (migraine). Crows: Sloane (groin).
UMPIRES
Fisher, Harris, Toner
CROWD
36,843
VENUE
MCG
PLAYER OF THE YEAR
McGOWAN'S VOTES
3 J.Crisp (Coll)
2 J.De Goey (Coll)
1 J.Ginnivan (Coll)
McRae: Judge us further down the road
Craig McRae wants Collingwood to be judged more down the track than for its early season sugar hit despite a second-straight victory.
A 42-point defeat of an underwhelming Adelaide delivered the Magpies their best start to a season since 2013 but an early litmus test looms against Geelong at the MCG next Saturday night.
Just as promising as the two wins for McRae's men is the way they have quickly adopted his more attacking and direct game style.
Collingwood had an army of contributors as well, with defenders Jack Crisp, Darcy Moore and Scott Pendlebury prominent and Jordan De Goey outstanding in one particular third-quarter cameo in the centre.
"The way we took territory was really pleasing. I think we were plus-1000m in territory and we won the inside-50 battle, (which is) just the way that we want to play," McRae said.
"If you come watch us now; you're starting to see a little bit of a trend of how we want to play, so the challenge, as this game is really hard, is to do it every week, because oppositions start to take things away from you.
"(The Crows) tried to take a few things away from us, which makes things harder, but I think the territory was something we're really proud of."
McRae expects to lose former Cat Nathan Kreuger, who suffered a suspected left shoulder dislocation in the final quarter after a two-goal debut.
Mason Cox (ankle), who missed the round 2 win, could reclaim his spot as Kreuger's replacement, while Taylor Adams (migraine) sat out most of the final term.
Second-year forward Jack Ginnivan produced a career-best performance with 21 disposals and eight score involvements, a week after his post-match celebrations drew criticism in some quarters.
But Ginnivan and co. will need to back up their impressive opening fortnight if the Pies are to add Geelong's scalp.
"You can get comfortable for a little bit of time but then we're playing the Cats, who didn't play that well last night, but before that were really explosive and (they have) a lot of experience," McRae said.
"It's just another challenge, isn't it? I think we're on our journey. I don't think we're defined by our first six weeks.
"We will be defined by bigger than that and next week is just an opportunity for us to challenge that against a really good opposition."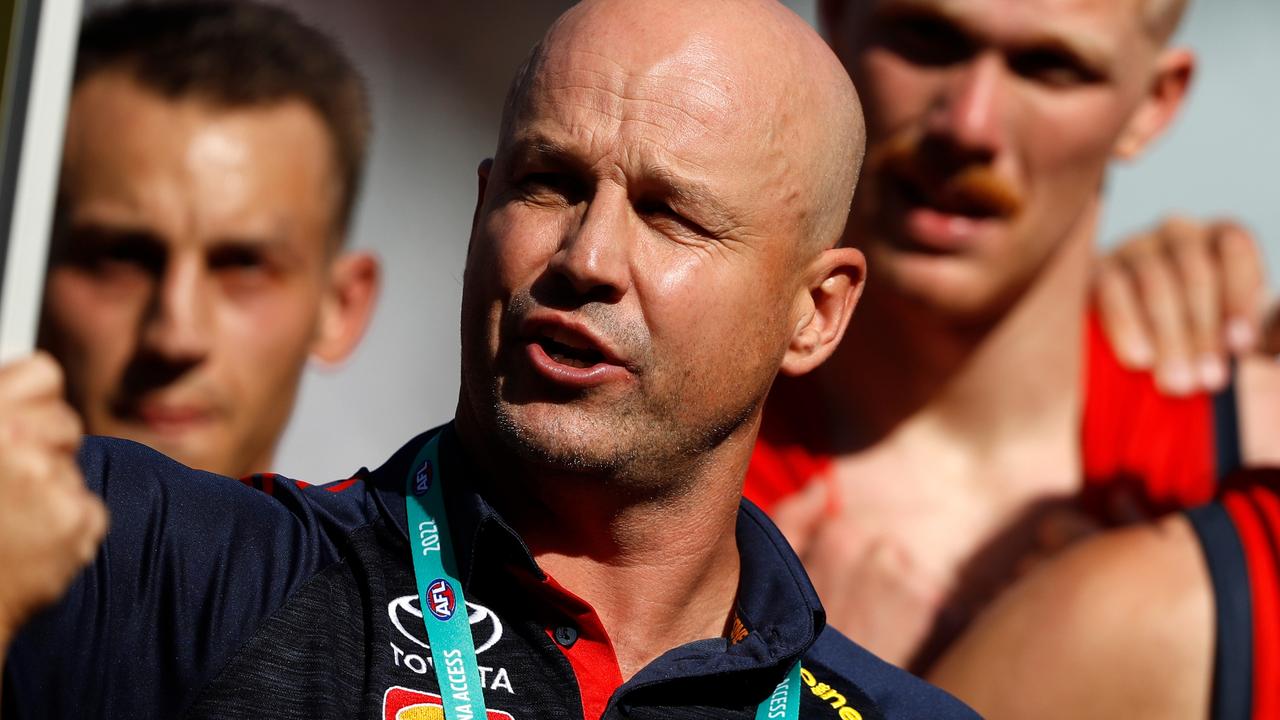 Another tough day at the office for Matthew Nicks. Picture: AFL Photos via Getty Images
Nicks: Thilthorpe exit looks short-lived as talls struggle
Riley Thilthorpe could earn an instant recall after an "outstanding" SANFL trial game on Saturday before Adelaide's tall forwards struggled again at senior level.
Elliott Himmelberg, Darcy Fogarty and Lachie Gollant kicked a modest 1.4 between them, and coach Matthew Nicks conceded the Crows "didn't get it done" up forward in the 42-point loss to Collingwood at the MCG.
The controversial call to drop Thilthorpe, the No.2 pick in the 2020 draft, was made in part to preserve his confidence, Nicks said, but Adelaide managed only eight goals from 51 inside 50s.
"It wasn't so much being outmarked but just our inability to fight and keep the ball in there," Nicks said.
"It's probably been an area we've struggled with and then come back to Riley ... he's developing as a footballer.
"The decision was made for him to play a game of footy this morning and he had an outstanding game at SANFL level.
"(We wanted him to) try and find some of that confidence that he had when he was drafted and let him go at the ball hard."
Nicks pointed to reigning Coleman medallist Harry McKay as a key forward who took time to blossom, describing it as the "hardest" position for a young player.
"There's a balance on pumping a kid out there every week and not giving him any confidence to go and fight," he said.
"I'll speak to him probably before we get on the plane to go back (to Adelaide) and see how he feels and how he's going. He's a super important part of what this footy club is doing.
"His teammates love him but I haven't worked with someone who works as hard as he does. With this comes challenges. He's a big lad, probably still growing. We'll keep working with him and he'll be back."
Nicks was frustrated with how the Crows let themselves down with "fundamentals" and "invited pressure".
In a further blow, captain Rory Sloane (adductor tightness) is in doubt for Friday night's Showdown against the Power.
"He tried to push on, he's a soldier. He was just working right throughout that third (quarter) and, in the end, it was just getting worse and worse for him," Nicks said.
"It'll be a challenge for us to see if we can get him right for the Showdown on Friday."
Mass confusion as fans ordered to leave MCG
Fans have been evacuated from the MCG and play stopped after a fire alarm triggered mass confusion.
Collingwood and Adelaide's Round 2 clash was in the opening minute of the second quarter when a fire alarm created panic, leading to fans leaving their seats en masse.
Players from both teams had gathered in the middle of ground as officials awaited instruction on the issue and when the match could resume.
Within a few minutes, the MCG announced it was false alarm and supporters were urged to return to their seats.
In a statement issued on Saturday afternoon, the MCG said;: "Today at approximately 2.24pm the MCG emergency evacuation system was automatically triggered in a food outlet on level 4 of the Ponsford Stand.
"An investigation into the issue was immediately commenced and no evidence of risk to patrons was detected.
"Venue management was able to stop the evacuation procedure and allow patrons back into the venue after approximately 5 minutes.
The MCC sincerely apologises for the inconvenience to patrons and the competing Clubs."
To all patrons at the MCG for #AFLPiesCrows

The fire alarm is a FALSE ALARM, and patrons are NOT required to evacuate.

You may return to your seats.

MCG Social Media Team

— Melbourne Cricket Ground (@MCG) March 26, 2022
It later emerged that a small fire in a food outlet had caused the alarm.
"Most importantly we can't muck around when it comes to safety," Jason Dunstall said on Fox Footy.
"Two games in (to Round 2) and two very bizarre occurrences," Nathan Buckley added.
Fire Rescue Victoria crews were called at 2.18pm to the MCG after an automatic fire alarm was triggered.
The alarm appeared to have been activated by a sprinkler in a cafe in the northern stand, but the exact cause is not yet confirmed.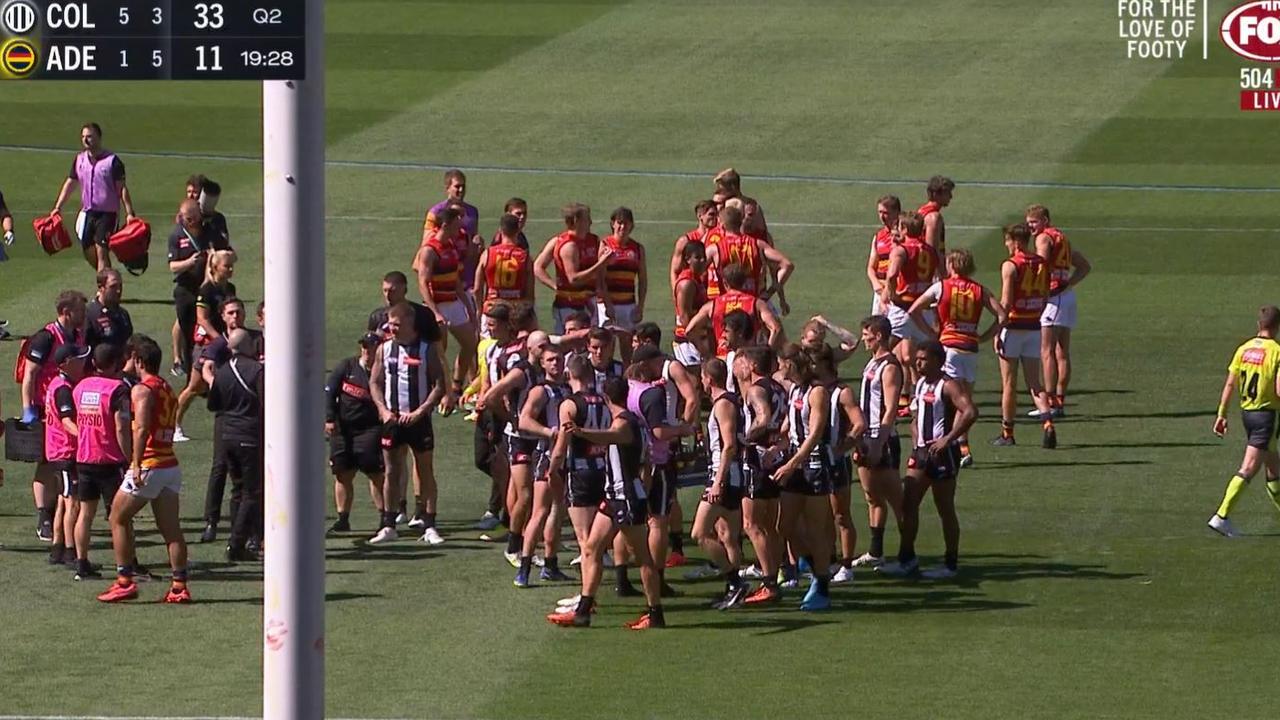 Players gather in middle as MCG evacuated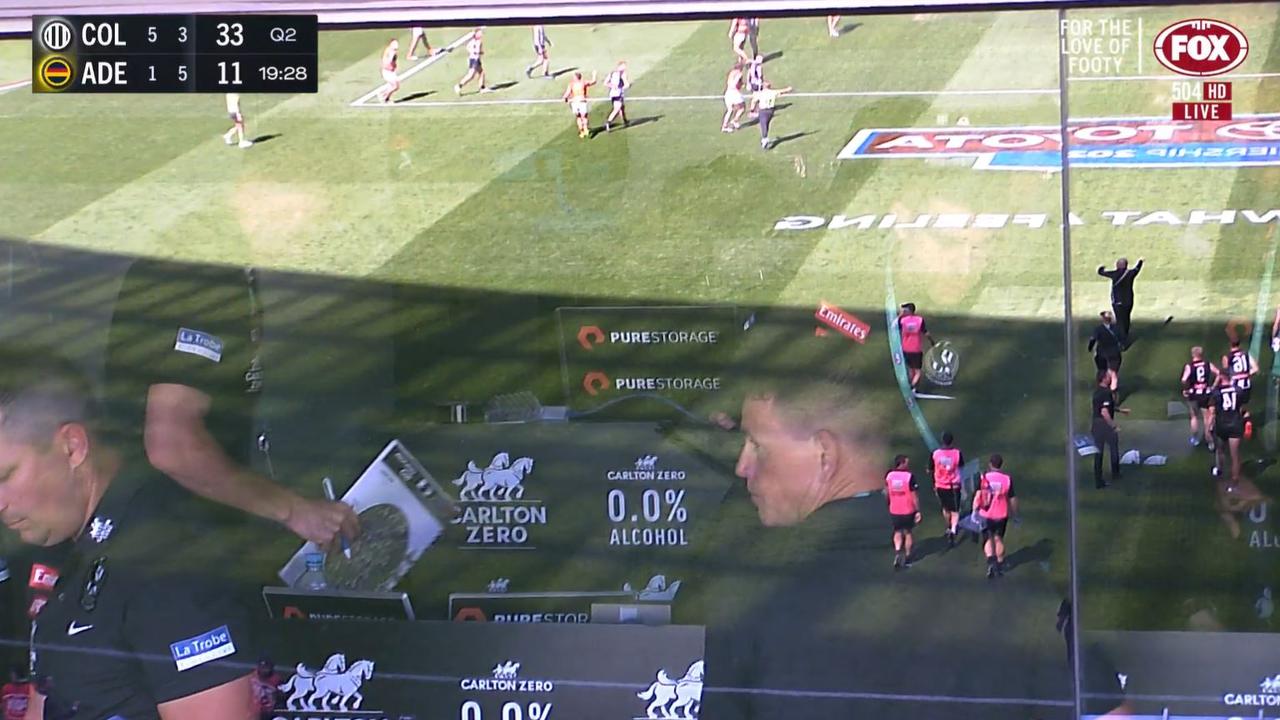 Collingwood coaches exit box after fire alarm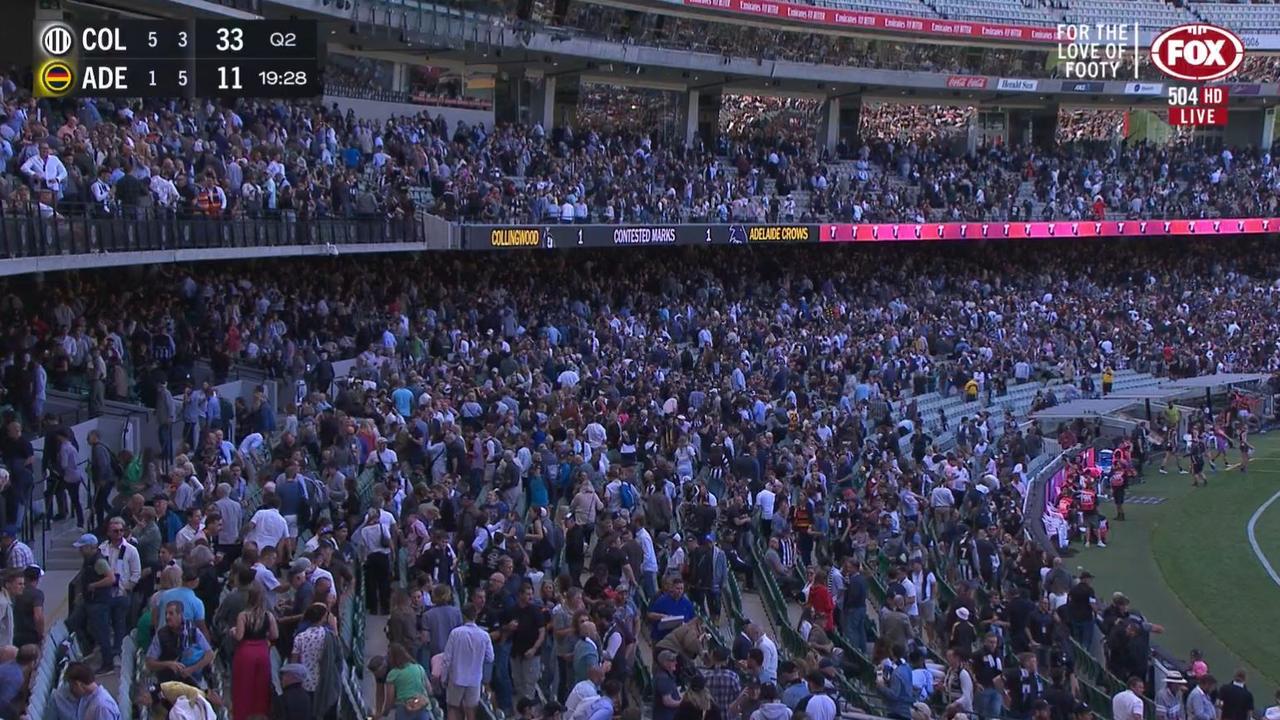 Fans leave the MCG after fire alarm
Originally published as AFL Collingwood v Adelaide: Pies continue perfect start, Darcy Moore contract latest