AFL Draft 2022: Essendon father-son prospect Alwyn Davey Jnr opens up on his draft dream
Essendon father-son prospect Alwyn Davey Jnr has declared his desire to be a Bomber and the relative he models his game.
He is the son of a former Bomber but likes to think he plays more like another famous relative who lined up for the Demons.
Exciting Essendon father-son prospect Alwyn Davey Jnr likens himself to his uncle and former Melbourne midfielder Aaron Davey.
His twin brother, Jayden, is instead considered to be the "replica" of their father – the 100-game Bombers forward Alwyn Davey Snr.
"I would say that I'm more like his (dad's) older brother Aaron," Alwyn Jnr told the Herald Sun.
"I'm more composed and more careful in decision making. But I would say that Jayden is probably the replica of dad. He uses his speed to pressure and tackle and kick goals."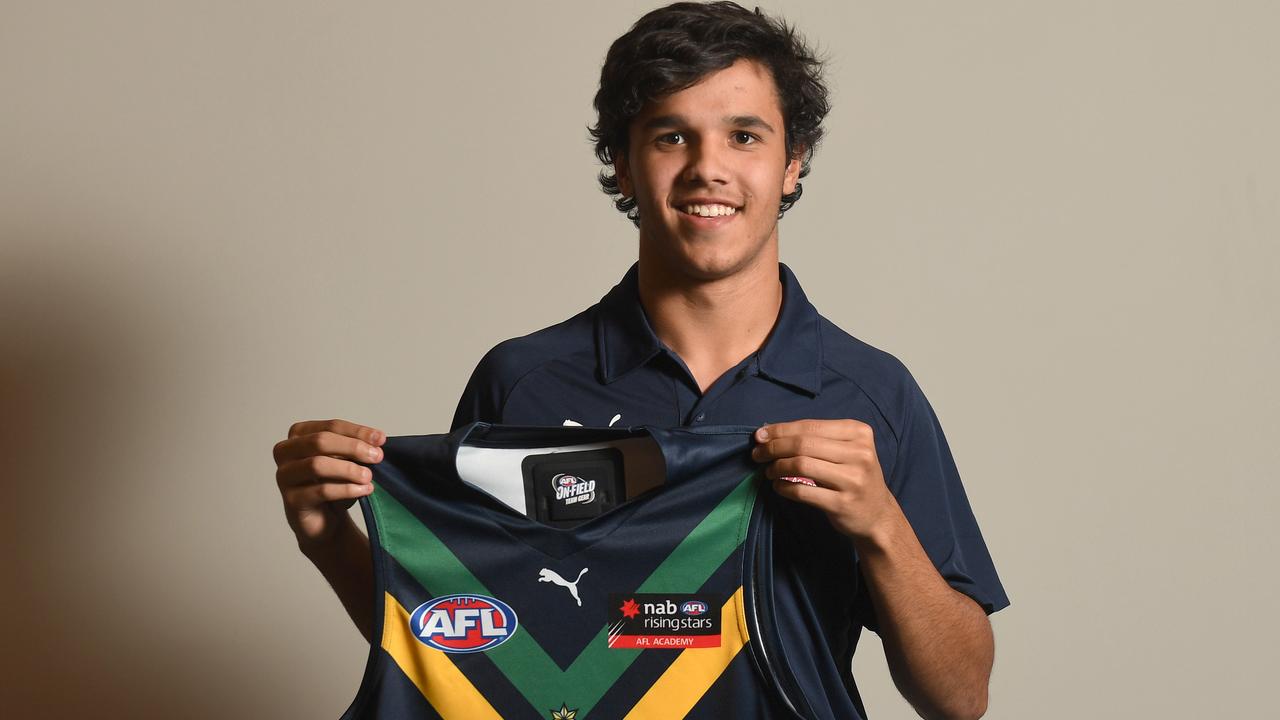 Alwyn Davey Jnr says he plays like his uncle, former Melbourne midfielder Aaron Davey. Picture: AFL Photos
A top-30 draft prospect, Alwyn Jnr is a member of the NAB AFL Academy this year and will line up for Vic Metro in its first match of the AFL under 18 national championships against the Allies in Sydney on Saturday.
Jayden won't be joining him, having suffered an ACL injury during pre-season which has wiped out his 2022 campaign.
However, some rival recruiters were even more excited about Jayden than Alwyn Jnr on limited exposed form last year, presenting Essendon with a potential jackpot scenario in November's national draft.
"He's tracking really well," Alwyn Jnr said of Jayden's rehabilitation.
"It's just week by week and everything's improving and everyone seems very happy with how he's pulling it up. So I'm glad for him and hopefully he can have a speedy recovery back."
Both of the Davey brothers have been part of the club's James Hird Academy and are boarders at Xavier College where they played some impressive football together last year.
Alwyn Jnr said the opportunity to train with Essendon during pre-season had left an impression on him and he has continued to make weekly visits to Tullamarine as part of the Academy program.
"Training with them in pre-season was an unreal experience," Alwyn Jnr said.
"It's a complete change, especially from NAB League. Later on this year since I have all the understanding of it, it should be easier. But it's still unreal, the intensity of it."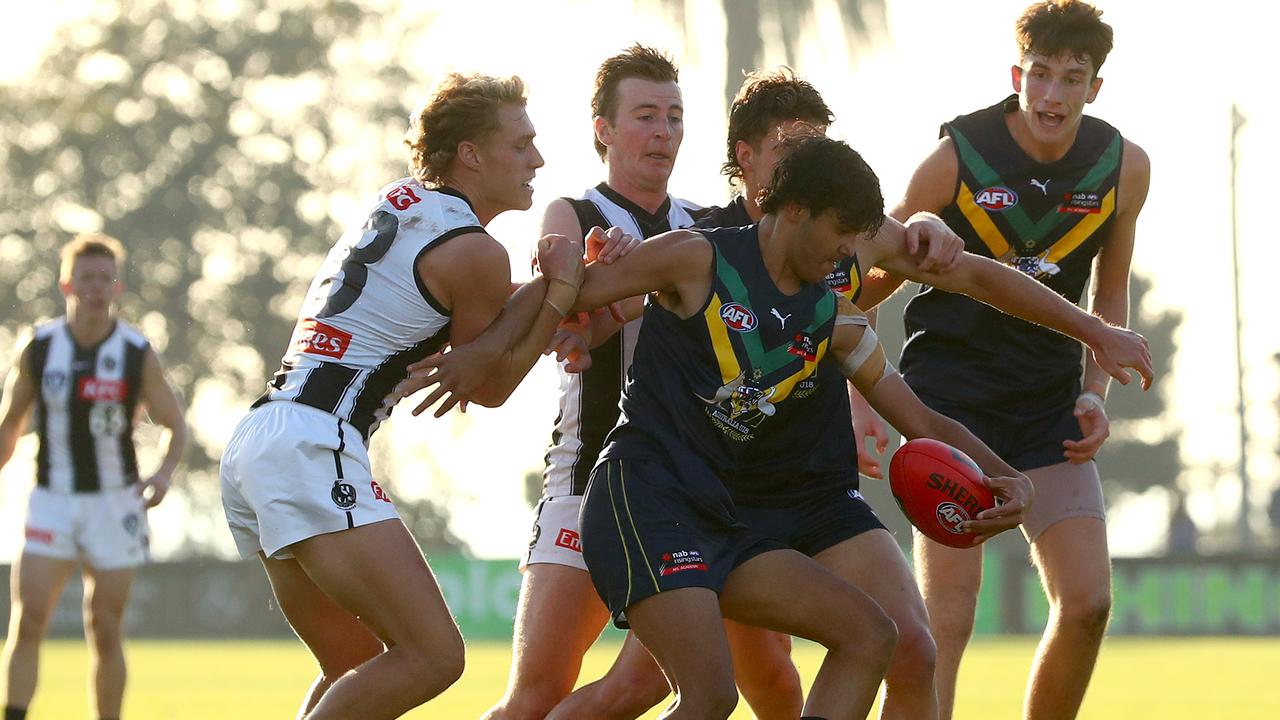 Alwyn Davey played for the Australian under 18 team against Collingwood's VFL side in May. Picture: AFL Photos
Alwyn Jnr has played more midfield minutes with NAB League club Oakleigh Chargers this year, while still rotating forward at times.
He also shone brightly playing primarily onball for Vic Metro in a trial match earlier this month, racking up 25 disposals, five clearances and 111 SuperCoach ranking points.
"I've played forward and try to bring the tackling pressure, but also if you look at disposals I've played some really good footy in the midfield," Alwyn Jnr said.
"I would say I'm 50-50 and I'm happy to play wherever."
Alwyn Jnr said he had long held the dream of following in his father's footsteps and joining Essendon, something that he hopes will happen later this year.
"It always has been the dream ever since I was young, to play for the Bombers," he said.
"So I'm very excited and hopefully the year goes well."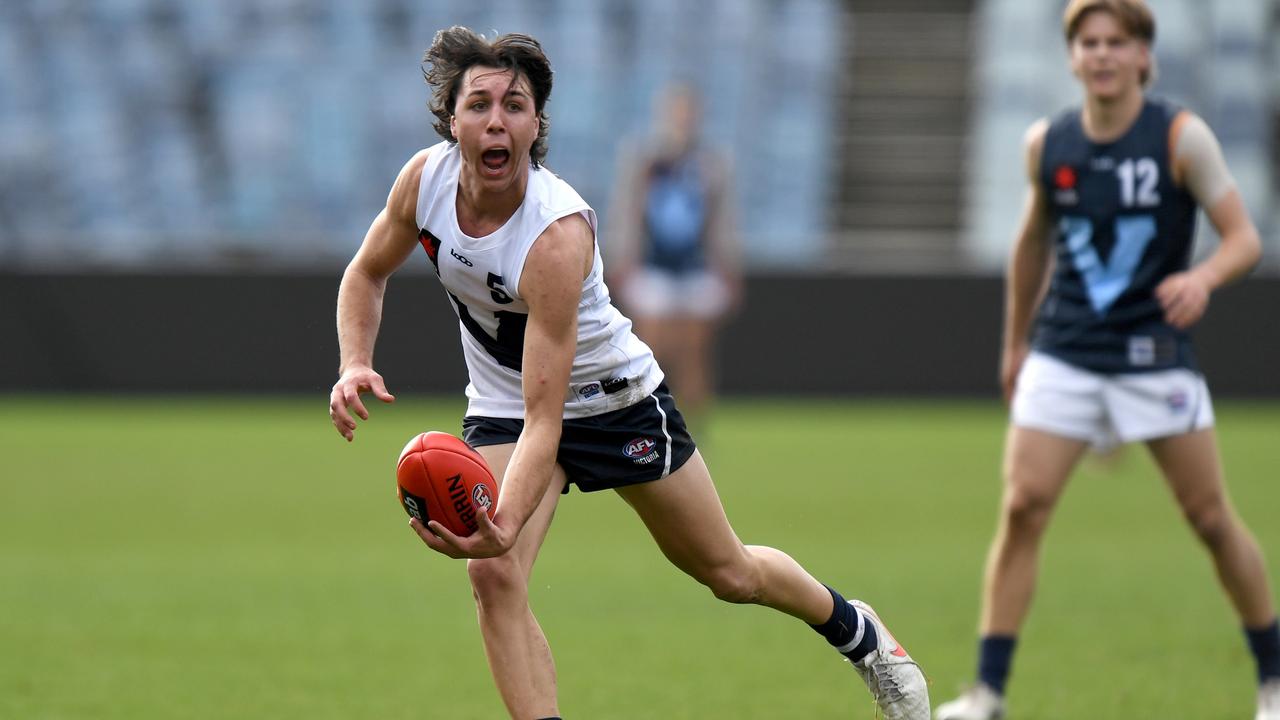 Oliver Hollands is part of the Vic Country squad. Picture: Getty Images
Vic Country is set to play its first match of the national championships against South Australia in Adelaide on Sunday.
Murray Bushrangers product and Vic Country member Oliver Hollands — the brother of Gold Coast's Elijah Hollands — said he was excited to test himself against some of the country's best underage talent.
"It's been there in the mind all year long and I've just been waiting for it to come up," Hollands said of the championships.
"Now it's nearly here, I'm definitely super exited. It will be great to play some of the other states like South Australia and Western Australia and the Allies and really challenge ourselves."
The under 18 national championships will continue throughout July, before wrapping up with a final blockbuster clash between Vic Metro and Vic Country on September 23.
AFL UNDER 18 NATIONAL CHAMPIONSHIPS SCHEDULE
Sun, Jun 19: South Australia v Allies, Thebarton Oval, Adelaide, 1.30pm
Sat, Jun 25: Allies v Victoria Metro, Blacktown Int. Sports Park, 1.00pm
Sun, Jun 26: South Australia v Victoria Country, Thebarton Oval, Adelaide, 1.30pm
Sat, Jul 2: Victoria Metro v Western Australia, Melbourne, 12.00pm
Sun, Jul 3: Allies v Victoria Country, Gold Coast, 1.00pm
Sat, Jul 9: Allies v Western Australia, Adelaide, 12.30pm
Sun, Jul 17: Victoria Metro v South Australia, GMHBA Stadium, Geelong, 11.00am
Sun, Jul 17: Victoria Country v Western Australia, GMHBA Stadium, Geelong, 1.30pm
Sun, Jul 24: South Australia v Western Australia, Adelaide, 12.00pm
Fri, Sep 23: Victoria Metro v Victoria Country, Melbourne, TBC
Originally published as AFL Draft 2022: Essendon father-son prospect Alwyn Davey Jnr opens up on his draft dream