AFL cultural review: League adopts recommendations from external probe
The AFL has adopted a number of recommendations from an external review of its workplace culture in a bid to address discrimination and harassment problems.
The AFL has agreed to have respectful relationship sessions for permanent staff after digesting the findings from an external review that centred on how the league dealt with workplace complaints.
The AFL set out to address discrimination and harassment problems within its own headquarters by engaging consulting firm MWAH (Making Work Absolutely Human) to review its policies and procedures and complaint-handling process.
The changes were communicated to AFL staff and club presidents late last year.
MWAH chief executive Rhonda Brighton-Hall, who led last year's culture review, praised the AFL for tackling "tough agendas".
Watch every blockbuster AFL match this weekend Live & Ad-Break Free In-Play on Kayo. New to Kayo? Try 14-Days Free Now >
"We made some recommendations, and they were significant," Brighton-Hall told the Herald Sun.
"And our understanding is from the work we've done they've implemented them,"
"These issues are human issues, right? Our experience with them (AFL) is these are hard topics and they were very open.
"We always work independently, and they didn't push back on that at all."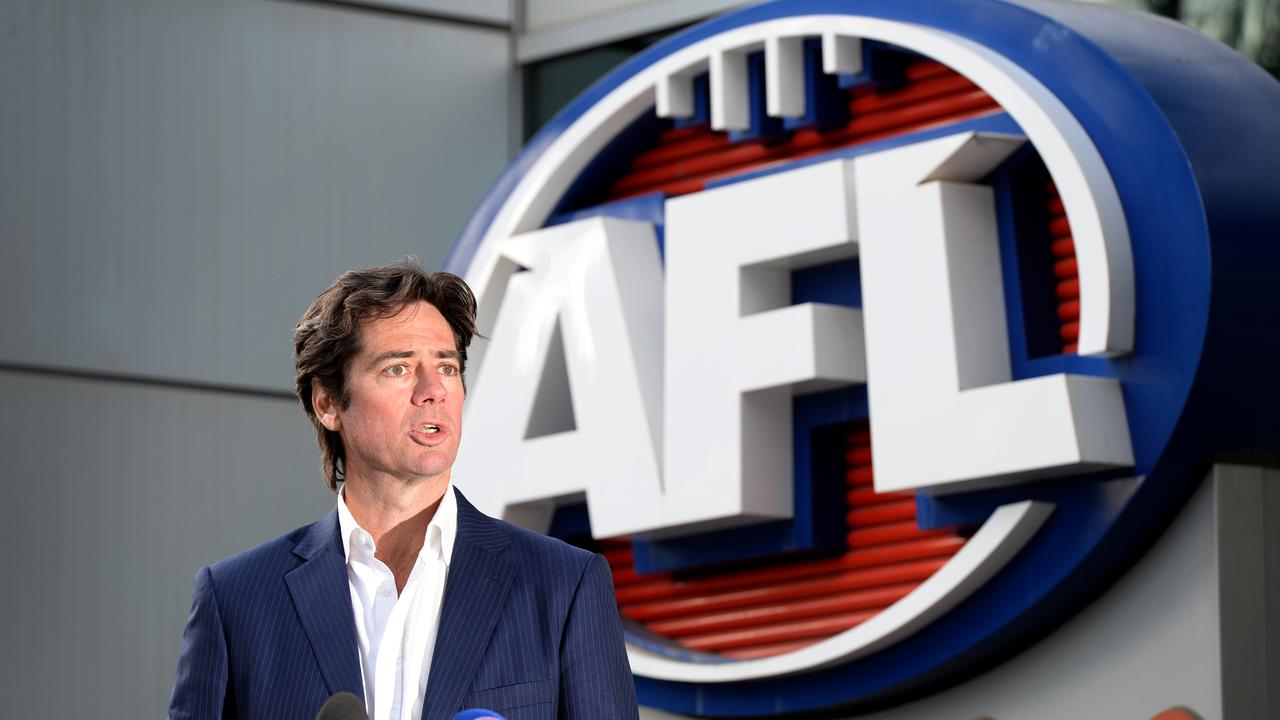 The AFL Commission endorsed chief executive Gillon McLachlan's initiatives to create a more inclusive environment at AFL House. Picture: NCA NewsWire
Brighton-Hall said the inclusive review was "very open to those who are part of the organisation … and then some who have left".
While the AFL regretted not releasing its report into female umpiring, it will not be making public its culture review because it was designed for improvements internally.
AFL staff were told the respectful relationship sessions were "a way to have real, open and honest discussions on navigating what's ok and what isn't in the workplace".
The AFL Commission endorsed chief executive Gillon McLachlan's initiatives to create a more inclusive environment at AFL House.
"That included examining our relevant policies and complaints handling process to ensure they are best practice including enhancing our focus on the welfare of the complainant. All of this has had a specific reference to women in our game," an email to AFL staff read.
"The (MWAH) review found that while the policies were largely effective it recommended some improvements to ensure the AFL policies were leading practice, were more people-centric with a much stronger focus on ongoing support and wellbeing and were easier for our people to use and navigate.
"The Respectful Relationships sessions were also held for permanent staff late last year and have now also been included in induction for all new permanent staff entering the AFL.
"Changes were made to the AFL's Equal Opportunity Policy and Complaints Resolution Policy the AFL has also established a new independent advisory service with an external third-party organisation which supports team members by providing independent and confidential support and advice on how to navigate a situation in which inappropriate behaviour may have occurred."
The league once again reiterated to staff that it does not and has not used nondisclosure agreements.
"However, to address this perception and promote greater transparency and clarity, we removed confidentiality and non-disparagement clauses from our standard separation agreements to ensure there is no confusion and former employees are free to share their experiences upon their departure," staff were told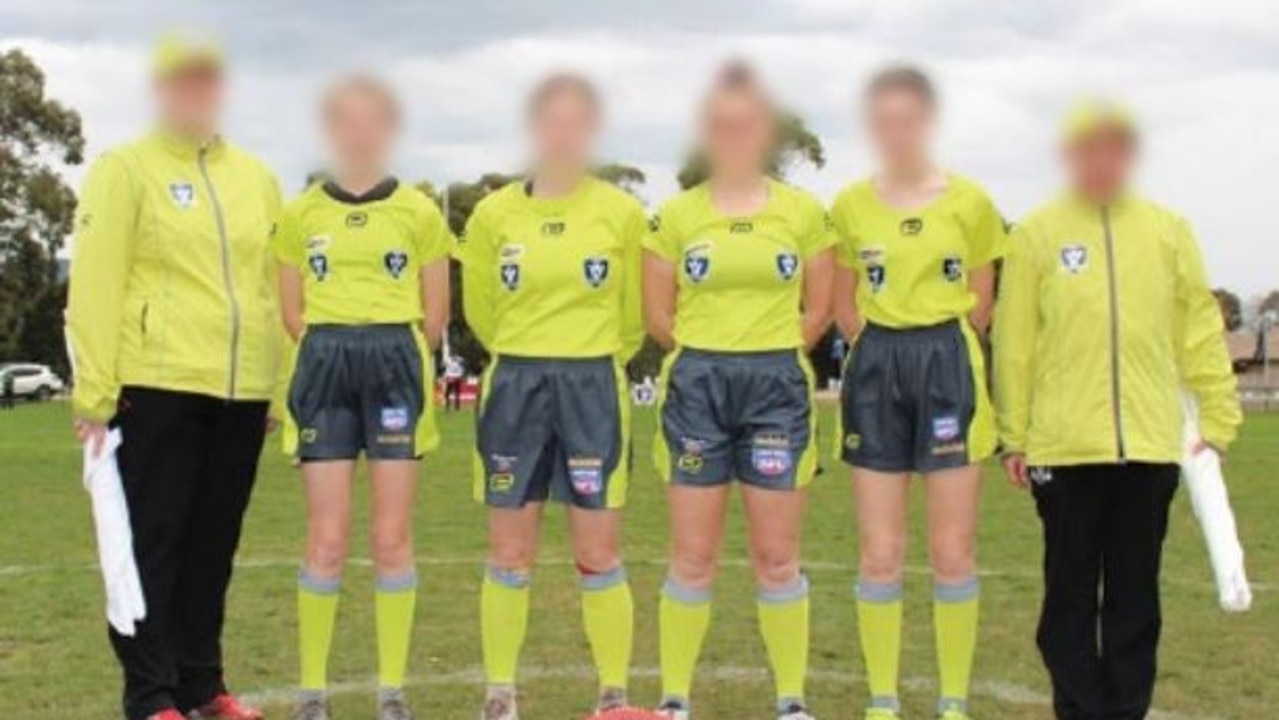 The AFL has spoken out on the leaked umpire report.
Regretful AFL issues apology after bombshell ump report
Female and non-binary umpires across Australia have been invited to report cases of sexual harassment and abuse directly to the AFL in the fallout of an explosive leaked report.
The AFL used its third statement since the Herald Sun exclusively published a 62-page document on an extreme shortage of female umpires to issue a formal apology to "any woman who suffers harassment or sexism of any kind".
Acting AFL chief Kylie Rogers said the Herald Sun decision to make the report public would "no doubt" make community matches a safer place and regretted the AFL had not released it earlier.
Rogers said she had checked to see how AFL umpires Eleni Glouftis and Chelsea Roffey they were coping on Tuesday and thanked them for their bravery and input in the document – "Girls and women in Australian football umpiring: Understanding registration, participation and retention".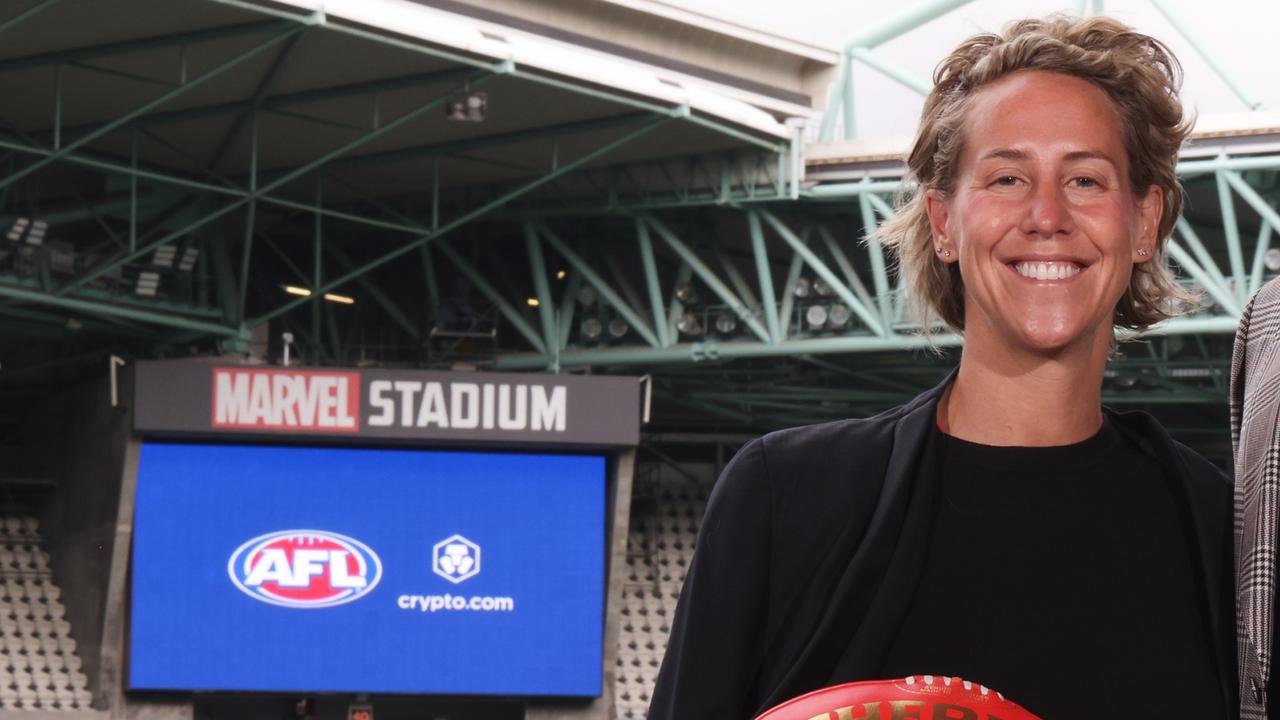 Acting AFL chief executive Kylie Rogers. Picture: Jonathan Di Maggio
One female umpire told the report: "A supporter yelled out, 'Why don't you open your eyes instead of your legs, you stupid slut!'"
"I took it to the league and they didn't even cop a fine or anything, so I moved to (another league)."
But Rogers said community umpires could now escalate such issues to the AFL Integrity Unit instead of relying on local leagues for a resolution.
One of the document's 11 recommendations made to the AFL was to research the implementation of a centralised reporting tool, which would identify trends in discrimination.
"On behalf of the game we apologise to any woman who suffers harassment or sexism of any kind and we would encourage them to report it to their local club, to their league or to the AFL itself," Rogers said.
The AFL came under fire on Monday for failing to acknowledge the victims among the 27 female and non-binary umpires who courageously shared their distressing stories for the investigation, which was conducted by the University of Sydney.
On behalf of the AFL, Rogers said sorry 45 hours after the story was broken.
"I was always going to apologise," Rogers said.
"In reading the report the findings are horrific, and we take any form of sexism or harassment very seriously.
"From the bottom of my heart, I apologise."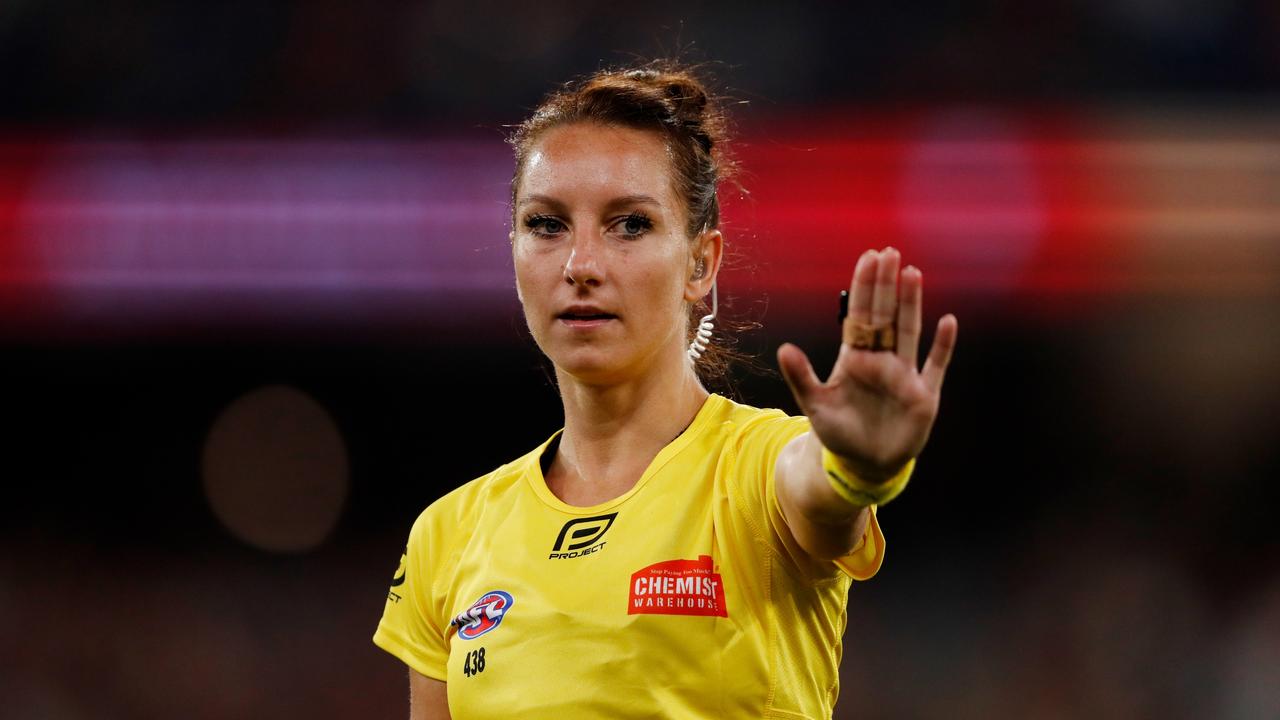 The AFL's first female field umpire Eleni Glouftsis. Picture: Dylan Burns/AFL Photos
Females represent just 10.8 per cent of umpires nationally and, as of 2019, only 2.6 per cent at AFL level.
The AFL wants to get to 40 per cent nationally – but is refusing to set a deadline.
Shortly the league will table its Women and Girls Game Development Action Plan to the AFL Commission.
"Hopefully that will be ratified shortly and then once we start to invest we might be able to put a timeline on it," Rogers said.
"We commissioned the report because the growth in female umpires is not commensurate with the growth in female players.
"We need to invest in gender-friendly facilities, we need to look at more education and we need to review our policies and our procedures.
"We will continue to work day and night until it is safe and it is welcoming and it is inclusive, because everyone deserves that."
The league's formal apology came 45 hours after the Herald Sun broke the story – eight months after the report landed at AFL House.
AFL's big admission on explosive umpires report
The AFL has conceded its explosive report into an extreme shortage of female umpires "could have" been shared publicly while it worked on strategies to solve the toxic culture festering beneath the surface.
Instead the Herald Sun exclusively obtained the 62-page document as 27 umpires from across Australia shared several disturbing incidents of sexual harassment and abuse from their male umpiring colleagues.
On Monday many more grassroots umpires contacted the Herald Sun to tell their stories of abuse behind the whistle. They were thankful such a serious nationwide issue was finally being talked about.
A four-page flyer on the AFL-funded report read: "The findings indicate that there are systemic, institutional problems faced by girls and women, regardless of the region or level in which they umpire".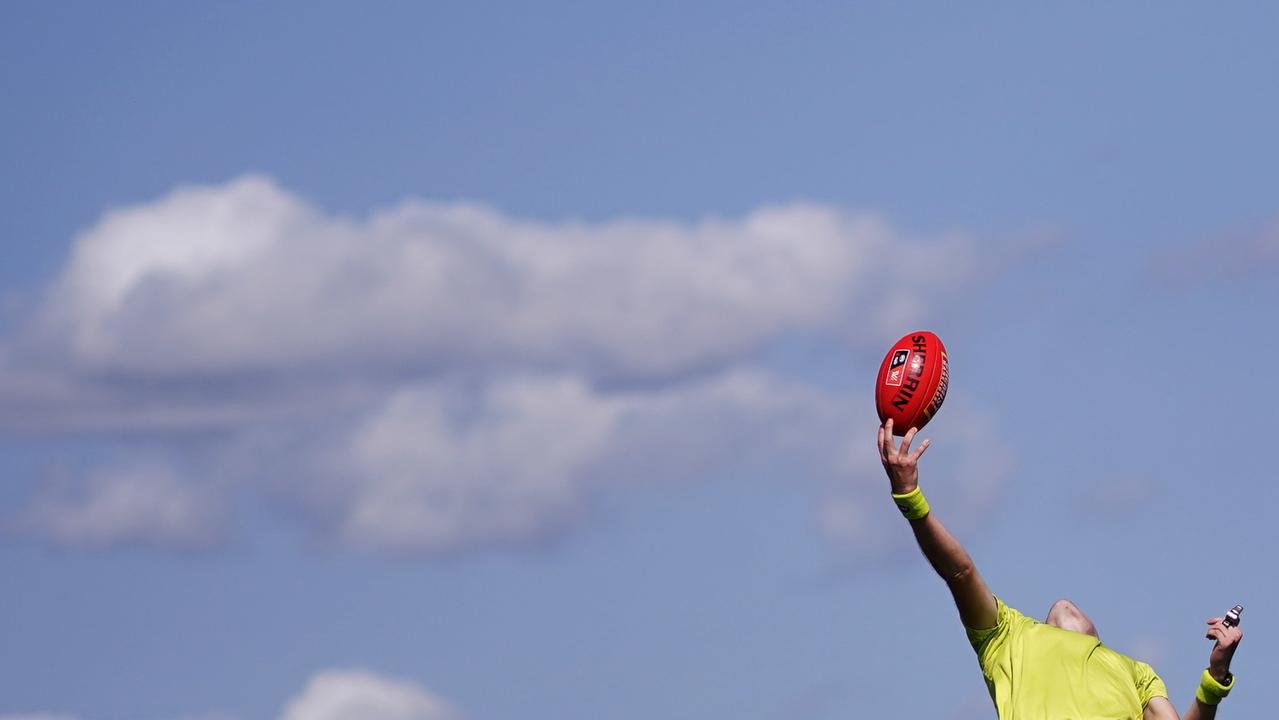 The AFL conceded the report could have been shared publicly. Picture: AAP Image/Michael Dodge
Acting league chief executive Kylie Rogers on Tuesday encouraged "any of the aggrieved umpires" to report their stories to the AFL Integrity and Security team.
"I want to make clear on behalf of the AFL that those incidents and those behaviours are wholly unacceptable," Rogers said.
Footy development boss Rob Auld is piecing together a Women and Girls Game Development Action Plan, set to be tabled to the AFL Commission.
The AFL Commission last year approved an extra $8 million to spend on grassroots footy, with the league keen to establish more multi-gender facilities at local grounds across the country.
"Much of (the plan) … is about ensuring that we help leagues and clubs from the community level to the talent pathways and through to the elite game ensure they have the policies, procedures and promotion to encourage more women and girls into football," Rogers said.
"And that when they are there they have an environment where any unacceptable behaviour is appropriately dealt with."
Rogers wrote to stakeholders including AFL clubs, states, community leagues and umpire associations in response to the Herald Sun's bombshell front page.
"We wish to provide you with an update on the story published in the media today on community umpiring, and the unacceptable experiences of some of our female participants," Rogers said.
"A report was commissioned in conjunction with the University of Sydney to understand the key reasons why the numbers of women and girls in our umpiring ranks had not increased in line with the numbers of new women and girls playing football.
"While the report was widely distributed across AFL and academic circles and was provided to those umpires who took part, it had not been publicly released as we focused on the recommendations and developing policies and initiatives based on the report's findings and the AFL accepts that we could have shared the report publicly while that policy development process was underway."
Originally published as AFL cultural review: League adopts recommendations from external probe