AFL female umpire abuse scandal: Reaction to the damning report
Susan Alberti is synonymous with women's football. And she was so appalled by stories from female umpires across the country that she terminated her sponsorship.
Susan Alberti was appalled by the treatment of female umpires.
Women's football pioneer Susan Alberti terminated her sponsorship of female umpires because she was "so disgusted" at how they were being treated.
Alberti, 74, wrote out cheques totalling close to $100,000 but pulled the plug after several females umpiring in the country contacted her to discuss their "appalling circumstances".
The Herald Sun exposed the toxic male-dominated culture in umpiring ranks when it released a damning AFL report.
Professor Clare Hanlon, Victoria University, wants to now collaborate with the AFL on a follow-up report into the national crisis.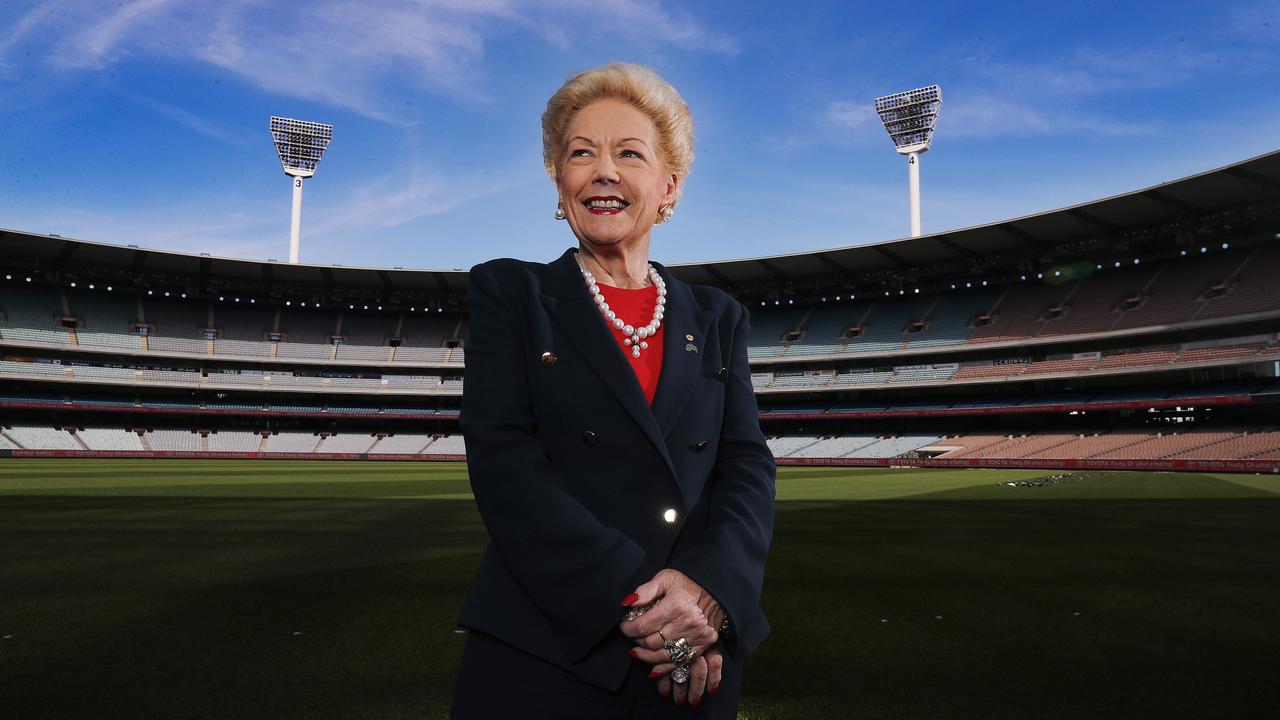 Susan Alberti pulled the plug after several complaints from umpires. Picture : Michael Klein
"There is a need to stamp out bad behavior and a destructive environment," Hanlon told the Herald Sun.
"Victoria University is focused on collaborating with organisations to create no boundaries for women as leaders, that includes umpires.
"We look forward to an invitation from the AFL to collaborate in their quest to create an inclusive and welcoming environment for women as umpires."
Alberti, who is chair of Victoria University Women in Sport, wasn't surprised by the shocking stories of sexual abuse and harassment revealed in the AFL report.
"I thought they should be getting their act together, which I had hoped they were," the former Western Bulldogs vice-president told the Herald Sun.
"So I stopped sponsoring annually the women's umpiring.
"I've had contact with many women, female umpires from the country, and described circumstances that were appalling.
"(They've got) bare amenities. They need their own changerooms.
"They'd be made to stand outside while the men got changed. This is in the middle of winter, and the same thing would occur after the game.
"What has been described (in the Herald Sun) is so accurate it's not funny with what's happening to these young women.
"We've got to do something about encouraging women to become more interested in becoming umpires.
"What they're having to put up with is intolerable.
"It's been suppressed for far too long. It would be 10 years since I started sponsoring women's umpiring, but I stopped after six because I was becoming very concerned about the AFL's attitude to women in umpiring.
"I don't want to be superior – I just want to be treated as an equal. That's all I ask for. The women are not getting that."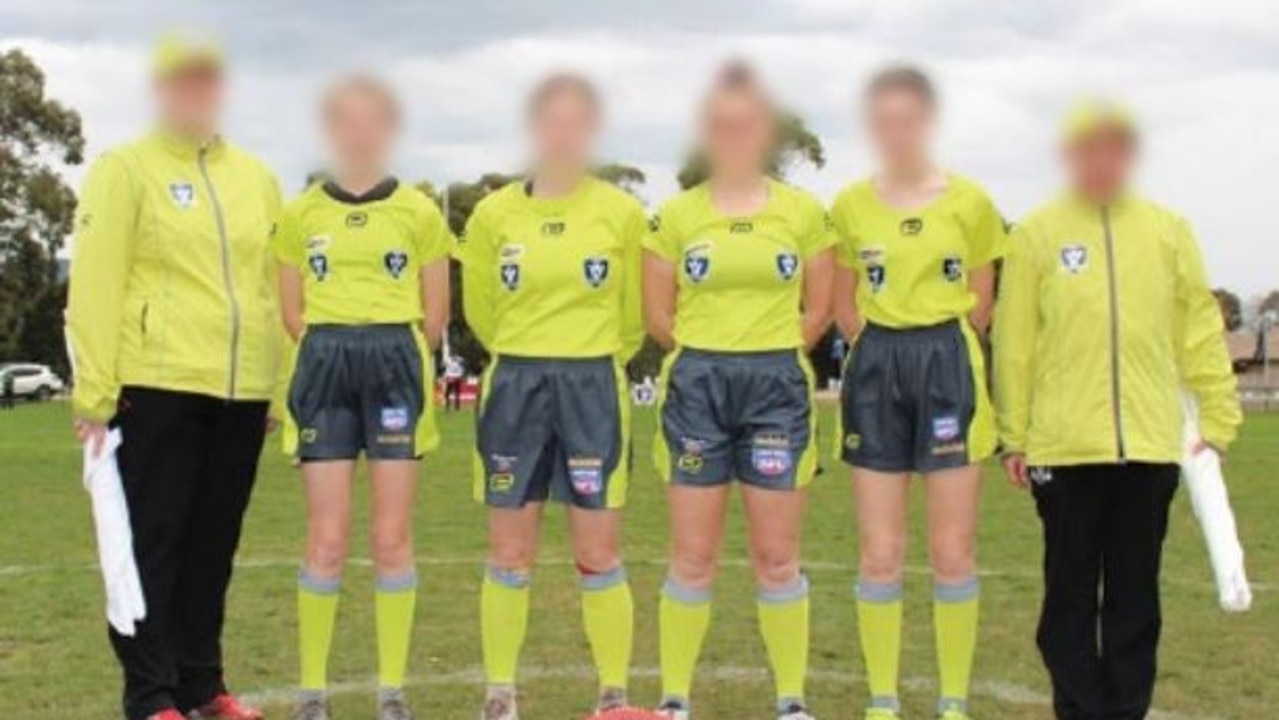 Alberti says women aren't getting equal treatment in the umpiring ranks.
Alberti said girls were being treated "with disdain and not with respect".
"I was disgusted with the way women were being treated. When I stumped up that money all those years ago I could see the women were on their knees, and I felt I had to do something," she said.
"I was in a position to make a difference. Women don't get a fair go so I stumped up with my own money.
"The argument always was, 'They're not qualified enough'. Well, for God's sake qualify them.
"Give them their opportunities, give them their pathways."
Alberti said one region was down to a single female umpire while Federal Employment and Workforce Minister Stuart Robert said on Monday the AFL needed to take immediate action.
"As the Workforce Minister I'm telling them – resolve it now," he said after reading the Herald Sun's report.
"If they don't, there are workplace laws that can be enacted because this is a workplace and everyone needs to understand that.
"It's not just footy. We love our footy ... but this is a workplace and people should feel safe and respected in their workplace."
GOVT'S WARNING TO AFL OVER UMPIRE ABUSE REPORT
— Rebecca Williams and Lauren Wood
Melbourne defender Steven May has described the findings of an AFL report into umpire abuse and sexual assault "disgraceful" while called Government has called for immediate action.
A disturbing 62-page document detailing abuse suffered by female and non-binary umpires at all levels was leaked by the Herald Sun.
Female umpires have been touched and grabbed during matches, overheard lewd discussions at training about their "boobs", and received explicit photos.
Other complaints include female umpires being forced to share change rooms with naked goal umpires described as "grandpas" and being racially vilified in the workplace.
The extensive research into an extreme shortage of female umpiring, conducted by The University of Sydney in 2020-21 and funded by the AFL, was published last August.The AFL did not want the findings made public.
"That's disgraceful," May said of the findings.
"I can't believe our junior umpires and our junior female umpires are experiencing that sort of stuff.
"We need to set the example and I think the AFL is navigating their way through that this year with the free kicks and dissent ... but that's really disappointing to hear that about the junior level.
"You'd think it's safe and at that age group, it's all about fun, but for that to be happening is really disappointing.
"Hopefully they can get on top of that (as soon as possible)."
Meanwhile, Federal Employment and Workforce Minister Stuart Robert said the AFL needed to take immediate action to protect female umpires.
"As the Workforce Minister I'm telling them, resolve it now," he said.
"If they don't, there are workplace laws that can be enacted because this is a workplace and everyone needs to understand that. It's not just footy. We love our footy ... but this is a workplace and people should feel safe and respected in their workplace."
"Who treats young girls like this? Seriously? Who does this to people, people giving their time? It's an opportunity to bring women into sport."
FOOTY GREATS CALL OUT AFL'S 'BURY-IT' TACTIC WITH ABUSE REPORT
Melbourne champion Garry Lyon has questioned why a damning report into female football umpiring was not made public by the AFL, declaring "you can't bury this stuff".
A damning 62-page leaked report revealed by the Herald Sun found young female umpires had quit after being sexually assualted, harrassed and insulted by male colleagues.
Lyon said findings needed to be made public and acted upon to ensure these situations "never happened again".
"We want this game to thrive and continue and we can't do it without umpires," Lyon said on SEN.
"A great way to be able to address this shortfall is to make it more welcoming and make it easier for women and girls to enter in.
"You can't bury this stuff. This is why I asked the question about why it wasn't released because you have to make it public so that then we address it and make sure that it never happens again.
"Maybe they turn-around and say, well look, if it is public, as it is now, then those that were inclined to get involved may not be but I don't think that's the answer. I think the answer is addressing it and fixing it."
Former Collingwood coach turned commentator Nathan Buckley said the game still had a "long way to go to" to encourage more female participation in the umpiring fraternity.
"There is two parts to that. One is the numbers and the fact that we want to increase the representation of women in umpiring," Buckley said.
"We want to increase the representation of umpires across the board. That's clearly been an issue with the dissent conversation.
"The second one is the environment that we set up for people and some of the anecdotes that came through in that story and our of that report, we have still got a long way to go.
"We are more conscious of it and we I say we, I say men are more conscious of it than we have been in the past, I think that is a step forward.
"But it's time to squash it altogether."
READ THE FULL 62-PAGE REPORT HERE
The report developed 11 recommendations to create positive cultural change across all levels of umpiring.
1. Education initiatives that focus on gender equity and preventing gendered harassment, violence and sexism to a range of different umpiring stakeholder groups;
2. Research into the implementation of a centralised procedure (reporting tool) so that umpires can report problematic incidents of discrimination or other cultural forms of exclusion;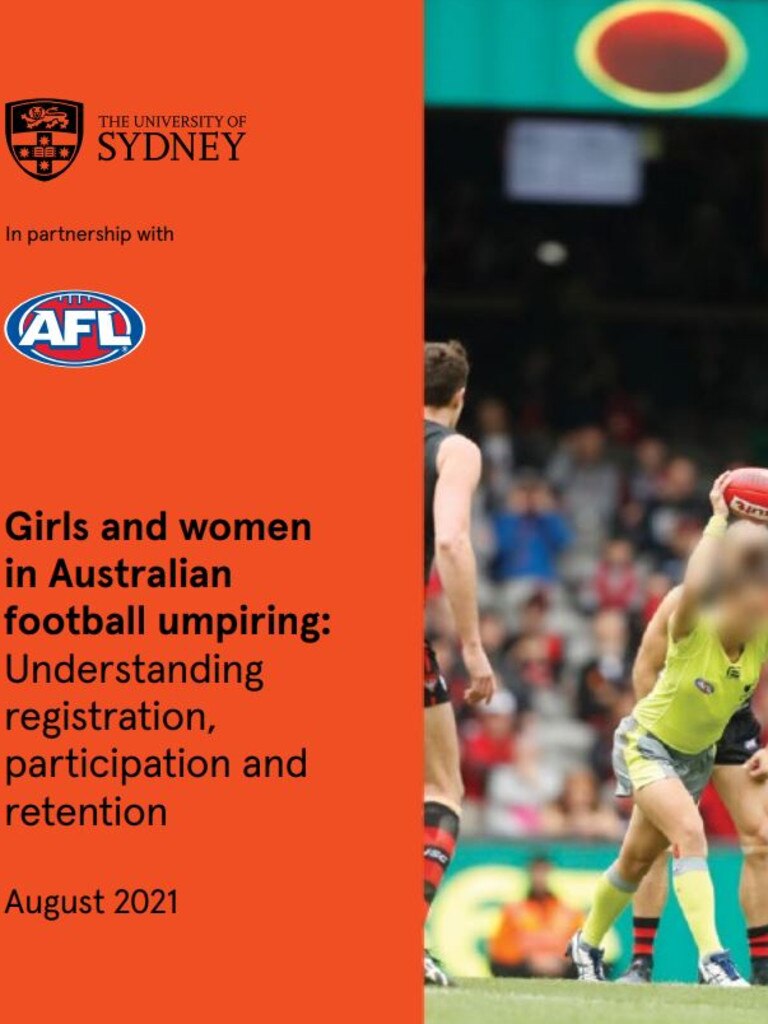 The front page of the report
3. Adoption of inclusive change room policies across all levels;
4. The use of gender-neutral language and imagery in all correspondence and coaching, as well as the use of diverse examples of gender and race in coaching imagery and examples;
5. At State League level, employment of all support staff including physical conditioning staff with appropriate training/experience with female athletes or mixed gender groups;
6. Investigation of the feasibility of a parallel umpiring talent pathway for girls and women across State League & Talent Pathway competitions and the AFLW competition;
7. Investigation of the feasibility of a parallel umpiring participation pathway for girls and women across community football;
8. Consistent utilisation of exit interviews and/ or anonymous feedback forms with discontinuing umpires;
9. Investigation and implementation of active efforts to recruit more female umpiring coaches;
10. Formation and maintenance of a committee as an independent consultancy board to have regular, timely discussions to monitor the progress of these recommendations and other umpiring inclusion initiatives;
11. Investment of time and other resources into further research about the social and cultural environments in umpiring and initiatives and strategies to support social cohesion and equity in these environments.
Originally published as AFL female umpire abuse scandal: Reaction to the damning report