AFL Fixture 2022 analysis: AFL misses huge opportunity, who every club plays twice
Some clubs will be licking their lips at the 2022 fixture, for others it's a serious blow.
Jai Newcombe and the Hawks will take on the Swans on Anzac Day. Picture: AFL Photos/Getty Images
Football's 2022 fixture cautiously dips its toe into the kind of experiment that does everything humanly possible to maximise TV rights dollars in the future.
The only real question is why didn't the AFL go all in on that brave new world.
The league's 2022 draw features a barnstorming opening round that could see the MCG packed out with a trio of Round 1 full houses featuring Melbourne v Western Bulldogs, Carlton v Richmond and then St Kilda v Collingwood.
As a return to normality, it will be exactly what a football-starved lockdown-fatigued Victoria needs after so many nights in front of the TV instead of barracking with mates in the outer.
But the headline act is a curious pair of Friday night double-headers that on face value look like the AFL's experiment into a much more futuristic fixture.
Melbourne takes on Essendon at 7.20pm on Friday April 1 (Round 3), with Adelaide then hosting Port Adelaide at Adelaide Oval later that night.
Yet, instead of having five hours of prime time wall-to-wall epic football, the league has scheduled that Showdown at 8.20pm local time, which is 7.50pm in Melbourne and Sydney.
So, instead of allowing footy fans to watch every game possible, the league basically swaps a Saturday night double-header for a Friday double-header that round.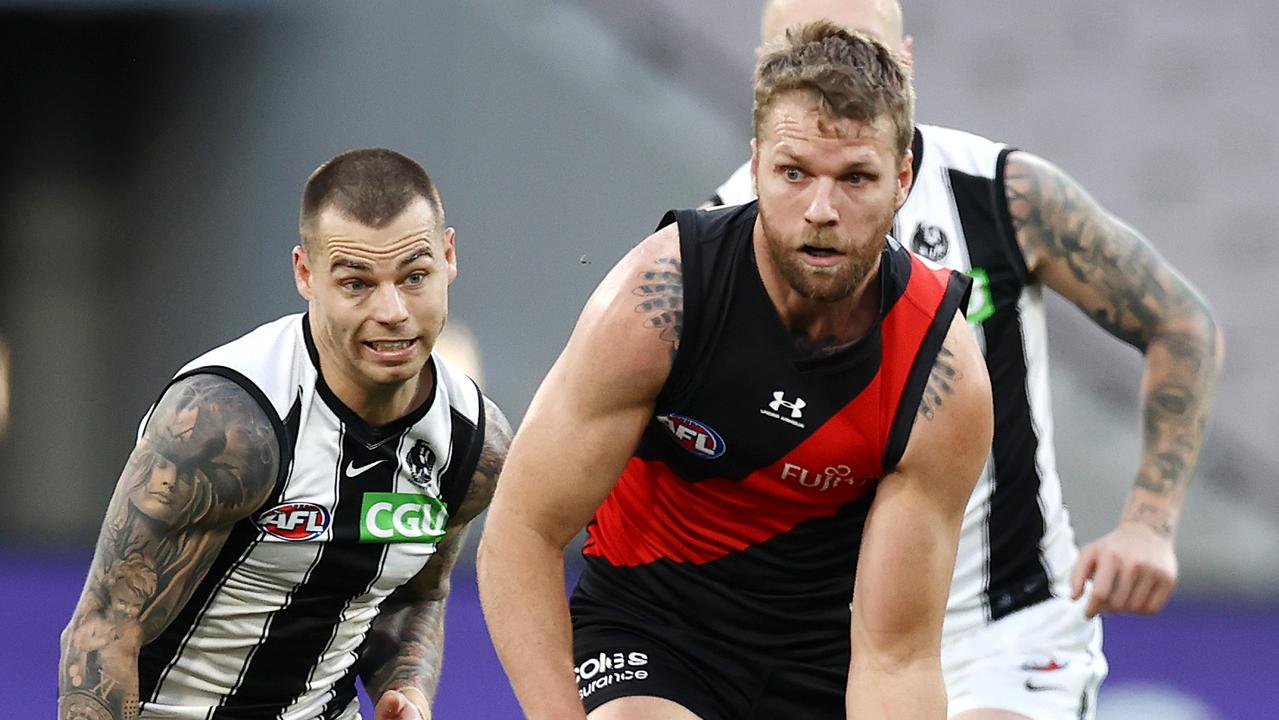 Jake Stringer and the Bombers haven't been done any favours with the 2022 fixture. Picture: Michael Klein
South Australia will also be dirty that when it finally gets its Friday night blockbuster to showcase the Showdown across the nation, the AFL then sticks another clash alongside it.
In Round 8 the league wisely slots only two games into the Sunday Mother's Day slot and goes with a Friday double-header.
But it schedules Port Adelaide v Western Bulldogs at 7.30pm and then Fremantle v North Melbourne in a clash starting only 70 minutes later.
Play one game at 6pm Friday and then start the other at 8pm or 8.30pm Friday and then you really get to see whether there is an appetite for regular Friday double-headers with footy from 6pm to 11.15pm.
Every time the league schedules two games that cross over on Fox Footy, it effectively halves the audience, so the end game should be attempting to spread games out across the weekend with as little crossover as possible.
That maximises audiences, gets the AFL the biggest TV dollar possible, and funds the big expansion plans the AFL has in the next decade.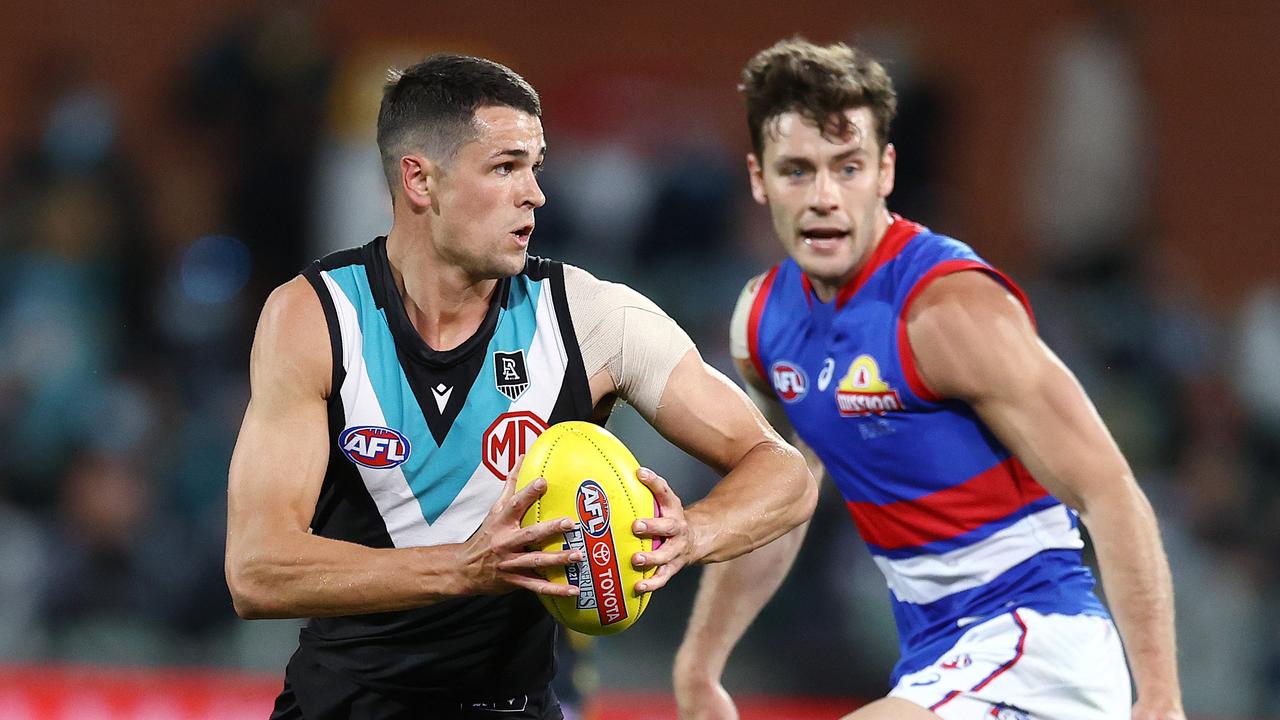 Port Adelaide and the Western Bulldogs will be part of a Friday night double-header. Picture: Michael Klein
They are big ticket items – a 19th AFL team in Tasmania that should be given the green light by August and 18 AFLW teams with players actually getting a real professional wage.
The league's ace in the hole wasn't revealed in the fixture launch on Thursday.
But it is an expansion of Thursday night football to see the timeslot used every week of the home-and-away fixture.
The Herald Sun understands AFL chief executive Gillon McLachlan wants to see it rolled out as soon as possible, which would take the buy-in of the AFL players on five-day breaks.
In the current fixture there are five successive Thursday nights to start the season then more returning in the middle part of the fixture around school holidays.
Call it 10 or 12 home-and-away Thursday nighters.
McLachlan firmly believes football fans want to see Thursday night games every single week, and will continue to push hard until it happens.
Thursday night games rate as well or even better than Friday night games, so look for that fixture change just as the league is negotiating a new deal on TV rights that currently expire at the end of 2024.
The weighted nature of the AFL fixture means Michael Voss's Carlton will have zero excuses as it seeks to finally shrug off the mantle as footy's most disappointing team this decade.
The Blues play five just one 2021 finalist in their five double-up encounters – Richmond, Collingwood, Adelaide, Fremantle, GWS Giants.
Richmond could be mid-tier again and who knows about GWS, but none of them shape as top-four sides.
If the Blues are to again excel only in mediocrity, it won't be because of their fixture.
Brett Ratten's St Kilda, which finished 10th last year, has double-ups against Fremantle, Hawthorn, Geelong, Brisbane Lions and Sydney.
Geelong, Brisbane and Sydney will all push for top four and Hawthorn should be reasonable, so it is a challenging fixture in a season in which so much is expected of the Saints.
Patrick Cripps and the Blues have no excuses in 2022. Picture: Michael Klein
Essendon has a massive challenge ahead if it is to finally break that finals winning drought that goes back to 2004.
Its double-ups are Collingwood, Brisbane Lions, Sydney, Richmond, Port Adelaide.
Anzac Day is a toss-of-the-coin job, Richmond could be amazing or mediocre and Brisbane, Sydney and Port Adelaide should all be there when the whips are cracking.
So the Dons don't have an easybeat or whipping boy to capitalise against with a pair of soft victories, and they have as many as four teams which could be pushing for top six.
Ben Rutten will have to do everything in his power to avoid the second-year blues after last year being gifted double-up games against battlers Collingwood, Hawthorn and North Melbourne as well as Sydney and GWS.
Hawks to share Anzac Day stage
– Jay Clark
Hawthorn will share the Anzac Day stage with Essendon and Collingwood when the Hawks host Sydney Swans in Launceston in Round 6 next season.
News Corp can reveal the Hawks will kick-off the Anzac Day double-header from 12.30pm on Monday, April 25 in a return to UTAS Stadium.
The match will be immediately followed by the Bombers' and Magpies' traditional blockbuster which is expected to draw a capacity crowd of up to 100,000 at the MCG.
Clubs are eager to be part of Anzac Day which is regarded as one of the most special occasions of the year and draws huge television audiences on the public holiday.
Hawthorn chief executive Justin Reeves said the Hawks would give the occasion the respect it deserved as Sydney Swans' champion Lance Franklin prepared to come up against his old side.
Buddy has a date with the Hawks on Anzac Day. Picture: AFL Photos/Getty Images
"It's an absolute honour to be provided the opportunity to play on Anzac Day in front of our loyal Tasmanian members and supporters," Reeves said.
"We respect the ANZAC tradition and will work towards making the day a day of remembrance, respect and pride."
It will be another big contest for new coach Sam Mitchell who will steer the Hawks against North Melbourne in Round 1, Geelong on Easter Monday in Round 5 and then the up-and-coming Swans in Round 6.
And in another significant fixture development, the AFL has scheduled the Round 3 Showdown between Port Adelaide and Adelaide on Friday night, April 1.
The battle between the two South Australian teams has been rostered on a Saturday night in recent years but the league has heeded to calls to shift it to the stand-alone marquee slot on a Friday night, ensuring it draws a massive nationwide audience.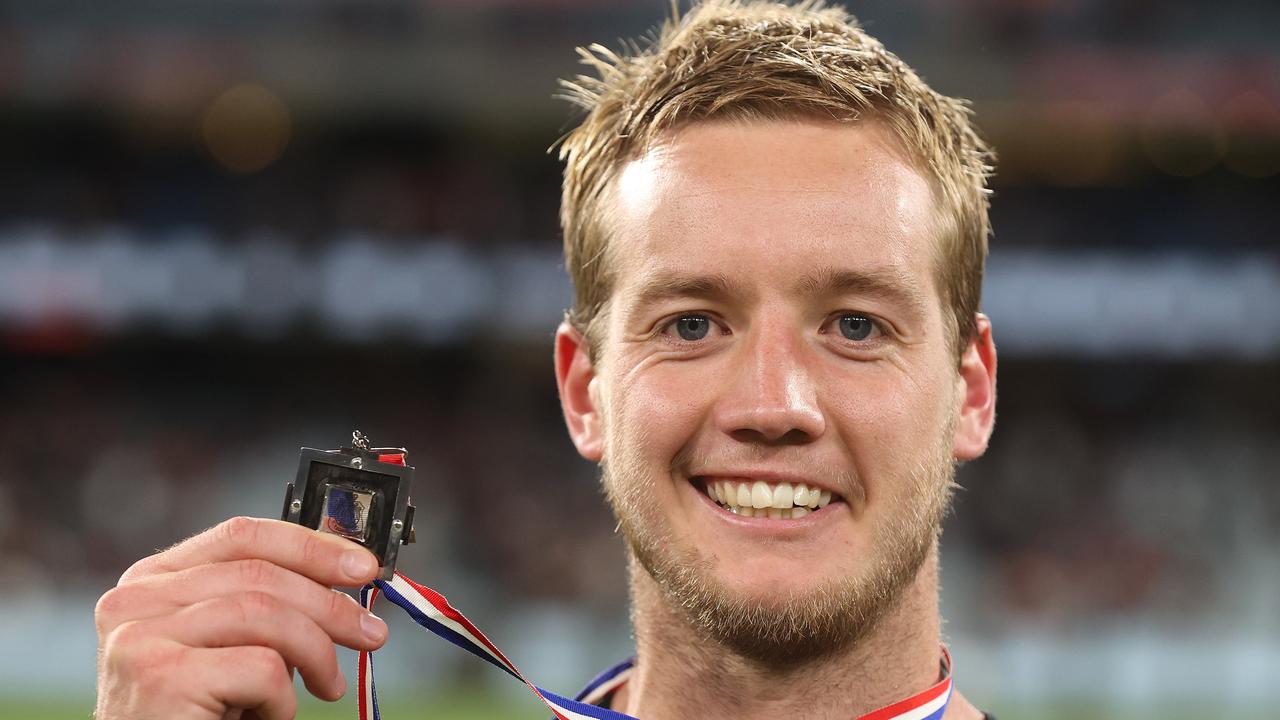 Darcy Parish will have a crack at another Anzac Day Medal. Picture: Michael Klein
The Western Derby between West Coast and Fremantle will also take place in Round 3 on Sunday April 3, in the hope Western Australia's borders are open to Victorian teams by the start of the season.
The footy spotlight will shine brightly on Tasmania in Round 6 as North Melbourne also hosts Geelong from 1.10pm on Sunday, April 24 at Blundstone Arena in Hobart.
The Tasmanian Government wants its own team and has threatened to withdraw its support of the Hawks and Kangaroos unless they are given every chance to enter the league.
The Kangaroos and Hawks will lock horns for local bragging rights when the two clubs are scheduled to meet in Round 19 in Hobart.
Western Bulldogs and St Kilda will also hit the road in Round 6 for the ANZAC Appeal Round.
Western Bulldogs will host Adelaide Crows at MARS Stadium in Ballarat from 1.45pm on Saturday April, 23, continuing the Dogs' association with the Ballarat community.
St Kilda has been given a second Friday night game in the early part of the season when Brett Ratten's men take on Greater Western Sydney in Canberra in Round 6.
The Friday night match will kickstart the ANZAC Appeal Round on April 22 and will also coincide with the return of superstar forward Toby Greene for the Giants.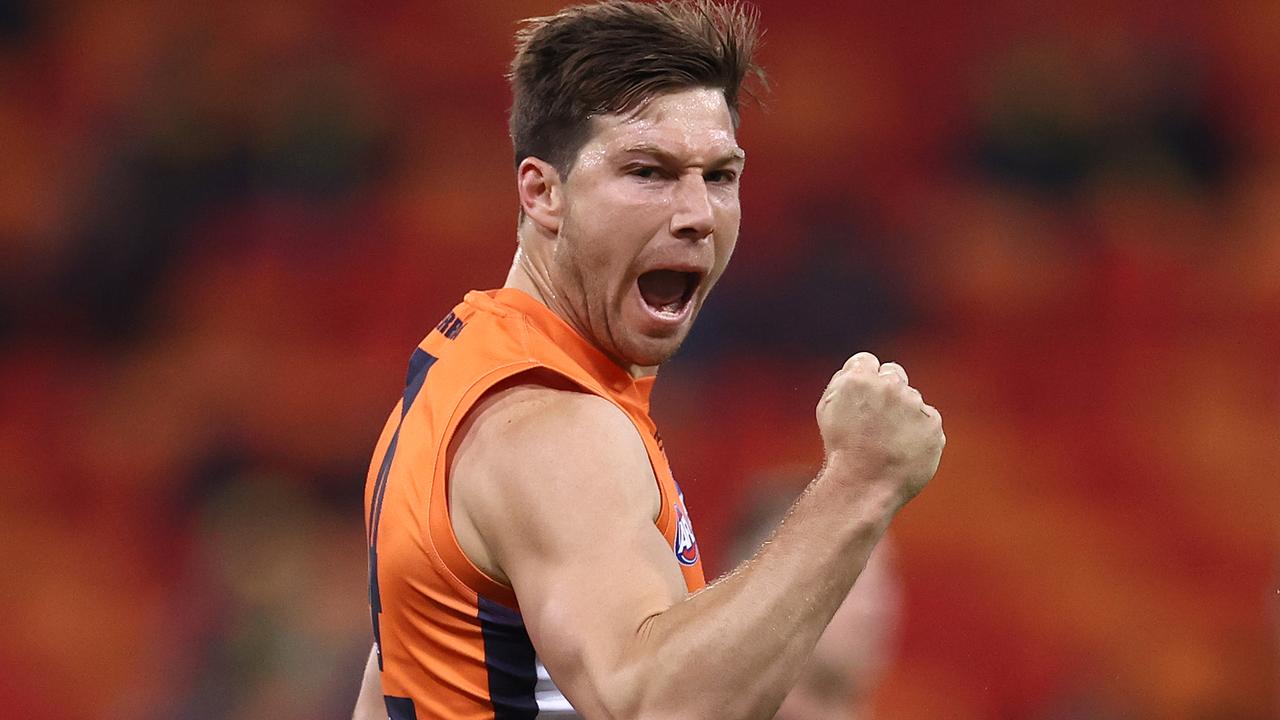 Toby Greene will return from suspension against Saints. Picture: Getty Images
Greene will miss the first five matches of the season after he was suspended for pushing an umpire.
Greene bumped into umpire Matt Stevic late last season and was disappointed when his original three-game suspension was increased to six matches after the season.
There will be a huge focus on Greene in the lead-up to the contest and provide more prime time exposure for the Saints who also play Collingwood on Friday night in Round 1.
The Saints head up to Cairns the following week to meet Port Adelaide from 7.25pm on Saturday, April 30 in Round 7.
Ben Brown and the Demons will head north in Round 18. Picture: AFL Photos/Getty Images
Reigning premier Melbourne will continue its flag defence when the Demons return to Northern Territory for the Round 18 clash against Port Adelaide at Traeger Park, Alice Springs on the weekend of July 15-17.
Gold Coast will meet Hawthorn (Round 11) and Port Adelaide (Round 12) at TIO Stadium in Darwin.
The annual Q-Clash between Brisbane and Gold Coast has been set for Round 6 on Sunday, April 4.