AFL crowds: Good reasons crowds are down according to the league as it launches free kids entry scheme
The AFL will let kids into games for free for a four-round period as it continues to deal with the crowd fallout of Covid. See when the initiative will be.
The Herald Sun can reveal the league will allow children up to 14 to enter all AFL grounds for free between rounds 14-17 as it continues to reward fans who attend games during the Covid era.
The average attendance per game this year is 31,005, down from 37,250 in 2019.
It is the lowest figure since 1995's average of 29,103 — apart from the past two Covid-affected seasons.
Stream every match of every round of the 2022 Toyota AFL Premiership Season Live & Ad-Break Free In-Play on Kayo. New to Kayo? Try 14-Days Free Now >
The AFL believes there are valid explanations for the drop given restricted crowds at Perth Stadium and GMHBA Stadium as well as the general public still learning to live with Covid.
The Victorian government's vaccine mandate means some patrons have been unable to attend games, with many others in isolation after contracting Covid or becoming close contacts.
There is still a hesitancy among some of the community to return to spaces with large crowds, but it is not known how many fans are not returning because two years of Covid altered their routine of attending games.
The league's Kids Go Free Month will see the AFL providing free general admission tickets to kids for games across all Australian venues, which coincides with the Victorian school holidays.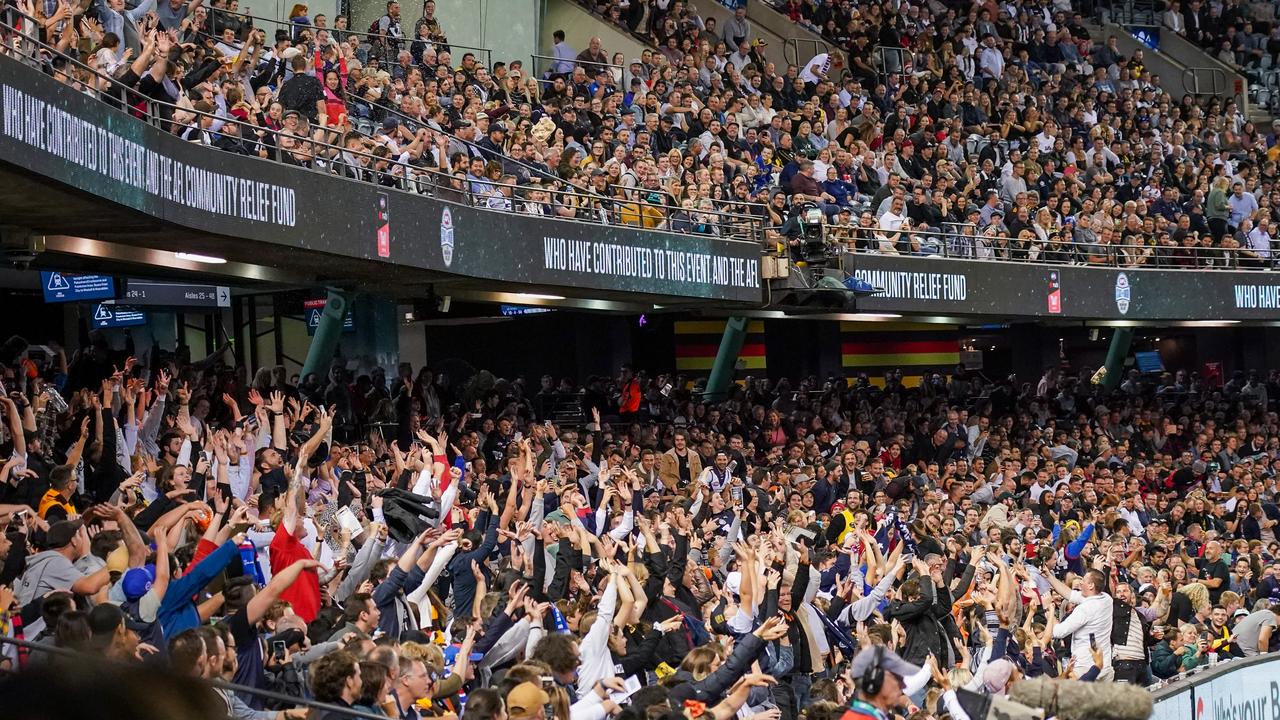 AFL crowds are at their lowest average since 1995.
Kids from 6-14 years of age normally pay $5 for tickets in Victoria, with the league's initiatives this year including freezing ticket prices and putting on family tickets to incentivise attendances.
AFL commercial boss Kylie Rogers told the Herald Sun: "We've had a wonderful response by all football fans in returning back to games so far this season.
"We've seen great crowds return all across the country, so we're excited to help make it even easier for families, especially ahead of the school holidays.
"It is a great time to be out in Melbourne and at almost halfway through the season, the competition is really heating up. We can't wait to see our youngest fans getting amongst the action".
Richmond fans show off their colours at the MCG.
The Demons are up 37 per cent on their 2019 attendances, while Hawthorn (up 11 per cent), St Kilda (up four per cent) and Carlton (up two per cent) are also posting strong numbers.
Richmond still leads the league in average home attendances (51,818), followed by Carlton (47,487), and Melbourne (39,698), with North Melbourne's 15.036 average impacted by two Hobart crowds.
West Coast is down 37 per cent and Fremantle has dropped 18 per cent, in part because of the reduction of crowd capacities at Perth Stadium as well as the Eagles' form slump.
Perth and Adelaide fans have also had to endure their most significant Covid outbreaks this year.
The league has already played at smaller capacity stadiums including Cairns by round 9, with Collingwood having played its two Marvel home games already.
The league is hopeful fans are increasingly confident about returning to public events as they return to work and flood the CBD, with blockbuster Dreamtime at the 'G and Queens Birthday clashes ahead.
AFL CEO CANDIDATE TIGHT-LIPPED ON INTEREST
Marc McGowan, Sam Landsberger
One of the leading candidates to replace Gillon McLachlan as the AFL's next chief executive
refused three times on Monday to confirm whether he would apply for the coveted position.
Speaking for the first time since McLachlan announced he would end his eight-year tenure at season's end, AFL head of finance, clubs and broadcasting Travis Auld dodged questions about his candidacy.
Auld instead stated he and other league executive team members "won't be distracted" by other matters as they endeavour to tick off McLachlan's checklist.
"There's a process in place. It's an unbelievable privilege to lead this competition in this game," Auld said.
Stream every match of every round of the 2022 Toyota AFL Premiership Season Live & Ad-Break Free In-Play on Kayo. New to Kayo? Try 14-Days Free Now >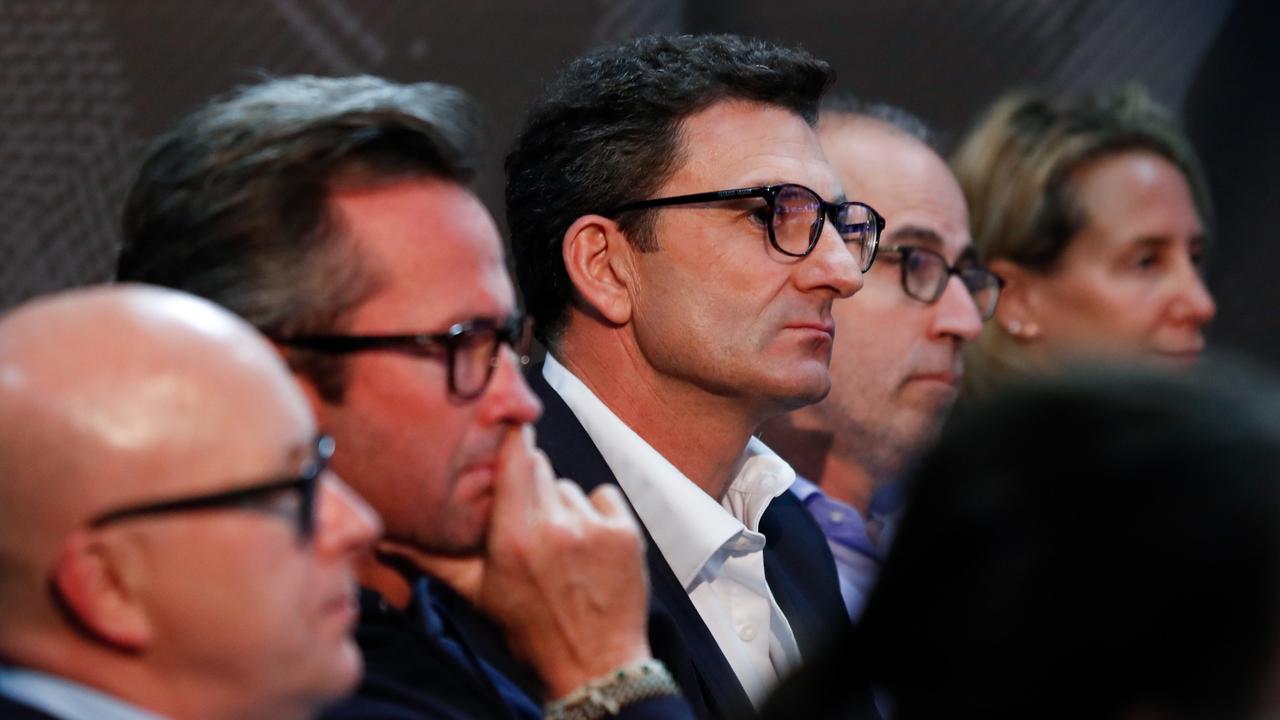 Travis Auld (centre) and Gillon McLachlan after the current chief executive officer announces he will step down from his role at the end of the season.
"There'll be an amazing field of people going for that role, and what I am very confident about is that the next CEO of the AFL will be well-placed to take this industry into the next phase of its success.
I appreciate there will be interest about who's in the role and where that's at.
"It's not my intention to provide a commentary about where I sit within that process. I don't really think that's my job. We've got some big things we need to get done and my focus will be on that."
Auld, who performed a key role in the AFL negotiating the significant challenges of the Covid-19 pandemic in the past two years, is seen as one of two standouts, along with Richmond CEO Brendon Gale.
League football boss and legal counsel Andrew Dillon and commercial guru Kylie Rogers are two other internal candidates, while Collingwood board member and ex-Australia Post chief Christine Holgate also has claims.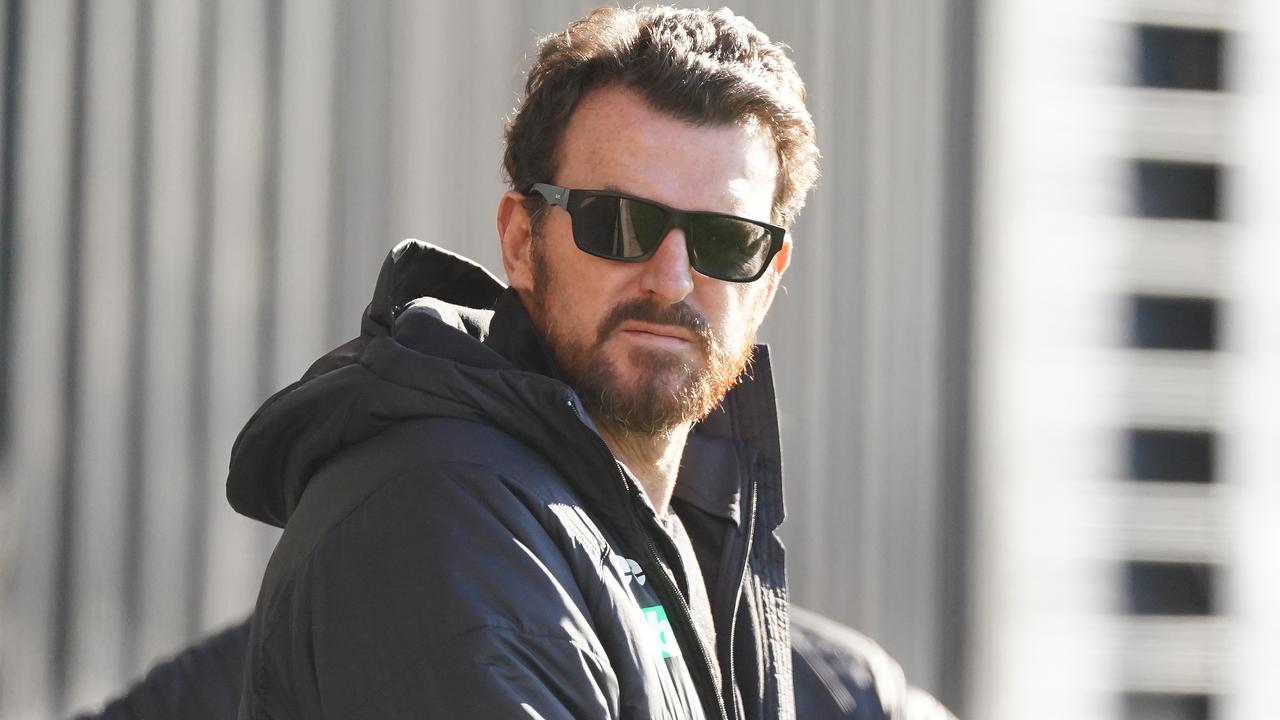 Tigers chief executive Brendon Gale looms as another high-profile candidate for the league's top job.
Beyond Gale, the likes of Western Bulldogs president Kylie Watson-Wheeler, Essendon CEO Xavier Campbell and Gold Coast's Mark Evans may be contenders from clubland.
MCG boss Stuart Fox and another former Australia Post CEO, Ahmed Fahour, are potential candidates, too.
"I think I've provided about as much information I want to provide on that one," Auld said, after a third attempt was made for him to reveal his interest.
"There are just too many things we need to do. I owe it, as do the rest of the executive, to our supporters to get those things done.
"Frankly, it doesn't really matter where I sit within that process, as far as our supporters are concerned, and I'm very aware of that. I think if you ask other members of our executive, you'll get the same answer."
What Gill is weighing up in looming Grand Final decision
AFL boss Gillon McLachlan says last year's spectacular twilight grand final in Perth could force the traditional 2.30pm bounce at the MCG to be delayed so the premiership cup is handed over at night.
The AFL Commission will meet next week to digest a discussion paper that has been put together on the start time of this year's decider, which will be the first grand final back at the MCG since 2019.
The league played the 2020 grand final at night at the Gabba (6.30pm local time) and last year's decider at twilight in Perth (5.15pm local time), although both games started after 7pm in Melbourne due to time differences.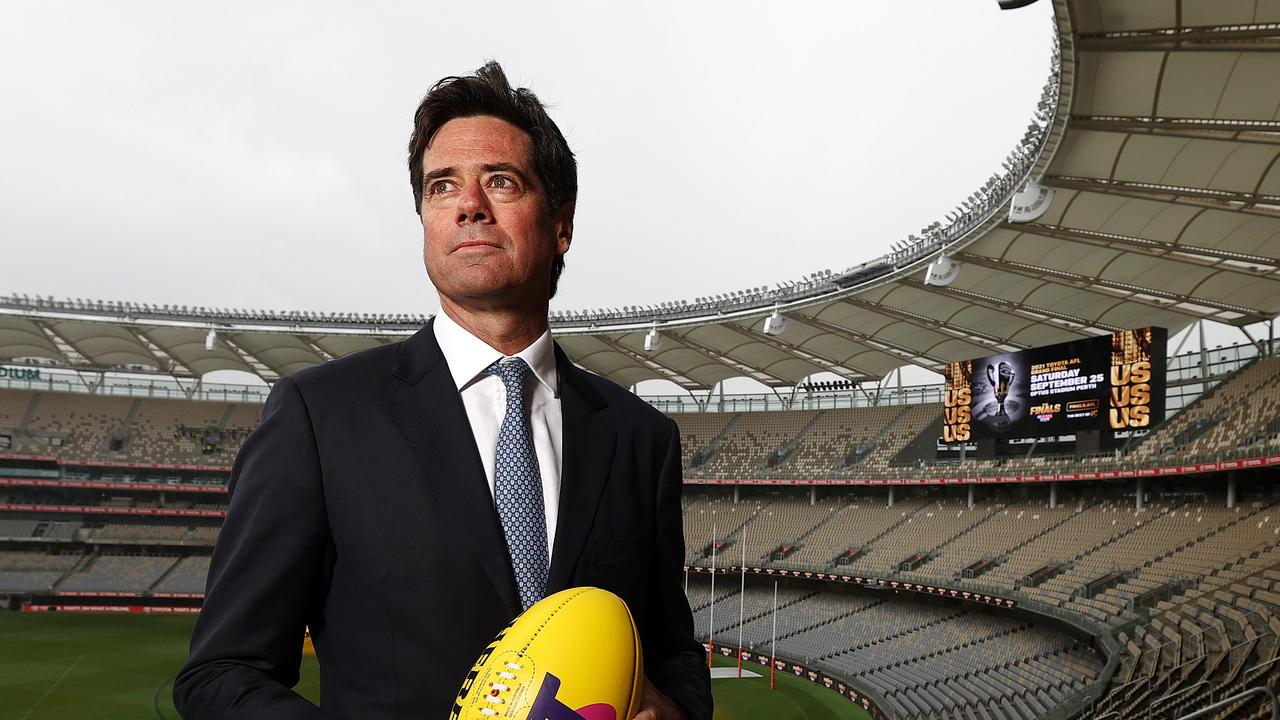 Gillon McLachlan at Optus Stadium ahead of the 2021 grand final. Picture: Michael Klein
While a night grand final at the MCG is off limits, McLachlan gave the strongest indication yet that it could be lights out for a day grand final.
"The game, the pinnacle of our season, was presented excellently both times," McLachlan said of the Brisbane and Perth extravaganzas.
"It's a different presentation, but I think they were both great grand finals.
"I got to be there. Victorians haven't had the experience of being to a twilight one.
"I know a lot of people don't even want to think about that, and I respect that."
He said weighing up last year's "incredible presentation" against football tradition would ultimately decide what time the ball should be bounced.
"I think there is a heritage component and a tradition that is very important to many football supporters," McLachlan said.
"So please, please be aware that everyone understands that."
AFL Grand Final debate: Night match dumped
- Glenn McFarlane
The AFL is edging closer to a final decision on whether to lock in an historic MCG twilight Grand Final this year or stick to its traditional afternoon.
The premiership playoff will return to Melbourne for the first time since 2019 after the two previous Grand Finals in Brisbane and Perth were played out under lights.
It is understood a night Grand Final has already been ruled out, but the AFL Commission will soon debate the merits of a switch to a twilight Grand Final this year.
The Commission meets about every five weeks with the next meeting coming on Wednesday, with a decision on Grand Final timing certain to be locked in by the end of June.
It could come as early as next week.
The industry push towards a twilight Grand Final is gaining momentum, even if consistent polling of footy fans has always had a 2.30pm Saturday timeslot as the preferred option.
If the AFL decides to stage a twilight Grand Final it could start the match anywhere between 4pm and 4.40pm, which would see the game's second half and presentations take place under lights.
The AFL was buoyed by the success of this year's Anzac Day match between Collingwood and Essendon.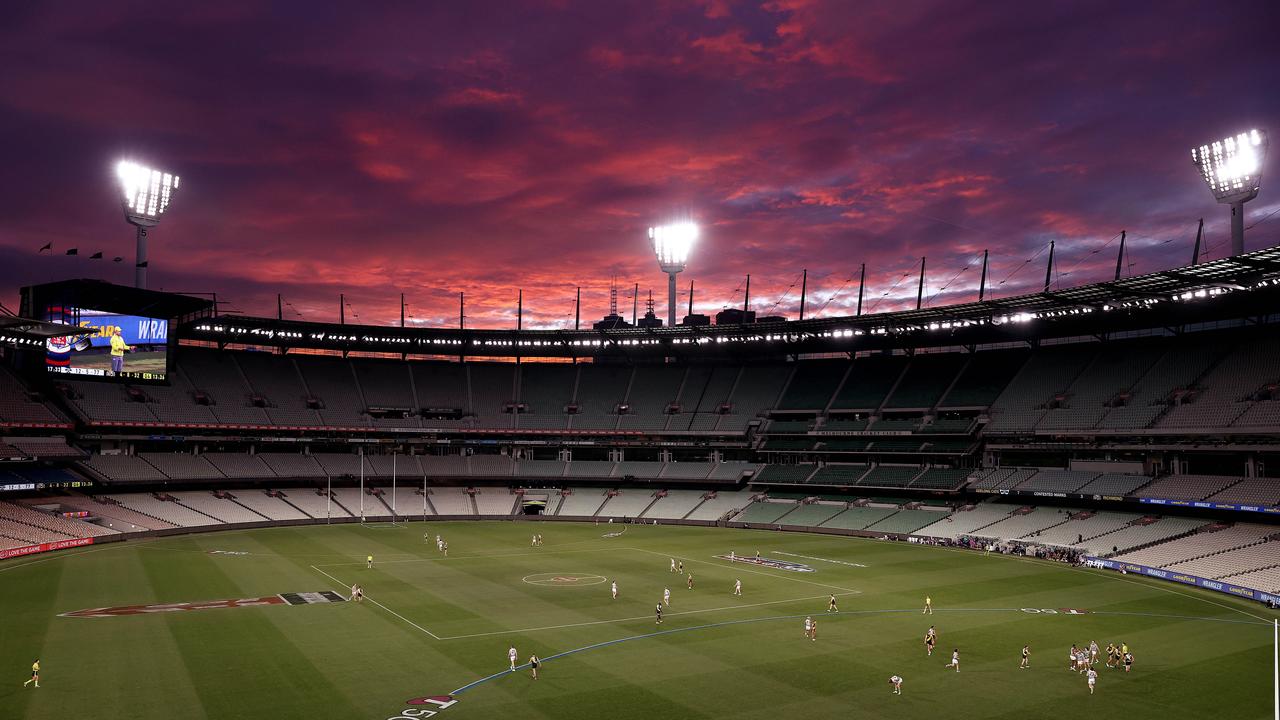 Should the AFL move to a twilight Grand Final? Pic: Michael Klein
That Round 6 game started at 3.20pm - an hour before a potential twilight start - and attracted 84,205 fans with the post-game ceremony taking place under lights.
AFL chief executive Gillon McLachlan will oversee his final Grand Final this season after announcing last month he will step down from the role he has held since 2014.
McLachlan has yet to reveal his preference for a timing for this year's Grand Final.
He travelled overseas recently for discussions surrounding the AFL's next broadcasting rights deal, which he wants to finalise before he leaves the job.
McLachlan said after last year's Grand Final: "It was pretty spectacular here (at Perth Stadium)... it was a pretty good slot I thought.
"To have the first half in the day, second half in the night, I like where it was - for this stadium I think it went perfectly."
"But MCG's different - we'll process it and have a look. I know how many people want it during the day at the MCG.
"I think you play it on its merits given the venue, the state, the circumstance."
Originally published as AFL crowds: Good reasons crowds are down according to the league as it launches free kids entry scheme