AFL Hall of Fame 2022: Port Adelaide champion Russell Ebert becomes South Australia's fourth player elevated to legend status
To Port Adelaide supporters, he was 'God'. Last year, he became a South Australian Sport Hall of Fame legend. Now the late Russell Ebert has the highest accolade in Australian football.
"It's taken us a bloody long time …"
That was famously how Russell Ebert started his speech when he captained Port Adelaide to the 1977 SANFL premiership, breaking a 12-year drought for the Magpies.
It also may be the reaction of many Port Adelaide fans when they learn Ebert, the club's greatest player, has been elevated to a Legend in the Australian football Hall of Fame.
On Tuesday night, Ebert became the 32nd person to earn that honour and the fourth South Australian.
For those among the Alberton faithful who called him 'God', they would be thinking 'finally'.
For the Ebert family, including his wife, Di, there are mixed emotions.
Watch every blockbuster AFL match this weekend Live & Ad-Break Free In-Play on Kayo. New to Kayo? Try 14-Days Free Now >
"We feel very proud of him, of course, and think it's very well deserved," Di tells News Corp.
"We only wish he was here to accept it, that's the hard thing.
"We wish it had come a bit earlier and he could've been around, but that's the way things go."
Ebert died, aged 72, from leukaemia in November last year — two weeks after receiving legend status to another Hall of Fame, the roll call for South Australian Sport.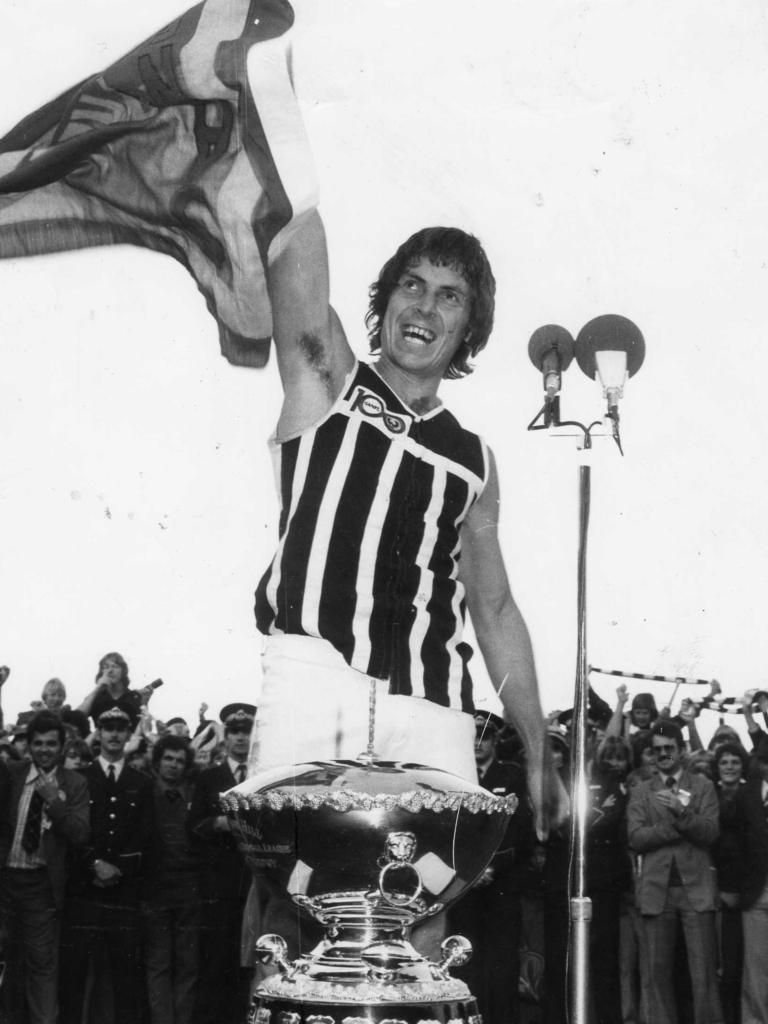 Russell Ebert proudly holds the premiership flag after Port Adelaide's 1977 grand final win.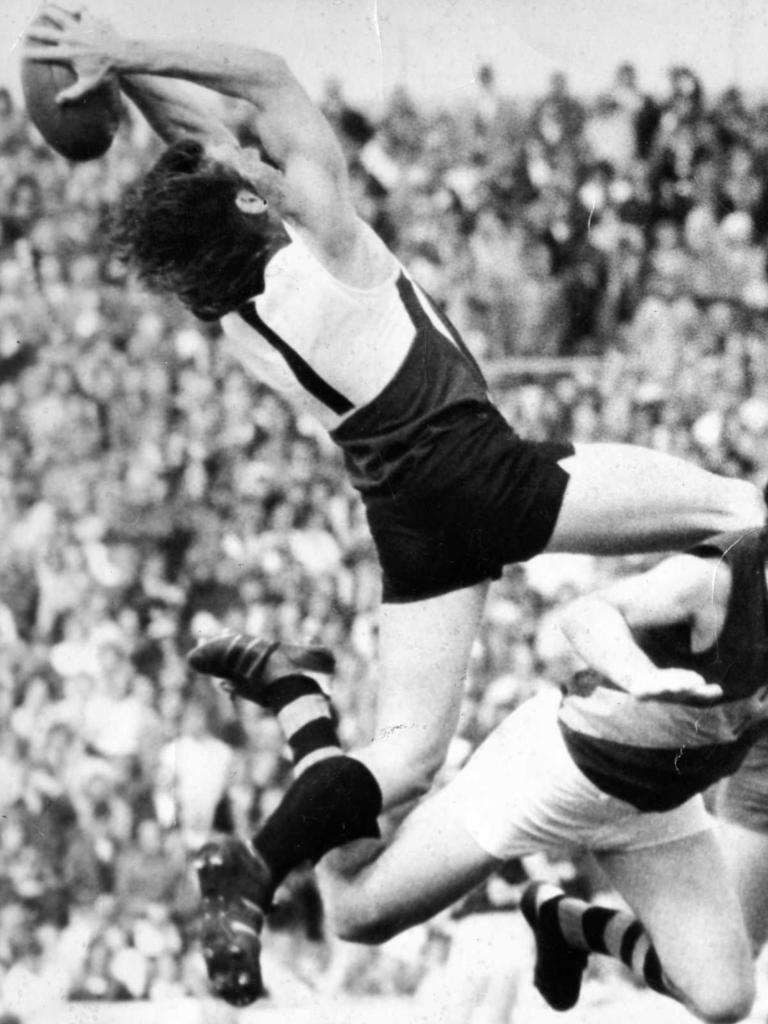 Russell Ebert flies to take a mark against Glenelg in 1974 preliminary final at Football Park.
The state's first Australian football legend, Barrie Robran, presented Ebert with that accolade, along with renowned commentator Bruce McAvaney.
Debates over whom is SA's greatest ever footballer tend to centre on Robran and Ebert, both known for their humility almost as much as their on-field prowess.
"Russell would have just said (of becoming an Australian football legend) 'it's a team game and there's lots of people who contributed to this'," Di says of her husband, an inaugural Hall inductee in 1996.
"He probably also would've been slightly embarrassed and thought there were others that deserved it more.
"There's been so many people help him along the way to get there."
Legend status in the Australian football Hall of Fame is awarded only to select individuals considered to have changed the game significantly for the better.
Ebert's record makes for compelling reading: 446 senior games, including a Port Adelaide record 392, 25 for North Melbourne and 29 for South Australia; an unmatched four Magarey Medals; a club record six best-and-fairests for the Magpies; three premierships, including one as captain; a Jack Oatey Medal and eight seasons as coach.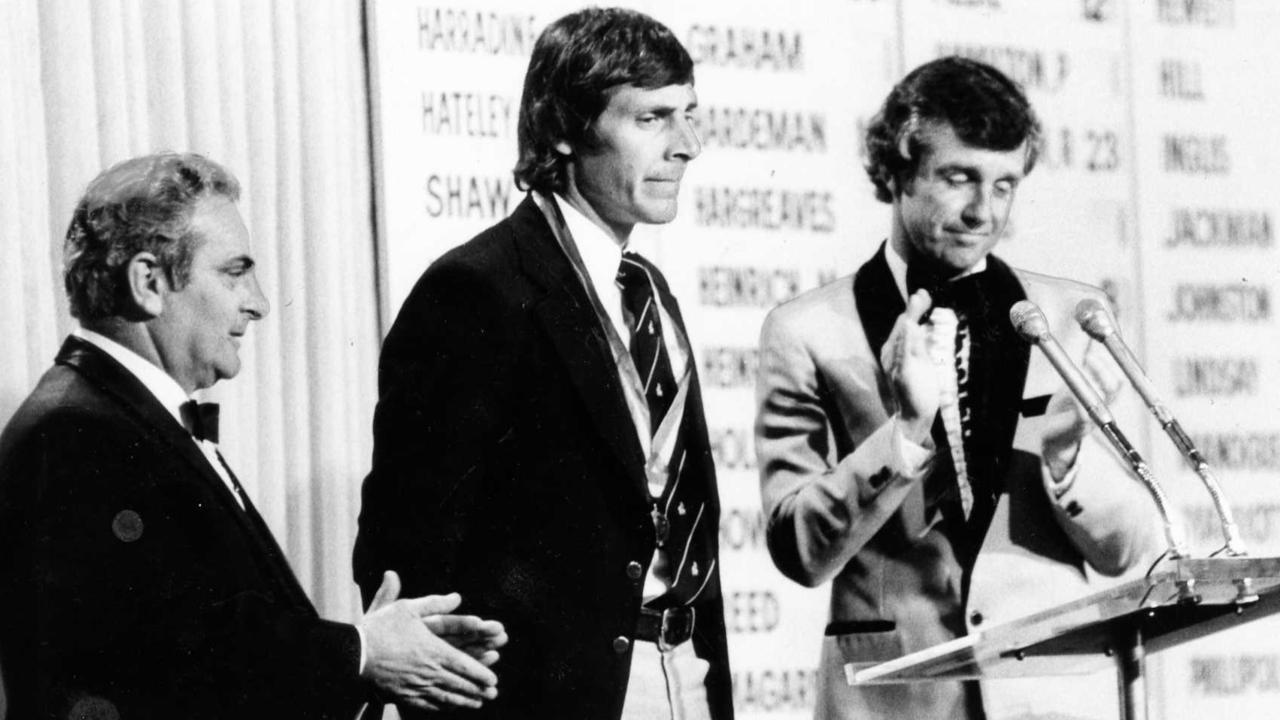 Russell Ebert is awarded his fourth Magarey Medal by SANFL president Max Basheer and presenter Ken Cunningham in 1980.
His football journey began in Loxton and Waikerie in the Riverland, where he played before landing at Alberton in 1968.
North Adelaide was among a handful of other SANFL clubs that had been interested in signing the Berri-born star but the Roosters did not return for him so he joined the more persistent Magpies.
For the first few months, he drove down to Adelaide with teammate Bruce Light from Waikerie while continuing to work in a Riverland bank.
Ebert eventually got a transfer to the city and moved into a caravan in the carport at his parents' place.
When Di came to watch his SANFL games, she realised pretty quickly she was watching a special player.
"He had a good physique, strong legs and really huge hands, was good at marking and was a beautiful kick," she says.
"He'd just get in (to get the ball), all his skills were good and he'd practise a lot."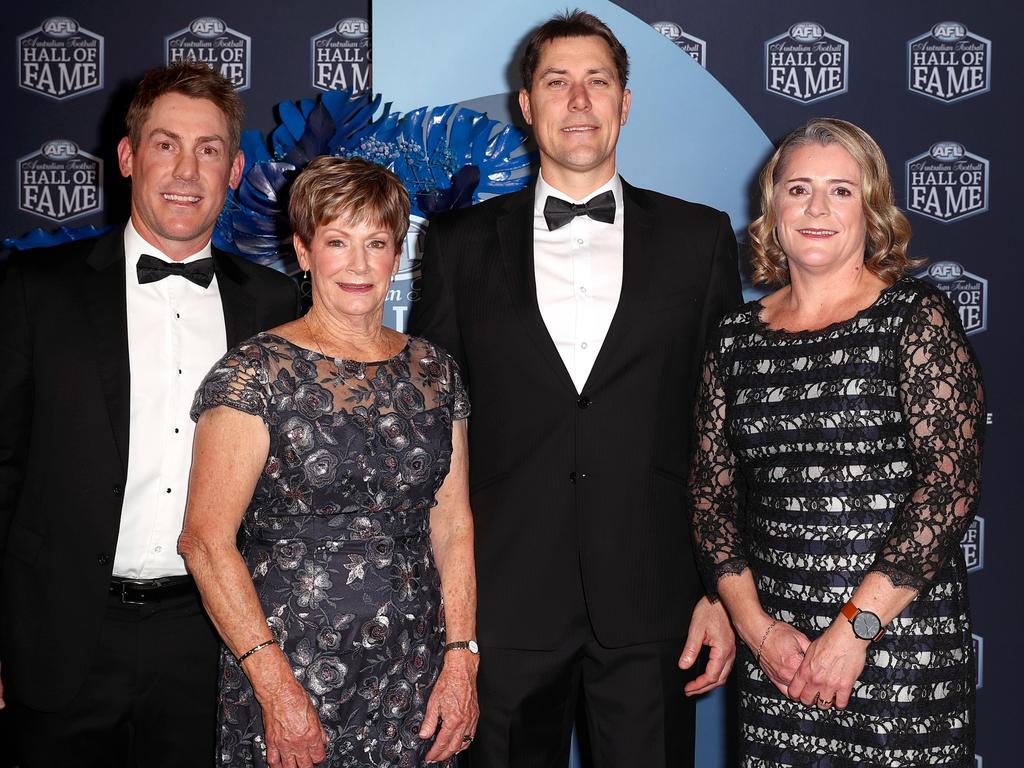 The family of Russell Ebert, Brett, Dian, Ben and Tammie, at the Hall of Fame ceremony. Picture: Getty Images
Ebert, who started in the forward line before making his name in the centre, was renowned for pinpoint passes, one-handedpick-ups, soaring marks and his trademark, long handballs.
He also excelled at defensive qualities, like tackling and chasing, that some other superstars tried to avoid.
"And he looked after his body — he was always icing up at night — and was just so tough," Di says.
Awards piled up quickly during Ebert's career.
In his fourth season, he won his first best-and-fairest and Magarey Medal.
Three years later, he won his second Magarey, third club champion award and had become Magpies captain.
Over the next two seasons he was given the state captaincy and claimed his third Magarey.
"He really wasn't into individual awards much, he'd just take it with a grain of salt," Di says.
"He wasn't a bragger."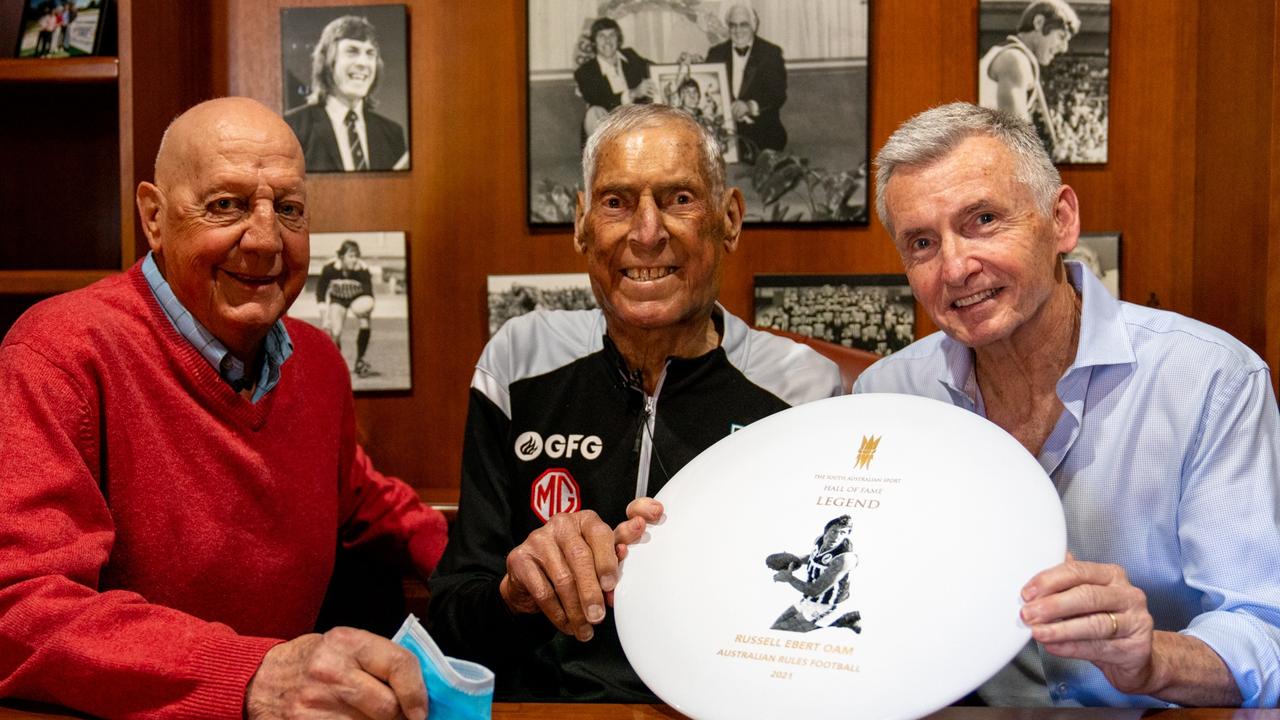 Russell Ebert presented with his South Australian Sport Hall of Fame Legend status last year by Barrie Robran and Bruce McAvaney. Picture: Jordan Bianchini from PAFC.
What Ebert desperately wanted was team success, but it took until his 10th season to win a grand final.
The 1977 triumph came against Glenelg by eight points at Football Park.
Ebert starred in that match, helping Port Adelaide overcome six consecutive grand final defeats.
Twelve years without a premiership is not a huge drought by some clubs' standards.
It felt like a lifetime for those Port Adelaide players.
A photo of a joyous Ebert holding the premiership cup aloft is iconic in Port Adelaide and SANFL history.
His victory speech was memorable: "It's taken us a bloody long time, but by geez it's worth it".
"That win just meant everything to him," Di says.
"There was relief and just happiness – it finally happened."
Two years later, Ebert left Alberton, wanting to test himself in the VFL.
"He was very competitive – he liked to win at everything," Di says.
North Melbourne had been pursuing him for a few years before he finally decided to join them for the 1979 season.
He commuted between Adelaide and Melbourne, flying over on Tuesdays to train, returning home to work at his sports store, then going back on Thursdays and staying until after Saturday's game.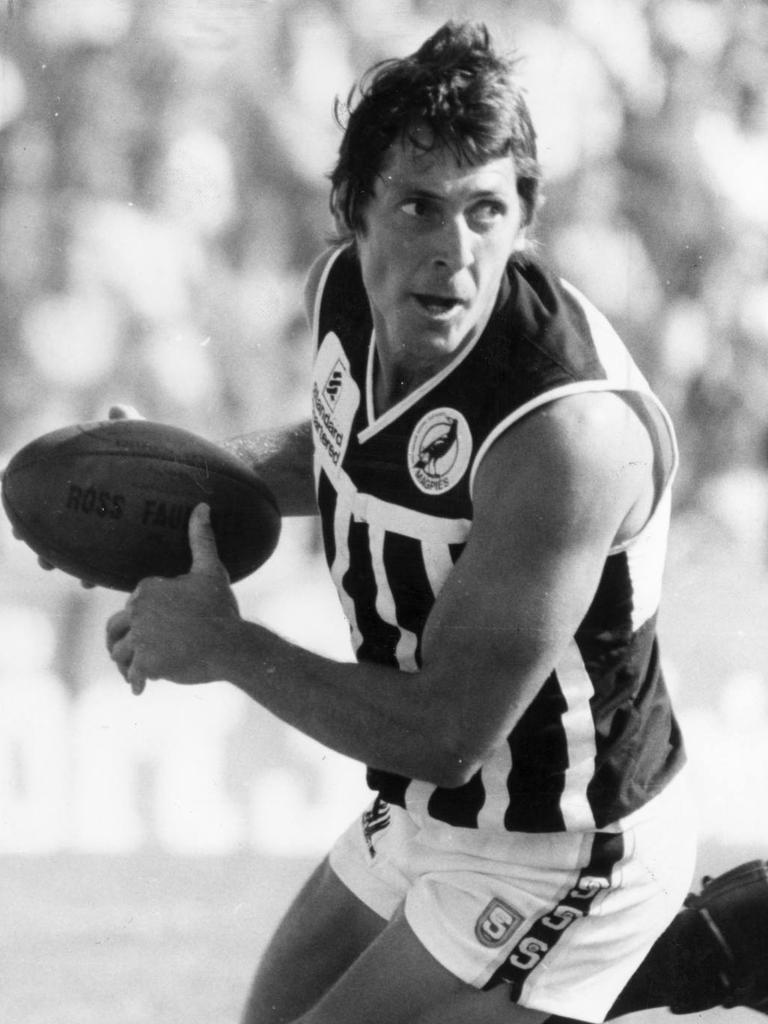 Russell Ebert during his Port Adelaide career.
Di and their two children at the time, Ben and Tammie, would join him from Thursday to Saturday.
"He thought 'if I don't do it now, I might be sorry later in life that I didn't give it a try'," Di says of his desire for a new challenge at the age of 30.
"North Melbourne were great … and they just looked after us.
"They had a creche, even back then, so the kids could go there and I could watch him play.
"They had a unit for us set up for kids, the car would meet us at the airport and it had (kids) seats.
"(Fellow Kangaroos recruit) Graham Cornes was in the same unit block and we'd cook roast lamb, and he'd stir our kids up.
"Russell never regretted doing that year there."
In a season Ebert later described as one of the most exciting and satisfying of his career, he played under Ron Barassi and helped North Melbourne reach a preliminary final.
Ebert lined up in a raft of positions and registered more disposals than any Kangaroo, averaging 21.3, as he showcased himself to Victorians who knew of his talent but had seen little of him.
"He played well and got the most possessions for the club, which was saying something," Di says.
The tiring commute and work reasons prompted Ebert to rejoin Port Adelaide the next year.
He came back and played in what some people considered the Magpies' best ever side.
"They had a great team then, you couldn't see many weaknesses and were so tough," Di says.
After leading the team from 1974-78, then playing under skipper Brian Cunningham during the 1980-81 flags, Ebert was captain-coach for his final three campaigns from 1983-85.
"He loved being the captain, he really stood up and did all the right things," Di says.
"He thought it was a good chance for him to lead by example."
It was during the 1980s that Ebert began his involvement with charities, such the Crippled Children's Association, later Novita.
"He always thought of others, he never put himself first and he never said 'no' to anything," Di says.
"He was always like that – it was never about him.
"His parents were beautiful country people.
"They had six children, everyone looked after each other and they didn't have everything … but they showed so much love to everyone.
"He has accomplished so much in his life, not only through football but all the work he has done helping the community and people less fortunate – that's his greatest asset I think."
Ebert's playing career end after the 1985 season.
He stayed on as Magpies coach for two more years.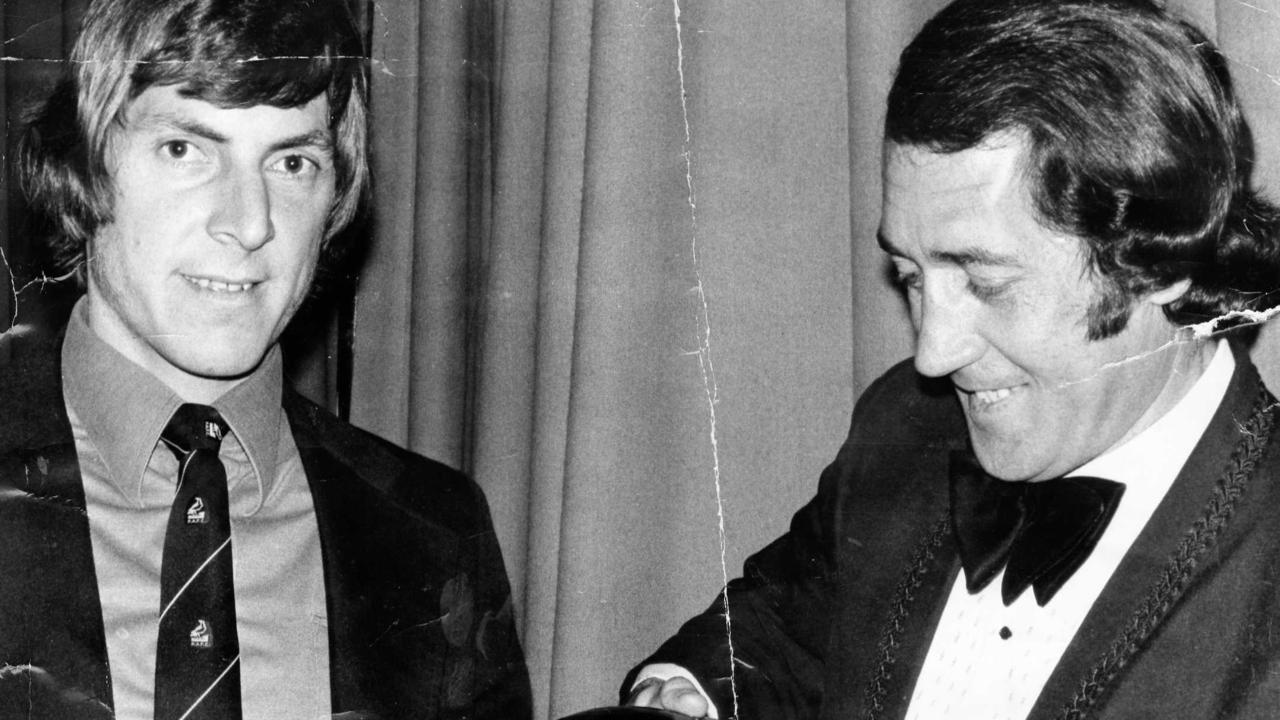 Russell Ebert is congratulated by John Cahill after winning his third Magarey Medal in 1976.
"Russell used to go to (legendary Port Adelaide secretary) big Bob McLean and talk about next year," Di says.
"But in the end his body told him that he'd had enough."
Ebert left Alberton after 1987 when he was replaced by John Cahill and then coached Woodville for three seasons.
"Woodville really was a family club and it did us good because at Port we were in a bubble so it was good to see what else was outside of it," Di says.
"We had a lot of fun."
Ebert came back to Alberton in the late 1990s as a Power skills coach and then to help start Port Adelaide's community programs.
His other role at Port Adelaide was as supportive father while his son, Brett, went on to play 63 SANFL and 166 AFL games for the club.
Brett's career, which included winning a Magarey Medal in 2003 — along with the achievements of Ben and Tammie and his six grandkids – rated as Ebert's proudest moments.
"We didn't care what sport they played, as long as they were happy doing it," Di says.
"But when Brett got a Magarey too, that was nice."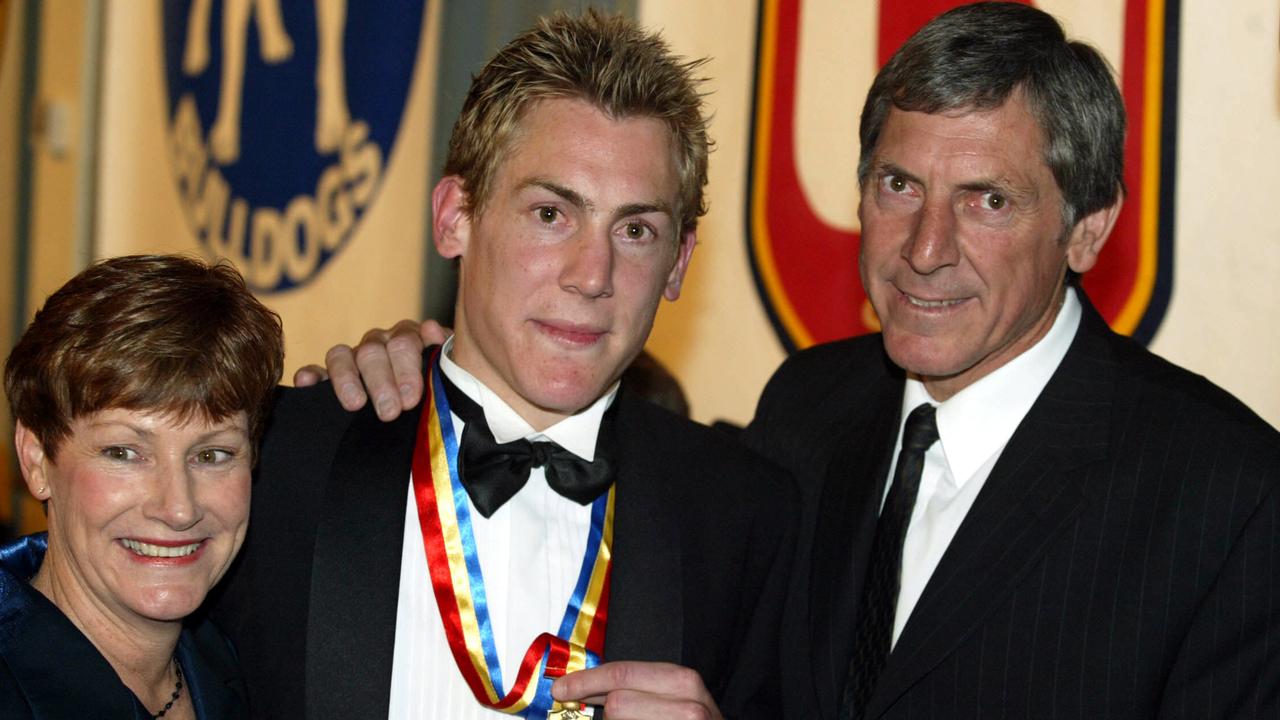 Di, Brett and Russell after Brett's Magarey Medal win in 2003.
Ebert was still working for his beloved club and visiting schoolchildren until he was diagnosed with acute myeloid leukaemia in December 2020.
During his battle, he would regularly check in with colleagues, including Port Adelaide chief executive Matthew Richardson to ask how things were going, and watch the Power's games.
When Ebert passed, AFL chief executive Gillon McLachlan said: "The child in me will always admire the great footballer but the adult that I am is in awe of what Russell Ebert was as a man."
"He was just so brave and never complained the whole time," Di says.
"He never, ever said 'why me?'
"He was just so thankful because he had 72 happy years.
"He was an amazing person."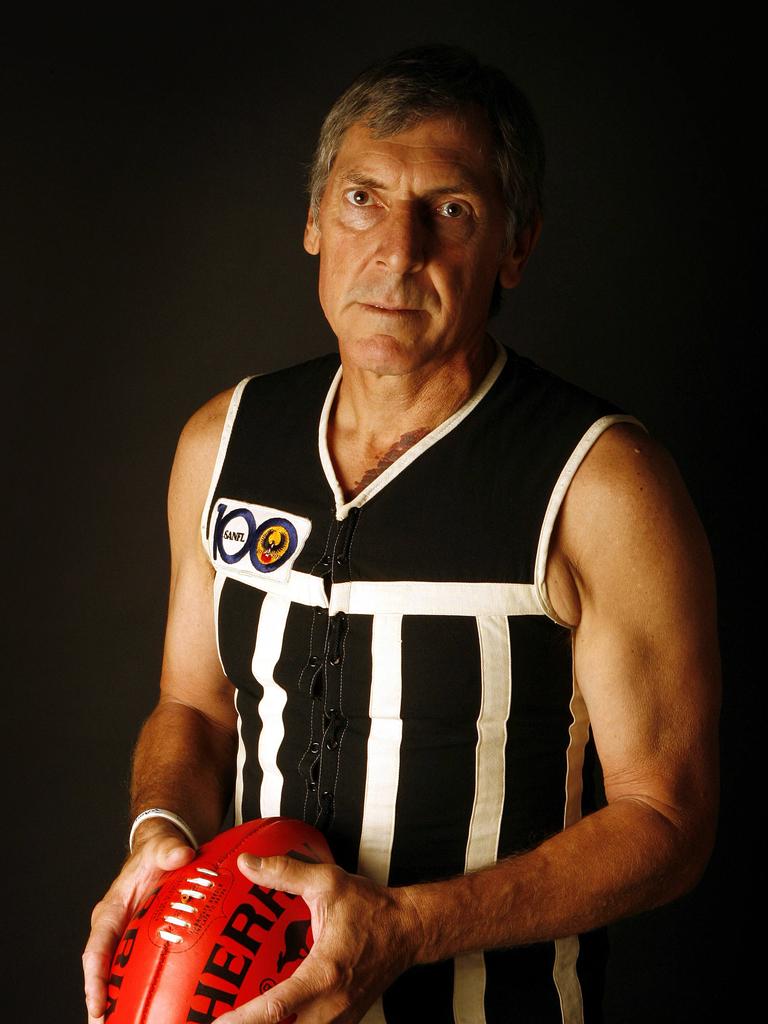 Russell Ebert in an old lace-up Port Adelaide guernsey.
The couple was introduced at a debutante ball in Waikerie in 1967 at the age of 17.
Di was a netballer, Ebert was a footballer and the theme of the night was to don the opposite sex's clothes.
Ebert wore his sister Lynette's wedding dress.
Seven years later, it was Di wearing one as the couple married.
It would have been their 48th wedding anniversary this year, during the week of the Power's tribute match to Ebert at its round 2 home game against Hawthorn.
A giant replica of Ebert's No. 7 guernsey hung in front of the Moreton Bay figs, on the hill, near the Adelaide Oval scoreboard, that night.
Ebert's family gathered at his statue at the ground before the game.
On Tuesday, Di, Brett, Ben, Tammie, their partners and two of Ebert's grandchildren, Albert and Isabella, his brothers, Bill, Craig and Gerry, Lynette, and Di's sister, Viv, her brother-in-law, her best friend, Marion, and nephew, Troy, will be in Melbourne for the Hall of Fame ceremony.
Ebert joins North Adelaide champion Robran (elevated in 2001), Woodville, Kangaroos and Crows great Malcolm Blight (2017) and coaching mastermind Jack Oatey (2021) as South Australian Legends.
"We just feel so privileged he was our husband, brother and dad," Di says.
As for how Port Adelaide would be feeling, she adds: "They'd have thought it was a long time coming because they thought he'd be in there before this … but they would be rapt."
SANFL Legend Michael Taylor makes Hall of Fame
—Matt Turner
When Michael Taylor learnt he would be inducted into the Australian football Hall of Fame, his mind flashed back.
Taylor thought of his rise from country ranks at Kingston to the SANFL, where he played 289 games, won two premierships and claimed six best-and-fairests for Norwood between 1972-87.
He also recalled his four VFL seasons with Collingwood from 1981-84 and his time coaching.
The Hall of Fame news – delivered over the phone by AFL chairman Richard Goyder – was a surprise to the 68-year-old.
"You don't expect these things at all," Taylor tells News Corp.
"When the boss of the AFL says he wants to have a chat, I'm thinking 'what does he want me for?'
"When he said 'you're in the Australian Hall of Fame', everything flashes back to you.
"From when you first started way back … and all the great people you met through your whole career.
"To be recognised on such a big stage is a massive honour and I'm very appreciative."
Taylor was inducted in Melbourne on Tuesday night.
He still remembers his family's trip to Adelaide from his hometown of Reedy Creek, in SA's southeast, that changed his life.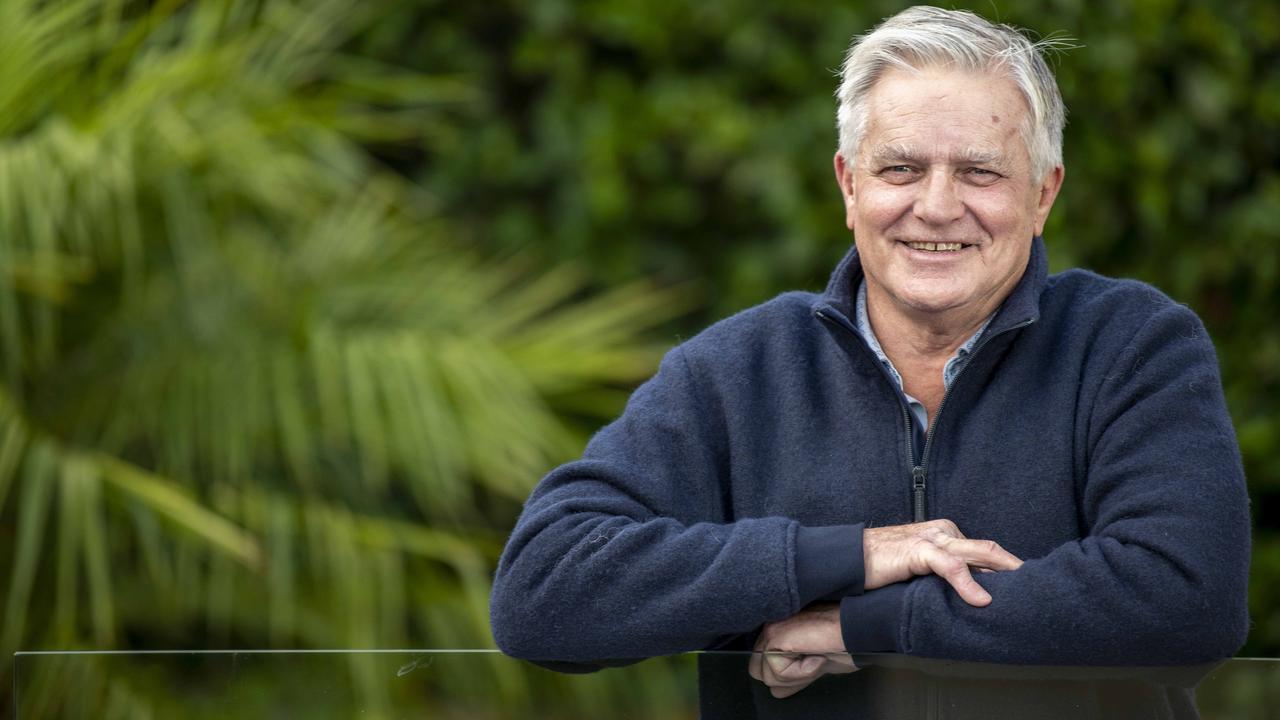 Michael Taylor has been inducted into the Australian Football Hall of Fame. Picture: Naomi Jellicoe
His parents met legendary Norwood administrator Wally Miller and on the drive back could not stop raving about him.
Port Adelaide secretary Bob McLean had sent Taylor a letter inviting him to the Magpies two years earlier, when he was 13, but his parents thought he was too young to move to the city.
"It was the best thing I ever did, wait those couple of years," says Taylor, who earnt the nickname 'Kingo', referring to his Kingston link, when there were five Michaels in Norwood's under-17s.
"I missed the farm and country life massively but I settled in through the comradeship at (Norwood's boarding house for recruits) Carmel Court."
Taylor made his league debut in 1972 then won the first of his joint club record six best-and-fairest awards in his second season, playing as a back pocket under coach Robert Oatey.
In his fourth campaign, the Redlegs replaced Oatey with Bob Hammond and won the grand final, beating Glenelg by 12 points to end a 25-year flag drought.
His second premiership, in 1978, was the highlight of his career.
Underdog Norwood fought back from 29 points down at three-quarter time against Sturt, which had lost just once that season, to prevail by one.
"You're in this bubble and it's quite an amazing feeling," says Taylor, who was captain.
"You're floating and I've never felt like that."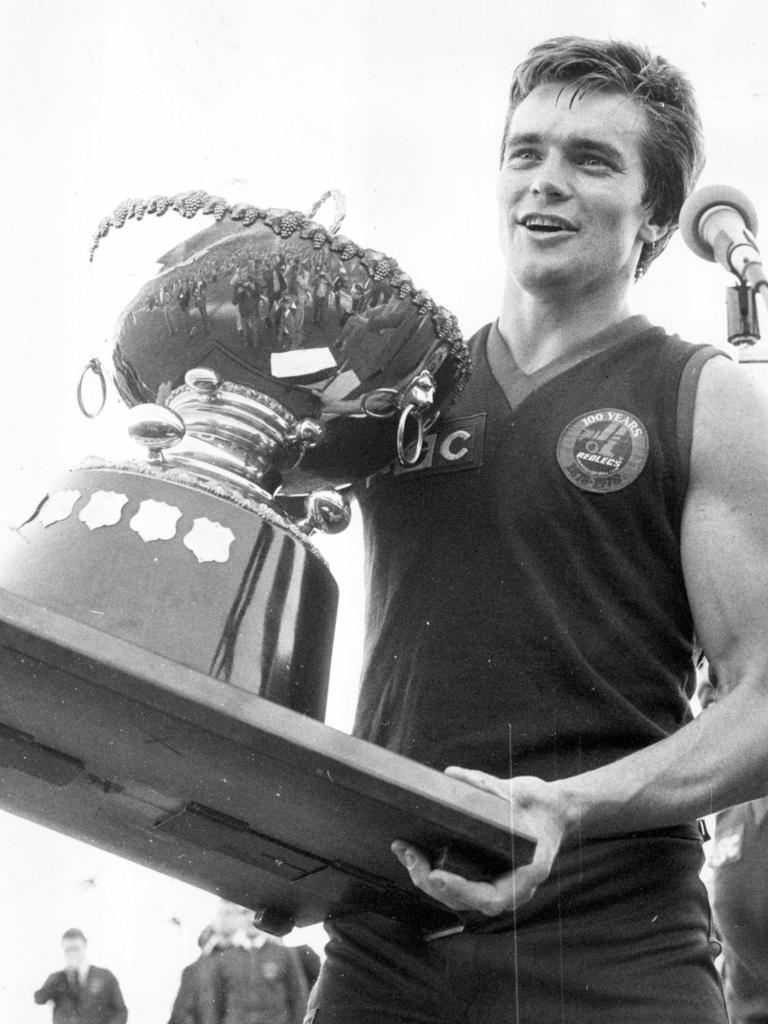 Taylor holding the 1978 premiership cup.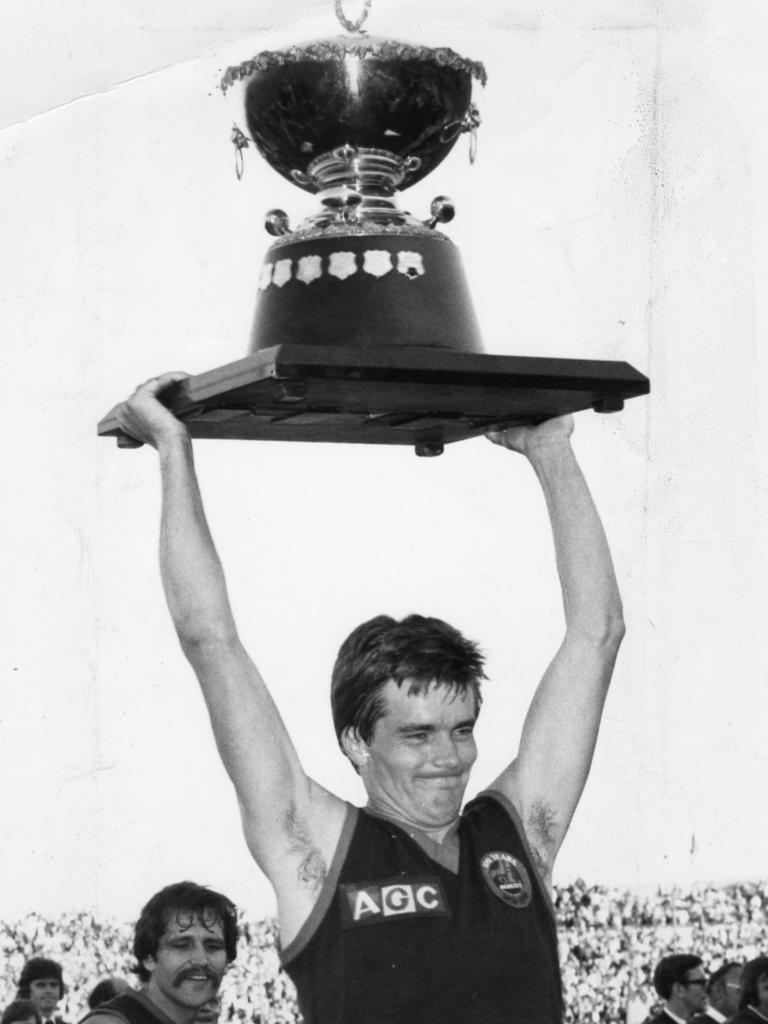 That winning feeling.
Playing in the centre, Taylor was Norwood's standout that day, which was no surprise given the high stakes.
"The harder I got, the better I got," he says of his best qualities as a player.
"I tried to lead by example, train well and never shirked an issue."
After 1980, a season when Taylor was runner-up in the Magarey Medal and Norwood lost the grand final to Port Adelaide, Collingwood coach Tom Hafey coaxed him to the VFL.
A self-described footy nerd, Taylor had regularly watched VFL matches and enjoyed the step up in competition, as well as playing under Hafey.
"I'd never trained so hard in my life – you're up two or three pegs up what you were playing in South Australia," he says.
"They're as fit and strong as you, and the ball movement's quicker, and you're playing in front of much bigger crowds."
Taylor lined up in front of more than 112,000 people in the grand final that first season, as Collingwood lost to Carlton by 20 points.
He was supposed to go to Victoria for one season, but stayed for four.
In 1982, Taylor was named vice-captain and was runner-up in the Copeland Trophy.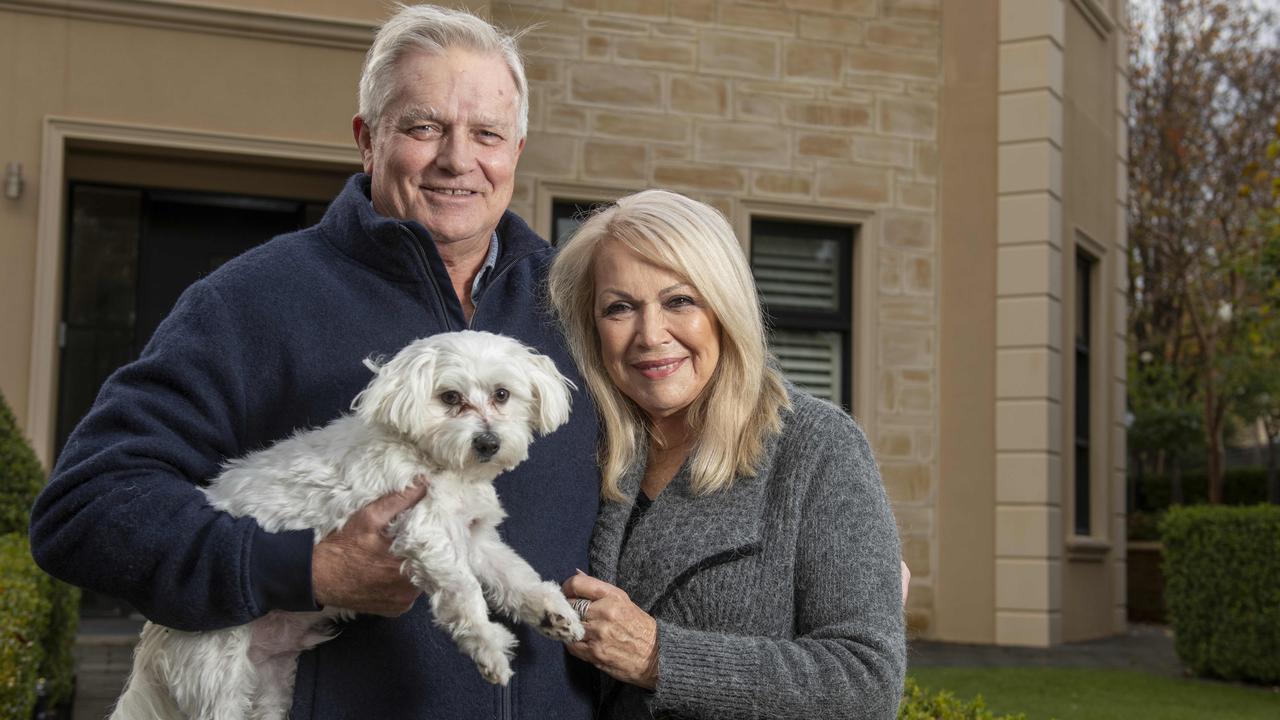 Michael Taylor with his partner Julie Serafini and dog Mico. Picture: Naomi Jellicoe
He placed second again in 1983.
Taylor returned to Norwood for three more seasons from 1985-87, only for Leigh Matthews to lure him back to Victoria Parkas a reserves player and assistant.
Taylor was in the coaching box when Collingwood won the 1990 premiership.
Later, he was a Crows assistant under Graham Cornes, then took the reins at West Adelaide.
Fittingly, he finished his contributions in football at the Redlegs, becoming an assistant then football committee member, before stepping away this year.
"Norwood's been my life, it changed it on the field and off, taught me everything," says Taylor, who has Norwood's best-and-fairest named in his honour.
"Coming there at a young age, they looked after me, they supported me, and showed me a pathway of football life.
"I was no superstar, but I prepared really well and presented myself extremely well week in, week out, so I hope people remember me for my consistency more than anything."
Taylor did not expect his induction, but plenty would consider it overdue.
Originally published as AFL Hall of Fame 2022: Port Adelaide champion Russell Ebert becomes South Australia's fourth player elevated to legend status