AFL Melbourne v Collingwood: Pies win epic blockbuster by seven points
After Friday night's win over the Demons, Collingwood is now 10-1 in games decided by 11 points or fewer this season. And Jack Crisp says there is one big reason why.
Collingwood star Jack Crisp has credited club psychologist Jacqui Louder for playing a leading role in helping the players 'reset' their 'minds and bodies' each week to combat the toll of so many close wins.
The Magpies finished 17th last season but are now on a remarkable 11-game winning streak to sit second on the ladder after 21 rounds.
Incredibly, Collingwood is now 10-1 in games decided by 11 points or fewer this season, and 8-1 in games decided by seven points or fewer.
In fact, the margin of their last six victories has not exceeded seven points.
That can take a physical and mental toll, but Crisp said the players were getting better at fronting back up each week.
Watch every blockbuster AFL match this weekend Live & Ad-Break Free In-Play on Kayo. New to Kayo? Start your free trial now >
Jack Crisp fires out a handpass in the win over the Demons. Picture: Mark Stewart
"We do a lot of work with our club psychologist, Jacqui Louder," Crisp said on 3AW.
"We spent a bit of time focusing on being able to reset our minds and bodies because obviously there's a lot of adrenaline that goes through week in, week out with all the close wins.
"But it's about managing the moments and how we can reset making sure we're able to train well again and not stay on a high too long, because it does take it out of you for the next game.
"But I think we've been doing that really well."
Crisp, who would likely be leading Collingwood's best and fairest count, said the players' belief in close games was a major strength.
"We've put a bit of time into training different scenarios throughout the whole year," Crisp said.
"But I think as we've continued to be put in those situations, I think the belief just continues to grow.
"And now we've probably got a lot of trust in each other in our teammates to play our different roles at those given times.
"And we know we're a hard working team and a strong finishing team, so we've definitely got that belief that we can do continue to do that if we're put in those situations."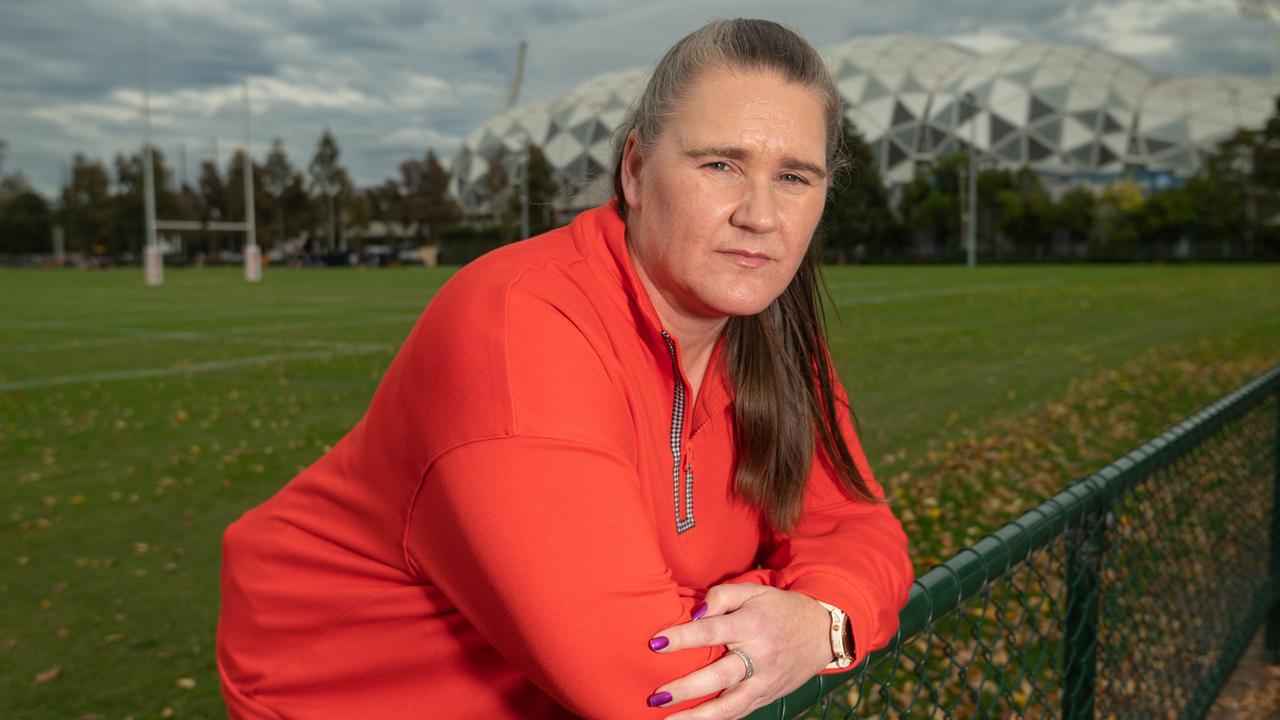 Sports psychologist Jacqui Louder. Picture: Tony Gough
Magpies skipper Scott Pendlebury credited coach Craig McRae for the developing a winning culture at the club this year.
"You just feel so comfortable and confident," he said on Triple M.
"You can see it with how we play, we've got energy and enjoying ourselves, and that's all off the back of our coaching group and Fly."
McRae's Langdon whiteboard note, Pie's priceless interview
- Ronny Lerner
Collingwood has done it again.
Their incomprehensible run of winning close games continued on Friday night at the MCG, as they fought back from 23 points down to defeat reigning premiers Melbourne by seven points, in the match of the season to date.
It's time for the sceptics to finally sit up and take notice. We officially have a new premiership contender on the scene.
The 15.6 (96) to 13.11 (89) result saw the Magpies register 11 consecutive wins for the first time since 2011 – a season in which they qualified for a grand final – and they have now overtaken the Demons in second spot on the ladder.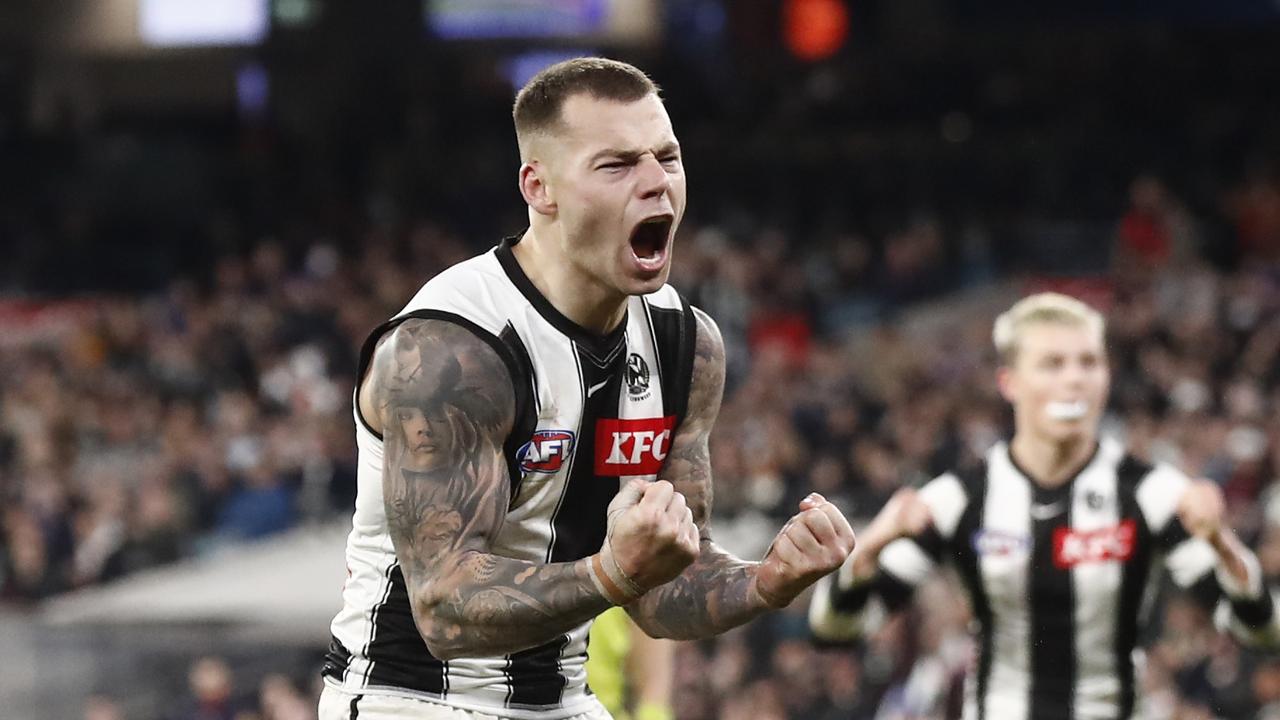 Jamie Elliott celebrates one of his four goals. Picture: Darrian Traynor/Getty Images
Incredibly, Collingwood are now 10-1 in games decided by 11 points or fewer this season, and 8-1 in games decided by seven points or fewer. In fact, the margin of their last six victories has not exceeded seven points.
And the doubts that might have surrounded Collingwood's legitimacy, as a result of the fact that their previous six wins had come against bottom-10 teams by an average of just six points, have surely been dispelled as they have now beaten the Demons for the second time this year.
Meanwhile, Melbourne could be outside the top four by the end of the weekend.
The Demons only had themselves to blame. They could have ended the contest multiple times, but their forward efficiency was horrific, finishing with 26 more inside 50s (65-39), yet kicking two fewer goals. At one stage, Melbourne led that category 46-18.
Both teams had 11 goals to their name at three-quarter time, despite the fact that Melbourne had 27 more attacking forays to their credit, and the momentum was with the Magpies, a fact best exemplified by Brayden Maynard's steamrolling tackle on Alex Neal-Bullen in the final quarter.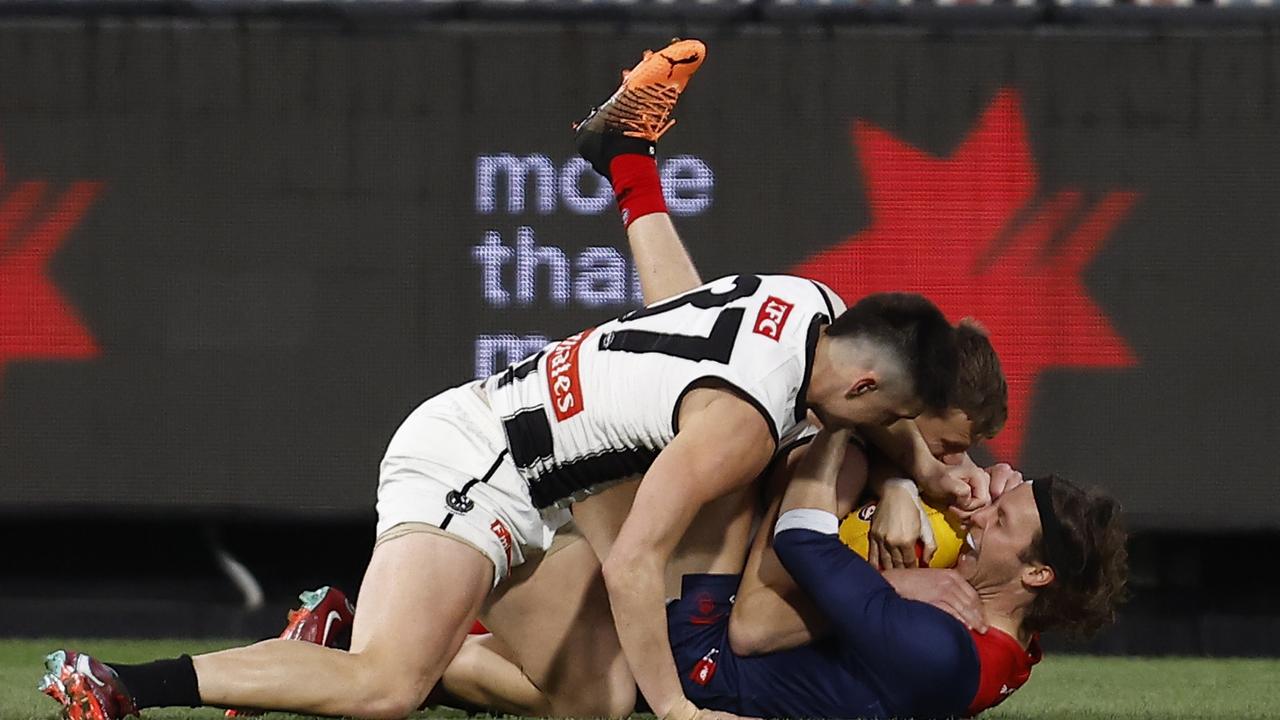 Brayden Maynard crunched Ed Langdon and let him know about it. Picture: Darrian Traynor/Getty Images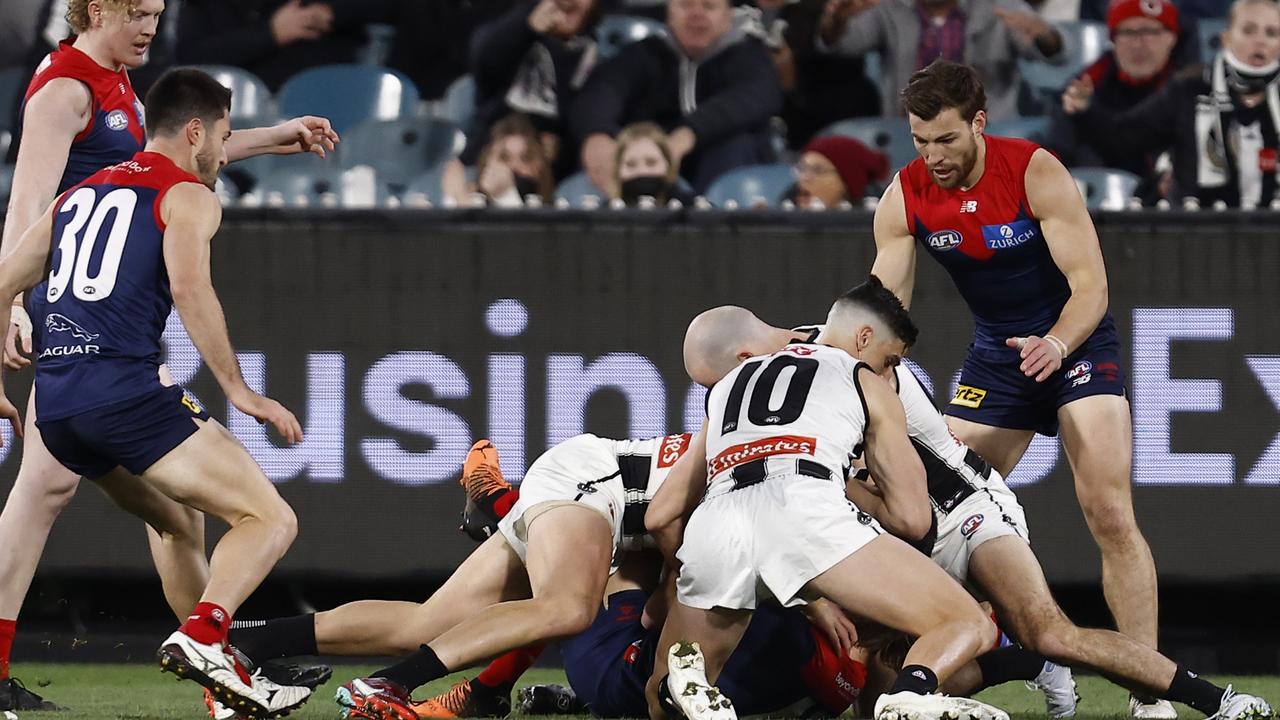 Pies players went in to remonstrate. Picture: Darrian Traynor/Getty Images
The Pies continued to ride the wave with goals from Jamie Elliott and Ash Johnson putting them back in front for the first time since the opening minutes. From there, both sides went goal for goal in a pulsating fourth term, as the lead changed five times, with Johnson kicking what would ultimately be the match-winner, and his fourth goal, combining with Elliott (four) for eight majors.
Down the other end of the ground, Melbourne were crying out for assassins in front of goal, but were let down by Ben Brown, Bayley Fritsch and Kysaiah Pickett who were all relatively quiet for most of the night.
Demons wingman Ed Langdon told Melbourne radio this week that Collingwood were "all duck, no dinner in a sense that if they're playing fast footy on their terms, they're a very hard team to stop, but they're a bit of a one-trick pony at times."
That was proved true for much of the middle two quarters, as the Demons suffocated them with intense pressure, and again in the final term as the Magpies finished the game full of running and overwhelmed the spent Demons, who also finished the game with sizeable advantages in disposals (408-314), contested possessions (160-138) and clearances (51-32), but couldn't capitalise on that dominance of play.
FIRST-QUARTER SHOOTOUT
After Jordan De Goey kicked the opening goal of the game, Melbourne responded ferociously, kicking four of the next five goals to lead by 13 points.
The Demons turned up the heat with their intense pressure and relentless attack. However, the nature of the contest early was open and free-flowing which allowed Collingwood to steady and kick three of the next four majors to trail by one point. The first quarter quickly turned into a shootout, producing 11 goals in total, and the non-stop end-to-end footy provided plenty of exhilarating moments.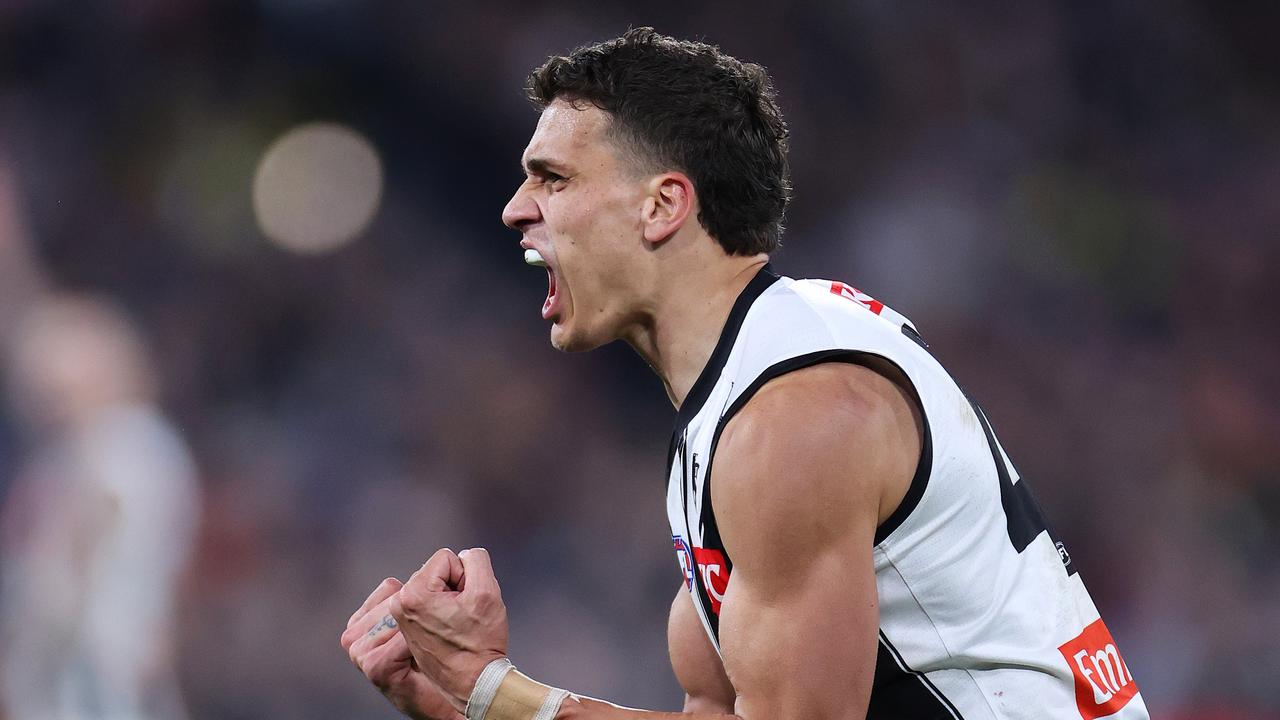 Ash Johnson sparkled up forward with four goals. Picture: Mark Stewart
DEES STRUGGLE TO GET BANG FOR BUCK
But Melbourne were dominating the stoppages and their quick ball movement into their forward line continued to trouble Collingwood. The Demons shot out to a 23-point lead early in the second quarter, by which time their inside-50 advantage had exploded to 29-11 after registering the first 11 entries of the term.
That buffer ballooned to a staggering 41-18 at half-time, but Collingwood's forward efficiency was keeping them in the game, as their ability to capitalise on half-chances from limited supply saw them trail by just 17 points at the major break.
Melbourne continued to smash the Magpies in the territory battle in the third term, but once again failed to capitalise. Collingwood's desperate defence, sharp lift in pressure and far superior attacking potency saw them trim the deficit to just six points as they kicked four of the last five goals prior to three-quarter time.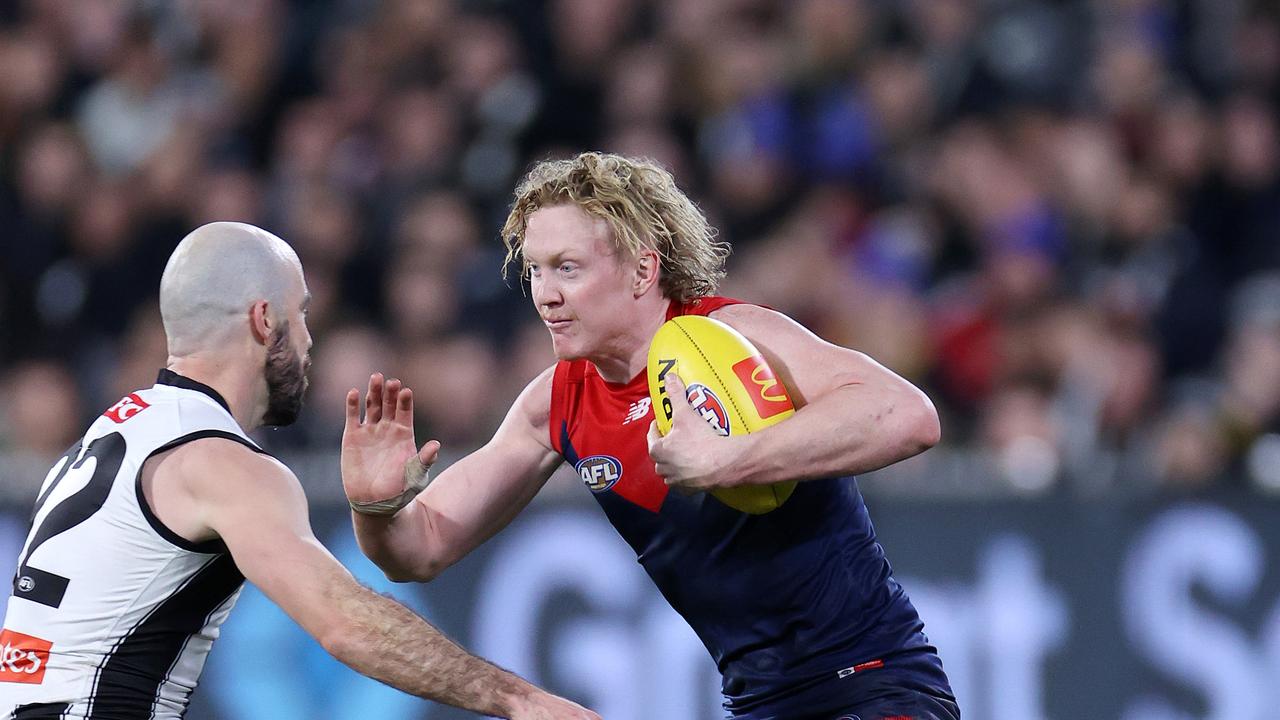 Clayton Oliver was everywhere for the Dees. Picture: Mark Stewart
PIES LOCKED ON LANGDON
If Ed Langdon was in any doubt that he was a marked man for making his comments about Collingwood on the radio, he didn't have to wait long for the suspense to be killed. He was gang-tackled in the opening seconds after Brayden Maynard made a beeline for him, before another three Magpies piled on top on the Shane Warne Stand wing. Langdon copped the boos from the Collingwood fans for most of the night.
SCOREBOARD
DEMONS 6.2, 10.7, 11.11, 13.11 (89)
MAGPIES 5.0, 8.2, 11.4, 15.6 (96)
LERNER'S BEST
Demons: Gawn, Oliver, Brayshaw, Petracca, Viney, May, Jackson.
Magpies: Elliott, N.Daicos, Howe, Crisp, Johnson, Murphy, De Goey.
GOALS
Demons: Fritsch 2, B.Brown 2, Petracca, Salem, Viney, Melksham, Pickett, Langdon, Sparrow, Spargo, Neal-Bullen.
Magpies: Elliott 4, Johnson 4, Mihocek 2, De Goey, Cox, McCreery, Lipinski, J.Daicos.
INJURIES
Demons: Nil. Magpies: Hoskin-Elliott (hip/groin).
UMPIRES Stephens, Findlay, Meredith
VENUE MCG
PLAYER OF THE YEAR
LERNER'S VOTES
3 Max Gawn (Melb)
2 Jamie Elliott (Coll)
1 Nick Daicos (Coll)
McRae's De Goey call, Langdon whiteboard message
— Jay Clark
Collingwood coach Craig McRae says he wants brilliant midfielder Jordan De Goey to stay at the club next season after he helped spearhead the Magpies to an extraordinary 11th-straight win.
McRae said De Goey played the best game of his season, helping turn a 23-point deficit into another last-gasp thrilling win over reigning premier Melbourne.
The six-point victory has lifted Collingwood to second spot on the ladder and marked their arrival as a genuine premiership contender one year after finishing second last.
McRae said the club did not target Demons wingman Ed Langdon even though his comments criticising Collingwood as a one-trick pony and "all duck, no dinner" were written on a whiteboard pre-game.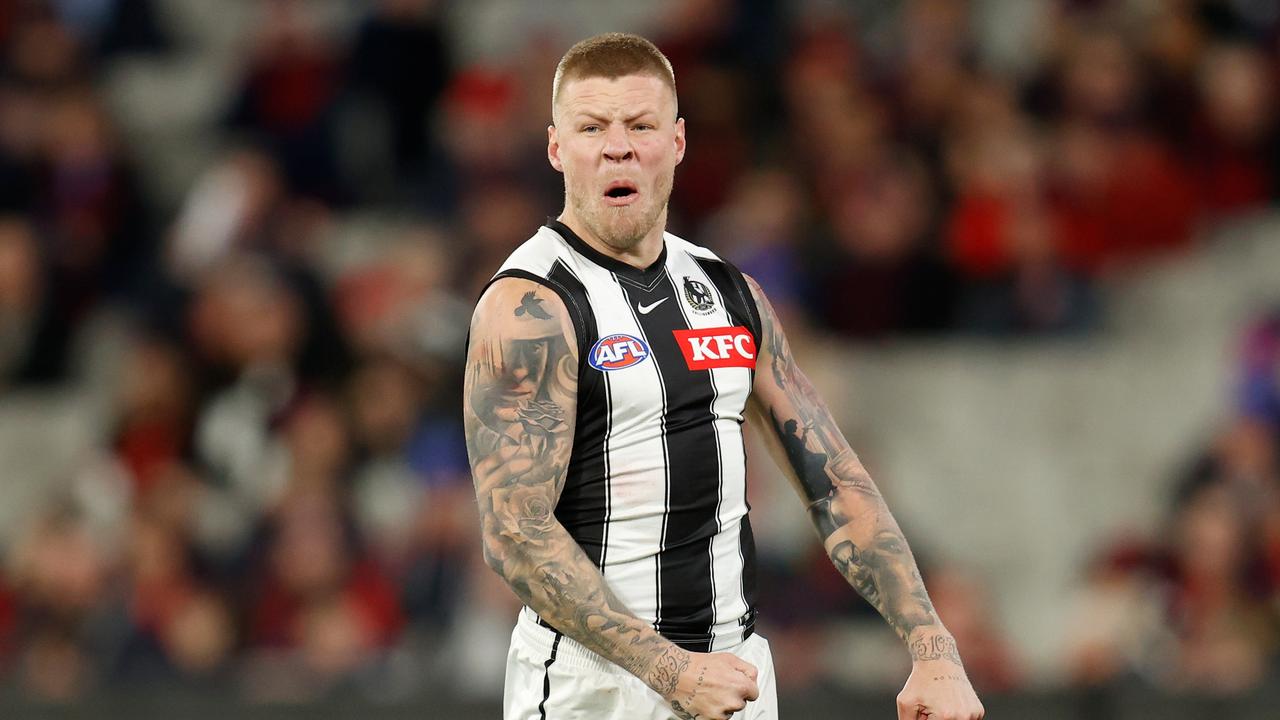 Craig McRae wants Jordan De Goey to stay at the Pies. Picture: Michael Willson/AFL Photos via Getty Images
But the coach lauded De Goey and said with performances like Friday night's the club would be keen to keep the free agent.
"It is his right to explore his options but I speak authentically, I would love Jordy to stay," McRae said.
"That's going to create a headline, but (we want to) live in the moment and let Jordy keep being himself.
"Night's like tonight are a good example of how he makes us better.
"I thought he was a star. He genuinely flipped the game around clearance because we couldn't get the ball out of centre bounces.
"We were smashed in there again. It was his best game of the year."
McRae hailed the special connection driving Collingwood and joked about Langdon's comments on the whiteboard.
McRae said he was a one-trick pony with his pre-game speeches.
"I really like personality in the game, I would encourage more of it, speak up. We are craving it," he said.
"I was having a bit of fun with myself because I'm a bit of a one trick pony before the game.
"I just do the same thing. I said, 'sorry boys, I'm going to do the same preso here.' Nothing about Ed."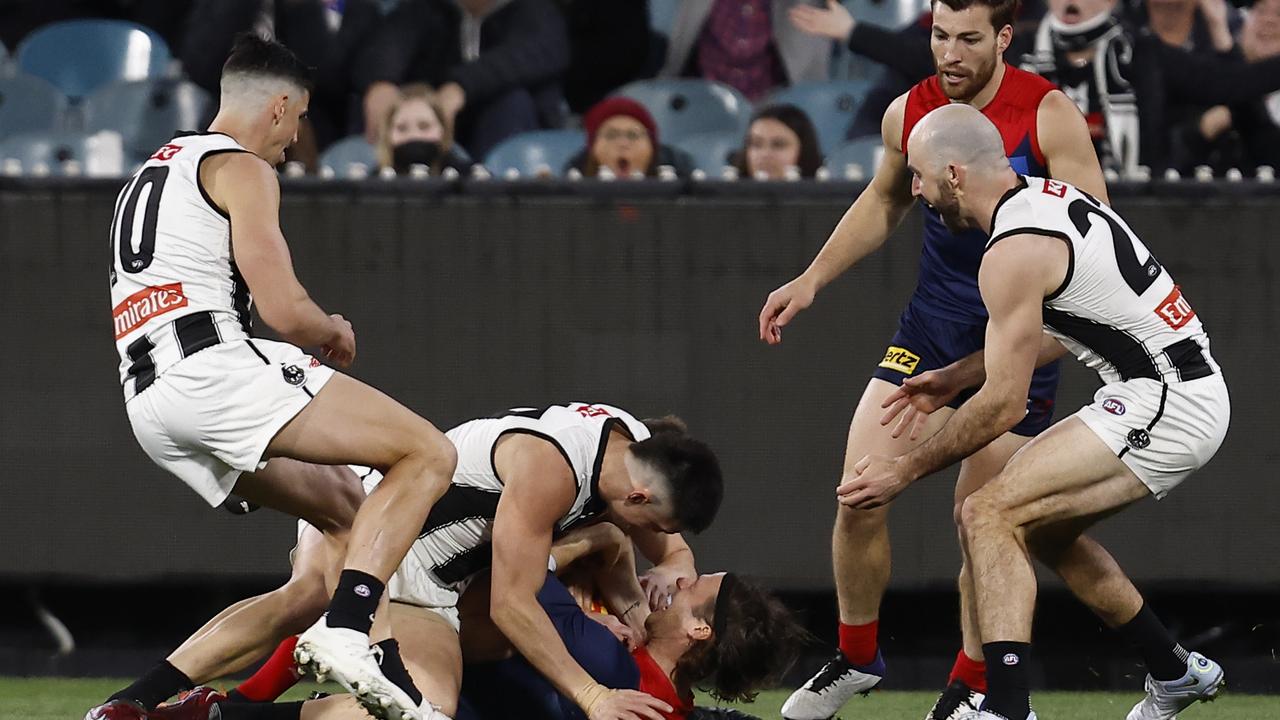 Ed Langdon's comments were up on McRae's whiteboard post-game. Picture: Darrian Traynor/Getty Images
There was bad news for ruckman Brodie Grundy who has suffered a worse-than-expected ankle injury.
Graham Wright said it was a bone stress injury which has the potential to sideline him for longer.
"He won't play this week and we will make an assessment over the weekend. He isn't a certainty (to play) in relation to next week," Wright said on Fox Footy.
"It is a bone stress issue. It wasn't something he took into the game.
"It is something we need to get in top of and we aren't 100 per cent sure which way we will go."
'Loves his own work!': Pies's priceless post-game interview
— Dan Batten
There was plenty of talk about the personality that Ed Langdon brought through his pre-match comments, but the man who lined him up in the opening minutes of the match displayed just as much colour in his priceless post-game chat.
Collingwood defender Brayden Maynard hit Langdon with a bone-crunching tackle in response to his dig at the Magpies on SEN on Thursday afternoon, and he was very happy with his own work.
Maynard said he had winded himself with the tackle but nothing could wipe the smile off his face while discussing it and watching it back live on Fox Footy.
"I'm actually a little bit sore. My sternum - I actually winded myself a little bit but I lined him up pretty well, didn't I?" he said with a laugh.
"I felt pretty good because the crowd went nuts."
Maynard cackled in delight after watching the slow-motion replay of his tackle and interrupted his former coach turned panellist Nathan Buckley while getting a look at it on screen, saying: "I'm just watching it here."
His reaction sparked laughter from the Fox Footy panel.
"Pretty happy with himself," Melbourne great Garry Lyon chuckled.
"Loving his own work!" St Kilda legend Nick Riewoldt remarked.
'Filthy' Goodwin remains confident in flag hopes
Melbourne coach Simon Goodwin was "pretty filthy" following his side's upset loss to Collingwood at the MCG on Friday night, but still has absolute confidence the Demons can win the premiership this year.
The result could see the Demons tumble out of the top four by the end of the weekend if Sydney and Brisbane both beat North Melbourne and Carlton respectively.
It also continued Melbourne's extended indifferent run of form. Since opening the season with 10 consecutive wins, they have now lost six of their last 10 games.
But Goodwin wasn't wavering in his belief that his team can clinch back-to-back flags next month.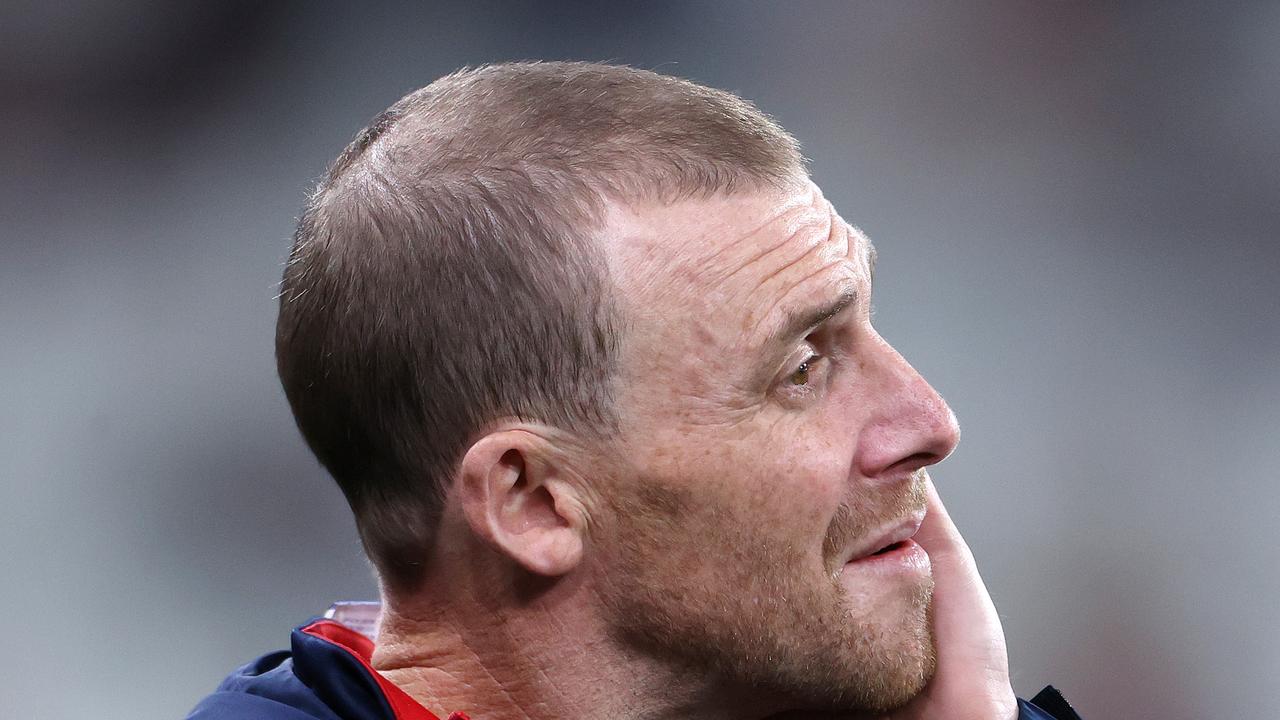 Simon Goodwin wasn't happy with the result. Picture: Mark Stewart
"We've got a special group of players, we've got a special club," Goodwin said post-match.
"For large parts of things, we're getting it right so I've got enormous belief in this group and enormous belief in the people involved and there's still plenty to go."
In fact, Melbourne did almost everything right against Collingwood, smashing the Magpies in disposals (408-314), contested possessions (160-138), clearances (51-32), centre clearances (21-7) and inside 50s (65-41), but couldn't capitalise where it matters most – on the scoreboard.
"I think if you're a supporter, if you're a coach, if you're a player - you're pretty filthy on that," Goodwin said.
"We let ourselves down ... we left the door ajar and like the good team that they are, they walked through and they won critical contests at the end when it mattered.
"To be the team that we want to be, you can't do that. You've got to execute better in bigger moments. When you've got a team on the ropes, you've got to finish them off."
The game also continued an alarming trend for the Demons which has seen them give up leads of over 20 points on many occasions during the season.
"You've got to be able to execute your method, you've got to be able to execute your processes and your role for a long period of time to be successful in AFL footy," Goodwin said.
"To be the best, you need to do it all year, all the time and that's our challenge.
"But the positives in all that are we are putting ourselves in some really dominant positions to then finish teams off.
"There's still a great opportunity that sits in front of us, but we've got to start doing it now."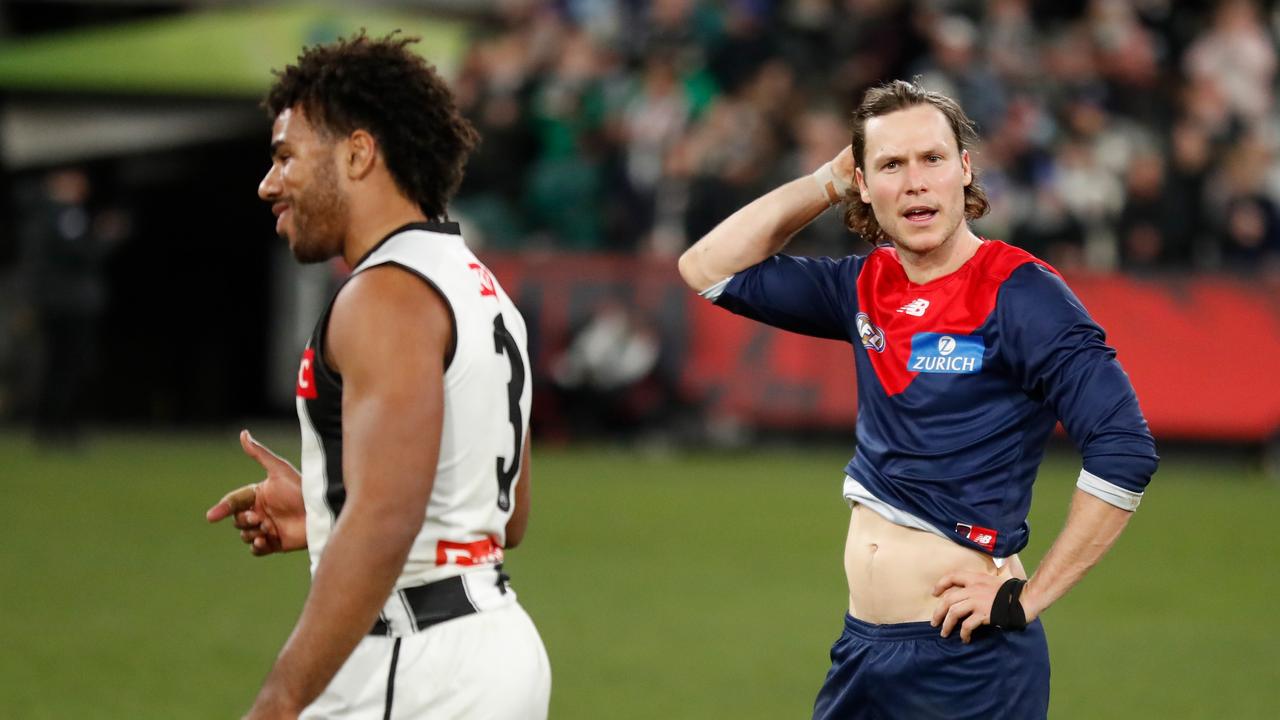 Ed Langdon looks on post-game. Picture: Michael Willson/AFL Photos via Getty Images
In the lead-up to the game, Melbourne wingman Ed Langdon took a veiled swipe at Collingwood on SEN, saying they were "all duck, no dinner in a sense that if they're playing fast footy on their terms, they're a very hard team to stop, but they're a bit of a one-trick pony at times."
While Goodwin insisted Langdon meant no disrespect by the comments, the Demons coach conceded the former Docker "got his words wrong".
"Ed is one of the more respectful people I know," Goodwin said.
"I think the key thing is the honesty, but make sure we always have respect in the way we deliver it.
"If he could choose his words again, he might choose a few different ones."
Collingwood defender Jeremy Howe told the ABC post-game that Langdon's comments were put on the Magpies' whiteboard pre-game as motivation.
Watch: Tempers flare as Langdon pays price for sledge
Collingwood made Melbourne wingman Ed Langdon pay the price for his 'one-trick pony' sledge in an opening-minute tackle onslaught in their Friday night blockbuster.
As many as four Collingwood players smashed into Langdon as he put his head over a bouncing ball and pounded him into the turf in what appeared to be a deliberate response to his controversial radio comments on Thursday.
Langdon set tongues wagging when he said the Magpies were "all duck, no dinner" and "one-trick ponies" on SEN in regards to their game style.
While the majority of pundits welcomed Langdon's refreshing honesty, Collingwood players made a statement with the early barrage on Langdon.
Magpies Brayden Maynard and Will Hoskin-Elliott were first in to hammer Langdon, while captain Scott Pendlebury and Steele Sidebottom also followed suit to show they did not like what they heard.
Players from both sides, including Jordan de Goey and Jack Viney, came in quickly to join in on the push and shove as the spotfire flared at the MCG.
Originally published as AFL Melbourne v Collingwood: Pies win epic blockbuster by seven points