AFL mid-season draft 2022: The top 30 prospects on offer
Who are the ready-made prospects who can give your side an immediate boost? Check out the top contenders for the mid-season draft.
While it still remains unclear how many picks will be used in next Wednesday's draft — and there may be some surprises — here are 30 of the top prospects that have caught the eyes of recruiters this year.
Jai Culley, Max Ramsden, Hugo Hall-Kahan and Massimo D'Ambrosio have emerged as standouts in the pool and are among a group of 14 top contenders who were nominated by multiple clubs to undergo medical testing.
Watch every blockbuster AFL match this weekend Live & Ad-Break Free In-Play on Kayo. New to Kayo? Try 14-Days Free Now >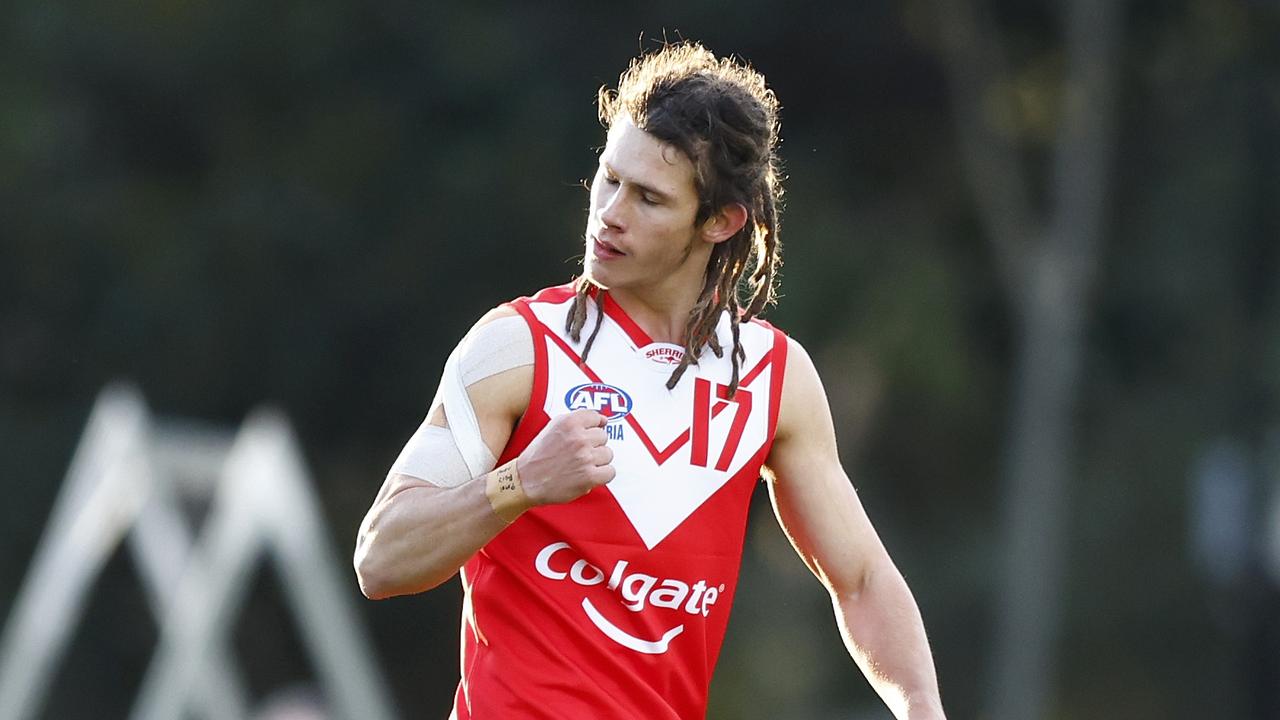 Jai Culley is on the radar of a number of AFL clubs. Picture: Mike Owen/AFL Photos/via Getty Images
THE LEADING PROSPECTS
Jai Culley
19, Midfielder, 193cm, 87kg, Langwarrin FC/Dandenong Stingrays
A tough onballer with classy skills, Culley was firmly on the radar of most clubs even before an ultra-impressive showing for the Colgate Young Guns in their first exhibition match against Vic Metro earlier this month. In that game, Culley put on a show as he logged 22 disposals, five tackles, three clearances, four score assists and booted four first-half goals for a total of 197 SuperCoach ranking points. Culley nominated for last year's draft, but the knocks on him were around his speed and spread from stoppage, which he worked on over summer. He was also more of a forward last year, before moving into more of a midfield role this season. Culley starred in the first two rounds of the NAB League season with the Stingrays this year, averaging 24.5 disposals and two goals, before sitting out three matches with a minor shoulder injury. He missed the Young Guns' second game against Vic Country due to soreness, but is expected back on the park for the Stingrays this weekend. When asked about Culley's mid-season draft prospects, one senior recruiter said "on talent he should be the pick 1".
Max Ramsden
19, Ruckman/Forward, 202cm, 86kg, Old Melbournians/Sandringham Dragons
The No. 1 pick in last year's mid-season draft was a ruckman in Jacob Edwards. Could Ramsden follow suit? Like Edwards, Ramsden is viewed as a long-term project player, as most big men are. However, recruiters have seen plenty to like about him. The 19-year-old has been labelled an "athletic freak" and has some X-Factor about him. Ramsden rated highly in agility and yoyo tests during pre-season fitness testing and caught the eye in his NAB League debut for the Dragons in Round 1 after playing school football for Melbourne Grammar last year. Ramsden played in both of the Colgate Young Guns games and caught the eye with 16 disposals, 13 hit-outs and two goals in the first game against Vic Metro before a quieter second game. Across five NAB League games this season he has averaged 15 disposals, 18.8 hit-outs (7.8 to advantage), three marks and three clearances. Ramsden is viewed as a clear top-five talent in the mid-season draft pool.
Massimo D'Ambrosio
18, Defender, 178cm, 80kg, Point Cook/Western Jets
A smooth-moving rebounding defender or wingman, the main knock on D'Ambrosio had been his size at just 178cm. However, his performances have been unmissable this year and clubs do not seem as concerned about his height anymore. A polished kick with strong running skills and good composure, D'Ambrosio has been a mid-season draft bolter. The likes of Western Bulldogs defender Caleb Daniel (170cm) and Richmond's Jayden Short (178cm) have shown in recent years that undersized players with damaging kicks can still play an important role at AFL level and D'Ambrosio looks capable of joining that club. The Western Jets product spent time with Richmond's VFL program over pre-season and was listed as a Covid top-up player for the Tigers. He has averaged 27.8 disposals and eight intercept possessions from four NAB League games, but more importantly has backed that form up in two VFL matches for Richmond, including a 25-disposal match last weekend. But he went off with a shoulder injury in the early stages of his last outing on Friday. D'Ambrosio also caught the eye for the Colgate Young Guns in their two exhibition matches, racking up 32 disposals, nine marks and seven rebound 50s in the second of those games against Vic Country.
Hugo Hall-Kahan
18, Forward, 188cm, 78kg, Old Haileybury/Sandringham Dragons
A mid-sized marking forward, Hall-Kahan received an exemption to apply for the mid-season draft after not nominating for last year's draft. He is a player who recruiters say has "come from nowhere", after playing just two NAB League games for the Dragons last season and not kicking a goal in either. This year, Hall-Kahan has averaged 13.6 disposals, 4.8 marks and 2.2 goals from five matches for the Dragons, including an eye-catching five-goal game against Calder Cannons in Round 2. Hall-Kahan, who turns 19 in September, plays a similar role to Brisbane's Cam Rayner and is an excellent mark above his head. He is still improving his ground-level work, but clubs like what they see. Hall-Kahan played in both of the Colgate Young Guns games earlier this month and logged 13 disposals, four marks and two goals in the second of those games against Vic Country.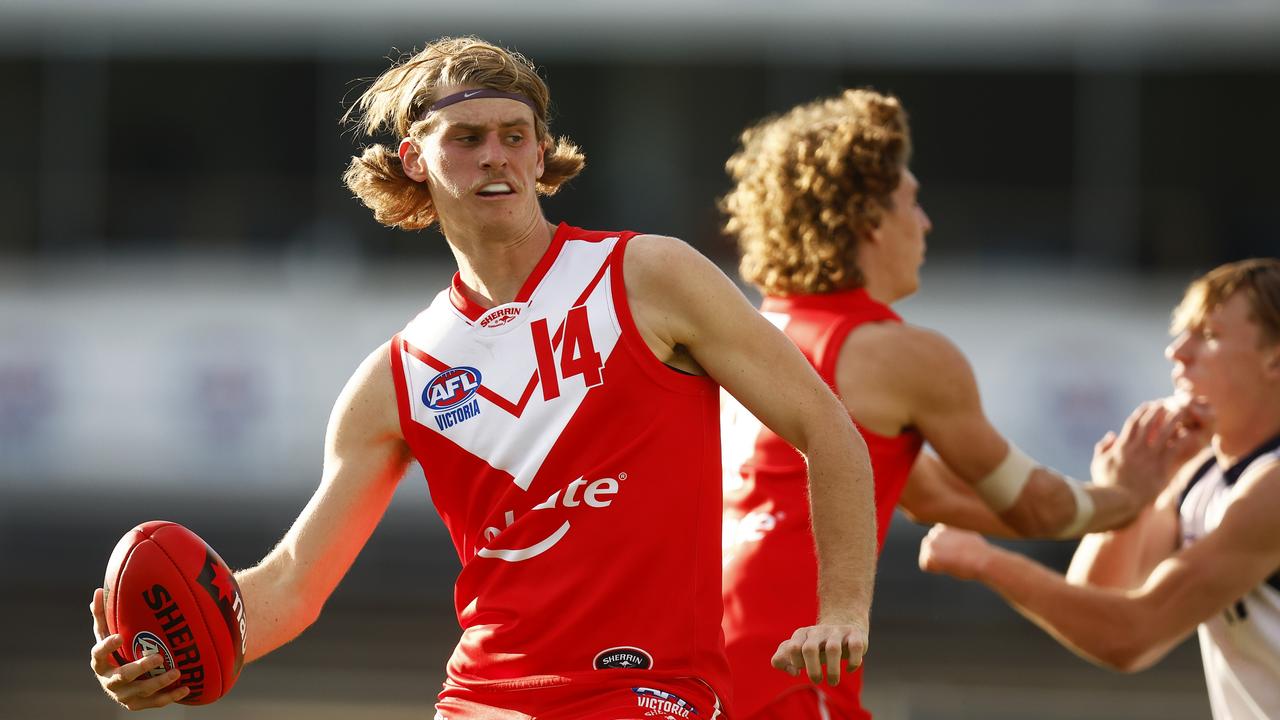 Hugo Hall-Kahan has been likened to Brisbane's Cam Rayner. Picture: Daniel Pockett/AFL Photos/via Getty Images
Oskar Faulkhead
19, Midfielder, 182cm, 76kg, Wentworth/Bendigo Pioneers
After a bumper pre-season, Faulkhead has put himself firmly in the frame for a mid-season draft opportunity. An inside midfielder, he spent time with Geelong's VFL squad over summer and has taken his game to another level this season. A tough-nut who loves to win the contested ball and lay tackles, Faulkhead has averaged 21.2 disposals and five clearances across five NAB League games for the Pioneers this season. After catching the eyes of recruiters in two games for the Colgate Young Guns – the second of which he logged 31 disposals, five clearances and two goals – Faulkhead was given a VFL opportunity with Geelong last weekend and didn't look out of place as he recorded 16 disposals, five marks and a goal against Carlton.
Jacob Bauer
19, Forward, 191cm, 80kg, North Adelaide
Described as a "genuine high-marking key forward", the former Sydney Swans Academy member started the season in the reserves with North Adelaide but was called up to the senior side in Round 2 and has impressed ever since. Bauer booted five goals in each of his first two senior games and is averaging 8.8 disposals, 4.6 marks and three goals from five SANFL games so far this season. Bauer marks the ball at its highest point and is a quality kick. AFL clubs are well aware that high forwards like Bauer are hard to find, which puts him in right in the frame for this year's mid-season draft.
Wade Derksen
20, Forward, 195cm, 90kg, Peel Thunder
Derksen was not on the initial list of exemptions to apply for the mid-season draft but found himself part of a group that was added later after not nominating for last year's drafts. Derksen was on Essendon's VFL development list last year, but played just two VFL matches in an interrupted year due to injury and Covid before finding his way to Fremantle's WAFL affiliate Peel Thunder. He played his first game this year in the reserves, but has since played three senior WAFL matches and particularly impressed with four goals from 22 disposals and seven marks in Round 3. The Dockers had wanted Derksen to train with them during pre-season, but that opportunity was also denied. The 20-year-old was listed as a Fremantle Covid top-up player this year, but has not yet been needed at AFL level.
Lachlan Carrigan
19, Wing/Defender, 191cm, 78kg, Hampton Rovers/Richmond VFL
A highly-talented outside midfielder or rebounding defender, Carrigan has great speed and endurance. The former Sandringham Dragons product was largely unsighted over the past two years due to a rough run with injuries, but has got his body right and shown some good signs this season. He tried out for Richmond's VFL side over summer and was eventually listed by the Tigers. Carrigan featured in both of the Colgate Young Guns games this year, logging 20 disposals in the first match and 22 disposals and eight marks in the second match.
Josh Carmichael
22, Midfielder, 189cm, 89kg, West Adelaide
A strong midfielder-forward, Carmichael was playing for Merbein in the Sunraysia Football League last year. But he crossed to West Adelaide in the SANFL this season and has starred. Carmichael, who models his game on Richmond's Dustin Martin, has averaged 24.6 disposals, five marks, five clearances and 4.7 tackles across seven senior matches this season. On the back of his first full football pre-season, he made the SANFL state team and played well against WA with 17 disposals and a goal.
Connor Ballenden
23, Forward, 200cm, 100kg, Woodville West Torrens
A former AFL-listed player, Ballenden has been twice delisted by Brisbane but is firmly in the mix to earn another opportunity at the top level. A former Lions Academy member, Ballenden was selected at pick 43 in the 2017 national draft but was delisted at the end of 2020 and then picked up again in the rookie draft. He lasted just one more year on Brisbane's list before being delisted again at the end of 2021, having played just three AFL games. However, Ballenden moved to Adelaide this year and has caught the attention of clubs with his performances in the SANFL playing as a ruckman and forward. He has averaged 17.2 disposals, 20.2 hit-outs, 3.3 clearances, 5.2 score involvements and 0.8 goals across six games for Woodville West Torrens. Players of his size and abilities don't exactly grow on trees.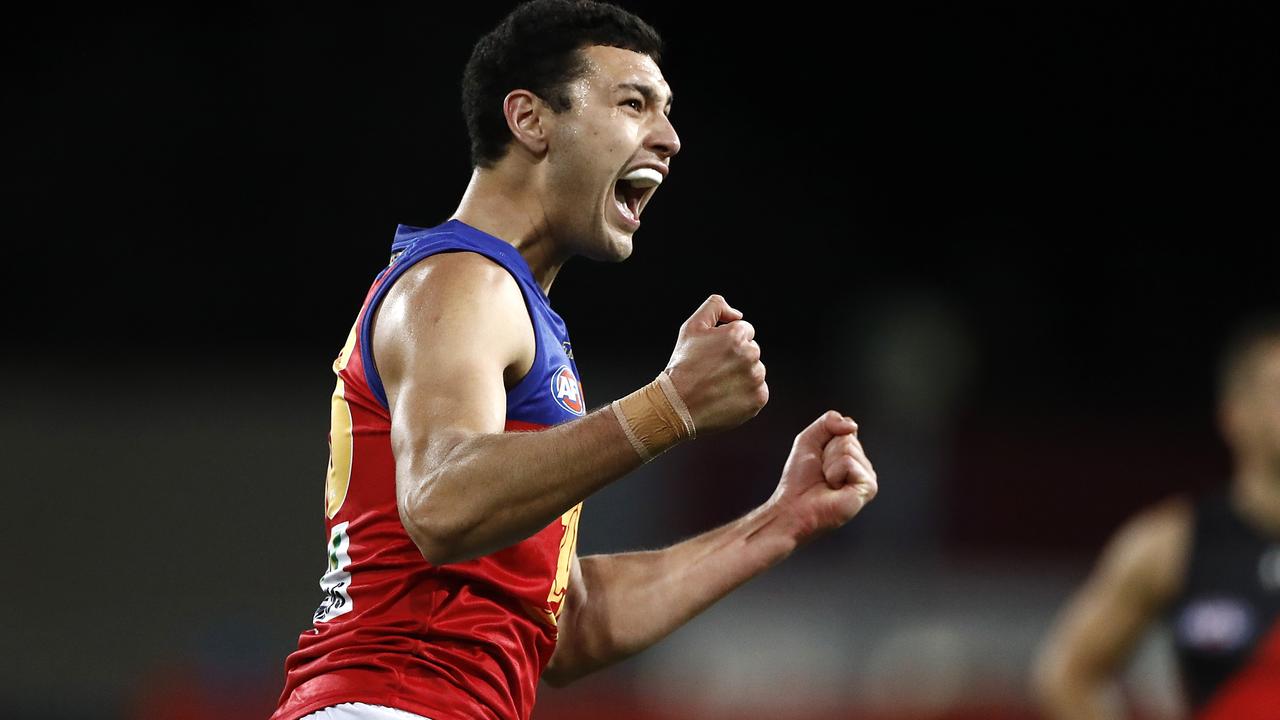 Could Connor Ballenden find his way back on AFL list? Picture: Ryan Pierse/Getty Images
Kallan Dawson
23, Defender, 194cm, 78kg, Williamstown
An intercept defender, Dawson has developed nicely in the VFL and is a good chance to become another success story from Williamstown. Dawson did not go through the traditional football pathways and was playing B Grade football for local VAFA club Williamstown CYMS last year. However, he has secured his spot in the Seagulls side this year and has caught the eye with some big performances. Dawson is averaging 13 disposals, 6.9 marks, 2.9 intercept marks and 5.9 intercept possessions from seven VFL games patrolling the backline. He reads the play well, has good speed and works hard up the ground.
Mutaz El Nour
20, Defender, 192cm, 83kg, Northern Bullants
There was some interest in El Nour ahead of last year's mid-season draft. He was picked to play in the Colgate Young Guns game, but was ultimately overlooked come draft day. However, there has been renewed interest in the developing key defender this season after some strong VFL performances with the Bullants. El Nour, who was named as a Covid top-up player for Sydney at the start of the year, has played seven VFL games, averaging 17.9 disposals, 6.3 marks, 3.3 intercept marks and five spoils. He rarely wastes the ball when he wins it back and has great athletic traits.
Ethan Grace
18, Forward, 181cm, GWS Academy
A crafty small forward, Grace is a GWS Academy product who was overlooked in last year's drafts and turns 19 in November. Grace was stuck playing for the East Coast Eagles in the AFL Sydney competition for most of last year, but has got some NAB League and VFL exposure this season. He has played four games for GWS in the NAB League, averaging 17.8 disposals, four marks, 5.3 score involvements and 2.3 goals. The last of those games came against Bendigo in Round 4, when Grace booted 4.1 from 18 disposals. He is a quality kick both from set shots and in general play, applies great pressure with his tackling and loves to take the game on.
Brynn Teakle
22, Ruck-Forward, 203cm, 97kg, East Fremantle
Clubs went hard on ruckmen in last year's mid-season draft and Teakle is another big man who could be snapped up this year. He has been on the radar of AFL clubs for some time and trained with Essendon during the 2020 pre-season while also playing in an AAMI Community Series match for the Bombers that year. Teakle was also named as a Covid top-up player for Fremantle this season. While he is still developing, Teakle has shown plenty in the WAFL this season as a ruckman who can also have an impact around the ground and in attack. He has averaged 14.2 disposals, 18.4 hit-outs, 3.6 clearances, three marks and 0.8 goals from five senior games for East Fremantle.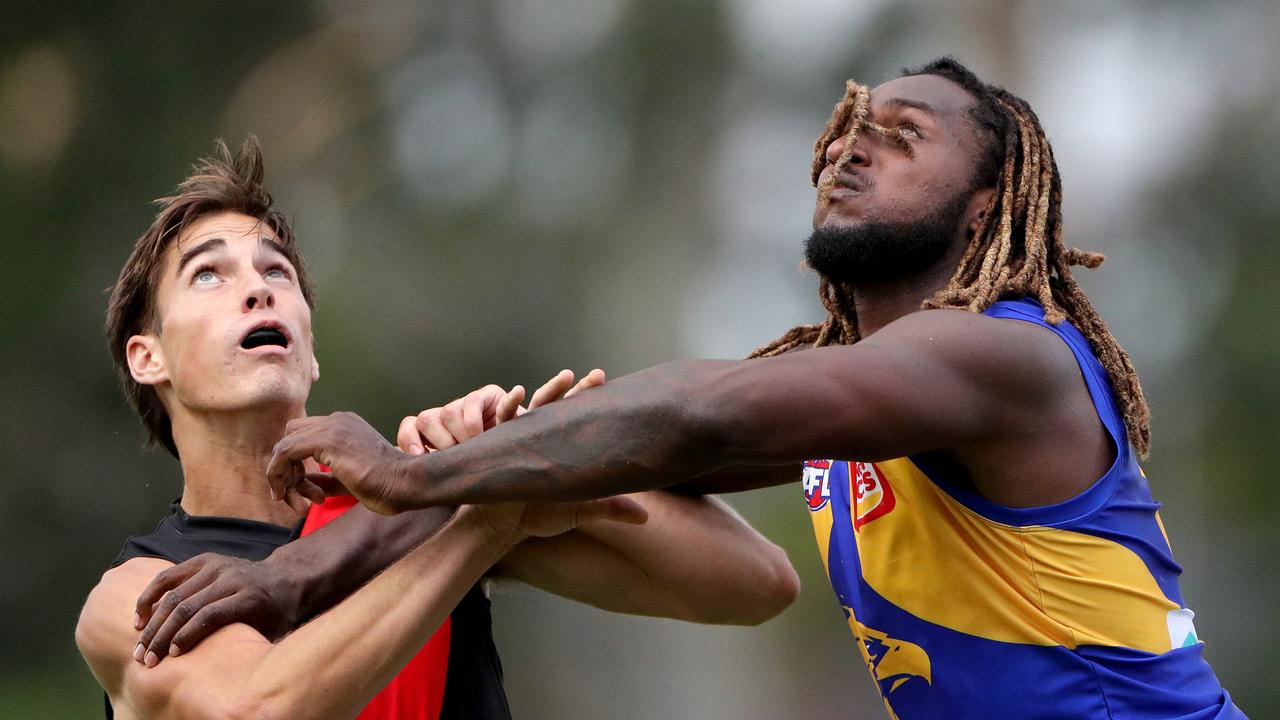 Brynn Teakle rucks against Nic Naitanui during the AFL Community Series pre-season match match in 2020. Picture: AAP Image/Richard Wainwright
ALSO IN THE MIX …
Mitch O'Neill
21, Midfielder, 178cm, 76kg, South Adelaide
A former Tasmanian, O'Neill spent the 2020 season on West Coast's rookie list but got caught up in the Covid drama that year and could not get on the park due to a back injury, leading to him being delisted at the end of the year. The speedy midfielder has spent the past two years playing senior SANFL footy with South Adelaide and has averaged 29.8 disposals, 5.7 clearances and 6.3 tackles from six games this year. His early-season performances saw him picked for the state team's clash with WA in Perth and O'Neill again shone with 19 disposals and a goal to be one of the SANFL's better midfielders on the day. Recruiters have been impressed with his consistency across the year so far and have labelled O'Neill a "very nice player".
Jye Menzie
19, Forward, 180cm, 81kg, South Adelaide
An electric small forward who played NAB League football for the Tasmania Devils last year, Menzie caught the attention of clubs after a blistering start to the season playing senior SANFL football with South Adelaide. He booted four goals in Round 1 and six goals from 17 disposals in Round 2 to put himself firmly in the top group of mid-season draft prospects. While Menzie's form since then has not been quite as red-hot and he was kept relatively quiet in the state game against WA, Menzie has still kicked two goals in each of his past three SANFL matches and is working on his consistency to become a more complete player. He is an X-Factor player with speed and a good football IQ who would fit in nicely at a host of AFL clubs.
Jake Florenca
25, Midfielder, 184cm, 86kg, South Fremantle
A mature-age prospect, Florenca has been a feel-good story this year after being named as a Covid top-up player for West Coast and featuring in the Eagles' Round 8 clash against Brisbane. The hard-at-it onballer impressed in that match with 19 disposals (13 contested), 11 ground ball gets and four clearances, on the back of a dominant start to the season in the WAFL with South Fremantle. From four WAFL matches this season, the 25-year-old has averaged 34.3 disposals, 21.5 contested possessions, 10 clearances, eight score involvements, 7.8 tackles, 1.3 goals and 186 SuperCoach ranking points. Florenca returned to South Fremantle late last season after a 14-month battle with a serious Achilles injury.
Jamieson Ballantyne
19, Midfielder, 183cm, 78kg, Portland FC/GWV Rebels
An outside midfielder and wingman last season, Ballantyne has changed his role a little bit this year to also show was he can do as an inside midfielder. Ahead of the move, Ballantyne added about 5kg to his frame over the off-season to improve his ability in contested situations – and he is reaping the benefits. From three NAB League games with the Rebels to start the year, the 19-year-old averaged 21.7 disposals (12 contested), 5.3 clearances and 7.3 tackles to catch the attention of recruiters. He has since gone on to feature in both of the Colgate Young Guns games, while he also earnt a VFL opportunity with Footscray in Round 6 but played only limited game time. Ballantyne's strong two-way running is a feature of his game which recruiters rate highly.
GWV Rebels midfielder Jamieson Ballantyne is a highy rated youngster. Picture: Morgan Hancock/AFL Photos/Getty Images
Patrick Dozzi
18, Midfielder, 185cm, 81kg, Montmorency/Northern Knights
A tough midfielder with a good balance between his inside and outside game, Dozzi has had more opportunity to show his wares onball this season and recruiters believe he has continued to improve by the week. A Marcellin College graduate last year, Dozzi returned to the Northern Knights in the NAB League as a 19-year-old and had a big start to the season, averaging 22.8 disposals, 12.3 contested possessions, five marks, 5.3 clearances and seven tackles from his first four games. He has gone on to back up those performance in the two Colgate Young Guns games, particularly in the second match against Vic Country where Dozzi logged 34 disposals, nine clearances, 10 inside 50s and a goal to be the second-ranked player on the ground.
James Blanck
21, Defender, 195cm, 80kg, Park Orchards/Box Hill VFL
A rock-solid key defender who is a strong overhead mark, Blanck trained with Hawthorn during pre-season but missed out on a spot on the club's list. He was, however, listed as a Covid top-up player for the club and was granted a late exemption to apply for the mid-season draft after not nominating for last year's drafts. Blanck has averaged 9.6 disposals, 2.9 marks and 4.9 intercept possessions across seven VFL games for Box Hill this year.
Tyreece Leiu
19, Midfielder, 194cm, Rowville/Eastern Ranges
A unique player, Leiu has played a variety of roles over the past 12 months. He impressed as a marking intercept defender with the Eastern Ranges last year, but has spent more time through the midfield as a big-bodied onballer this season and has also spent time forward and hit the scoreboard. Injury saw Leiu miss representing Vic Metro last year and he went on to be overlooked in the drafts. But he was invited to train with Carlton in pre-season and was included on the Blues' VFL development list this year. Leiu has averaged 18.3 disposals and 4.3 marks from three NAB League games for the Eastern Ranges this season, while he also featured in one VFL match for Carlton in Round 6. Leiu also played in both of the Colgate Young Guns games, particularly impressing recruiters in the first of those matches with 14 disposals.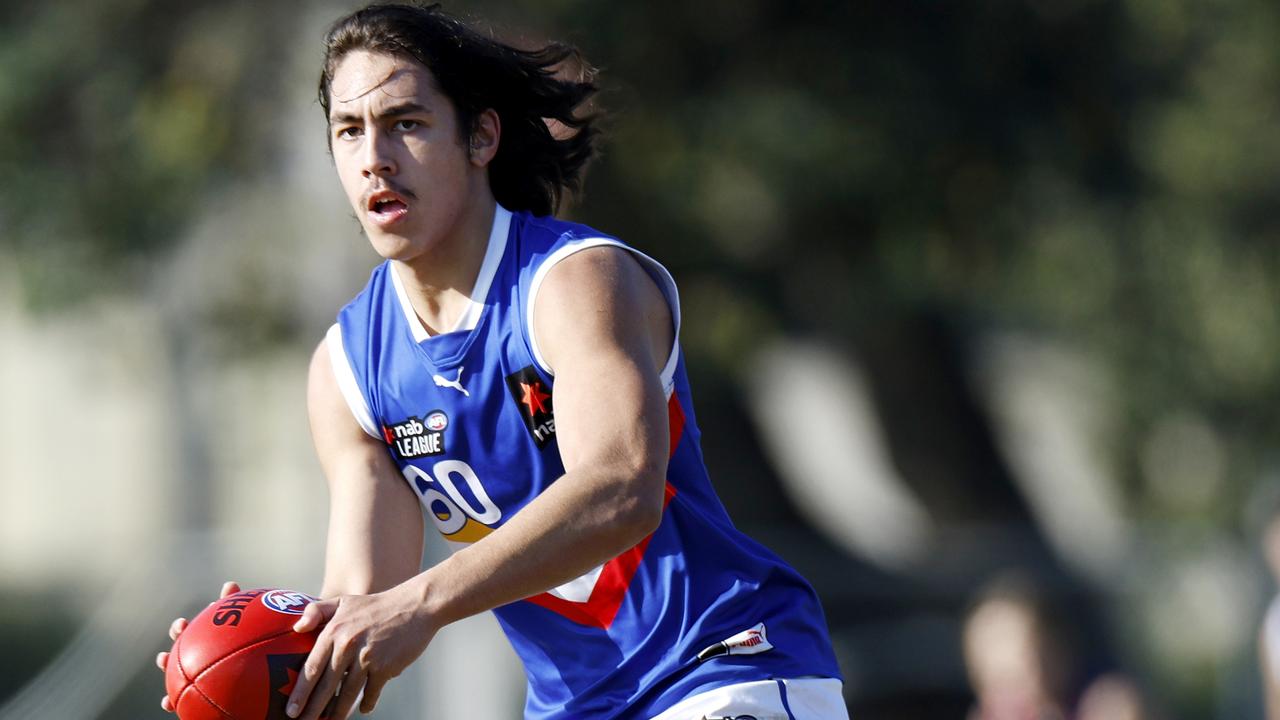 Tyreece Leiu is a unique prospect. Picture: Jonathan DiMaggio/AFL Photos/via Getty Images
Toby Murray
18, Ruckman/Forward, 200cm, 92kg, Wangaratta Rovers/Murray Bushrangers
The brother of former Collingwood player Sam Murray and Adelaide footballer Nick Murray, the Murray Bushrangers product has come into his own this year. Murray predominantly played as a forward in the early rounds of the season, before being released into the ruck where he has continued to grow in confidence by the week. Murray is a good mark above his head and kicks the ball quite well for a big man. From his past three NAB League games in the ruck, Murray averaged 18.3 disposals, 5.7 marks, 17.3 hit-outs and 1.7 goals. He has also played in both of the Colgate Young Guns matches, before being called up by Collingwood to play for their VFL team in last weekend's clash against the AFL Academy side.
Ryan Eyers
19, Defender, 198cm, 82kg, Corowa Rutherglen/Murray Bushrangers
A key defender, Eyers has embraced a role at centre-half back for the Murray Bushrangers in the NAB League and has been producing some strong performances. He competes well in the air, has good intercepting ability, is sound with the ground ball below his knees and has a big vertical leap. Eyers has averaged 16.4 disposals and 6.6 marks from five games for the Bushrangers this season to be rated elite among key defenders in the NAB League. Eyers has also played in both of the Colgate Young Guns games and showed some good signs.
Fletcher Hart
18, Forward, 199cm, 97kg, Albury/Murray Bushrangers
An Albury product, Hart is described as a player with "some really neat craft to his game". A good sized key forward with a nice left-foot kick, he has good leading patterns and is working on his marking. Hart broke his ankle early last year, which set him back and meant he only played six NAB League games in his 18th year. However, he played the first five games for the Bushrangers this season, including a huge game in Round 3 when he recorded 15 disposals, 10 marks and kicked six goals. The Albury product has been named as part of the Allies squad for this year's under-19 national championships, but has attracted some mid-season draft interest before that. Hart, who can also pinch-hit in the ruck, played in both of the Colgate Young Guns games earlier this month.
Will Reinhold
21, Defender, 194cm, Port Melbourne VFL
A key defender, Reinhold is a former GWS Giants Academy member who hails from the town of Temora, north of Wagga Wagga in New South Wales. Reinhold joined Port Melbourne this year and has caught the eye down back in the VFL. He has played eight games for the Borough, averaging 10.9 disposals, 3.8 marks and 4.1 intercept possessions. Reinhold was granted an exemption by the AFL to apply for the mid-season draft, after not nominating for last year's drafts. He has a good left-foot kick for a big man and rarely wastes the ball when he wins it back. Reinhold is a cousin of Brisbane key forward Joe Daniher.
Casey Voss
21, Defender, 182cm, 80kg, Sturt
The son of former Brisbane captain and current Carlton coach Michael Voss, the Sturt product has done everything he can this year to push his case for an AFL opportunity. His father has ruled out Casey joining him at the Blues, but other clubs are taking a look and Brisbane has clearly kept an eye on his development. Voss won the Fos Williams Medal as South Australia's best player in its state game against Western Australia this year with 29 disposals and 15 marks. Across seven SANFL games for Sturt this year, the rebounding defender has averaged 23 disposals, 10.6 marks, 6.3 intercept possessions and 4.9 rebound 50s. Some clubs like what they see, but others wonder if Voss can step up at the next level or is just a quality state league player.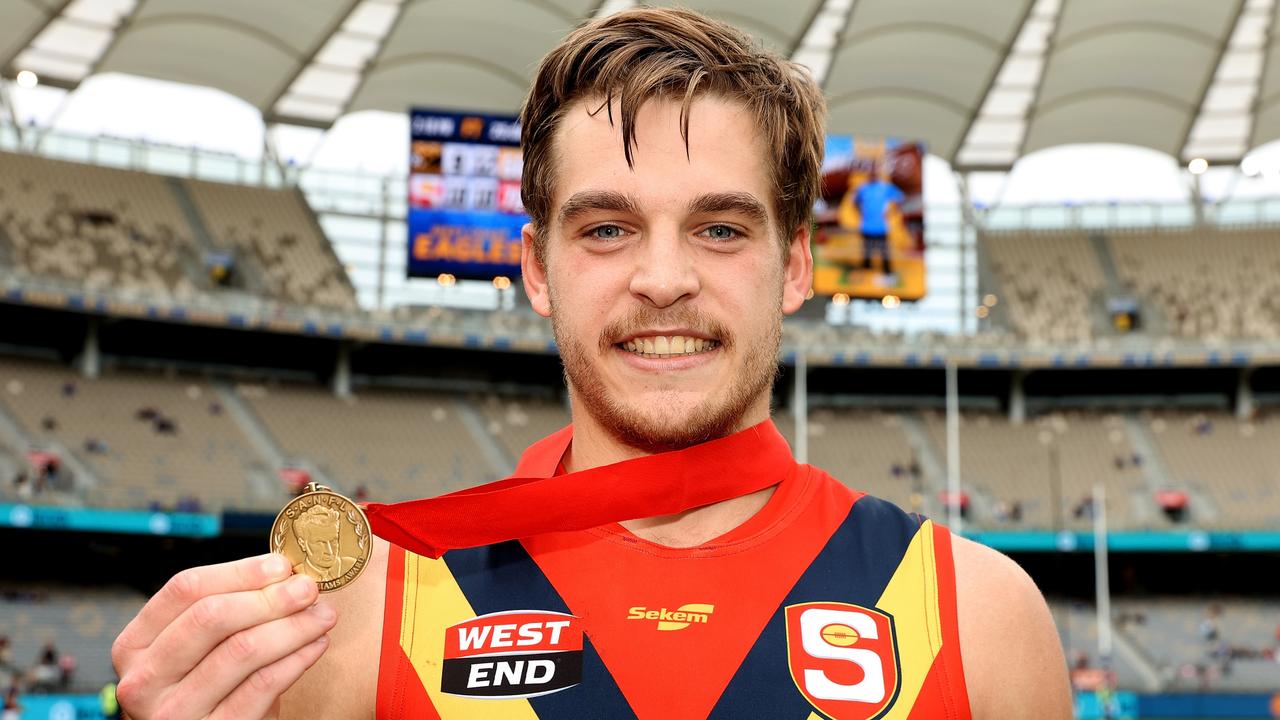 Casey Voss won the medal for best afield in the SANFL v WAFL clash. Picture: Paul Kane/Getty Images
Brett Turner
25, Midfielder, 185cm, 88kg, Glenelg
A mature-age midfielder, Turner has turned some heads with some big games in the SANFL this season. After not nominating for last year's drafts, he received an exemption to nominate for this year's mid-season draft. The tough onballer hurt his foot in Round 4, but showed plenty for Glenelg up until that point. Against Adelaide in Round 3, he logged 38 disposals, seven marks, six clearances, 14 score involvements and kicked four goals. Given his age and mature body, Turner looks ready to go at AFL level if required.
Zac Strom
28, Forward/Defender, 198cm, 103kg, South Fremantle
Fremantle requested to have Strom train with them during pre-season, but that request was knocked back by the AFL on the basis that he did not nominate for last year's drafts. Strom has since received an exemption to nominate for the mid-season draft and is a player who looks like he could make an instant impact at AFL level. He has been in the WAFL system since 2013 and had previously nominated for eight drafts before last year, when he felt his chances to get to the next level were shot. However, Strom has impressed in four games for South Fremantle this year, averaging 14.5 disposals, 5.8 marks and 1.8 goals as a key forward.
Liam Reidy
21, Ruck/Forward, 204cm, Frankston
Reidy presents as an option for a club in search of a ruckman. He has impressed with his follow up work and competitiveness in the ruck with Frankston in the VFL, averaging 9.1 disposals, 21.3 hit-outs and four tackles across seven games this year. Reidy still has much to work on, but has shown some good signs that have caught the attention of clubs. Frankston signed him up from East Brighton.
Zane Williams
20, Forward, 183cm, 71kg, Woodville West Torrens
Another prospect from Woodville West Torrens, Williams is a small forward who has made a strong start to the season in the SANFL. Williams has played seven senior games for the Eagles this year, averaging 11.9 disposals, 2.7 marks, 5.9 score involvements, 4.1 tackles and 1.9 goals. His best game came against Glenelg in Round 4, when Williams booted five goals from 12 disposals.
Originally published as AFL mid-season draft 2022: The top 30 prospects on offer