The Early Tackle: All the Likes, Dislikes and talking points from Anzac Round
AFL bosses handed the keys to the NRL and racing this week with a fixture mistake that must be fixed, writes Glenn McFarlane. Here's his solution.
We may be just three games into Anzac Round but there's already plenty to like and dislike from the footy so far — Glenn McFarlane brings you the best and the worst of it.
LIKES
IS JACK THE SAINTS' UNLIKELY ALL-AUSTRALIAN HOPE?
By the end of Round 6 last year the two eventual All-Australian small forwards Toby Greene and Tom Papley had kicked 18 and 10 goals respectively.
After a first-round doughnut that had Nick Riewoldt and David King calling for his axing after a moment of "selfish" play, Jack Higgins might well be the best small forward at the moment with 14 goals from his five games.
He was already in the Herald Sun's rolling All-Australian team last week but further staked his claim with yet another strong performance kicking 4.3 against the Giants.
It could have been five goals, but he selflessly handballed off to Brad Crouch who kicked the final goal in the dying moments.
Higgins had the cheek to poke some fun in Riewoldt's direction on Fox Footy after the match: "I used to look up to Nick … not any more."
Riewoldt and King questioned whether Higgins should have been sent back to the VFL after refusing to give a handball off to Jade Gresham at a key moment in the Round 1 loss to Collingwood.
Stream every match of every round of the 2022 Toyota AFL Premiership Season Live & Ad-Break Free In-Play on Kayo. New to Kayo? Try 14-Days Free Now >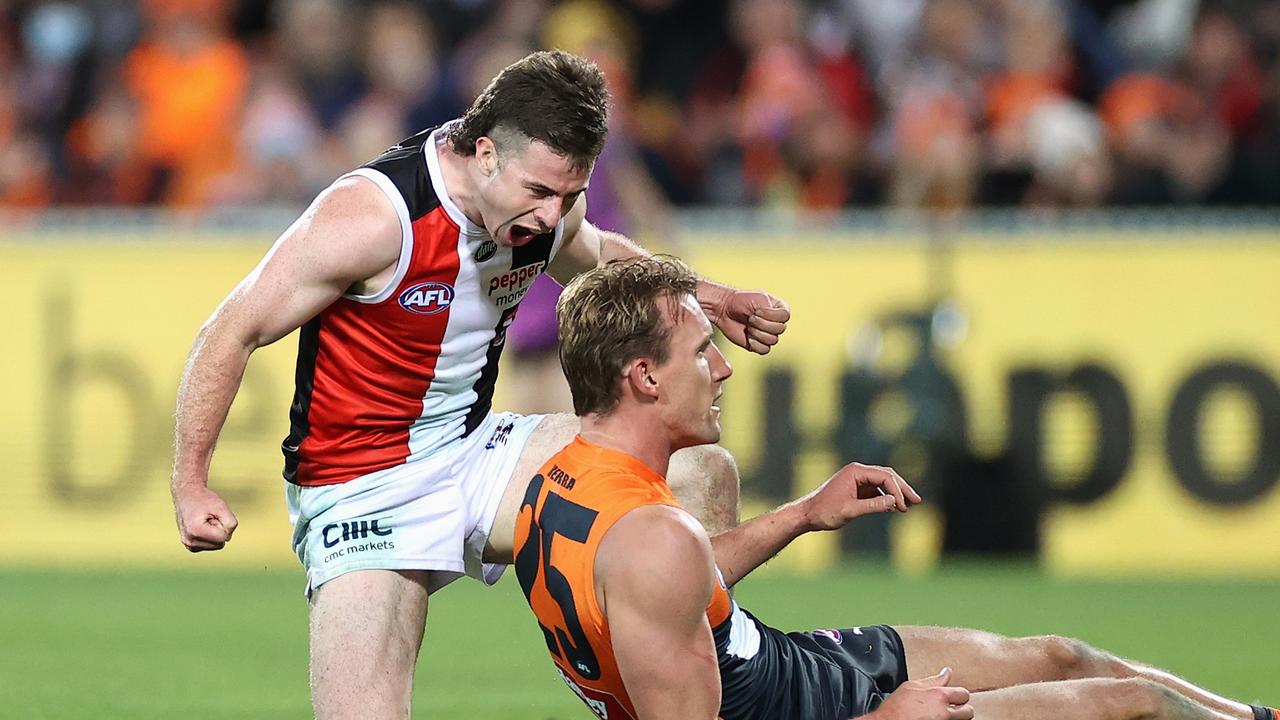 Jack Higgins of the Saints might be the form small forward of the league right now. Picture: Cameron Spencer/AFL Photos/Getty Images
Higgins said of the incident: "I learnt a lot after Round 1. I didn't give that one off to Gresh, which I should have.
"I obviously got potted by you (Riewoldt) and David King … and that drove me even more. It's not that I like it when people bag me but it gave me a lot of strength to carry on and try and prove you guys wrong. Obviously at St Kilda, we try to play a really unselfish game.
"Crouchy was running past me and I gave him the hands as I would expect anyone else to give it to me."
In a funny exchange, Riewoldt was happy to "eat" his words, saying his sons had received Higgins' signatures on their Saints' jumpers at a recent clinic.
"They both came home with Jack Higgins' signature on their jumpers and I said 'I hope you didn't say who your old man was … he might have told you to go and get stuffed'."
Higgins added: "It's all good mate."
The former Tiger missed his first two shots, saying on Fox Footy: "I thought it was going to be like Sydney 2.0 (when he kicked 1.6 in Round 12 last year). I was having flashbacks to the SCG.
"But Benny Robbins, our psych guy, took me aside … I've done a lot of goalkicking practice and he said 'Take a few deep breaths before you have a shot' and I luckily got onto a few."
THE MOTHERS' DAY MATCH-UP THAT MIGHT FAST-TRACK RATT'S CONTRACT TALKS
Fast-forwarding a fortnight in footy is a dangerous proposition, but St Kilda's Round 8 clash with reigning premiers Melbourne looms as an early game-of-the-season candidate.
It might also prove the catalyst for the Saints to kick off contract talks with coach Brett Ratten after the club's 5-1 start to 2022 — their best opening to a season since 2010.
Only a clash with Port Adelaide in Cairns in between looms as an impediment to a potential 6-1 start.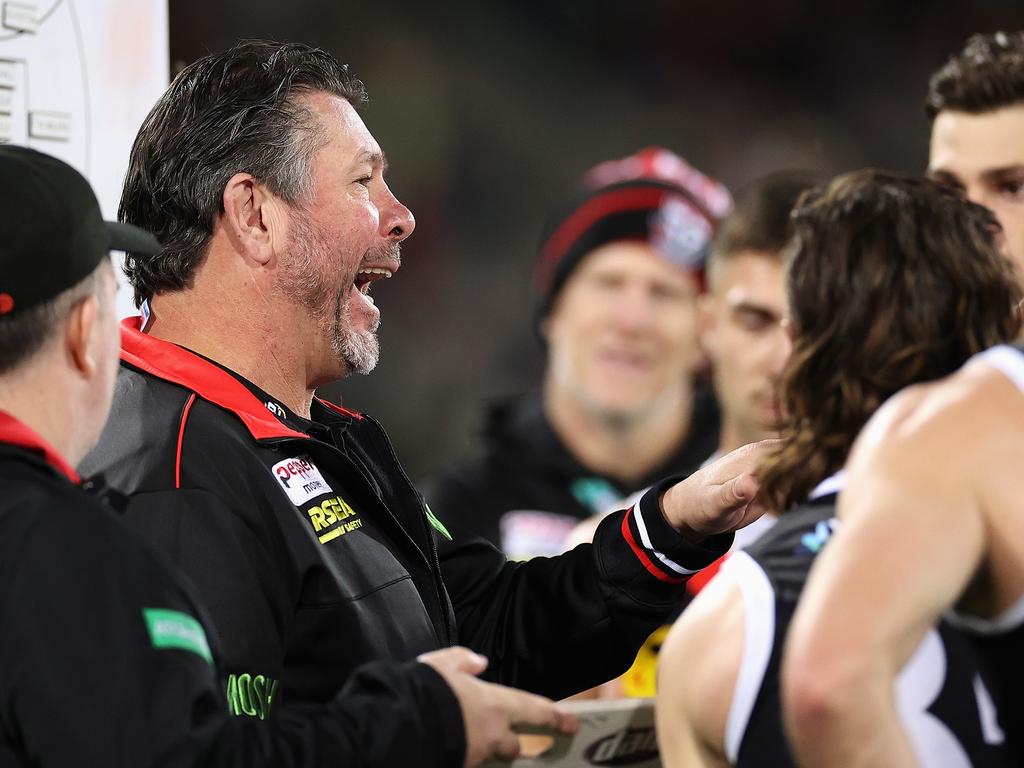 Saints coach Brett Ratten talks to players during the round six AFL match between the Greater Western Sydney Giants and the St Kilda Saints. Picture: Cameron Spencer/AFL Photos/Getty Images
The Saints and their popular coach have been steadfast in their messaging that there is no urgency surrounding a new deal for Ratten, who is into the last year of his current deal.
That makes absolute sense, even though St Kilda president Andrew Bassat told this journalist late last year that he and the board believe Ratten could be the club's next premiership coach.
But a giant-killing win against the (so far) undefeated Demons – or even a positive showing against the flag favourites — could expedite a conversation sooner rather than later.
Make no mistake, the Saints believe they have the right man to lead them into the future.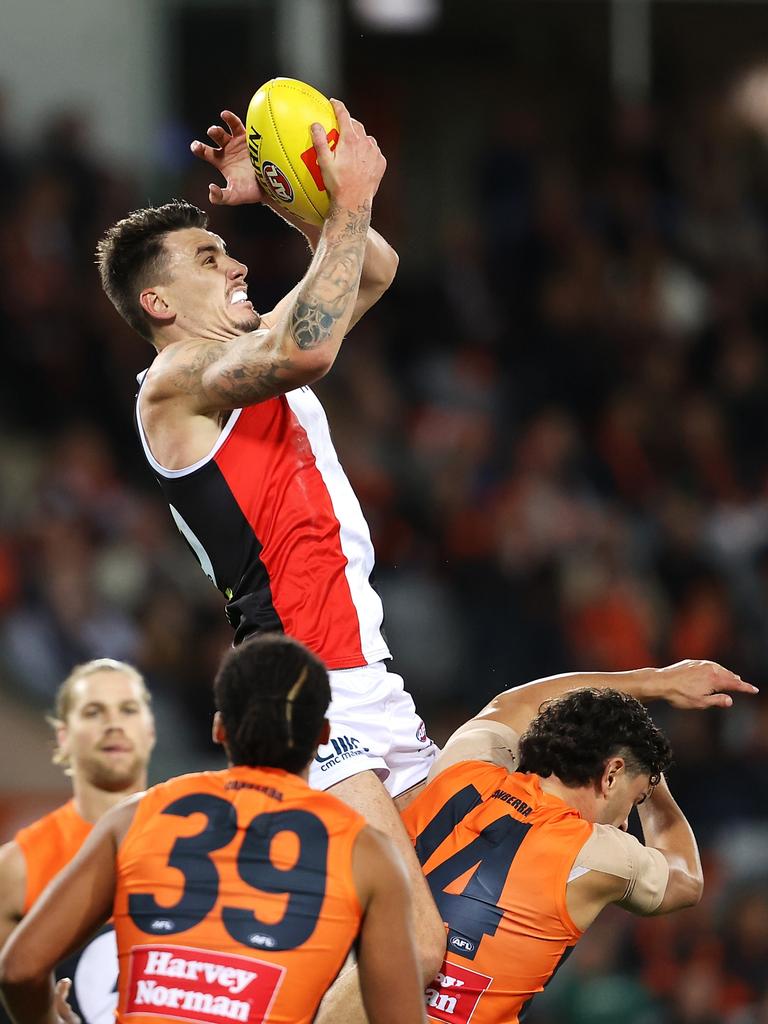 Josh Battle stood tall for the Saints. Picture: Mark Kolbe/Getty Images
BATTLE SCARS
Josh Battle confessed on Friday night he hates playing in the ruck, but if he hadn't answered his coach's call out of necessity, the Saints might not have won a fifth straight game in 2022.
With Jack Hayes going down with a suspected ACL injury and with Rowan Marshall having "a cork on a cork" thigh, Battle had to be conscripted out of his now familiar role in defence to take on the dangerous Braydon Preuss-Matt Flynn Giants' ruck combination.
Never mind the fact the Giants won the hit-outs 77 to 19, Battle played an important role for the Saints through the middle.
He almost acted as an extra mid around stoppages and the cut under his eye by the end of the game was testimony to the way he fought it out for the sake of his team.
Ratten said Battle's efforts – and that of those around him – to overcome adversity had a bit of an Anzac feel to the effort.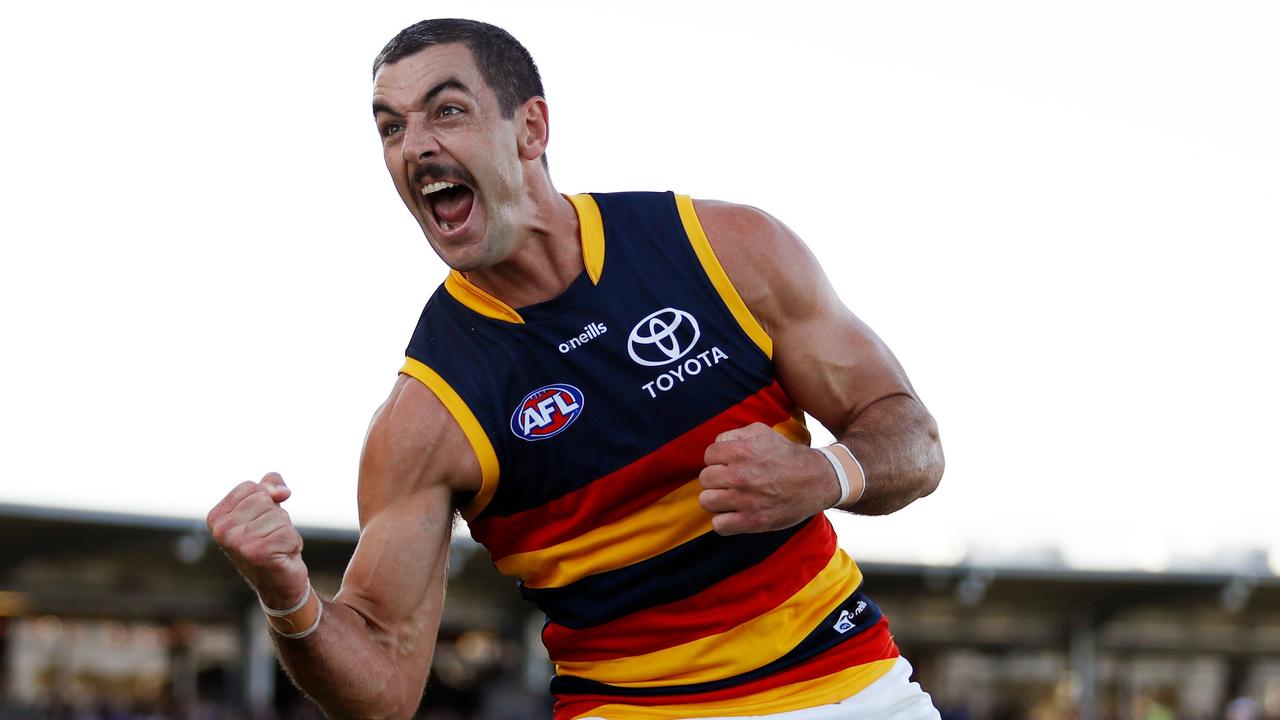 Taylor Walker celebrates the winning goal against the Western Bulldogs at Mars Stadium. Picture: Dylan Burns/AFL Photos via Getty Images
TEX, CROWS DO IT THE HARD WAY
Taylor Walker didn't just become the 61st player to kick 500 goals on Saturday; he sealed the deal for the super-fit, value-for-money Crows with his 501st major.
Given how hard Matthew Nicks' team fought at Mars Stadium, it would have been an injustice if they hadn't edged in front of the Bulldogs.
Late misses to Josh Rachele and Ned McHenry left the door ajar before Walker stepped up to slam it shut.
One of those misses saw Caleb Daniel shank a kick-in to a grateful Lachlan Gollant. He chipped it to Tex who coolly slotted through the crucial goal from a tough angle. It was never going to miss.
If you listen to Walker, the Crows' best recruit might well be fitness guru Darren Burgess, who has got Adelaide's players in the best physical shape they have been for some time.
That fitness is coming to the fore in final terms, when games are in the balance. Four of the Crows' six matches have been decided by four points or less — three of them wins.
It was also the first time Adelaide has won back-to-back games since Round 3-4 last season.
PORT DINE FROM THE 'BUFFET TABLE'
Was this the quarter that revives Port Adelaide's season and saves Ken Hinkley's job?
We won't know until they take on St Kilda in Cairns, perhaps even longer, but the Power's 7.3 second term against a listless West Coast at least brought a smile to the coach's face.
Their forward set-up clicked into gear for the first time this season with Jeremy Finlayson and Todd Marshall sharing the spoils, Connor Rozee enjoyed his extra midfield minutes, the axed Karl Amon won a selection reprieve and Ollie Wines was thankfully back again.
As Garry Lyon said on Fox Footy: "They haven't had a feed at the buffet table all year … now they're lining up for a plate."
It was an old-fashioned confidence fill-up.
HOPE SPRINGS FOR DOCKERS AND CO
Four finalists from last year are currently outside the top eight — Port Adelaide, Western Bulldogs, GWS and Essendon.
It's an unusually large fall from grace of the previous year's top eight teams.
Clubs including St Kilda, Fremantle, Carlton, Hawthorn, Adelaide and Collingwood were all in the bottom half of the 2021 ladder and are now all in the top eight or on its fringes.
The Dockers and Saints are now 5-1, sitting second and third.
Remember the Dockers are doing this without Nat Fyfe. They are one of the watchable teams of 2022. Their pressure comes from players such as Sam Switkowski, who kicked two key goals late.
It just proves once again that the wheel can turn quickly for clubs.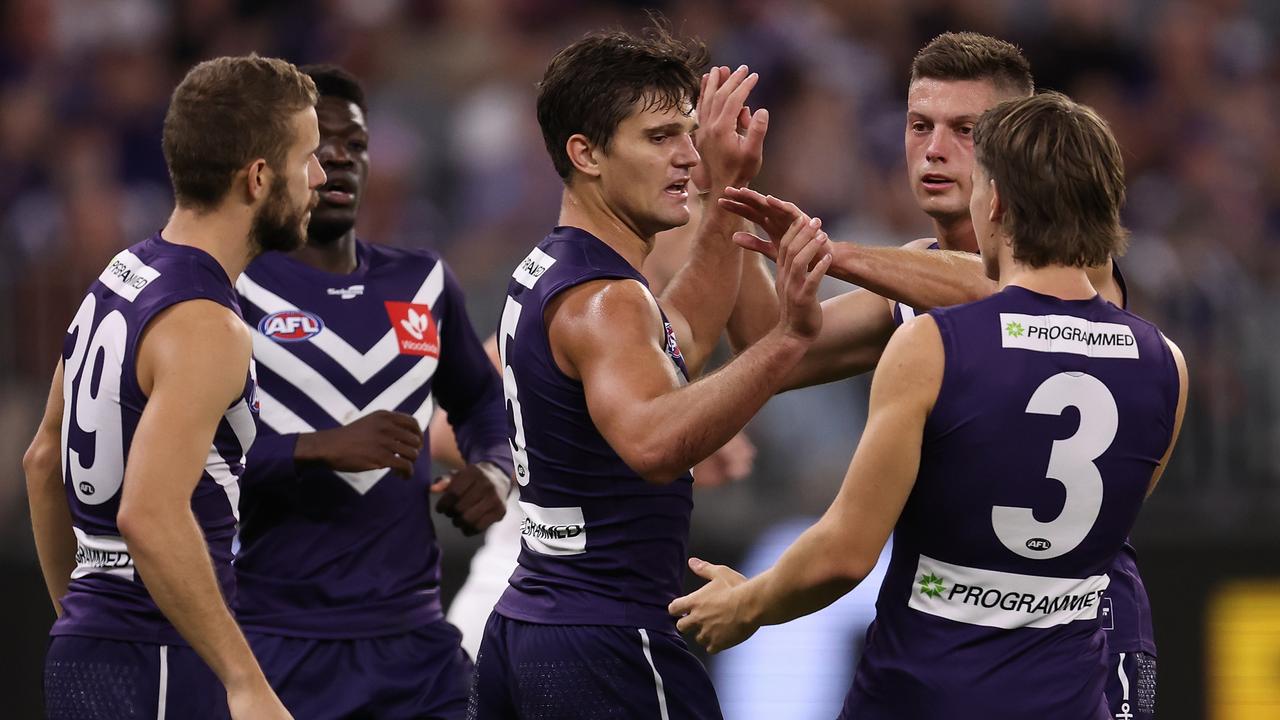 The Dockers are among the sides to have improved considerably on their 2021 ladder position. Picture: Paul Kane/Getty Images
ANZAC ROUND
Yes, this is an obvious like, but the way Australian football has further embraced Anzac Day in a modern sense has taken this country's most significant day to the next generation.
It just works.
The beauty is that it isn't just a Collingwood and Essendon occasion anymore, although that still sits as the focal point of Anzac Day, with more than 80,000 people expected on Monday.
The fact that other clubs get the chance to take part in Anzac Round, as opposed to Anzac Day, takes the occasion to a wider audience.
The annual Richmond and Melbourne Anzac Eve fixture — tipped to have a crowd of 65,000 — is gaining more and more traction each year.
The Last Post – and the national anthem — at all matches has become a great tradition, and long may it last.
In an increasingly uncertain world, the one certainty is this country has a lot to be thankful for.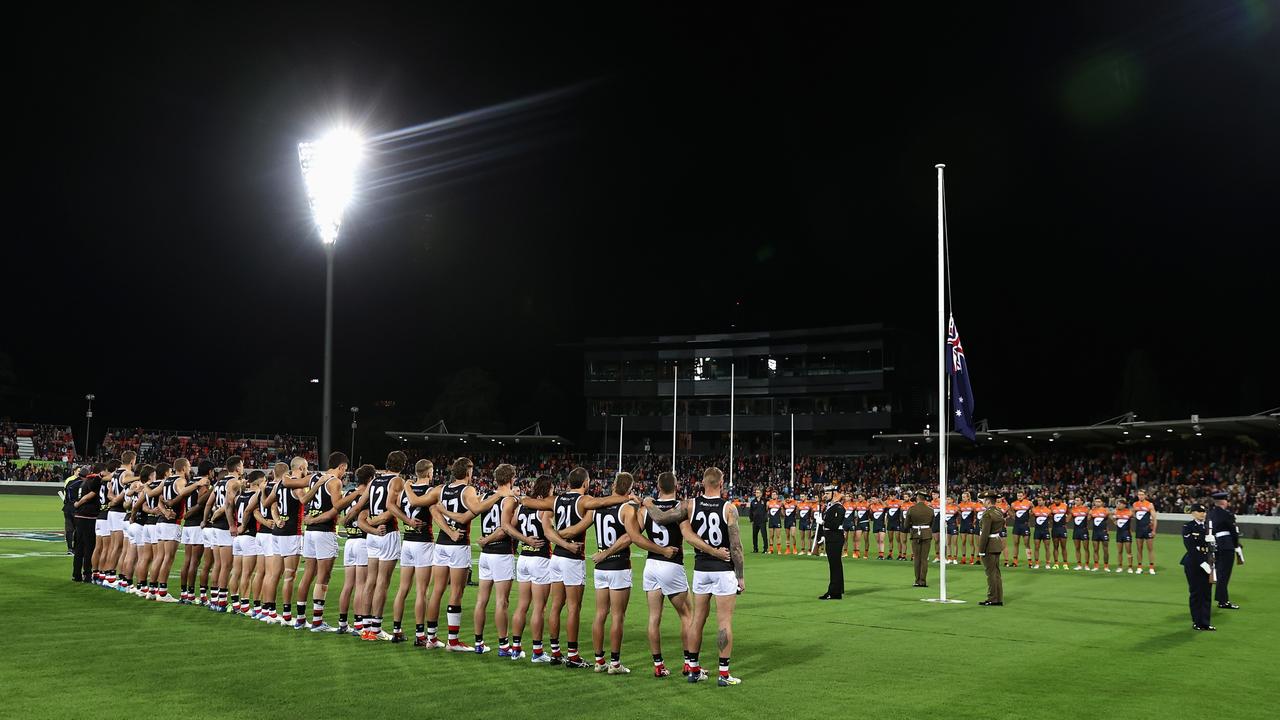 Players line up during an ANZAC Observance Ceremony at Manuka Oval. Picture: Cameron Spencer/AFL Photos/Getty Images
SAINT STEAMROLLERS
Teams on a roll are always a dangerous proposition, as the clubs who have taken on St Kilda since their Round 1 slip up can attest.
Their ability to pile on successive goals has been a highlight.
They kicked five goals in a row in the Round 2 win over Fremantle; 10 straight in their Round 3 demolition of the Tigers; five on the trot in Round 4 against Hawthorn; and then another four in a row to get over the top of the Giants in Canberra.
Momentum is intoxicating … and the Saints are doing it as well as anyone right now.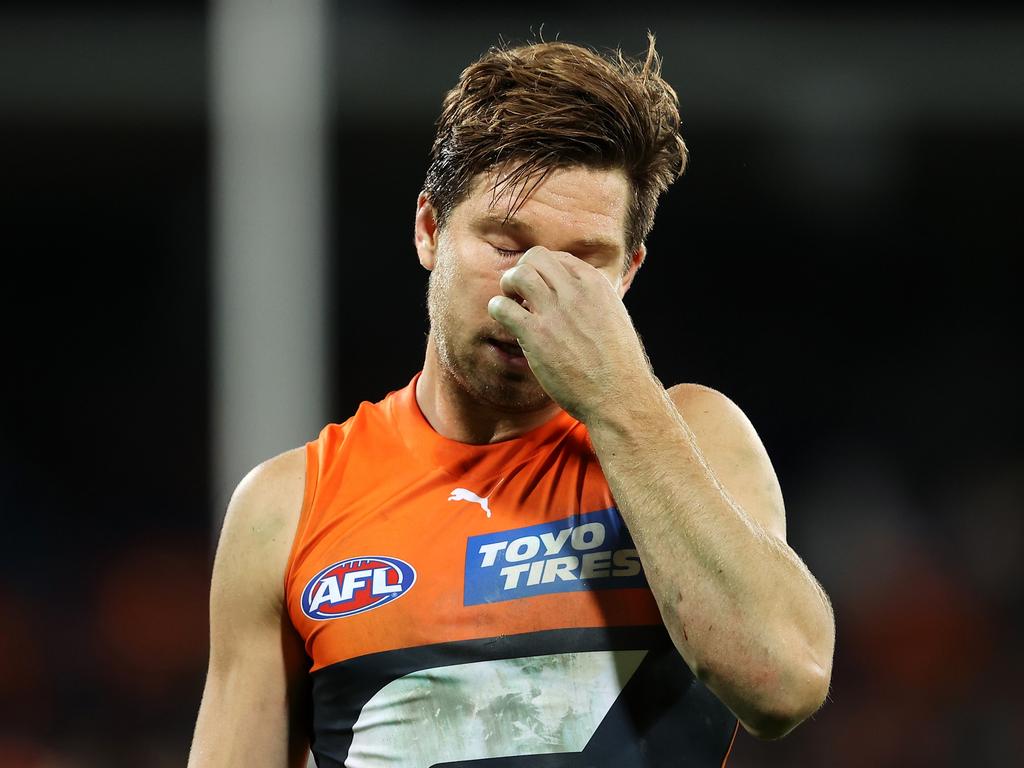 Toby Greene looked rusty. Picture: Mark Kolbe/Getty Images
DISLIKES
REALITY CHECK FOR BLUES
The Blues boast superstars in Patrick Cripps, Sam Walsh and Harry McKay, but a case could be made that Marc Pittonet is every bit as important structurally.
That's why the ruckman's loss to a PCL injury represents a huge challenge.
Pittonet was subbed early after copping knee-on-knee contact and will spend some time on the sidelines.
Cripps was sensational in his return from a one-week hammy and Walsh tried his heart out, but they still need more help.
The Blues' bottom handful of players need to step up.
Carlton's last six quarters have produced a few causes for concern. They have kicked 11.12 to the opposition's 23.22 since halftime of the Port Adelaide game.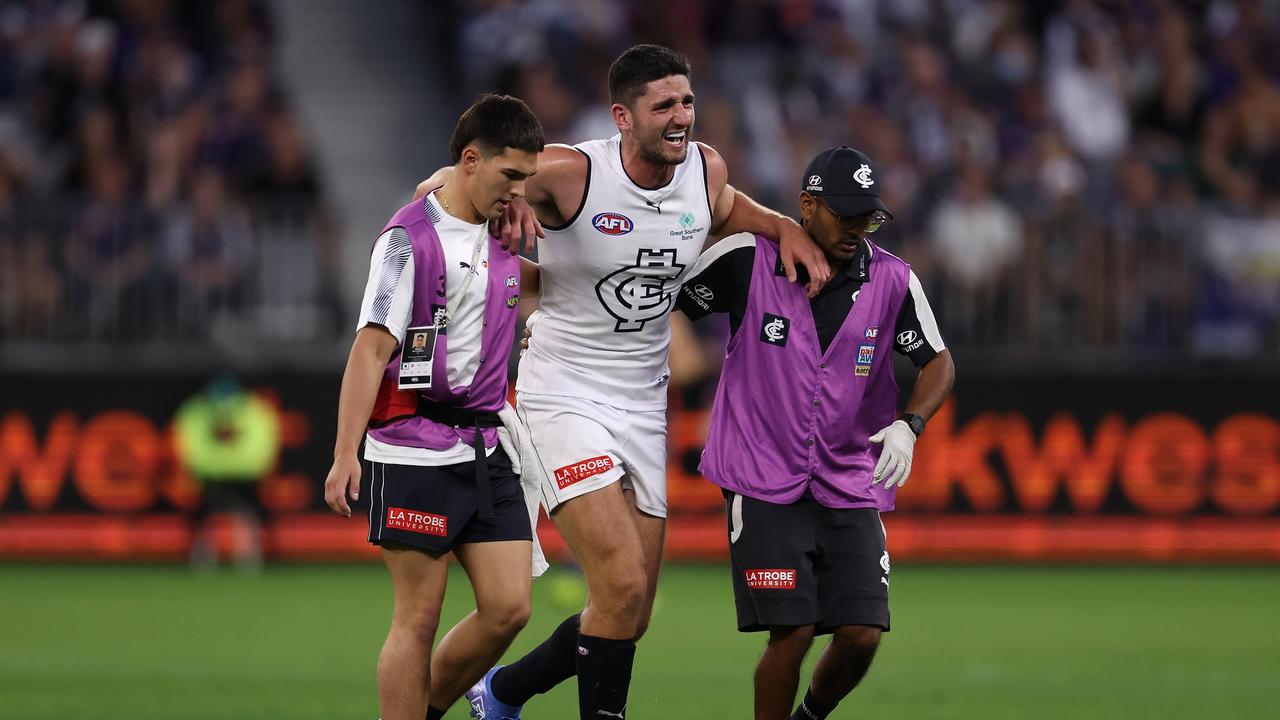 Marc Pittonet was subbed out of the game with a knee injury. Picture: Paul Kane/Getty Images
IS TOBY THE LAST HOPE FOR LEON?
At 1-5, the Giants' season is all but over and Leon Cameron's coaching career is hanging by a thread. They were better against the Saints, but still couldn't produce the goods.
With Cameron's contract talks on hold until the end of the season – which normally spells an exit – perhaps the only man capable of saving him is the man who cost him dearly with a moment of madness in last year's finals, Toby Greene.
In his first game back since his six-game ban for making contact with umpire Matt Stevic last year, Greene was a little rusty but showed enough to indicate it won't be long until he starts to hit his straps.
Importantly, his presence seemed to lift some of the other Giants' mids with Josh Kelly having a strong game, Tom Green recording career-best tackles and clearances and Callan Ward hitting the scoreboard with two goals.
Cameron has done a wonderful job across nine seasons with the Giants. But he is long odds to keep his role beyond next year … unless Toby and co can produce a minor miracle.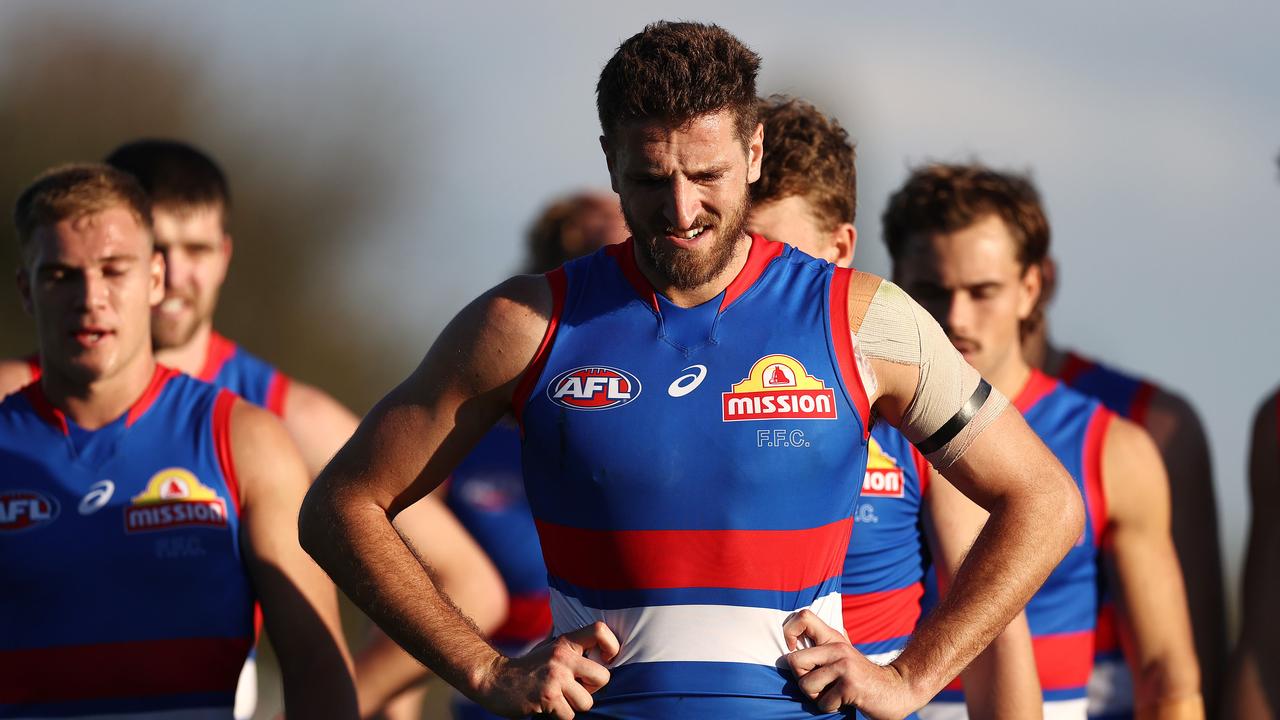 Bulldogs skipper Marcus Bontempelli leads his team off after another disappointing performance which saw them slip to 2-4. Picture: Michael Klein
HURT, HEARTACHE FOR THE DOGS
The post-match image of Luke Beveridge addressing his dejected players in the Mars Stadium rooms after the one-point loss summed up the hurt and heartache the club is dealing with at the moment.
Beveridge revealed that Mitch Wallis is absent at the moment after the tragic death of his mother-in-law last weekend.
He wasn't using it as an excuse for the loss to the Crows, but said: "Your football club is like a second home and a second family and everyone feels that and is really emotional around what is happening around Mitch and (his wife) Emily and their families."
The Dogs are looking wobbly at 2-4, but their short term draw looks favourable — Essendon, Port Adelaide, Collingwood, Gold Coast and West Coast.
An area of concern is in defence.
The Crows took 16 inside 50 marks; the Dogs could manage only eight at the other end.
DISORGANISED, UNDERDONE, DISTRACTED
Can it really be only a few weeks since West Coast staged a stunning heist over Collingwood?
Fair dinkum, it feels like a lifetime ago.
We know Adam Simpson's team has fared worse than any other team in terms of the Covid interruptions and season preparations.
But even allowing for that, the Eagles' team that was systematically smashed by Port Adelaide looked for all intents and purposes, a team ready to put the queue in the rack.
Their embarrassing interchange balls-up in the first term — when they briefly had an extra player on the field — was only part of the problem.
Yet we haven't even reached Round 7 yet?
With an ageing list and questionable depth, somehow they have to salvage something out of this trainwreck of a season.
FIFTY INCONSISTENCY
Brad Scott told us on Tuesday there would be no grey areas this week — any questioning, demonstrative arm gestures or dissent would result in an instant 50m penalty.
But it took all of two minutes in Friday night's Giants-Saints clash to puncture this thought and show the inconsistencies in what was meant to be a well-intentioned ump interpretation ruling.
Braydon Preuss started to gesticulate when he gave away a free kick to Rowan Marshall in the opening few moments of the game before wisely pulling up.
Then Ben Long stretched out his arms on either side of his body as he demonstratively complained to the umpire in a manner that Scott had indicated would be penalised.
He wasn't and received no 50m penalty.
Where was the zero tolerance crackdown we were promised?
Daniel McKenzie was not so fortunate later in the game when he pleaded with the umpire that Callan Ward's mark had actually hit the ground. The finger pointing motion to the ground was the catalyst for the 50m penalty.
The AFL's attempts to eradicate dissent towards umpires is admirable, but the interpretation by different umpires isn't helping their cause. It's just confusing – and frustrating – people even more.
2022 FAIRYTALE OVER … A NEW CONTRACT LOOMS
Footy can be the greatest game in the world, but it can also be among the cruellest.
Jack Hayes never gave up on his footy dream, despite missing nine drafts until he finally got his chance this year for the Saints.
Then, in his fifth game, the 26-year-old former concreter went down in an innocuous marking contest on Friday, clutching his knee.
The mark of his commitment was that he still went over to try and man the mark, even though his knee was shot.
It wasn't long after that the Saints media team tweeted it was a suspected ACL.
Was it any wonder that Saints coach Brett Ratten admitted after the match that there was a bittersweet element to the 17-point win.
Full marks to Ratten, though, for confirming in his press conference that Hayes will definitely get a new deal for 2023, given he was only on a one-year rookie arrangement.
"Jack has had a great introduction to our footy club," Ratten said. "He will have the ACL (operation) and recovery and he will be at our footy club for a long time."
"We will be there for him and will put our arms around him."
That's a footy club that cares for its people.
SECOND HALF WOES
The Giants' second half-fades roll on and Cameron has no real explanation for it.
For the sixth time this season, the GWS side was outscored in the second half by their opposition. Their tally in the second half sits at a collective 21.34 in quarters three and four compared to 48.32.
Is it a fitness issue? Insiders suggest it isn't, so that comes back to mindset, effort or strategy, which means the Giants need to find a way – and fast – to extract more in the second half of matches, starting with Adelaide at the Adelaide Oval next week.
SELECTION DISSECTION
Collingwood originally recruited Brody Mihocek as a back-up defender. But out of necessity and his own good form he has carved an impressive career as a very effective forward.
So imagine the surprise to see the Magpies name Mihocek named in a back pocket in their selected team for Anzac Day. And why was Jack Madgen named on the centre-half forward?
This isn't a dig at Collingwood; it's just a fact that the teams we get from ALL clubs on a Thursday night bear little resemblance to the one that runs out on the weekend.
It's also why this traditional footy fan who used to stay up late on school nights to watch League Teams and who looked forward to The Footy Shows ins and outs has changed his tune on how we get our teams now.
Perhaps clubs should just name a squad of 22 players every Thursday night, instead of in field position, given how inaccurate those selected teams end up being.
MUTE POINT
The social media critics of Channel 7 got their wish for almost a minute during the early stages of the last quarter of the Saints-Giants game – the audio link inexplicably failed.
Gremlins momentarily crept into Canberra, but it is doubtful this was the work of hackers looking to make a statement – more a systems failure that silenced BT, JB, Richo and Daisy.
It came just moments after the screen froze and almost went fuzzy before kicking into gear.
Thankfully, the audio was restored after a short interval as the Saints managed to stave off one last Giant threat.
NO PLAY THURSDAY
I don't like Thursdays … without footy.
After five rounds of Thursday night, we got zilch this week and all it did was give sports-mad fans the chance to switch over to the NRL or chase a winner at Pakenham races.
We need the AFLPA and its players to give some ground on the number of five day breaks they are willing to have as part of the next CBA agreement and we need the AFL to stump up the money for them to ensure we have 20 or more Thursday stand-alone games in 2023.
The game needs it; the fans want it. And while we are at it, the fixture gurus (who have done a sterling job in recent seasons) need to limit the overlap of the nine games wherever possible.
Originally published as The Early Tackle: All the Likes, Dislikes and talking points from Anzac Round