AFL Port Adelaide v Sydney: All the latest news, scores and reaction out of the round 14 clash
Scans have confirmed the nature of Port Adelaide star Zak Butters' knee injury. Here's what it means for his return timetable.
Port Adelaide has confirmed Zak Butters has suffered a medial ligament sprain, which the midfield star is hopeful will only sideline him for one to two weeks.
Butters was subbed out in the second term of the Power's win over Sydney at the Adelaide Oval on Saturday after injuring his knee in a tackle.
Watch every blockbuster AFL match this weekend Live & Ad-Break Free In-Play on Kayo. New to Kayo? Try 14-Days Free Now >
Scans on Monday confirmed Butters had suffered a grade two medial ligament sprain.
Port would not put a time frame on how long Butters would be sidelined until medical staff could assess him upon his return to Adelaide after a pre-planned visit to Sydney.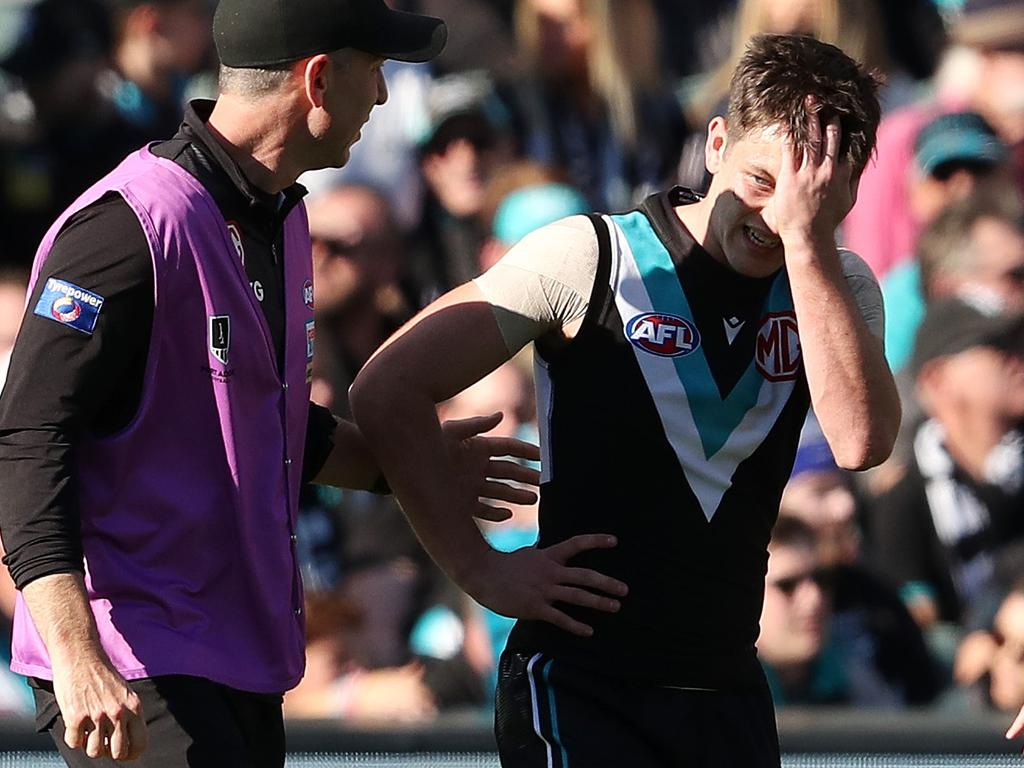 Zak Butters' disappointment is obvious after he suffered a painful knee injury. Picture: AFL Photos via Getty Images
But Butters said the injury was the same as one to the other leg which only kept him out for one game last season.
"It's a grade two medial (sprain), so pretty much the same as I did on my leg last year but it's just the other leg this time," Butters told SEN SA on Monday.
"I missed one week with it last year, so hopefully if I could get a similar result to that I would be pretty happy.
"It feels pretty much the same, the first few days are always pretty sore … but you can strap medials pretty well to try and lock them in as much as you can.
"I only missed one week last year so if I can get something similar to that I will be pretty happy."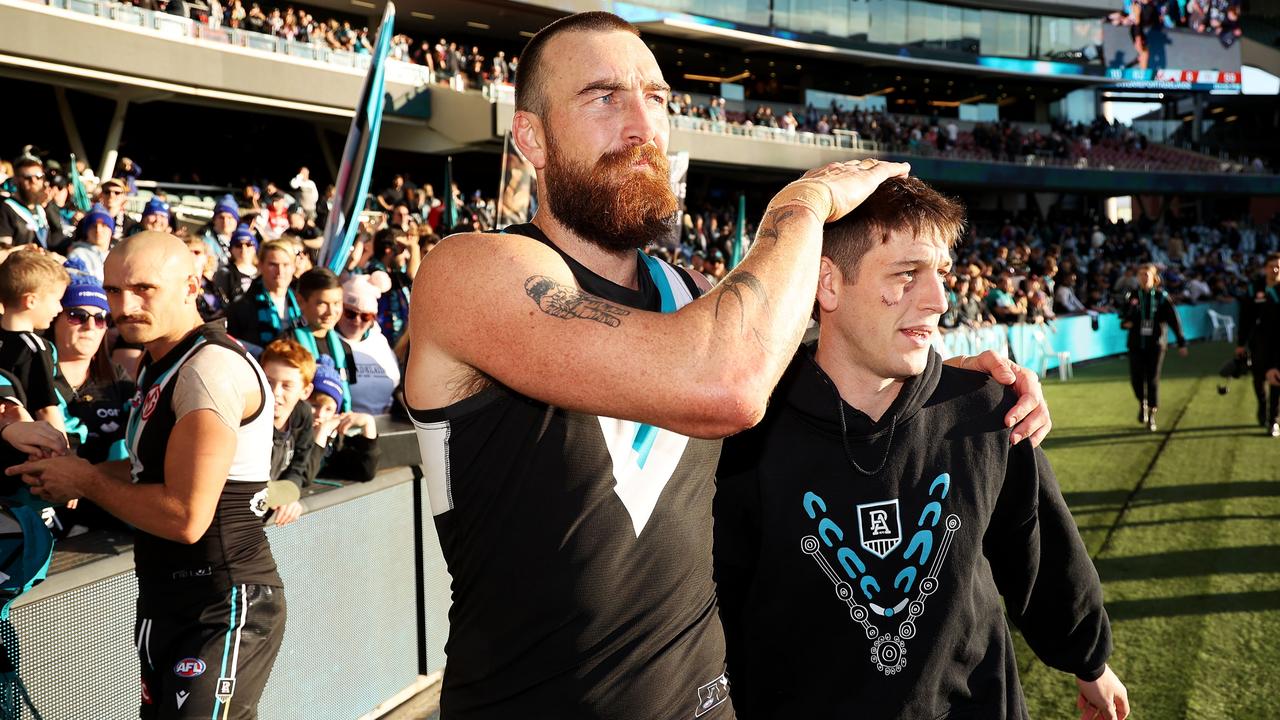 Charlie Dixon with injured teammate Zak Butters. Picture: James Elsby/AFL Photos via Getty Images
Butters' injury comes after debutant Brynn Teakle underwent surgery on Sunday to repair a broken collarbone he suffered against the Swans.
Teakle, plucked from the mid-season draft two weeks ago, is expected to be sidelined for six to eight weeks following the surgery.
His AFL debut lasted less than half a game after he fractured his collarbone in a big bump on Justin McInerney in the second term.
Teakle goes under surgeon's knife, season over
—Rebecca Williams and Russell Gould
Port Adelaide debutant Brynn Teakle has undergone surgery to repair a broken collarbone as the Power sweats on scans to determine the extent of Zak Butters' knee injury.
In a short-lived start to his AFL career, Teakle is expected to be sidelined for 6-8 weeks after going under the knife on Sunday following his injury in Port's win over the Sydney Swans on Saturday.
Plucked from the WAFL in the mid-season draft two weeks ago, Teakle's debut lasted less than half a game after he fractured his left collarbone in a big bump on Justin McInerney in the second term.
The Power said Teakle was "recovering well" after the surgery, which will sideline him until the end of the season.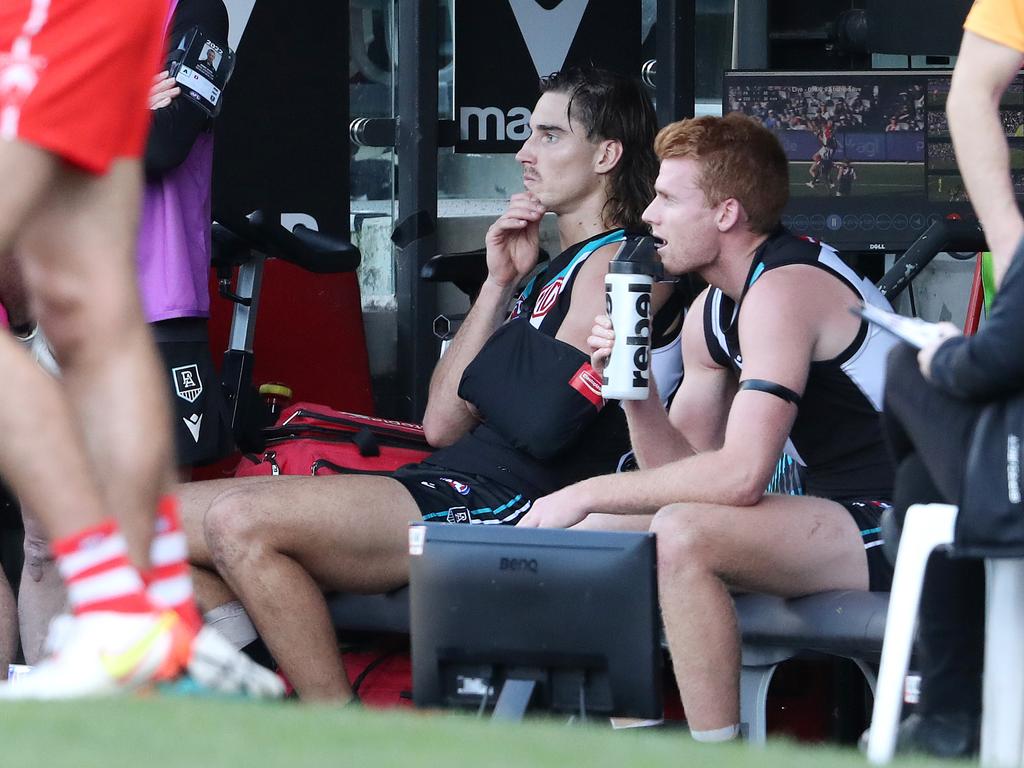 Debutant Brynn Teakle was forced to the bench with his arm in a sling. Picture: AFL Photos/Getty Images
The 22-year-old ruckman had earlier posted a picture of himself from his hospital bed to social media declaring he would be "back in no time".
Port Adelaide assistant coach Nathan Bassett has confirmed there's a "positive future" for Teakle at Alberton.
Teakle's injury could open the door for 202cm ruckman Dante Visentini to fill the breach as Port look to take on Gold Coast's own 208cm giant, in-form captain Jarrod Witts in the continued absence of Scott Lycett.
Despite having only signed a short-term contract until the end of the 2022 season, Bassett said there was enough to like about the 22-year-old to suggest Port could want to re-sign him for 2023.
"People were excited with what they saw," Bassett said on Monday after declaring Teakle would be out for at least six to eight weeks.
"His ability to run and follow up and take the ball cleanly, he has some nice enthusiasm around the footy club and he is great size.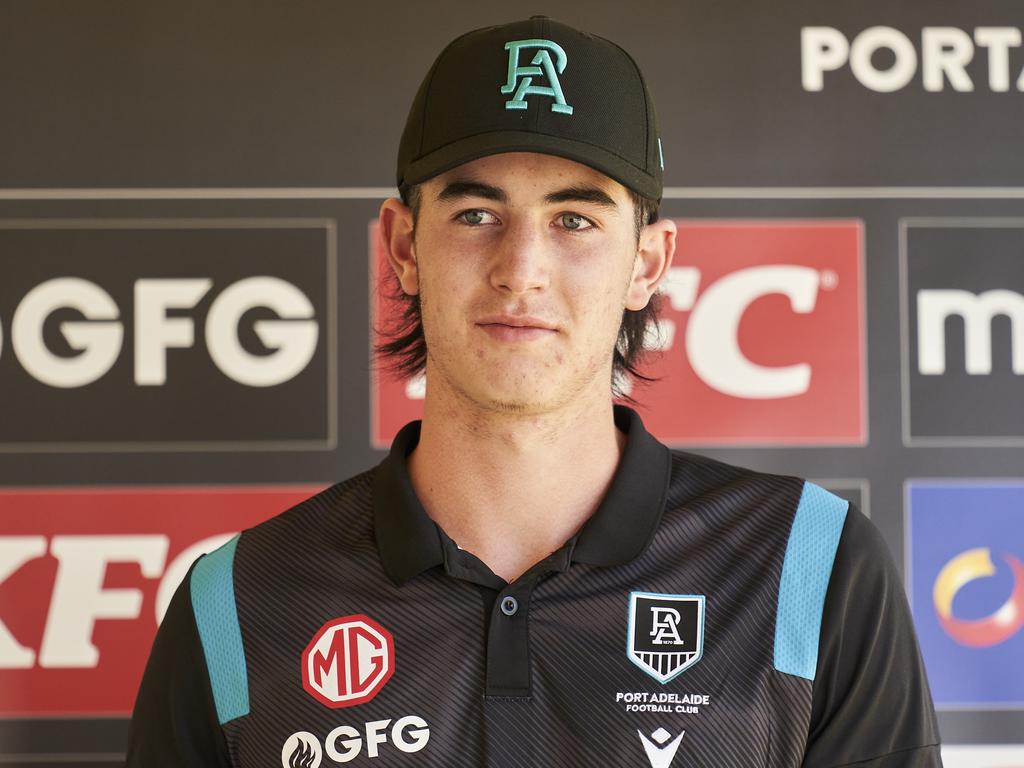 Dante Visentini recently re-signed with the club. Picture: Matt Loxton
"There is certainly a positive future for Brynn in footy. If you are over 200cm, enthusiastic and want to learn, there is a good chance you are going to be around for a while. He is all those things.
"We saw 35 minutes (on Saturday) and half an hour at Elizabeth (in the SANFL), but he has been great to have around the club. He is a good young man and I am sure he will do well."
Veteran Robbie Gray could make a quick return to the team after he took a week off to deal with a lingering knee issue.
"We are having conversations with Rob along the way in terms of his fitness – and when he feels better to play again," Bassett said.
But addressing the ruck situation, Bassett said "we've liked what we have seen" from Visentini, with Sam Hayes also an option.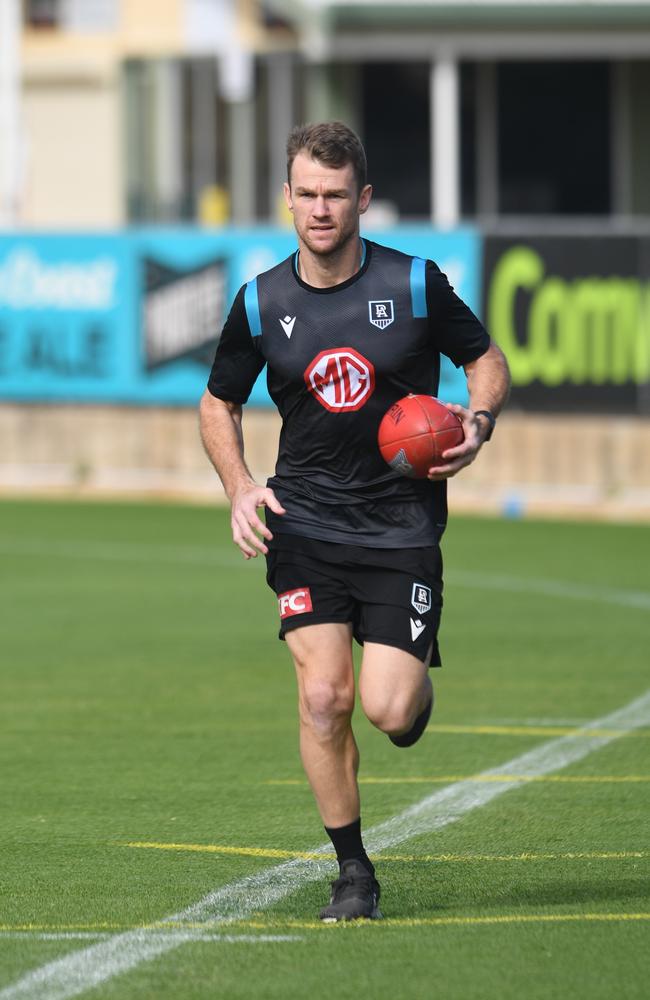 Robbie Gray is up and running and could make a swift return to the Power. Picture: Tricia Watkinson
"He is good fun to watch. He plays tough. He is a really good young learner," Bassett said of Visentini.
"It is very much about the follow-up work on the ground (rather than just the hitout count). If the midfielders can do a good job limiting the direct hits – that give the opposition those hit-outs to advantage and get out the front of a stoppage – then the follow-up around the ball becomes really important.
"It is a combination of what the ruckman can do with his hit-outs – and what the (midfielders) can do on the ground … and how the ruckman can support that."
Former captain Travis Boak is also set to return to play the Suns having not reported any major issue from last week's absence due to the AFL's health and safety protocols.
.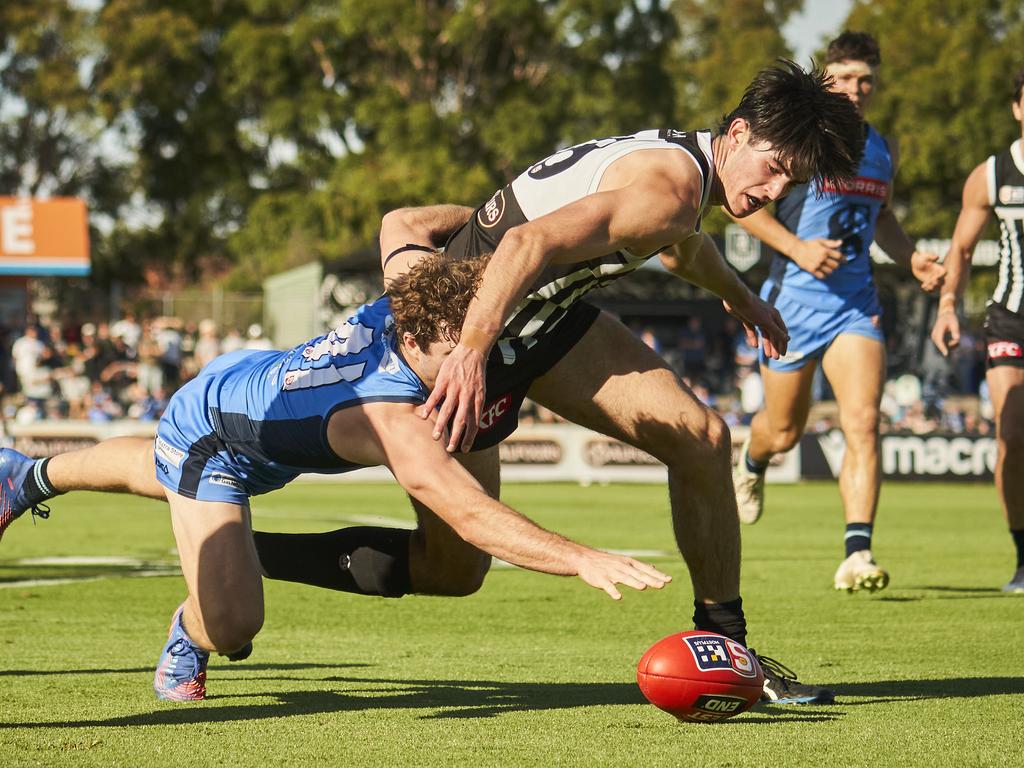 Port like what they've seen rom big Dante Visentini. Picture: Matt Loxton
Pressure-packed Port's plan for unlikely finals berth
—Matt Turner
Fierce pressure and tackling were major factors behind Port Adelaide recording a 23-point home victory against Sydney on Saturday.
The Power beat the Swans with an in-your-face approach that resulted in a +21 tackle discrepancy (72-51) despite the hosts having 78 more possessions.
Port Adelaide also recorded 11 more tackles inside 50 than the visitors (18-7), helping ensure it won the territory battle and forced several sloppy turnovers that led to goals.
It was the Power's second-best inside-50 tackle count for the season, bettered only by 28 in the 84-point smashing of an undermanned West Coast in round 6.
Sydney coach John Longmire called the pressure elite.
Off-season recruit Jeremy Finlayson told News Corp getting at the Swans had been a focus for the Power all week.
"We were just at them and at them and at them," Finlayson said.
"Jona (captain Tom Jonas) just said it before, the crowd when one (player) laid a tackle, they wanted another one and the boys just wanted to get involved."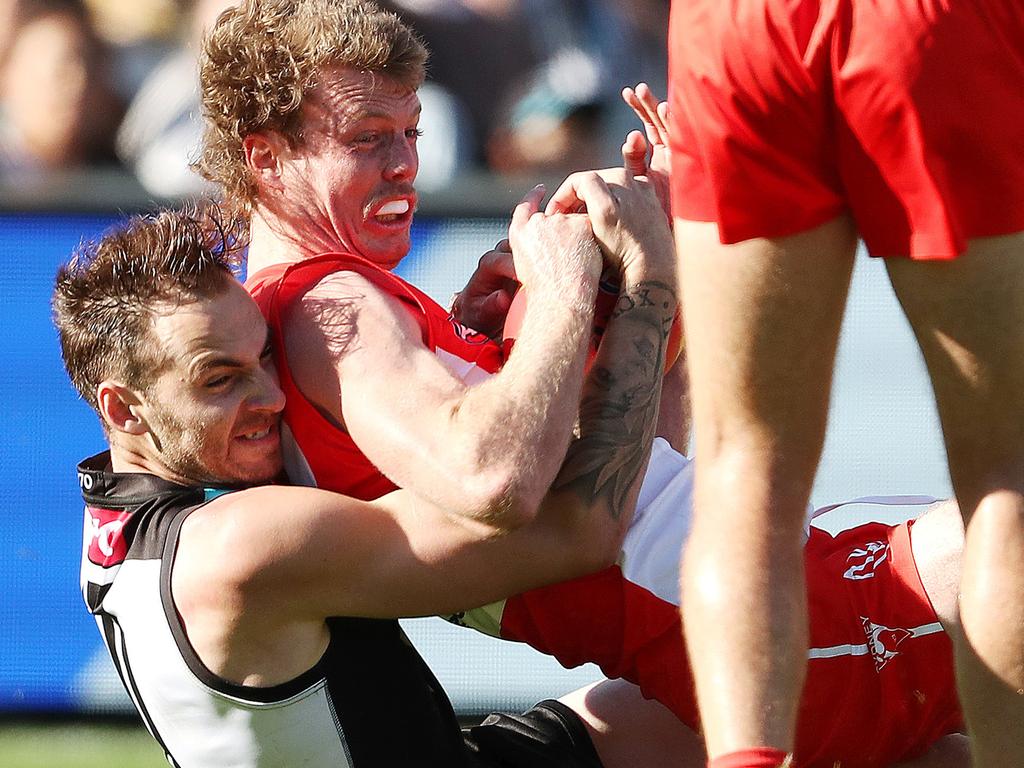 Power recruit Jeremy Finlayson said his team was steeled for a pressure-packed effort against the Swans. Picture: AFL Photos/Getty Images
The Power's pressure was immense from the outset.
And the high tackling numbers came with its biggest forward line of the season.
Saturday was the first time Charlie Dixon, Todd Marshall, Finlayson and Mitch Georgiades had lined up together, given Dixon had been injured and Georgiades out of the team.
There was another tall rolling through the attack – debutant Brynn Teakle, who led the ruck until breaking his collarbone during the second quarter.
The line-up dispelled any thought that four talls plus a ruckman would struggle to provide enough pressure to defeat quality opposition.
"I think our talls actually do it pretty well," Power coach Ken Hinkley said.
"Jeremy actually said to me the other day 'when the ball's in the air, you're a tall, but when it floors be a small' and that's a good way to play."
The Power might want to stick with the four talls plus a ruckman, even with Teakle and Scott Lycett (shoulder, three to four weeks away) sidelined.
Port Adelaide was 7-1 when it played Dixon, Marshall, Georgiades and Peter Ladhams alongside Lycett last year.
Georgiades missed both finals due to a hamstring injury.
Finlayson arrived at Alberton from GWS to essentially replace Sydney-bound Ladhams.
There were doubts about the ex-Giant's ruck craft, but he told Port Adelaide straight away he enjoyed being in the middle and he had since shown improvement every game.
Last week, when the Power overlooked recognised ruckmen Teakle and Sam Hayes, he toiled hard with Dixon against Richmond duo Toby Nankervis and Ivan Soldo.
On Saturday, he stepped up after Teakle's injury and beat Ladhams in the middle to be among the best players on the ground.
Finlayson registered 16 disposals, 14 hit-outs and five clearances.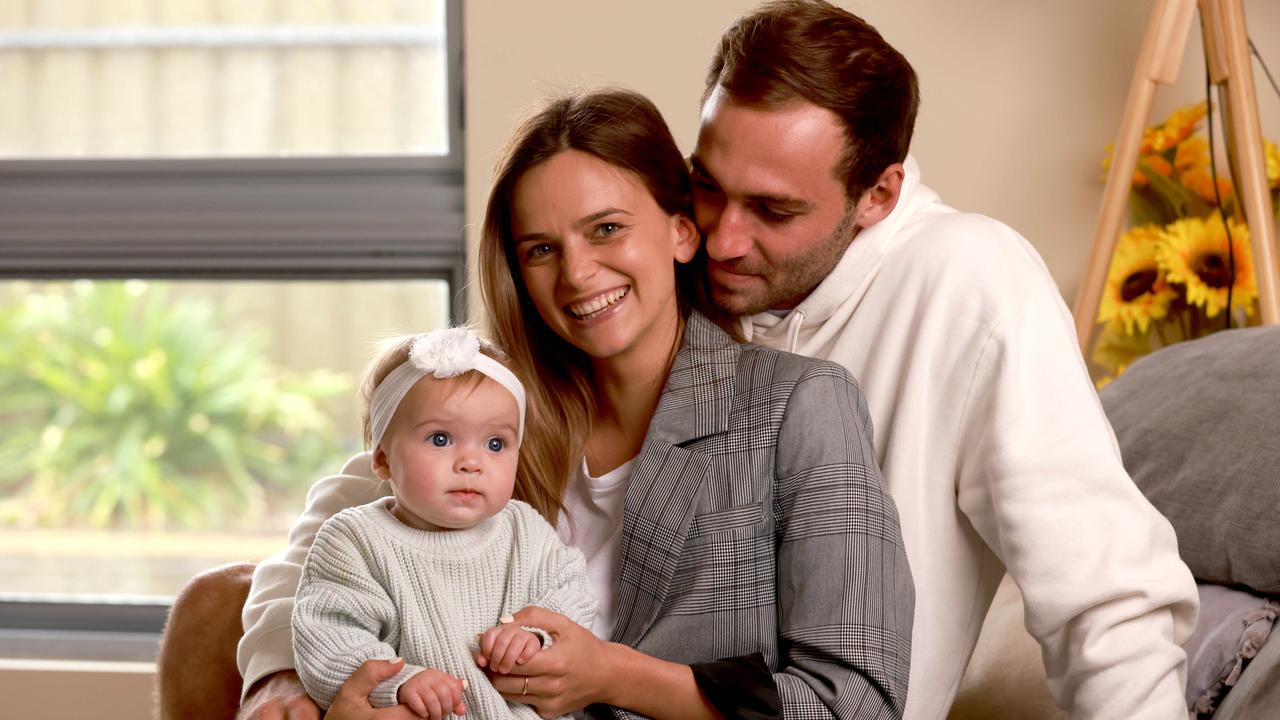 Jeremy Finlayson with Partner Kellie Gardner and daughter Sophia. The pair were engaged last week. Picture: Kelly Barnes
Dropped after two rounds for two games, the 197cm, 94kg New South Welshman has become a key cog in the Power's recovery from a 0-5 start to be 6-7.
And he has done it after enduring an incredibly difficult start to his time at the club.
His fiancee, Kellie – the pair were engaged last week – has battled a cancer in her colon and rectum that was found in November, leading to chemotherapy.
In March, scans showed her tumour had disappeared.
Finlayson said the Power had been so welcoming since the couple arrived in Adelaide with their daughter, Sophia, who was born in August.
"I'm at the stage now where I want to do anything for the team – it feels like I've been here for 10 years," he said.
"You want to do everything you can out on the ground for them.
"If I can put ruck into my game, then go forward, it's a string in my bow.
"At halftime I just had to put my head down and give it a crack."
Saturday was Port Adelaide's first match without either Travis Boak (Covid) or Robbie Gray (managed) since August 2012.
Also missing fellow veterans Steven Motlop (dropped) and Trent Dumont (calf), the Power brought Teakle and two other sub 10-gamers (Martin Frederick, Jackson Mead) into a youthful side, along with third-year forward Georgiades.
"(Aliir) Aliir said it during the week, we had heaps of young boys and they give us energy," Finlayson said.
"Obviously you want Trav and Robbie in there – I know when I'm down forward I look at Rob and he gives me a bit of an up – they're superstars.
"But we didn't worry about it when they went out of the side, we knew the boys coming in had played good SANFL footy."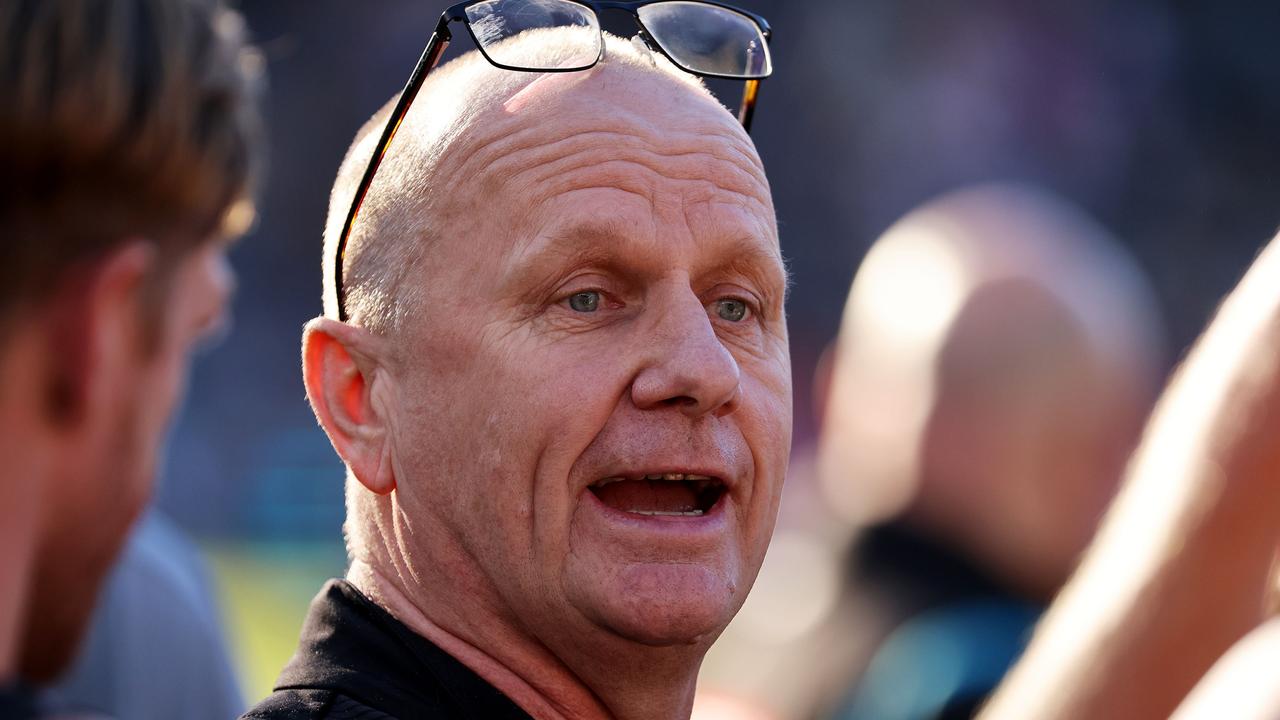 Port coach Ken Hinkley rallies his troops at the Adelaide Oval. Picture: AFL Photos/Getty Images
The youngsters played their role and the Power played like their season was on the line.
A loss would have almost killed off the club's finals chances, but Finlayson said the importance of the game in the context of the year was not spoken about.
"We don't really talk about our season, what's it doing, where we are on the ladder or anything like that," he said.
"There's been no talk about will we win, will we lose, will we make finals.
"We just take it week by week."
Next is another tough task for the Power and potentially Finlayson.
They face Gold Coast at home on Sunday and All-Australian ruck contender Jarrod Witts awaits, even if Hayes is recalled.
Port Adelaide will get Boak back but lose Teakle and Zak Butters (knee) for what shapes as a decisive game to both clubs' finals hopes.
Power back in finals race but win comes with heavy price
—Matt Turner
Port Adelaide will be sweating on the severity of injuries to young gun Zak Butters and debutant Brynn Teakle after Power gave its bid to play finals a major boost.
Both players came off the field during the second quarter — midfielder Butters with a knee issue and ruckman Teakle with a collarbone problem — during the second quarter as Port Adelaide pushed out a brave 23-point win against Sydney.
Butters' class helped spark the Power after the Swans rattled off the first three goals of Saturday's game at Adelaide Oval, but he was subbed out in the second quarter after Harry Cunningham fell across his left leg in a tackle.
The 21-year-old will undergo scans after suffering suspected medial ligament damage in the incident.
He tried to jog on the sidelines but struggled to move laterally, leading medical substitute Xavier Duursma to replace him.
Teakle, who only joined the Power 17 days ago via the mid-season draft, had his left arm in a sling shortly after fractured his left collarbone in a bump on Justin McInerney.
Both injured players had started the game well.
Butters had nine disposals and one goal before he came off, while Teakle had impressed in the ruck and took a nice contested mark early.
"We should acknowledge that Brynn comes in and had the impact that he does but also plays tough and hard," Ken Hinkley said.
"He cops a broken collarbone but he's got enough spunk about him to say as he's walking off at halftime, 'That was the best 35 minutes ever'.
"He's happy with himself and the fact that he's playing AFL football.
"It's a pretty good story.
"We all understand how good Zak can be, he's a pretty important player but he'll miss some time.
"It looks like a medial but as we always are, we're really honest, we'll tell you what happened once we get the information."
Hinkley hailed the superior work rate, effort and pressure of his players in the 12.10 (82) to 8.11 (59) win that keeps the Power in the finals hunt at 6-7.
Fox Footy's Jordan Lewis said Port Adelaide would have been pleased with what it saw from the East Fremantle product.
"He's only played a half of (AFL) football but they've already seen what they could potentially have with this player," Lewis said.
"He was impressive.
"His follow-up work … and his physicality, which unfortunately has caught him undone in the end."
Wines and Rozee lift Power to memorable triumph
—Jason Phelan
Undermanned Port Adelaide has given its bid to play finals a major boost after star duo Ollie Wines and Connor Rozee spurred their side to a famous 23-point win against top-four hopefuls Sydney on Saturday.
The Power held a four-point halftime lead at Adelaide Oval despite losing Zak Butters (knee) and debutant Brynn Teakle (shoulder) in the second quarter.
But Ken Hinkley's men unleashed a withering six-goals-to-one burst in the third quarter that set up the inspired 12.10 (82) to 8.11 (59) win.
The victory, Port's sixth in a row against the Swans, improved their record to 6-7 that keeps them within striking distance of the top eight, while Sydney's top four chances took a hit after slipping to 8-5.
With star veterans Travis Boak (Covid protocols) and Robbie Gray (managed) missing, the situation looked grim for Port early as the slick Swans piled on the first three goals of the match.
But Wines and Rozee were at the forefront as the Power ratcheted up the stifling pressure that brought the Swans undone, with Todd Marshall also prominent with four goals.
Hinkley couldn't resist a dig at some negative media commentary about the rate of 23-year-old's development earlier in his career.
"Some people look silly don't they?" the coach said with a wry smile.
"Sorry, but I've got to enjoy that moment because I've felt a bit of heat for Todd for a good period of time.
"He's a young forward who has taken a bit of time to get to where he can be and he's still got a lot to go, he's got so much more growth still, he's still very young.
"I've said it a number of times and people don't like to listen but the reality is he's had some challenges but he's kept at it and we've stuck with him."
Isaac Heeney and Luke Parker starred for Sydney, finishing with four goals and 25 possessions respectively.
Lance Franklin kicked the first goal of the day in his return from suspension but that was his only major with former teammate Aliir Aliir curbing the star forward's influence after quarter time.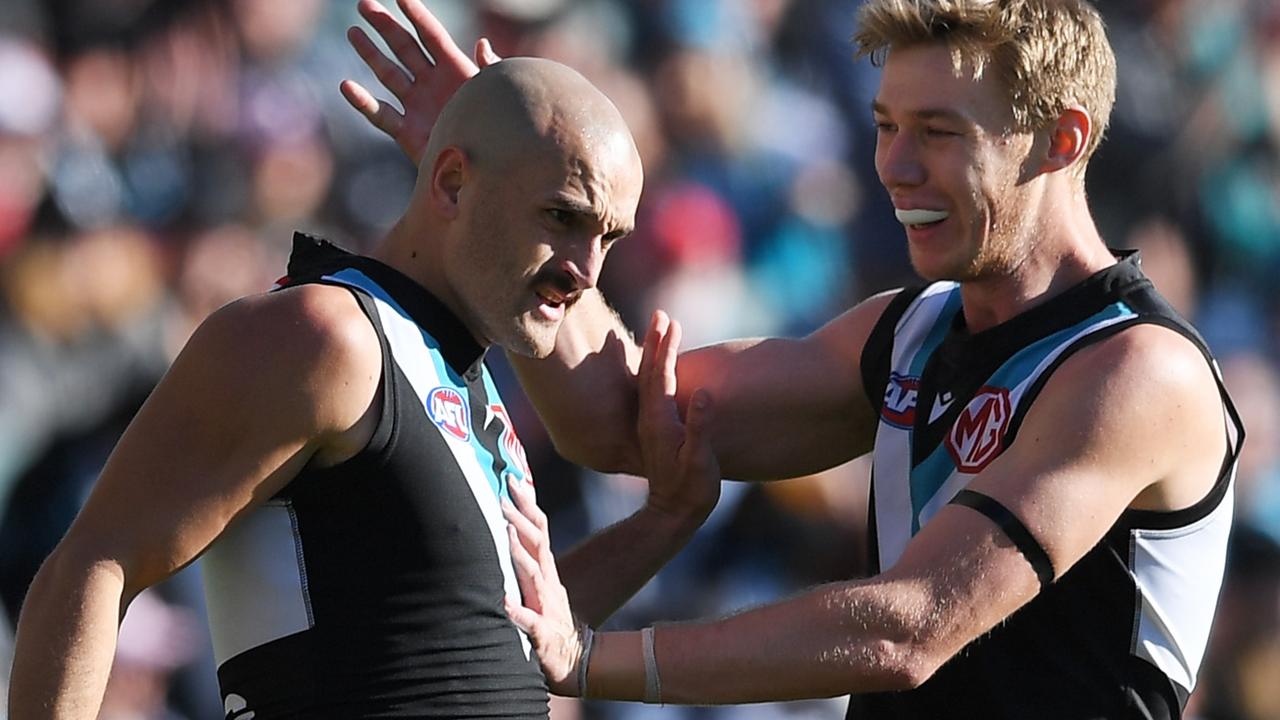 Sam Powell-Pepper celebrates a goal with Todd Marshall. Picture: Mark Brake/Getty Images
LADHAMS LOSES IT
Peter Ladhams played his first game against Port since his off-season switch and the ruckman did his old side a favour with a pair of brain snaps in the third quarter.
With Sydney trailing by 18 points, Ladhams tussled with Lachie Jones off the ball and threw the Power player to the ground, with Sam Powell-Pepper slotting a goal from close range from the resultant free kick.
Just minutes later, in an act that will surely see him miss a game or two, Ladhams drove Wines to the turf then unleashed a right-arm punch to his former teammate's midriff while he lay on top of him.
Charlie Dixon was the recipient of the down field free kick, with his goal helping Port to a 34-point lead at three-quarter time.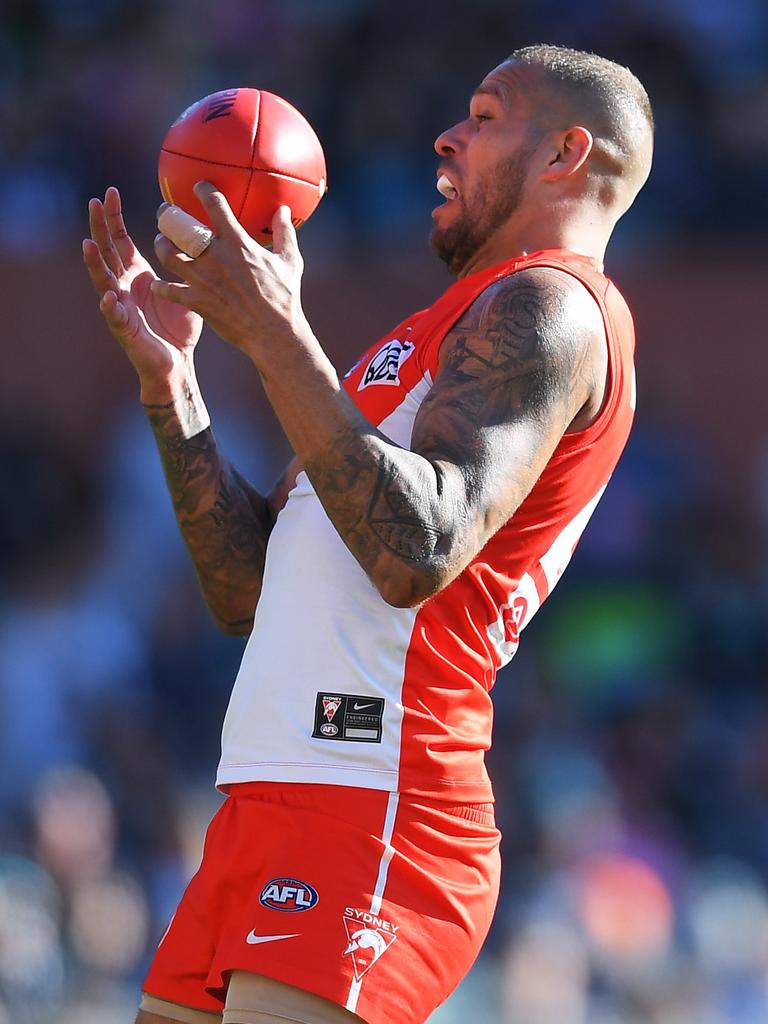 Sydney superstar Lance Franklin finished with only one goal. Picture: Mark Brake/Getty Images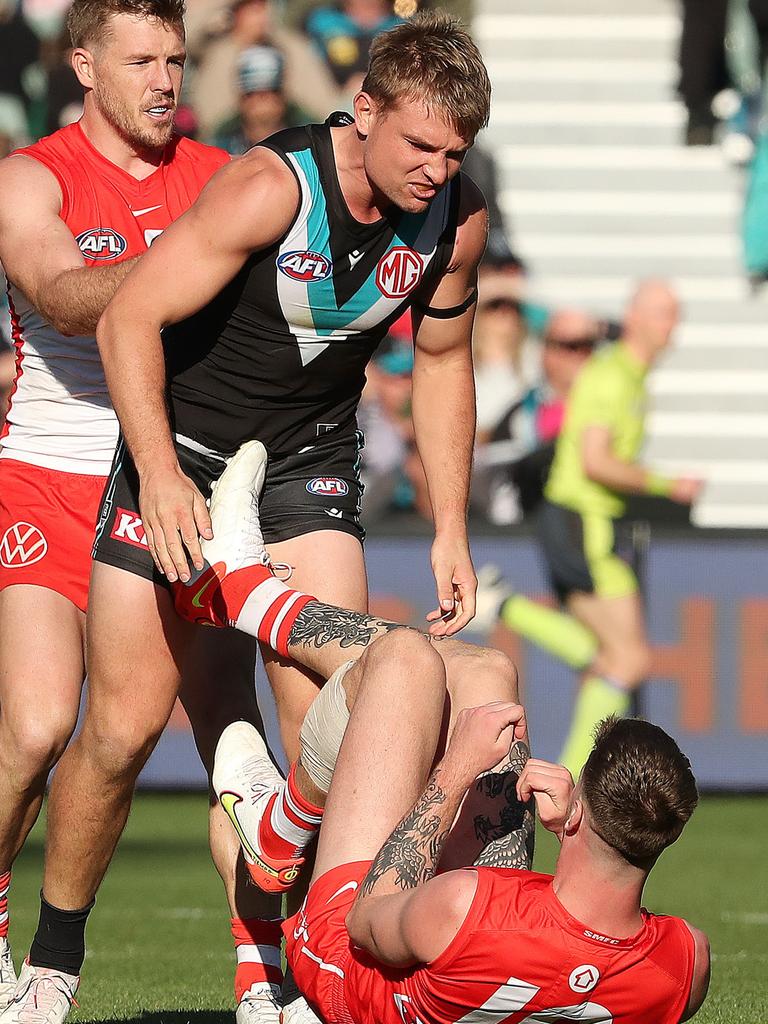 Tempers Flare between Ollie Wines and Peter Ladhams. Picture: Sarah Reed/AFL Photos via Getty Images
BUTTERS BANGED UP
Butters' eight disposals and classy goal after swooping on an ill-advised Paddy McCartin kick helped get Port rolling in the first quarter, but he left the game early in the second term.
The 21-year-old laid a strong tackle on Harry Cunningham that caused the Swan to fall across his left leg.
Butters hobbled from the ground where he had his left knee strapped but he was unable to pass a fitness test, with Xavier Duursma subbed in.
TEAKLE TROUBLE
Teakle made his AFL debut just 14 days after being plucked from the WAFL at the mid-season draft and it will be a first game he won't soon forget.
The 204cm ruckman was thrown straight into the thick of the action at the opening bounce and his first act at the elite level was to give away a free kick to Ladhams.
But the 22-year-old quickly recovered from that inauspicious start to take a superb intercept mark in the first term.
Teakle had nine hit-outs and five disposals midway through the second quarter and laid a fearsome hip-and-shoulder on Justin McInerney that floored the Swan.
The fairytale ended before halftime, however, when he left the match with his left shoulder in a sling following the big bump on McInerney.
SCOREBOARD
POWER 4.3 6.6 12.8 12.10 82
SWANS 3.1 5.8 6.10 8.11 59
PHELAN'S BEST
Power: Wines, Rozee, Bonner, Marshall, Finlayson, Amon, Aliir.
Swans: Heeney, Parker, Mills, Warner, McInerney.
GOALS
Power: Marshall 4, Dixon 2, Burton, Bonner, Butters, Rozee, Houston, Powell-Pepper.
Swans: Heeney 4, Franklin, Ladhams, Mills, Hayward.
INJURIES
Power: Butters (knee), Teakle (shoulder).
Swans: Nil.
UMPIRES
Power, Nicholls, Mollison.
VENUE
Adelaide Oval
PLAYER OF THE YEAR
JASON PHELAN'S VOTES
3 Wines (Port)
2 Rozee (Port)
1 Heeney (Syd)
Longmire says ruckman will learn from ill-discipline
Sydney coach John Longmire has urged ruckman Peter Ladhams to learn from his costly ill-discipline in the loss to Port Adelaide that gifted the Power two goals at a pivotal time in the game.
The Swans rattled through the first three goals at Adelaide Oval on Saturday but couldn't cope with Port's increased pressure after halftime, with Longmire's side conceding six goals to one in the third term before going on to suffer a 23-point defeat.
Playing against his old side for the first time, Ladhams had a day he would rather forget.
With the visitors trailing by 18 points nine minutes into the third term, Ladhams tussled with Lachie Jones off the ball and threw the Power player to the ground, with Sam Powell-Pepper slotting a goal from close range from the resultant free kick.
Just three minutes later, in an act that will likely result in a suspension, Ladhams drove Ollie Wines to the turf then unleashed a right-arm punch to his former teammate's midriff while he lay on top of him.
Charlie Dixon was the recipient of the down field free kick, with his goal helping Port to a 34-point lead at three-quarter time.
"I haven't spoken to him yet, I think we'll just let it die down, there's no point talking about it now," Longmire told reporters after the match.
"You're not going to solve anything straight after a game.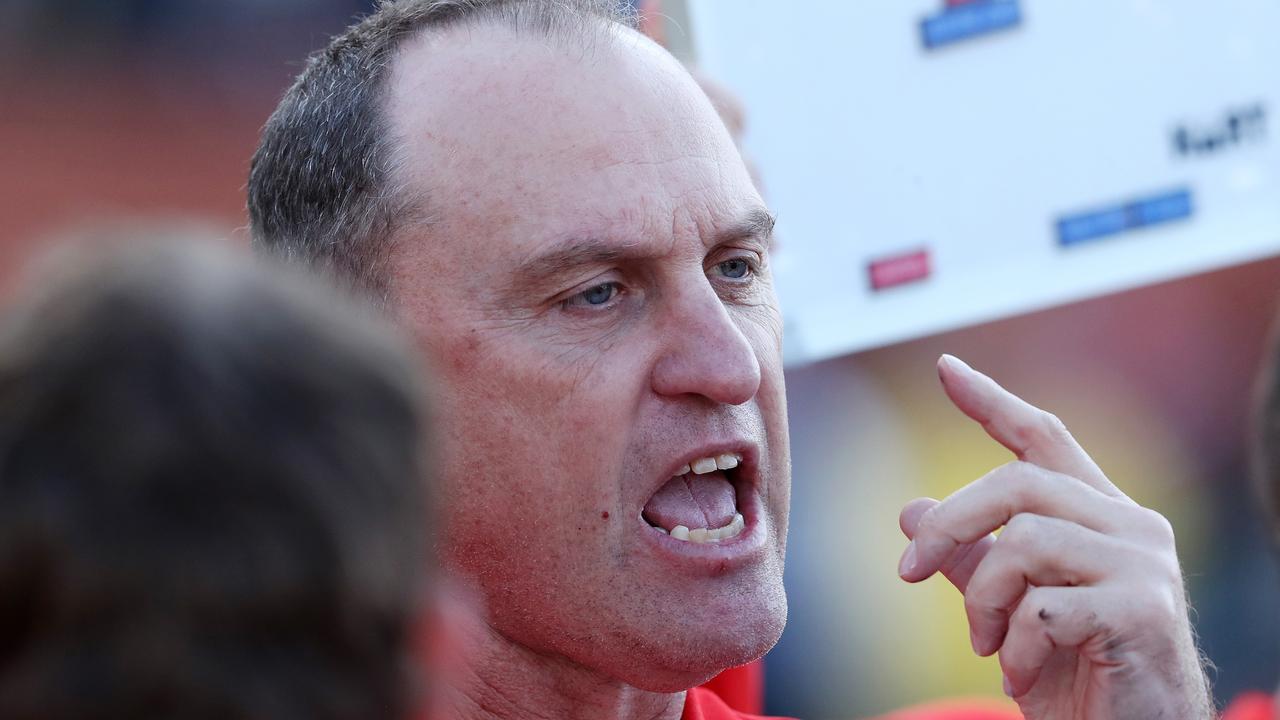 John Longmire has spoken about Peter Ladhams' brain fade which cost the Swans two goals.
"He'll learn from that 10-minute block.
"I don't think that was inevitable … you just learn from it.
"You'd hope it wouldn't happen, (but) it happened, and hopefully he learns from it.
"I didn't see (the punch). I know there was something in it, but I'll look at that on Monday.
"He'll learn from it."
The upset loss dropped the Swans to an 8-5 record and put a dent in their bid for a top-four finish.
Longmire lamented his side's poor kicking for goal when they had momentum earlier in the match, with an inability to cope with the home side's pressure also adversely affecting the quality of entries inside attacking 50.
Sydney now faces a pivotal clash in the context of the race for a top-four finish against fellow hopefuls St Kilda, also with an 8-5 record, at the SCG on Saturday night.
"We've got to be able to be better than that for longer than that," Longmire said.
"We were in the previous two weeks (wins over Richmond and Melbourne) but we didn't get it right today.
"I think their pressure was outstanding, it was top level for a period there, and whether it was through discipline with free kicks that cost us a couple of goals or our ability to get the exits right (cost us) during that 15-minute period."
Originally published as AFL Port Adelaide v Sydney: All the latest news, scores and reaction out of the round 14 clash