AFL Round 13: Richmond v Port Adelaide, latest news and KFC SuperCoach scores
Richmond did their finals chances no harm by holding on to beat Port Adelaide, but it will be matches against Carlton and Geelong that will be the real test for the Tigers.
Until now, Richmond has been in stealth mode in this year's premiership race.
Crouching low to the ground, eyes poised on the prize, Damien Hardwick's men have not been an obvious top-weight contender in the race to challenge a stumbling Melbourne for the 2022 title
But if they had been content in the long grass until now, the time for the flying attack on the flag has come.
Over the next fortnight, the Tigers will officially reveal themselves in clashes against Carlton and Geelong which will either lift Richmond back into serious contention to win their fourth flag in six years, or leave them in danger of missing the finals altogether.
Richmond always looked the better side in the 12-point win against Port Adelaide at the MCG, and would have won more comfortably had it not been for Shai Bolton's five behinds including a howling miss from about 15 metres out.
Liam Baker emerged the hero as the 173cm speedster played like a superstar with his clean ball handling, electric pick-ups and dynamite disposal.
Missed in Thursday night's concussion controversy was just how on earth the pint-sized ball magnet somehow threaded the eye of the needle between two tacklers as Zak Butters and Ton Jones ploughed head-first into each other and then returned to the field within eight minutes, blood still steaming form their gashes.
Baker, whose contract price is rising by the weekend, looks to be on the same trajectory as Bolton as one of those extraordinary, match-turning playmakers who can not only impact the play, but win the game from almost any position.
Hardwick said Baker's last quarter was "pretty special", acknowledging "the enormous heart of the kid" which more than makes up for his short stature in a Caleb Daniel sort of a way.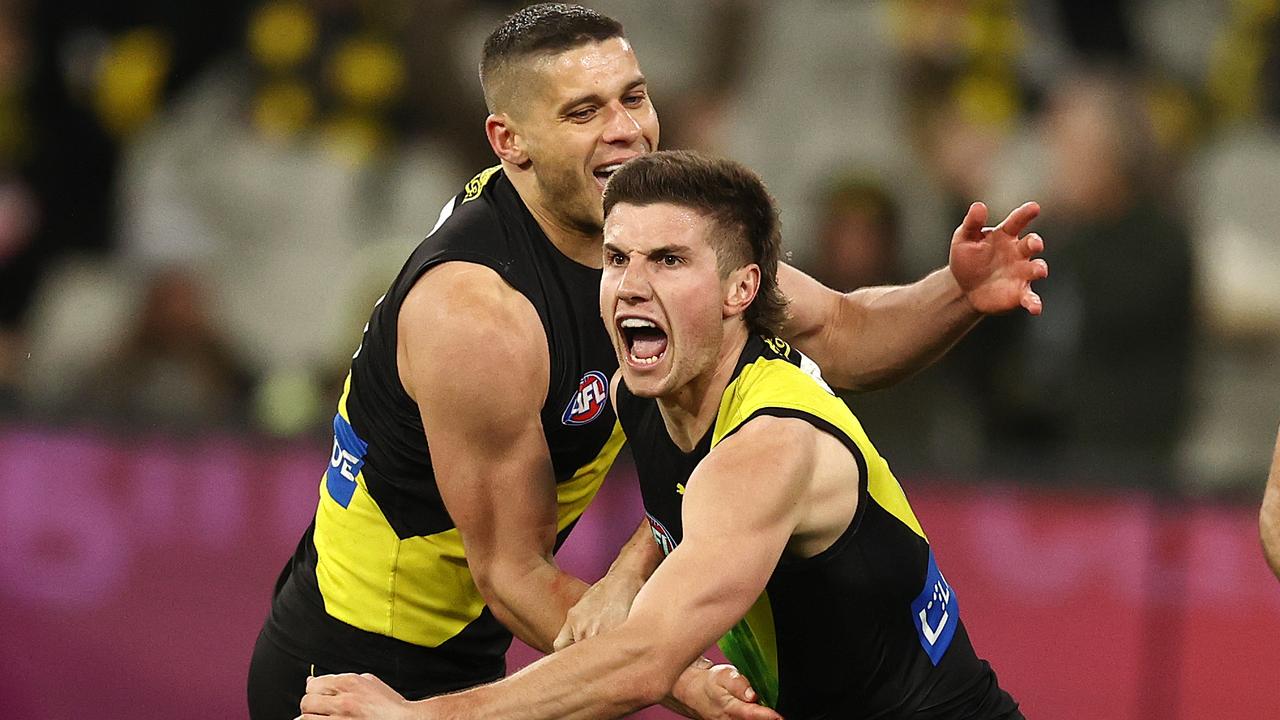 Damian Hardwick said Liam Baker's last quarter was pretty special. Photo by Michael Klein
But it will cost the Tigers to keep him in the team's tight salary cap as his price tag continues to soar.
"He is such an important player and he is out of contract too, so he's not helping us," Hardwick said.
"He is a guy you love to coach because you wind him up and off he goes."
It has been said before but the Tigers' recruiters need a pay rise themselves, considering all the gold they have unearthed from deep underground over the journey.
But before the Tigers' premiership puzzle can really click over the next fortnight, there are no less than two considerable conundrums for Hardwick to address ahead of what he famously dubbed "big boy month" in July.
Bodies get sore, the air gets colder, crowds drop and the finals are still a little way off in the distance.
What is in Richmond's favour is the healthy state of its list.
Spearhead Tom Lynch will; return from a hamstring problem against Carlton in a blockbuster Thursday night clash, leaving the Tigers pretty much at full strength for the upcoming acid test.
What Hardwick has to nut out is where to put Noah Balta after playing ring a rosy with the versatile swingman throughout the first half of the year, and how to better bulletproof the Tigers' clearance game, if possible.
Balta played forward for the first three quarters against the Power but was swung into defence in the last term where he was important, helping patch up a defence which had some nervous moments earlier.
Todd Marshall kicked three early goals on Josh Gibcus and Robbie Tarrant's spot might not be completely safe in the back six after he was beaten on occasions and coughed the footy up.
But with Lynch coming back in, Balta can swing back, joining Dylan Grimes, Nathan Broad, Nick Vlastuin and Daniel Rioli.
Gut feel, Richmond will need him shoring up the back half against the might of Charlie Curnow and Harry McKay and then Jeremy Cameron and Tom Hawkins in the coming weeks.
To the youngster's credit, Gibcus took a crucial mark and goal late deep forward to help seal the win for the Tigers, but to be fair to Port they were playing without a recognised ruckman to lay a heavy spoil on the last line in the tight final term.
The other issue for Richmond, and they have never been a big clearance team throughout their premiership heyday, but it is an area where the Tigers can be put under pressure out of the middle.
Their intercept game largely stands up in the back half, helping the Tigers score impressively on the counter attack.
Their first five goals against the Power all came off the turnover and Rioli and Baker can look unstoppable at times and Dustin Martin was, in a good sign for the Tigers, pretty subdued on Thursday night.
Hardwick won't want the Tigers relying too heavily on Martin's magic to win each week, but instead call for a better spread through the forward half.
The early composure from debutant Judson Clarke was another exciting sign for the future as well as the bullet handpass to Jack Riewoldt in the first term which was almost a direct goal assist in a brilliant start to his career.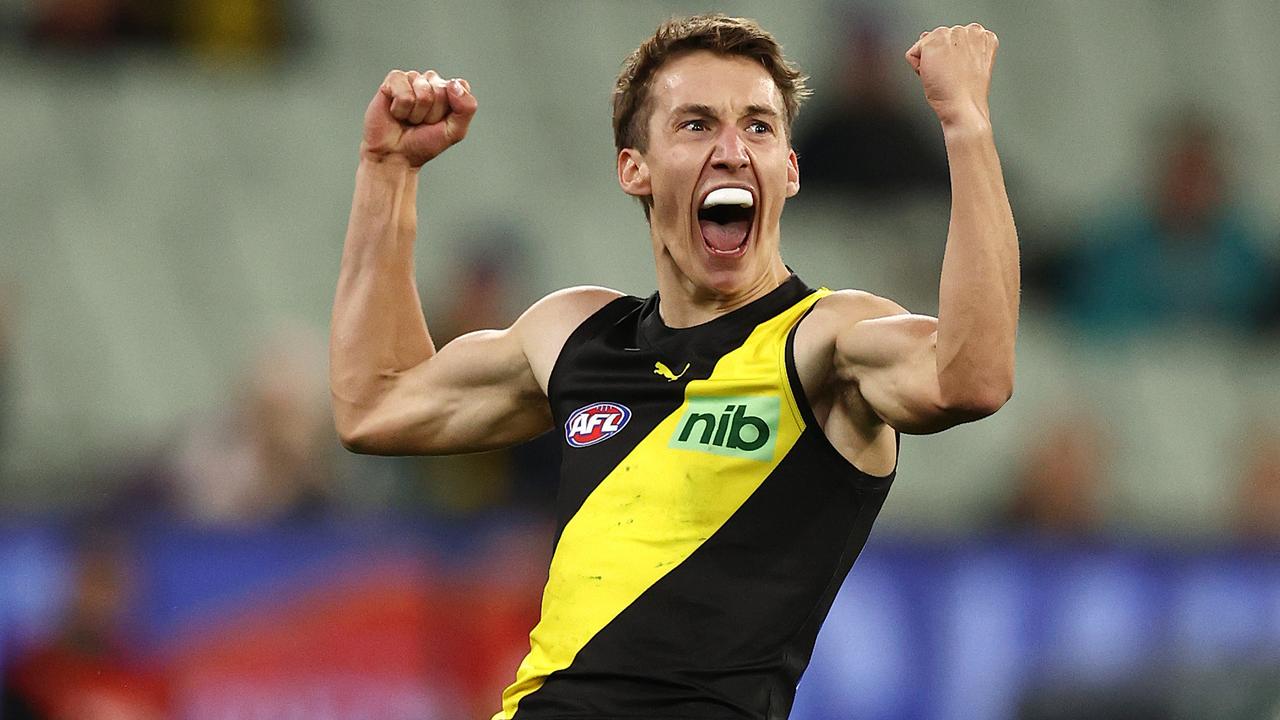 Early composure from debutant Judson Clarke was an exciting sign for the Tigers. Photo by Michael Klein
Hardwick knows the Tigers have been better in the clearance battle over the past six weeks, going from 17th to sixth in clearance differential between Rounds 7-12.
Likewise, their contested possession differential has improved from 15th to sixth. Those sleeves have been well and truly rolled up.
They have been winning more of the hard nut, especially in the forward half of the ground where their intercepts are No. 1 and points from intercepts are No. 1, according to Champion Data.
That's that trademark forward pressure game on show. That premiership brand.
But against Port Adelaide they were shaded 31-38 in the clearance battle despite winning the hit-outs 41-18 against makeshift ruckman Jeremy Finlayson.
Hardwick said they were trying to get the balance in their game right and was generally happier with the style of the team's play over the past six weeks as they prepare to take on the Cats and Blues in a definitive fortnight.
"We have always been a strong turnover side," Hardwick said.
"A stoppage-based side we are not.
"We would like to get a bit better in that area and we were reasonable tonight.
"But what probably happened was we tried some guys forward like Noah Balta and Liam Baker earlier in the year, but we probably found our possession game wasn't to the level that it would be.
"We have started to see the last six weeks, putting a few guys in different positions that all of a sudden that part (high defensive pressure and direct ball movement) of our game gas really returned.
"It is a Richmond DNA, and we probably tried a couple of things to see what we could get moving the ball forward (earlier in the season).
"And it was attractive and those guys played very well, but we weren't playing our style of game, as compared to the past five or six weeks."
As for Balta's best position, Hardwick said he has some thinking to do.
Noah Balta's form at either end of the ground leaves Richmond unsure where his best position is. Picture: Getty Images
"With him and Gibcus, it was sort of always something that we are quite excited by – the fact that we could have both (in the team)," Hardwick said.
"Gibcus goes forward and kicks a pretty important goal and looked really, really damaging up there as well.
"I can't honestly say (where Balta will start). He is going to play forward, he will play some ruck and he will also play back.
"Lynchy is back next week, so we will have some selection dilemmas to go through.
"He is just so important in those big strong contests where you need it (size), too.
"The pleasing thing for me is Noah didn't have his best game but his last quarter I thought was very important when he went back."
Decade-low crowd sours Tigers' thrilling triumph
Ronny Lerner
Richmond have re-entered the top eight after outlasting Port Adelaide by 12 points at the MCG on Thursday night in a game where the AFL's concussion protocols, as well as the Power's medical team, are sure to come under scrutiny.
Star Port duo Tom Jonas and Zak Butters clashed heads in a sickening collision on the wing in the final quarter, leaving them with nasty gashes above the eye and on the cheek respectively.
The incident came at a crucial time with the Power trailing by just two points, but curiously, neither player was concussion-tested, and returned to the field of action in a desperate bid to help their side pinch a victory.
Those efforts would be ultimately in vain, however, and the 11.11 (77) to 10.5 (65) result ensures the Power will finish the round at least two games outside the top eight, and they could be three games adrift if Collingwood upset Melbourne on Monday. In that scenario, the Tigers would also slip back outside of the eight.
Watch every blockbuster AFL match this weekend Live & Ad-Break Free In-Play on Kayo. New to Kayo? Try 14-Days Free Now >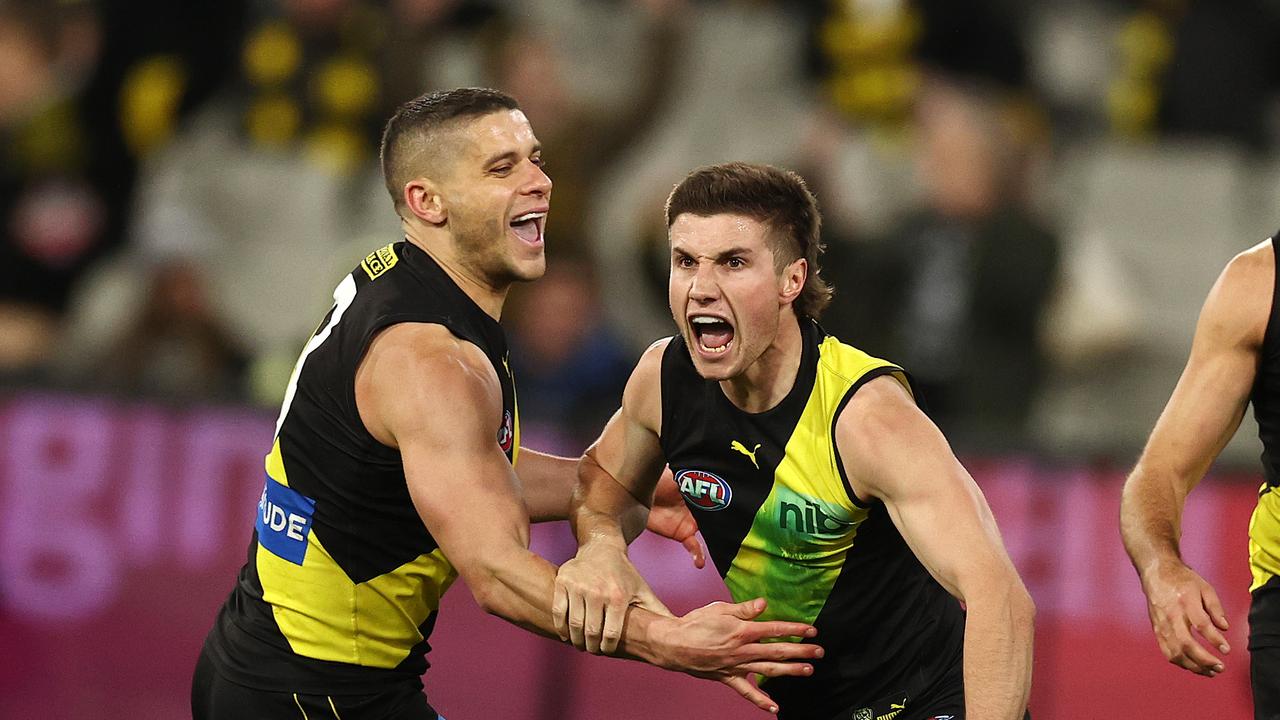 Liam Baker had a significant impact in the last quarter. Picture: Michael Klein
After affording himself some respite with five wins in the past six games, following Port Adelaide's 0-5 start, Power coach Ken Hinkley is sure to experience increased pressure on his job as his team's finals hopes fade yet again in his 10th year in charge. No coach has ever survived a 10th season having not delivered his club a premiership.
After squandering a 33-point lead to Sydney in their last game, Richmond looked like they were headed for another dramatic fadeout when their 26-point lead evaporated as Sam Powell-Pepper put the Power back in front early in the final term.
Richmond bookends Noah Balta and Josh Gibcus switched ends in the last quarter, after Todd Marshall (three goals) had the better of Gibcus in the opening three quarters, and the move paid off with Gibcus putting the Tigers back in front four minutes later.
Soon after, Dustin Martin extended Richmond's lead to eight points but after a tense 12 minutes, Connor Rozee got the Power back within three points after a sensational running effort from 50m out after bursting clear of three Tigers.
However, fittingly, Liam Baker, who was magnificent in the final quarter, had the final say, kicking a beautiful dribbler under pressure to put the Tigers up by nine points and the Power had nothing left to give after that.
But in a slight concern, Baker might come under match review scrutiny for a head-high bump on Marshall in the first quarter.
The Tigers' delivery to their forward line wasn't flash for large parts of the night, but their huge advantage in inside 50s (64-47) proved pivotal.
The Power finished with more disposals (373-341), and even won the clearances (39-30) despite their makeshift ruckman Jeremy Finlayson doing most of the grunt work against Richmond duo Toby Nankervis and Ivan Soldo, but they were let down by poor ball use and skill errors too often.
Baker was well supported by Trent Cotchin and Dion Prestia while Dylan Grimes, Robbie Tarrant and Nick Vlastuin were huge down back.
The defeat came at a cost for the Power who lost Trent Dumont (calf) to injury.
The thrilling contest drew just 21,757 fans, the lowest Tigers crowd at the MCG since August 2010 against the Power's arch-rivals, Adelaide.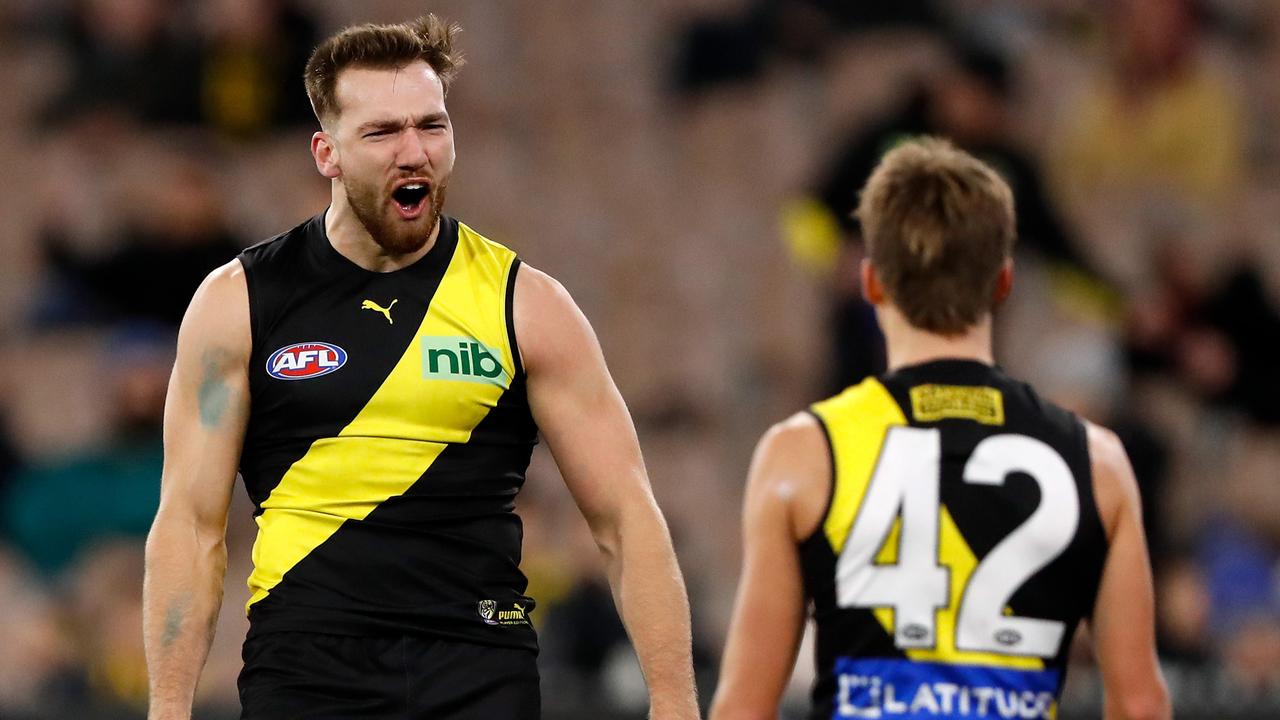 Noah Balta spent most of the match up forward. Picture: Dylan Burns/AFL Photos via Getty Images
BOLTON BOTTLES CHANCE AFTER CHANCE
Shai Bolton could've singlehandedly ended the contest a lot earlier in the final quarter, but he uncharacteristically missed three gimme chances, the worst of which was a howler from 10m out under no pressure which he dribbled to the left of the goal post. He finished the contest with a career-high five behinds.
SHORT SHOCKER SPARKS POWER
Port Adelaide's second surge in the third quarter was sparked by a shocking defensive error from Jayden Short whose miskick grubbered along the ground straight to Dumont who handballed it to Ollie Wines and the reigning Brownlow Medalist made no mistake from 40m out to cut the margin to 14 points against the run of play after Richmond kicked the first two goals of the second half.
FARRELL MAKES TIGERS PAY
Thirteen minutes later, the Power's Kane Farrell exploited a glaring Richmond defensive lapse when, after being awarded a 50m penalty on the wing, he strolled to the 50m line and without a Richmond player manning the mark, he unloaded with his booming left foot to cut the deficit to one point in time on of the third term. In the process, Farrell saved the blushes of Todd Marshall who had the chance to get the Power within two points, but missed an absolute sitter from 10m out.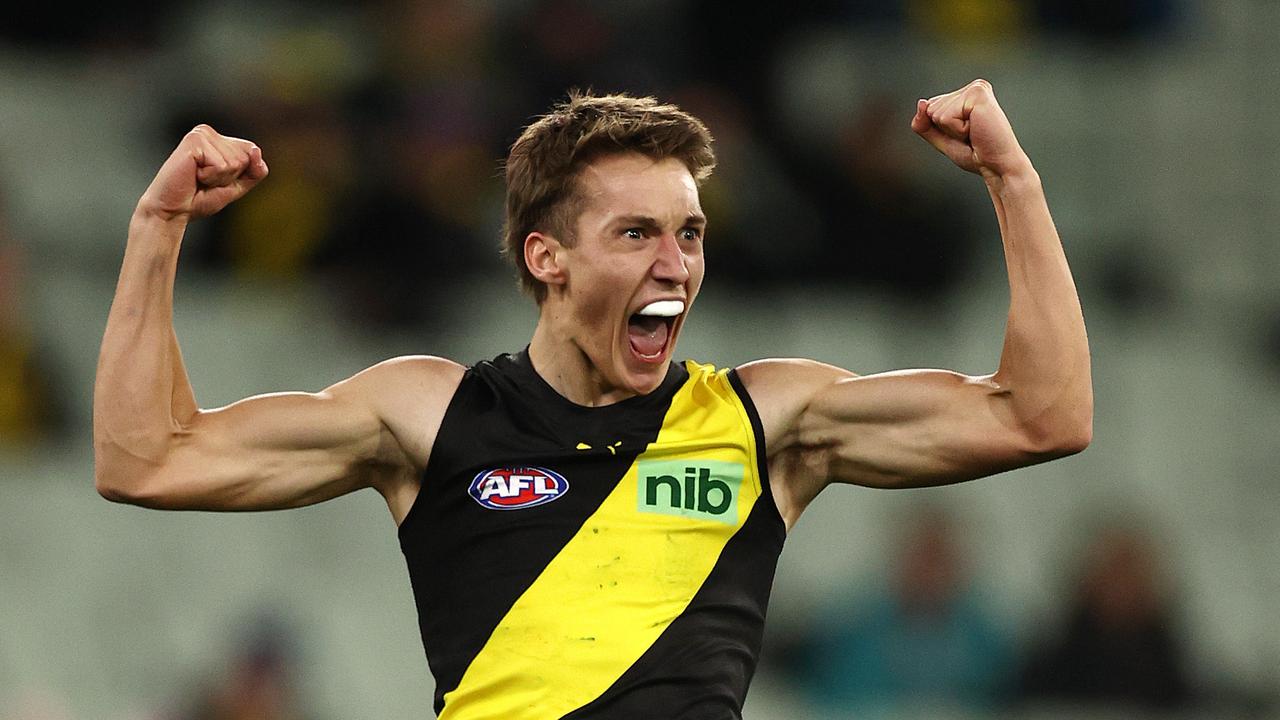 Judson Clarke enjoys one of his two first-quarter goals. Picture: Michael Klein.
CLARKE HITS THE GROUND RUNNING
Richmond debutant Judson Clarke got off to a flyer, joining the illustrious first-kick-first-goal club with a converted set shot from 40m out in directly in front after being taken too high by Willem Drew. And eight minutes later, Clarke bagged another one courtesy of another set shot from 40m out to get his team going early. He finished with 11 touches (five contested), two goals and three tackles in what was a nice start to his career.
SCOREBOARD
TIGERS 5.2, 6.4, 8.5, 11.11 (77)
POWER 2.1, 5.2, 8.4, 10.5 (65)
LERNER'S BEST
Tigers: Baker, Prestia, Vlastuin, Grimes, Tarrant, Cotchin, Clarke.
Power: Amon, Rozee, Wines, Burton, Marshall, Houston, Clurey.
GOALS
Tigers: Clarke 2, Martin 2, Graham, D.Rioli, McIntosh, Riewoldt, Balta, Gibcus, Baker.
Power: Marshall 3, Amon, Dixon, Finlayson, Farrell, Powell-Pepper, Rozee, Wines.
INJURIES Tigers: Nil. Power: Jonas (cut eyebrow), Butters (cut cheek), Dumont (calf).
UMPIRES Fisher, Donlon, Fleer
VENUE MCG
CROWD 21,757
PLAYER OF THE YEAR
LERNER'S VOTES
3 L.Baker (Rich)
2 K.Amon (PA)
1 N.Vlastuin (Rich)
Originally published as AFL Round 13: Richmond v Port Adelaide, latest news and KFC SuperCoach scores