AFL Round 15: Latest news, scores from Adelaide v North Melbourne
The Adelaide Crows have silenced their critics for now at least after a Taylor Walker masterclass took care of the struggling Kangaroos on the road, but it's come at a heavy cost.
A season-best bag of six goals by big Crow Taylor Walker boosted Adelaide to its first win since the mid-season break but big Tex walked off sore after copping a back injury in the second term against North Melbourne in Hobart.
The Crows took it by 57 points but the Blundstone Arena contest left them licking their wounds as Walker (back), Ned McHenry (concussion), Darcy Forgarty (elbow), Shane McAdam (ankle) and Will Hamill (concussion) were left the worse for wear.
Watch every blockbuster AFL match this weekend Live & Ad-Break Free In-Play on Kayo. New to Kayo? Try 14-Days Free Now >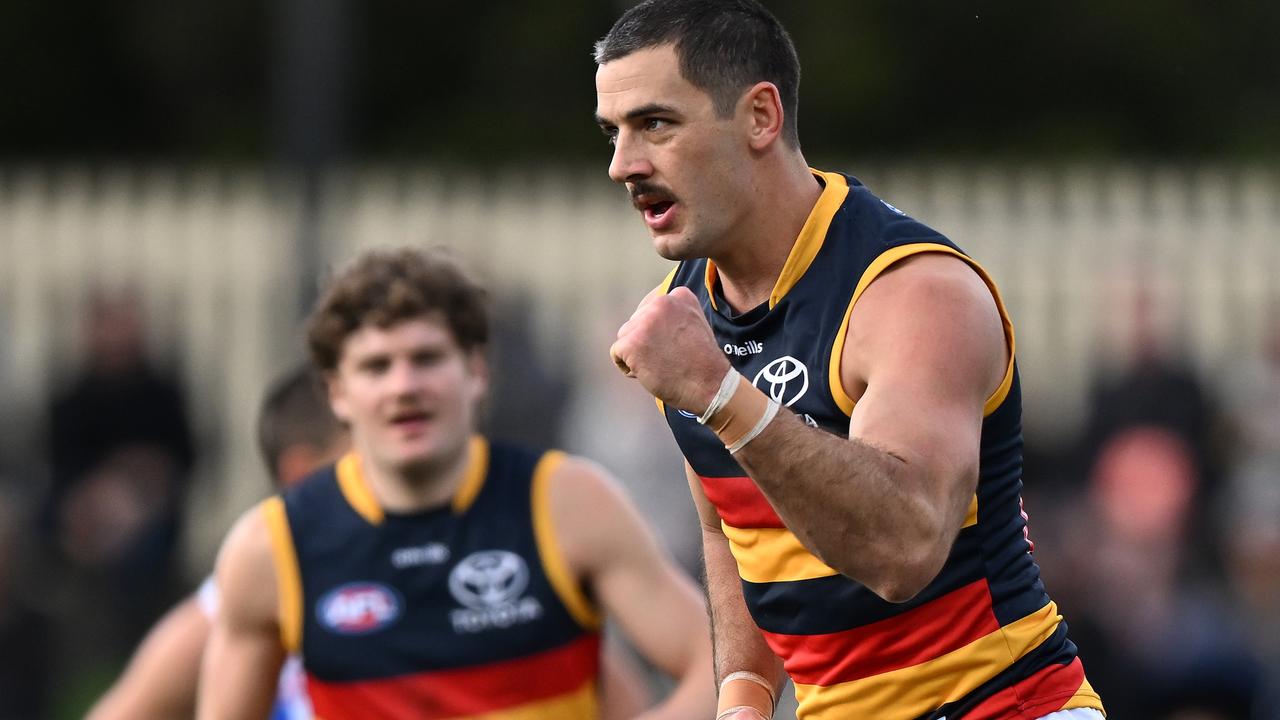 Taylor Walker kicked six, including three in the opening quarter, to get the Crows back on the winning list. Picture: Steve Bell/Getty Images
Tex kicked three of Adelaide's five goals in the first quarter but ended the first half on the bench getting attention on his lower back.
Walker struggled to get off the ground after a marking contest against Kangaroo key defender Josh Taylor late in the second.
He went to ground again shortly after and then rested on the bench, attended to by the doctor and physiotherapist.
It did not hold him back. Tex returned after the long break to kick Adelaide's first goal of the second half and another from a contentious free kick approaching time-on and spent more time on the seats in the final term.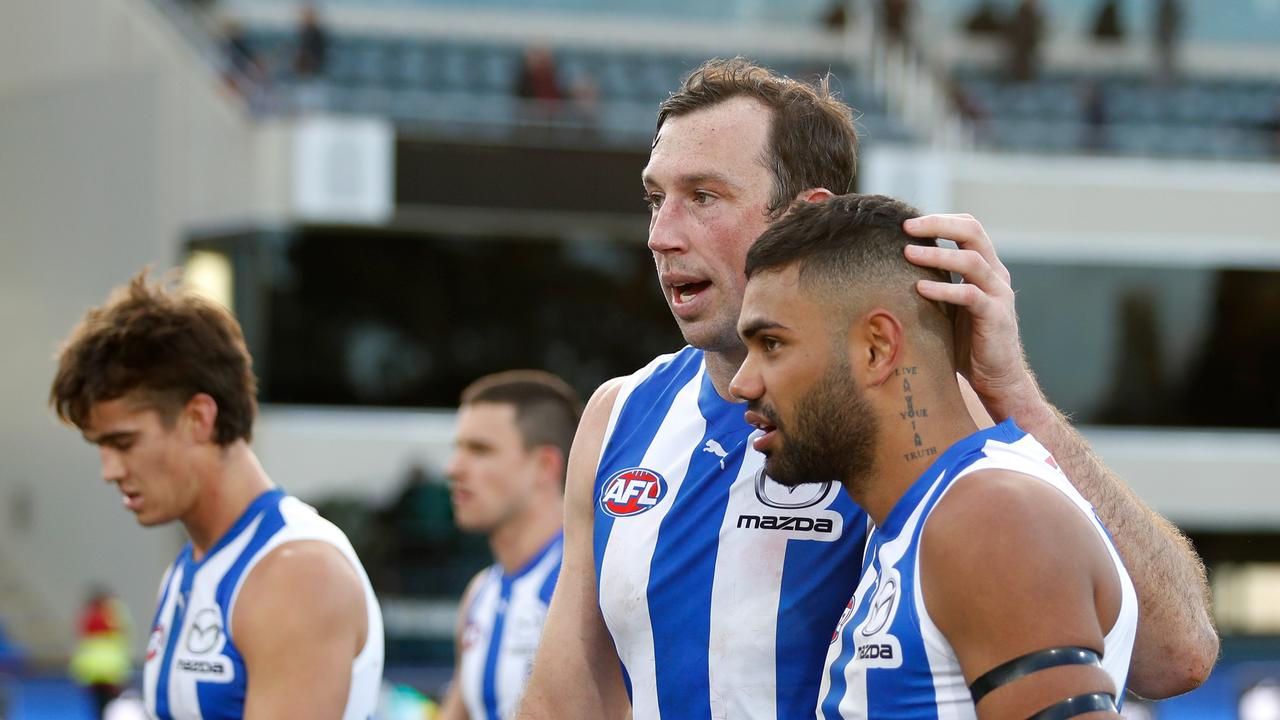 Todd Goldstein and Tarryn Thomas after another loss for the Kangaroos. Picture: Dylan Burns/AFL Photos via Getty Images
Hamill was concussed in a clash with Hugh Greenwood forcing Adelaide to sub him out of the game, replaced by home-town Crow Chayce Jones.
Until Darcy Fogarty kicked his fourth on the three quarter-time siren, North Melbourne looked capable of challenging.
It mattered little to Adelaide that the Kangas won hit-outs, centre clearances and stoppage clearances as onball ace Rory Laird put them to the sword with his 34 possessions and 11 clearances, along with Ben Keays (30 possessions, seven clearances) and Jordan Dawson (29 possessions, seven marks).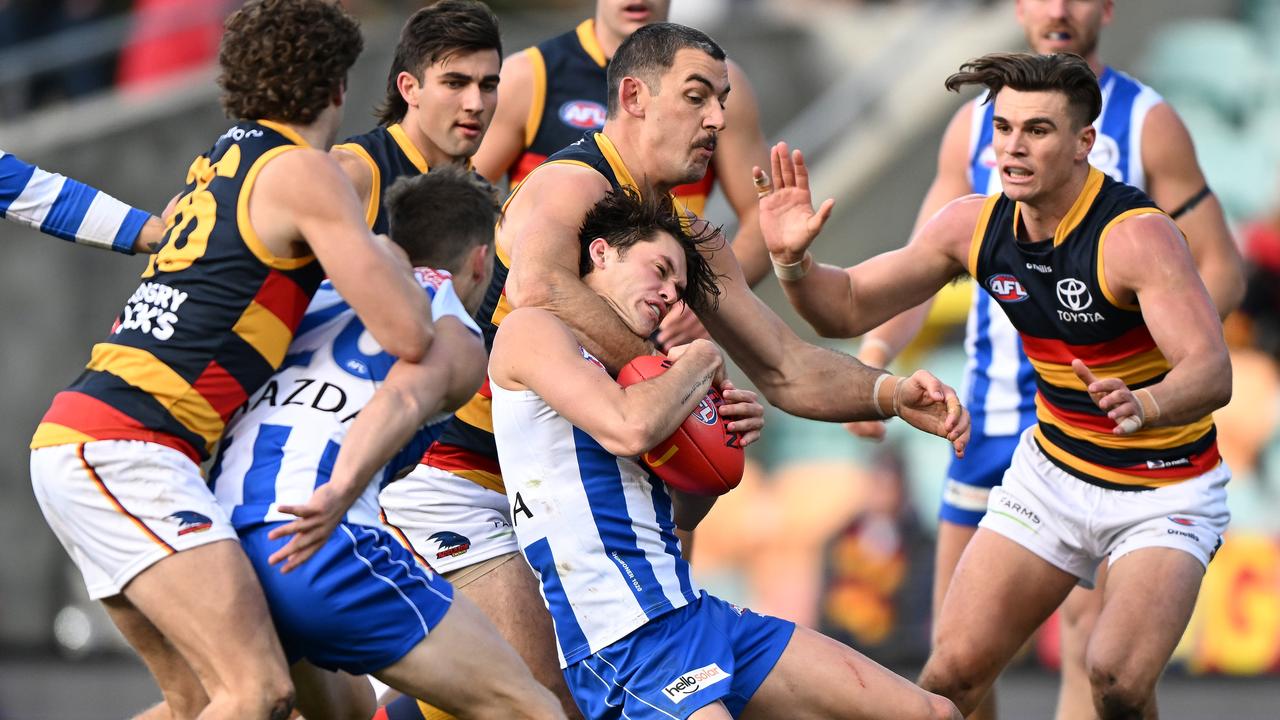 Taylor Walker takes Kayne Turner a little high in a tackle. Picture: Steve Bell/Getty Images
No one had more of the ball than North Melbourne defender, another home-town player Aaron Hall, who had it 38 times and more than a kilometer in metres gained.
North Melbourne started the game with key defender Ben McKay deep in attack alongside Nick Larkey in an attempt to stretch Adelaide's defense while at the other end Josh Walker was on Taylor Walker.
Big Tex took no time kicking the first of his three first-quarter goals, drilling the opener inside the first two minutes and before the Kangaroos could settle the Crows had three.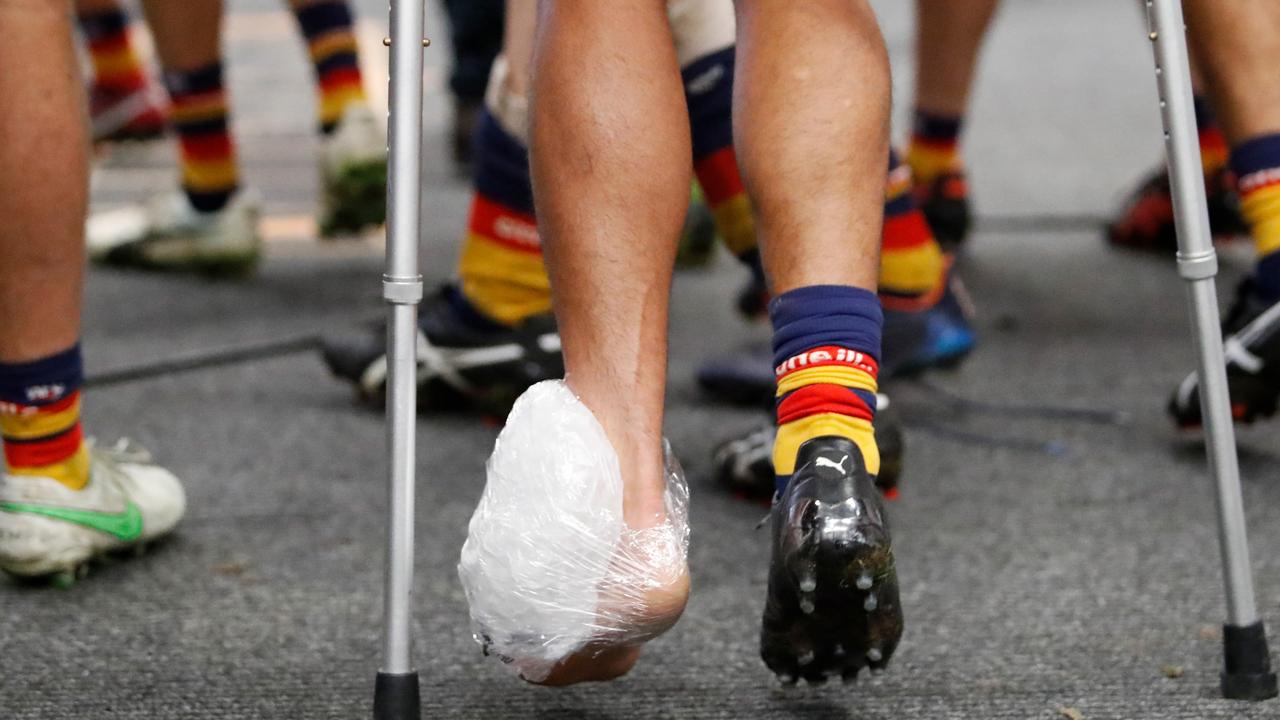 The injured foot of Shane McAdam after the game at Blundstone Arena. Picture: Dylan Burns/AFL Photos via Getty Images
The McKay move then paid off, with big "Buckets" kicking his first goal in AFL footy, followed closely by a clever around-the-corner goal to Paul Curtis, who made his debut at the same ground, to make it game-on.
A goal to Walker just before the siren gave Adelaide a nine point lead at the first break and goals to McAdam and Fogarty after a screamer made it 20 at half-time.
Two more goals to Walker and a 4.3 to 2.4 third term saw Adelaide extend its comfort zone and the Crows cruised home for their first win since they rolled West Coast by 31 points in round 12.
OOPS, I DID IT AGAIN
It was the second time in 15 games that Jy Simpkin had captained the Kangaroos in the absence of skipper Jack Zeibell, sidelined with a facial injury.
The first time Simpson led the Kangas also came against Adelaide in the final round last season.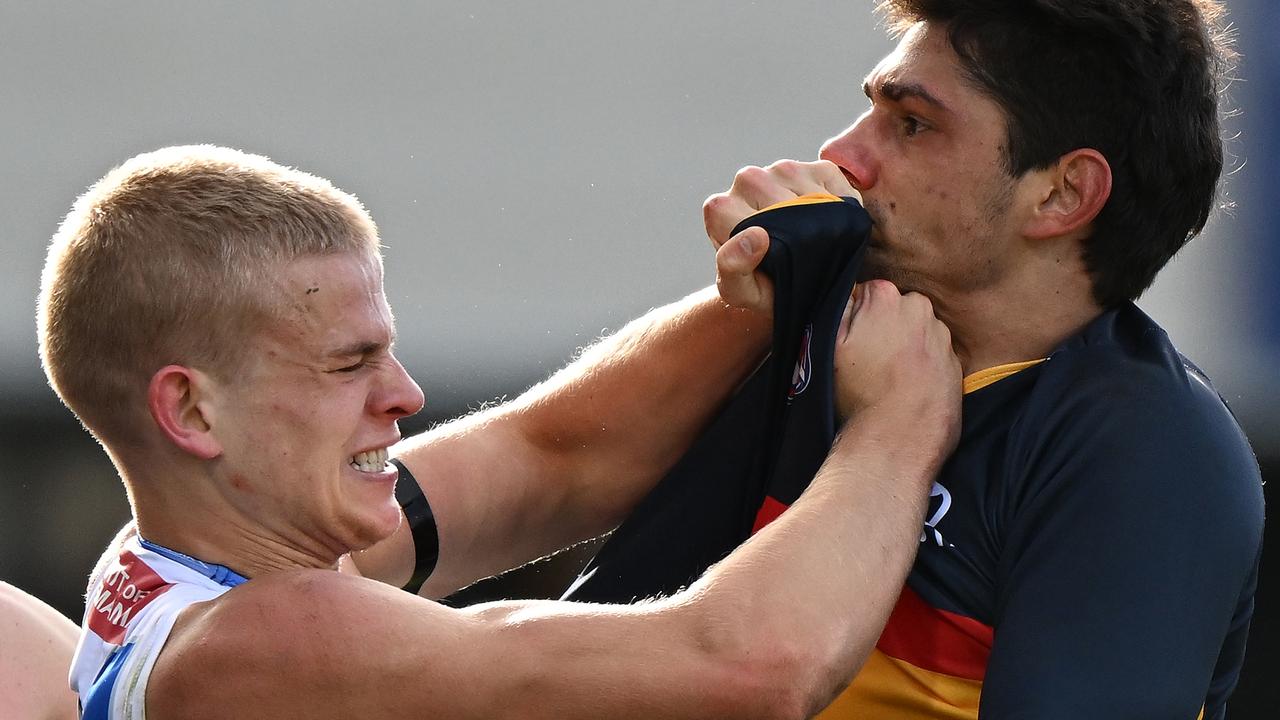 Like his dad Glenn, son Jackson Archer didn't take a backward step in his debut for the Kangaroos. Picture: Steve Bell/Getty Images
SON OF A GUN
News of Jackson Archer's debut brought a tear to the eye of his legendary dad Glenn when he broke it to him on Facetime last week.
There was no need for the phone in Hobart on Sunday. The toughest man to play the game was in the crowd at Blundstone Arena, positioned right behind North Melbourne's interchange box so he could catch all the action up close and personal.
TAKE THAT
Darcy Fogarty is a tough guy and rubs some teams the wrong way and teammate Rory was on the receiving end of enforcer in the first few minutes.
Forgarty steamed through a pack and instead of impacting an opponent he reminded Laird why it was ideal to stay out of his way.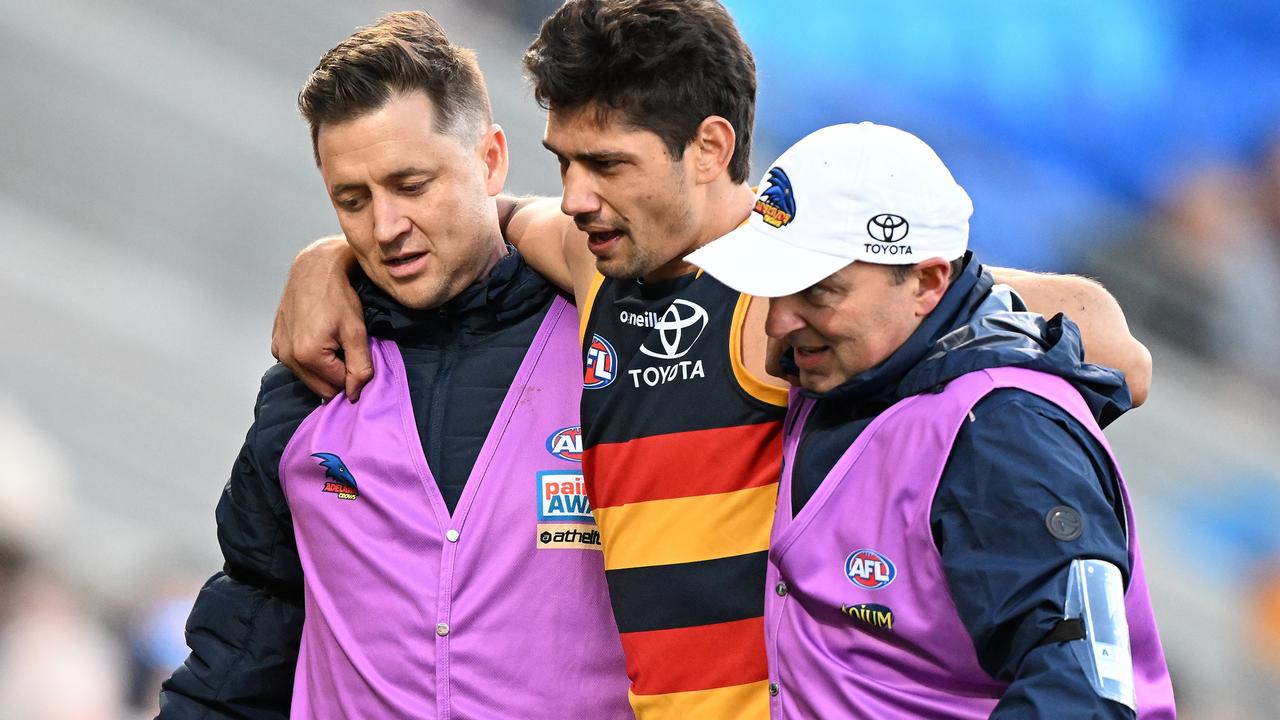 Shane McAdam leaves the field after injuring his ankle. Picture: Steve Bell/Getty Images
SCOREBOARD
NORTH MELBOURNE 4.0 4.4 6.8 8.10 (58)
ADELAIDE 5.3 7.6 11.9 17.13 (115)
GOALS
North Melbourne: Zurhaar 2, Curtis, Larkey, McKay, Powell, Taylor, Xeri
Adelaide: Walker 6, Fogarty 4, Rowe 2, Keays, McAdam, O'Brien, Smith, Soligo
BEST
North Melbourne: Hall, Goldstein, Simpkin, Greenwood, Anderson, Davies-Uniacke
Adelaide: Walker, Laird, Keays, Fogarty, Smith, Hately
INJURIES
Adelaide: Walker (back), McHenry (concussion), Forgarty (elbow), McAdam (ankle) Hamill (concussion)
VOTES
3 Walker AC
2 Laird AC
1 Hall NM
No room for failure: Crows cannot afford to cough this one up
North Melbourne in Hobart is a no-excuse game for Adelaide.
Constant talk from West Lakes about how the club has definitely improved since last year and of the rebuild undoubtedly being on the right track will be dirt cheap if it cannot beat the struggling Kangaroos.
Adelaide has been asking its fans for a little patience but it is wearing thin with supporters.
They have watched the club go from a wooden spoon in Matthew Nicks' first season as coach in 2020 to a 7-15 record last year and then start 3-3 this season.
But the external optimism has faded since the gritty, one-point win over the Western Bulldogs in Ballarat in round 6.
Adelaide is now 4-9.
The club has been saying it is not far away from winning and has been in lots of games, including being three goals down with six minutes remaining against Gold Coast last Sunday.
But the reality is the Crows have suffered defeats in six of their past seven matches with an average losing margin of 41.5 points.
The club's only win during that span was against battling West Coast.
Another victory should be around the corner.
The Crows will be counting on Josh Rachele to deliver on the road.
North Melbourne is last with a 1-12 record and has been uncompetitive for large chunks of the season.
The Kangaroos' sole victory was versus the undermanned Eagles in round 2.
Since then, six of North's defeats have been by at least 10 goals.
Upsets happen and you cannot underestimate opponents, but it will be hard to take the Crows' improvement line seriously if they lose on Sunday.
Coach Matthew Nicks said he had not addressed the external expectation of winning to the squad this week.
He said it was dangerous to assume anything was a given in the AFL.
"I think we underestimate how close this competition is," Nicks said.
"There are no easy games.
"We'll go down there with a real focus and respect for North Melbourne, and what they do well.
"It's a very, very tough road trip."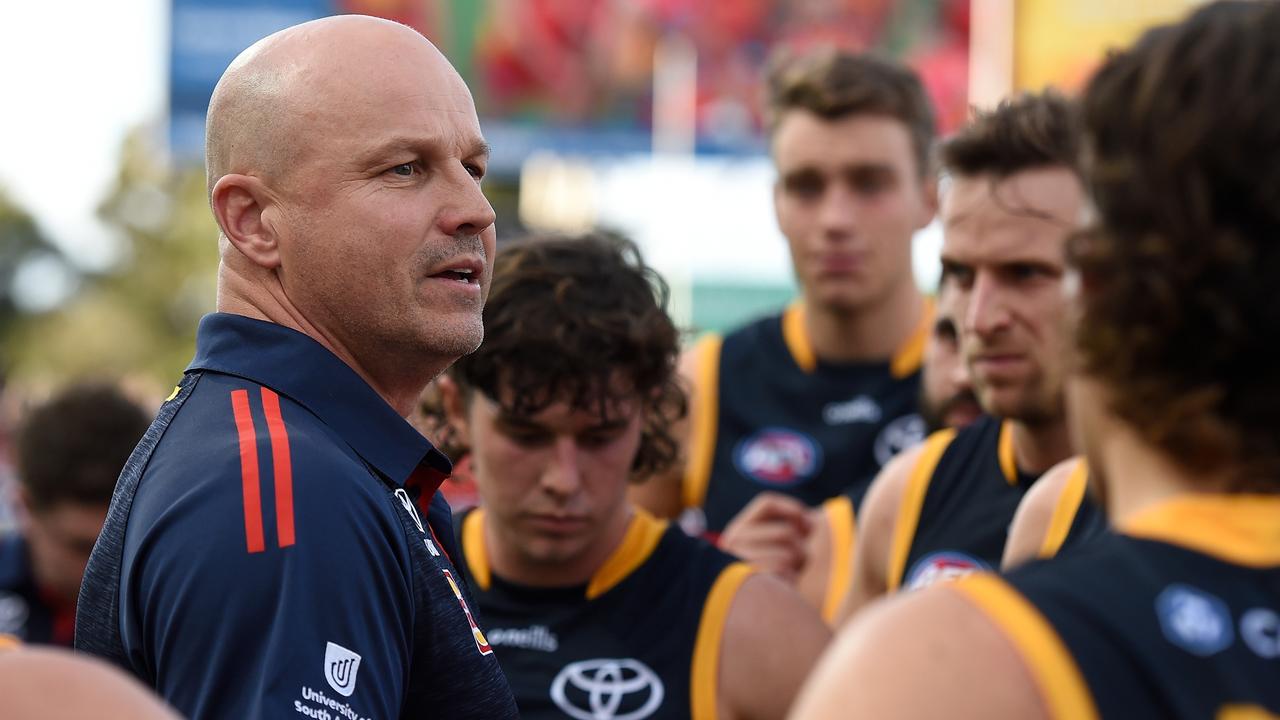 Head coach Matthew Nicks knows the Crows have to be winning in Tasmania.
The last time the Crows won in Tasmania was in 2005 — against Hawthorn by 10 points. Adelaide has a 1-7 record overall on the Apple Isle — 0-2 in Hobart, 1-5 in Launceston.
In that sole triumph, Melbourne coach Simon Goodwin had a game-high 29 disposals for the Crows, forward Ken McGregor received the three Brownlow Medal votes, Neil Craig was Adelaide's coach and Alastair Clarkson was in his first year in charge at the Hawks.
The Crows' poor record in Tasmania would stir further doubt in pessimistic fans.
Boosting the team's hopes is the expected availability of former captain Taylor Walker, who is dealing with a tight calf.
Walker left training early on Friday but got through Saturday's light session and was on the flight to Tasmania.
The Crows were taking two travelling emergencies.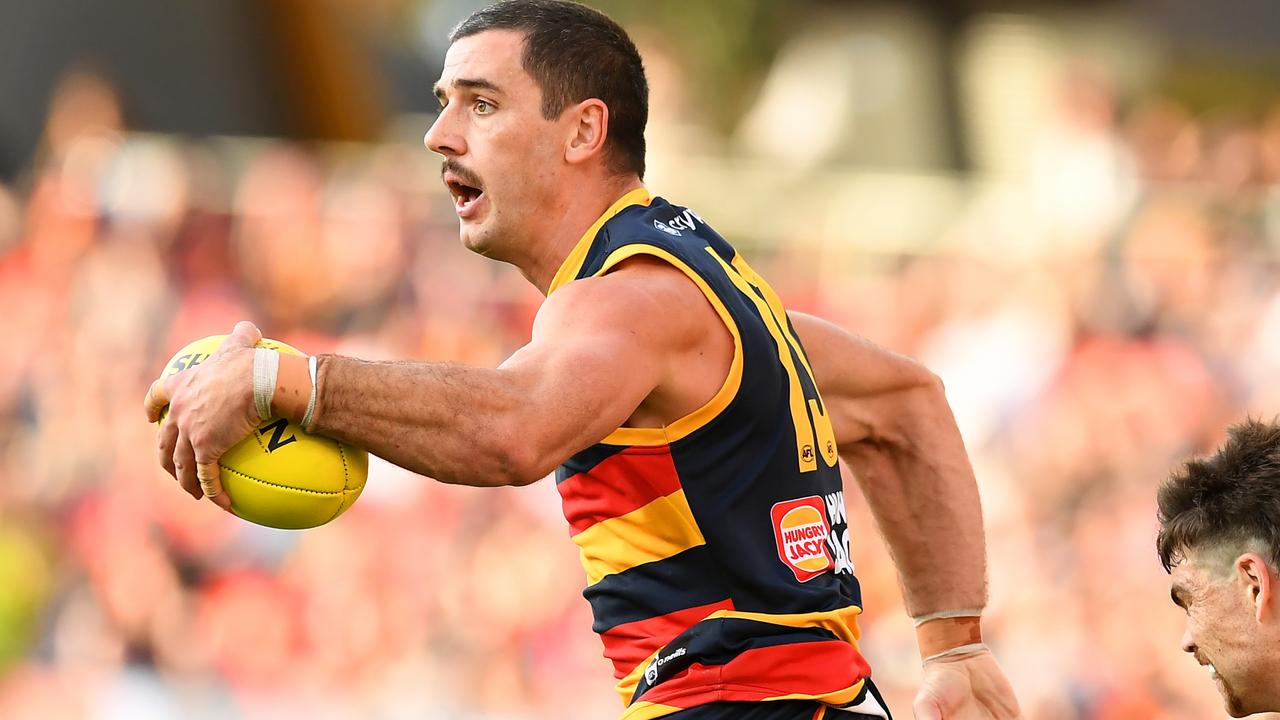 Taylor Walker may not get up with a calf complaint.
Earlier last week, Nicks had described the team as being in a confidence rut but on Friday said that could change pretty quickly.
"It's funny how long a week can be after a loss like we had so we just can't wait to play," he said.
"As a coaching group or as a playing group and a football, what we're looking for is a response to a disappointing performance when you fight straight back.
"We're getting a lot of things right as a footy club and a lot of people think we're miles off it but I can tell you we're not far away."
Adelaide simply must win on Sunday.
It will not get a lot of credit if it does because of how bad the Kangaroos have been.
But if the Crows lose, it will cast serious doubts about their progress and raise plenty of questions about where it is heading under Nicks, no matter what the club says.
Ex-Crow says Crouch must demands answers over axing
Former Adelaide player Bryce Gibbs has recommended Matt Crouch leave the Crows after being dropped for the second time in two months.
Crouch's omission for Sunday's game against North Melbourne and his subsequent surprise at the club's decision reminded Gibbs of his own situation when he was axed several times in his final season at West Lakes in 2020.
Gibbs revealed how he sat in awkward silence for a few minutes with coach Matthew Nicks after one of the last times he was dumped, before retiring at the end of the campaign.
Although Crouch – an All-Australian and club champion in Adelaide's grand final year of 2017 – is contracted until the end of next year, Gibbs thinks his future lies elsewhere.
"If I was Matt Crouch … I'd be looking to get out," Gibbs told SEN SA.
"He's obviously not a part of this rebuild that they're going on about.
"It gives me a bit of the shivers, a bit of deja vu because it seems similar to what I went through a couple of years ago.
"It seems like he's on the outer and once you're on the outer, it's very hard to get back in favour.
"There would be some teams out there that would take him, and the Crows might be able to get something back in return.
"He's only 27 so he's still got some good footy left in him."
Matthew Nicks embraces Matt Crouch after a Crows game.
Crouch missed all of last year with groin and hip issues.
He returned in round 1 this season against Fremantle, only to be dropped for round 8.
The midfielder spent three weeks out of the AFL side then was recalled against Geelong a month ago.
Crouch played the next two matches, including registering 31 disposals and seven clearances in last Sunday's loss to Gold Coast, before being chopped again.
Nicks put the omission down to the team wanting to find a better midfield balance to have more influence outside the contest.
Gibbs said rival clubs would know Crouch could give them 25 to 30 touches, five or six clearances, five tackles and ball-winning ability every week.
The former Carlton star said Adelaide having a lot of similar midfielders who were not quick hurt the North Ballarat product.
"You know he's not going to break lines and have high metres gained – that's how he's played for his whole career," he said.
"If there's a team out there that needs that in-and-under grunt to get the ball out there to their users with leg speed, he'd be a perfect fit."
Gibbs said if he was Crouch, he would want to know if the club had already stamped his cards, rather than be told "multiple things over multiple weeks" to be kept happy and working hard.
"You just need to keep going back to match committee or the coach and find out what is going on and what is driving behind their decisions," said Gibbs, who joined Adelaide via trade at the end of 2017.
"If he's not sure and he's getting mixed messages, and he's getting told one thing one week and he goes and acts on it, then quickly it's becoming something else it's like 'here we go again. Really?'
"A lot of the conversations, after a while, are just getting fluffed around the edges.
"I'd rather know what you're thinking, even if that doesn't come from Nicksy.
"Even if that comes from a list management point of view … or the conversation comes from the footy manager.
"Especially me being later in my career and a bit older, I'd rather have been told 'that's it'."
Gibbs said that while the club was publicly saying Crouch needed to improve some areas of his game, internally it might be telling him it planned to play youngsters.
"I got thrown both," he said.
"It started off being 'we want to get you back in the side and back playing your best footy' and then within a couple of weeks that turned to 'we're actually going to start playing some kids'."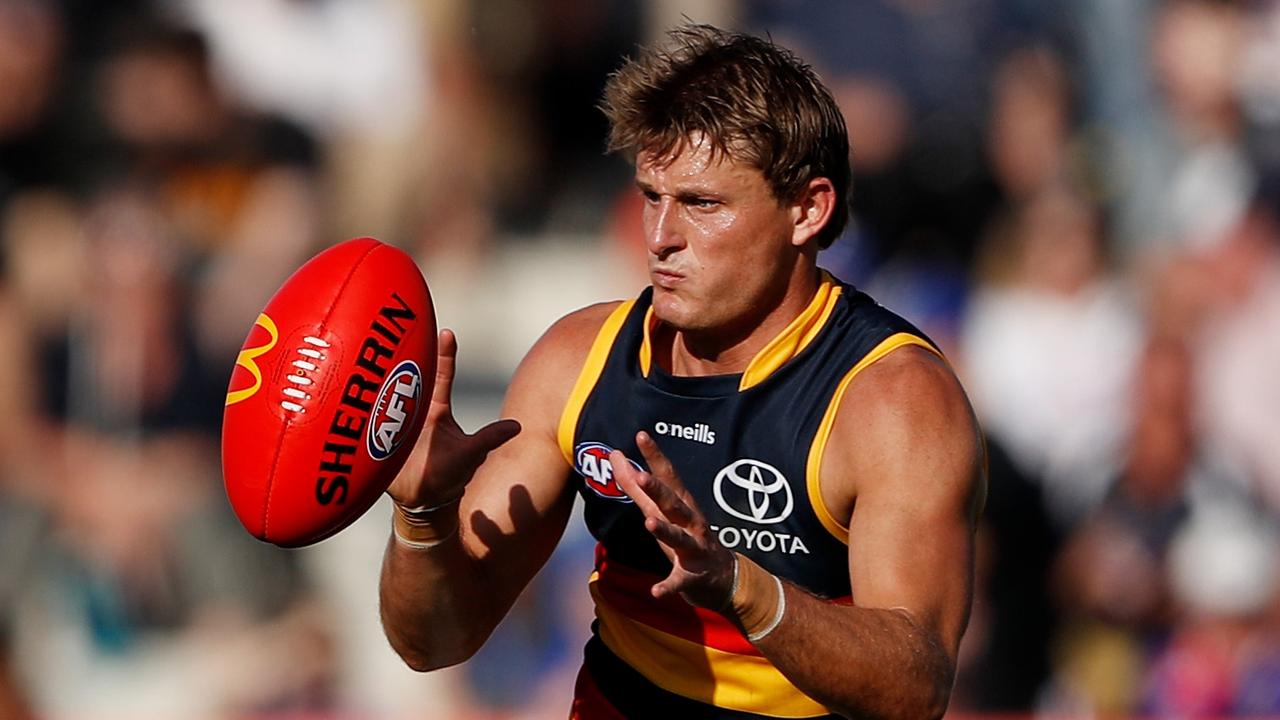 Coach Matthew Nicks is confident Crouch has a future at the Crows.
The Crows were coming off the 2017 grand final when they traded for Gibbs and he played all 22 games in his first campaign in the tricolours.
He was dropped six times during the next two seasons – the first under Don Pyke then second with Nicks as coach.
"Some of the conversations (with Nicks) towards the end of that (2020), we'd just sit in silence for three minutes," Gibbs said.
"He'd be like 'you're dropped again' and I'd say 'great' then we'd just look at each other.
"It was awkward."
A frustrated Crouch told Channel 10 on Friday he did not see his axing coming after thinking he had played OK against the Suns.
Recalling his own experience, Gibbs said it usually took 12 hours for the selection news to sink in.
"I'd be annoyed, p**sed off – whether the decision was right, wrong or indifferent – you just need a bit of time to cool down," he said.
CROW BLINDSIDED AFTER BEING BANISHED TO SANFL — AGAIN
A frustrated Matt Crouch has conceded he did not see his second axing of the season coming.
On Friday, Adelaide dropped the midfielder for the clash with North Melbourne in Hobart on Sunday – just three games after he returned from his previous omission and three-week SANFL stint.
Crouch registered 31 disposals, seven tackles and seven clearances in the 43-point loss to Gold Coast last Sunday, but the Crows replaced him with Harry Schoenberg.
The 2017 All-Australian felt he played OK against the Suns, which was why being left out of the team surprised him.
Watch every blockbuster AFL match this weekend Live & Ad-Break Free In-Play on Kayo. New to Kayo? Try 14-Days Free Now >
Crouch and forward Riley Thilthorpe (ankle) come out of the side for Schoenberg and utility Mitch Hinge, while former captain Taylor Walker is in doubt with a calf issue.
"It's quite disappointing, I'm quite frustrated at it," Crouch told Channel 10.
"I didn't see it coming and I spoke to Nicksy and VB (midfield coach Nathan van Berlo) about that.
"It was a little bit unexpected.
"There's nothing I can do apart from go back and play good footy now and put my hand up again.
"If I play well, hopefully there's still a spot for me."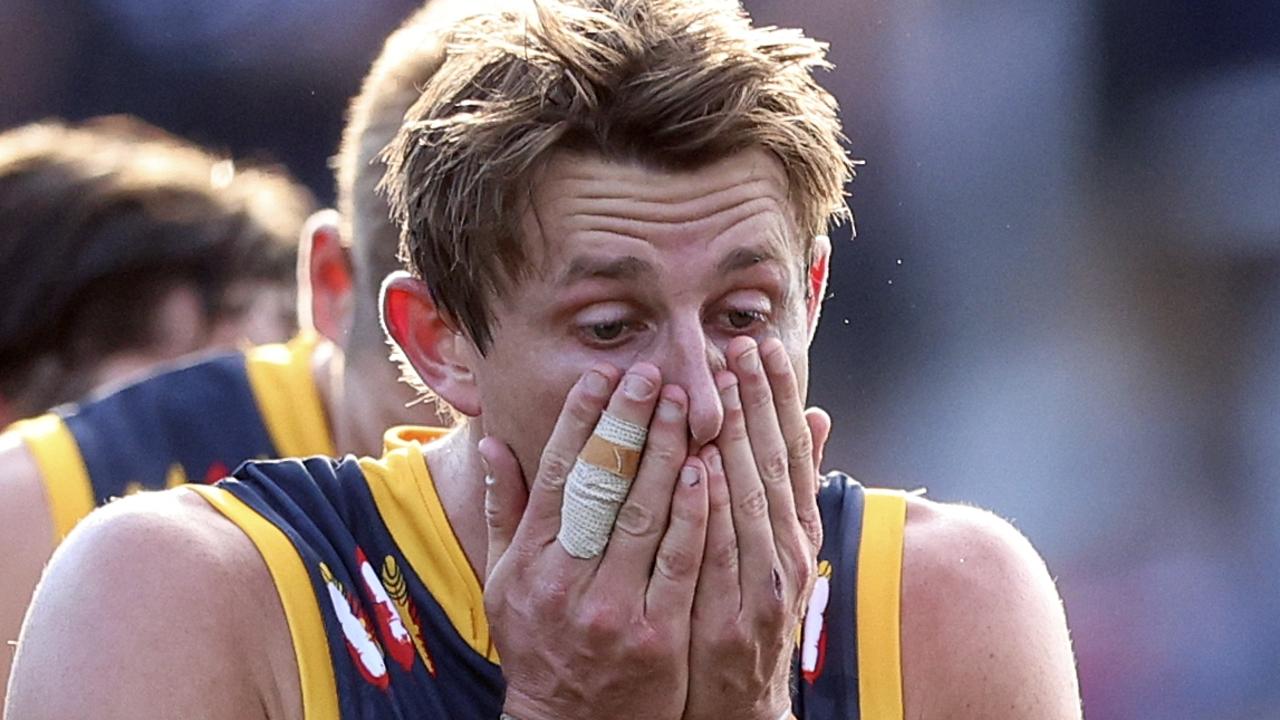 Matt Crouch says he's disappointed to be sent to the SANFL again.
Crouch is contracted until the end of next season, having signed a two-year extension in September.
Coach Matthew Nicks is confident the North Ballarat product still has a long-term future at West Lakes, calling him a really important part of the club.
He said Crouch needed to improve his influence outside the contest, an area in which Gold Coast put the Crows to the sword.
"I've got no doubt at the moment Matty's doing it quite tough but, as all players are, they'll go back to work, put their best foot forward, perform and put their name back up," Nicks said.
"We'll look at the balance of our side in weeks to come, and look at form and we'll pick the team around that."
Nicks said Walker was quietly confident he would face North Melbourne despite leaving training early on Friday.
Given Walker's experience, the club will leave it up to him and its doctors to determine his availability, possibly on game day.
Schoenberg was recalled after a team-high 27 disposals in the SANFL last week.
Adelaide is 4-9 and looking to respond after six losses in its past seven matches.
"We can't wait," Nicks said.
"It's been a long week coming off the performance that we had but we're really confident that we're playing good footy.
"We've got to string it together for four quarters."
Originally published as AFL Round 15: Latest news, scores from Adelaide v North Melbourne