Port Adelaide AFL news: Charlie Dixon return from injury delayed
Port Adelaide's injury woes have worsened with spearhead Charlie Dixon set to miss a large chunk of the season. Plus, Ken Hinkley has confirmed his Round 3 changes.
Port Adelaide has dropped off-season recruit Jeremy Finlayson and given Todd Marshall a reprieve as it seeks to find it the best forward formula without star Charlie Dixon.
On a day the Power revealed Dixon would be sidelined for another four weeks in his recovery from ankle surgery, Finlayson paid the price for the team's attacking dysfunction in last week's shock 64-point home loss to Hawthorn.
Port Adelaide will instead field a shorter forward line in the inaugural Friday night's clash with the Crows, bringing Jed McEntee and Sam Mayes into the team to play alongside Marshall and Mitch Georgiades.
Five-time Showdown Medallist Robbie Gray will be sidelined because of Covid protocols.
Finlayson arrived from GWS to help support Dixon but had struggled to have an influence in the spearhead's absence.
Stream every match of every round of the 2022 Toyota AFL Premiership Season Live & Ad-Break Free In-Play on Kayo. New to Kayo? Try 14-Days Free Now >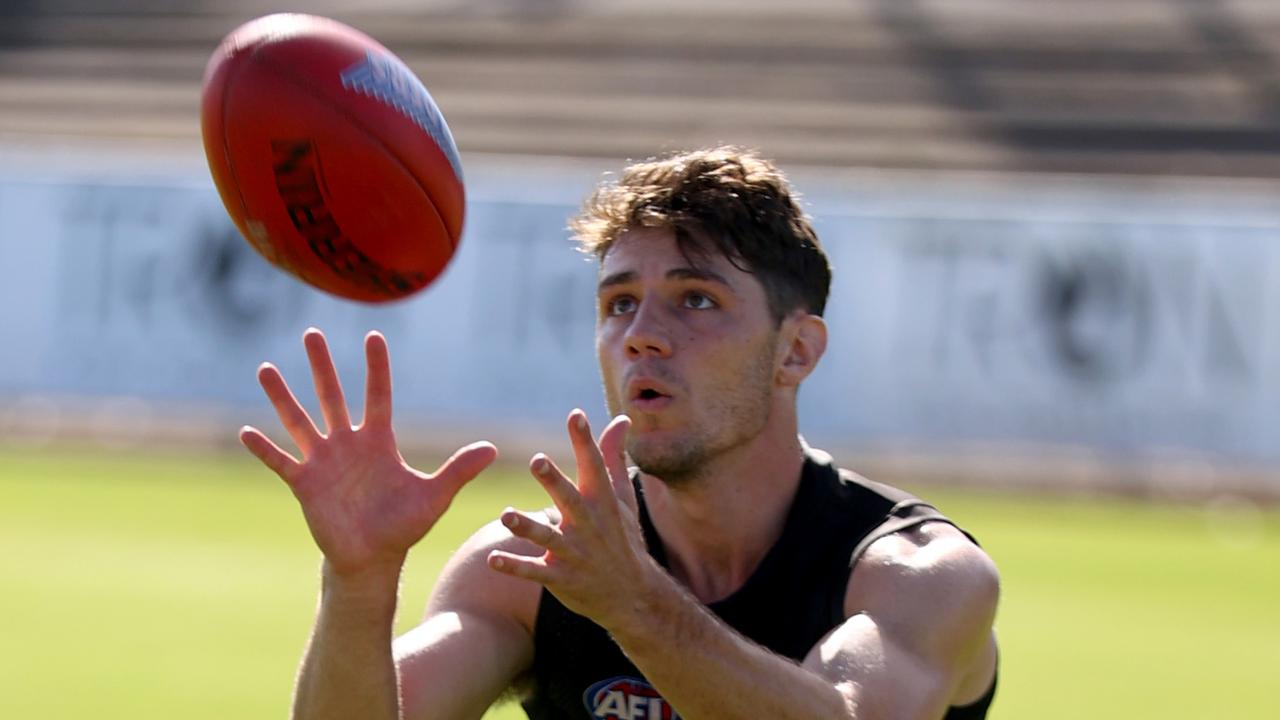 Jed McEntee is set to return to Port Adelaide's team.
Power coach Ken Hinkley said the 26-year-old's contested work and performances were not at the required level, while Marshall's form had also been off the mark.
Finlayson was goalless with 11 disposals for the second consecutive week on Saturday night.
Marshall had just four touches, two marks, did not score and spent part of the last term in defence against the Hawks.
"Jeremy knows exactly what he's going back to work on," Hinkley said.
"He's been a pretty successful footballer over the journey, he's just not in good form and he's paying a bit of a price for the team a little bit.
"We feel like Todd from a contest point of view is probably the best option for this week, as compared to Jeremy."
Charlie Dixon's return from injury has been delayed by a month.
Hinkley said Dixon's ankle injury needed more investigation because it had not recovered as the club had expected from his surgery in February.
He said having another month without the 31-year-old, who had kicked 82 goals the past two seasons and not missed a game since Round 1, 2020, was a big concern.
"Charlie's a very important part (of the team)," he said.
"But we need to step up and fill the boots of someone that's not there."
The Power has won each of the past four Showdowns.
Its most recent defeat came in May 2019 – the last time Gray was sidelined against Adelaide. Hinkley said the Power should not be relying as much on the four-time All-Australian as years gone by.
"Last week would suggest we're still reliant on him a fair bit," he said.
Hinkley said he embraced the pressure on the team because "we expect to be a good side".
"It's not something we get spooked by, it's something we understand, appreciate and respect," he said.
"We lost the (Round-1) game against Brisbane but we played at a level that we think was a truer reflection of us than last week.
"We have to respond to last week."
Key defender Trent McKenzie has overcome an ankle injury to be selected.
HORROR SHOW: PROOF POWER BROKE DOWN BADLY
Matt Turner
The first Friday night Showdown was supposed to exhibit in prime time why some people consider it the AFL's best rivalry.
This week's match will showcase two clubs desperate to save their flagging seasons.
Never in the 25-year history of games between Port Adelaide and Crows has both SA clubs entered a Showdown winless – until now.
The loser on Friday night will be 0-3.
It is a position neither team will have expected before the start of the season but one in particular cannot afford.
Port Adelaide plans to win this year's premiership.
Getting belted at home to massive underdog Hawthorn on Saturday night has ramped up the Showdown stakes for the Power, whose top-four hopes will be in peril if it goes 0-3.
Being 0-2 is already a sizeable hole.
Sixty-one teams have started the season with two losses since 2010 and only eight have gone on to play finals.
Stream every match of every round of the 2022 Toyota AFL Premiership Season Live & Ad-Break Free In-Play on Kayo. New to Kayo? Try 14-Days Free Now >
Ken Hinkley addresses his players on Saturday night. Picture: Getty Images
Three did so last year: Brisbane, GWS and Essendon.
No club has started with two losses then won the premiership since North Melbourne in 1999.
As for Showdown history, these are the worst records leading into the first one of a season since each being 1-5 in 2000.
Adelaide was winless ahead of the opening Showdowns in 2001 (0-2), 2010 (0-5), 2014, 2016 and 2020 (all 0-1).
The Power was yet to win before the first games in 2008 (0-2) and 2011 (0-3).
Port Adelaide defender Darcy Byrne-Jones said this week was really important.
"No club wants to be in this position after two rounds but the simple fact is we are so there's nothing we can do about it now, except for focusing on next week and making sure we get things right," Byrne-Jones told News Corp.
"We've got six days to a Showdown and if that doesn't get you up and about, nothing will.
"Obviously tonight didn't go the way we planned but it's a long year and we've got to butter up again next week.
"Showdowns are such a big game in this city."
TOUGH TO JUDGE
The Power is 0-2 but its defeats have been completely different, not unlike its past two preliminary final losses.
Similar to the 2020 prelim against Richmond, Port Adelaide was gritty against Brisbane at the Gabba in Round 1 last week, putting itself in a position to win and falling just short.
The Power was not helped by having five players injured during the game against the Lions.
There was optimism at Alberton post-game, not concern.
This week there will be headaches.
At home and with a massive amount to play for on Saturday night, when it paid tribute to club legend Russell Ebert, the Power sustained its biggest minor-round loss at Adelaide Oval since an 84-point hammering by the Crows in August 2017.
It was Port Adelaide's second-largest defeat at the ground by an interstate side.
The biggest was its previous game there – last year's 71-point preliminary final loss to the Western Bulldogs.
There were shades of that showing on Saturday night, at least in how the game played out.
Like last September, the Power was rarely in the contest against the Hawks, getting outmatched early and having few answers.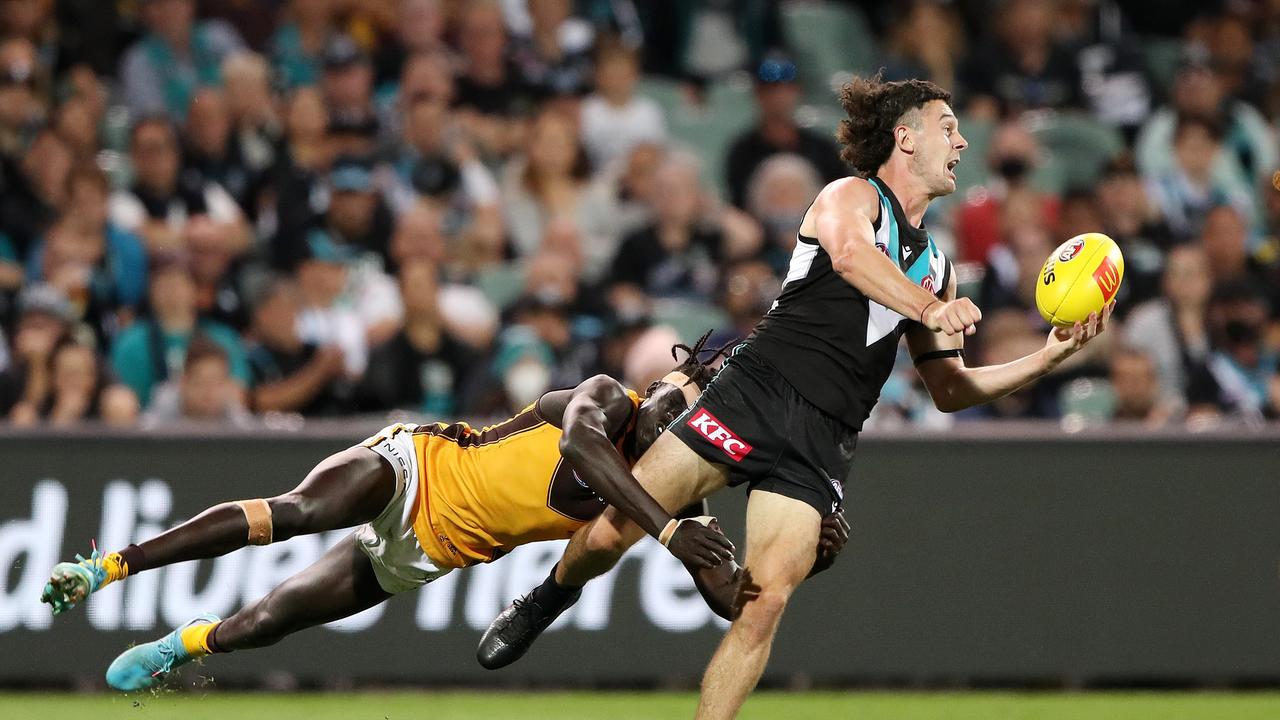 Darcy Byrne-Jones didn't expect such a poor Port Adelaide performance. Picture: Getty Images
"It was some kind of shock," Byrne-Jones said.
"I was pretty confident after the way we played last week and our intent to go about it, I thought we'd come and play the right way but we haven't done that."
Byrne-Jones said the players were very aware of how special the game was for the club, insisting they "really wanted to come out and do the right thing by Russell, and his family, and all the supporters he meant so much to".
"To lose by such a margin and be convincingly beaten like that on such a significant night for the club is really disappointing," he said.
"It's one that hurts quite a bit."
In a cruel bit of symmetry, Port Adelaide kicked seven majors, matching the guernsey number synonymous with Ebert.
A replica of the No. 7 jumper was draped behind the northern goals to honour the club's greatest player, who died from leukaemia in November, aged 72.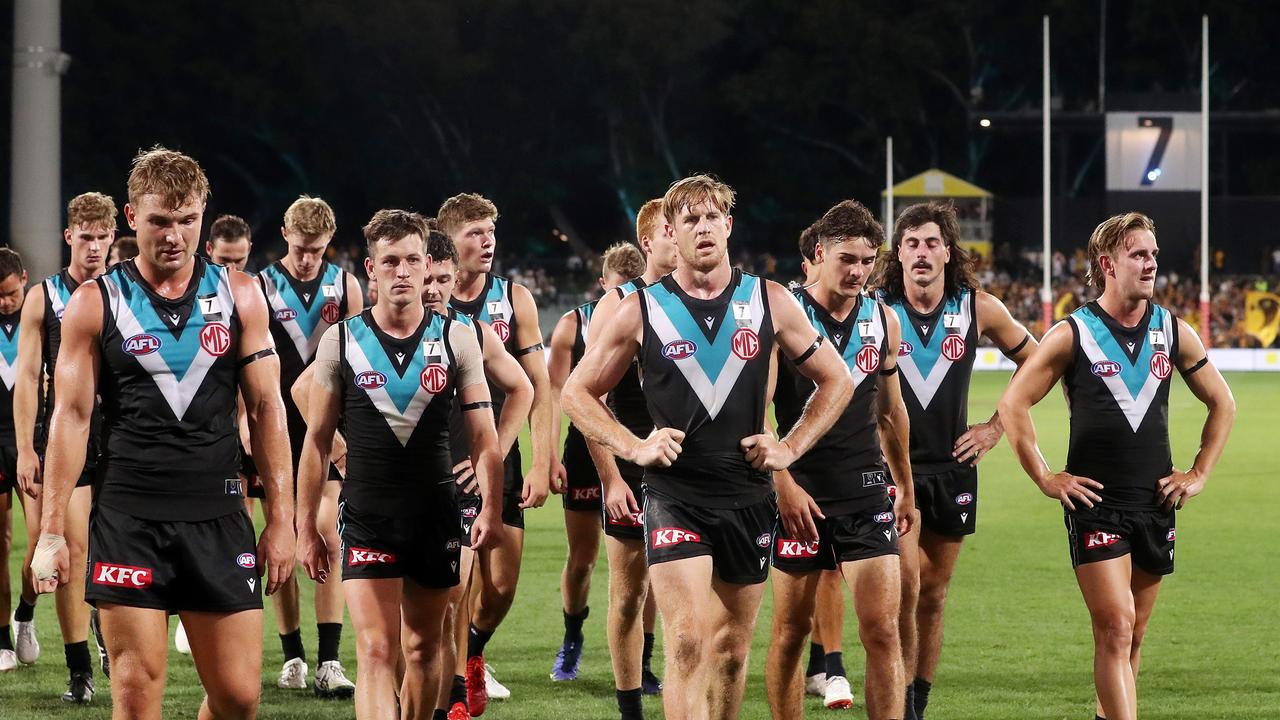 Port players walk off the Adelaide Oval after a shock loss to Hawthorn. Picture: Getty Images
STATS DON'T TELL STORY
You rarely see a team win key statistics so convincingly and get trounced.
According to Hinkley, it was proof his side broke down badly going forward and defending.
The Power won the disposal count by 72, had 12 more inside 50s, led 24 extra clearances and was nine ahead in contested possessions.
But it could not kick goals or stop Hawthorn transitioning the ball quickly from defence to attack.
Hinkley counted eight or nine that Hawthorn slotted on the rebound from the Power's attacking 50.
"In the past we've been able to get a pretty clear consistent indicator and when we play poorly, tonight was a different look," Hinkley said.
"You dominate (key statistics) but it doesn't matter if you can't kick a score.
"We didn't kick a score to put any pressure on Hawthorn and we allowed it to bounce out."
Byrne-Jones pointed to winning the key statistics as a sign the Power did not underestimate the Hawks, who finished 14th last season and were tipped to struggle again this year.
"We still brought the right intent but there was a breakdown with the way we defended and probably some polish going forward," he said.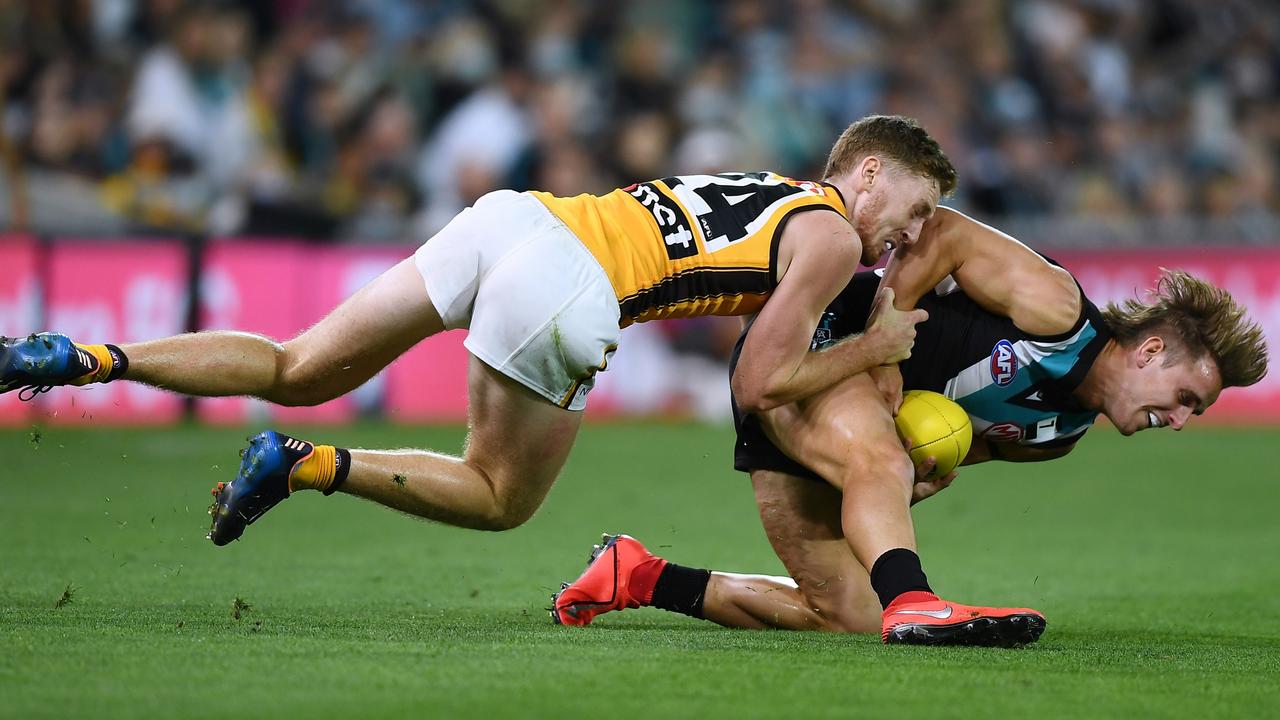 The Hawks were all over the Power. Picture: Getty Images
WHAT HAPPENS THIS WEEK?
Veteran Robbie Gray is expected to be available for the Showdown, while spearhead Charlie Dixon is progressing well and "looks close" to returning, but is in the hopeful, rather than likely basket.
Key defender Trent McKenzie will need to be assessed after rolling his ankle.
Wingman/halfback Miles Bergman could come into contention for the Power.
Todd Marshall is struggling for form and may benefit from a run in the Magpies.
The nature of Saturday night's defeat prompted Byrne-Jones to talk about the need to try to maintain the belief and energy around the club this week.
Hinkley used a similar tone.
"We just need to stay together and go 'OK, how do we help get this back on track'," he said.
"A week ago we lost but it felt like we performed at the level, tonight it didn't."
Hinkley did not want to talk about the Crows game until he and his coaching team got solutions about what went wrong versus the Hawks.
Port Adelaide will be hoping its flaws are not exposed in prime time on Friday night.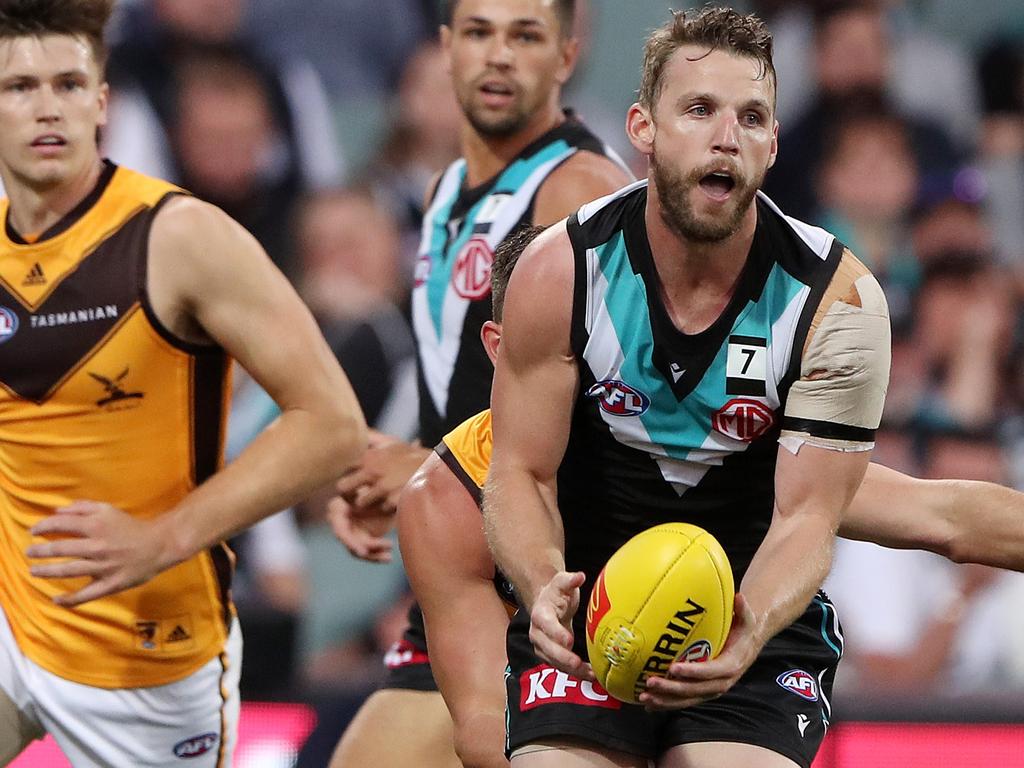 Trent McKenzie will be monitored after injuring his ankle. Picture: Getty Images
DISCONNECTED: POWERLESS PORT HUMBLED BY MITCHELL'S KIDS
Matt Turner
Port Adelaide will not take any risks in bringing back Charlie Dixon but it looks lost ahead of the ball without the injured spearhead.
Sure, the Power had plenty of other issues in its 64-point loss to Hawthorn at Adelaide Oval on Saturday night.
It was scored too easily against on transition, moved the footy too slowly for large chunks of the match, struggled to contain Hawthorn's forwards and its skills were ordinary.
But the Power's attack looked a work in progress at best, dysfunctional at worst.
Port Adelaide led the inside 50 count 45-42, yet only managed seven goals.
Dogging it was a combination of inaccuracy, inefficiency, getting outmatched by the Hawks' defenders and a lack of connection — between attack and midfield and the Power's forwards with one another.
Dixon's absence, as he recovers from ankle surgery, is significant, as is veteran Robbie Gray (knee) and Orazio Fantasia (knee) being sidelined.
Missing them was not expected to stop the back-to-back preliminary finalists from beating a seemingly rebuilding side that finished 14th last year.
Tall targets Todd Marshall, Jeremy Finlayson and Mitch Georgiades were all goalless, combining for 11 marks, 28 disposals and five behinds.
Finlayson (11 possessions, two marks, 0.2) again crossing via trade from GWS in the off-season and his goalkicking let him down early.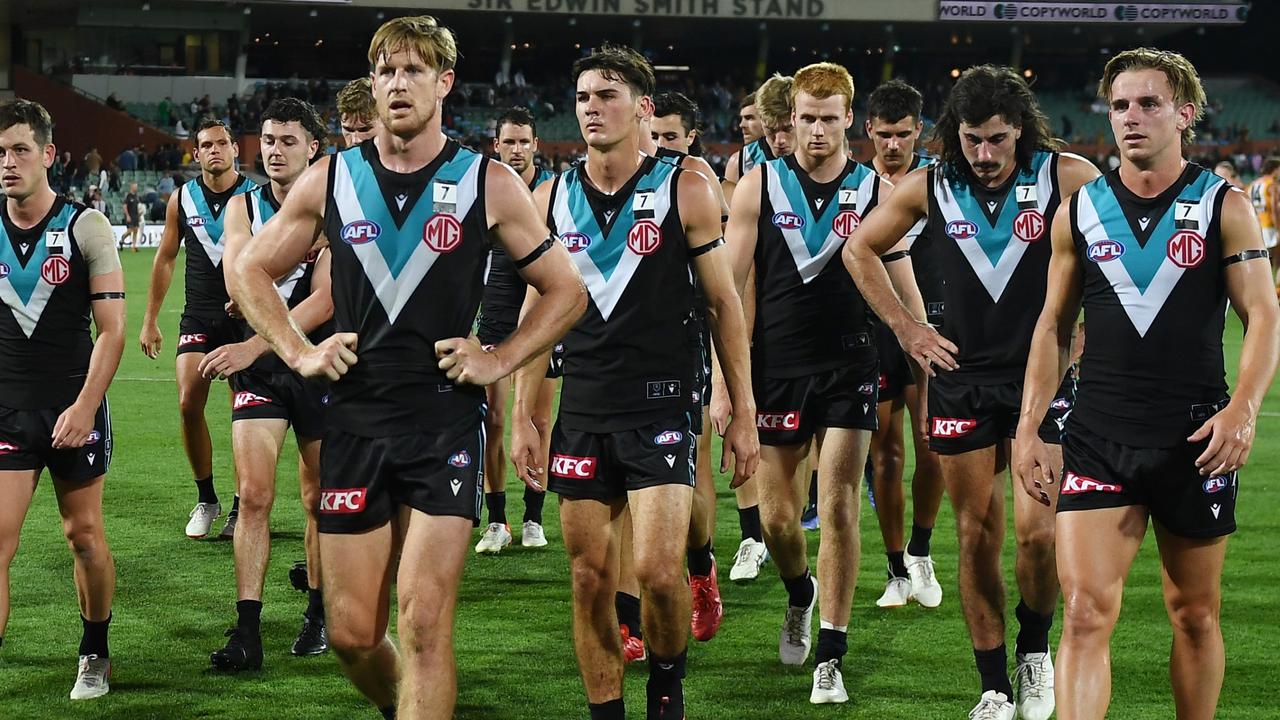 Tom Jonas leads his team off after their massive loss to the Hawks. Picture: Getty Images
Georgiades took two nice grabs among seven in total and 13 possessions.
But his usually accurate goalkicking — he entered the game 41.24 for his career — was off target in booting 0.3.
Marshall (four touches, two marks, no score) had the least influence of the trio and was thrown into defence in the last quarter, switching with club debutant Sam Skinner.
The hosts had 13 inside 50s in the first term but only managed 0.3.
Port Adelaide's first goal came from an unlikely source in an unorthodox fashion.
Ruckman Scott Lycett soccered the ball with his non-preferred left boot from about 15m.
Nothing came easy before or after.
James Sicily and Sam Frost were immense in defence for Hawthorn.
Once the Power fell behind by a hefty margin, it never looked like being able to pile on a score to come back and win.
Sam Powell-Pepper was clearly the Power's best forward, kicking three goals in the third quarter as he tried to spark his side.
At the other end, Mitch Lewis dominated for the Hawks, booting five goals, including four in the third term.
James Sicily thanks Hawks fans after winning their round 2 contest on the road.
13-gun salute as Hawks spoil Port's tribute night
Jason Phelan
Unheralded Hawthorn has shocked the Power, Mitch Lewis kicking four goals in a quarter to propel the Hawks to an upset 64-point win on Saturday night.
On an evening when Port Adelaide honoured late Magpies legend Russell Ebert, the Power dominated possession but was unable to find avenues to goal.
The efficient Hawks had no such issues, kicking a remarkable 13 goals from set shots without a miss in a comprehensive 19.6 (120) to 7.14 (56) win at Adelaide Oval.
Lewis finished with five goals, with Jack Gunston and Luke Breust booting three, while Tom Mitchell amassed 28 possessions as the Hawks made it two wins from two matches with their biggest-ever win over the Power at the ground.
"This is a tough place to win so I'm really proud of the boys and how they went about it," Hawks coach Sam Mitchell said.
"I think the belief in our group is slowly growing.
"We know some of the statistical parts of this game are not going to hold up in a sustainable manner, but certainly we know that our best can match it with good teams now."
Josh Sinn eludes Jai Newcombe at Adelaide Oval. Picture: AFL Photos via Getty Images
Port had 12 more inside 50s for the match and plenty of ball-winners like Travis Boak (39 disposals), Karl Amon (39) and Ollie Wines (36) but couldn't capitalise on a 417-344 possession count, their premiership campaign off to an 0-2 start.
"As far as what we expected, what we wanted and what we needed it was so far away from it," Ken Hinkley said.
"It was maximum disappointment … you can't anticipate that type of performance on a night like tonight for us with lots of reasons to play well and we certainly didn't deliver it."
NICE TOUCH
With Ebert's famed black-and-white No. 7 hanging at the northern end of the ground, the home fans broke into sustained applause when Xavier Duursma ran onto the field from the bench in the seventh minute of the first quarter.
Duursma usually plays in the No. 7 guernsey, but in honour of the Port great, the young gun wore No. 50 on his back for the night.
But the first half wasn't the start to the celebration that fans had hoped for.
Port led in most of the key statistical areas at quarter-time, but the Hawks were far more efficient with their possessions and fluid with their ball movement in an impressive opening.
Hawthorn kicked three goals to none in the first term, including one from former Power best-and-fairest winner Chad Wingard, to lead by 17 points at the first break.
GUNSTON GREAT
Scott Lycett got the scoreboard ticking with his side's first early in the second quarter, the Power narrowing the gap to nine points.
But Gunston, who was restricted to just one game last year by a back injury, kicked two superb goals for the term.
The veteran combined well with young Lewis, while Port's makeshift forward line missing Charlie Dixon, Orazio Fantasia and Robbie Gray was unable to make the most of a 25-22 advantage in inside 50s in the first half.
The Power also had nine of the top 10 possession winners on the ground at halftime but trailed by 28 points at the main break.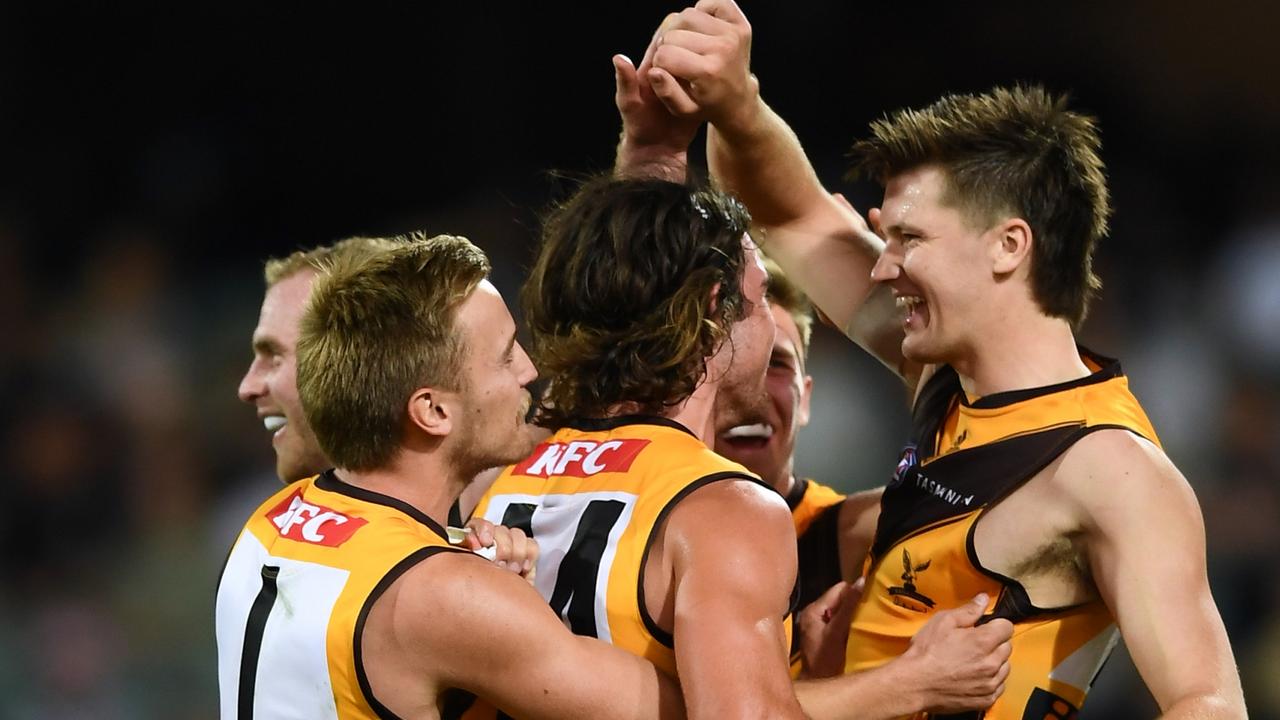 Mitch Lewis celebrates a goal with Harry Morrison and Jai Newcombe. Picture: Getty Images
SAM VS MITCH
In a stunning third-quarter onslaught, Lewis kicked four goals as the Hawks got out to a 44-point lead.
With his side's chances fading fast, Sam Powell-Pepper stepped up with three of his own.
Even so, it was a long way back for the Power who entered the final term 36 points in arrears.
Any thoughts of a late rally were quickly snuffed out, Breust kicking three goals and Lewis his fifth as the Hawks celebrated in style.
The only sour note for the visitors was a hamstring injury to Wingard, who was subbed out at halftime.
Port will be back at Adelaide Oval on Friday night as the away team in a Showdown against the Crows, and Hawthorn will take on Carlton at the MCG on Sunday.
SCOREBOARD
POWER 0.3 3.6 7.10 7.14 (56)
HAWKS 3.2 8.4 14.4 19.6 (120)
PHELAN'S BEST
Power: Boak, Powell-Pepper, Wines, Amon, Butters, Lycett.
Hawks: Lewis, Scrimshaw, Gunston, Mitchell, Sicily, Worpel.
GOALS
Power: Powell-Pepper 3, Motlop, Houston, Lycett, Rozee.
Hawks: Lewis 5, Gunston 3, Breust 3, Moore 2, Wingard 2, Macdonald, Nash, Ward, Newcombe.
INJURIES
Power: McKenzie (ankle).
Hawks: Wingard (hamstring).
UMPIRES
Donlon, Haussen, Rebeschini.
VENUE
ADELAIDE OVAL 30,267
PLAYER OF THE YEAR
JASON PHELAN'S VOTES
3 Lewis (Haw)
2 Scrimshaw (Haw)
1 Gunston (Haw)
Originally published as Port Adelaide AFL news: Charlie Dixon return from injury delayed