What's to like — and not to like — about the round 21 AFL action
Ed Langdon was made to eat his words by the Pies on Friday night, but at least he had the stones to give his own honest opinion. We need more characters in footy.
Collingwood has done it again — and it's timely for the haters to take the Magpies seriously.
If you still believed the Pies' 10-game winning streak was built on luck, an 11th victory in a row over reigning premier Melbourne should have convinced you otherwise.
It was an epic match to start Round 21 and a precursor to what is to come in the next two months of football.
See all our likes and dislikes in this week's Early Tackle.
LIKE
1. NEVER-SAY-DIE PIES
The negativity around Collingwood in recent weeks has been a touch puzzling.
Many have pointed to the Magpies' low percentage and have suggested they have "fluked" narrow wins and are not actually a top-four team.
To quote Dom in the original Fast and Furious movie, "It doesn't matter whether you win by an inch or a mile, winning is winning".
Craig McRae's side has now won 11-straight matches – two of those wins coming over reigning premier Melbourne.
Just one more victory from their last two games should be enough to lock away a top-four finish and that would leave Collingwood firmly in the premiership frame.
You can point to the Magpies' profile and say they are not winning enough contested possession or clearances.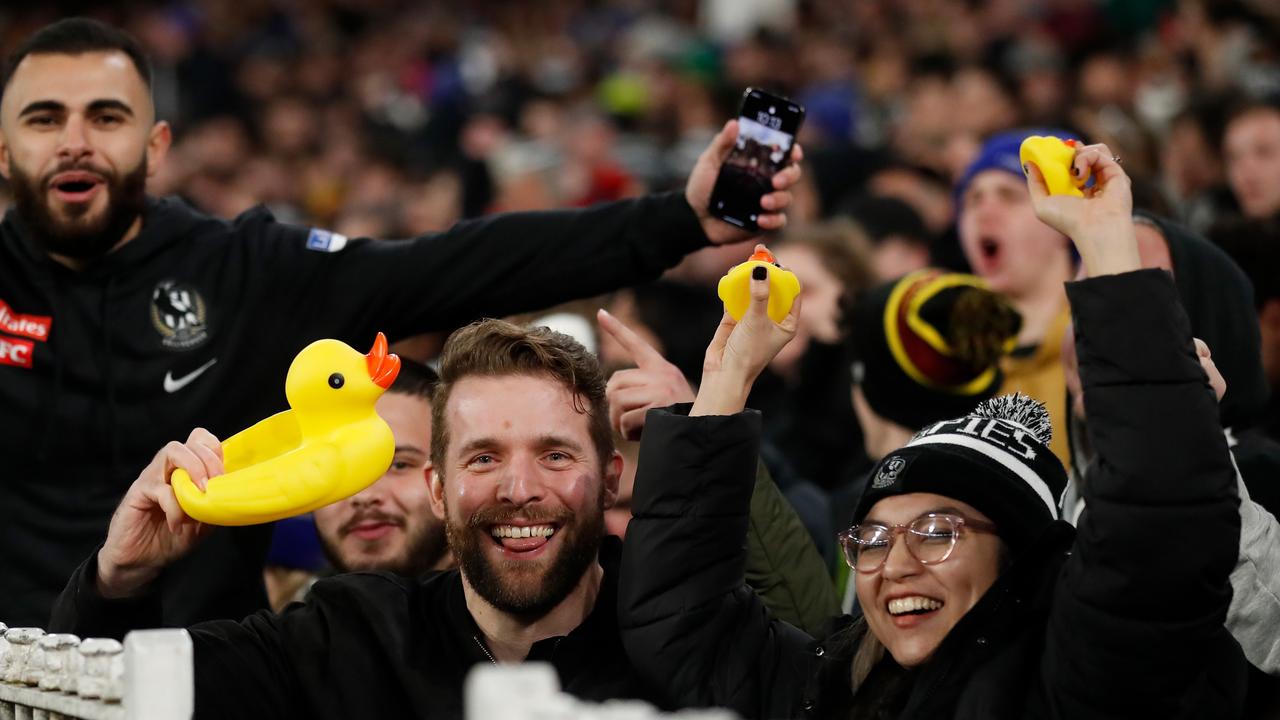 Collingwood fans celebrate their 11th consecutive win — with rubber ducks.
They're not, but neither was Richmond in 2017.
Much like the Tigers that year, pressure, quick ball movement and a never-say-die attitude has been king.
Collingwood recorded a sky-high pressure rating of 205 in the second half against the Demons and laid 48 tackles after halftime including 11 in their attacking 50.
They fought back from a 23-point deficit in the second quarter and hit back after the margin got back to 18 points in the third term.
Make no mistake – this is a dangerous team that no one will be taking lightly come September.
2. THEATRE IN FOOTY
Too often these days, interviews and press conferences with AFL players are about as bland as a blank canvas.
Many heavily media-trained players hide behind the same old cliches, which neither provide insight nor do anything to promote upcoming games.
Melbourne will have a quiet word with Ed Langdon about showing respect for opposition sides after he labelled Collingwood "one-trick ponies" in the lead up to Friday night's blockbuster clash.
However, it would be nice if the Demons let it slide and players were instead encouraged to speak their minds and show a little personality.
Langdon's gibe towards the Magpies added enormous theatre at the MCG and was mild by overseas sport standards.
More, please.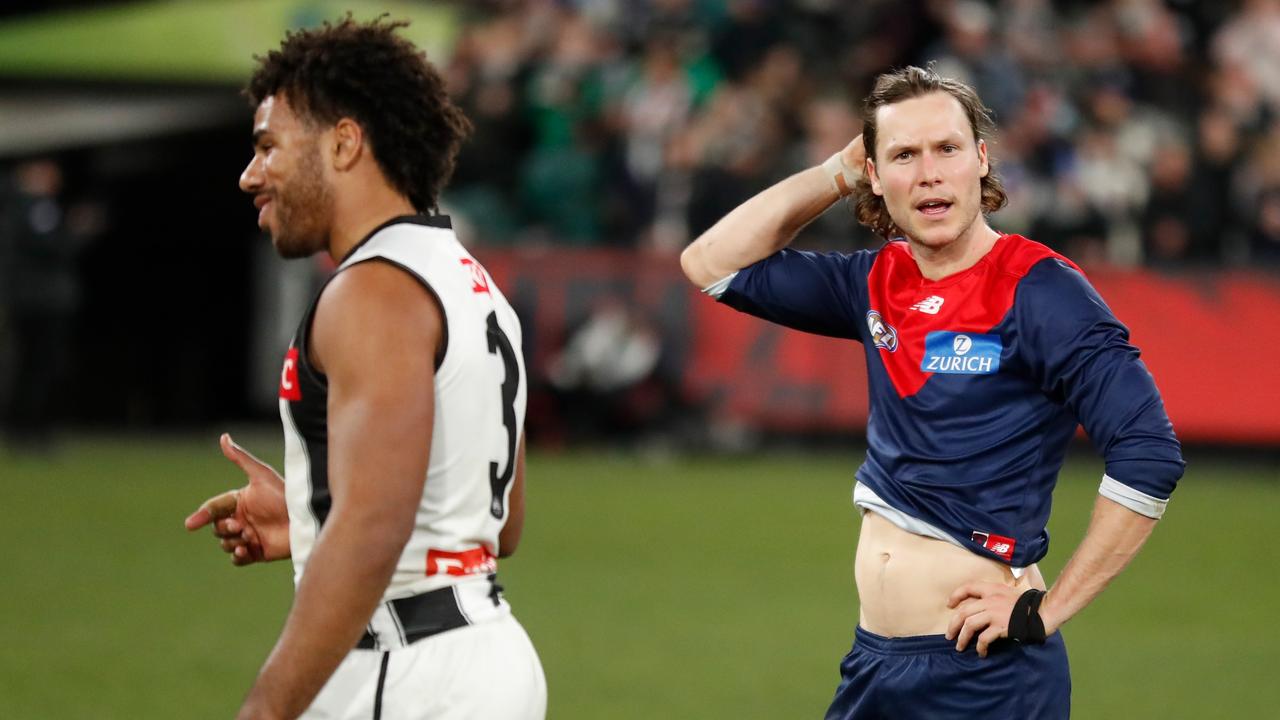 Ed Langdon's gibe came back to bite him, but we need more of that sort of honesty.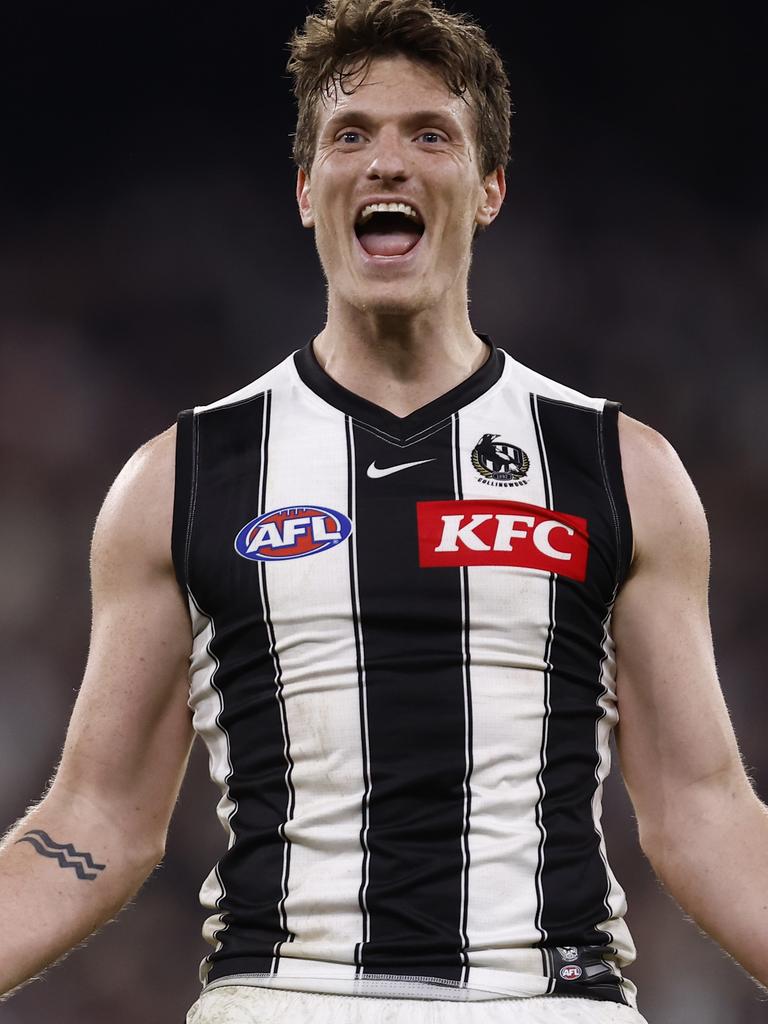 Brody Mihocek celebrates Collingwood's win over Melbourne.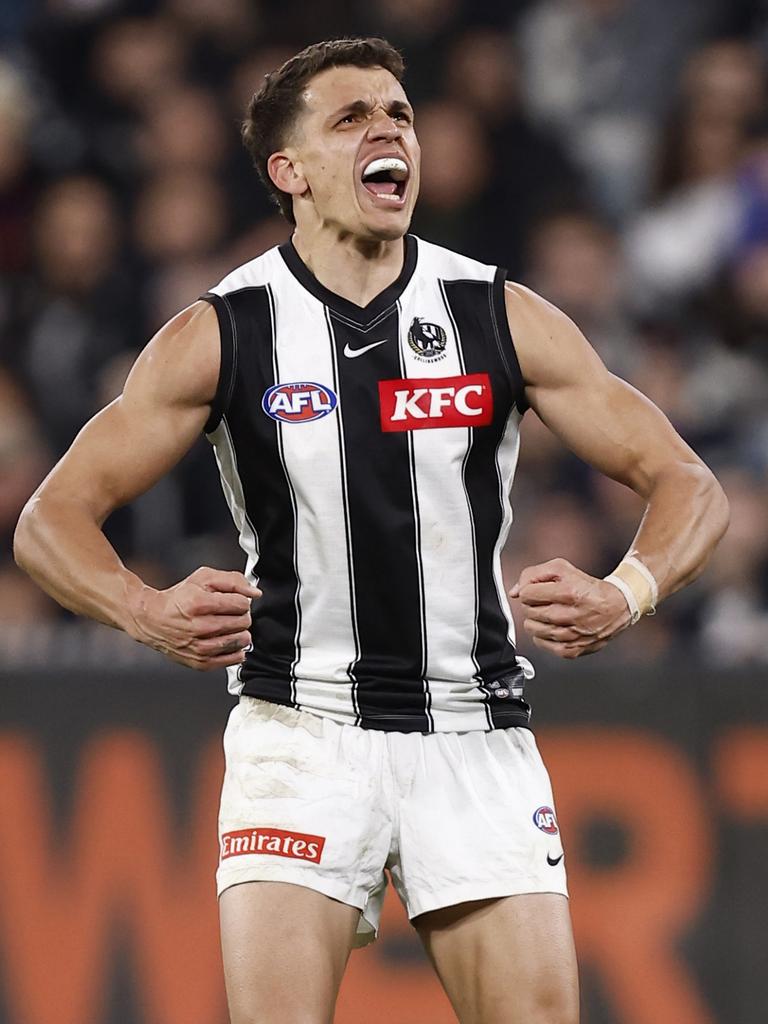 Ash Johnson has been brilliant since making his debut.
3. SIGN HIM UP
Given his recent injury history, you can understand why Hawthorn has held off putting a contract offer to veteran forward Jack Gunston for 2023.
After all, the 30-year-old played just one game last year in between two rounds of back surgery.
However, Gunston has shown what a damaging player he can still be in recent weeks.
Fit again and moving freely as a lead-up forward, Gunston had a very handy defender stand him in Gold Coast's Sam Collins on Saturday.
Yet, he was able to kick five goals from 14 disposals and eight marks.
Gunston has now booted 11 majors in the past three weeks in a late-season purple patch.
Sign him up, Hawks, before rivals come calling.
4. TOP AUDITION
If the Western Bulldogs weren't already completely sold on trading for Rory Lobb at the end of the season, chances are they are now.
As colleague Jon Ralph has reported, rival clubs expect Lobb to land at Whitten Oval on a three-year, $1.5 million deal at the end of the season.
After his performance against the Bulldogs on Saturday, the Fremantle forward might even be able to ask for a touch more.
Lobb was on fire at Marvel Stadium, playing purely as a key forward.
He booted 4.2, including some lovely set shots from long range and difficult angles.
Consistency has always been the issue for Lobb, but if the Bulldogs can get the best out of him he will be a very handy addition to their attack.
5. BULLISH PROSPECTS
Seven days after coach Luke Beveridge said Sam Darcy still had "a way to go" to make his AFL debut, the father-son was rolled out against Fremantle and did not look out of place.
Last year's No.2 pick in the national draft still has plenty of development ahead of him, but showed a few glimpses of the enormous potential he has playing as a key defender against the Dockers.
Some nice intercept marks caught the eye in a debut that saw Darcy log 10 disposals, eight marks and seven intercept possessions.
Over the past 18 months, the 19-year-old has played in just about every position – forward, back, ruck and even on a wing.
The most recent measurements put Darcy at just a smidge under 210cm, which unofficially has him as the fourth-tallest player in the AFL.
When he fills out his body a little more, he is going to be a serious weapon.
DISLIKE
1. IS MCSTAY NEEDED?
It might be too late now, but surely Collingwood would be having some second thoughts about their plans to bring free agent Dan McStay to Olympic Park on a lucrative five-year deal.
The Magpies have been screaming out for another key forward for years, but their forward line could not be functioning any better right now and a mid-season draftee from last year has been a revelation over the past month.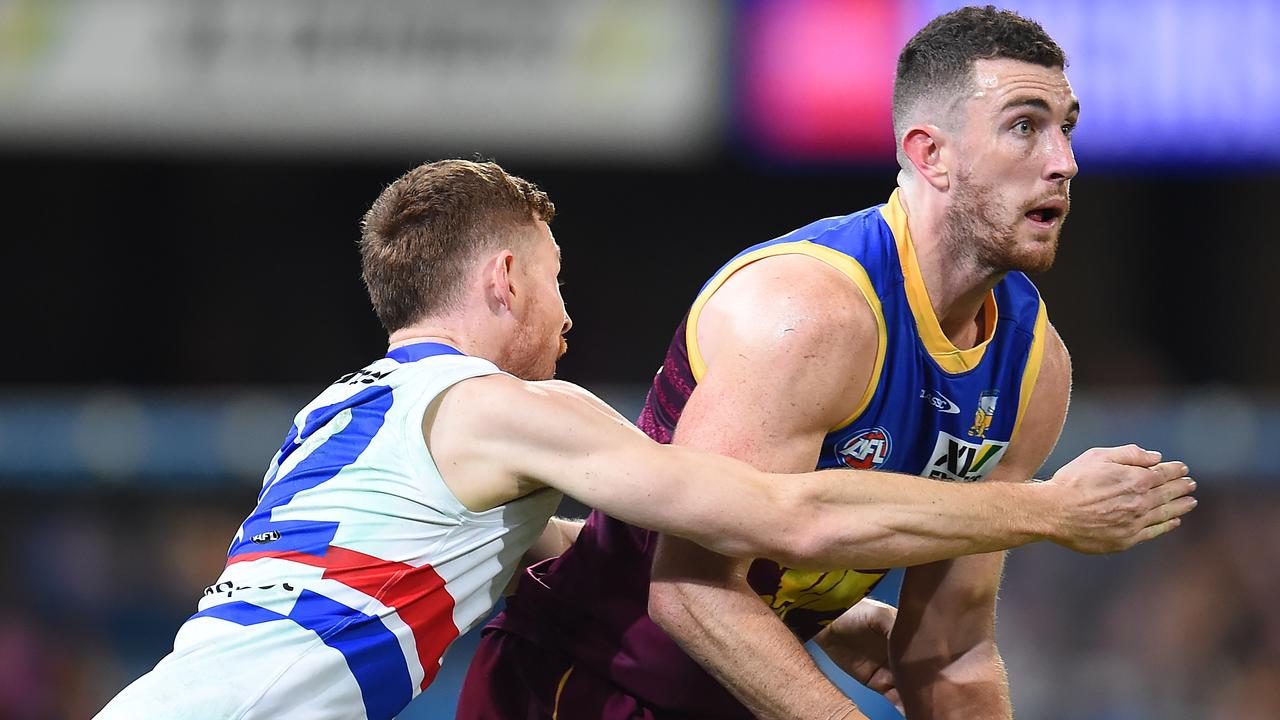 Collingwood must be having second thoughts about whether it needs another forward.
A 193cm forward who has a great pair of hands, Ash Johnson was the ice-man as he made the most of his opportunities with four goals in just his fourth AFL game against Melbourne.
The 24-year-old has now booted 10.3 over the past month in a Magpies attack that is as efficient as ever.
Collingwood recorded an incredible inside-50 efficiency of 56 per cent against the Demons as they generated 23 shots on goal from just 41 entries.
Where does McStay – who has kicked 16 goals from as many games this season – fit into the picture?
2. BOMBS AWAY
Last week, Greater Western Sydney were accused by coach Mark McVeigh of checking out of the season.
In the second half against Essendon on Saturday, the Giants checked back in and it was the Bombers who looked as though they had checked out.
Between the three-minute mark of the third quarter and the 21-minute-mark of the final term, GWS piled on 7.5 to 0.3 to turn around what was an 11-point Essendon lead just after halftime and set up a 27-point victory.
The Bombers recorded only 38 inside-50s for the game, logged only a single tackle inside their attacking arc, were poor defensively, were constantly second to the ball and continually got themselves in trouble by overhandballing.
In the workrate stakes, they were left in the dust by a team which had lost its past four games by six goals or more.
It is shaping up as a big off-season at Tullamarine.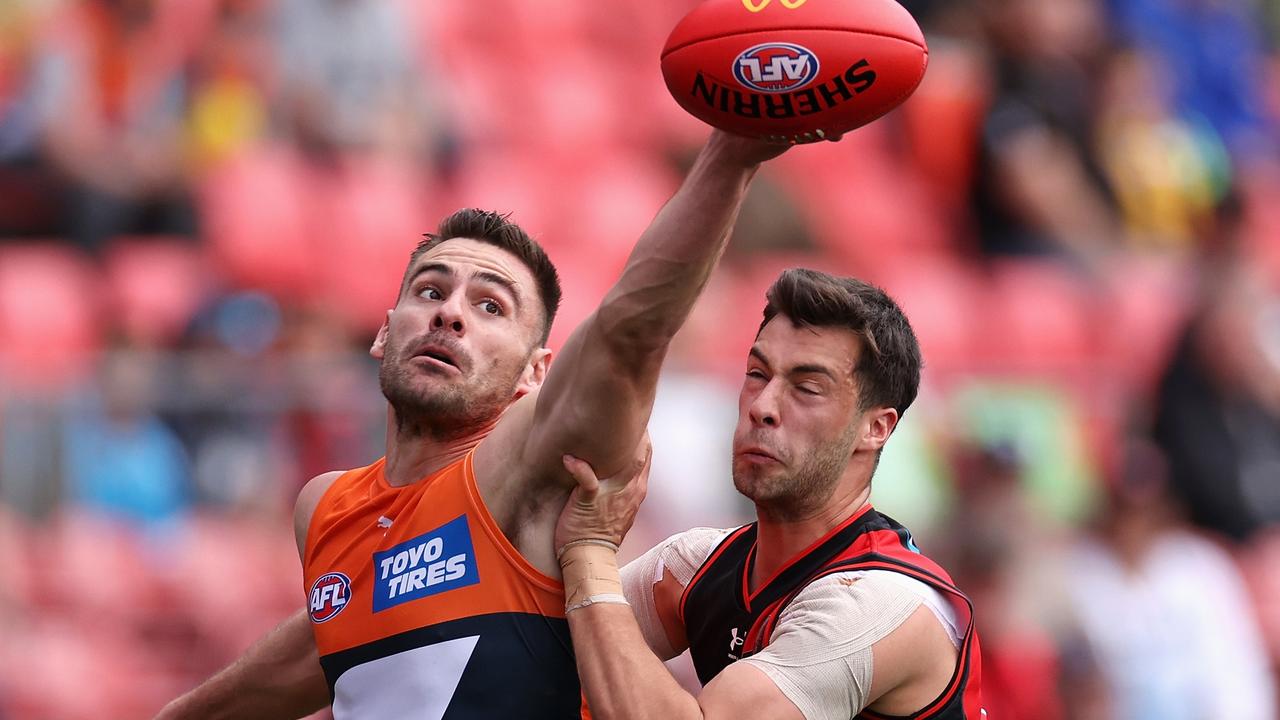 Stephen Coniglio gathers the ball as the Giants turned around their recent poor form with a resounding win over Essendon.
3. IT'S A BUDDY MESS
Lance Franklin's contract situation has become a circus, which is not what the Swans would want just weeks out from a finals campaign.
It seemed Sydney was closing in on a contract extension for their veteran star, before reports emerged that 'Buddy' might be Brisbane bound.
On Saturday, Franklin's camp announced that contract talks had been put on hold until the end of the season – which was news to the Swans and won't stop the speculation.
If the current impasse is about money, it shouldn't be.
Franklin has been incredibly well paid – and rightly so – across his career and should not expect to still be on top-dollar at 35 years of age.
Collingwood veteran Scott Pendlebury – who is 34 – is still playing good football but isn't still earning $800,000.
Yes, Franklin puts plenty of bums on seats at the SCG, but the Swans have a host of other up-and-coming young stars who also deserve a piece of the pie.
Marcus Bontempelli looks dejected after the latest Bulldogs loss.
4. DOGS ON THE ROPES
It is dangerously close to being declared a wasted season for the Western Bulldogs.
A team with a lot of talent has not been able to put it on show across four quarters often enough and sits 10-10 with two rounds remaining.
Even if the Bulldogs win their last two games against GWS and Hawthorn, they are going to need quite a few other results to go their way to qualify for September.
Luke Beveridge's team was brave in the second half against Fremantle on Saturday, but left themselves with too much work to do after the Dockers completely controlled the opening half.
Fremantle played keepings off with the football and recorded 44 more uncontested marks to the main break, helping them to a game-high 29-point lead on the eve of halftime.
Bulldogs fans are restless — and rightly so.
Originally published as What's to like — and not to like — about the round 21 AFL action