AFL 2022: Sydney Swans will not contest Patrick McCartin's enforced 12-day layoff
The Sydney Swans have reached a decision on whether to contest Patrick McCartin's enforced 12-day concussion protocol, while another superstar Swan could be just days away.
Sydney will not contest Patrick McCartin's enforced 12-day concussion protocol as the Swans take all precautions to ensure his safe return to the game.
McCartin was subbed out of the Swans' victory over Hawthorn with what is officially his ninth AFL concussion despite few or no symptoms.
But a trio of collisions — including being accidentally clipped to the back of the head by Hawthorn star Chad Wingard's knee — were clearly enough for the Swans to take a conservative approach.
McCartin was distraught in the rooms during the game but was said to be shattered about being ruled out rather than being upset about his latest head knock.
Stream every match of every round of the 2022 Toyota AFL Premiership Season Live & Ad-Break Free In-Play on Kayo. New to Kayo? Try 14-Days Free Now >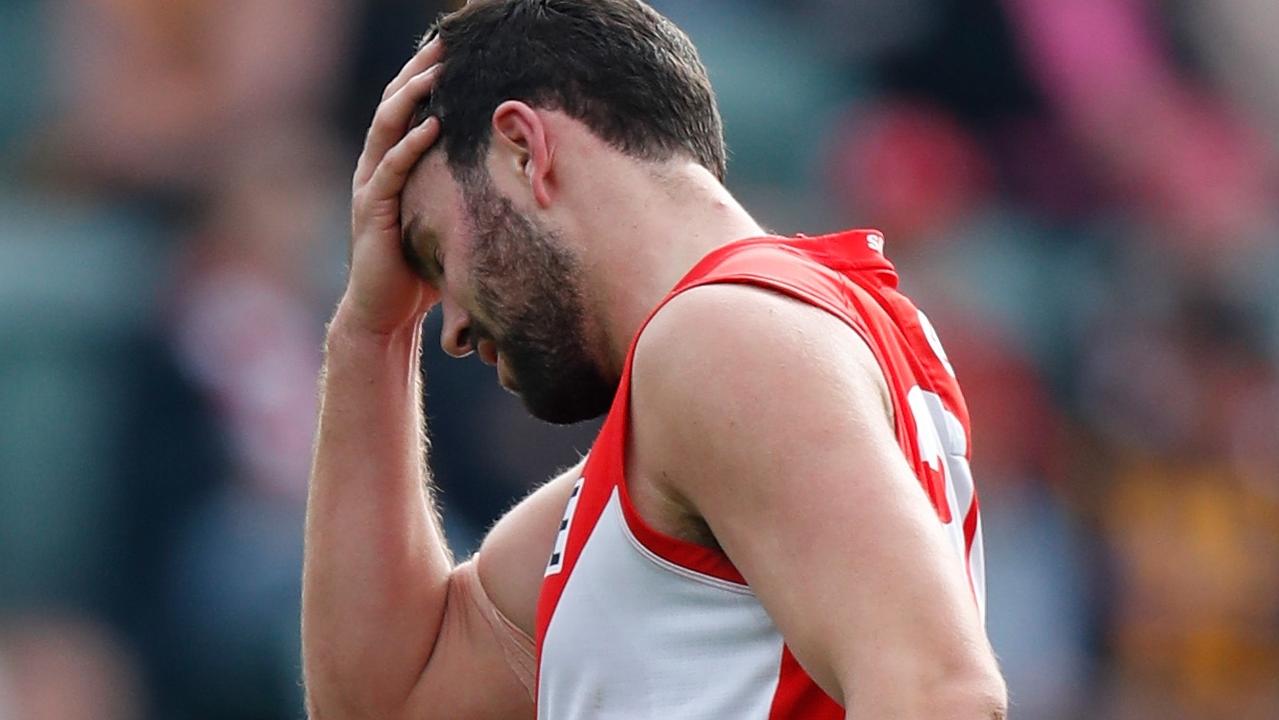 Paddy McCartin was subbed out of the clash against Hawthorn in Launceston. Picture: Michael Willson/AFL Photos via Getty Images
The AFL's own rules for return to play and the SCAT test McCartin will have to pass to return were formulated under the advice of concussion advisor Paul McCrory, whose entire body of work is being independently reviewed.
A raft of new studies suggest a 12-day break from the game is not enough, with a recent Monash University study showing concussed players were still recovering after 15 days.
But Sydney believed it will be safe for McCartin to return for round 8 against Gold Coast as long as he ticks off the detailed testing that is required under return-to-play protocols.
Sydney football boss Charlie Gardiner told the Herald Sun before the game on Monday star small forward Tom Papley would likely make his AFL return from a hamstring injury if he got through a full training schedule this week.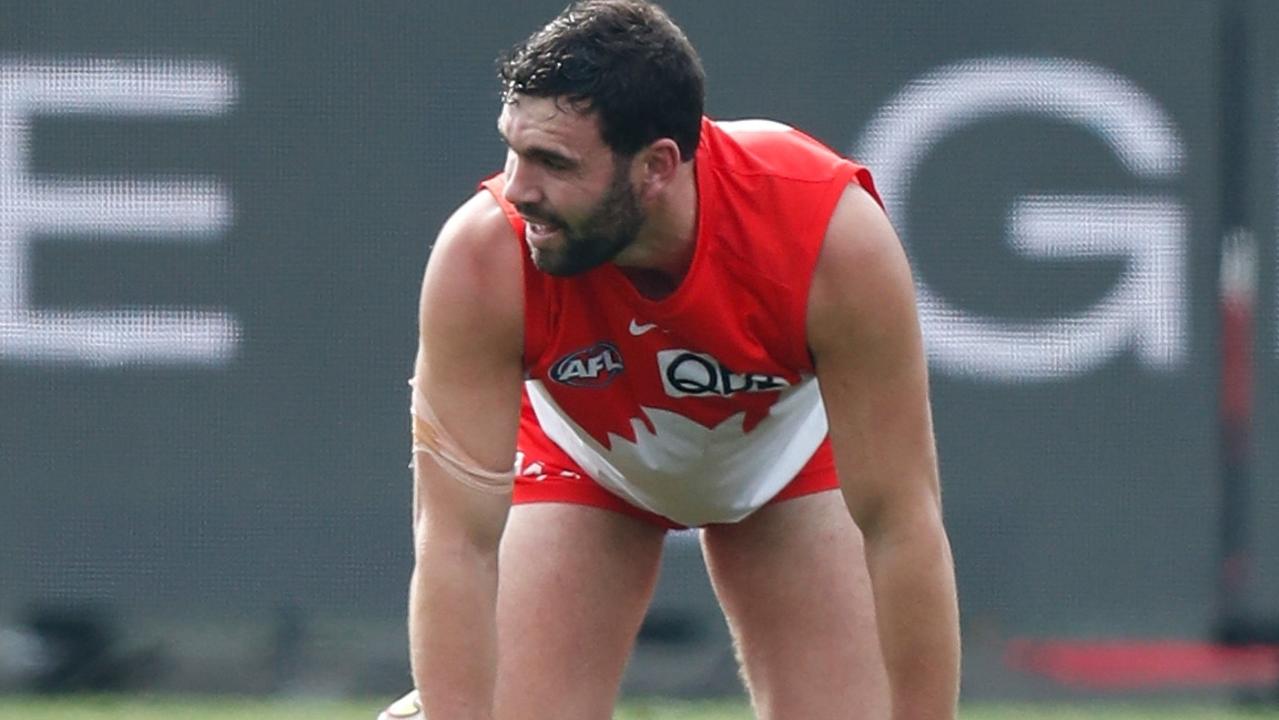 McCartin looks on after a collision during his game against Hawthorn. Picture: Michael Willson/AFL Photos via Getty Images
Key forward Logan McDonald is also likely to miss after receiving a heavy knock late in the game against Hawthorn in Launceston.
Swans defender Jake Lloyd, who on Tuesday made clear he would stay at the club despite his free agency, said McCartin was in good shape.
"He was feeling really well after the game, which was really positive," Lloyd told SEN.
"He was back to himself, a little bit more shock with Paddy. For him to be back to himself feeling fine after the game, had no concussion symptoms at all was really positive. I think he failed the test which is pretty easy to do for anyone, it's what you have to do these days.
"He'll miss this week, but he's been a key player for us in defence. He's changed our style the way we can support each other in the air down back. We'll miss him this week but its great he's feeling well."
Sad truth behind McCartin's failed concussion test
Paddy McCartin failed a concussion test but suffered no ill-effects from a knock to his head that had the football holding its breath for one of the AFL's unluckiest players.
Sydney coach John Longmire stressed repeatedly that McCartin was "feeling really good" and wanted to come back on the ground in Launceston in Anzac Day.
Instead, McCartin was substituted out of the 41-point win against Hawthorn and was pictured slumped against the lockers looking shattered.
But Longmire said there was little cause for concern in what was a huge relief for a player who had his career at St Kilda cut short because of eight nasty concussions.
Paddy McCartin holds his head after a collision against Hawthorn. Picture: AFL Photos/Getty Images
Inside the Sydney camp the belief was that McCartin – who had his St Kilda career destroyed by eight concussions – was so nervous that he got some answers wrong and was substituted out of the match.
"He's fine, he's feeling good," Longmire said.
"The docs were ultraconservative with him, as you'd understand.
"He's feeling really good, he wanted to come back on. But we weren't going to put him on afterwards.
"He said he was fine (and) he feels good now."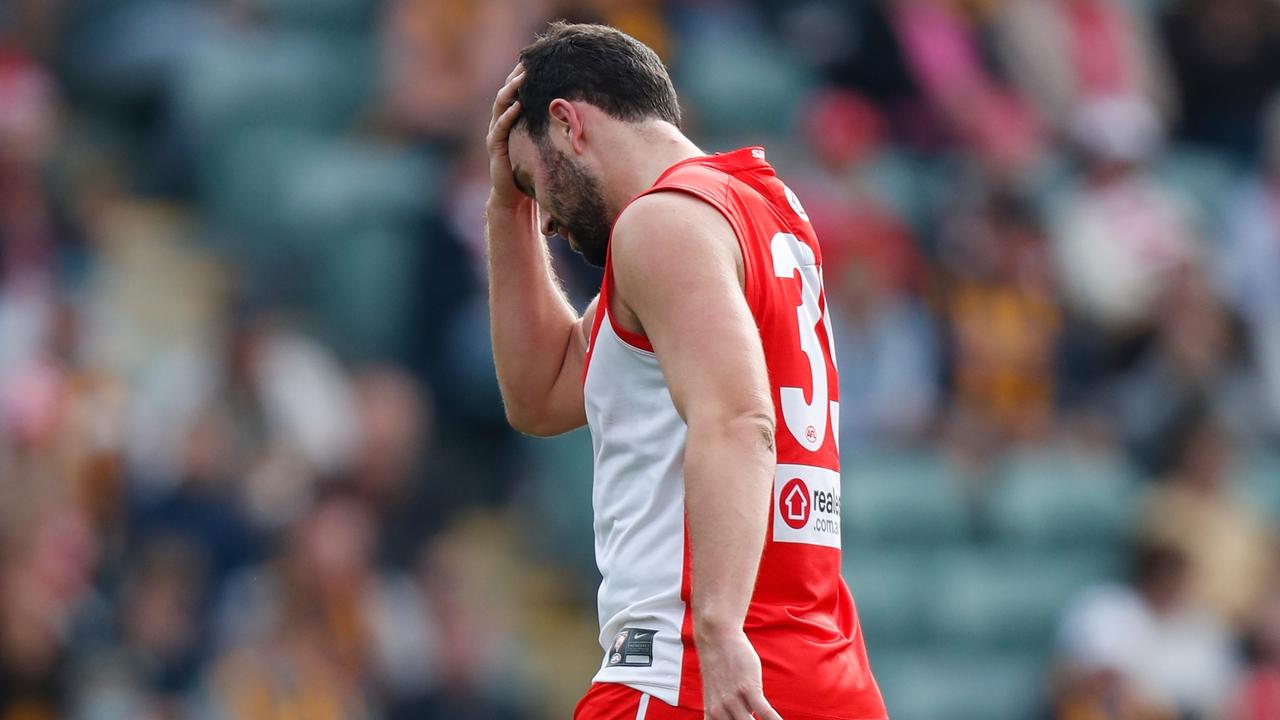 Paddy McCartin was subbed out of the game. Picture: Michael Willson/AFL Photos via Getty Images
McCartin was on the ground speaking to younger brother Tom after the final siren and joined in the team song wearing a Swans beanie.
Under AFL concussion protocols it is likely that McCartin will be forced to miss next week's match against the Brisbane Lions, given he was substituted out of the match after failing a concussion test.
McCartin copped an accidental knee from Hawthorn's Chad Wingard and was earlier involved in a heavy collision in defence.
McCartin got up to take his kick after the Wingard contest before Swans medicos pulled the pin on his afternoon, with veteran Josh Kennedy substituted into the match.
But Longmire said repeatedly there was no reason to worry.
"He feels really good. He was just disappointed he couldn't come back," Longmire said.
"The docs ruled him out, so I'm not sure what the result of those (concussion test) were. He's fine, he's fine. He feels really good."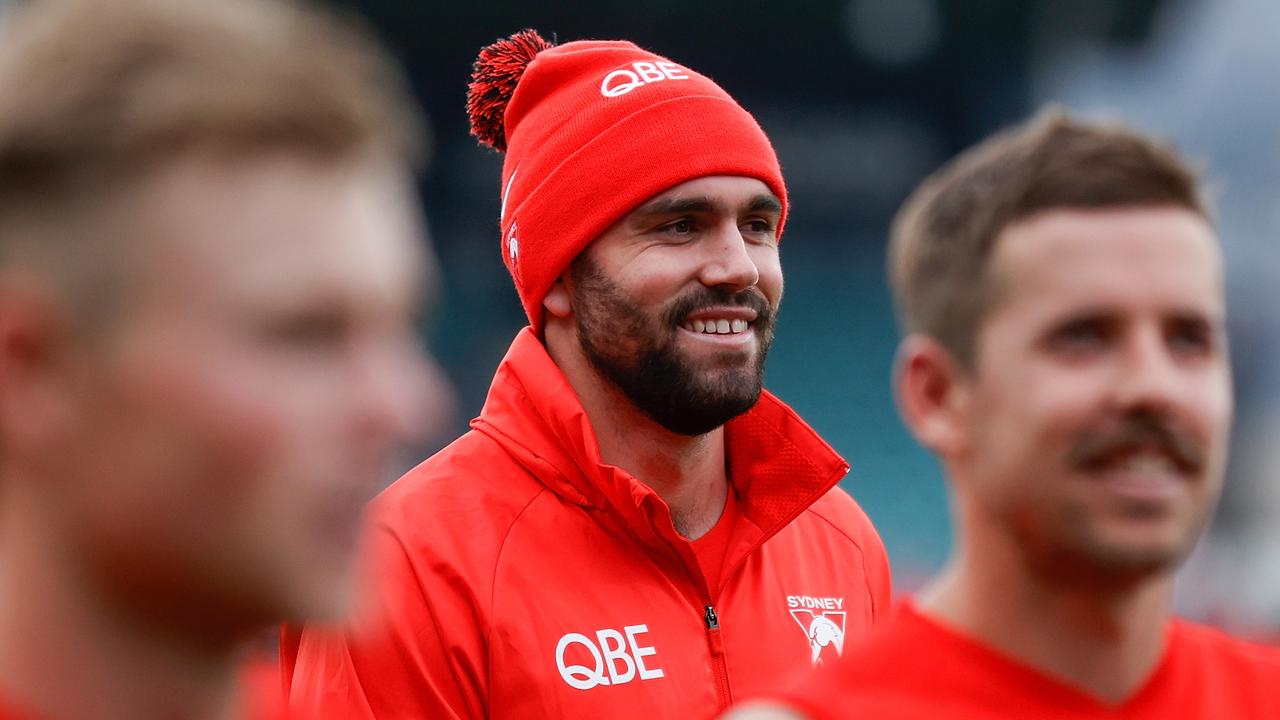 Paddy McCartin was in good spirits after the match. Picture: Michael Willson/AFL Photos via Getty Images
The Swans confirmed on Twitter that McCartin failed the concussion test. Young forward Logan McDonald also suffered a concussion, which will rule him out of the clash against the Lions.
The sight of McCartin lighting up the Swans' backline as an intercept marking defender had been one of the stories of the season.
McCartin earned a rookie contract at Sydney this season and played his way into the round 1 team after a brilliant summer.
The former No. 1 draft pick clunked 19 intercept marks in the first five rounds, including seven against Geelong and five in the first quarter of that match.
Buddy could be in hot water for ump bump
Sydney's 1000-goal hero Lance Franklin could come under scrutiny for making accidental contact with an umpire in the Swans 41-point come-from-behind win over Hawthorn in Launceston on Anzac Day.
Franklin grabbed the ball from a marking contest and unintentionally bumped field umpire Paul Rebeschini as he blew his whistle to stop play.
Franklin, who kicked three goals, put up his hands by way of an apology and Rebeschini did not flinch after the contact, but the incident is sure to be scrutinised, with the AFL taking a dim view of players touching umpires.
Hawk Jaeger O'Meara could also in trouble for a headhigh bump on Swan Callum Mills as he bent over the ball in the heat of the third term.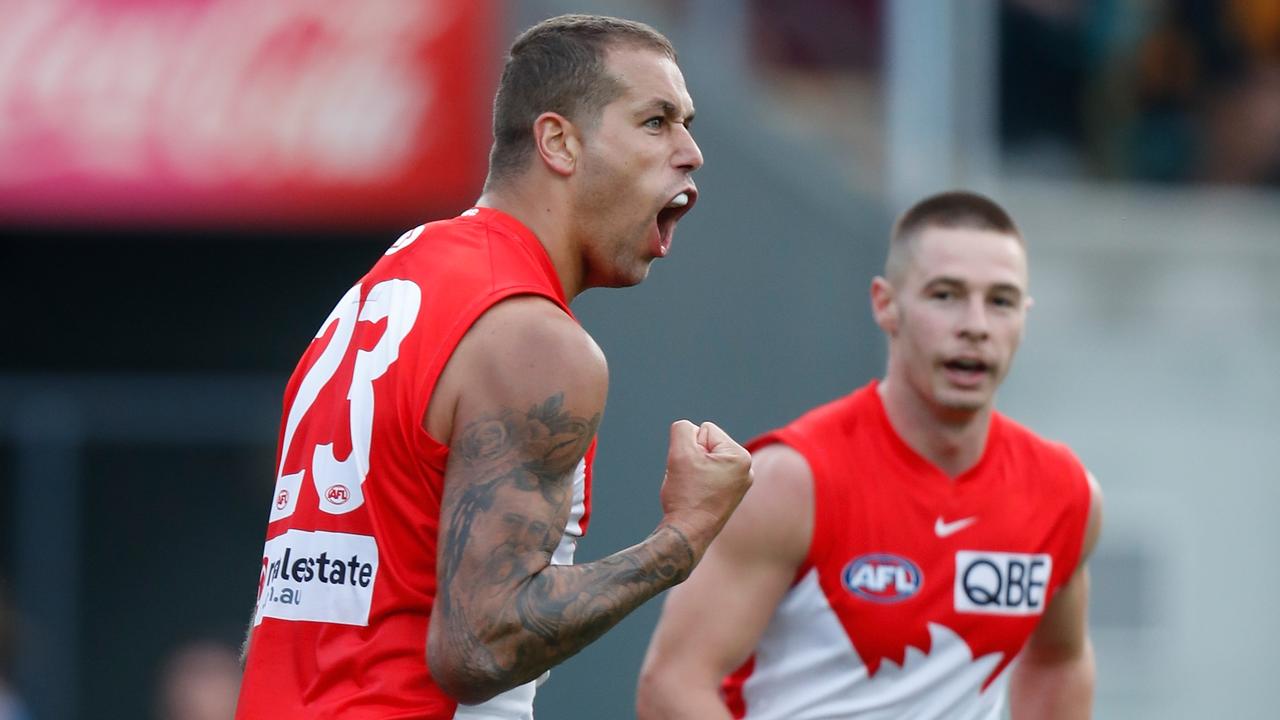 Lance Franklin celebrates a goal against his former side. Picture: Michael Willson/AFL Photos via Getty Images
Despite losing Paddy McCartin with another head knock in the third quarter – replaced by surprise injury sub Josh Kennedy – the Swans closed the gap to nine points at the final change after Hawthorn burst out of the blocks with the first five goals of the game.
"We were down on all of our KPIs and contested pressure early and we knew if we could get on top we'd be able to change the game. To be able to do that was really exciting," said Swans star Mills, who had 37 disposals in the win.
"We changed a couple of things around the stoppage and we were able to get things back on our terms."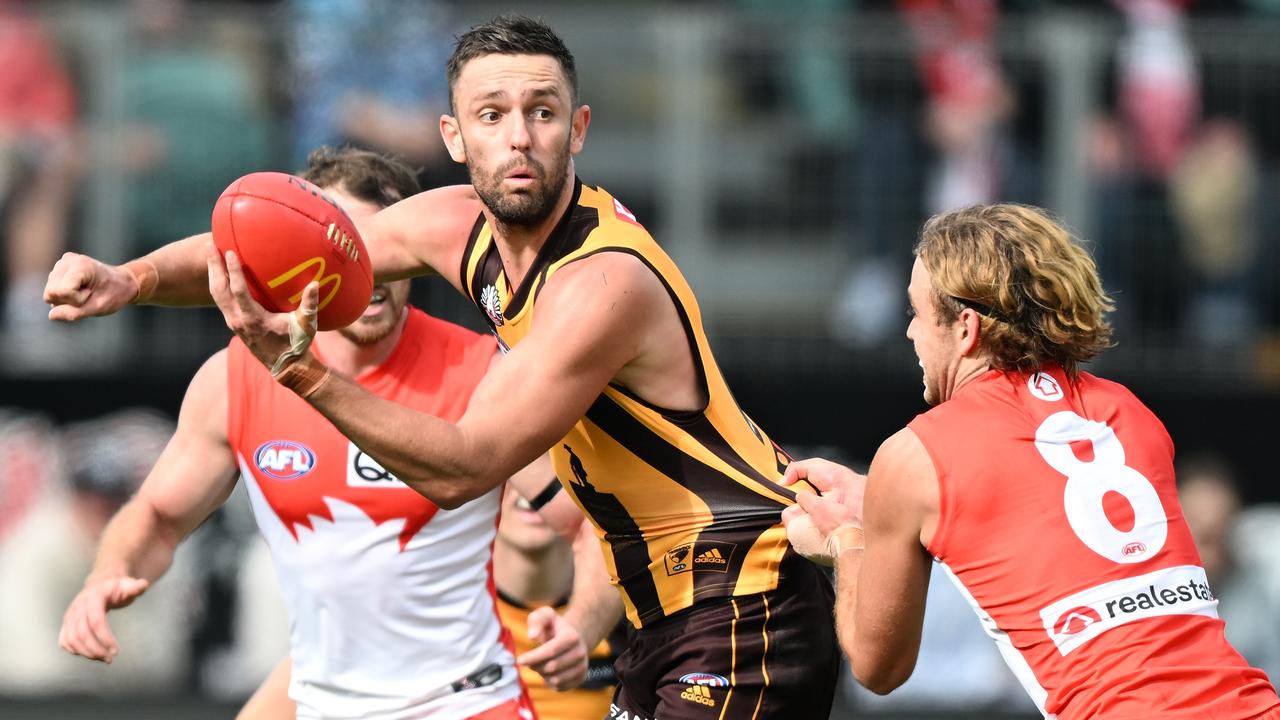 Jack Gunston fires off a handball under pressure. Picture: Steve Bell/Getty Images
The Hawks were on fire from the opening bounce, with Tom Mitchell, Jack Scrimshaw and Jai Newcombe dominating midfield traffic and surging the ball forward.
From an inside-50 count of 11-2, the Hawks flew to a 32-point lead midway through the first term, only to have it cut to 14 at quarter-time with Sydney earning goals from Mills, Lance Franklin and Errol Gulden.
Franklin missed three shots in the second to take his halftime tally to 1.4 as the wayward Swans struggled to finish their good work.
Hawthorns efficiency inside 50 fell from 67 per cent to 48 by halftime as Sydney got on top in hit-outs, clearances, centre clearances, stoppage clearances and contested possession.
Sydney hit the afterburners in the final term, kicking nine of the last 10 gaols.
Franklin's second at the 15-minute mark put the Swans in front for the first time and a Ben Ronke double in time-on sealed the deal.
BYE BUDDY
Lance France has done many great deeds in Launceston, mostly in Hawthorn colours, including a career-best 13-goal haul in the Hawks' 115-point thumping of North Melbourne in 2012.
It was unusual for big Bud to be booed at UTas Stadium by Hawks fans, albeit for an iffy push in the back decision that gave him his first look at the goals. It soon turned to cheers as he missed the shot.
At the end of the game, Hawks fans gave Franklin a fitting farewell in what is assumed will be his last game on Tassie soil.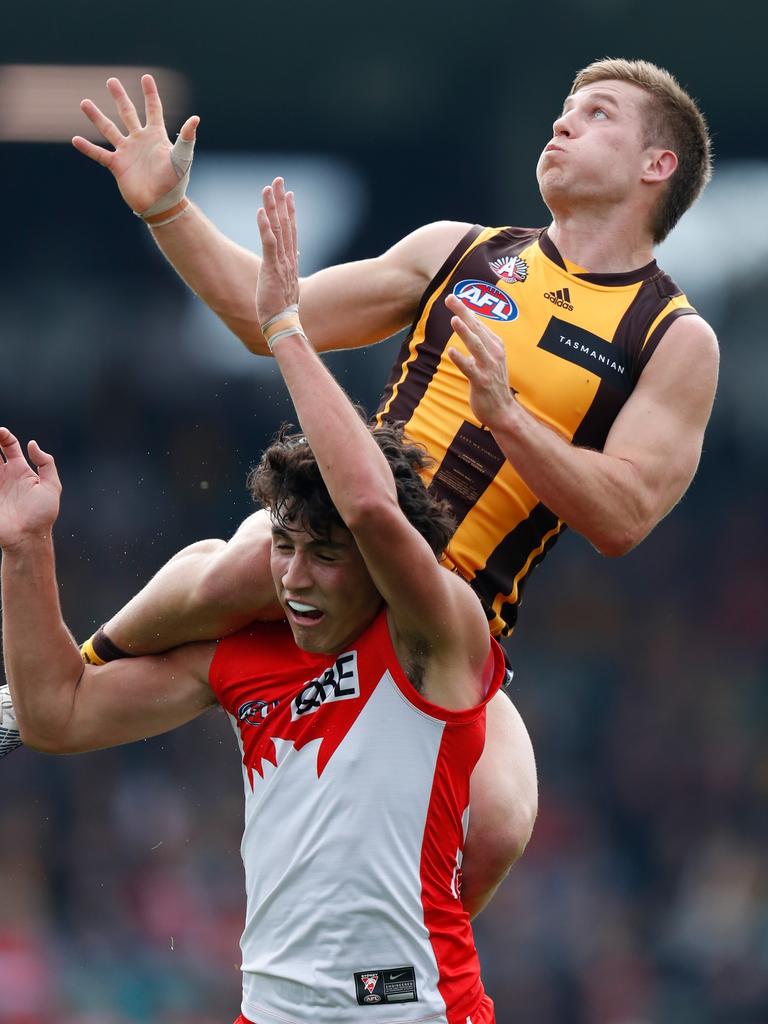 Hawks forward Dylan Moore takes off. Picture: Michael Willson/AFL Photos via Getty Images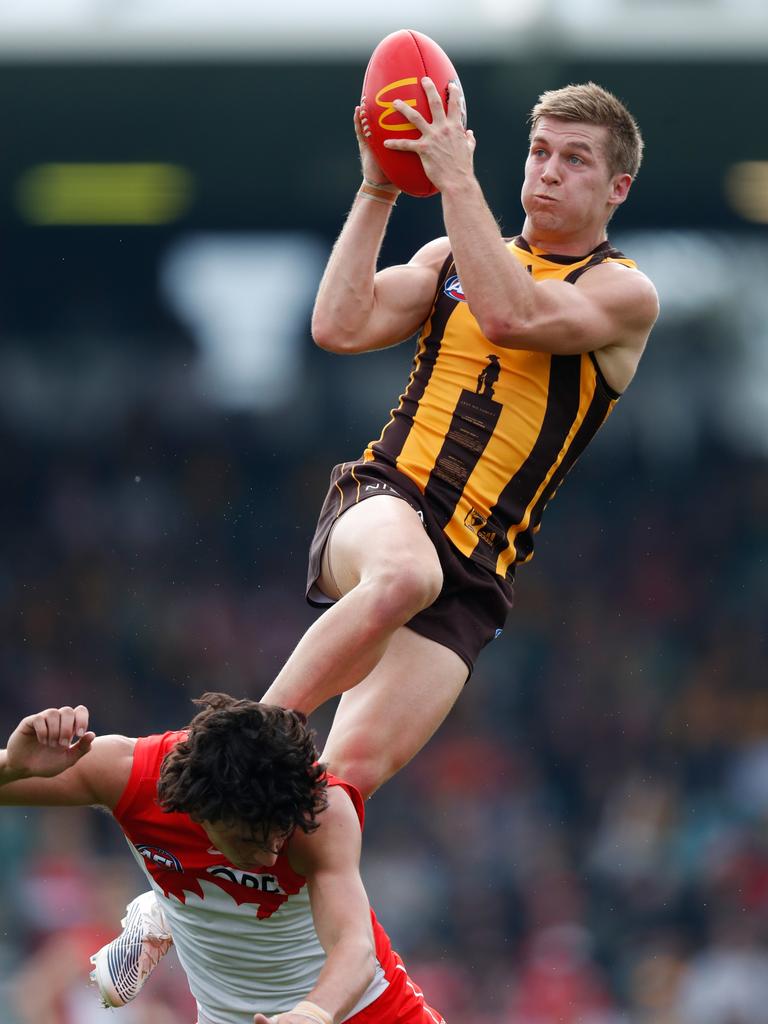 … and pulls down a spectacular grab. Picture: Michael Willson/AFL Photos via Getty Images
INNOCENT BYSTANDER
Dane Rampe was under the pump from the opening bounce. Like the rest of the Swans defence, the number of inside-50 entries – 11-2 in the first nine minutes – from the Hawks had the Swans working overtime, and Rampe had his hands full with Jack Gunston, who kicked a goal a missed another in the first few minutes.
When Gunston led and marked a low rocket from Oliver Florent, Rampe's first reaction was a verbal spray at midfielder Chad Warner, who he felt should have filled the hole. Warner walked off with a bruised ego, but made up for it by kicking two gaols.
TIME FOR A HELMET
Sydney's best intercept defender Paddy McCartin left another game early with concussion in the third term.
He went straight to the rooms where the Swans medicos put him through an examination. He failed the concussion test and was replaced by injury sub Josh Kennedy.
It is the latest in a serious of concussions for the Hobart-born 26-year-old Swan.
Originally published as AFL 2022: Sydney Swans will not contest Patrick McCartin's enforced 12-day layoff