AFL Round 9 Adelaide v Brisbane: All the news, action and fallout from Adelaide Oval
The Crows are still young and Matthew Nicks talks about the team's 'DNA'. But the results are looking very similar to where Adelaide sat a year ago. What's changed?
Adelaide has been here before – just 12 months ago.
The combined margins of the six defeats are very similar (194 last year, 190 this season).
And victories this campaign have overall been narrower – there has been no comfortable win so far like the 41-point triumph against North Melbourne 13 months ago.
Reality is, one year on, Adelaide remains very much a work in progress.
Unsure what its best 22 is and unable to play well regularly over the course of a whole game.
"I think we're still figuring that out," Crows leadership group member Tom Doedee told News Corp said after Saturday night's 36-point home loss to Brisbane, when asked how close the team was to knowing its first-choice line-up.
Watch every blockbuster AFL match this weekend Live & Ad-Break Free In-Play on Kayo. New to Kayo? Try 14-Days Free Now >
The key defender could easily have been talking about staying in a contest for four quarters.
For the second week in a row, Adelaide lost the game in the third term when it "could not stop the bleeding".
Carlton kicked six goals to none against the Crows in Round 8.
On Saturday night, it was six to one, as the Lions turned a three-point halftime deficit into a 28-point lead by the next break.
Doedee said Adelaide "got it a little bit wrong" tactically.
As the Lions decided to slow the game down, chipping the ball forward to take the pace out of the contest, the Crows sat back and the visitors exploited them.
Adelaide took too long to recognise it and change tack.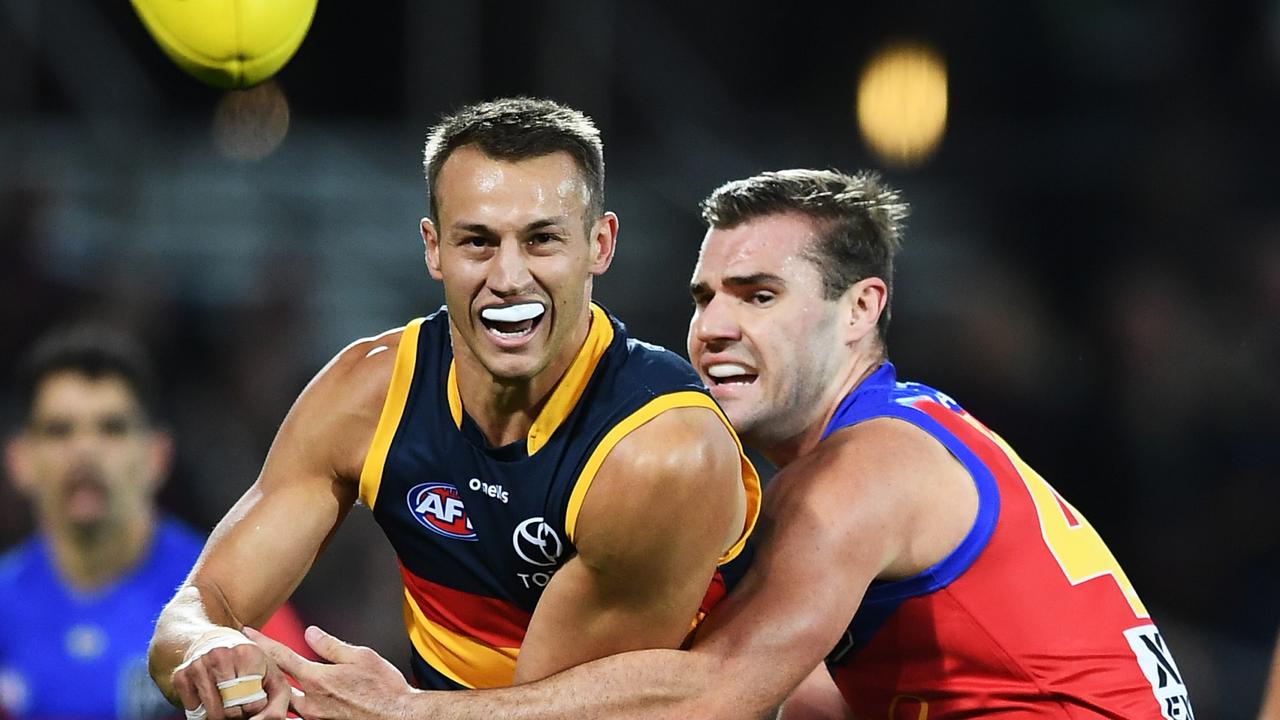 Tom Doedee gets a handball away under pressure against the Lions. Picture: Mark Brake/Getty Images
Nicks said his side "dropped off for a period of time where the contest wasn't at the level".
"We sat off and were waiting for them to give the ball back, and good sides don't give the ball back," Nicks said.
"That's the work on – being tough enough to come out and do it again in the third.
"We had our chances over the ball but we just dropped off a little bit and, to their credit, they were clean."
Doedee said the team, which fielded eight players with fewer than 30 games experience, was young and still learning.
"But it's got to be a quick learning curve for us because we can't have three, four, five of these games in a row where we get to a point where we keep losing," he said.
The expectation going into matches was "that we can beat anyone", according to Doedee.
"We're not hoping to win, we're not trying to win and thinking 'maybe we can compete against these teams', but unfortunately where we're at, we're not bringing what we need to for four quarters," he said.
"We've got a bit of work to do but … morale is still high."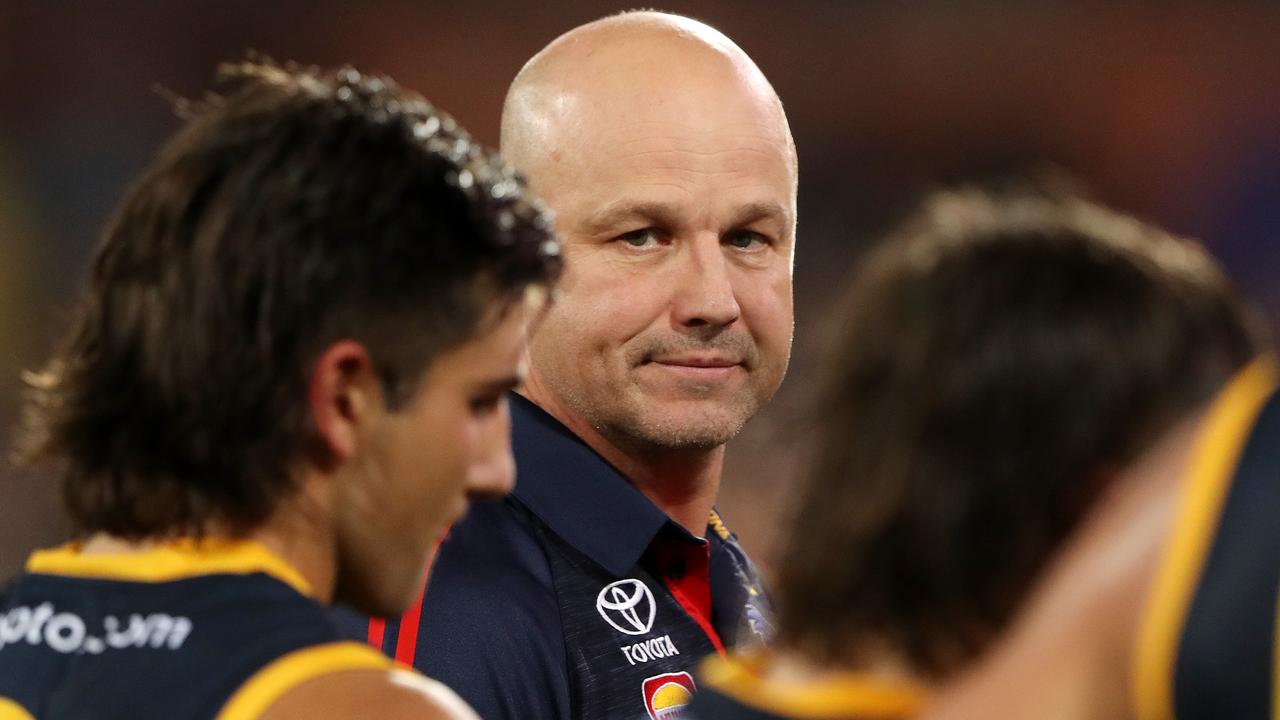 Matthew Nicks says the Crows are on the right track. Picture: Sarah Reed/AFL Photos via Getty Images
Adelaide's three wins have been against two of 2021's top four and a club that snared consecutive flags before last year.
Its one-point home defeat to Fremantle in Round 1 looks gallant in hindsight, but the losses to 2-7 Essendon and 2-6 GWS will hurt.
"We can't go away from what beat Port, what beat Richmond, what beat the Dogs," Doedee said, adding that playing well for four quarters was a combination of tactics, mindset and execution.
"We've seen the recipe, we've just got to get back to it."
While the record is the same and the size of the losses has been similar, the eye test suggests the Crows are better than this time last year.
Even though they lost by six goals on Saturday night, key statistics such as clearances (-3) and inside-50s (-4) were tight.
Adelaide is challenging quality teams for longer and, as coach Matthew Nicks points out, there is more depth because the Crows' SANFL team sits second on the ladder at 5-1.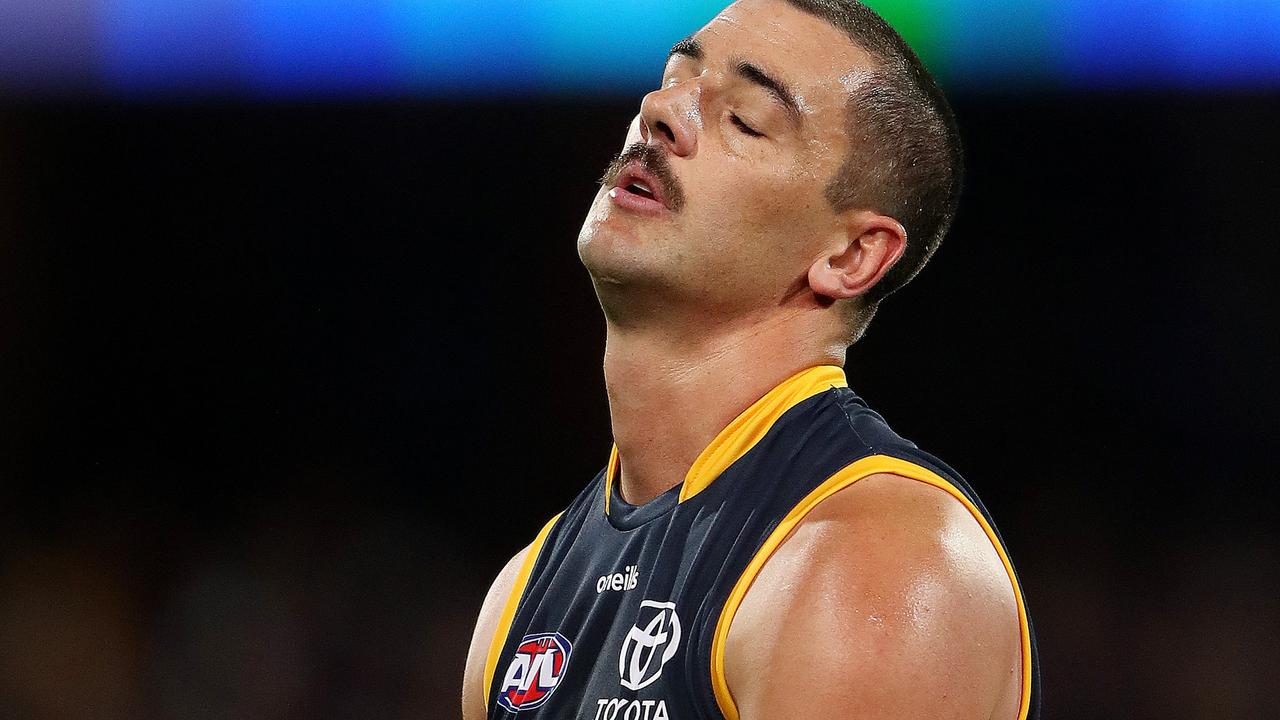 Taylor Walker reacts to a poster with his kick at goal. Picture: Sarah Reed/AFL Photos via Getty Images
The Crows made seven changes for Saturday night – four forced by either the return of first-choice players or injury and illness.
Nicks was pleased with fourth-game ruckman Kieran Strachan's connection with his midfield and around the ground, while key forward Darcy Fogarty (nine disposals, no goals) competed hard for little reward and midfielder Jake Soligo had several nice passages.
Without a SANFL game this round due to the state game bye, it is difficult to know which – if any – of the high-profile players overlooked for selection, such as Wayne Milera, Matt Crouch, Reilly O'Brien, Harry Schoenberg and Riley Thilthorpe, return to face St Kilda next weekend.
Milera and Thilthorpe seem the most likely, both deemed close to being chosen this round.
Adelaide could really use Milera's polish.
Thilthorpe should replace Elliott Himmelberg, who had his moments on Saturday night but whose 10-goal run from rounds 3 to 5 has been followed by 1.2 in the four matches since.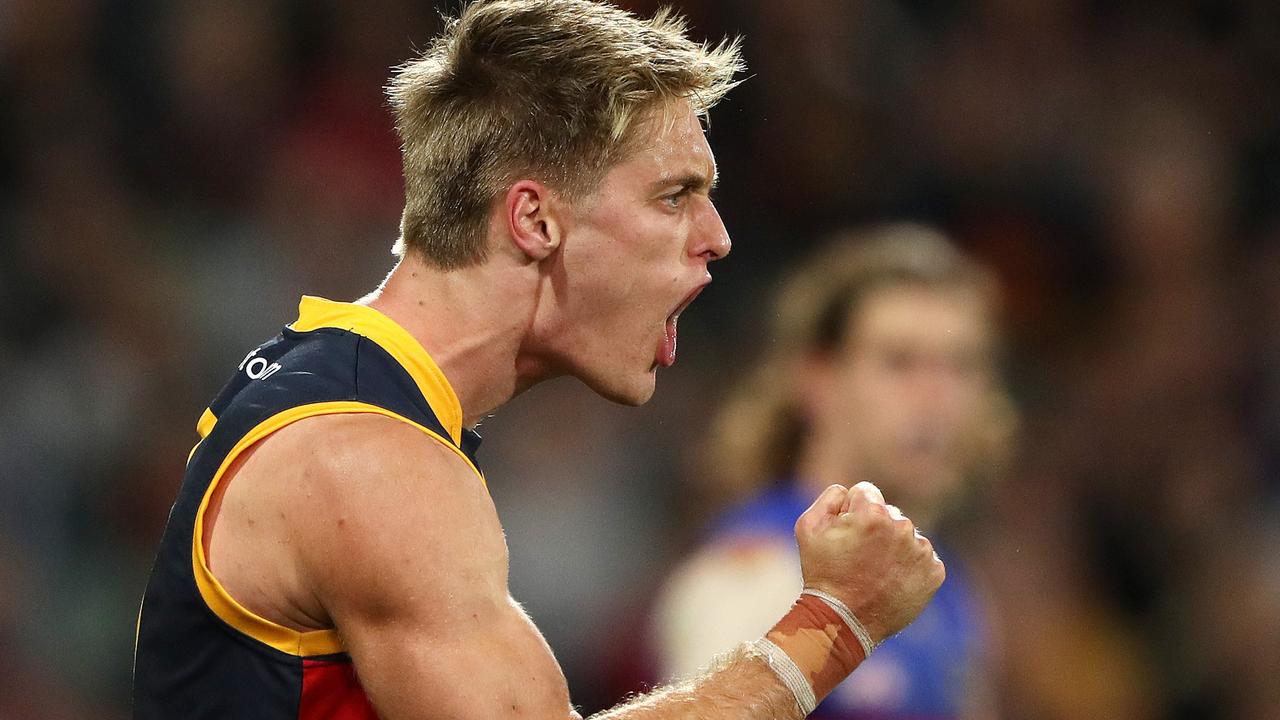 Jackson Hately played his best game as a Crow. Picture: Sarah Reed/AFL Photos via Getty Images
Nicks has spoken about ideally giving those who come into the team, especially the more inexperienced players, a handful of games before they go out.
He mentioned midfielders Jackson Hately and Sam Berry as examples a fortnight ago and both were among the Crows' positives against the Lions.
Hately had a career-high 27 disposals, as well as five tackles, four clearances and a goal.
Berry registered 13 tackles – three more than anyone on the ground.
Goalsneak James Rowe, who was picked for the first four rounds then was the medical substitute before being out of the side for two weeks, also played one of his best games.
There were things to like for the Crows, but also plenty of reminders why they are 3-6.
Their past three games have been losses by at least six goals.
Nicks liked that his side fought Saturday night's game to the end.
"Are we in good form? We weren't in good form coming into this game," he said.
"If you'd come and asked me at halftime, I'd have said we were able to find it.
"We use the word 'DNA'.
"We had a recipe tonight that we went in with and we executed it for I'd say three quarters."
With its next two games against double-chance contenders the Saints (home) and Geelong (away), it will likely need to play well for longer than that to prevail.
Lions seize moment as Crows surrender initiative
It was the horror patch that sent Adelaide from the brink of an upset to a third consecutive defeat.
When Shane McAdam snapped his third goal 23 minutes into the second term, the Crows were 15 points ahead and looking like they might surprise premiership contenders Brisbane.
By the time Adelaide booted its next major — 28 minutes into the third quarter via an overhead kick by Jackson Hately — the home side was 27 points down.
Some of the key statistics masked the grasp the Lions had on the contest in the period immediately before halftime and early in the following term.
Adelaide lost the clearances by just one in the third quarter and actually had eight more contested possessions than the visitors.
What Brisbane had was more polish and attacking forays.
Inside 50s were tied at halftime, but the Lions had an extra seven in the third term.
The tide of the game turned in the final two minutes of the second quarter.
After McAdam's goal, Adelaide could not take its 15-point lead into halftime.
Instead, Brisbane responded with a pair of majors.
The first snapped the Lions' goalless run since 22 minutes into the first term.
Then came a major from a 50m penalty for kicking the ball after the whistle was blown.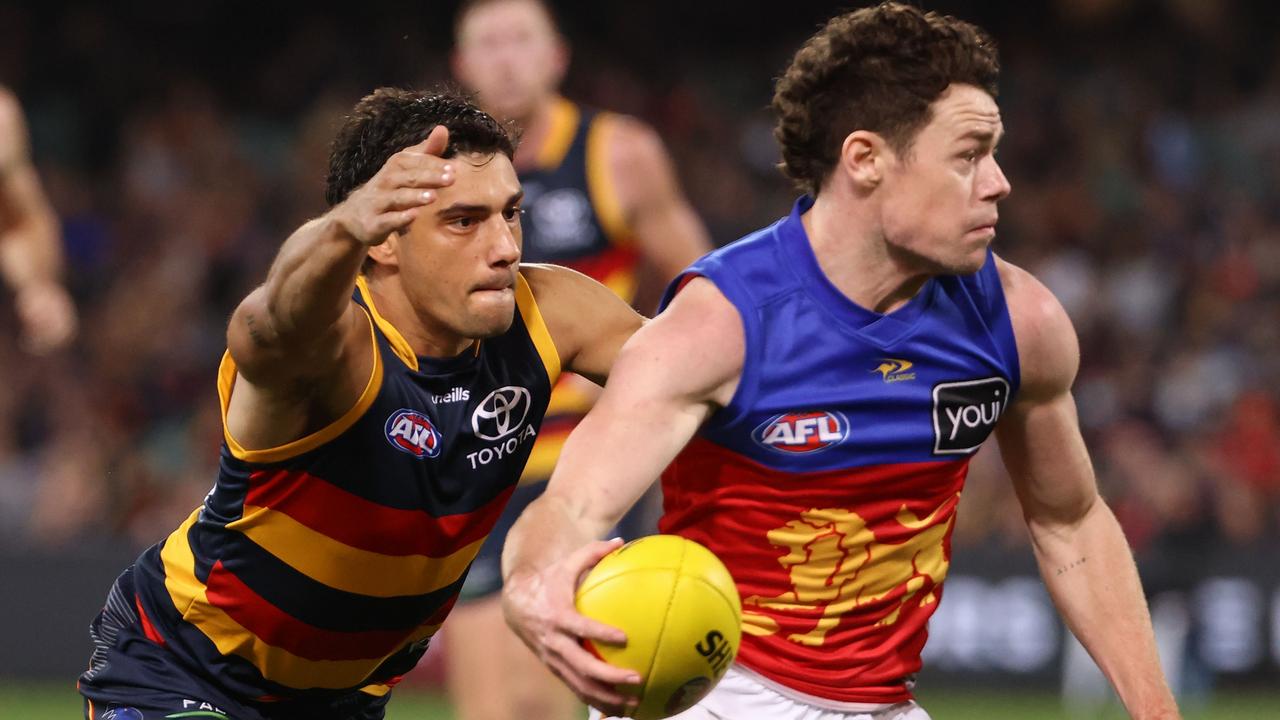 Shane McAdam tackles Lachie Neale at Adelaide Oval. Picture: James Elsby/AFL Photos via Getty Images
It seemed Adelaide recruit Jordan Dawson was going to win a holding-the-ball free, but ex-Crow Jarryd Lyons received one for hanging on.
"Mark this one down as a potential turning point in the game," Brenton Speed said in the Fox Footy commentary.
Colleague Leigh Montagna said it was a tough call on Dawson because Lyons had the ball when the tackle was laid, only for it to spill.
"It should be holding the ball and if not, you've got to give the tackler the benefit of the doubt," Montagna said.
"The 50 hurts."
Taylor Walker had a difficult shot from 50m on three-quarter time to give the Crows the ascendancy heading into the break, but he hit the post.
It was all Brisbane once the game restarted, seemingly buoyed by its finish to the term.
A week after being on the receiving end of a six-goal-to-none third quarter, Adelaide struggled to contain its opponents again in that stanza on Saturday night.
Norwood product Zac Bailey kicked a goal in the first minute then superstar Lachie Neale added one about 90 seconds later.
Neale's came from a 50m penalty for a "stand" rule infringement by Josh Rachele.
"That hurts early in this third term," Montagna said.
The Lions kicked their next one for the quarter six minutes later.
"Interesting how important those last two goals were before halftime to just get a bit of momentum back for the Brisbane Lions," Montagna said.
At the 17-minute mark, Charlie Cameron made it six in a row for Brisbane before Hately's goal broke the Lions' streak.
But the damage had been done.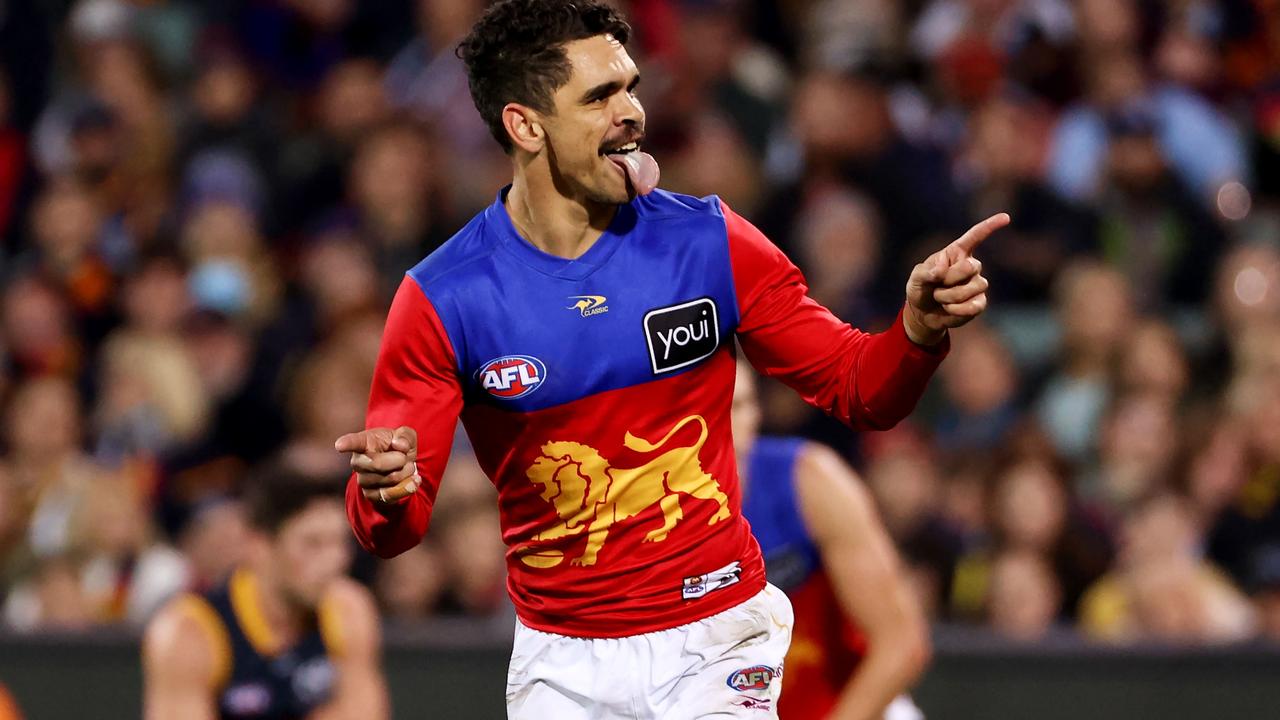 Charlie Cameron celebrates as only Charlie does. Picture: James Elsby/AFL Photos via Getty Images
Lions spoil 100-game celebrations for Crows
Adelaide played its 100th AFL match at Adelaide Oval on Saturday night but it was high-powered Brisbane that celebrated the occasion, with Charlie Cameron booting four goals as the Lions spoiled the party with a clinical 36-point win.
The resurgent Crows sensed an upset after rallying to a surprise 15-point lead in the second term, but the Lions roared back to life with a withering eight-goal salvo that set up the 16.6 (102) to 9.12 (66) win.
Brisbane made it five wins in a row with the impressive display improving its record to 8-1, while Adelaide lost its third game on the trot to slip to a 3-6 season tally.
While Cameron tormented his old side, the Lions had plenty of weapons in their league-leading attack that finished with 10 goal kickers, including Zac Bailey who booted three.
Lachie Neale also hit the scoreboard and amassed 35 possessions in an eye-catching performance.
"I thought our second half was fantastic … we controlled the ball a lot better," Chris Fagan said.
"I think we're better at that now because we're a more mature group and they understand what's happening in the game and can correct it.
"It's a pleasing sign."
Rory Laird, Ben Keays and Jordan Dawson led the way for the Crows, with Jackson Hately enjoying his best game since his switch from the Giants, while Shane McAdam booted three goals.
"I loved our first half … I thought that was some of the best footy we've played," Matthew Nicks said.
"But it probably shows where we're at at the moment that we couldn't put it together for four quarters."
HAWK-EYE
The Lions would have benefited from the Hawk-Eye line technology used on the professional tennis tour early in the second term.
The ball had clearly crossed the boundary line deep in a pocket when Ned McHenry scooped it up, danced around two defenders and slotted a superb goal.
While the non-call hurt the Lions, the strong play of the home side was more concerning for the visitors, whose 11-point quarter time lead was mown down by four unanswered goals.
The suddenly cold Lions hadn't registered a score and trailed by 15 points with just over two minutes left before halftime.
But they fired home the last two goals of the half, with Jarryd Lyons converting after a questionable free kick and a 50m penalty that had the home fans howling.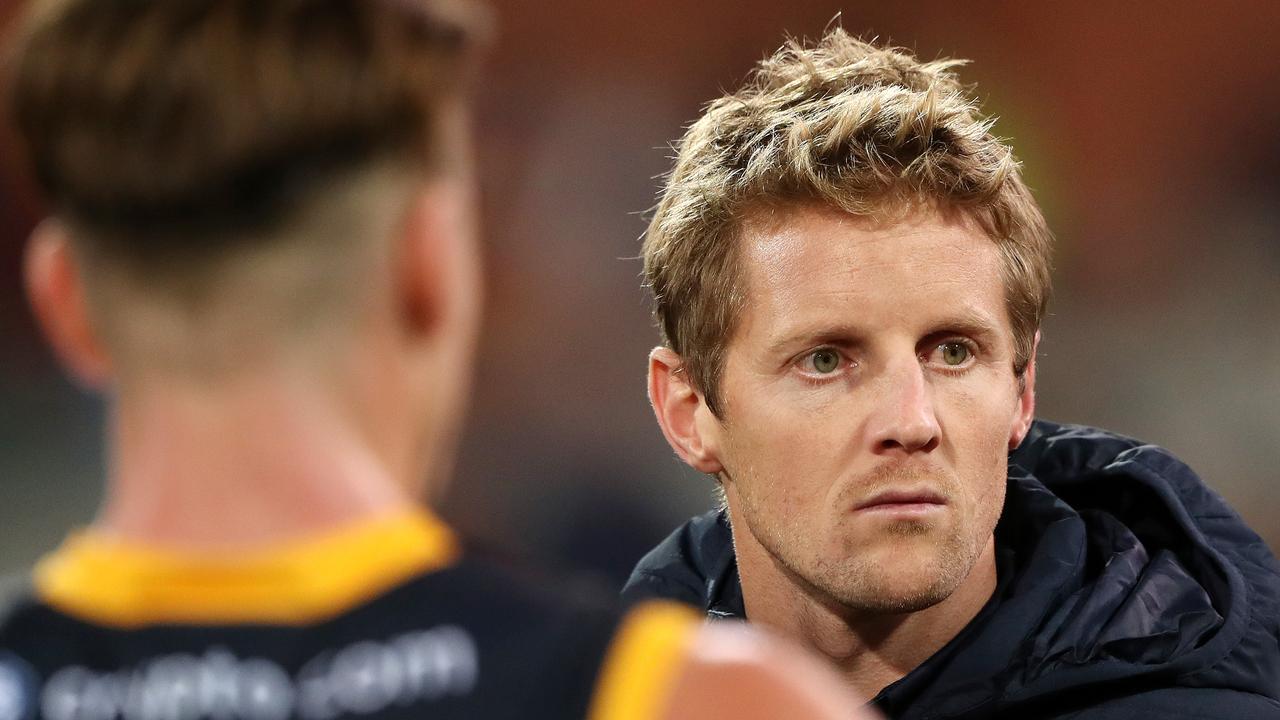 Injured skipper Rory Sloane joins the Adelaide huddle at three quarter time. Picture: Sarah Reed/AFL Photos via Getty Images
23 VS 23
Cameron wore the No. 23 guernsey for most of his 73-game stint at Adelaide and still does with Brisbane, with McAdam now the custodian of the Crows' fabled number.
The opposing No. 23's took turns firing up their respective sides in an engrossing shootout.
Cameron fired the first salvo with a pair of goals in the opening term, with McAdam answering with one in the first and another two in the second.
McAdam's No. 23 was clearly pulled on by the chasing defender as he attempted to pick up a loose ball in the third quarter, but the umpire missed the tug which allowed the resurgent Lions to go the length of the field where Cameron slotted his third.
It was the fourth unanswered goal of the quarter and the sixth major of the devastating run of eight goals by Brisbane either side of the main break that turned the game on its head.
Brisbane led by 28 points at the last break, with the Crows unable to muster another goal until the contest was well and truly decided.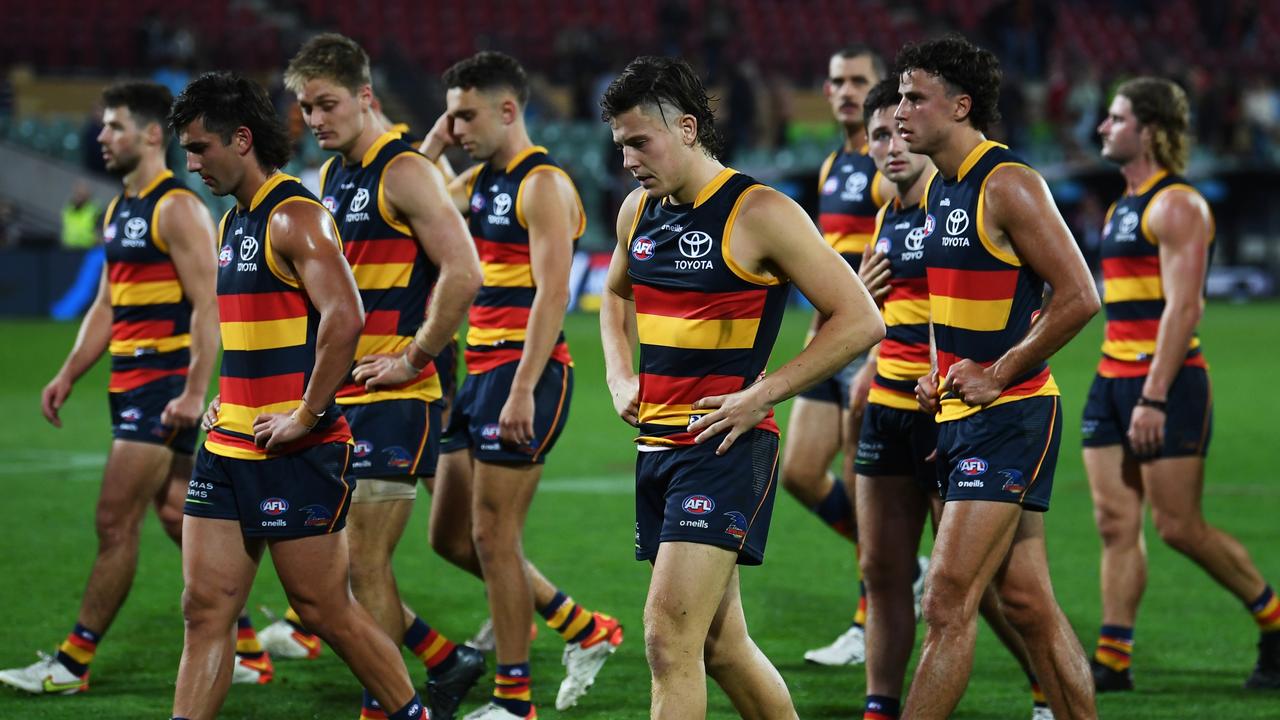 Dejected Crows leave the ground after their latest defeat. Picture: Mark Brake/Getty Images
SCOREBOARD
CROWS 3.3 7.6 8.8 9.12 (66)
LIONS 5.2 7.3 13.6 16.6 (102)
PHELAN'S BEST
Crows: Laird, Keays, Dawson, Hately, McAdam, Doedee.
Lions: Neale, Cameron, Bailey, Rich, Zorko, McCluggage.
GOALS
Crows: McAdam 3, McHenry 2, Hately, Rachele, Walker, Rowe.
Lions: Cameron 4, Bailey 3, Zorko 2, Berry, Coleman, Lyons, McCarthy, McInerney, Neale, Rayner.
INJURIES
Crows: Nil.
Lions: Nil.
UMPIRES
Haussen, Whetton, Williamson.
VENUE
Adelaide Oval
PLAYER OF THE YEAR
JASON PHELAN'S VOTES
3 Neale (Bris)
2 Cameron (Bris)
1 Laird (Adel)
Have your say: Top 10 Crows moments at Adelaide Oval
As the Crows prepare to play their 100th men's match at Adelaide Oval on Saturday night, The Advertiser has selected the team's top-10 moments at the ground.
And long-time Crow Brodie Smith has shared his memories of each one to The Advertiser.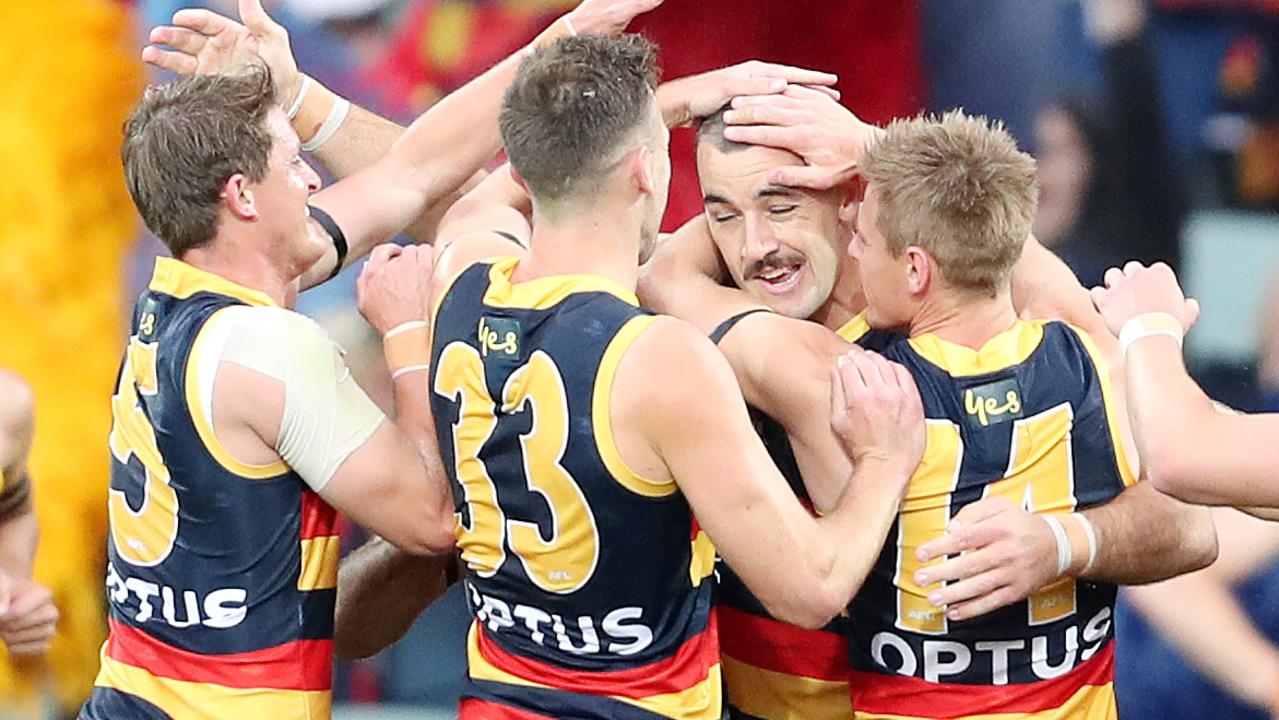 Taylor Walker breaks Adelaide's goalkicking record held by Tony Modra. Picture: Sarah Reed
10. 'Tex Walker does it and does it in fine style'
Adelaide did not win the game but a big piece of Crows history was created against Richmond in the final minor round of 2020 when Taylor Walker became the club's all-time leading goalkicker.
Walker surpassed Adelaide great Tony Modra's mark of 440 majors during the first quarter of the 44-point loss to the Tigers.
The goal in itself was not spectacular.
Not a trademark Walker long bomb or a crafty snap.
It came from a free kick and set shot about 30m from goal at the southern end.
As the ball sailed through and his teammates came rushing to celebrate with him, Fox Footy's Mark Howard said in commentary: "Tex Walker does it and does it in fine style".
The former Crows captain has since added 65 majors to sit on 505 heading into Saturday night's game.
SMITH SAYS: "Great for Tex. It shows his longevity at the club and he's a very popular figure so it was an important milestone to celebrate."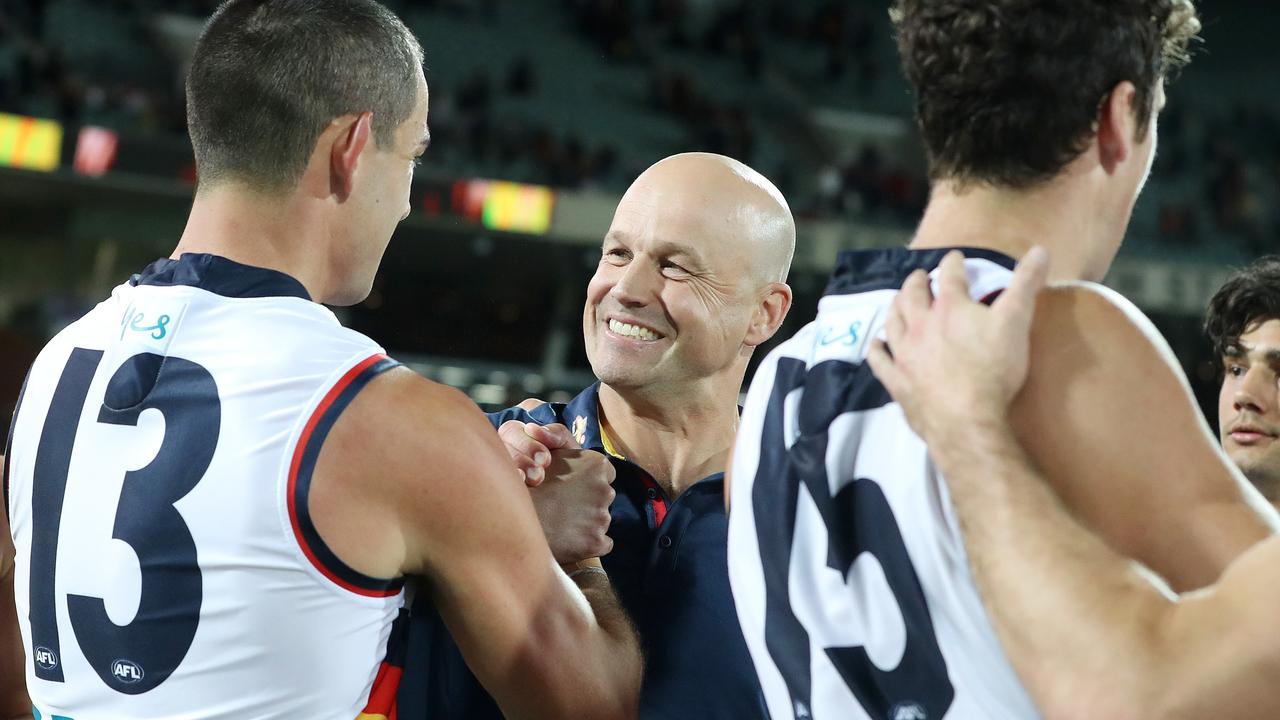 Matthew Nicks and Taylor Walker after the Crows' drought-breaking win in 2020. Picture: Sarah Reed
9. 'The drought breaks'
The Crows had gone 13 months without winning a game and started their first season under coach Matthew Nicks with a 0-13 record.
For a club not used to rebuilds, many were wondering – when was that breakthrough victory going to come?
The answer was September 1, 2020.
In a time of the year usually reserved for finals yet hosting matches due to the Covid-delayed season, Adelaide stood tall to beat Hawthorn by 35 points.
The Crows were able to keep the Hawks at arm's length for most of the night.
Goalsneak Lachlan Murphy sealed the victory with a long-range major from tight on the boundary, 45m out, at the southern end.
When the final siren sounded, Fox Footy's Dwayne Russell said "and the drought breaks".
In great post-match scenes, Nicks was arm in arm with four players in the middle of the circle when the team sang the song for the first time in more than a year.
SMITH SAYS: "I remember Murph kicking a goal from the junction, which was about as rare as a win was that year, then looking up to the family section. It was emotional because everyone knew what we'd been through every week and the pressure that was on us."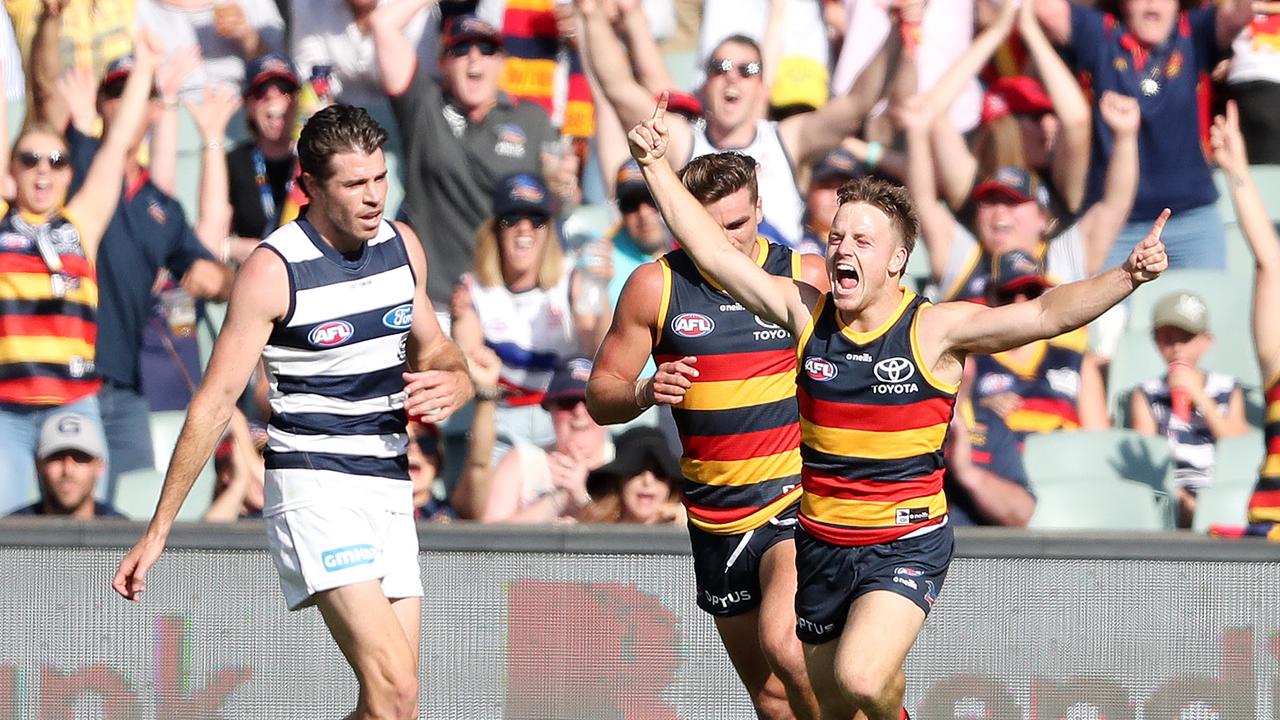 James Rowe kicks one of his two goals against Geelong. Picture: Sarah Reed/AFL Photos via Getty Images
8. 'We will enjoy this'
Adelaide was a $4.50 underdog with the bookmakers before opening its 2021 campaign at home to Geelong.
And there were no surprises why outsiders did not give the Crows a chance.
They had finished as wooden-spooners the previous year, while Geelong was coming off a grand final appearance.
The Crows also had been well beaten twice by their cross-town rival, Port Adelaide, during pre-season.
But against the Cats, the hosts brought an intensity to the contest that few outside West Lakes would have expected on their way to a famous 12-point victory.
Adelaide pressured Geelong into mistakes with relentless tackling and closing of space, Walker booted five goals and debutant James Rowe added two with celebrations that fired up the loud crowd even more.
"We will enjoy this and say, 'there it is, the brand of footy they have been talking about (since) six months ago'," Nicks said.
Covid restrictions meant only 26,985 fans came but it sounded like a packed house.
SMITH SAYS: "No one gave us a shot of winning many games after the year before. To knock off Geelong, who were coming off a grand final, was a great start for us. The footage of all the boys who didn't play that day celebrating in the box was pretty special too."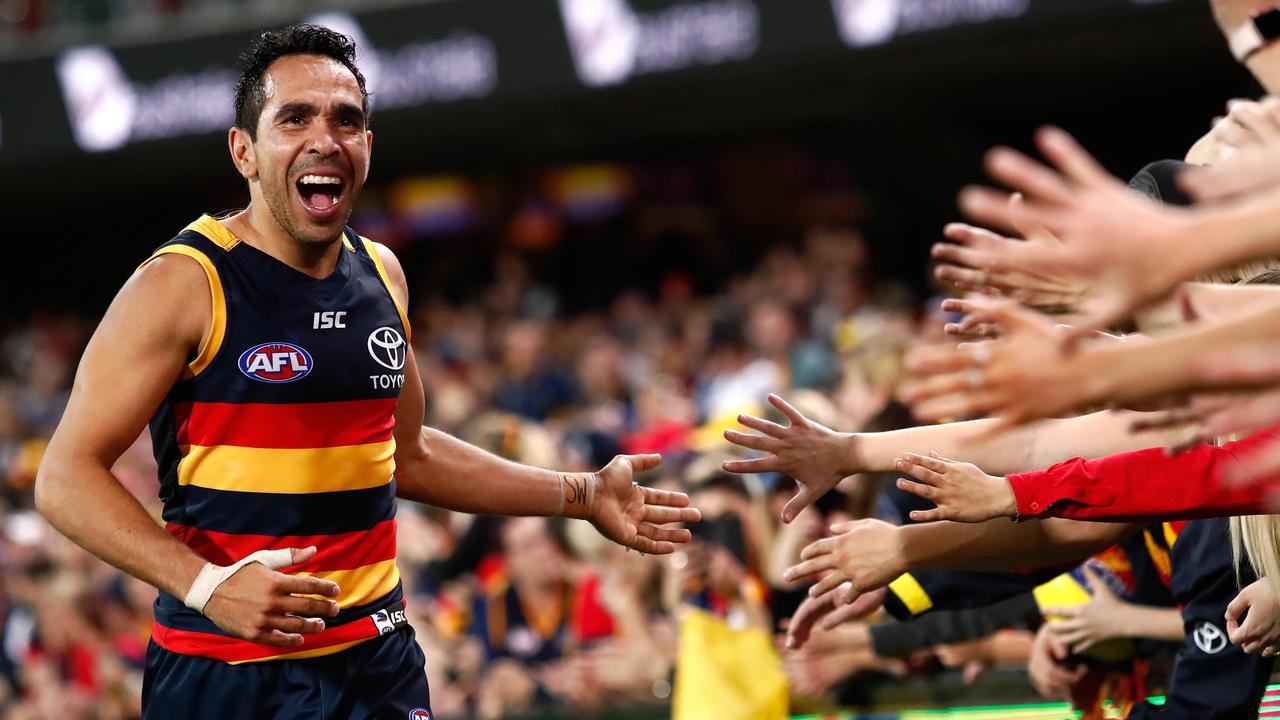 Eddie Betts had three Goals of the Year at Adelaide Oval. Picture: Adam Trafford/AFL Media/Getty Images
7. 'That's what the crowd wanted'
Let's face it, there could easily have easily been five or six Eddie Betts entries on this list.
He lit up Adelaide Oval during his 132 games as a Crow, kicking 174 majors at the ground, including three Goals of the Year – all from the northwestern pocket.
In particular, his first Goal of the Year winner in Crows colours – a left-foot torpedo off from 50m in slippery conditions against Fremantle in 2015 – should probably be in this top 10.
But we tried to share the love and limited ourselves to only two Betts majors, as difficult as that was.
As spectacular as the torpedo was against the Dockers, his 2019 Goal of the Year against Gold Coast got the nod – just.
What separated the two in our minds was the occasion.
In 2019, his final year at the Crows, Betts was playing his 300th game and he treated the home crowd to a show by kicking six goals.
The pick of them came with six minutes remaining in the match when he roved a spoil and then immediately rocked back onto his left foot and kicked a checkside from the boundary.
"Eddie Betts, you're a magician," Fox Footy's Adam Papalia said.
"That's what the crowd wanted and that's exactly what they got – vintage Eddie Betts."
SMITH SAYS: "Lairdy was in a fight at the time so I missed that because I was helping him out – I missed goal of the year."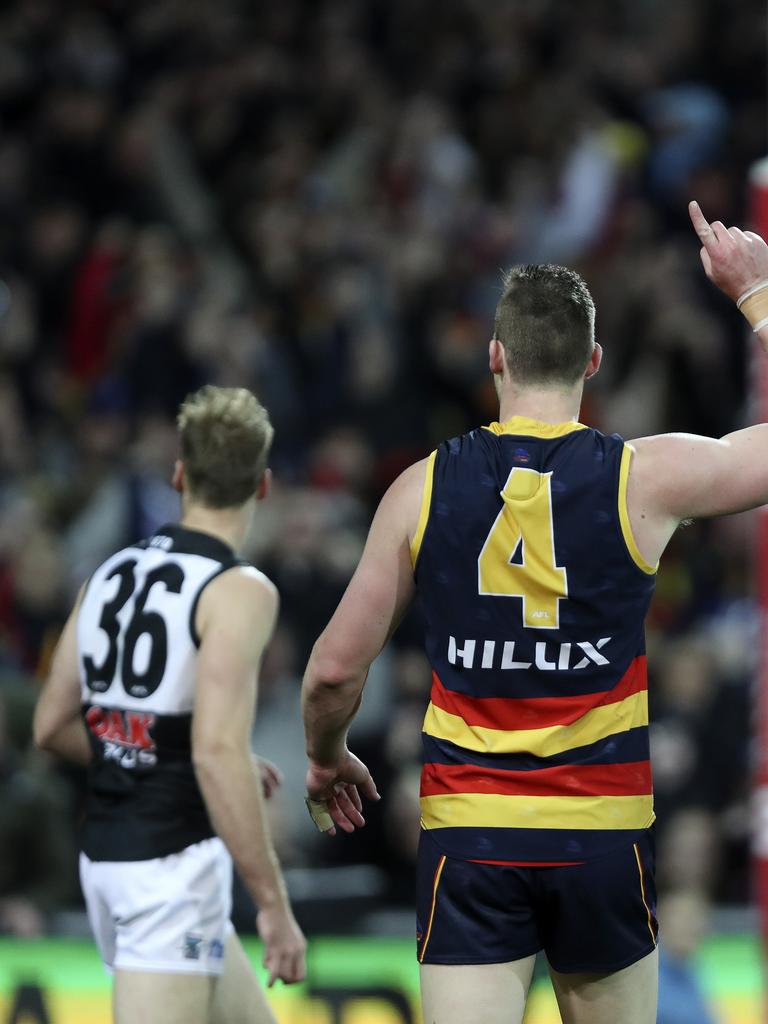 Josh Jenkins kicks the winning goal. Picture: Sarah Reed
6. 'I think it hit the post'
Was it a goal or not?
In his after-match interview on the ground, Crows forward Josh Jenkins himself said he thought the ball hit the post.
What mattered was the umpire called it a goal and the score review did not overrule him.
With two-and-a-half minutes left and the Power up by four points, Jenkins and Betts chased the footy inside 50.
Then Jenkins gathered it and snapped on his right foot.
The unusual trajectory of the ball just as it seemed to pass the post, Jenkins's unsure reaction and the goal umpire asking for a score review created doubt as to whether it was a major.
After checking the replay, it was given a goal.
Adelaide then held on for a three-point victory – the equal-lowest in Showdown history.
"My grandma raised me not to tell fibs – I think it hit the post. But I'm pretty happy they didn't think so," Jenkins said post-game.
SMITH SAYS: "That was late 2018 and my first game back from an ACL, so I was just happy to be out there. I was pumped when it went through."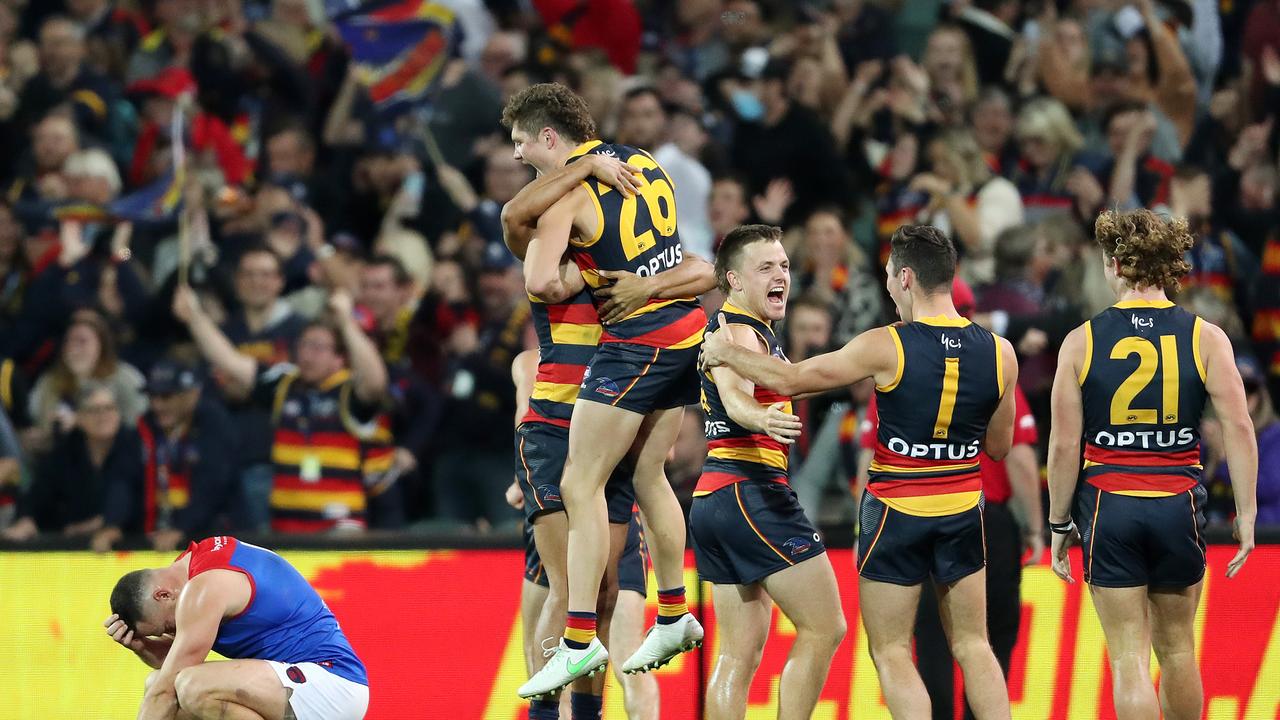 Crows players celebrate their upset of Melbourne in 2021. Picture: Sarah Reed/AFL Photos via Getty Images
5. 'This place is rocking'
It was a win that came out of the blue and became an instant classic.
Rebuilding Adelaide had been on a five-game losing streak, while Melbourne, which would go on to win the premiership, was 9-0.
Yet it was the Crows who prevailed, notching just the fourth one-point victory in their history to that time.
The final two minutes were hectic.
There was Nick Murray's tackle on Demons skipper Max Gawn on the wing and Walker's goal to put the Crows ahead with 43 seconds remaining.
Then came the desperate defending.
After Christian Petracca launched the ball inside Melbourne's attacking 50 and with Demons players ready to swoop, Murray gathered first before handpassing towards the boundary line.
It looked like it might be a free for deliberate out of bounds.
The umpire called a throw-in.
Ben Keays then held onto Gawn and the ball, Paul Seedsman got a smothered clearance, then Tom Doedee fisted the footy to the boundary before the final siren sounded.
Goalsneak James Rowe told the Crows' website on the field: "This place is rocking".
SMITH SAYS: "The last passage was pretty tense. The last couple of forward stoppages then Muz's handball that just missed Doods by 10m and rolled out of bounds."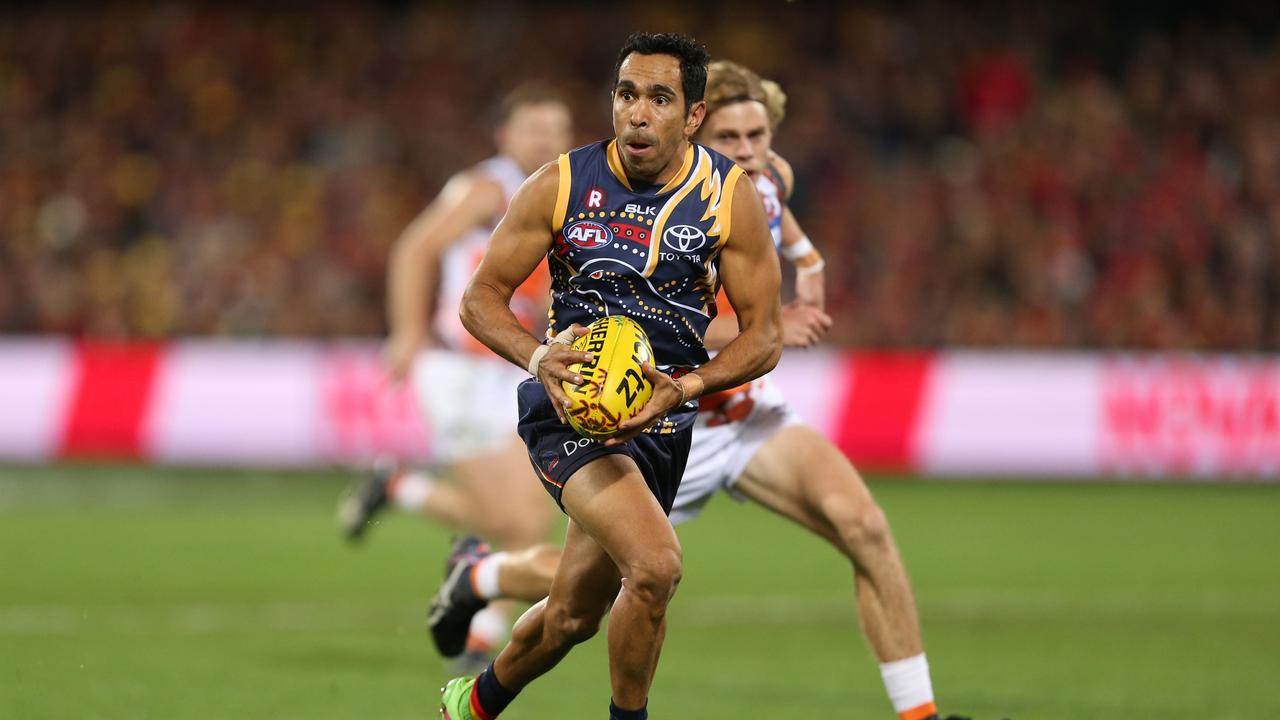 Eddie Betts playing GWS in 2016. Picture: James Elsby/AFL Media/Getty Images
4. 'Eddie fooled them all'
This was another case of how did he do it?
Betts's 2016 Goal of the Year against GWS was the type that a young footballer might try at a local park by themselves while they commentating what transpired.
He slid to the ground during the third quarter to trap a loose ball near the boundary while under pressure by two Giants and then held it in front of him to make sure it stayed in play.
From there, he evaded both the opponents, ran into space and snapped a remarkable goal, just as a GWS player lunged to tackle him.
"Eddie fooled them all," Fox Footy's Anthony Hudson said in the commentary.
Colleague Jason Dunstall summed it up in one word: "Extraordinary".
Betts then turned to the crowd and hit his hands against his Indigenous Round guernsey.
SMITH SAYS: "From memory that was one of the goals where me and Lairdy just looked at each other in the backline and laughed. It was that good."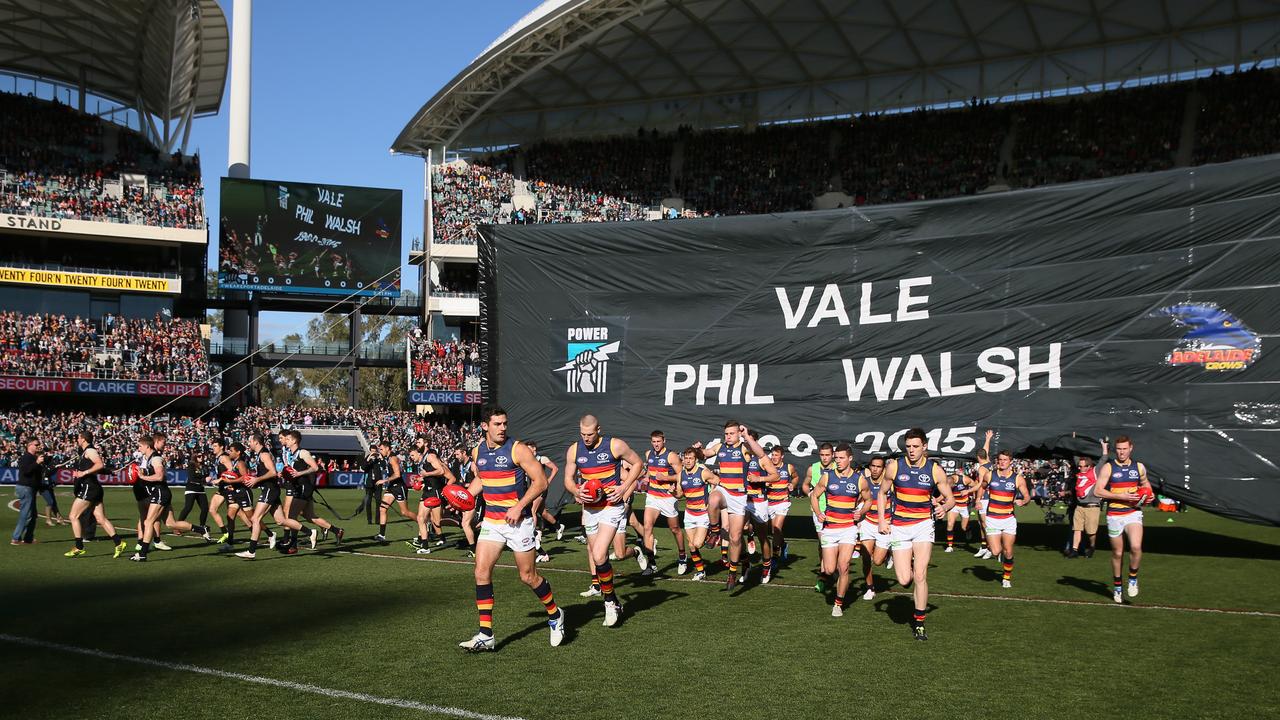 Adelaide and Port Adelaide players run through the same banner before the July 2015 Showdown after Phil Walsh's death. Picture: AAP/Ben Macmahon
3. 'It's one he'd be proud of'
Never has there been as much emotion for a game at Adelaide Oval as for the second Showdown of 2015.
The match took place just 16 days after Crows coach Phil Walsh was killed while both teams, the city and the AFL community were still coming to terms with his death.
Appropriately, given Walsh had also been a long-time Power assistant, the sides ran through a joint banner.
Then they played a Showdown like no other, where the will to win was matched by the respect between the fierce rivals.
As the siren sounded on a three-point Crows victory, the clubs' chairmen, David Koch and Rob Chapman, had their arms around each other in the players' race.
Walsh's daughter, Quinn, then presented Crows midfielder Scott Thompson with the medal named in her dad's honour for best afield.
"Words can't describe the last couple of weeks," Adelaide star Patrick Dangerfield told Channel 7 post-match.
"It's a hard-fought win and it's one he'd be proud of."
The result remains the equal-closest Showdown ever.
SMITH SAYS: "I just remember the build up and celebrating Phil and what he meant to both clubs who were playing that day. Then to have his daughter present the medal to Thommo was such a fitting tribute to him."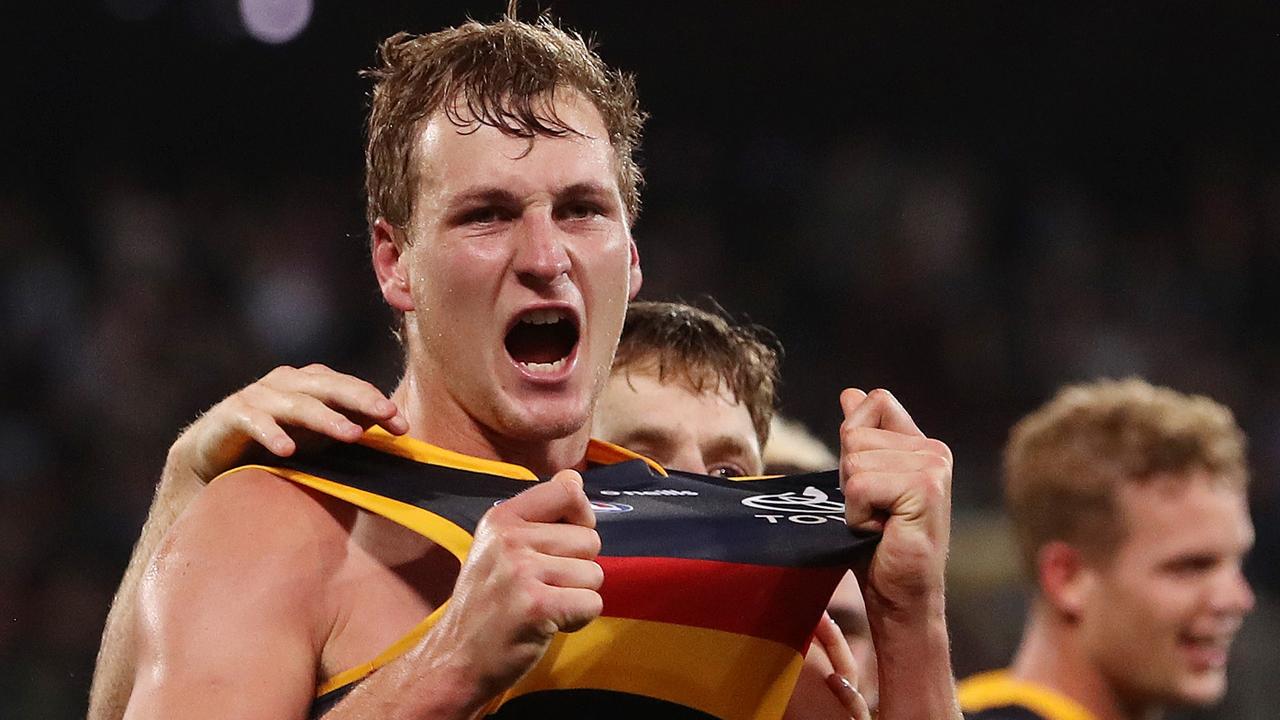 Jordan Dawson after his matchwinning goal in the Showdown. Picture: Sarah Reed/AFL Photos
2. 'Lucky you don't have to draw pictures'
Crows fans could hardly have written a better script.
Recruit Jordan Dawson, who chose Adelaide over the Power when he wanted to come home to SA during the trade period, won a Showdown by slotting a tricky goal after the siren.
Murphy had won a free in the game's dying seconds but the small forward copped a blow near the neck and was helped off the field.
Enter Dawson, the nearest Crow to the ball.
His kick initially looked like missing to the right.
Instead, it swung back late and the stadium erupted.
Dawson, who won the Showdown Medal, said he did not deliberately try to swing the ball.
"It came back late, which was nice," Dawson said.
"Lucky you don't have to draw pictures."
It was the Crows' second ever win from a post-siren goal and first since their inaugural season in 1991.
SMITH SAYS: "I was right behind him screaming at him to take the kick. I thought he'd missed it when it came off the boot so I was pretty excited when it went through. I'd never been involved in a kick after the siren so it was pretty full on."
David Mackay, Tom Lynch, Riley Knight, Eddie Betts and Jake Kelly sing the club song after the Crows' 2017 preliminary final win. Picture: Sarah Reed
1. 'We are finally there'
It was not a thriller – the final margin was 61 points – but the magnitude of the 2017 preliminary final ensured it finished in top spot.
The Crows had never won a home preliminary final and not hosted one in 11 years.
One of the club's former stars, Dangerfield, was in opposition colours and was booed each time he had the ball.
And Adelaide Oval was rocking from the opening bounce as the home side got off to a hot start.
It took just 50 seconds for small forward Charlie Cameron to kick the game's opening goal.
By quarter-time, Adelaide led 6.3 to 1.2.
Highlights included Cameron's 70m goal, his third-quarter speccie, Rory Sloane's collision with Dangerfield and Kyle Hartigan's tackle on the ex-Crow.
The second half became a party in front of a record Adelaide Oval crowd of 53,817.
When the final siren went, there were tears among the fans – and on the ground.
An emotional Betts told Channel 7 post-game: "I'm speechless. Thirteen years I've wanted to play in a grand final. We are finally there."
SMITH SAYS: "Having done my knee in the qualifying final, I was in the coaches' box that night and I think in the second half I cried after every goal we kicked."
Originally published as AFL Round 9 Adelaide v Brisbane: All the news, action and fallout from Adelaide Oval