AFL Round 9: Sydney v Essendon, latest news and scores
Swans coach John Longmire has declared his belief that Luke Parker plays footy 'the right way' in the wake of the Sydney midfielder's apparent mocking of Bomber Dylan Shiel last Saturday night.
Sydney coach John Longmire has launched a spirited defence of Luke Parker over his taunting of Essendon's Dylan Shiel, declaring he had absolute support for the way the Swans co-captain "goes about his footy".
Parker has been thrust into the spotlight for mocking Shiel during the Swans' win over the Bombers at the SCG last Saturday night.
Watch every blockbuster AFL match this weekend Live & Ad-Break Free In-Play on Kayo. New to Kayo? Try 14-Days Free Now >
The Swans' midfielder appeared to taunt the struggling Shiel after the Bomber lost control of the ball, turning it over to Parker, who capitalised with a goal.
Parker then repeatedly shrugged his shoulders, suggesting Shiel's attack on the football had been questionable.
Essendon great Matthew Lloyd said Shiel - or one of his teammates - should have "ploughed straight through" Parker in retaliation.
Asked if he had any issue with Parker's on-field actions, Longmire said the Swan had showed he played the game in the "right way".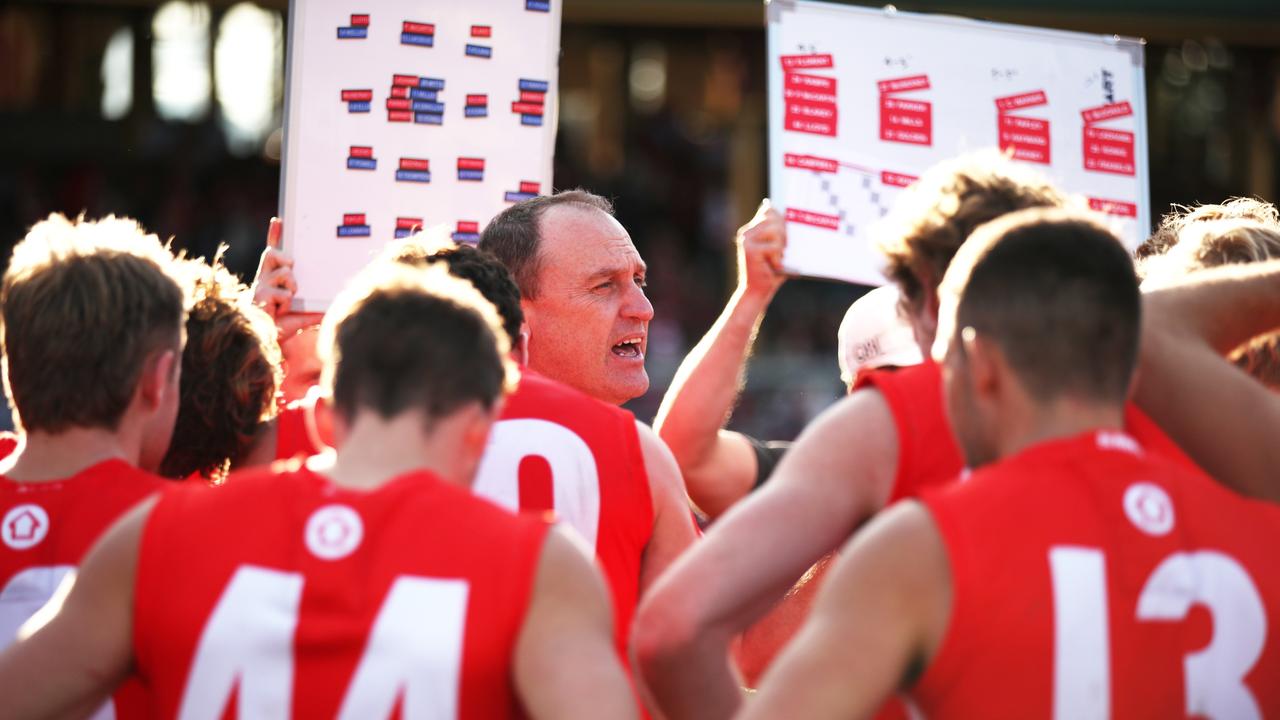 John Longmire has declared Luke Parker plays the game "the right way" Picture: Getty Images
"What I have is absolute support for Luke Parker," Longmire said on Wednesday.
"I think Luke Parker's history suggests he plays the game in the right way..
"I don't think this is a behaviour that has been repeated too often and I absolutely support Luke in the way that he goes about his footy.
"It's not something that, from our perspective, really warrants the air play four days later.
"We're into (the next game against) Carlton."
Longmire said he had touched on the incident only briefly in Parker's game review and said the midfielder's on-field record spoke for itself.
"We touched on it as part of his game review but that's only part of a general discussion and we did not talk about it for too long at all," Longmire said.
"In the end, Luke's record stands for itself.
"He is a wonderful servant of our footy club and, again, he plays the game in the right way and that's the way he will continue to play."
Longmire was bemused that Parker's actions remained a talking point four days later.
"We are still talking about it four days later and I'm not sure it deserved that," Longmire said.
"It was something that we did not touch on much at all in the review, we looked at what the Essendon game was, what we did well, what we needed to improve and then we're on to Carlton.
"I'm not sure it's relevant four days later to be honest."
The Swans will be without James Rowbottom for Friday night's clash against Carlton at Marvel Stadium after his one-match rough conduct ban was upheld by the AFL tribunal.
"We felt as though we had a real case, we felt we argued it really well at the tribunal, we were given a fair hearing," Longmire said.
"Unfortunately, it didn't go our way …. we will sit down after training and work out what that looks like.
"James has been a very important part of our team this year and what we do from here will be decided upon this afternoon.
"We feel like we have got a few options, whether it's a like for like or not, we'll make that decision afterwards."
Meanwhile, Longmire said there had been no discussion about Dustin Martin at the club after Richmond coach Damien Hardwick gave the Tigers' superstar his "blessing" if he wanted to leave Victoria to escape the AFL spotlight.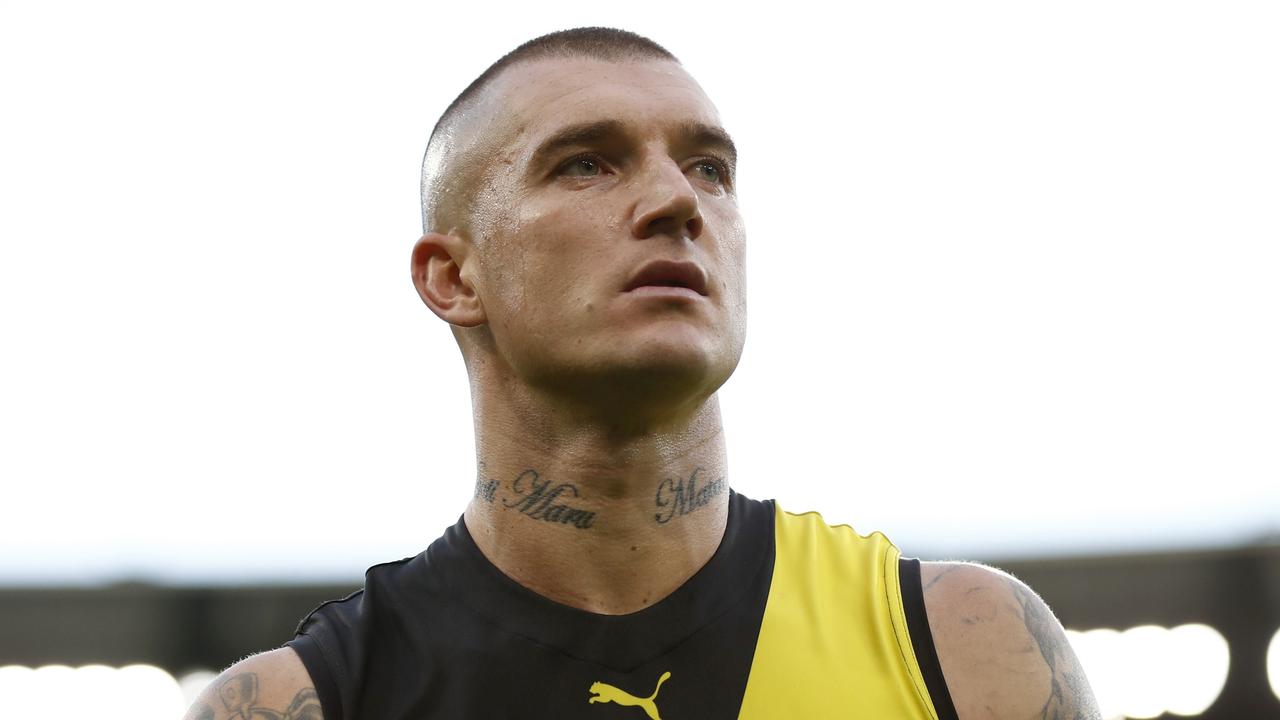 The Swans have not spoken about a potential play for Dustin Martin according to John Longmire Picture: Getty Images
"I read what 'Dimma' said. We have not spoken about him (Martin)," Longmire said.
"I'm not sure where that leaves us other than the fact we have not spoken about it. It's not something that we have discussed.
"If you look at the history of me commenting on player's contracts, I don't comment on players from our club and their contract status, (so) I certainly don't comment on players from other clubs that are contracted.
"Don't read anything into that either. It's just not something I get involved in, not something that I talk about."
'Too nice': Lloyd slams Dons' response to Shiel sledge
Essendon great Matthew Lloyd has slammed the Bombers for being "too nice" and lacking a "ruthless streak", saying the team should have "ploughed straight through" a taunting Luke Parker in the side's belting from Sydney.
Declaring it was time for a passive Essendon to draw a line in the sand after its 58-point loss to the Swans at the SCG on Saturday night, Lloyd said the Bombers were being "walked all over" and needed to regain some "nastiness".
As the Bombers slumped to a 2-7 record against the Swans, the champion forward said the team should have responded to mocking from Sydney midfielder Parker to "make a statement".

Parker appeared to taunt a struggling Dylan Shiel after he lost control of the ball, turning it over to the Swan and costing the Bombers a goal.
Lloyd said Shiel – or one of his teammates on his behalf – should have retaliated in the next contest, to show the Swans they would not be walked over.
"You never ever want to be walked over in life or disrespected in any way, and I thought Dylan Shiel was disrespected in a way that you never want to be treated as a footballer," Lloyd said on the Sunday Footy Show.
"This was the next contest and I would have ploughed straight through Parker here, straight to the ground and said, 'You will never, ever treat me like that again'.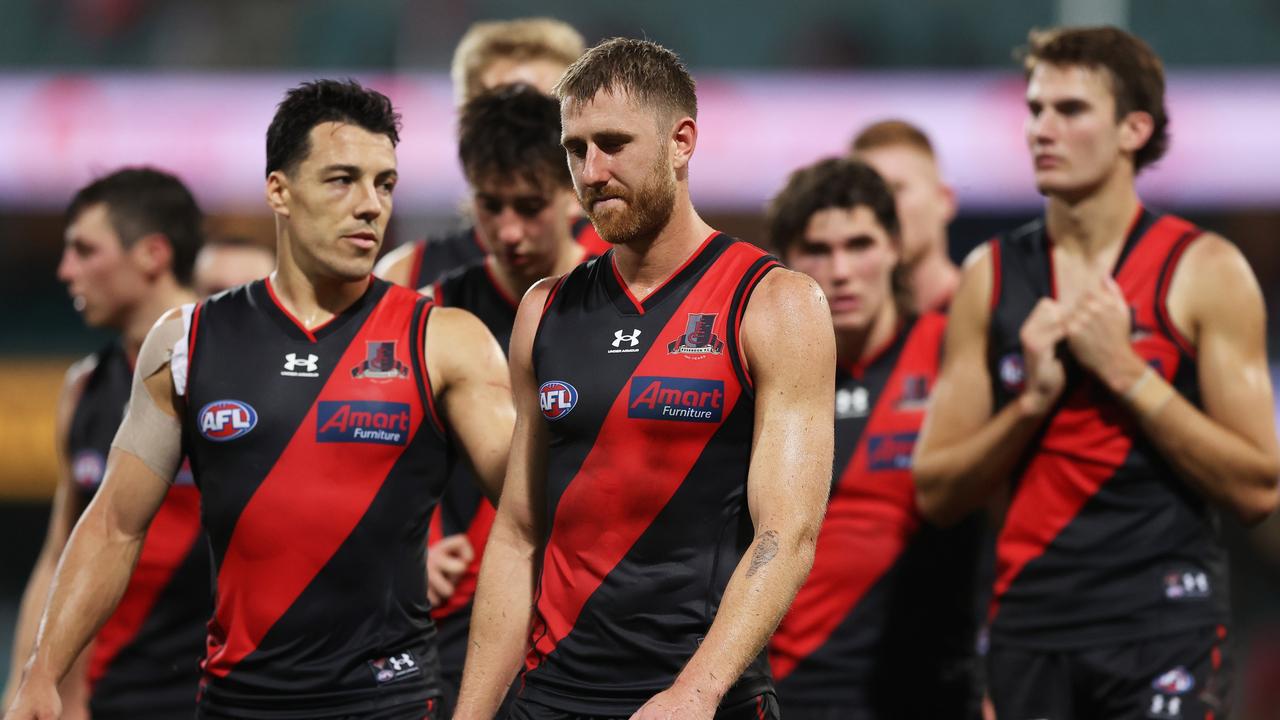 Dylan Shiel and Dyson Heppell after Saturday night's loss. Picture: Matt King/AFL Photos/via Getty Images
"I would not have cared what happened ... I would cannon into him, if you don't give away a free kick even better. But you can't be (walked over).
"Dylan Shiel isn't that type of player to do it, but I would have loved (it) if someone else did it on his behalf.
"I think that will be something that Ben Rutten will show and say, 'This is how the view (of) you (is) Dylan and this is how us as a team are being viewed'.
"Where's the nastiness gone?"
Lloyd said the Bombers should have also retaliated after Zach Merrett was collected by Swan James Rowbottom, who is set to face MRO scrutiny.
"Who goes at Rowbottom and has a crack at him? Nobody," Lloyd said.
"It's every man for themselves.
"There has got to be room for intimidation still in this game. It's still a hard, brutal game.
"Melbourne, are they a tough side? Yeah, exactly. Fremantle, they are a hard, ruthless team at the moment."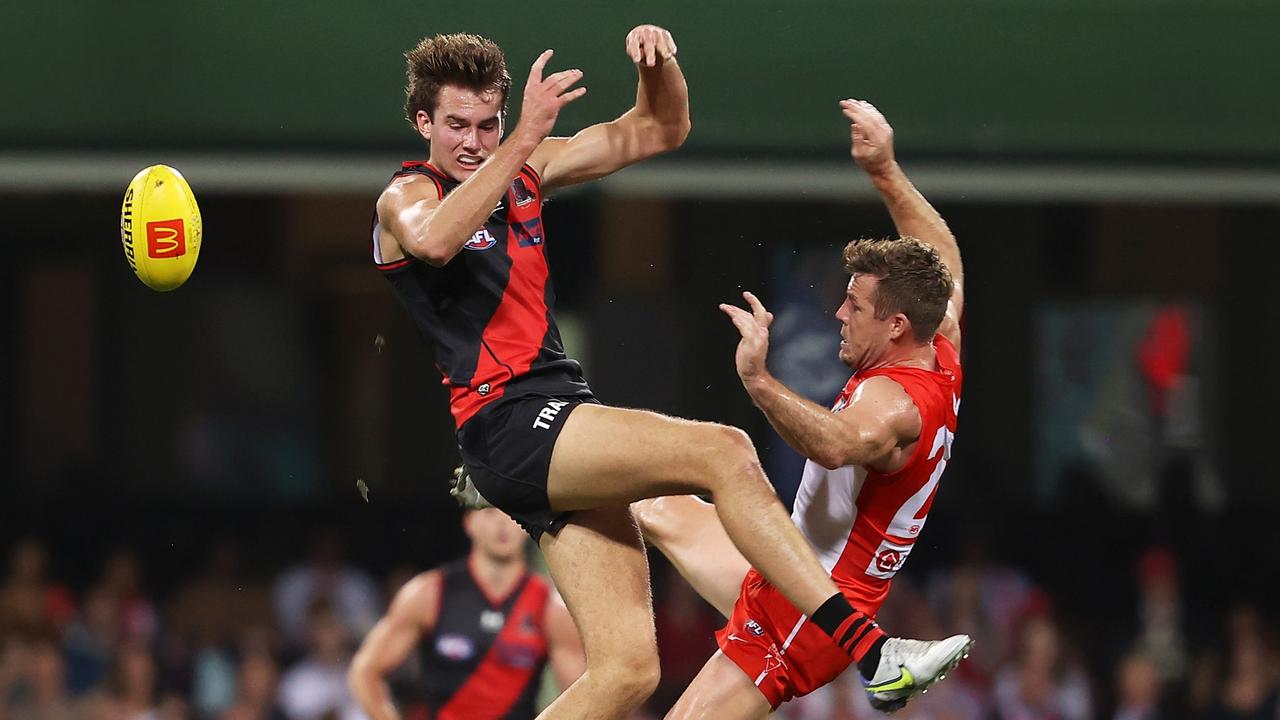 Essendon defender Zach Reid collides with Luke Parker. Picture: Mark Kolbe/Getty Images
As the struggling Bombers face a resurgent Richmond at the MCG on Saturday night, Lloyd said it was time for the team to make a stand.
"If you can't be as talented as a team, the effort doesn't come into it. Thirty says it all, the lack of defence says it all," Lloyd said.
"They are too nice and there is no ruthless streak whatsoever, and I think the side would have loved to have seen him (Shiel) bowl him over.
"You have got to start somewhere. How is it going for them?
"You have got to change the course of the game. I am not talking about knocking someone into tomorrow, I'm talking about making a statement that you are not going to be walked all over, and they are being walked all over."
Who's laughing now? Swans wipe smile off Dons' faces
- Alasdair Belling
A Lance Franklin masterclass has seen Sydney trounce Essendon on Saturday evening by 58 points, propelling them into the top four.
Kicking two goals and racking up 16 disposals, Franklin was all over the visitors like a rash, throwing himself into each contest and selflessly offloading the Sherrin to his younger counterparts when they found themselves in space.
The 35-year old is hotly tipped to sign a contract extension with the Swans and did his chances of another year on the books no harm, proving his record-breaking 9-year $10 million deal was worth its weight in gold.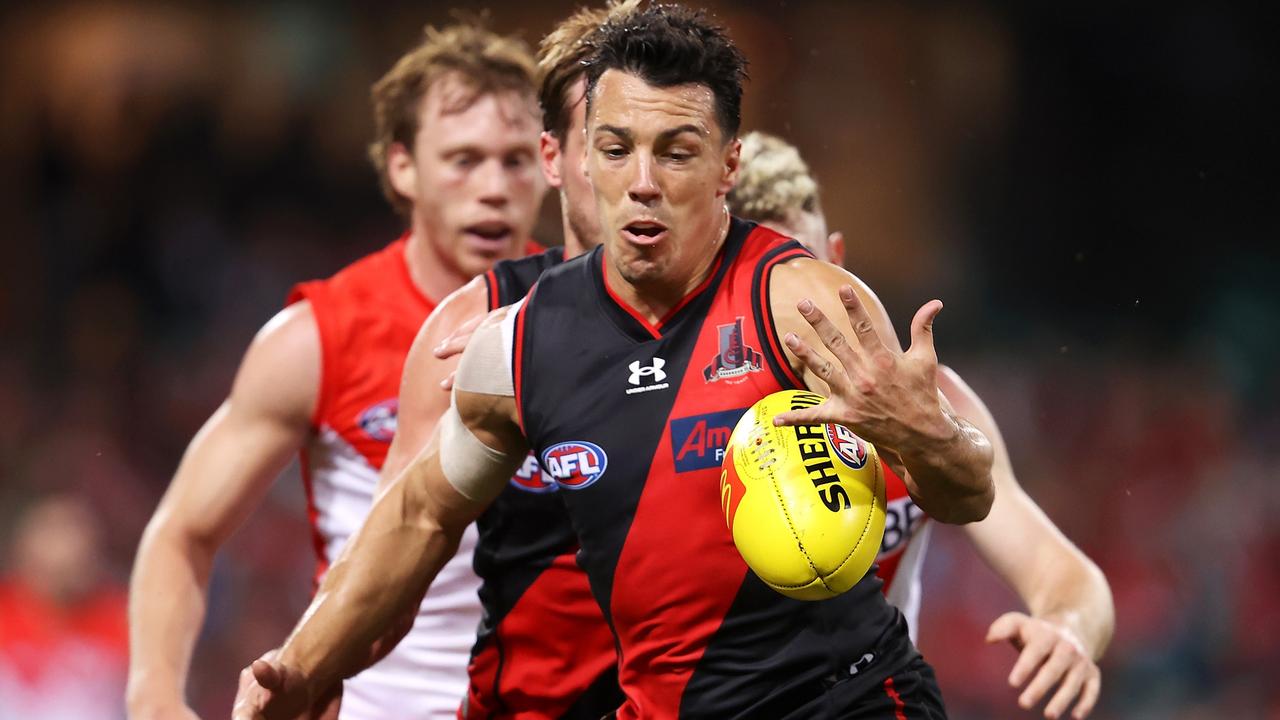 Dylan Shiel copped a brutal sledge from Luke Parker. Picture: Mark Kolbe/Getty Images
After back-to-back losses at home to both Queensland teams, a first-half blitz put any sense of the Swans' being 'slow starters' to rest, with the hosts heading into the halftime break with a 40 point lead.
The visitors were not without their chances in the second half, but a mixture of kicking inaccuracy and lack of intensity around the ball saw the Swans run amok at the death.
With less than 10 points difference separating the teams from their previous last eight games, the match between the two was hotly tipped to be another blockbuster.
However, after a valiant fourth quarter rally that saw them stun Hawthorn last week, the Bombers were anything but explosive, managing just 321 disposals to the Swans 386, kicking a measly two goals in the entire second half.
That's good courage from Caldwell!
Tom McCartin had his eyes on the ball as well so he and Caldwell had every right to go for the footy! Good hard tough footy!

— Drew Semmens (@drewie_5) May 14, 2022
Jye Caldwell that was outstanding!!!! Now who else is prepared to pay the ultimate price for the 🔴⚫️ @essendonfc ??? #respect

— Dean Solomon (@SollySolomon) May 14, 2022
It was a sour note on what was supposed to be midfielder Dyson Heppell's 200th game celebration, with the presence of former Essendon coaching great Kevin Sheedy adding insult to injury.
Broadcasters didn't hold back in their assessment of the visitor's performance.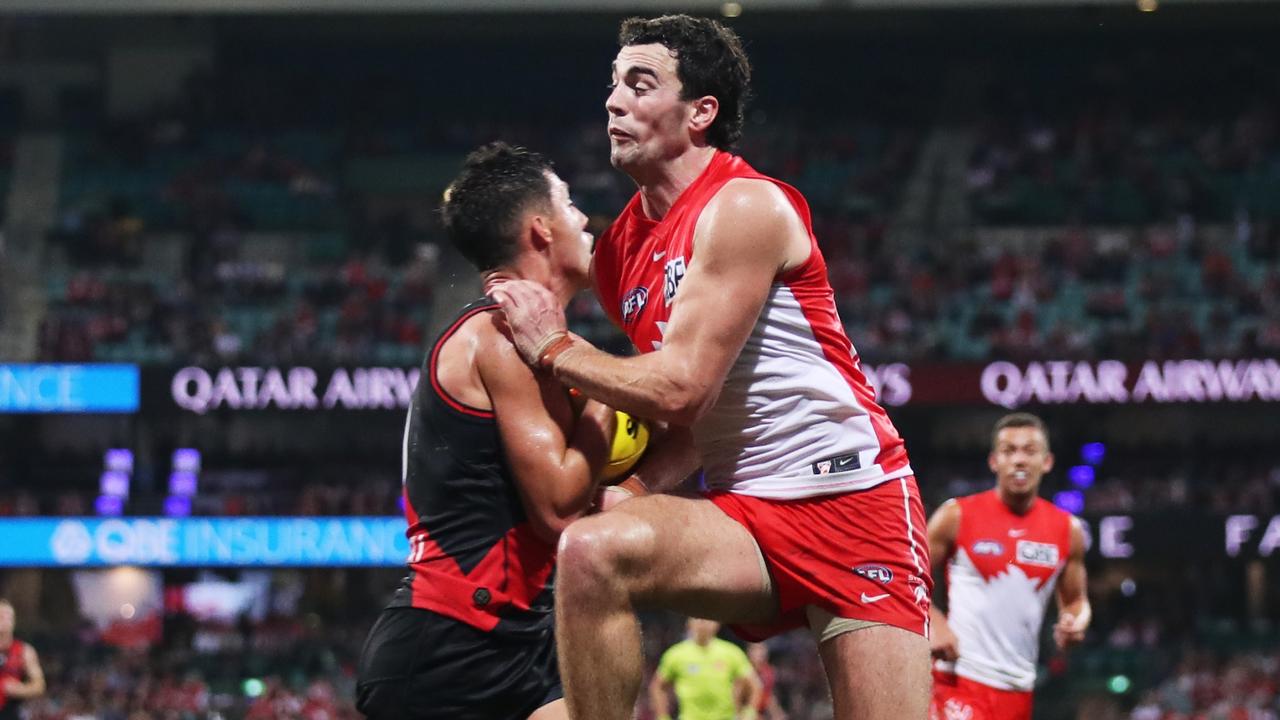 Tom McCartin collides with Jye Caldwell in a frightening incident. Picture: Matt King/AFL Photos/via Getty Images
"That piece of play just goes to show you just how dysfunctional this Essendon team is," AFL great Wayne Carey said in commentary for Fox Footy after a dominant passage of Swan's play.
"Every single player that that footy went to could have played on quickly and moved the ball on inside the forward 50. That is just far too easy."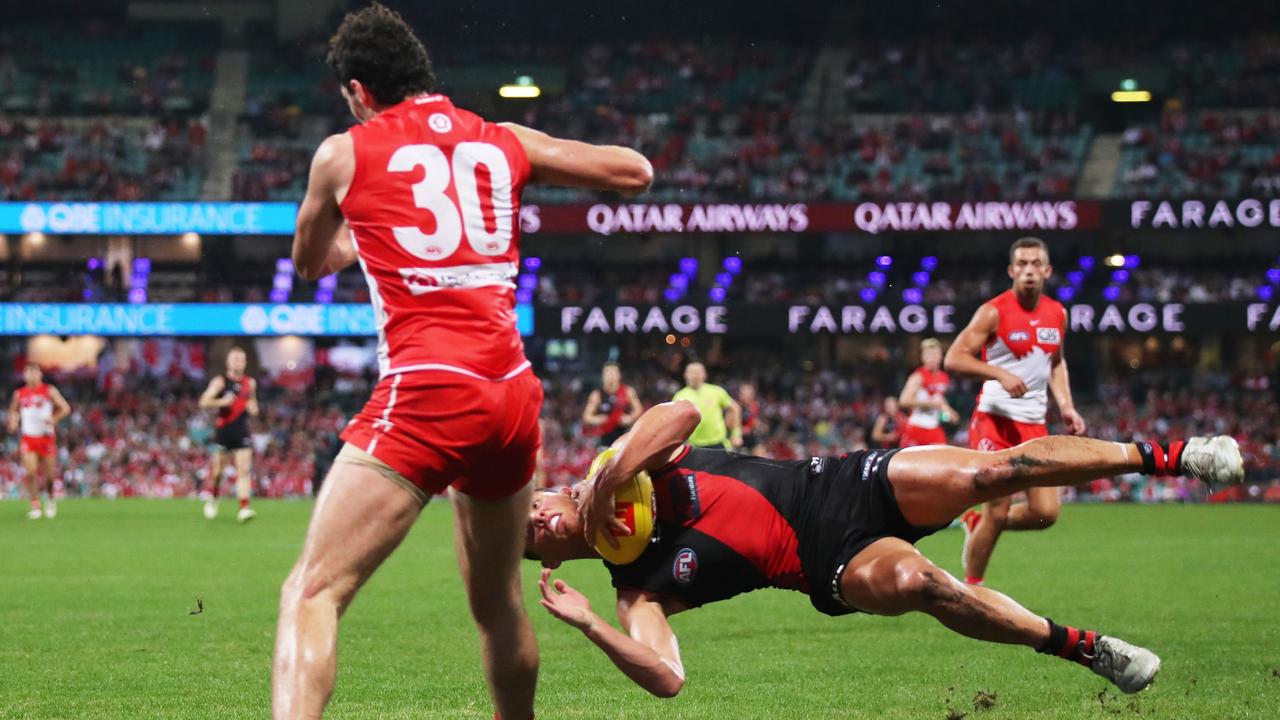 Caldwell falls to the ground after the heavy collision. Picture: Matt King/AFL Photos/via Getty Images
Nathan Buckley agreed, saying the Bombers looked "all at sea".
A rare moment of commitment for the visitors came in the form of Jye Caldwell, taking one of the season's most courageous marks going back with the flight on the boundary.
While he was collected by Tom McCartin in the process, it was a piece of inspiration that the team desperately need, with their annual 'Dreamtime at the G' blockbuster against Richmond to come next week.
The Swans meanwhile will face off against Carlton next week in Melbourne.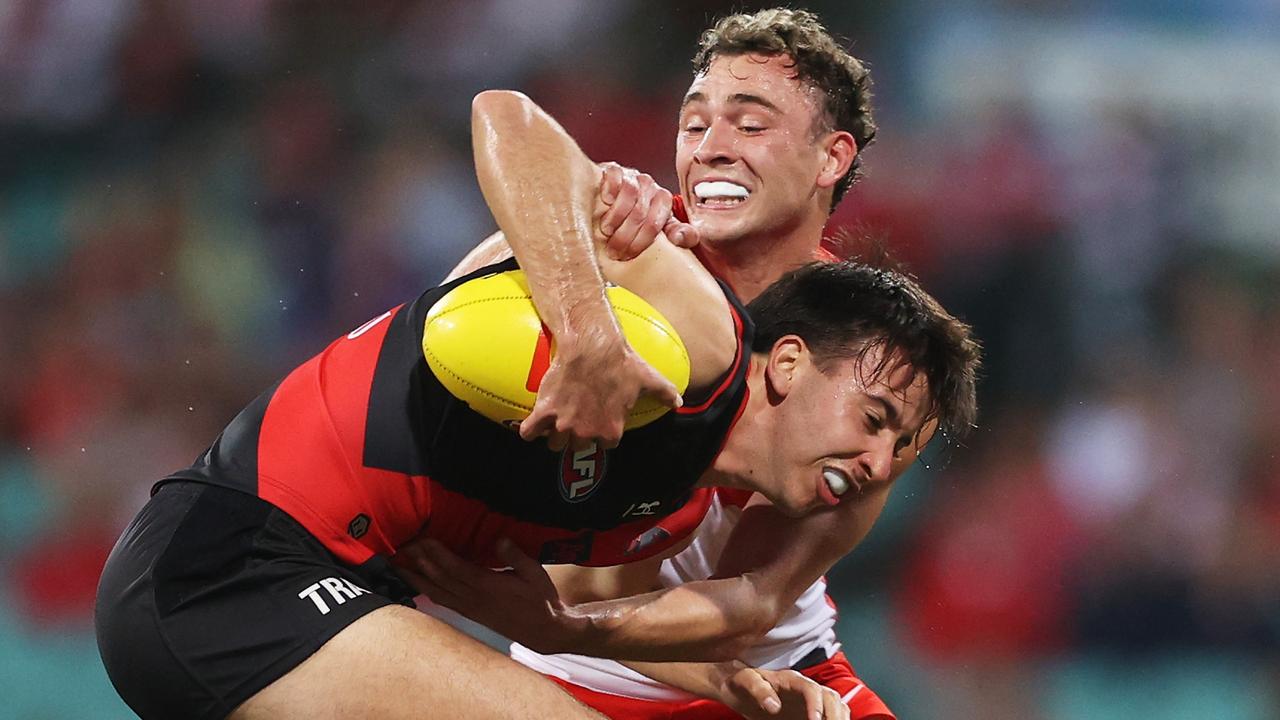 Nic Martin of the Bombers is tackled by Will Hayward. Picture: Matt King/AFL Photos/via Getty Images
SHIEL SINKS TO A NEW LOW
The heat is on a former marquee signing Dylan Shiel for his lacklustre performances since arriving at Essendon in 2019.
Having been relegated to the VFL to find form last month, the wavering midfielder had another stinker against a rampaging Sydney, managing just five kicks for a 69m return.
His confidence wasn't helped when he became the butt of a joke from Swans' midfielder Luke Parker, who appeared to taunt Shiel after he lost control of the ball, turning it over to Parker and costing his side a goal.
Despite the horrid performance, Bombers coach Ben Rutten was adamant that more support was needed for the team's senior players.
"We know what they can do ... we need to keep backing them in, coaching them hard and being really clear on what the expectations are ... (and) supporting them all the way to get there," he said.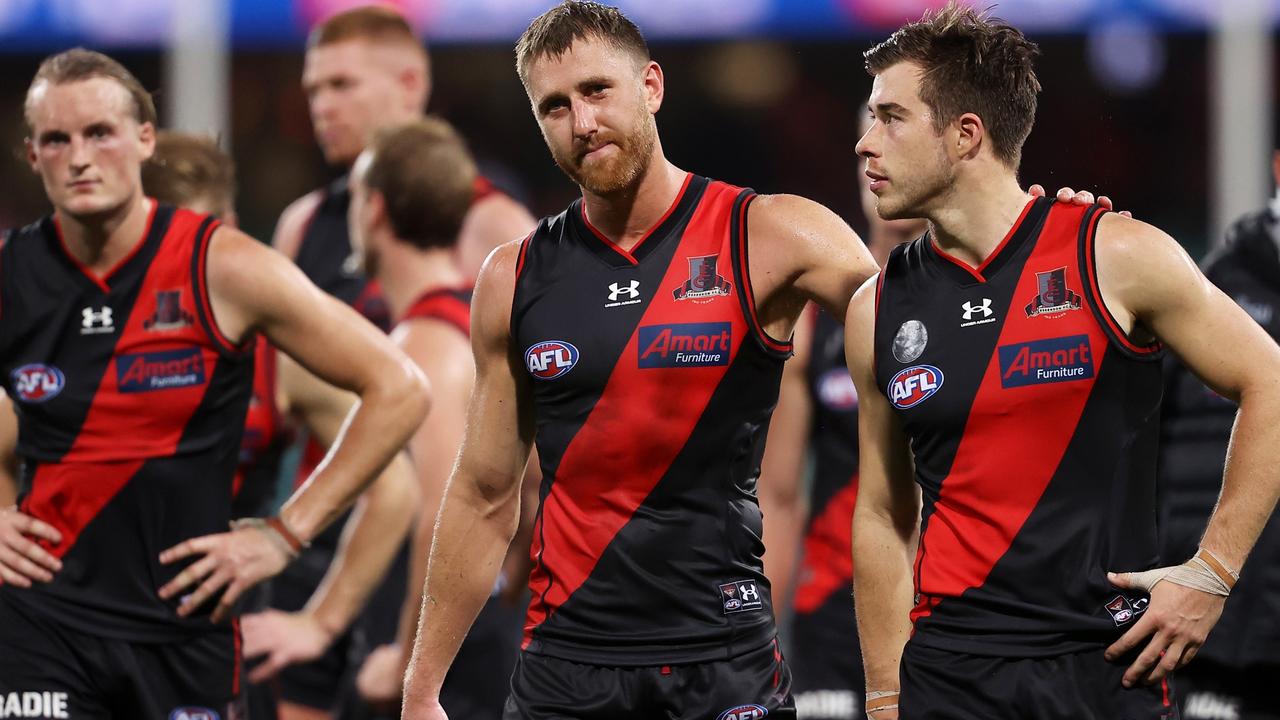 A subdued Dyson Heppell and Zach Merrett after Essendon was soundly beaten. Picture: Mark Kolbe/Getty Images
KENNEDY ENTERS RARE COMPANY
Swans co-captain Josh Kennedy became just the second player in AFL history to register 4000 career touches, joining Gary Ablett Jr. as an all-time workhorse.
The midfielder put in another strong showing against the Bombers, sinking a goal in the fourth quarter and racking up 17 touches.
Swans coach John Longmire admitted that he wasn't aware of the approaching milestone heading into the clash.
"If you know Josh, it'd be the furthest thing from his mind," he said.
"It's a great achievement, but something that wouldn't be front of mind."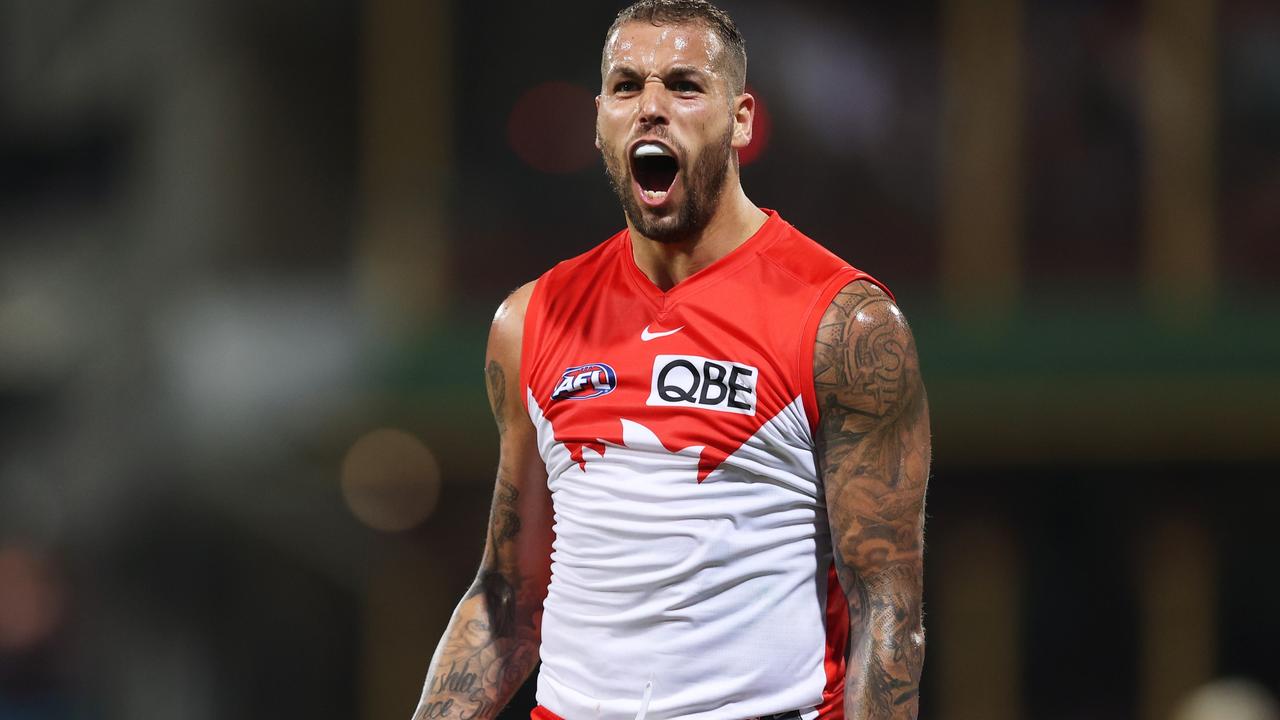 Lance Franklin celebrates a goal at Sydney Cricket Ground. Picture: Matt King/AFL Photos/via Getty Images
SCOREBOARD
SWANS 5.5, 9.12, 12.16, 14. 21 (105)
BOMBERS 2.3, 4.4, 5.7, 6.11 (47)
BELLING'S BEST
Swans: Franklin, Hayward, Warner, Wicks, Kennedy
Bombers: Wright, Hobbs, Perkins
GOALS
Swans: Hayward 2, Franklin 2, Wicks 2, Papley 2, McDonald, Hickey, Gulden, Parker, Heney, Kennedy
Bombers: Wright 2, Francis, Hobbs, Perkins, Martin
UMPIRES
Stevic, O'Gorman, Pell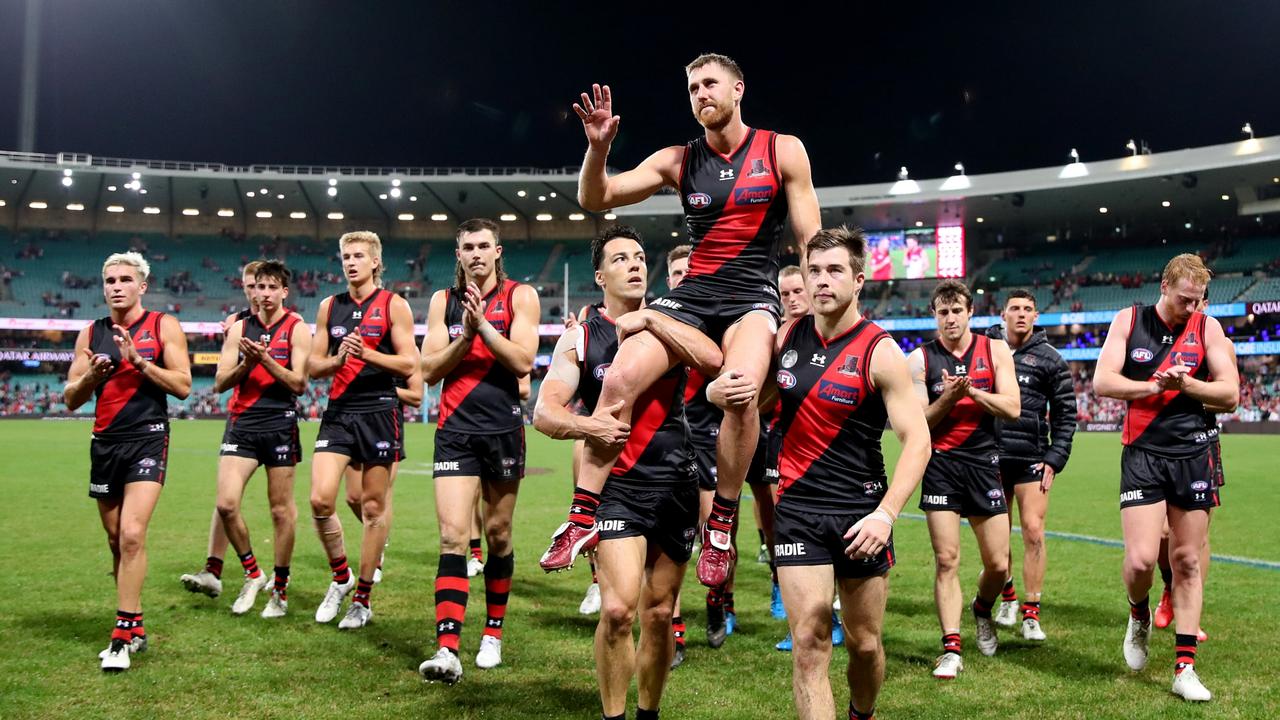 Dyson Heppell is chaired from the field by teammates after playing his 200th match.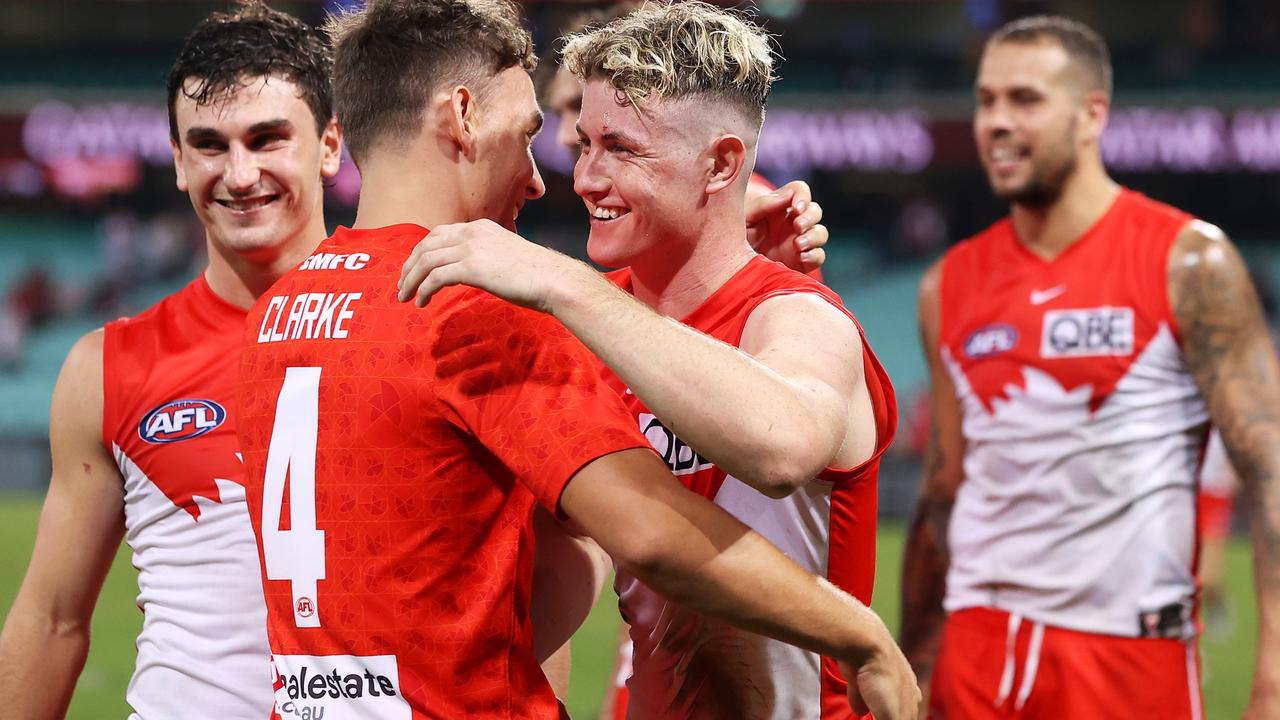 Ryan Clarke and Chad Warner celebrate victory over a disappointing Essendon. Picture: Mark Kolbe/Getty Images
INJURIES
Swans: None
Bombers: J. Caldwell (shoulder)
CROWD
27,464 at the SCG
BELING'S VOTES
3 L. Franklin (S)
2 C. Warner (S)
1 S. Wicks (S)
Originally published as AFL Round 9: Sydney v Essendon, latest news and scores