AFL Swans v Cats: Gary Ablett Sr lauds Lance Franklin after feat but says don't expect more records
Gary Ablett Sr has welcomed Lance Franklin to the exclusive 1000-goal club, but revealed anyone waiting on that milestone again or even 100 a season could be waiting for some time.
Gary Ablett Sr, the only non-traditional full-forward to kick 1000 goals, has welcomed Lance Franklin to the exclusive club.
Ablett, 60, is a long-time admirer of the way a 199cm athlete like Franklin can play the way he does.
"There haven't been too many players, if any, who can move as well as he can with that agility and pace. He really is an exceptional athlete for his height," said Ablett, who still proudly owns the boots, socks, shorts and jumper that he wore when he kicked his 1000th goal against Fremantle in round 12, 1996, at Kardinia Park.
Stream every match of every round of the 2022 Toyota AFL Premiership Season Live & Ad-Break Free In-Play on Kayo. New to Kayo? Try 14-Days Free Now >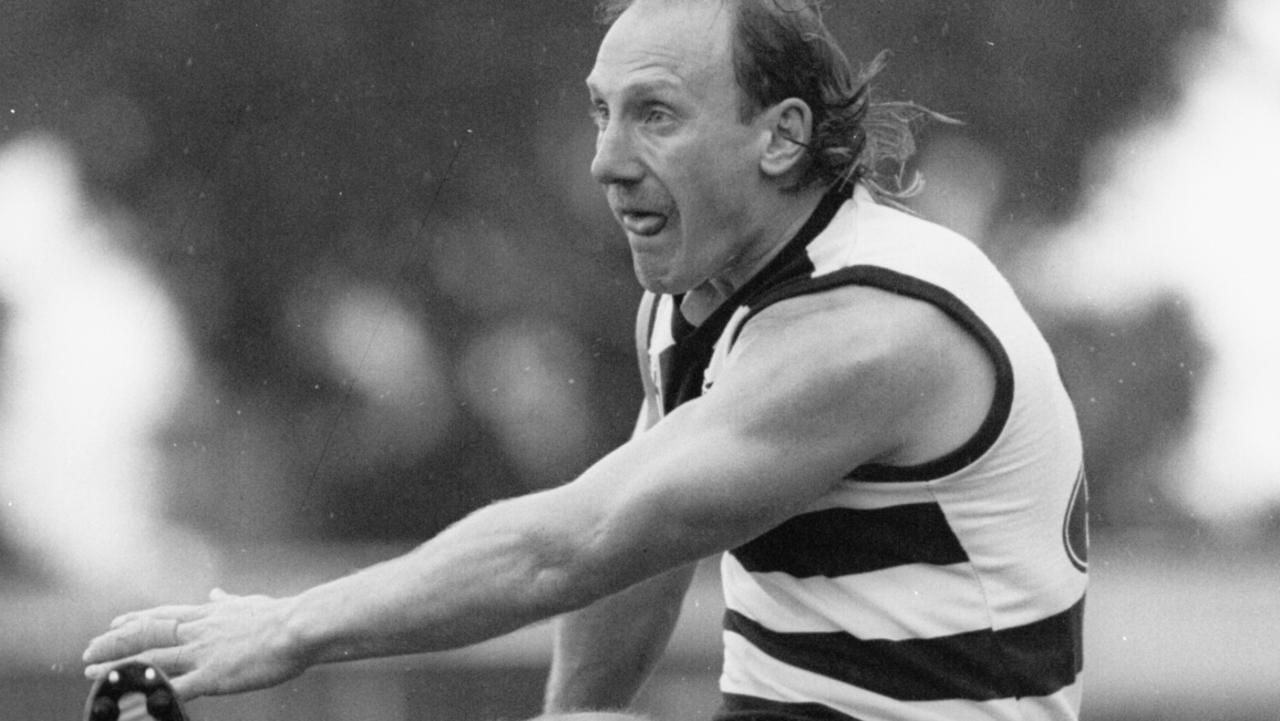 Gary Ablett Sr kicked his 1000th goal against Fremantle in round 12, 1996, at Kardinia Park.
"When I reflect on kicking 1000 goals it certainly is an honour to be one of only six to have achieved that milestone in the history of the game.
"The way the game is played today I'd be surprised if we ever see someone kick 100 goals in a season so I doubt anyone else will ever achieve the 1000-goal milestone. That person would have to be exceptional."
When Ablett kicked his 1000th goal he had already experienced the feeling of hundreds of fans running on to the ground given he had kicked 100 goals in each of the previous three seasons.
"What made last night even more special is the football world knows there is a very rare chance we will ever see it happen again," Ablett said.
"Could 'Buddy' play another season? The way he was moving last night you would say yes, but that would depend on how he is pulling up each week and barring injuries."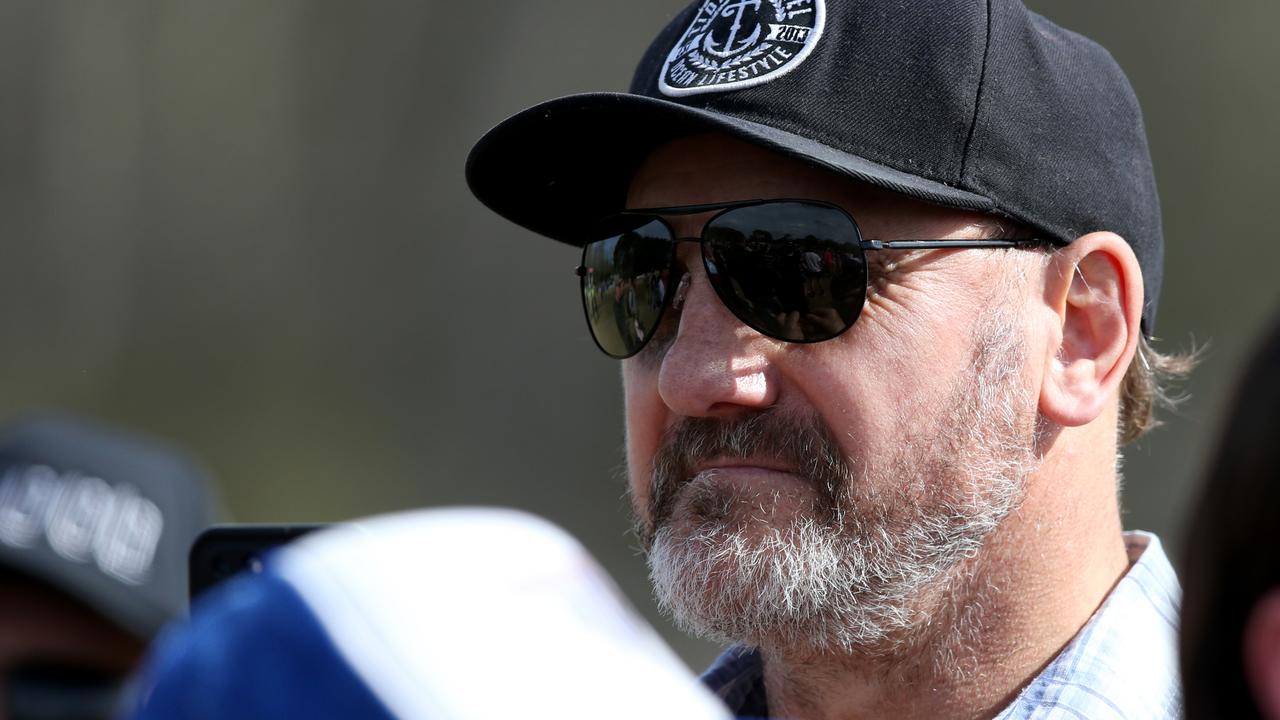 Ablett Sr says what made Friday night even more special is the football world being aware of how rare the achievement.
Lockett lauds Buddy, ex-Swans boss claims 'best $10m ever spent'
AFL Legend Tony Lockett believes champion Sydney forward Lance Franklin can this season add a third premiership medal to his ever-growing tally of team and personal achievements.
The man who kicked a VFL-AFL record of 1360 goals welcomed 35-year-old Franklin into the exclusive 1000-goal club, saying he had been a delight to watch over the years.
But Lockett told the Herald Sun that Franklin might be in for another big reward with the unbeaten Swans firming as a realistic flag chance, with the former Hawk a chance to add to his 2008 and 2013 medals.
"There's more in store yet, a flag at the end of the year would top it all off," Lockett said. "He deserves it, (he's an) absolute champion!!"
Lockett said he couldn't be more pleased to see Franklin join him, the late Gordon Coventry (1299), Jason Dunstall (1254), Doug Wade (1057) and Gary Ablett Sr (1031) as the only men to have booted 1000 or more goals in VFL-AFL history.
Lockett famously broke Coventry's longstanding 1299-goal record at the SCG in 1999, and also pushed through the 1000-barrier four years earlier at the same venue,
"(It's been) a privilege to watch Buddy over the last 18 years," he said.
"(He was) already an all-time great and now has 1000-plus goals to add to his amazing list of achievements.
"(He is) one of the most exciting and dominant players we have ever seen."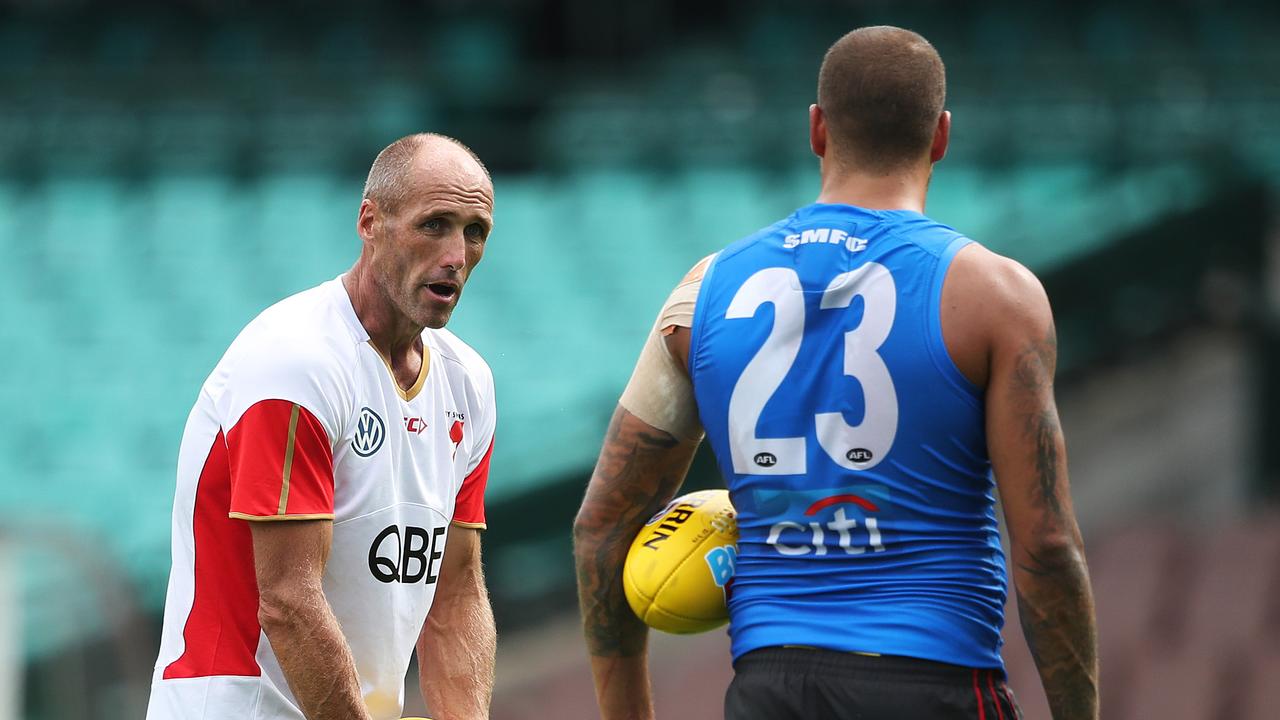 Tony Lockett has praised Lance Franklin's 1000-goal milestone.
Franklin was mobbed by the SCG crowd on Friday as thousands of fans stormed onto the ground after his fourth goal of the night.
In the end, and after a long time interacting with the crowd for almost 10 minutes, he was rescued by a SCG security official Anthony Di-Fabio, who led him through the crowd and back into the Swans rooms.
The game did not resume until 10.54pm after a 35-minute break, with Sydney coach John Longmire saying he had to do a player count in the rooms as five of his players had gone to separate parts of the ground.
He even considered talking to Geelong coach Chris Scott about whether the game needed to be played out, but realised it had to be.
AFL chief executive Gillon McLachlan described the Franklin milestone as "one of the best moments I have ever seen in football."
"Lance Franklin achieved a remarkable milestone, a feat we may never have the privilege of witnessing again," McLachlan said.
"Everyone at the SCG was glued to his every move and, as he has so many times across his career, Buddy delivered a most magical moment and created one of the most euphoric, joyful scenes ever seen in football."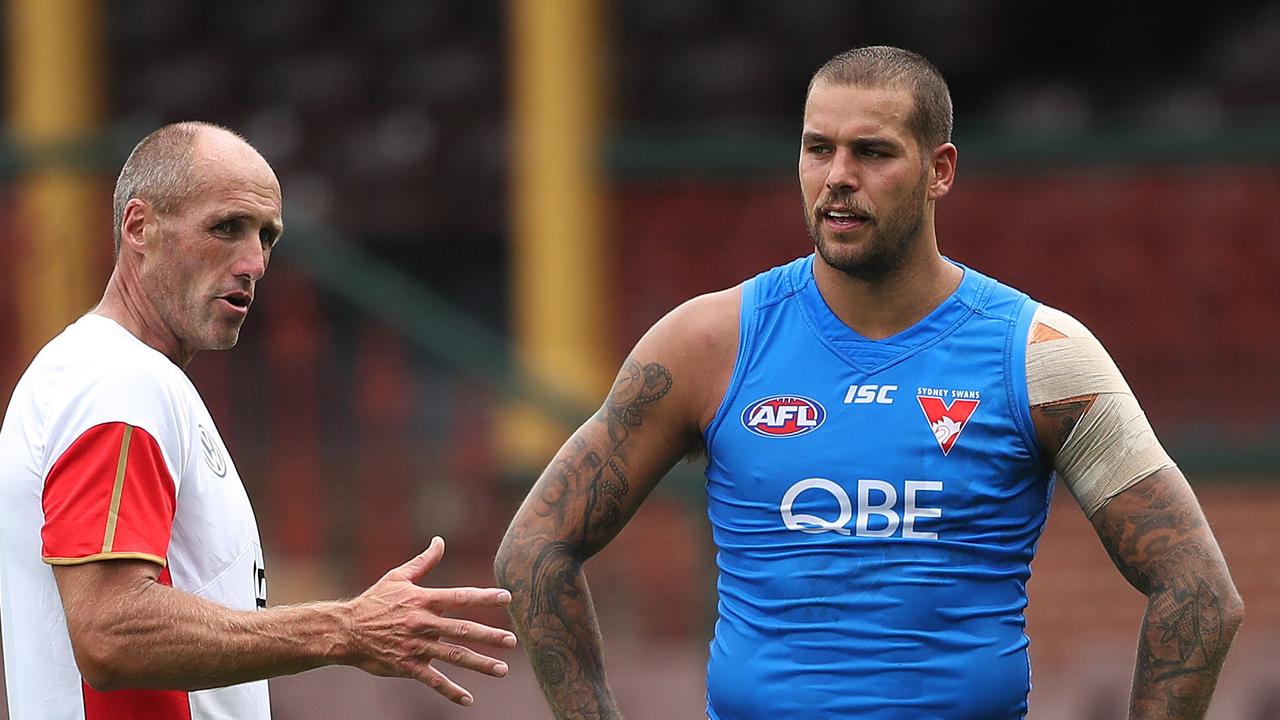 Tony Lockett and Franklin have provided hundreds of goals for the Swans.
On Saturday the Swans made an appeal for the ball that Franklin booted through for his 1000th goal to be returned.
They have called on the person who took home the ball to present it back in person - and to meet - the superstar forward, with social media footage clearly identifying him.
One of the men who helped to secretly lure Buddy Franklin to Sydney almost a decade ago says his once contentious nine-year mega contract has turned out to be "the best $10 million ever spent".
Former Swans administrator Andrew Ireland told the sharpshooter's ex-manager Liam Pickering in a text exchange on Friday night it had been a huge windfall for the code in New South Wales.
Pickering said on SEN: "I said if he hadn't given value for money up in Sydney, I will give up, and Andrew Ireland, who did the deal, came back with 'Best $10 million ever spent'."
"When you think about it, he (Franklin) has been so big for footy in the northern states ... he has been worth every cent for the Swans."
Franklin signed a nine-year $10 million deal at the end of the 2013 season, transferring from Hawthorn to Sydney, amid criticism that he wouldn't see out the end of the deal.
Now, the 35-year-old seems certain to sign a one-year extension to play on again in 2023.
THOUSANDS INVADE SCG AS BUDDY MAKES HISTORY
Chris Cavanagh and Tamaryn McGregor
"We witnessed something pretty special."
Sydney coach John Longmire encapsulated the incredible feelings of the football world after Lance "Buddy" Franklin kicked his 1000th goal at the SCG on Friday night and was swamped by a pandemonic sea of fans.
Franklin slotted a 35m left foot goal – his fourth for the game against Geelong – to bring up the magical milestone late in the 18th-minute of the fourth quarter and within seconds he was surrounded by backslapping wellwishers filming the moment on mobile phones after thousands people had leapt the fence and charged across the ground.
He had become only the sixth forward in history – and possibly the last — to reach the incredible figure, joining Tony Lockett (1360), Gordon Coventry (1299), Jason Dunstall (1254), Doug Wade (1057) and Gary Ablett Snr (1031).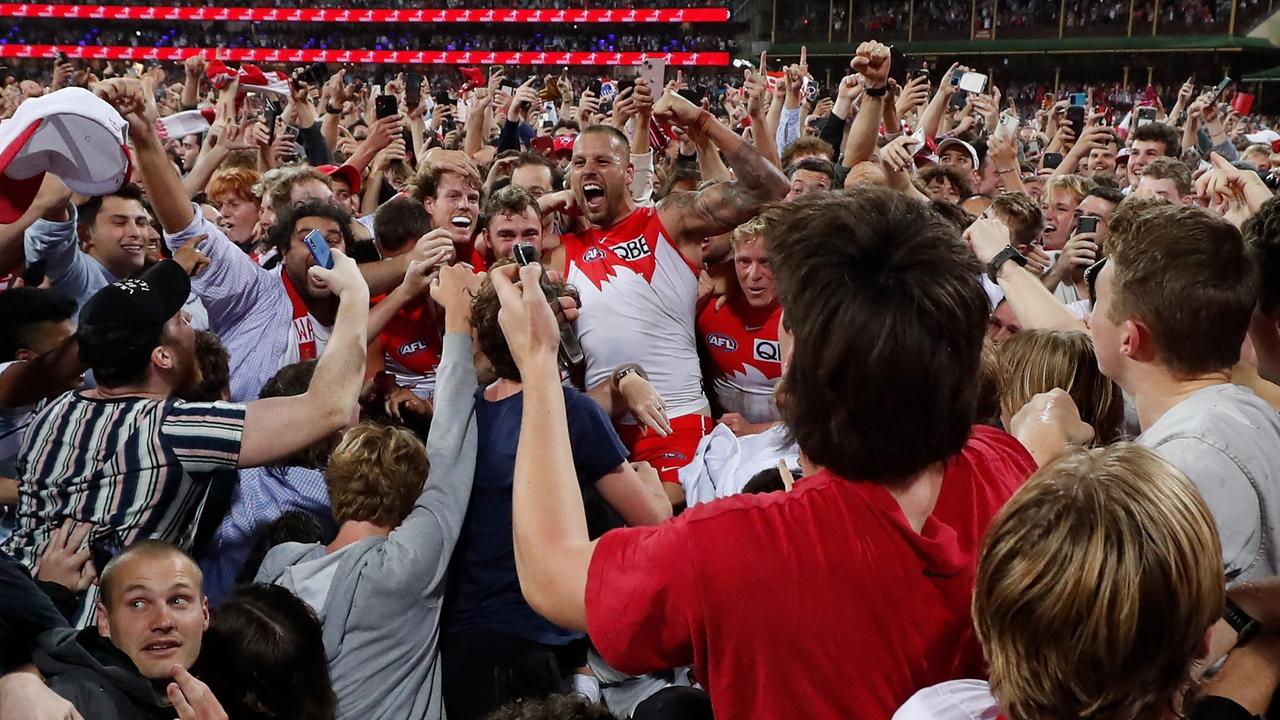 Fans swamped Lance Franklin after he reached the magical 1000.
When asked to encapsulate the never-before seen scenes — more like scenes at a rock concert than a footy game – the Sydney champion said, "surreal".
"It was an amazing moment. It really was," he told Channel 7's Matthew Richardson.
For 15 minutes, as the Foo Fighter's 'My Hero' blared over the loudspeakers, Franklin was surrounded. There was barely a spare patch of grass on the entire SCG and it seemed like he would never break free.
For the large part of it, the hulking Franklin had an enormous grin as cheered and roared with fans to mark the incredible moment.
But there were fleeting moments of concern as he and an unnamed usher barged their way through the heaving mosh pit towards the players' race. Occasionally, he stopped and sucked in deep breaths, appearing to concentrate on keeping his composure and keeping his cool.
Longmire admitted to being anxious.
"I was a bit concerned, to be honest," he said.
"When I got down to the rooms, there was some talk about some little kids stuck at the bottom, so I just wanted to make sure everyone was out there, police and security, to help," he said.
"It's a great thrill, but you don't want it to be dangerous. But then when we got everyone off and realised everyone was OK, you've just got to soak that in."
Franklin said he was never worried for his own safety. He obviously did not see the concerned face of wife Jesinta in the stands.
"No (worries)," he said, "I had the taste of Carlton Draught in my mouth from someone.
"It was just an amazing moment, one I will cherish forever.
"It was actually nice to get it done. Obviously it's been playing on my mind a little bit, obviously kicking the one last week, it was disappointing.
"But, to bounce back tonight and finally get it, it's good."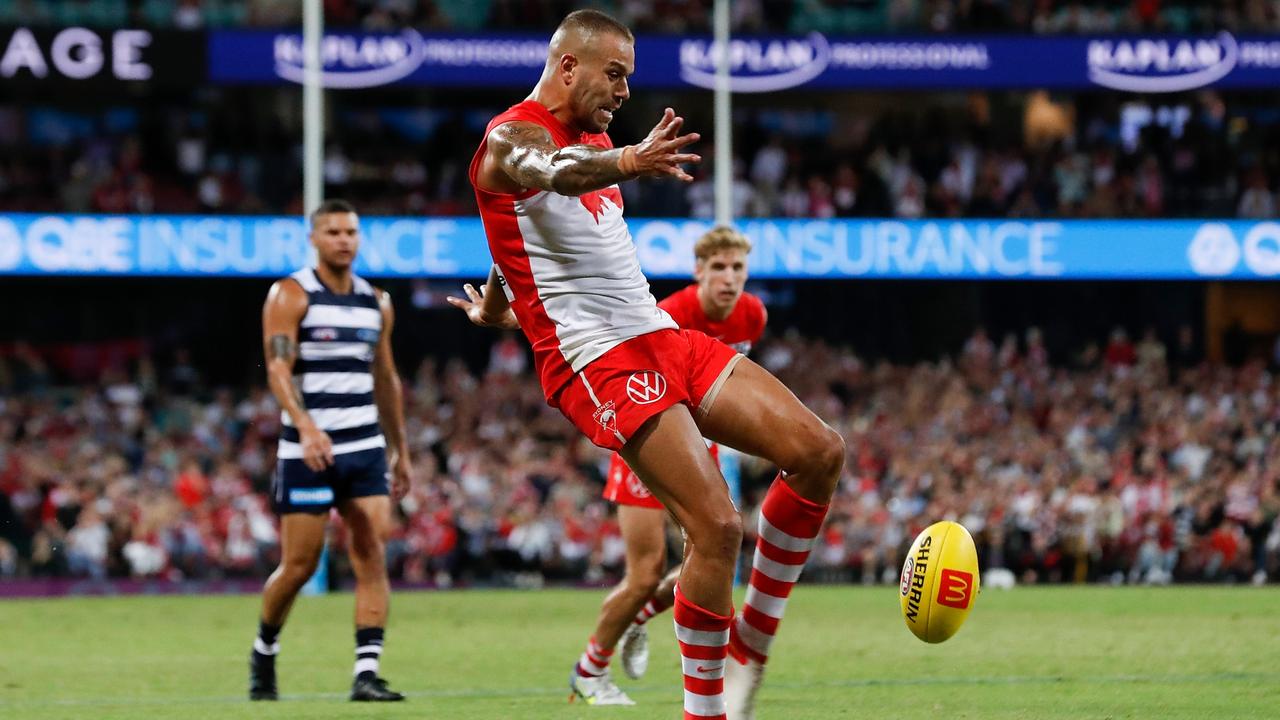 Franklin got his chance in the last quarter.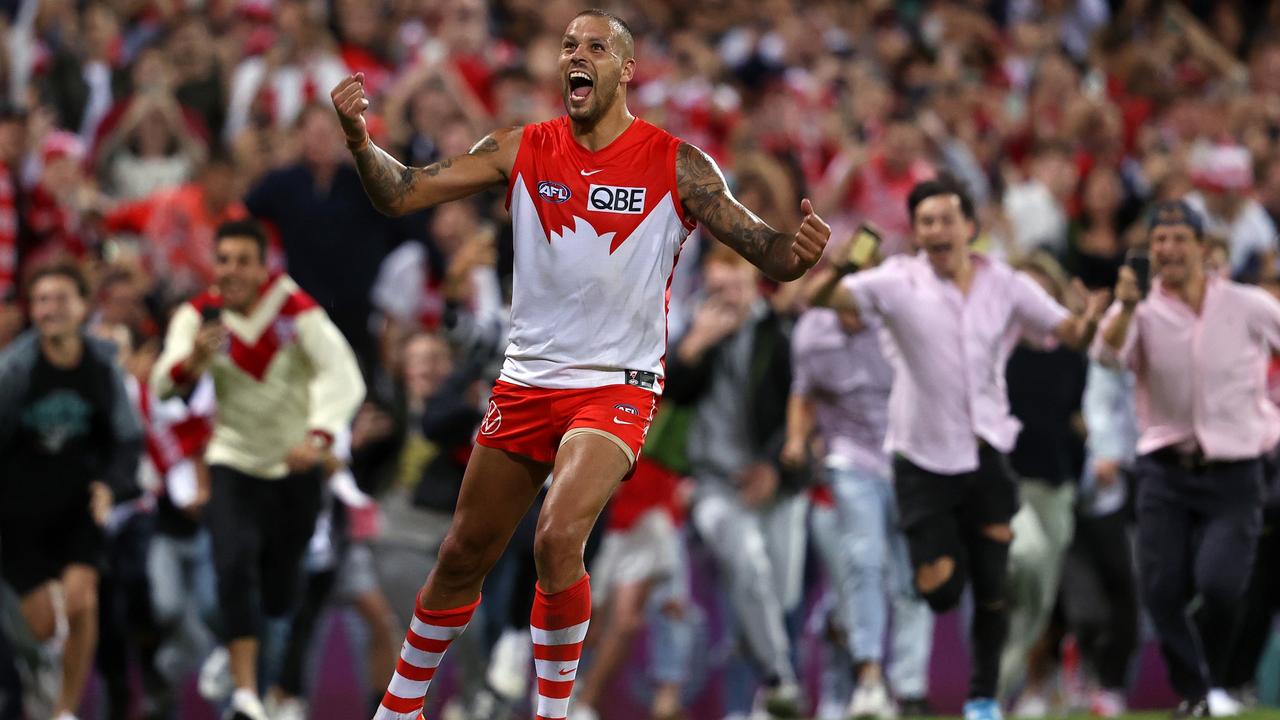 Cue the celebrations as Franklin booted his 1000th.
During the long delay — as the crowd dispersed and the players waited to complete the last six minutes of the game — Franklin took the time to acknowledge his family.
"Mum and dad, with Covid the last couple of years, haven't been able to see them as much. So it's just nice to have all my family here," he said.
"Obviously my wife. I think Tallulah came, I'm not sure about Rocky, whether he made it through, but fingers crossed he made it through the four quarters."
The goalkicking great started his career at Hawthorn and was the last player to reach a ton in a single season (2008).
He entered this season on 995 goals and needed four against Geelong on Friday night.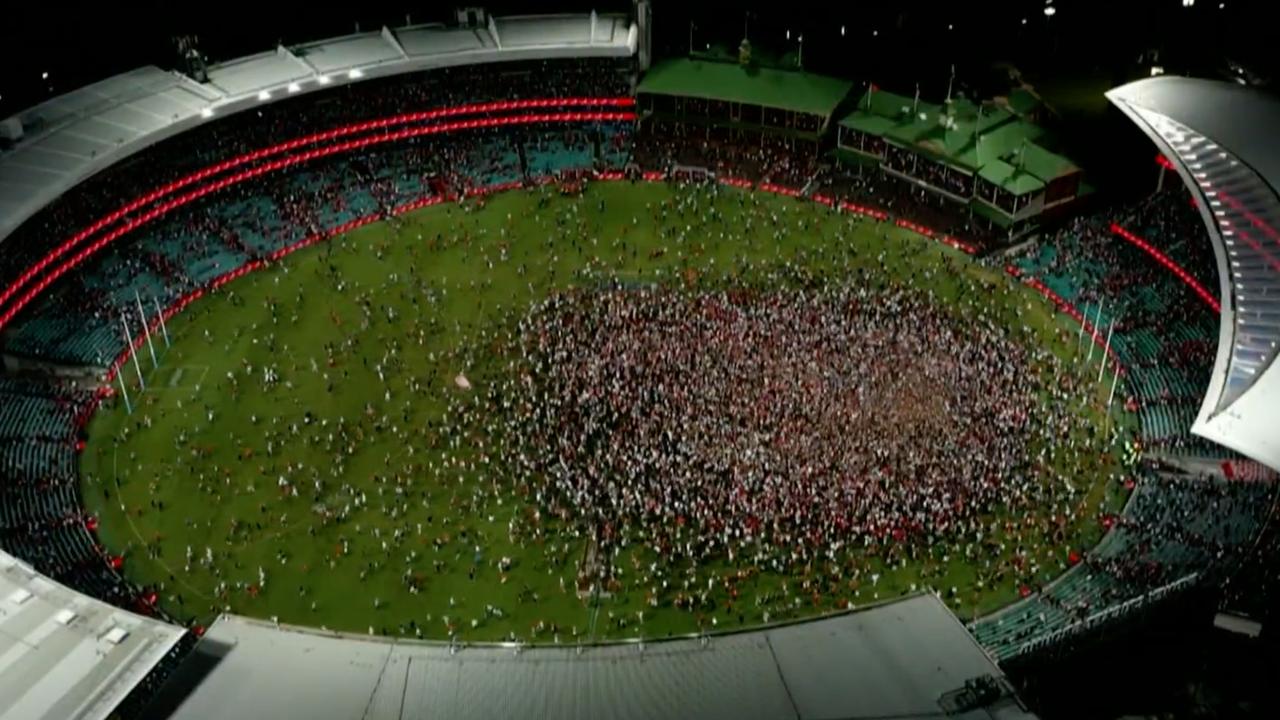 Like bees to a honey pot, fans swarmed Franklin.
It was Franklin's 420th goal from 138 games for Sydney, after he had kicked 580 goals from 182 games for the Hawks to start his career.
The magic moment finally came as teammate Chad Warner burst through the centre of the ground and noticed Franklin double back on defender Jack Henry and delivered a perfect chest-high pass.
"I told Chaddy Warner at half time, 'Mate, lower your eyes'," Franklin said.
"He was able to do it. It was a good kick. Able to finish it. Yeah, it was nice.
"A lot of hard work to get there. I've been playing for 18 years, so a lot of hard work to get there but I wouldn't be able to get there without having some great teammates around me to provide those assists."
Longmire revealed that he ushered the playing group, staff and Lance's family into a private room in the SCG at the end of the game, before exchanging a couple of words and intimately briefly celebrating the memorable moment.
"I thought it was important to get everyone together, we witnessed something pretty special," Longmire said as he reflected on the event that had just unfolded 15 minutes prior.
The Swans head coach praised Franklin for his rise to stardom and incredible performance across two clubs, as well as his attitude and work ethic.
"He's played for Hawthorn and us and been a star at both clubs and a star of the game. He's just so humble, he's a very humble superstar and they're always the best types," said the coach.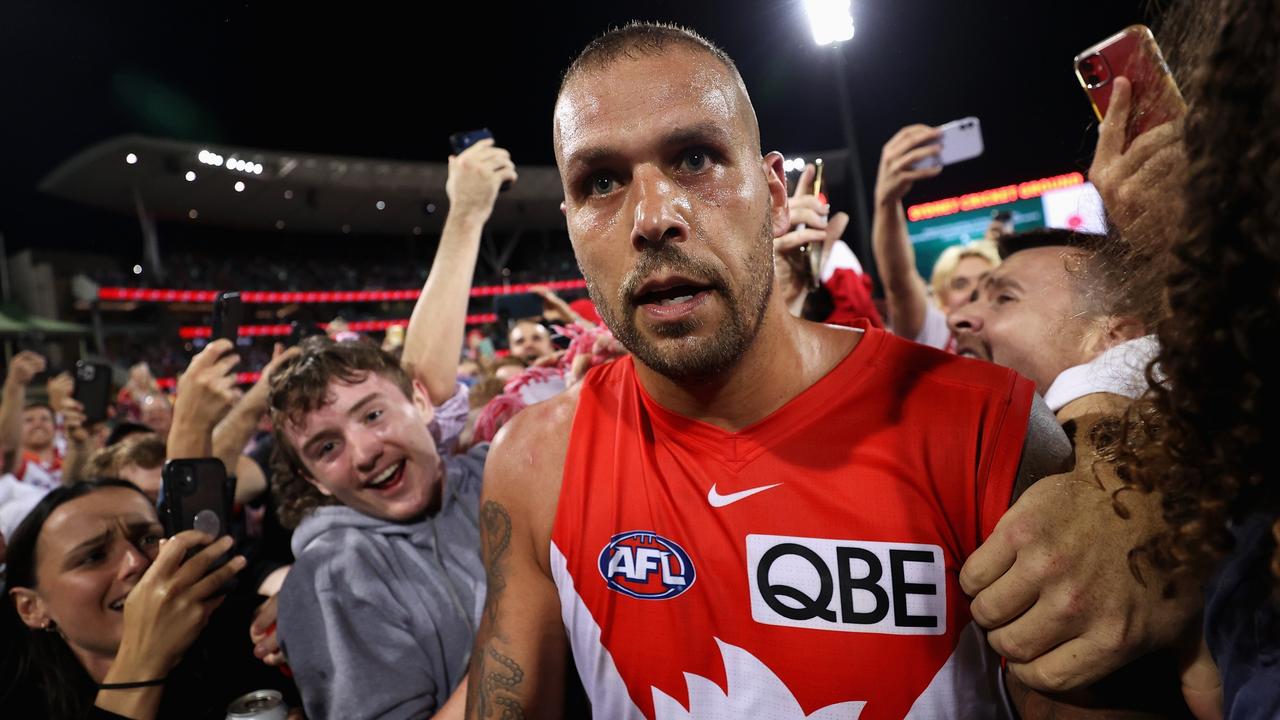 Fans could not get enough of their hero.
When asked how he felt about the milestone being achieved on home turf, Longmire said the moment would have been iconic regardless of the location.
"1000 goals wherever he kicked them was going to be special but to have home supporters be witness to that and a part of that is pretty special," he said.
Longmire revealed players Chad Warner and Ollie Florent ended up walking down Driver
Avenue in their footy boots after going out a different exit when the team left the field following the fans' swarm.
"They couldn't get back into the changerooms across the ground so they walked down Driver Avenue in their footy boots," said the Swans coach.
The moment may have broken Instagram and TikTok.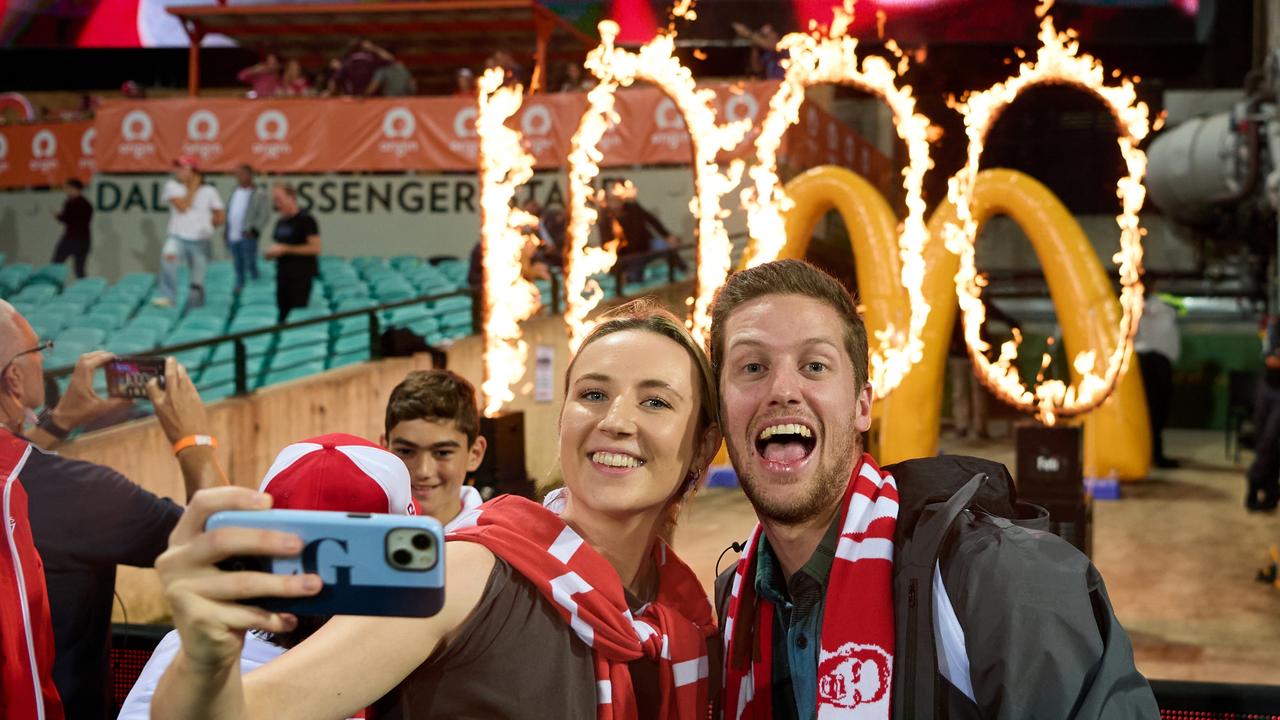 Fans celebrate in front of a pyro display celebrating the magical mark.
Despite the Cats' 30 point loss in what Chris Scott described as " a bit of a strange game", the Geelong head coach had nothing but praise for 1000 goal kicker and AFL great Lance Franklin and the Sydney Swans.
"We've got nothing but good things to say about the big man, their team played really well tonight, they kicked exceptionally," said Scott in his post match-press conference.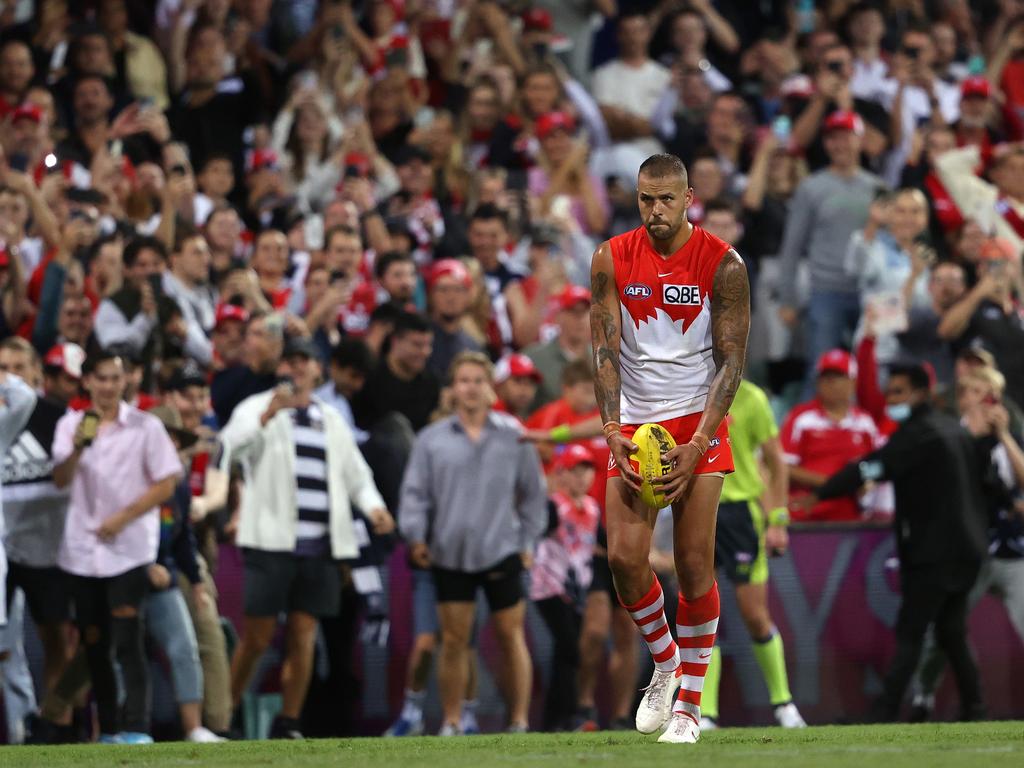 The calm before the storm. Picture: Phil Hillyard
The Swans defeated the Cats 107-77 in a history-making match on Friday night at the Sydney Cricket Ground (SCG).
"There was always the potential that this was going to be a celebration in Sydney, and I am a huge advocate for footy north of the Murray," said the head coach.
SCOREBOARD
SYDNEY SWANS 4.3, 11.2, 15.4, 17.5 (107)
def
GEELONG CATS 2.4, 6.7, 8.13, 10.17 (77)
GOALS
SWANS: Heeney 5, Franklin 4, Hayward 3, Gulden, McLean, Mills, Rowbottom
CATS: Close 3, Atkins, Duncan, Kolodjashnij, Parfitt, Tuohy
TAMARYN MCGREGOR'S BEST
SWANS: Franklin, Heeney, McCartin, Hayward, Gulden, Mills, Blakey
CATS: Close, Kolodjashnij, Ratugolea
INJURIES
SWANS: nil
CATS: Blicavs (Shoulder)
UMPIRES
John Howorth (17), Robert Findlay (23), Jacob Mollison (32)
CROWD: 36,578 at SCG
TAMARYN MCGREGOR'S VOTES
3 — L.Franklin (Syd)
2 — I. Heeney (Syd)
1 — W. Hayward (Syd)
BUDDY GREAT
All eyes were on the man of the moment at the start of the game, who assumed an initial decoy role, high in the forward 50. What first seemed like a selfless night of play for the Swans icon, turned quickly into a goal frenzy. It wasn't long before Buddy took charge with a magical pocket mark, just inside the 50, to initiate the 3 goal race to 1000. Members of the crowd at the SCG were reminded of why this man is known as the greatest forward of his generation and among the GOATs of the great game.
DREAMY HEENEY
Isaac Heeney's hair wasn't the only slick feature of the midfielder's performance on Friday night. Heeney (25) banked a total of 5 goals for the match and looked to spoil every contest. He was everywhere and has 21 disposals recorded to prove it.
Isaac Heeney blasted off with five goals. Picture: AFL Photos/Getty Images
PADDY PERFECTION
Paddy McCartin backed up a solid Swans debut performance with another dominant effort in Round 2. The key defender led the backline's charge, locking down the Geelong forward line and getting the Swans off to a stellar start.
WHERE'S THE DANGER?
Geelong's 'go-to-guy' Patrick Dangerfield was kept on lock by Swan's tagger Callum Mills for majority of the evening.
Mills managed to lead the veteran in disposals, with a whopping 29 under his belt, compared to just 12 from Dangerfield.
A couple of magic moments in combination with skipper Selwood, landed Dangerfield in a prime position to assist Brad Close to a photo finish sliding goal, but it just wasn't Danger's day.
KEEP A CLOSE EYE
Brad Close kept the Cats in the game, continuing to build on his strong performance from previous seasons and banking a total four goals for the night.
Originally published as AFL Swans v Cats: Gary Ablett Sr lauds Lance Franklin after feat but says don't expect more records