AFL umpires enjoying game more since crackdown on dissent, according to league memo
While the dissent crackdown has proved divisive, the AFL umpires boss says that umps are enjoying the paradigm shift.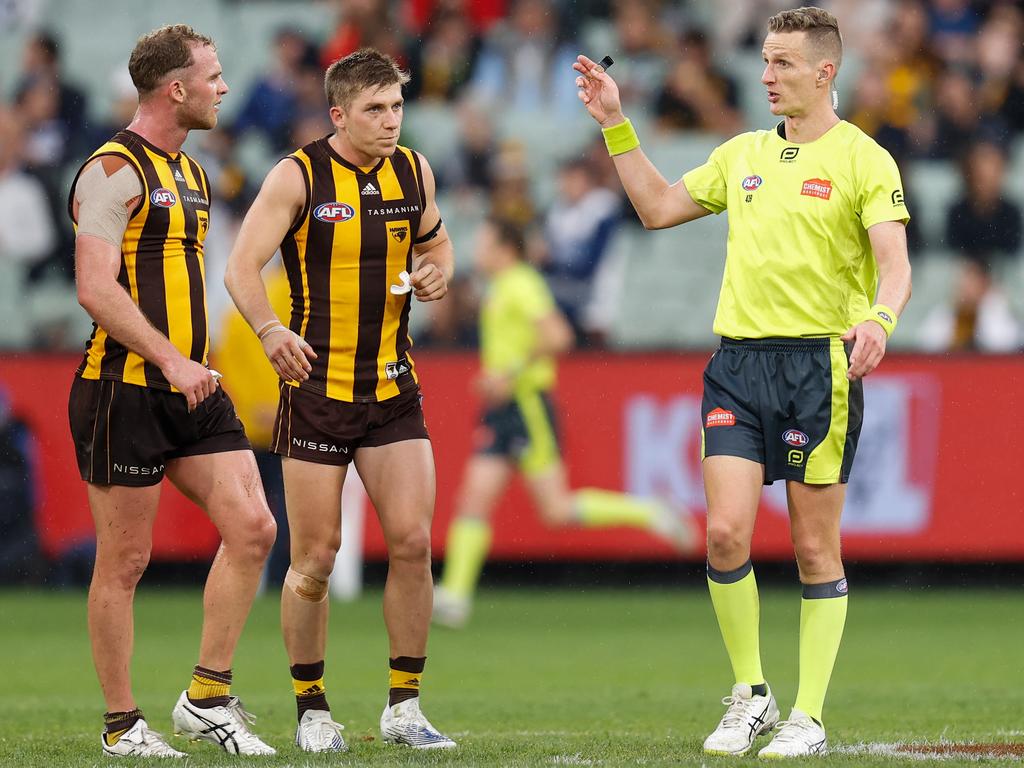 Tom Mitchell of the Hawks speaks with AFL field umpire Hayden Gavine after a 50m penalty was awarded to Geelong during a round 5 match at the MCG. Picture: Michael Willson/AFL Photos via Getty Images
AFL umpires boss Dan Richardson says the league's umpires are enjoying their job more since the controversial crackdown on dissent started this year.
Seeking to redress a shortfall of 6000 umpires at community level, the AFL has implemented a zero tolerance approach towards antagonistic behaviour from players to umpires, leading to a spate of 50m penalties across the early rounds of the season.
Brisbane Lions defender Harris Andrews conceded one such penalty for putting his arms out to express disagreement with a decision in his side's round 5 win over Collingwood, while St Kilda's Daniel McKenzie cost the Saints a goal in their victory against Greater Western Sydney in Canberra on Friday night after the Saints suggested that Giant Callan Ward had not completed a mark that he was awarded.
AFL football operations boss Brad Scott last week doubled down on the rule, noting that several free kicks for dissent which should have been paid had not been awarded.
The clampdown has been polarising, with a host of former and current players criticising the way the rule is now being interpreted.
Even within umpire circles it has been contentious, with recently retired field umpire Dean Margetts telling CodeSports last week that the crackdown was doing more harm than good.
"With his hands out like [Andrews] was, that looked like a cuddle you could wrap your mum up with," Margetts said of the Andrews decision.
"It wasn't aggressive. It wasn't out of whack. It wasn't a bad message. And if the umpire didn't pay a free kick, no one's going to be saying they find that offensive.
"The umpire would feel embarrassed saying to Harris Andrews, 'Arms out 50m penalty'. He was embarrassed paying that, I could tell in the tone of his voice. 'Oh God almighty, I've got to pay this but I don't want to'."
However, an AFL memo sent last week, seen by CodeSports, indicates that the current crop of umpires are relishing a better work environment that has come about because of the stricter interpretation.
The memo was sent by former Adelaide coach Brenton Sanderson, now the AFL's community umpiring development manager, to AFL umpiring development staff.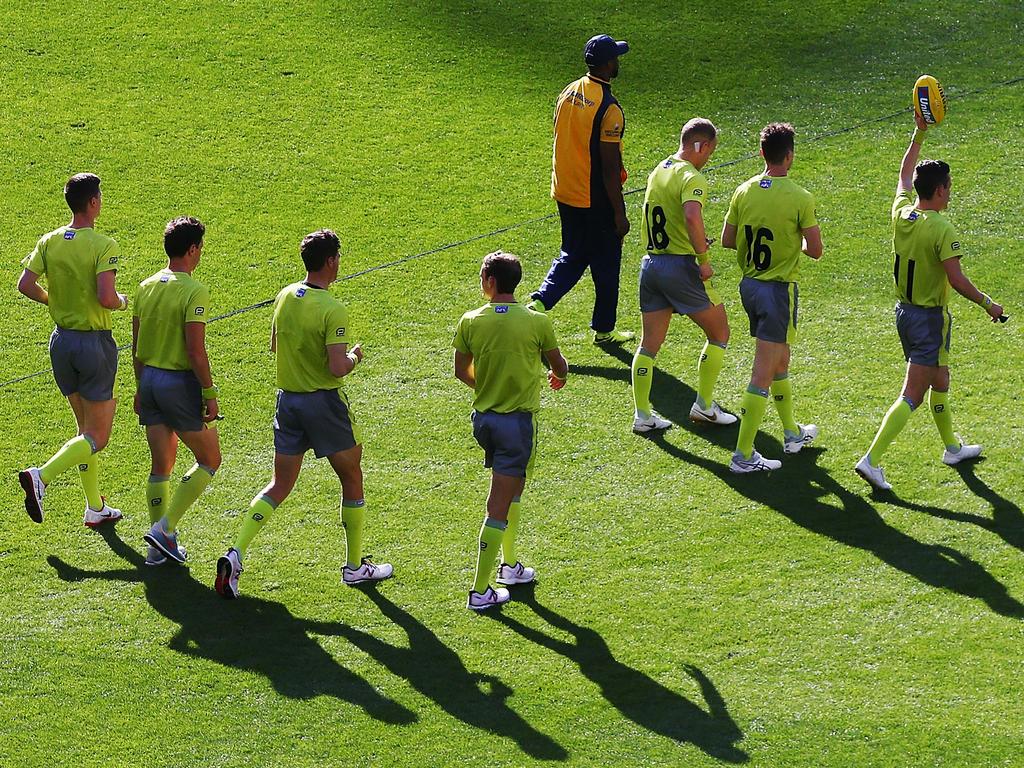 The new rules have divided umpires, who rely on their rapport with players for the smooth running of games. Picture: Michael Dodge/Getty Images
The point of the memo was to guide umpires at community level as to how to deal with the crackdown and whether it should be mirrored in grassroots footy.
Sanderson wrote that: "without getting bogged down in specifics and comparing instances at AFL level … we will be encouraging our community umpires to follow the standards at AFL level."
Sanderson sent the memo after speaking to Richardson, the former Essendon and Richmond football department chief, Scott and AFL game development chief Rob Auld.
AFL field umpire games record holder Shane McInerney has also thrown his weight behind the league's stance.
"They are theatrics that seek to undermine the authority and respect that the umpire has in his role to make sure that the game is officiated in a fair and equal manner," McInerney told the ABC last week.
Despite the concerns of Margetts and former grand final umpire Mathew James, the Sanderson memo mentions that current AFL umpires are enjoying the new paradigm.
"Dan Richardson made the point of highlighting how the AFL umpires expressed how much more enjoyable it is to umpire a game," Sanderson wrote.
That sentiment is consistent with the AFL's public message that umpires, and the game in general, will be better off in the long-term on the back of the crackdown.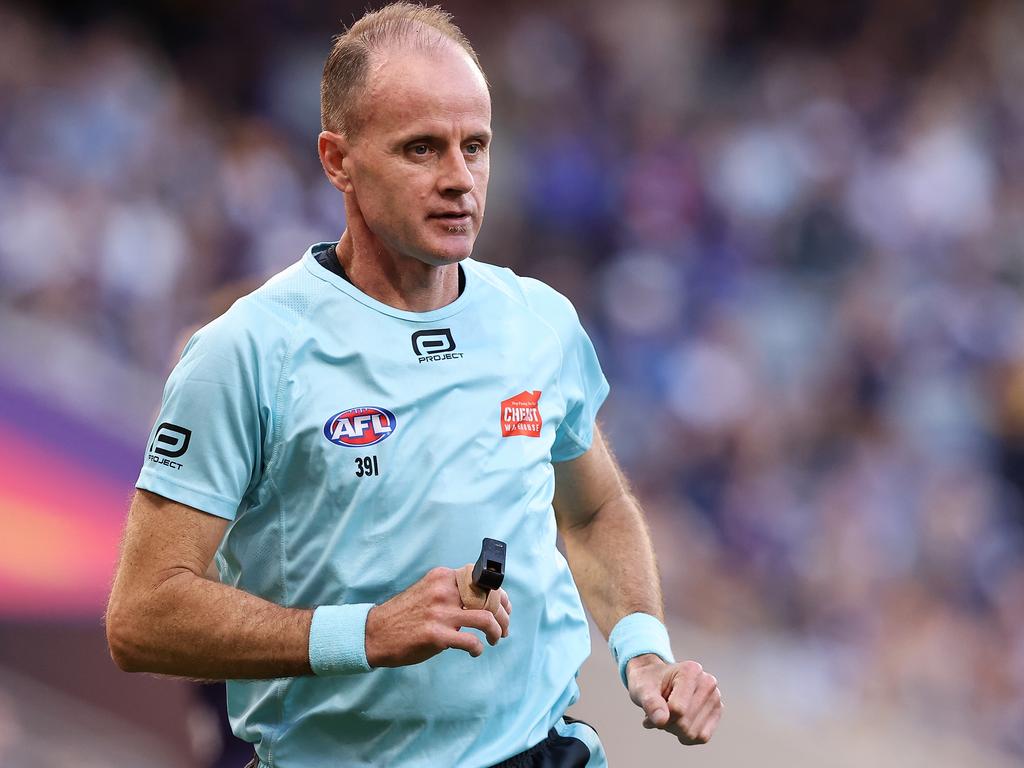 Dean Margetts believes the umpire dissent crackdown is doing the game more harm than good. Picture: Paul Kane/Getty Images
Sanderson's predecessor, Damian Anderson, last month told CodeSports that the community umpire shortage was a deeper issue than mere abuse.
"While it's positive, it's not going to be the silver bullet the AFL need to close the gap," Anderson said.
"We surveyed 1500 community umpires who had left and asked, 'Why did you leave?' The data showed it was really quite low [for umpire abuse]. Really surprisingly.
"If I was the AFL, I'd probably be focusing on other areas because that's where they're actually going to close this gap of 6000 umpires. But from the AFL's point of view, it's quite public and it's quite easy for them to do at an elite level, because that's where they're going to have a bit of an easy win, I guess.
"To be honest, umpire retention rates have been the same across the country for the last 12 years. There's been various programs put in place that haven't really shifted the needle at all.
"The reasons why they leave, you can't really change. Bar the abuse, which is a very, very small piece of it.
"It's just about making it more attractive. Which to be honest, the abuse piece probably helps that."