Aussie rules umpires sexually harassed and abused as boys' club culture is exposed in a damning leaked report
Shocking revelations of sexual assault, racial abuse and unsolicited nude pictures have emerged from a damning 62-page report. Female football umpires have shared their harrowing stories. WARNING CONFRONTING CONTENT.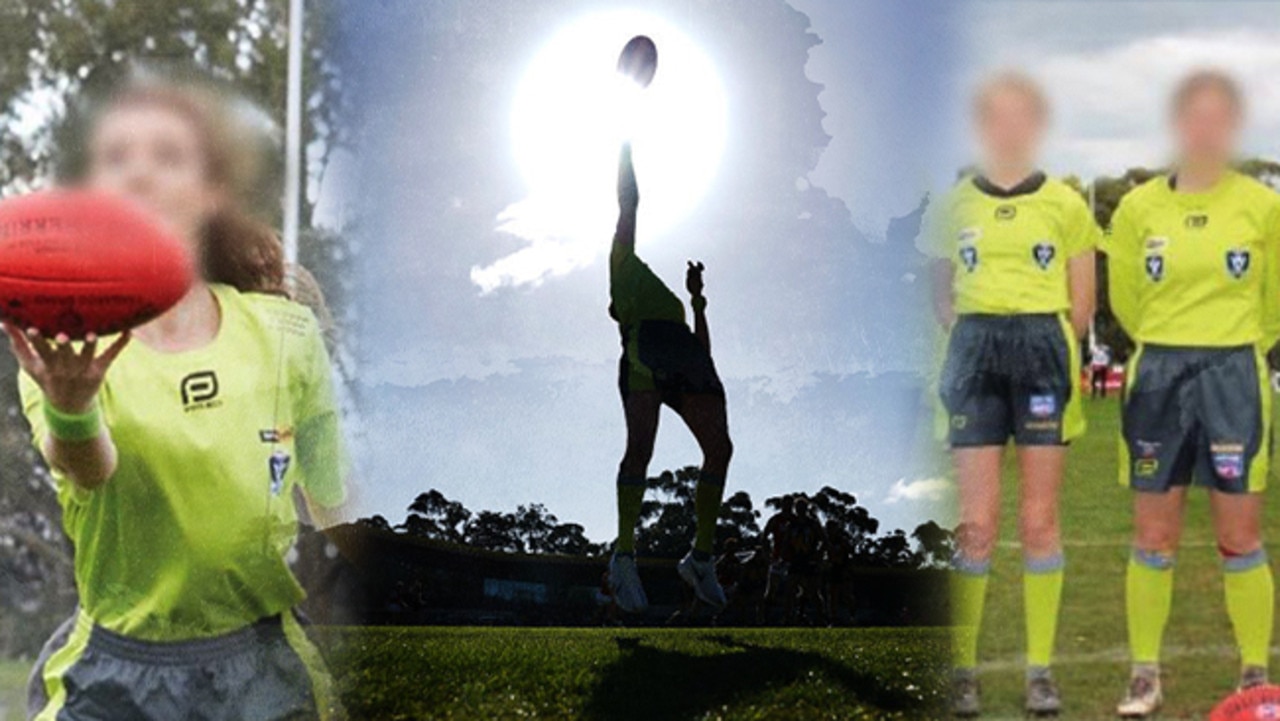 AFL umpire abuse has been exposed in a shocking report
Young female football umpires across Australia have quit after being sexually assaulted, harrassed and insulted by male colleagues, a leaked report reveals.
The Herald Sun can reveal female umpires have been touched and grabbed during matches, overheard lewd discussions at training about their "boobs", and received explicit photos.
Other complaints include female umpires being forced to share change rooms with naked goal umpires described as "grandpas" and being racially vilified in the workplace.
The damning revelations have been exposed in a secret report obtained by the Herald Sun – "Girls and women in Australian football umpiring: Understanding registration, participation and retention".
The extensive research into an extreme shortage of female umpiring, conducted by The University of Sydney in 2020-21 and funded by the AFL, was published last August.
The AFL did not want the findings made public.
The 62-page document – compiled by former AFLW field umpire and researcher Dr Victoria Rawlings and former AFL community umpiring development boss Damian Anderson – includes accounts from 27 umpires (26 females and one non-binary) across four focus groups from Victoria, South Australia, Queensland, and New South Wales and ACT.
READ THE FULL 62-PAGE REPORT HERE
The interviews reveal a toxic, male-dominated culture as well as women being subject to sexual harassment from spectators, umpire coaches and fellow umpires.
One female umpire told the report: "I used to receive messages of nudes that other umpires would send to me.
"And umpires during games would inappropriately touch me, like when we're umpiring together and things like that.
"That's what made me quit."
Another was quoted as saying: "I openly overheard a group of guys talking about my boobs at training one night … I was walking up the stairs, and I overheard them being literally like, 'Oh my god, have you seen (her) tits?'"
READ THE FULL STATEMENT FROM THE AFL BELOW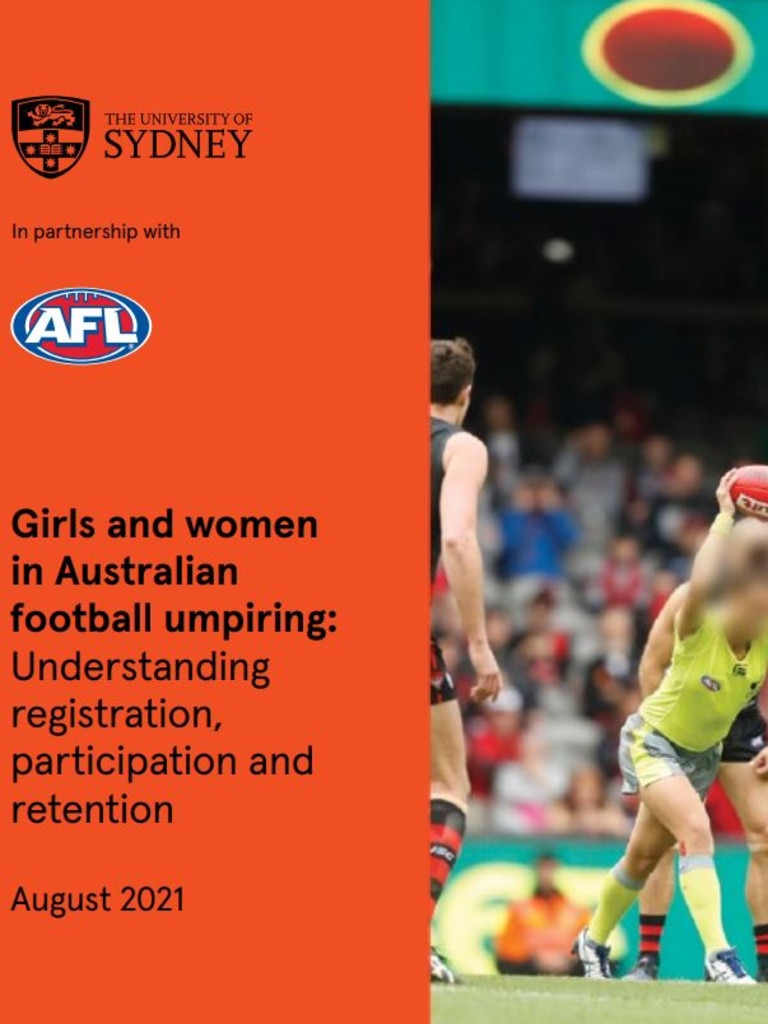 The front cover of the report
The report makes 11 recommendations to create safe conditions for recruiting and retaining female umpires, including better education, more accessible reporting tools, adoption of inclusive change rooms and improved coaching.
Females represent only 10.8 per cent of umpires nationally and, as of 2019, 2.6 per cent at AFL level, despite AFLW triggering an enormous uplift in player participation.
The AFL did not explain why the report had not been released.
But in a statement the league said: "The report has been a valuable resource for our team in prioritising the key initiatives to accelerate the growth in women and girls taking on umpiring roles".
OTHER DAMNING REVELATIONS IN THE REPORT INCLUDE:
* AN UMPIRE quit her league after it failed to fine the club of a supporter who yelled out: "Why don't you open your eyes instead of your legs, you stupid slut!";
* A BOUNDARY umpire of colour questioned why her parents pushed her into Aussie rules when she constantly heard: "Run n----- run";
* A TEENAGER whose fitness was questioned by her coach walked away from umpiring after she developed an eating disorder and missed her period;
* ONE umpire's self-doubt was so intense she publicly apologised to her umpiring group at the pub after being selected to a coveted role. She was then told by a male colleague in the group he did not support the appointment. She was "happy" when Covid cancelled the season;
* CHANGEROOMS were described as the "worst bit" for female umpires, with one saying: "You're getting undressed with grandpa. That's not normal anywhere else";
* A FEMALE umpire red-carded an under-11s boys coach after he entered the field and said: "I don't want you to umpire, you're a female, you can't umpire" while her mum watched;
* A FEMALE umpire wanted to see the league psychologist about gender harassment during Covid lockdown but backflipped after he addressed the umpires as "Gents" in a group email;
* AN UMPIRE asked to fill out a contract when registering for the season felt "humiliated" by being forced to tick "Mr" because the form had been edited to exclude any other titles.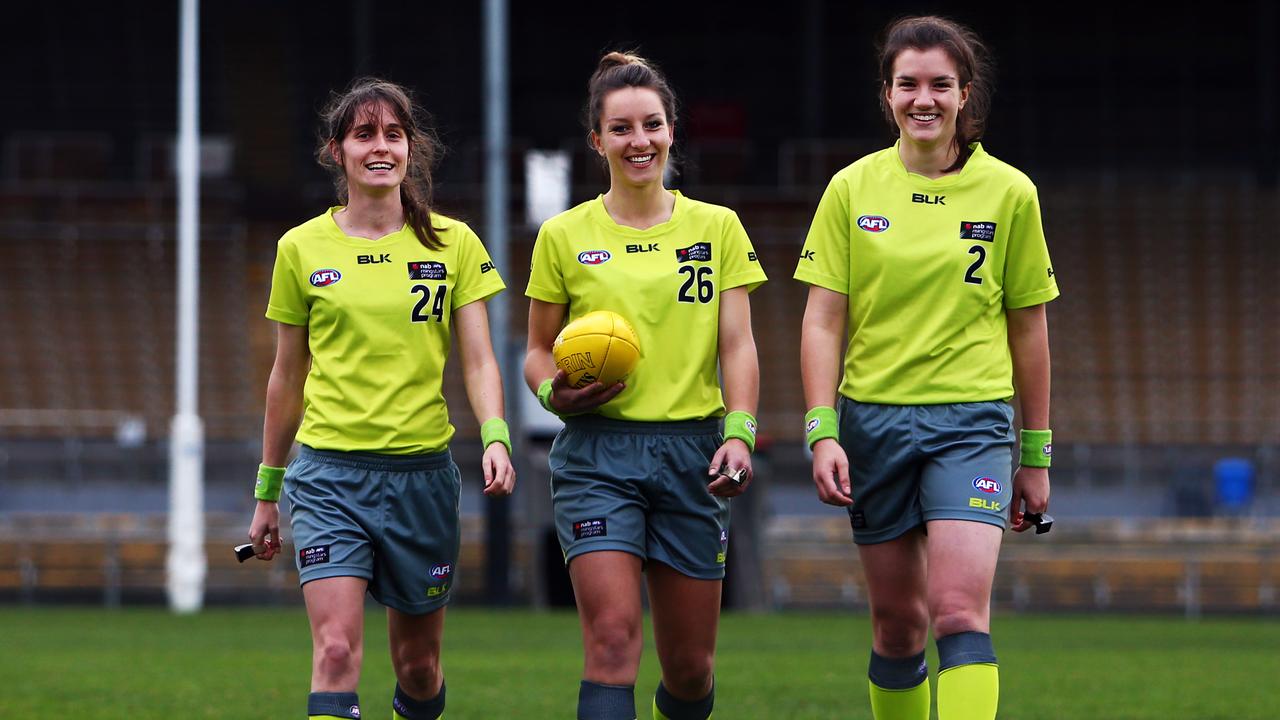 Libby Toovey, Eleni Glouftsis and Annie Mirabile have changed the landscape of umpiring
Victoria is football's heartland but it has been slow to increase the number of female umpires, adding only 18 per cent from 2015-19.
Eleni Glouftsis, the AFL's only female field umpire, is frustrated by the lack of progress and wrote a scathing foreword in the report.
"In reading this research, I felt frustrated that girls and women in umpiring roles are still facing the same obstacles and challenges that I faced almost 16 years ago," Glouftsis said.
"I had hoped things would have improved. They certainly should have."
The first female AFL goal umpire, Chelsea Roffey, said the report made her "blood boil".
"Looking back, scenarios that related to my gender ranged from those I regarded as innocuous, waved away as signs of ignorance rather than ill-intent, through to those that made my blood boil," Roffey said.
"This research legitimises and reflects many of the thoughts and emotions I've experienced. This report identifies the need for meaningful action if female umpire numbers are to increase.
"But its recommendations not only improve the landscape for girls and women; they serve to make umpiring a truly inclusive space, a better space for all. In doing so, they bring umpiring in line with the expectations of broader society and best practice."
The AFL this year banned elite players from showing dissent by throwing their arms out in frustration at decisions as part of a crackdown on respect for umpires, citing a shortage of 6000 umpires at grassroots.
But this research project, which received ethical approval from the University of Sydney Human Research Ethics Committee, reveals the true depths of what is a full-blown national crisis.
Last week the Herald Sun revealed umpires in Queensland threatened to boycott because a player was not suspended or sent to the tribunal for touching an umpire in 2021.
Leaked documents showed the AFL signed off on the Match Review Officer's decision to set the player free, only months before it was determined to have Greater Western Sydney captain Toby Greene suspended for six matches for a similar incident.
READ THE 62-PAGE REPORT IN FULL
Originally published as Aussie rules umpires sexually harassed and abused as boys' club culture is exposed in a damning leaked report