AFL umpiring 2022: General manager level boss of umpiring appointed for first time by AFL
By appointing a new umpring boss at General Manager level, the AFL is hoping to show that they're serious about fixing the umpiring crisis.
The AFL has reacted to its umpiring crisis by appointing a general manager to take charge of the whistle blowing ranks for the first time.
The announcement comes in the wake of News Corp's exclusive story about the secret report into female umpires at the community level.
The league was forced to apologise to females who it was revealed had endured sexual abuse and harrassment in their roles officiating.
Lisa Lawry has been announced as general manager of umpiring - a newly created position that gives umpires a key spot within the league's football operations department - in a significant beefing-up of umpires' presence at the top level.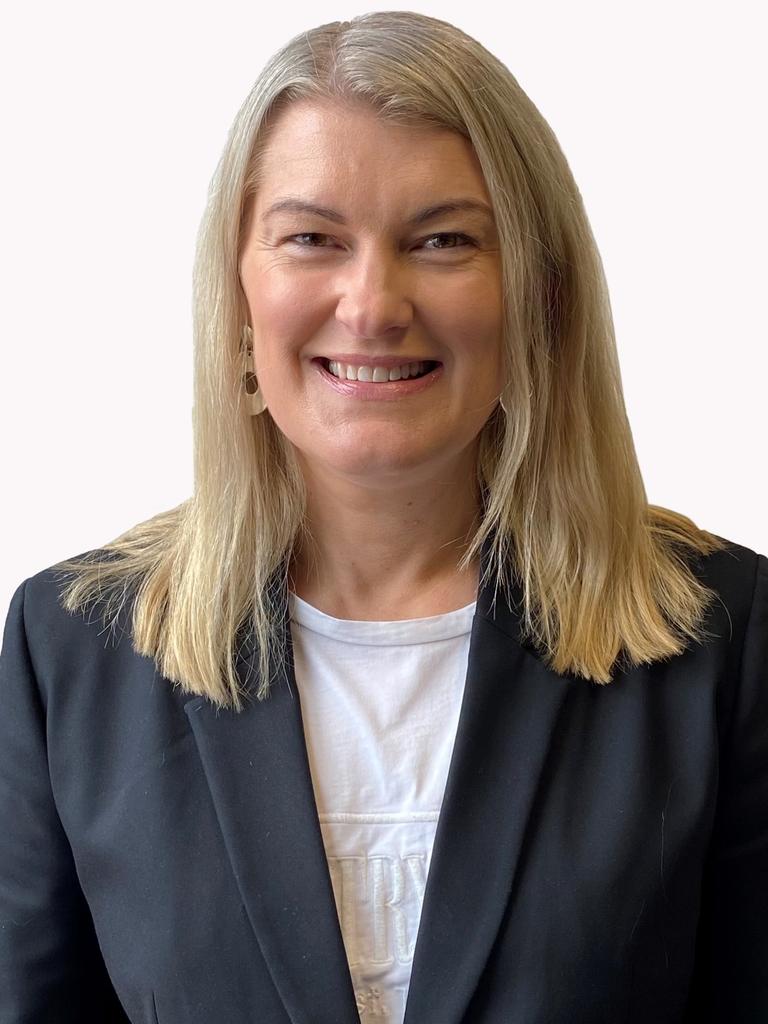 Lisa Lawry, the new AFL general manager of umpiring
The umpiring group came under fire this week for confusion surrounding the dissent rule and an apparent crackdown on heavy tackles after a free-kick frenzy.
It also emerged that the elite umpiring group has been affected significantly by injury and illness which severely tested the cohort's depth.
Current head of umpiring Dan Richardson will now report to Lawry, who will focus on performance, growth and development of umpires across the elite competitions, state, NAB League and the game at the community level.
The move comes just weeks after News Corp revealed the report into female umpiring at the community level which included horrific allegations of sexual abuse and harassment endured by women, some of whom walked away from the game as a direct result of their experiences.
Ensuring change at that level will be a key focus of Lawry's role in the wake of the 'Girls and Women in Australian Football Umpiring' study and subsequent action plan to ensure a "safe and welcoming pathway" through the ranks.
AFL leaked report into female and non-binary umpire sexual abuse: Read the 62-page report in full
"This new role will be responsible for leading change and implementing the action plan which was approved by the AFL Commission last week and we will be announcing other in initiatives across football at all levels as part of the AFL's Gender Equity Action Plan and the Community Gender Action Plan," league general manager of football operations, legal and integrity Andrew Dillon said.
He said Lawry's addition to his team would only make the umpires' position in the game stronger.
"Umpires play an integral and important role in the game, and quite simply without umpires we don't have football," Dillon said.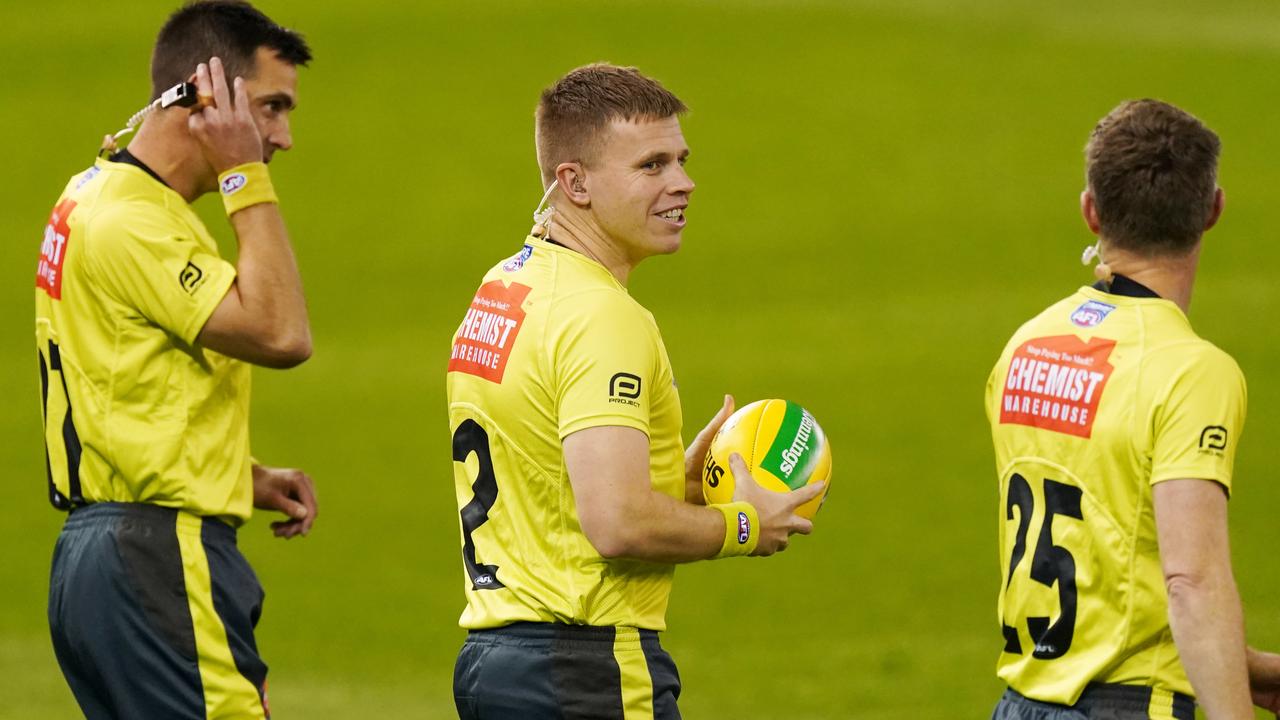 The AFLs elite umpiring group has been affected significantly by injury and illness Picture: AAP Image
"Adding resource and focus to this area will only strengthen our work in performance, growth, and development of umpiring – ensuring a strong, diverse and appealing pathway from community through to the elite AFL and AFLW competitions.
"Ms Lawry has extensive leadership and people and culture experience and brings a clear understanding of high performance, coaching, talent management and cultural change, which will benefit the progression of umpiring nationally and drive greater diversity into our senior umpiring ranks."
In the new role, Lawry will work closely with the game development team "to lead the advancement and implementation of a roadmap to ensure the game recruits, supports develops and retains the number of umpires required to service the needs of the game as participation grows", the league said.
Richardson will remain focused on working closely with umpires.
Lawry will begin in the new role in July.
The rule the AFL needs to fix first
Tom Rockliff
I have been retired from footy for just 10 games, but when watching the sport I played for 13 years, I don't even know some of the rules at times.
The game is over-officiated, and the rule changes and tweaks to interpretations introduced in the past five years have simply not worked.
Players are frustrated at the constant changes. They have been for years when the rules committee would come out and announce two to three changes prior to each season.
I would sit at meetings after these announcements and even the umpires would sometimes say they don't know how they are going to officiate this latest rule change or interpretation, because it is too hard.
Watch every blockbuster AFL match this weekend Live & Ad-Break Free In-Play on Kayo. New to Kayo? Try 14-Days Free Now >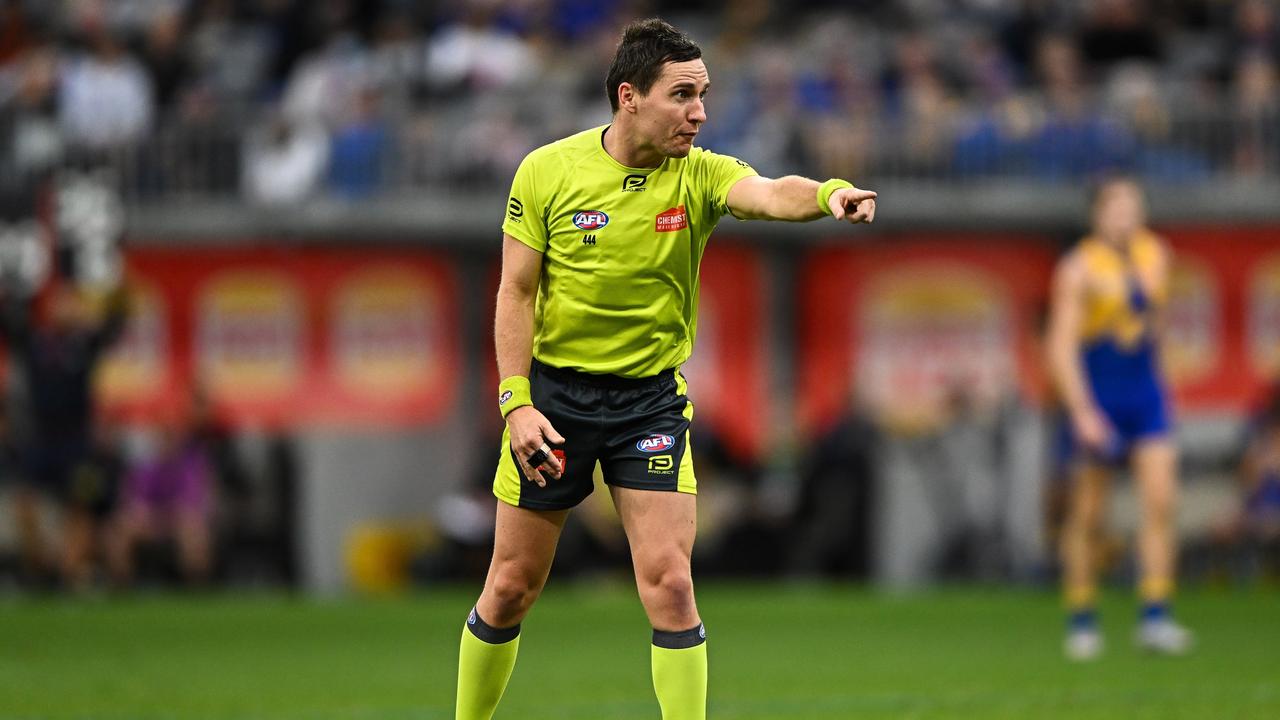 Even umpires themselves struggle to officiate the rules. Picture: Daniel Carson/AFL Photos via Getty Images
So if an umpire is saying it is going to be too hard, how are the players going to be able to adapt to the continual changes?
The AFL won't acknowledge there is a problem, but maybe crowds being at a 25-year low might grab their attention.
The fans are our game, they have given up so much over the past couple of years.
But now they don't want to come to the footy, and are even not watching games on TV.
After the past couple of years we should have packed houses.
The AFL needs to get to the bottom of this.
I'm sure they will say it is because of Covid, but when you speak to fans on the street they are all saying it is the umpiring and rule changes that is turning them off.
They feel it is over officiated, and you can't argue against that.
Over the past five years the AFL have either changed, introduced or tinkered with; the holding the ball and dropping the ball rule, high free kicks, the stand rule, the protected area, the ruck nomination and no more third man up, insufficient intent to keep the ball in, umpire dissent, the man having to stand 25 metres away at kick-ins and the 6-6-6 rule.
The AFL keeps saying they want to bring in higher scoring games and more excitement, but I don't think any of those rules have helped do that.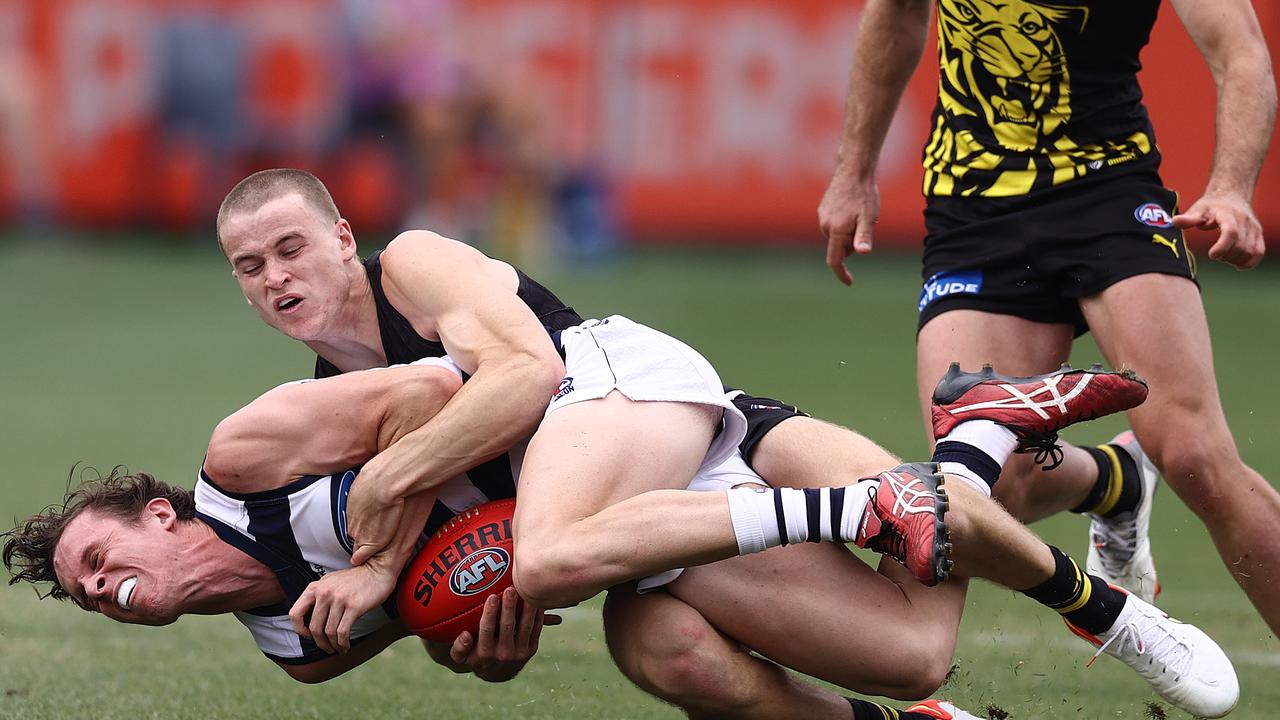 Max Holmes of the Cats gets a free kick after this tackle by Richmond's Thomson Dow. Picture: Michael Klein
Have they actually opened up and sped up the game? They haven't increased scoring.
What they have created is way too many free kicks per game.
In 2022 the average amount of free kicks per game is 44.2, this is six up on last year.
There is no perfect number, but I think mid 30s in terms of free kicks per game is ideal.
Of course umpires will call a free kick if it is there.
But right now there are so many rules and so many interpretations there is a frustration from the playing group. They are always playing catch-up.
We need to clear it all up, fix the interpretations.
It can't be down to an interpretation, there are 30-odd umpires in the competition, three at each game so we could have three different opinions on one contest, which makes it really hard for the players and the umpires involved to let the game flow.
And then we have the fans in the stands who have absolutely no idea what is going on because they can't keep up with the changes.
So it has to be a clearly defined rule, it has to be in black and white.
The big one I think they can fix and would help open the game up is the holding the ball/dropping the ball rule.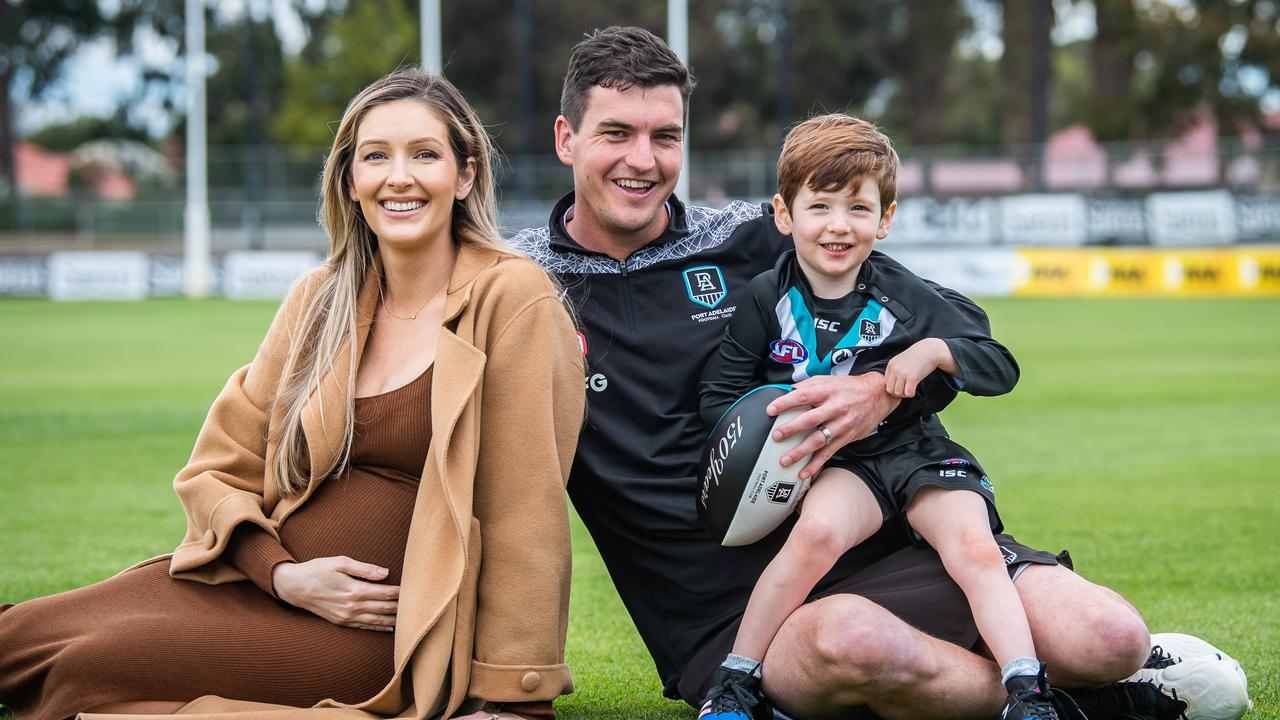 Rockliff with wife Sharna and son Jack after he announced his retirement. Picture: Tom Huntley
When they don't pay it and don't reward that good tackle, it creates a maul and the ball bobbles around and that is how congestion is created.
People swarm on the ball, you have a stoppage and there are just players everywhere – so that is a simple fix for them.
The stand rule is just not organic at all, we are now seeing teams trying to find a way to get an extra 50m penalty by having players run and trying to get their opposition into the protected area – which I don't think people want to see.
The ruck nomination just wastes time, you should just get there and throw the ball up – it shouldn't matter who goes up.
The third man up used to actually clear the area really well and it was a smart set play – I actually think it should be allowed again.
And when it comes to ruck infringements and free kicks, I don't think anyone in the ground knows which way they are going to go.
With the insufficient intent rule I know they are trying to keep the ball alive but there are just so many variables, so I'm not sure if it's a great rule.
They should go one or two ways – go the obvious deliberates or go to the last touch rule because that is the way the game is heading right now.
But that won't speed the game up because you can set up really quickly if there is an insufficient intent.
The crackdown on umpire dissent is really interesting, I think it is really good that we don't have abuse and I think the umpires would agree with that.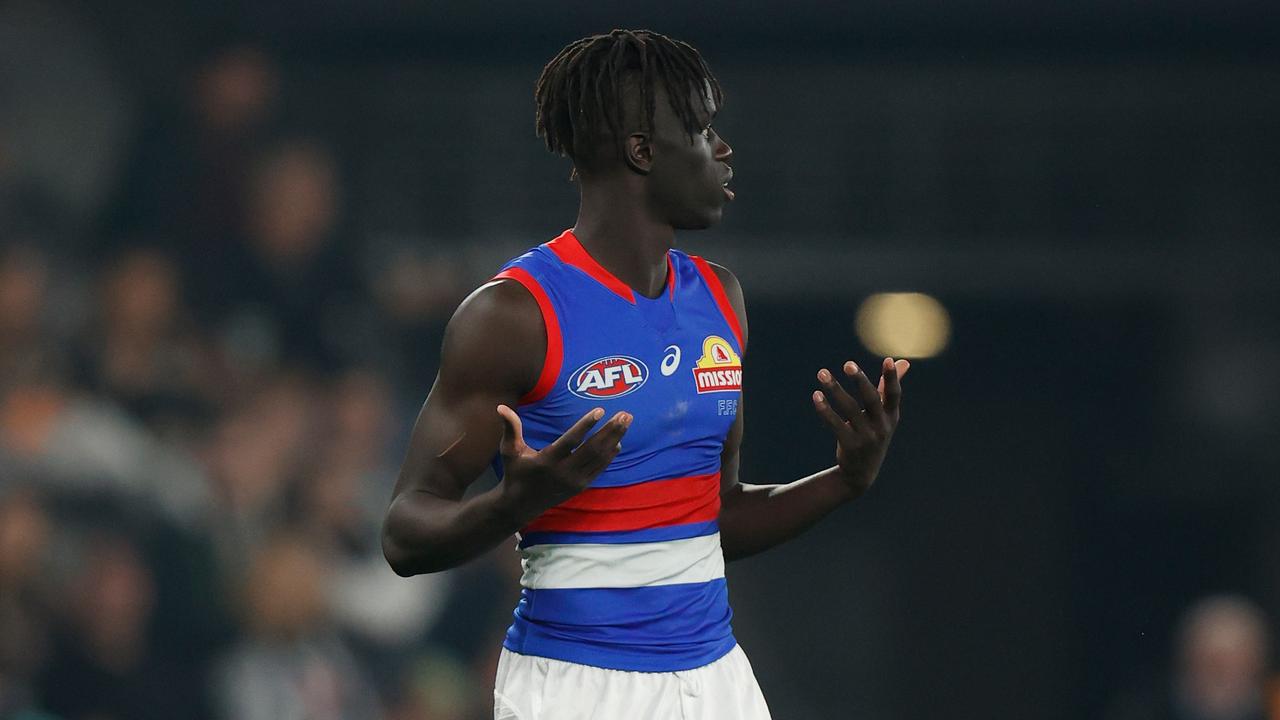 Buku Khamis of the Bulldogs gives away a 50 metre penalty for umpire dissent. Picture: Michael Willson/AFL Photos via Getty Images
But you still need to be able to have a conversation with an umpire regarding a decision.
You are asking and hoping for players to play on instinct, but they are now not allowed to react to a decision that is paid against them.
It is just comical at times that you are paying a 50m penalty against players just putting their arms up to ask a question.
The relationships between players and umpires have grown over the years, they are certainly better when I first started.
There is a clear difference between abuse and asking a question, and when you can't even ask a question it becomes a bit farcical.
The thing that frustrates me now as a fan and watching the games is that we know that umpires are human, so they are going to make mistakes like players and coaches do.
But if the AFL continually comes out and says they didn't get anything wrong, it leaves people more frustrated and they will turn off.
If the AFL won't concede there are issues, then the AFLPA needs to step in.
They are a stakeholder in the game, they get paid on the basis of the revenue that is brought into the game. But people are turning off, so players need to make a stand here and say this is not the way we want the game to go.
We all want a good product, but because of the rule changes and interpretations, the game isn't one right now.
Originally published as AFL umpiring 2022: General manager level boss of umpiring appointed for first time by AFL